Best FCA Brokers UK – Best FCA Brokers in 2021
The Conduct Agency (FCA) is one of the most reputable regulators for brokers. When traders find a broker that is regulated by the FCA, they can rest assured that they are in good hands. That's why we're here with the best FCA brokers 2021 has to offer. Choosing a broker is a big deal, one that you shouldn't have to do alone, which is why we're here with an all-inclusive guide to choosing the best broker for your investments.
#1 Best FCA Broker: eToro
Top 5 FCA Brokers in 2021 – A Quick Overview
We checked out lots of FCA brokers and narrowed down our list to the top 5. We checked out their fees, spread, leverage, and user-friendliness to help us knock out some and move others up the list. After our search, we were left with 5 of the best FCA brokers on the web and are here to share them with you.
eToro – Best FCA Broker for Beginners
AvaTrade – FCA Broker with the Lowest Rates
Capital.com – Best Low-Cost FCA Broker
Fineco Bank – FCA Broker with 100 Free Trades
Libertex – Best FCA Broker for Integrations
Best FCA Brokers Reviewed
Trading is now accessible to investors of all levels. The opportunity to grow your funds and gain on investments daily is exciting, which is why more and more people are turning to the stock market. Not only is finding a market of interest important but also finding a broker. Below, we'll take a deeper look into the best FCA-regulated forex brokers, helping you choose the one that's right for you.
1. eToro – Best FCA Broker for Beginners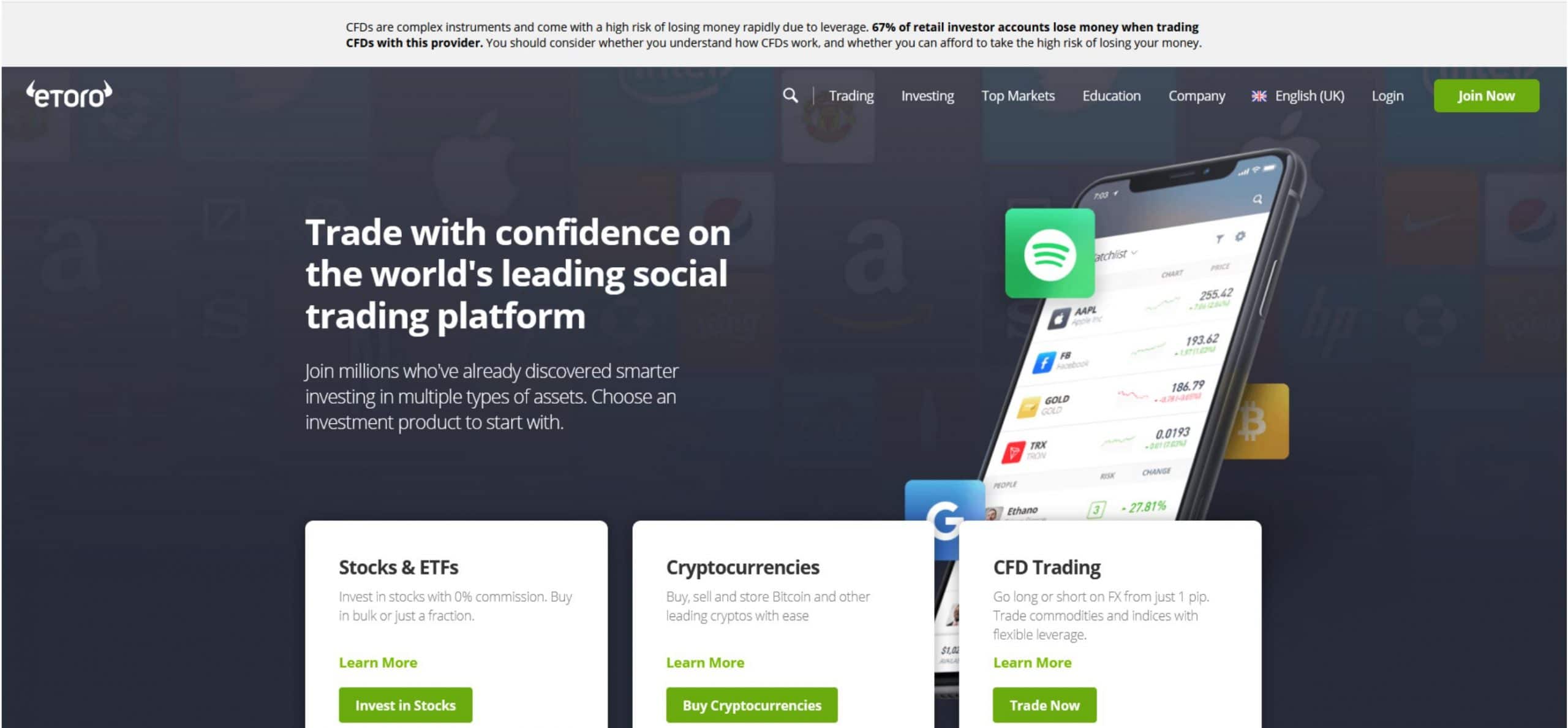 Creating an account with eToro is simple and quick, allowing traders to get up and started faster than with other brokers. Apart from their website, traders can download the app that allows them to trade at the tap of a button and check out the market throughout the day. Combine that with some of the newest innovations in software and new traders will be able to get the hang of things in no time.
With eToro, one of the things that impress traders is that there are never any commission fees. The only fees that you pay as you trade are those of the spread, which eToro has set way below the average. Other than that, traders are free from fees in most cases, making it a low-cost option to start investing in today's top markets.
For traders that are fairly new to the stock market, eToro is an extremely helpful way to start learning the ropes. They provide access to charting tools that give an in-depth look at the market and even provide tools for analysis so that traders of all levels can make better trades. Apart from that, the platform puts a lot of effort into connecting traders from all walks of life, encouraging conversations and collaborations with other traders with similar interests.
| | |
| --- | --- |
| Fees | $5 cashout fee and 0.5% conversion fees |
| Minimum Deposit | As low as $200 |
| Deposit Methods | Credit or debit card, e-wallet, bank account |
| Speed of withdrawal | Typically, 3 business days |
| Spread ranges | 0.75% to 5% |
| Leverage Options | Up to 5% |
Pros and Cons of eToro
| | |
| --- | --- |
| Pros | Cons |
|  There are no commissions on trades, ever |  They do charge for each withdrawal |
|  The platform is easy to use | |
|  Comes with lots of tools for analysis | |
|  Encourages interaction with other traders | |
2. AvaTrade – FCA Broker with the Lowest Rates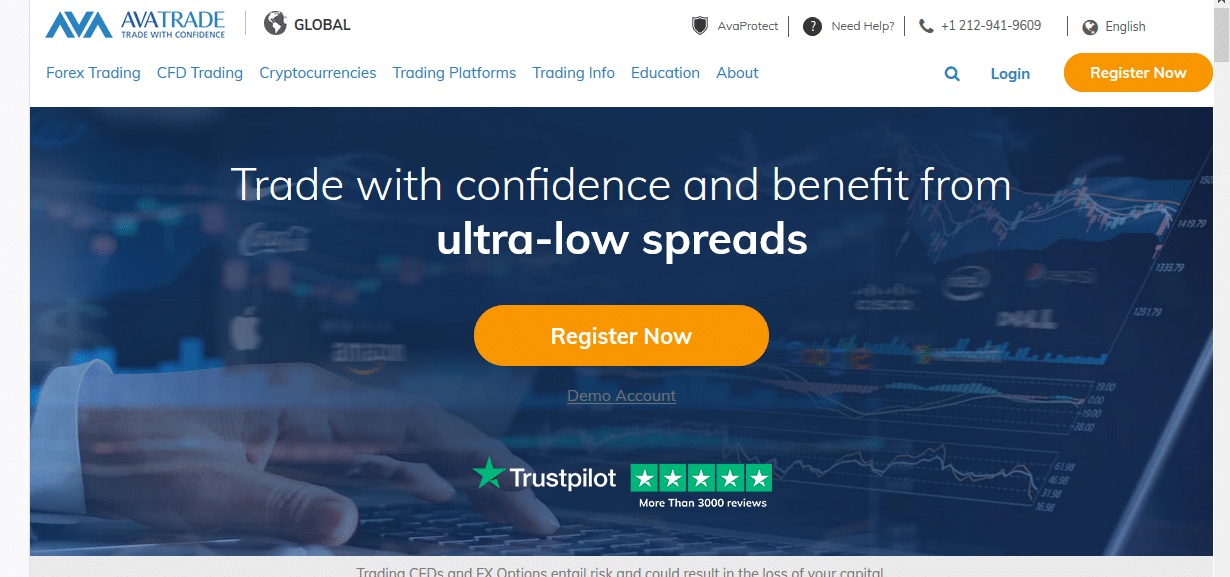 AvaTrade allows traders to sign up and get started with as little as $100. Their low minimum deposit and zero commissioned trades are part of the reason why they have sprouted in popularity across the web and attracted traders of all kinds. They have been around since 2006 and have spanned out into several markets over the years including cryptocurrencies, stocks, bonds, and indices.
They have resources online for traders to browse, including charting and analysis for a more in-depth look at the market. Apart from on-sit resources, AvaTrade is compatible with MT4 and MT5 trading software. Combining the powers of the two, traders can get a better look into each market and even set up automated trades and alerts. Downloading the app on top of it all is a great way to stay connected and have access to trades in seconds.
Apart from a small inactivity fee, there are no other fees that take away from earnings and even competitive leverage options too. They offer a great spread across different markets and have been a top choice for many traders because of their customer care and extra perks that set them apart from many other brokers out there.
Pros and Cons of AvaTrade
| | |
| --- | --- |
| Pros | Cons |
|  Competitive spreads |  Fee for inactivity |
|  Compatible with MT4 and MT5 platforms | |
|  Optional automated trading | |
|  No commissions | |
|  Start trading with as little as $100 | |
3. Capital.com – Best Low-Cost FCA Broker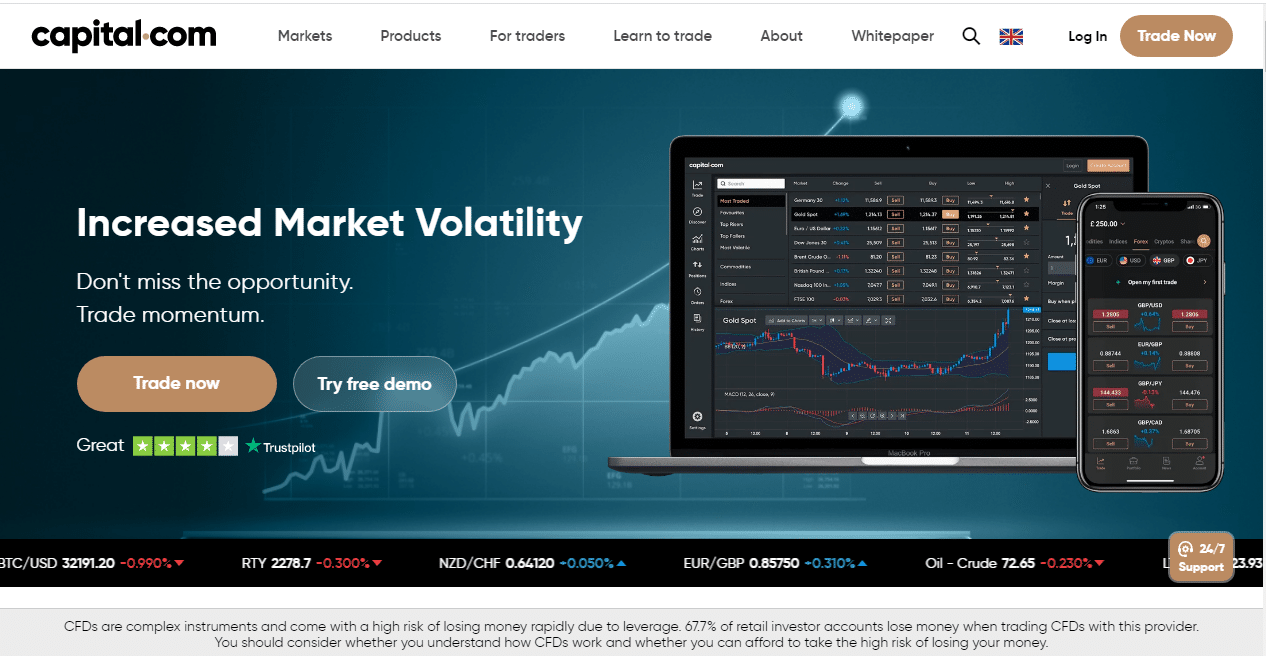 Capital.com has over 140 trading pairs that spread into a ton of different markets. Ther is something for both new and seasoned traders, making it a good all-around platform. With customizable watchlists and match trading, all traders can have an up-to-the-minute look at what's happening right on their screens.
There are no commissions and no fees for inactivity or withdraws, ensuring that all trades keep their earnings day in and day out. Apart from the trading platform, users can also check out articles and other literature to get a grasp on trading and more. On top of that, they release videos about what the market is doing daily, helping traders get a good look at what they should keep their eyes open for.
Capital.com is not only FCA regulated by has CySEC regulations as well. That means that they are trustworthy and safe for all traders that use the platform. They have a solid reputation online and have a reputable customer care team that's always there when traders need them.
| | |
| --- | --- |
| Fees | No inactivity or withdrawal fees |
| Minimum Deposit | As low as $20 |
| Deposit Methods | e-wallet, debit and credit card, bank account |
| Speed of withdrawal | 3-5 business days |
| Spread ranges | 4 pips |
| Leverage Options | 5:1 for CFDs and 30:1 for Forex |
Pros and Cons of Capital.com
| | |
| --- | --- |
| Pros | Cons |
|  Lots of tools to help traders of all levels |  Portfolio is limited |
|  No commissions and no fees | |
|  Copy-trading | |
|  Amazing customer care that's renowned around the web | |
4. Fineco Bank – FCA Broker with 100 Free Trades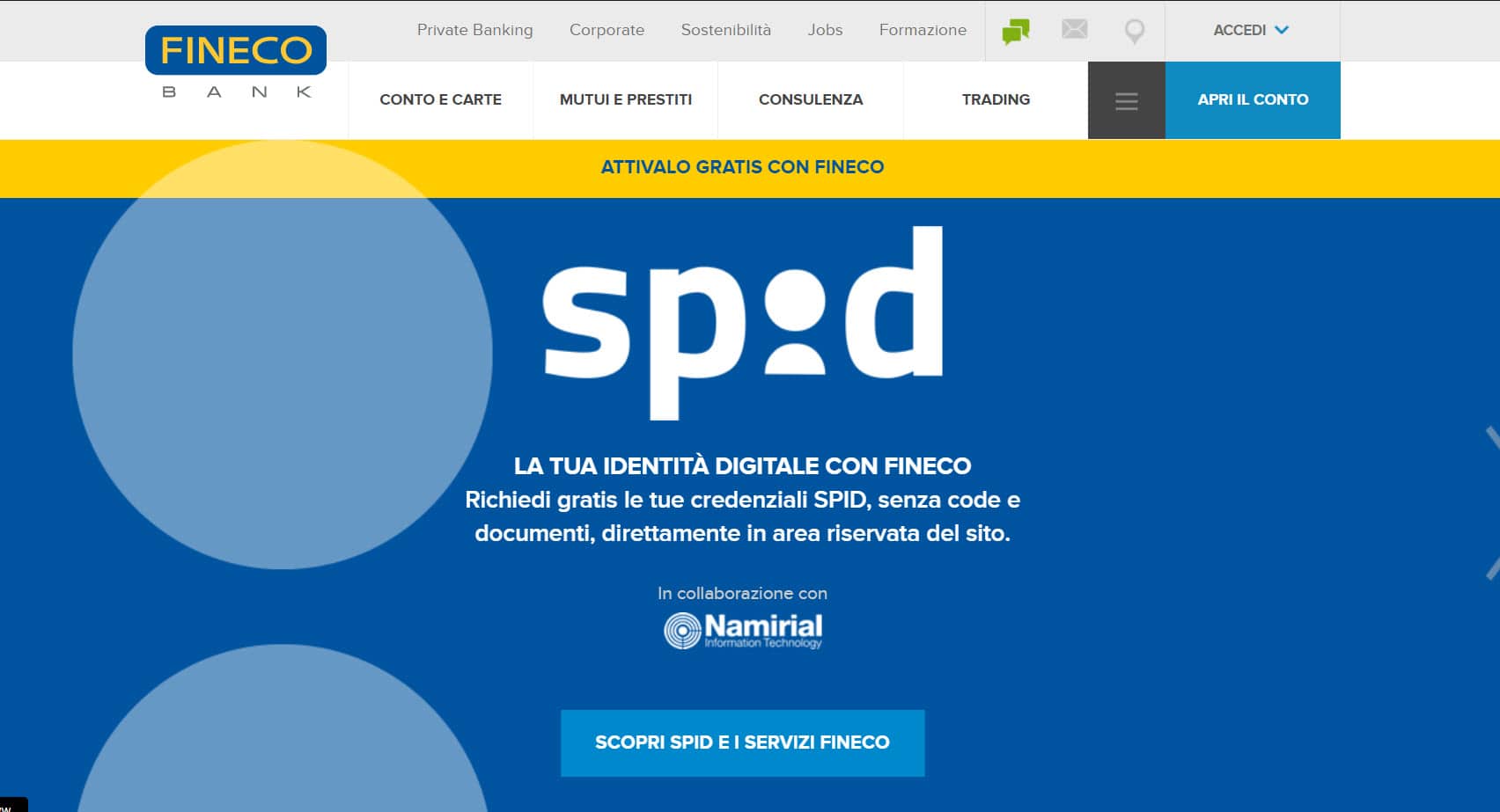 Fineco is Italian but it's been operating in markets across the globe for more than 20 years. They have a low per-trade fee, virtually no spreads, and no fees for inactivity. Combining that all together, traders will have more opportunities to earn money instead of losing it all to fees.
As far as options, there are more than 10,000 stocks to choose from that span into all different kinds of markets. After sign up, traders can log in and deposit any amount to get started, as there is no minimum deposit required to get started. Apart from trading, members can visit the website or the app to dive into the world of trading and learn the ropes.
Fineco checks all of the right boxes, including safe, regulated, low fees, and filled with resources to help all traders. Plus, they offer an incentive to new traders, offering the first 100 trades free. That means users can trade as much as they want and not have to worry about paying anything in the process.
| | |
| --- | --- |
| Fees | No fees for trades and just a 0.25% annual fee |
| Minimum Deposit | No minimum deposit |
| Deposit Methods | Bank transfer |
| Speed of withdrawal | Up to 5 business days |
| Spread ranges | 100:1 |
| Leverage Options | Up to 30 times (30% margin) |
Pros and Cons of Fineco Bank
| | |
| --- | --- |
| Pros | Cons |
|   Score 100 free trades at sign up |  There is an annual fee of 0.25% |
|  No inactivity or withdrawal fees | |
|  There are no commissions charged | |
|  A lot of resources to learn the tricks of the trade | |
5. Libertex – Best FCA Broker for Integrations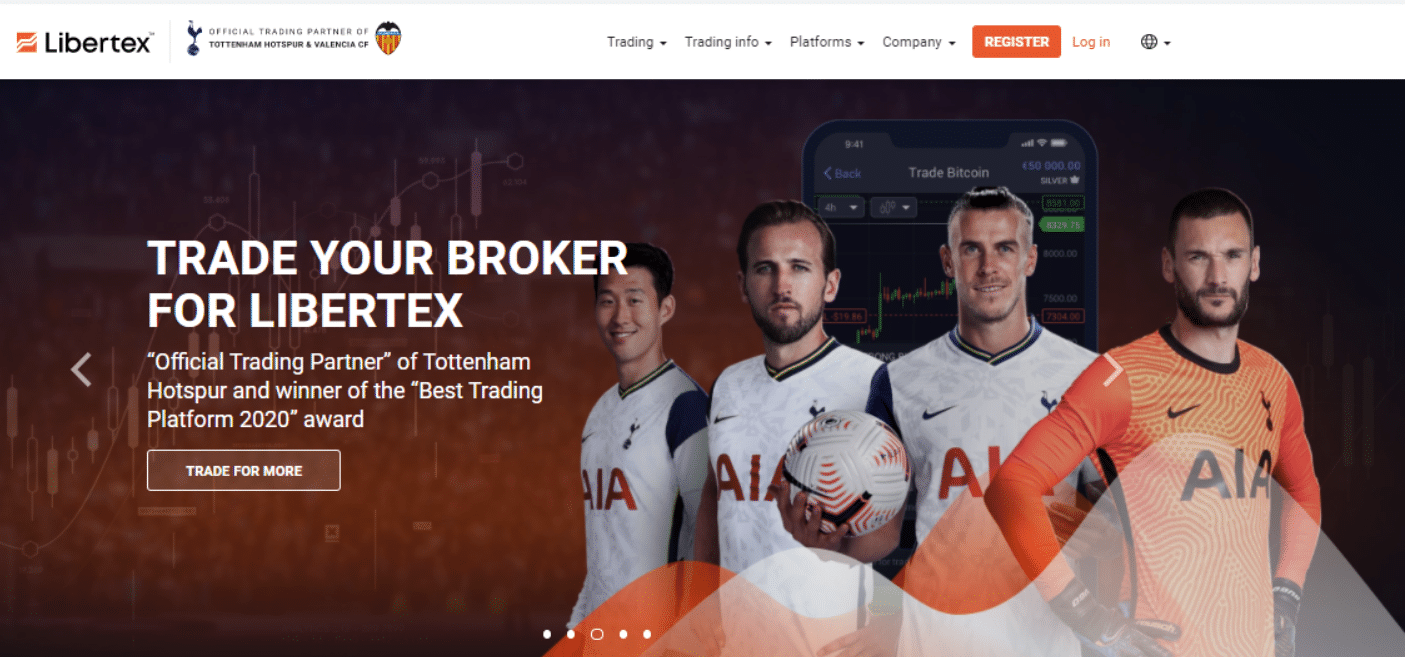 Libertex has been in the game since 1997, providing traders with a safe and reliable means of trading. Over the years, they've expanded across markets and have more than 50 Forex pairs for traders to choose from. Signup is quick and minimum deposits start at just $20.
They have literature and other resources on their website but also are compatible with MT4 and MT5. Integrations with either one help to take trading to the next level, allowing automated trades, alerts for price drops and spikes, and a deeper analytical tool. They are regulated by FCA and CySEC guaranteeing that they are safe for trading and they have a secure payment platform.
Leverages can go up to 1:600 with Libertex and they accept several different means of deposit, making them a great choice for traders of all levels, including the most seasoned in the game.
| | |
| --- | --- |
| Fees | Commission fees include up to 0.2% for stocks and up to 2.5% on crypto |
| Minimum Deposit | As low as $20 |
| Deposit Methods | Credit cards, e-wallets, and bank transfers |
| Speed of withdrawal | Up to 5 business days |
| Spread ranges | 1:500 on Forex |
| Leverage Options | Up to 1:600 |
Pros and Cons of Libertex
| | |
| --- | --- |
| Pros | Cons |
|  One of the top FCA regulated brokers UK |  There are commission fees on all trades |
|  In the business since 1997 | |
|  Minimum deposits as low as $20 | |
|  Leverage can go all the way up to 1:600 | |
FCA Fees Compared
The FCA is reputable and there to regulate the market and trades in different areas. Though they have a solid reputation, they are one of the more lax regulators when it comes to trading, something that attracts many traders. That means that they have fewer fees than others in the business, focusing more on ensuring that all parties are abiding by trading rules.
FCA brokers make their money in different ways, some of them more than others. When checking out a broker, you may see fees but might not know how they work, which is why we're here to break it down.
Types of FCA Broker Fees
There are 5 types of fees that you might see when searching for your broker. We've got the list plus a look at what each one entails below.
Monthly Account Fees
This is an operational fee that some brokers charge and others do not. AvaTrade is one that made it on our top 5 that charge a fee, though it's a quarterly charge.
Commission Fees
Commission fees are more common and have to do with the trades that you make. With each trade, you could have to pay, sometimes up to $5 per trade. Fineco Bank is one on the list that you can expect to charge trade fees.
Spread
When trading between markets, you might have to consider the spread. This is more typical when going from markets in different countries like the US and EU. All of the brokers on our list have a spread, though the largest is just 0.6 pips.
Inactivity Fees
In some cases, brokers will charge if you're not using your account. There are many brokers that do this and, from the list above, eToro and AvaTrade surely do. Though it's a fee, you can use it to your advantage and go with a broker that charges for inactivity if you know you're going to be trading regularly.
With brokers that charge inactivity fees, they only do so when there is no activity after a certain period of time. For example, many cap it at six months, which is a lot of time if you're an avid trader. To avoid fees, you could log in before the cut-off date and avoid fees and see how your investment is going.
Withdrawal Fees
When you earn money while trading, you want to get it to your pocket somehow. That means that you will have to withdraw it, which a lot of brokers will charge you for. Though they might be very small charges, you might still get a percentage taken out from whatever you decide to withdraw.
Fees are normal and are a broker's way of making money. There are few that charge no fees (Capital.com is one) but most charge one or the other. Knowing what your trading goals are, you can pick the broker that's best for you and will wind up charging you the least for the way that you plan to use it.
FCA Brokers UK – All You Need to Know
The FCA is a regulatory agency in the UK. They oversee all of the brokerage happening in the UK and ensure that brokers are abiding by rules that help to keep things fair and keep the trader and the institution safe every step of the way.
Regulators like the FCA are there to help keep institutions in place, as they could take advantage of individual traders if left to do as they please. For that reason, it's a good idea to look for brokers that are regulated by the FCA, double-checking that your accounts are handled fairly.
Besides checking for brokers that do business as they see fit, the FCA is also there to stand by individual traders if brokers do something inappropriate. Instead of battling a financial institution alone, the FCA will stand by the customer and help them investigate the claim to ensure that it doesn't happen again.
Last but not least, the FCA is there just in case something happens with your broker. It can be scary to think about a market crash or some other devastation that causes you to lose all of your money. For that reason, the FCA is there, which can insure accounts up to a certain amount. They cover things like bankruptcies and collapses, making sure that traders can get their investments back if anything is to happen.
Key Factors to Choose the Best FCA Broker for You
When you decide that an FCA broker is the way to go, it's time to choose one that works for you. There are several ways to find one that works for you but, before choosing, it's best to consider key factors first. When on the hunt for the best broker for you, there are a few factors that you should take into account, a few of which will lead you in the right direction.
1. Your Financial Goals
Before you start looking, it's good to sit down and get to know your personal financial goals. What is it that you hope to get out of a broker? If you're new to trading, consider the amount that you want to invest and what you expect your investment to do both short-term and long term.
Getting all of these ideas out on paper will help you compare and contrast some of the best brokers and find the one that will get you closest to your financial goals. For example, if you plan to make multiple trades a day, you might want to skip a broker that charges per trade. However, if you prefer to let your money sit, maybe you should go for one that doesn't have inactivity fees. A few key questions you can ask to start thinking about the best broker for you include:
What markets interest me?
Do I want to make multiple trades a day or a minimum per month?
Do I want/need to use analytical tools?
What are my long-term and short-term goal for my investments?
2. Start Narrowing Down
The reason why getting your ideas out on paper is so important is that you can start to narrow down your choices and maybe whittle them all the way down to two. If you do that, then deciding between two is going to be much easier and something that you can do quickly. Look for brokers that have the most in common with what you're looking for and cross others off your list. With fewer on your list, you can really start to dig in, looking for things like:
3. Regulations
Most reputable brokers out there are regulated by more than one authority. That means that they are able to operate in different markets and abide by the rules and regulations in each market they're involved in. The FCA is a big regulator for the UK and is proof that the broker is reliable. Other top regulators include:
Securities Investor Protection Corporation (SIPC)
Financial Industry Regulatory Authority (FINRA)
Federal Deposit Insurance Corporation (FDIC)
A lot of times, brokers are regulated by multiple, which can be a good thing in some cases. While you might be very limited with a long list of regulations, you can still rest assured that your investments are secured and won't get harmed if something happens to the broker.
4. Insurance
While most regulating institutions will offer some form of insurance, it's also a good idea to see if the broker also offers some form of insurance. That will serve as protection just in case the company goes bankrupt or fails in some way shape or form. Insurance can sometimes go up to $500,000, something that you should check up on.
5. Security
These days, not one on the web can be too careful. The risk of cybercrime online is something that continues to increase, especially in the financial industry. The amount of sensitive data that are held in brokerage accounts is a target, which is why you should consider the broker's online security measures. You can never be too careful online, especially with all of the information that brokerage accounts hold onto.
First of all, check what the broker has in place as far as fraud protection. How do they verify your identity and is it a good way to prevent the risk of identity theft? In addition, you should take a look if brokers have other forms of security, including:
Two-factor authentication
Encryption of information
Firewalls and up-to-date security certificates
6. Fees
Security is a huge feature that you should look into but, once you know brokers are safe, you can start to look into more specific details. Fees are a make or break for many brokers, as some will wind up costing you more in the long run than others. We mentioned some of the fees above, including:
Maintenance
Inactivity
Commissions
Spreads
Additionally, check if there are other kinds of fees that you might not have accounted for. In some cases, there are fees that you might not have seen coming that are specific to certain brokers. If that's the case, you should steer clear of them and only go with brokers that you can make your highest return with.
7. Speed of Trades
This one might not seem like a big deal but, when you're in the moment and trying to jump in at exactly the right moment, trade speed matters. While a lot of software these days allows you to automate trades, there are others that do not allow it and require you to log in and confirm a trade instead.
Still, in many cases, that kind of software is something that traders have to purchase themselves, which means that they usually cannot just expect it from their broker. Whatever the case, check out the speed of the broker's trade and go with the ones that have the fastest speed so that you don't miss out on any of the actions.
8. Commissions
This is another one of the things that we mentioned above but, we didn't get into too much detail about the types of commissions you can expect to pay. Commissions are not a bad thing and some come at very low rates that make it worth it. There are two ways that you might see commissions:
Per Share
Per-share is best for small quantities. On average, you'll see charges as small as $0.005 per share, which is nothing if you're trading very small amounts. In this way, traders get to keep more of their initial investments and earnings, Not losing them to fees and commissions.
Per Trade
Per trade is not bad unless you're trading multiple times a day. Per trade, fees are generally much higher than per share and come with an average of around $3 per share. This commission could be better for those that are not planning to trade daily and have long-term investment goals when it comes to a single market. If you're planning to make trades daily, a per trade commission is probably not the one for you.
9. Check the Tools
For new traders, trading tools and educational resources are crucial. For traders that already know a thing or two, trading tools can still come in handy, helping traders improve their strategy and get a better grasp on what the market is doing. There are all kinds of tools and integrations these days, some of which are better than others.
Stock Scanners
For a look at the market in real-time, a stock scanner is key. Usually up and running while the market is open, these scanners will take a look for spikes in the market of interest of traders, sending them an alert if they have it set up correctly. Scanners are a good tool for a beginner but are useful for experienced traders too as they might know what to look for.
The configuration of this kind of tool is key to getting the most out of it, something that traders should keep in mind before adding the integration or purchasing it.
Stock Screeners
Stock screeners on the other hand take a few steps back and give traders a look at the market over time. Whether it's months or years, traders can see how trends are playing out and decide the best option for them to jump in and start earning.
Integrations
Apart from screeners and scanners, there are integrations that help with charting. These charting tools are super helpful and some even come with automated trading and alerts along with them. That means that traders can sit back while the software takes control of them if numbers go up or down. It happened automatically and without any necessary interaction from the trader.
Resources
Apart from the tools, there are several brokers out there that will provide videos, articles, and more to help traders understand the market and trade better. All of these can come in handy but, it is up to the trader to use them to learn more about the market and how to make better and more effective trades.
10. Customer Reviews
The last thing that you should look for in an FCA broker is the reviews. Reviews are a great source of what different brokers are like and give a good insight into many aspects from all kinds of perspectives. From positive to negative reviews, you can find all of them in one place and find what real customers have to say.
A lot of times, customers take to platforms when things didn't work out like they planned or the platform isn't what they thought it would be, which is why reviews are a good place to start looking and get a feel for how brokers work.
Step by Step Guide on Starting with an FCA Brokers – An eToro Guide
After reading up on FCA brokers, you're probably ready to get in and start trading. Before you do, you'll have to set up an account, which we're here to walk you through. From creating an account to your first trade, you can find out how to do it all below.
Step 1: Open Account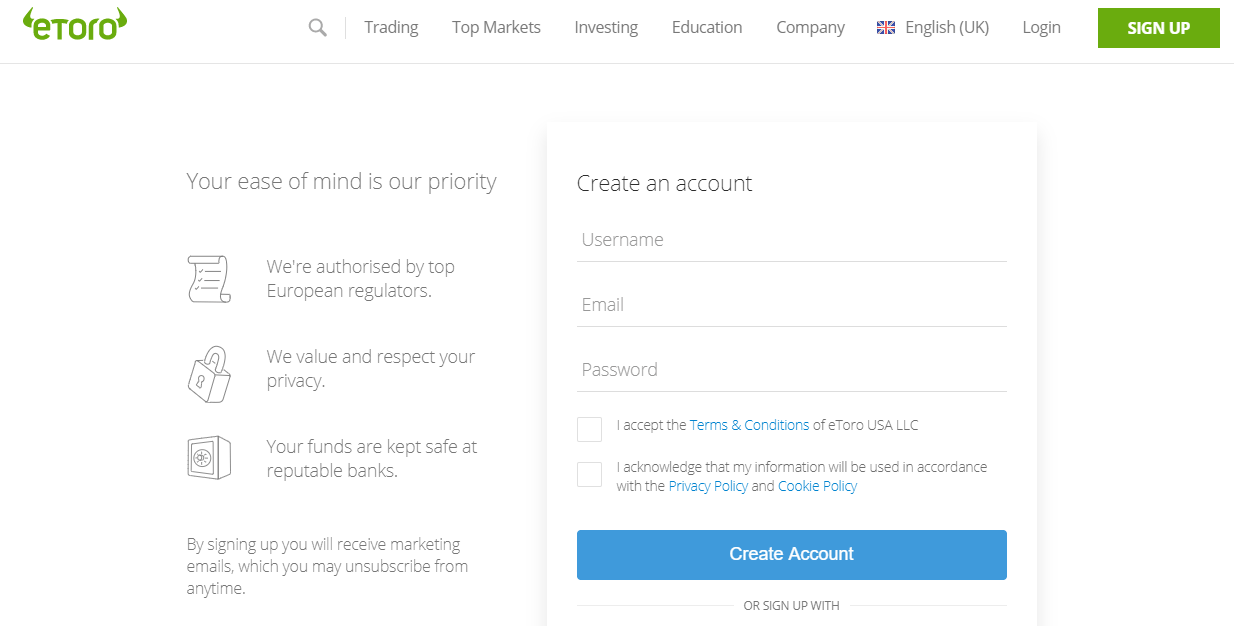 Once you choose your broker, head over to their website and open an account. Most of the time, this will involve entering your name, a username, and a password, along with your email. Don't forget to keep track of what you entered, as you'll have to log back in soon.
When creating your account, it's a good idea to look at the way you have to log in and whether or not you can select other means of verification. If you can, do it to keep your account safer. Account creation is generally quick but, in order to start trading, you also have to verify your ID.
Step 2: Verify your ID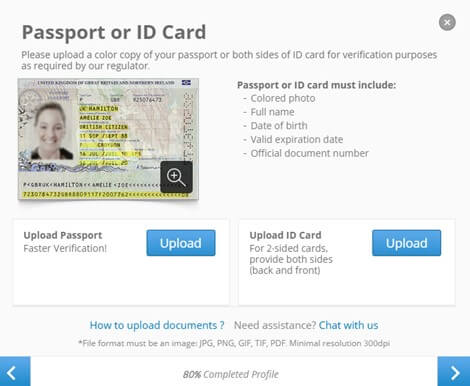 To verify your ID, you'll first have to check your email and confirm your account. This will trigger the process to confirm your identity, which you will need to do with a driver's license or passport. The process to verify your ID could take a few days and it just depends on the broker you choose. For some brokers, it could take a full day, so just keep that in mind before you hold off opening an account too long.
Step 3: Deposit Funds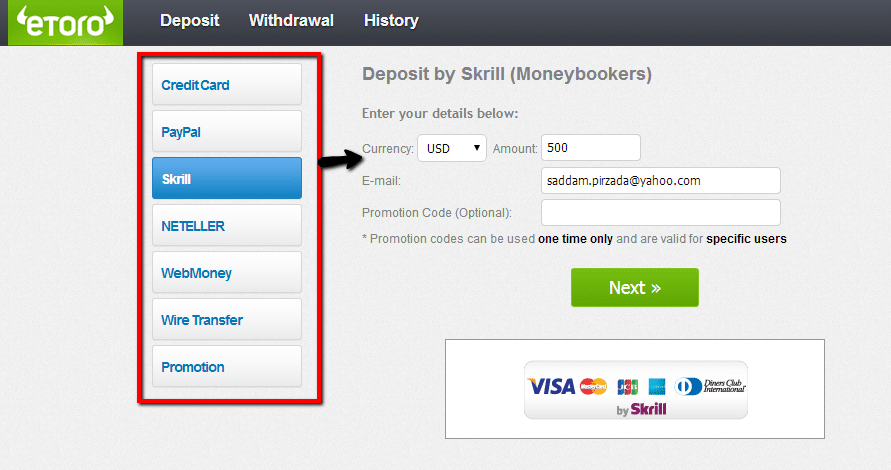 After you're verified, you're in, and you can log in with your username and password. Before you start trading, you'll need to add some funds to your account, which you can do with one of the accepted deposit methods from your broker. Check the deposit methods and choose the one that is most convenient for you. Then, check the minimum amount you have to deposit to start trading. Add that amount into your account and make sure that the process when through both on the site and your bank account.
Step 4: Search for different markets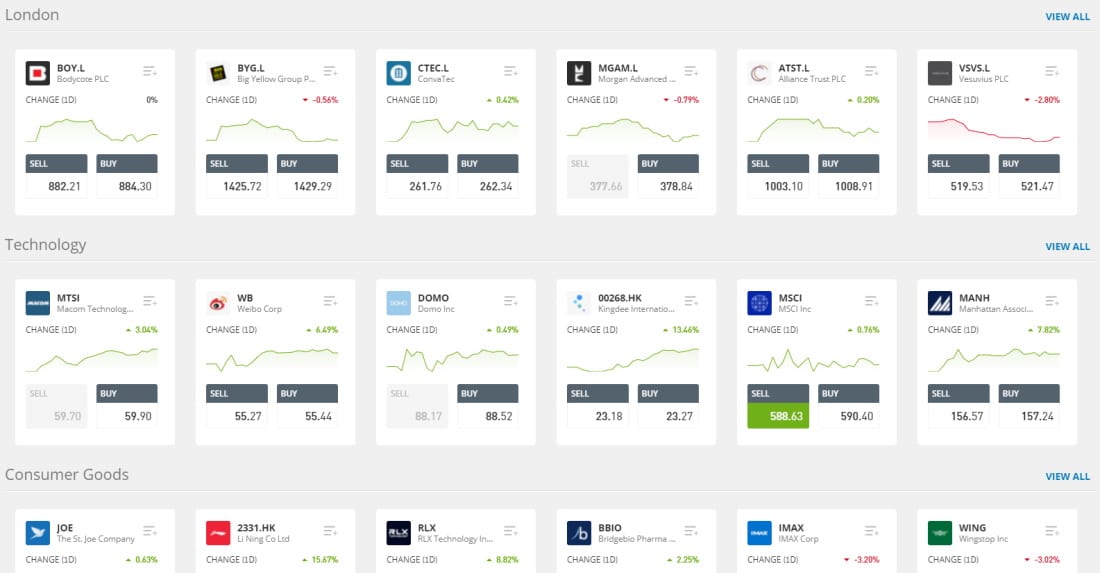 Even if you already had an idea of what market you wanted to invest in, you should still browse before throwing your investment in. Take a look around the platform and look for markets that interest you. Also, only go with markets that show promising numbers for you and your goals. You should be able to find the best market for you and then it's time to trade.
Step 5: Trade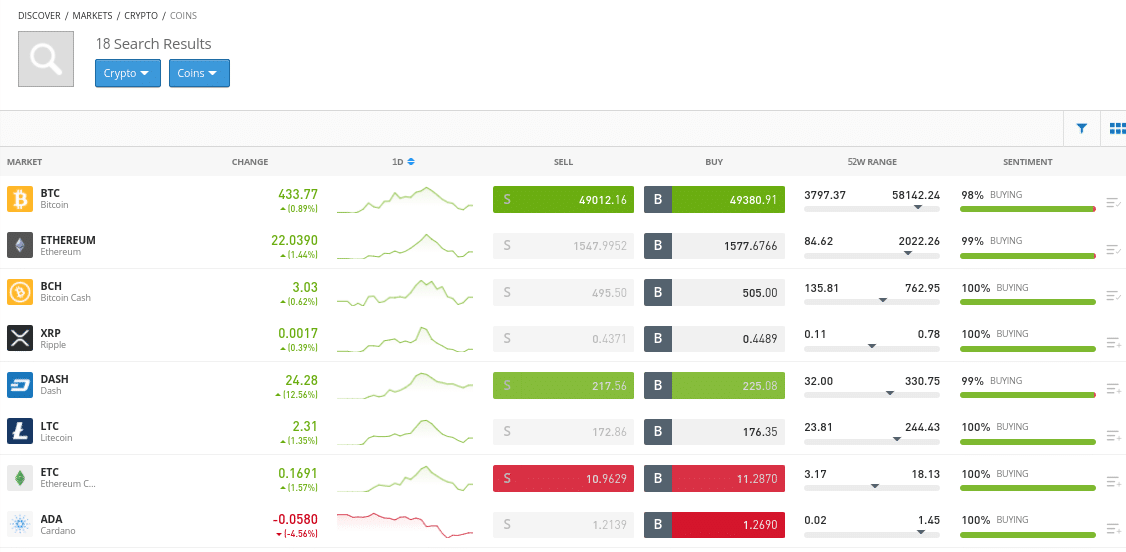 After all is said and done, you can finally trade. Be sure to use analysis tools and other software to help you have a better view of what your money is doing, getting the most out of each investment every time.
If it's your first time, you might want to keep a closer watch on your money to get a better understanding of how the market works and how changes with your account happen. This is a good time to start adding in some integrations and setting up software so that you have a better view of what's happening before it starts.
Best FCA Brokers – Our Expert Conclusion
Now that you know our top 5 FCA brokers and what to look for when choosing the broker for you, it's time to find one and start trading. When searching for a broker, make sure that you really get in tune with what you want out of a broker, even looking at how much money you have to invest. Then, you'll have a better idea of how they can work for you.
Choosing an FCA broker, you know that you're choosing a broker that is safe and insured, and that will have access into a different market, tradable by UK traders. Check out the fees and get to know the type of investments that you're making, choosing the best options for you and your trading type.
There are a lot of brokers out there, and not all of them are created equal. Find one that works well for you and gives you the best bang for your buck and the best tools to grow and become a better investor over time.
Top FCA Brokers Platform: eToro
FAQs
What does FCA regulated mean?
Are FCA brokers more expensive than others?
Can I trade cryptocurrencies with FCA brokers?
What are the limitations of leverage with the FCA?