Bitrue Review – Is Bitrue Safe? Fees & Minimum Deposit Explained
Bitrue calls itself a cryptocurrency management platform – where you can buy, sell and borrow digital assets, all in one place.
If you want to know more about this cryptocurrency exchange, then our Bitrue Review is the perfect place to get started. We cover all the features of this platform, the different markets supported, fees, security, customer service, and more.
Recommended Broker – eToro
What is Bitrue?
Founded in 2018 and registered in Singapore, Bitrue has over 4 million registered traders using its cryptocurrency platform. The exchange offers its services across the globe, and has offices in multiple locations, including the US, Europe, and Taiwan.
The platform currently supports more than 270+ cryptocurrencies and over 490+ pairs. Additionally, you will also be able to buy and sell crypto-centric ETFs while accessing leverage on them. Bitrue has also recently introduced futures trading on its exchange in the form of perpetual contracts for USDT markets.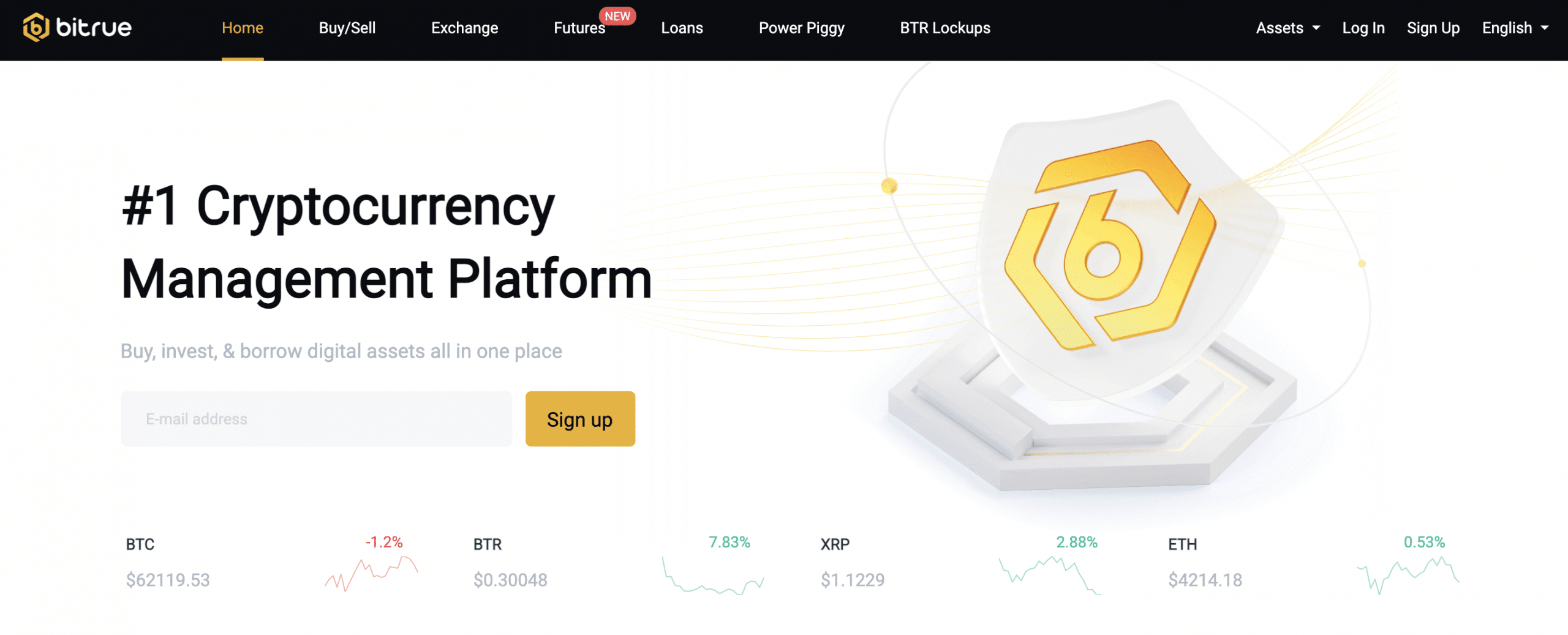 Apart from trading, this exchange also facilitates crypto loans on its platform. When it comes to fees, you will be charged between 0.098% and 0.280% depending on your chosen pair. You can further reduce these costs by paying with the native token of the Bitrue ecosystem – BTR.
Another notable feature about Bitrue is that it is one of the world's first cryptocurrency exchanges to integrate Ripple so closely within its system. In other words, XRP is the base currency on this platform, allowing you to hold and use this digital asset to purchase other tokens, all while paying lower fees.
However, while Bitrue offers attractive features, the platform still lacks regulation – making it a less secure option for investors and traders. As we proceed with our Bitrue review, we will cover more regarding these aspects, and more crucially – consider whether this exchange is safe for trading cryptocurrencies online.
Bitrue Pros and Cons
Our Bitrue review concludes that the cryptocurrency exchange comes with the following advantages and drawbacks.
Pros
Over 270 digital currencies supported
Buy cryptocurrencies with a credit card
Low trading commission with a flat-fee model
Cons
No regulation
High fees for instant purchases with credit cards
Trading platform not user-friendly
No passive investment tools
Cryptoassets are highly volatile unregulated investment products. No EU investor protection. 67% of retail investor accounts lose money when trading CFDs with this provider.
Bitrue Supported Markets
Bitrue offers a range of markets for its users that cater to different investment and trading styles.
Let us take a closer look at these.
Instant Buy
If you are looking only to invest in cryptocurrencies in the long-term rather than engaging in day trading, what you need is a platform that facilitates direct purchases. Our Bitrue review found that this is one of the many exchanges that support such an Instant Buy feature.
In simple terms, on Bitrue, you can buy cryptocurrencies by funding them using your credit card. The platform accepts fiat payments in USD, EUR, ZAR, AUD, and CAD for this purpose. You can use both Visa and Mastercard and transactions are processed by Simplex, a third-party provider.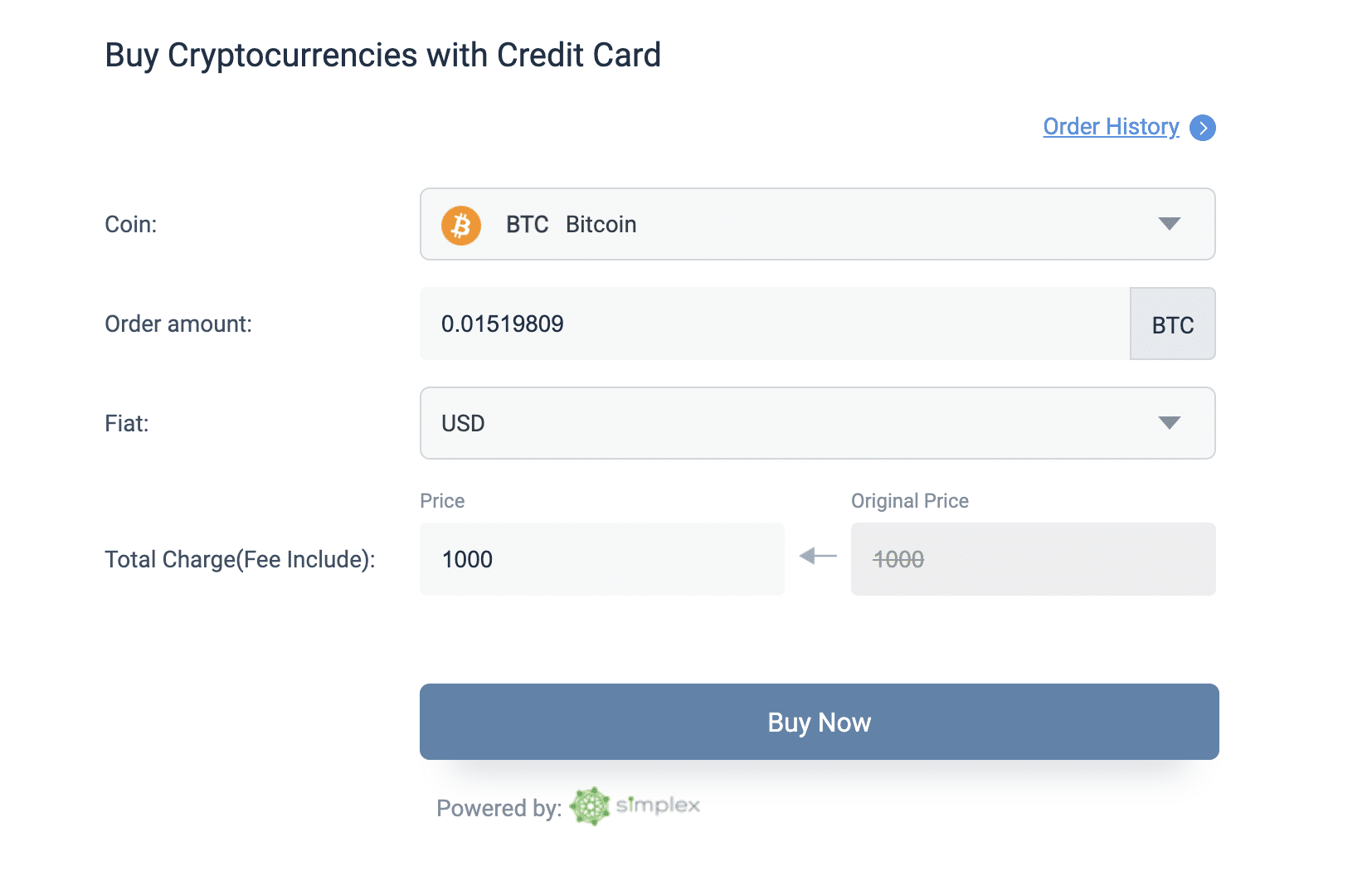 The minimum amount required to buy cryptocurrencies using a credit card is set at 50 USD or 50 EUR. It also varies depending on your chosen fiat money. For instance, if you are funding in AUD, then the minimum is set at 75 AUD.
It is important to note that – although the platform lists over 270 digital assets, this Instant Buy feature is supported only for the following tokens:
BTC (Bitcoin)
ETH (Ethereum)
XRP (Ripple)
LTC (Litecoin)
BCH (Bitcoin Cash)
LUNA (Luna)
GALA (Gala)
HAI (Hai)
DOGE (Dogecoin)
DOT (Polkadot)
TRX (Tronix)
ADA (Cardano)
XDC (XinFinNetwork)
SOL (Solana)
SHIB (SHIBA INU)
VET (VeChain)
XLM (Stellarumens)
XTZ (Tezos)
UNI (UniswapV2)
AAVE (Aave)
SAND (TheSandbox)
HBAR (HederaHashgraph)
ALGO (Algorand)
AVAX (Avalanche)
While using this feature, remember that it often takes between 10 to 30 minutes for the cryptocurrencies to appear in your wallet. Moreover, Bitrue also charges you additional fees to provide you with this easy access to digital assets.
Crypto-to-Crypto
Bitrue currently offers you only crypto-to-crypto markets. Although you can buy digital assets with fiat money, you will not be able to trade them on the platform. The only way around this is to choose a crypto-to-stablecoin pair instead.
Here is a list of the different types of markets on this exchange:
Crypto-to-BTC (Bitcoin)
Crypto-to-ETH (Ethereum)
Crypto-to-XRP (Ripple)
Crypto-to-USDC (USD Coin)
Crypto-to-USDT (Tether)
In other words, you will need to buy cryptocurrencies first in order to start trading on this platform. This can be a dealbreaker for many users, especially considering the fact that there are brokers such as eToro that allow you to trade digital assets against other coins as well as fiat currencies like USD, EUR, and GBP.
Bitrue Futures
Apart from spot trading, Bitrue also offers support for futures on its exchange. To be clear, these are available as perpetual contracts. Meaning, these are derivatives without an expiration date. However, the platform gives you access to only crypto/USDT based markets for this instrument.
Furthermore, futures contracts are not available for all the 270+ cryptocurrencies listed on the platform. But you will be able to speculate on liquid markets such as BTC/USDT, LTC/USDT, ETC/USDT, and BCH/USDT. You can also access ADA, LINK, MATIC, and other DeFi tokens.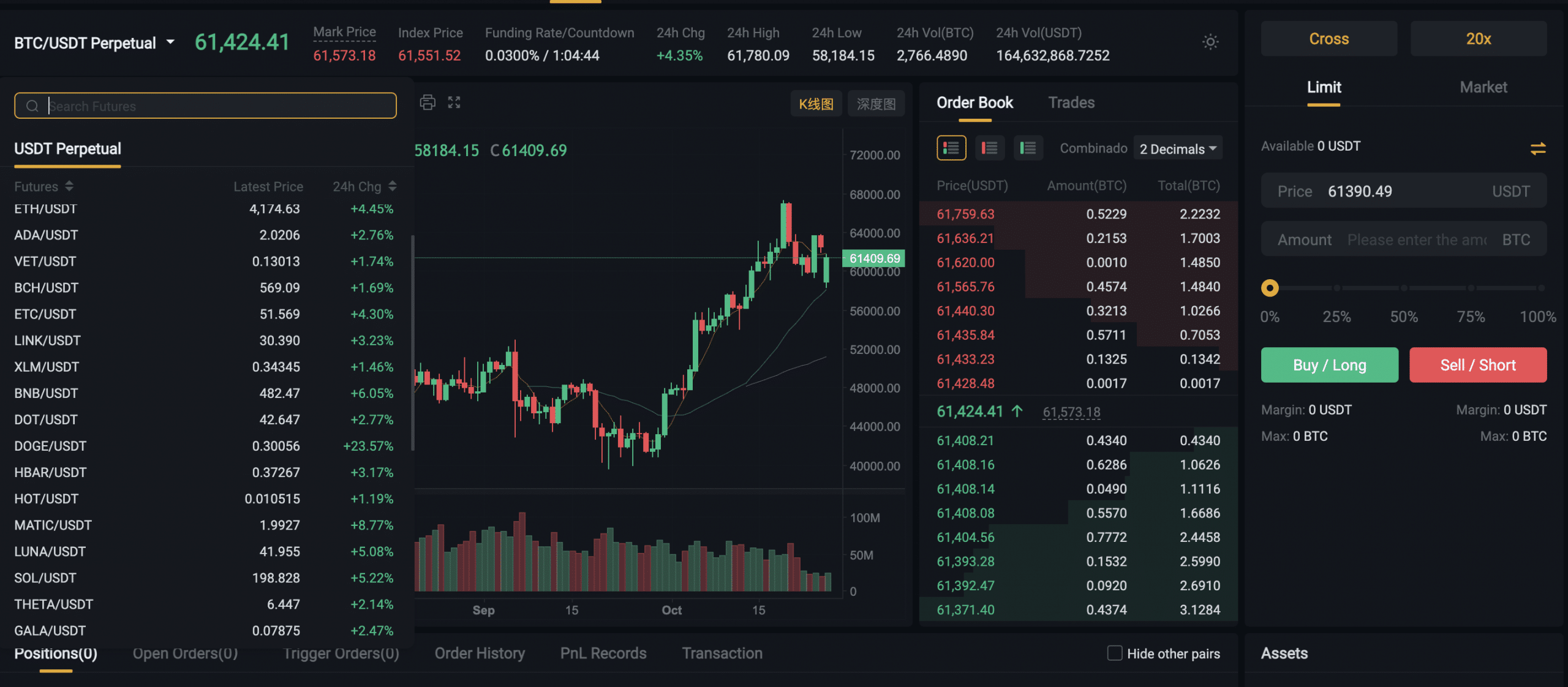 In addition to this, as per our Bitrue review, this platform also offers leverage of up to 125x for perpetual futures. To explain, this means that you can increase the value of your positions by 125 times. This is certainly attractive to advanced traders who want to engage in margin trading.
However, we want to point out that this exchange is unregulated, which makes it riskier to speculate on leveraged futures. Instead, if you are eager to access margin trading, you might want to consider a fully licensed broker like eToro.
Cryptocurrency futures allow you to speculate on the future price of Bitcoin and other cryptocurrencies. With our guide, you can learn all about this exciting new investment opportunity.
Bitrue ETFs
Another recent addition to the Bitrue exchange is its ETF market for digital assets. These products track a specific multiple of a token's price movement every day.
For instance:
Let us take the case of AAVE3L, which is 3x long AAVE. This means that if the value of AAVE increases by 1%, the price of the ETF will go up by 3%.
If you choose AAVE3XS instead, when the price of AAVE drops by 1%, the value of the ETF will increase by 3%.
As you can see, you can place a trade based on whether you think the value of your chosen asset will rise or fall in the future. If you are right, you stand to make a profit from your positions. However, it goes without saying that these products are highly speculative and risky – and as such, best suited for advanced traders.
Bitrue Trading Platform
If you want to trade cryptocurrencies rather than invest in them in the long run, Bitrue comes integrated with an advanced exchange. Here, you have access to numerous charting tools, indicators, and the option to customize the trading interface.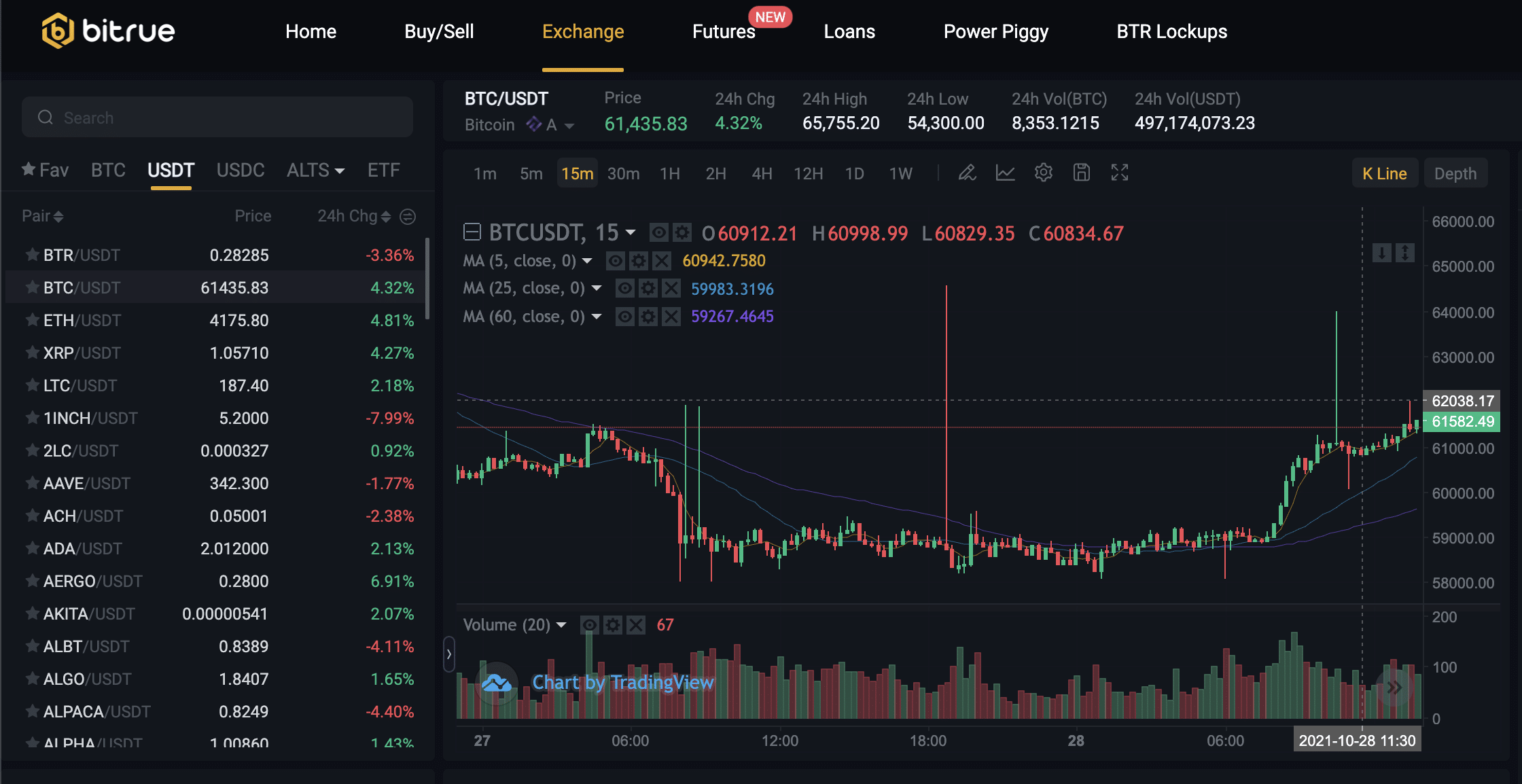 Our Bitrue review found the platform also gives you a bit more control over your positions, with 'limit," market', and 'triggering' orders. You can also switch between multiple charts.  As soon as you select your desired pair, you can see the 24-hour trading volume, highest and lowest values, and price movements.
Bitrue OTC 
Although Bitrue does not support crypto/fiat markets directly, the exchange has partnered with Legend Trading for you to buy and sell digital assets against both USD and USDT. The OTC option is available only for Bitcoin, Ethereum, Litecoin, and Bitcoin Cash. However, if you choose to use this service, it is of utmost importance to remember that Bitrue does not assume any responsibility for this function.
Moreover, you will not be able to complete the trade right away. Instead, you can only request a quote on the platform. Given these factors, if you want to trade digital assets against fiat currency, it would be best to use a regulated broker like eToro, which provides you with dozens of crypto-to-fiat markets on a spread-only basis.
Bitrue BTR Token
Bitrue Coin (BTR) is the native digital token of this platform and it powers its services and the entire ecosystem. The coin was built on Ethereum and is integrated into the system to offer a variety of benefits to its holders. You can obtain BTR by swapping BTC, USDT, XRP, or ETH on Bitrue's cryptocurrency trading platform.
As we move ahead with this Bitrue review, we will point out where and how you can use BTR tokens to make the most of this platform. To give a quick overview, here are the following advantages of being a BTR token holder on this exchange.
Receive discounts on trading fees
Earn more interest on your cryptocurrency holdings
Participate in DeFi mining by staking BTR
Gain voting rights on the Bitrue network
Bitrue Cryptocurrency Investments 
Bitrue also allows you to benefit from rewards on your cryptocurrency investments by adding them to the 'Power Piggy' tool. You can simply opt-in for this feature for specific assets as you need. The interest rate and lock-in period will vary from one token to another.
You can invest in cryptocurrencies for both flexible and fixed lock-in periods – depending on your chosen asset. The interest rate varies based on the duration, as well as the digital token you select. For instance, holding CAKE can earn you 48% while staking SAFEMOON only gets you a 2%.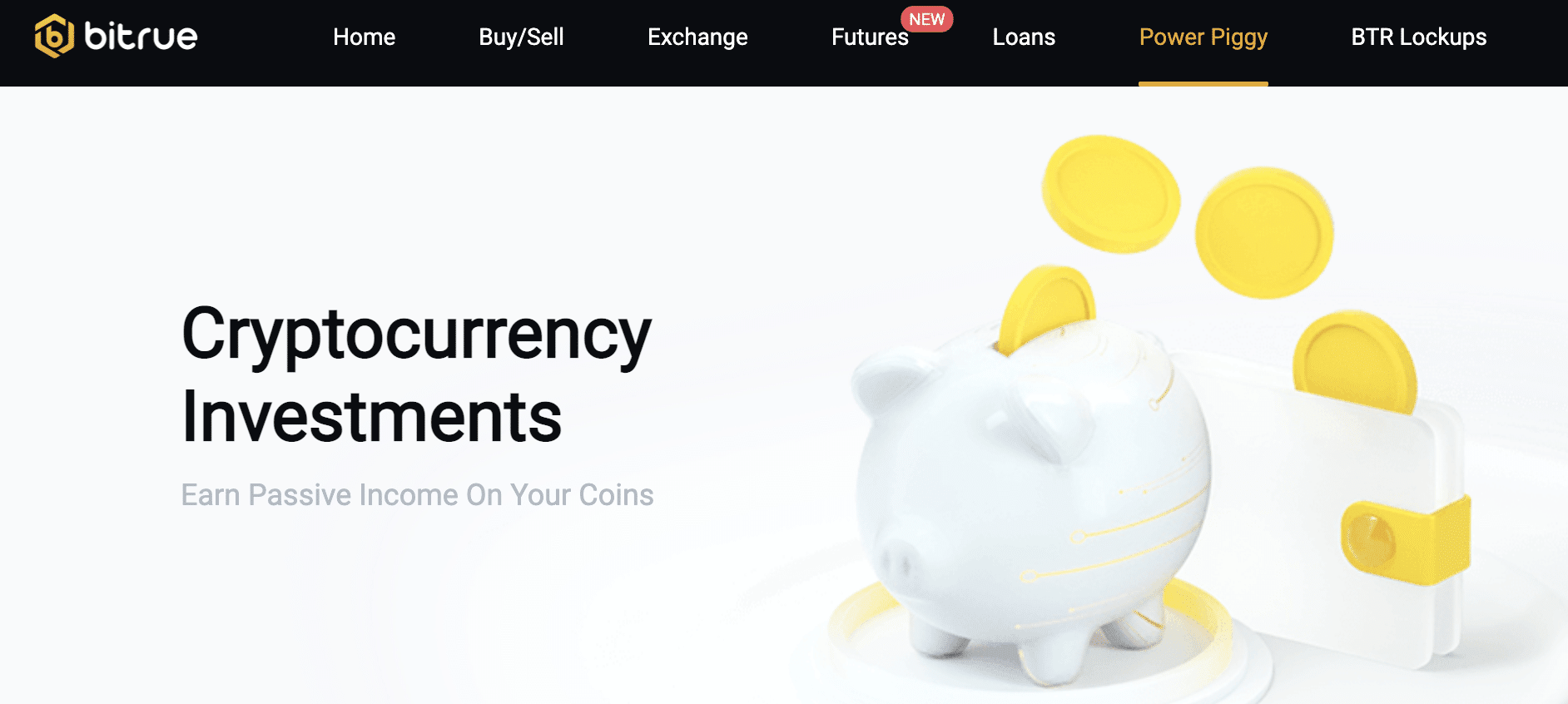 Moreover, instead of providing you with a standard interest rate, Bitrue calculates the rewards based on how many BTR tokens you hold in your account:
If your current BTR balance is worth less than 500 USD, you receive the base interest rate.
If your BTR holdings are between 500 USD to 10,000 USD, then you will receive the base interest rate multiplied by 1.034.
And finally, for those who hold BTR worth more than 10,000 USD, the reward is set at 1.2 times the base interest rate.
Our Bitrue review also confirms that there is a cap on how many digital tokens you can invest, which, once again, changes depending on the chosen cryptocurrency. The rewards are handed out to you every day and added to your account balance directly.
Crucially, although Bitrue guarantees the security of your investment and rewards, it is worth pointing out that the platform is still unregulated. As such, there is always a certain degree of risk involved in entrusting the safety of your assets to this cryptocurrency exchange.
Bitrue Loans
As we mentioned earlier, Bitrue is more than just an online exchange. It is a fully-fledged platform that gives you a variety of products related to digital assets, one of which is to use your coins as collateral to take out crypto loans.
Bitrue Loans is a feature that allows you to borrow four digital coins – namely, Bitcoin, Ripple, Ethereum, and Tether – by pledging other cryptocurrencies. The advantage is that you can continue to maintain the ownership of your tokens while leveraging them to gain access to other assets.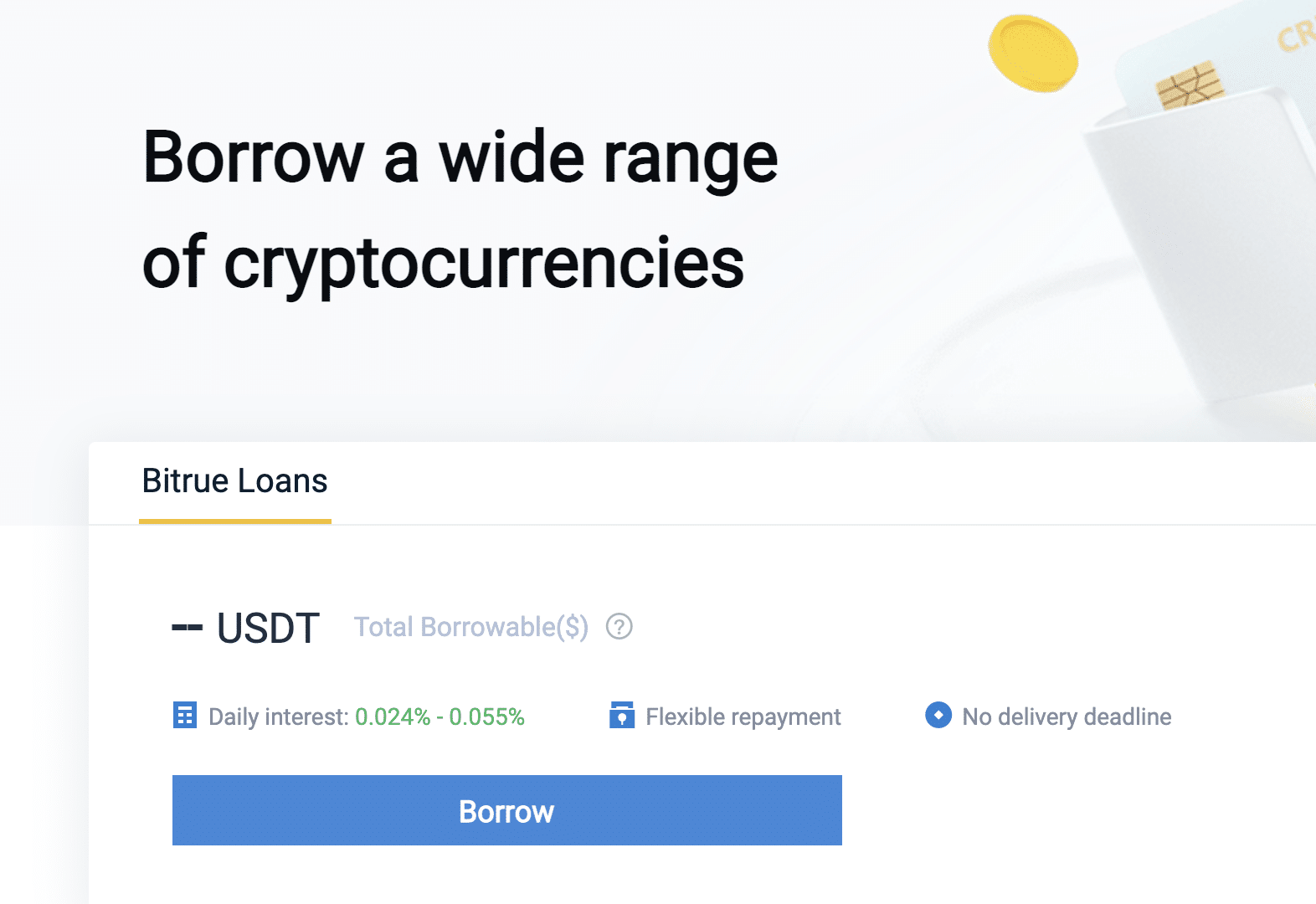 The only condition to take a crypto loan at Bitrue is that you should have completed the KYC verification process and that you must meet the minimum pledge amount. Although the borrowing period is unlimited, you are liable to pay interest, which is calculated on a daily basis.
Bitrue states how much you have to repay at the end of every month, and you will have to make the payment within 1-5 days. If not, the system will automatically deduct the funds from your asset account- and notably, with no penalty.
Bitrue Supported Countries
Bitrue offers its services to over 80 countries across the world, which includes the US, Europe, the United States, Japan, and Canada. However, there are a few exceptions and jurisdictions where this exchange is prohibited:
The People's Republic of China

The states of Texas or New York in the US
Bitrue Mobile App
As with most other cryptocurrency exchanges these days, this platform also comes with a mobile app. Although the application integrates several features, it lacks speed and usability. Our Bitrue review found that it is, in fact, easier to use the main website to place trades rather than using the app – which could lead to more issues, such as being able to close positions when on the move.
Bitrue Demo Account
Bitrue does not offer a demo account to its users to practice trading. However, you can see how the interface is laid out, and what features are offered, without having to sign up on the platform. For those who are seeking this tool, we would redirect you to eToro.  The platform comes with a fully integrated demo account that is funded with $100k in paper money for you to test your strategies.
Bitrue Fees
The fees charged by a cryptocurrency exchange should play a significant role in determining whether it is a fit for your needs. In this section of our Bitrue review, we will give you a rundown of what the costs are when using this platform.
Deposit and Withdrawal Fees
Bitrue does not charge you any deposit fee to transfer cryptocurrencies over the platform. However, withdrawing the tokens to a private wallet will incur additional costs that vary depending on your chosen digital asset.
Instant Buy Fees
If you are using your credit card to buy cryptocurrencies on Bitrue, you will be charged 3.5% per transaction or 10 USD –  whichever is higher. Although this might seem competitive, you will also find that there are several other platforms that allow you to purchase digital assets using debit/credit cards for significantly less.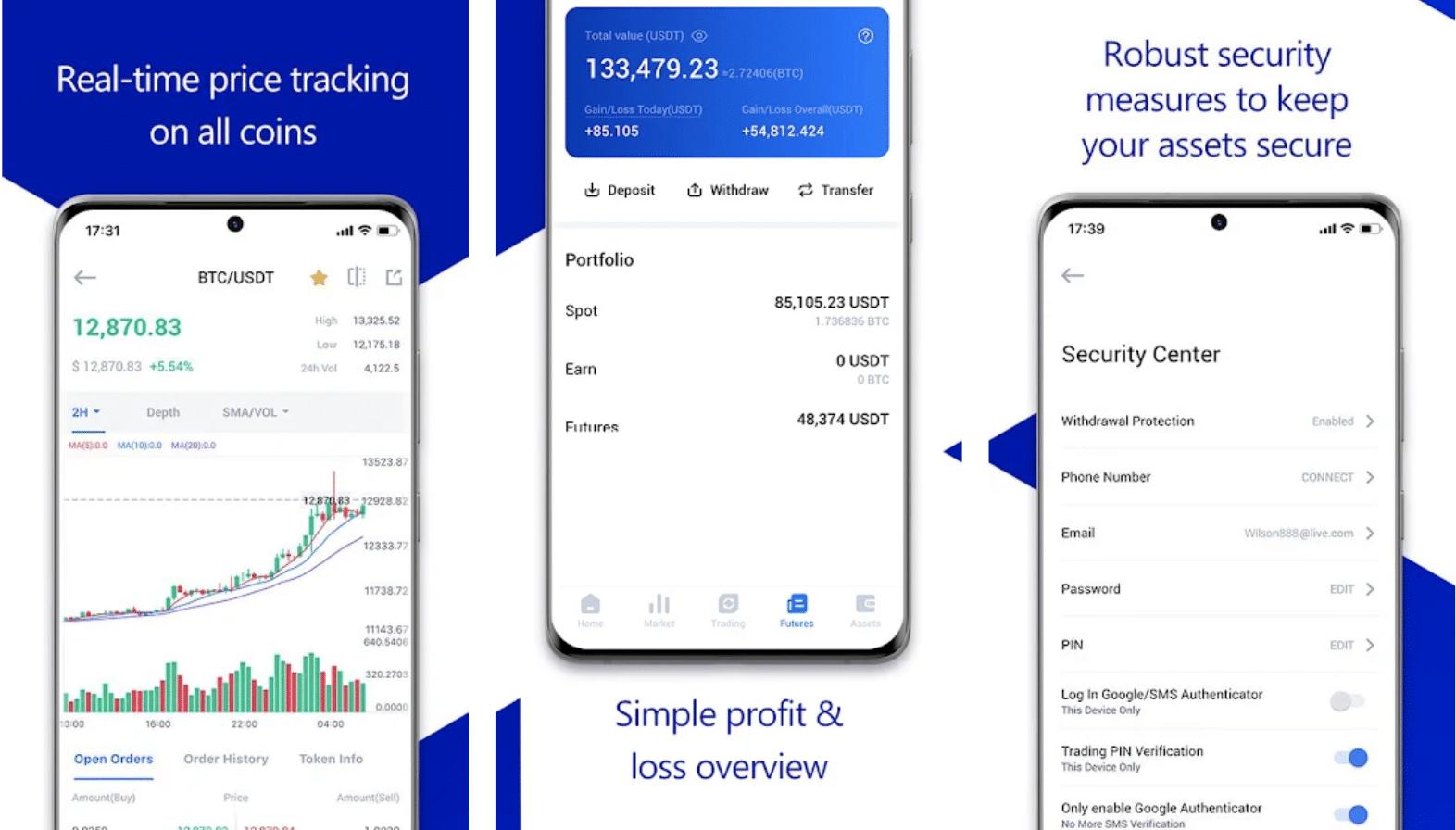 One such example is eToro – where US clients can fund their account using a debit/credit card for free. If you're not a US client, then the only fee you will pay is an FX charge of 0.5%.
Commissions
Unlike the majority of cryptocurrency exchanges and brokers, Bitrue does not follow a maker-taker model, nor charges a variable commission based on your trade size.
Instead, it follows a flat-fee structure, as follows:
For XRP trading pairs such as XRP/BTC, XPR/USDT, XRP/ETH – you will pay 0.2%
For other XRP trading pairs – the commission is 0.280%
For BTC, ETH, and USDT trading pairs – 0.098%
Additionally, you can also get a 20% discount on all the above-mentioned fees if you choose to pay via the BTR token.
Bitrue Payments
The only time you deal with traditional money is when you are using your credit cards to purchase crypto tokens using the Instant Buy feature on the exchange.  For this, as we covered previously, you can make payments via your Visa or Mastercard in USD, AUD, EUR, CAD, or ZAR.
Bitrue Minimum Deposit
As we noted earlier in our Bitrue review, you cannot engage in crypto-to-fiat trading on the platform. And as such, there is no fiat payment method, or minimum deposit required. However, you will have to transfer a certain amount of digital coin when funding your wallet – which varies depending on your chosen asset.
Bitrue KYC
Although the majority of cryptocurrency exchanges operate in an unregulated manner, most of them continue to demand that users complete a KYC process. This means that you will have to disclose your personal information and some identity documents to get started on the platform.
However, one key factor that sets this platform apart is that you do not need to go through any KYC or identity verification in order to start trading cryptocurrency. However, you will need to complete this step to gain access to features such as Bitrue Loans.
There are two levels of identity verification on Bitrue:
Level 1 requires you to bind your account to Google's 2FA. This means you have to download the official Authenticator App to your mobile and set up the verification process. Being a user of this tier increases your 24-hour withdrawal limit to 2BTC.
Level 2 needs you to go through identity verification by providing your photo ID. If you pass this KYC process, your withdrawal limit is set at 200 BTC every 24 hours.
Is Bitrue  Safe?
When looking for a cryptocurrency platform, the safety and security offered should be one of your prime concerns. In this regard, Bitrue has not kept a clean track record. In fact, in 2019, the exchange was hacked for $4.2 million in Ripple and Cardano. The funds were later replaced, albeit, the breach continues as a black mark in the history of this exchange.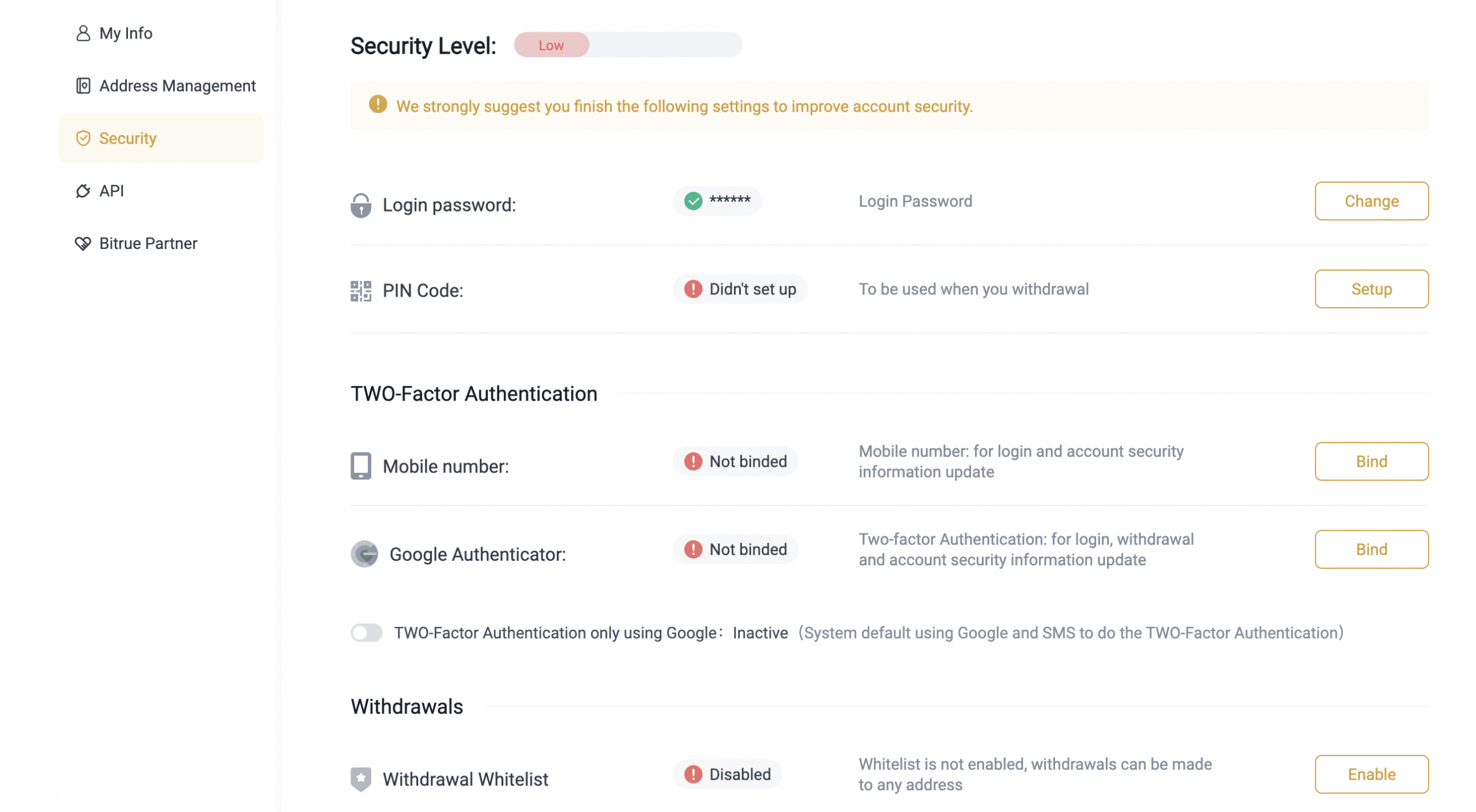 Following this, the platform has ramped up its security measures, as follows:
Cold wallets for storing 99% of digital assets
2FA authentication and multi-signature access
Whitelisting for withdrawal addresses
Bitrue also holds both XRP and BTR for insurance purposes, to replace assets of users in case of a security breach
All that being said, our Bitrue review would like to reiterate the fact that this cryptocurrency management platform is not regulated. This is a major drawback, especially when comparing this exchange against brokers such as eToro – which holds licenses in multiple jurisdictions.
Bitrue Customer Support
Bitrue has set up a Help Centre where you can find information regarding its features and latest updates. However, it is a challenge to find what you are looking for since it is disorganized and not laid out clearly. If you want to talk to customer support directly, you can do so by sending a request on the platform.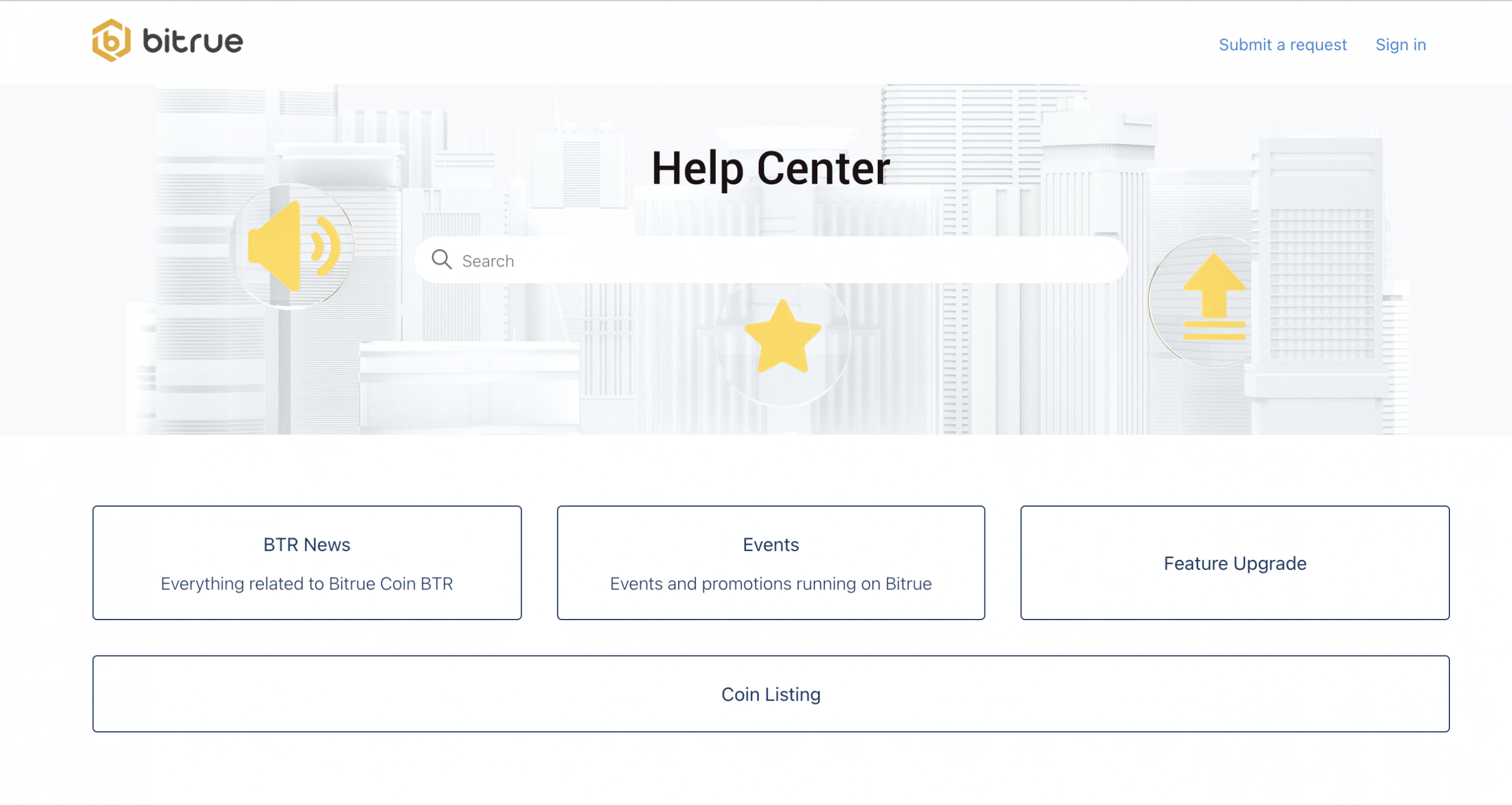 In addition to this, the exchange is also active on social media channels, including both Telegram and Twitter. Other than that, our Bitrue review points out that there is no means to receive live customer support from the team.
eToro vs Bitrue – Comparison
When choosing a cryptocurrency exchange, you need to consider both your immediate and long-term interests. You might be starting out as a trader with little experience in this industry, but in a couple of years, you could be looking to place regular and advanced trades.
As such, you need to know what your options are and how they compare against each other. In this section of our Bitrue review, our research team weighs the different features offered by this platform against that of eToro – one of the most popular crypto brokers with highly competitive fees.
Safety and Regulation
If there is one aspect that you do not want to compromise on, then it is the safety of your digital funds. From our Bitrue review, you already know that this exchange does not offer much in terms of security for your assets.
On the other hand, eToro is, perhaps, as safe as it gets when it comes to online trading. This broker is regulated by multiple financial authorities, including the FCA and SEC. In other words, you will benefit from an unparalleled level of investor protection.
User-Friendliness
The Bitrue trading platform cannot be classified as a user-friendly optoin. While you can buy cryptocurrencies easily, the exchange is a different story. It has all the bells and whistles you need, however, if you are a beginner, it will be challenging for you to get used to the interface.

In this regard, eToro is undeniably the better choice. The platform has an intuitive interface that caters to the needs of both beginners and advanced traders. You can also access multiple trading orders and charting tools, while still being able to buy and sell cryptocurrencies with ease. 
Supported Markets
There is no question that Bitrue has a wide variety of digital assets listed on its platform. However, while doing our review, one thing that stood out as a drawback is that the exchange does not give you access to any crypto-to-fiat markets unless you consider third-party integration.
This puts eToro much ahead of this exchange. The platform allows you to not only invest in digital tokens but also trade them against other cryptocurrencies and fiat money. Additionally, the broker also supports other assets such as stocks, ETFs, and commodities.
Fees
In terms of fees, Bitrue charges flat commissions for all trading pairs. In comparison, eToro allows you to buy and sell cryptocurrencies and other assets on a spread-only basis, starting from 0.75%. You will also be able to make free deposits on the platform, as long as your fund your account in USD. If you are paying in other fiat currencies, there is a small exchange rate of 0.5%.
Passive Investment Tools
eToro certainly dominates the score in this category by devising features that are specifically designed for those who want to passively engage with the cryptocurrency market. You have the option to choose a trader you want to copy, decide how much you want to invest, and any trade they open will be mirrored in your account automatically, in real-time.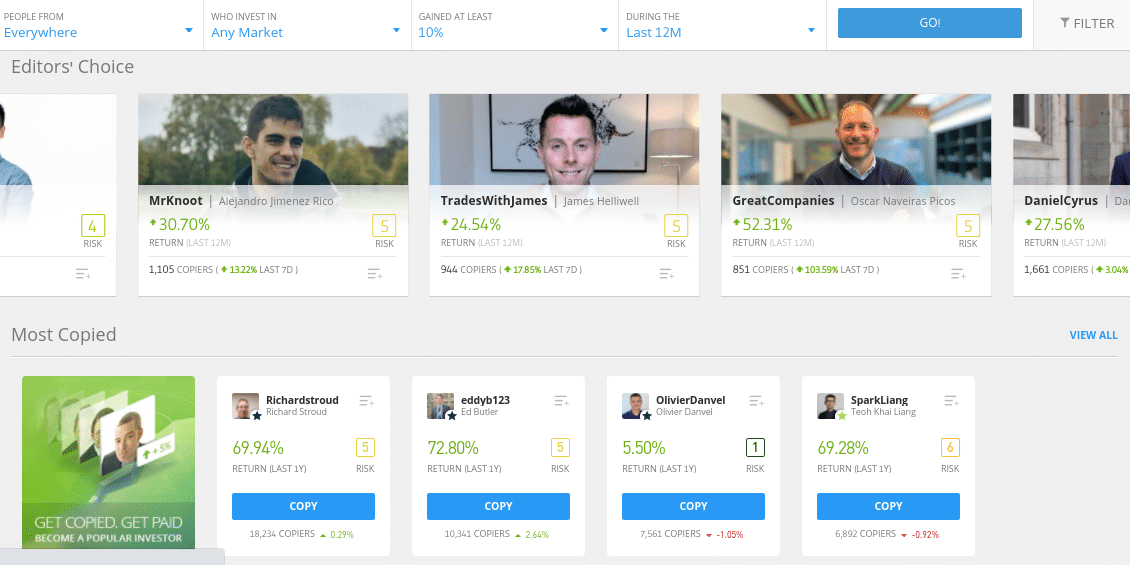 There are also several CopyPortfolios that you can invest in, to diversify your money via one trade. These are handpicked by eToro and rebalanced regularly to align with the wider markers. On the other hand, Bitrue does not have any beginner-friendly features that permit passive trading.
Bitrue Review – Conclusion
To sum up, Bitrue comes across as one of the many cryptocurrency platforms available today that offers access to exchange services and staking. The only aspect that sets this apart is that it supports more than 270 digital assets.
However, as our Bitrue review has pointed out, the exchange lacks security and does not give you access to any crypto/fiat trading markets. Instead, a heavily regulated broker like eToro can be a better option. This platform allows you to buy and sell digital tokens, and dozens of other assets easily, on a spread-only basis.
eToro – Best Broker to Trade Crypto
FAQ
Is Bitrue available in the US?
What fees does Bitrue charge?
How do you contact Bitrue?
What is the Bitrue minimum deposit?