Top 5G Stocks To Buy in 2021 – Invest in Best 5G Stocks
Looking for the best 5G stocks never got easier. Below, we've lined up a list and a little further down we'll go into more detail.
Apple – Best 5g stocks to Buy Now
Qualcomm –Best 5G Stocks to Buy Now
Verizon – Best 5G Trading Stock
American Tower – Best ETF 5G Stock
Ericsson – Best European 5G Stock
Nokia – Best Long-Term 5G Stock
T-Mobile – Largest 5G Network in the US
Skyworks – Best Diversified 5G Stock
Intel – Best Microprocessor Stock
Advanced Micro Devices – Best 5G Stock for Gaming and Connectivity
Best 5G Stocks Reviewed
5G is changing the way that we do things, helping us work more efficiently and get access to information fast. The way it's spreading into the market makes it no surprise that 5G Stocks are growing, catching the eyes of many investors.
Below, we'll take a look at the Best 5G Stocks 2021 has to offer along with the best brokers to start investing and trading. The possibilities are endless, and it's about time you got in on the action.
The popularity of 5G skyrocketed during the pandemic, as more and more people started to rely on the web. The need for faster connections and reliable networks rose, kicking stocks up into a positive slope. There are a ton of 5G stocks to choose from, some of which you don't want to miss out on. Below, we'll introduce you to 10 of the top 5g stocks that you don't want to miss out on.
1. Apple – Best 5g stocks to Buy Now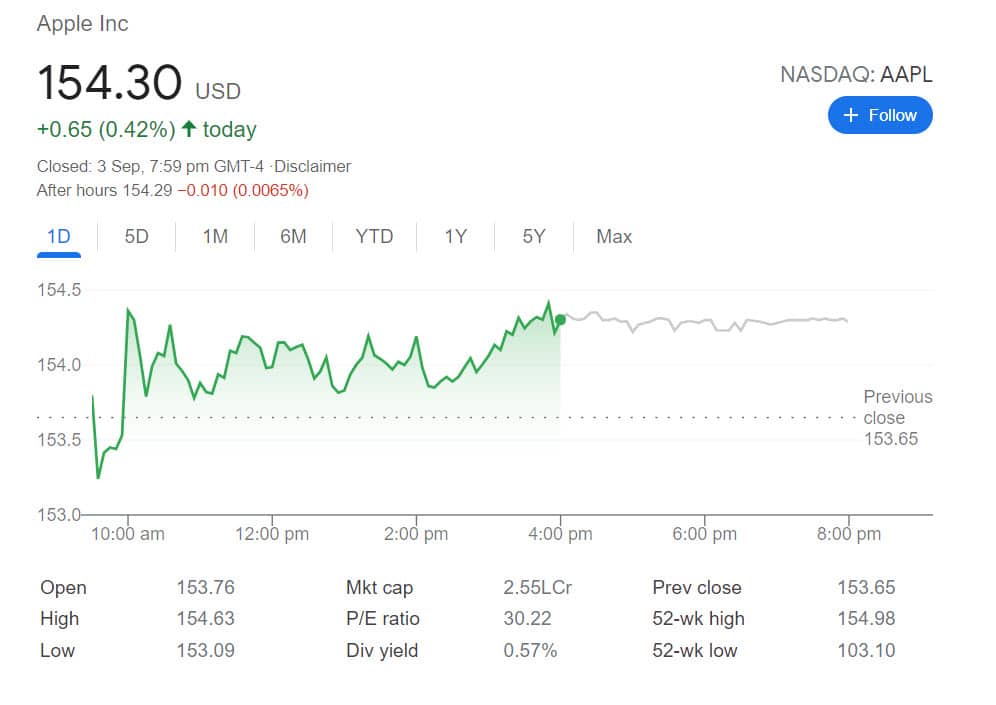 It should come as no surprise that Apple is a huge contender. They have really amped up the way they do business, coming out with new and improved technologies that most of the world can't wait to get their hands on. Since March of 2020, their stock has shot up 113% and is said to have a few spikes later in 2021.
Though they hit a low in April, they are slowly coming back as the economy bounces back from being closed for so long. Their price-to-earnings ratio is a high of 28% and investing in the company is thought to be great for both long-term investing and trading.
As of right now, they have just reported that their revenue is $111.4 billion, which is 21% more when checking out their year over year. Though they are obviously collecting more revenue and selling products through the roof, they are not bound to keep that stride forever, with more and more competition closing in.
2. Qualcomm – Best 5G Stock to Buy Now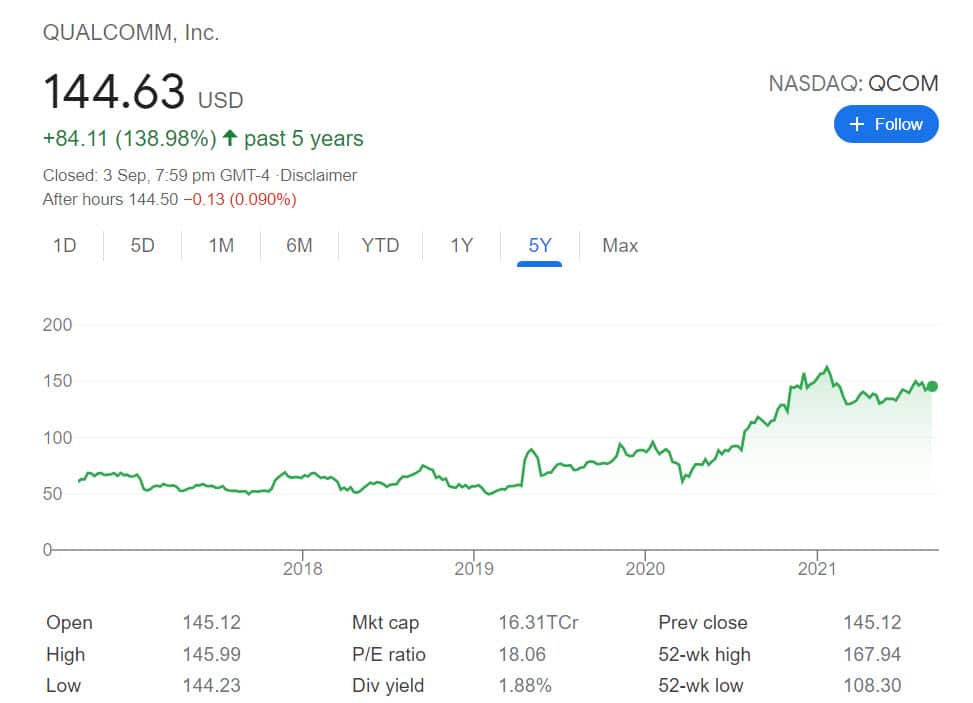 Like most other stocks, Qualcomm dipped around March. However, they have come back strong, climbing month after month to an all-time higher. Qualcomm is behind some of the most in-demand chips for 5G phones, so they are not going anywhere any time soon.
In the first quarter of this year, they have risen 62% and reported sales that were up 81%. Their price-to-sales ratio is 26%, which puts them in a good position to keep climbing up the ladder toward better profits and bigger market highs.
Their place in the market is necessary and becoming more in demand as improvements are made. Apart from their microchips, there is also a lot of interest in their transceiver, as it outs out 6GHz and brings better and more efficient connections to all those around.
3. Verizon – Best 5G Trading Stock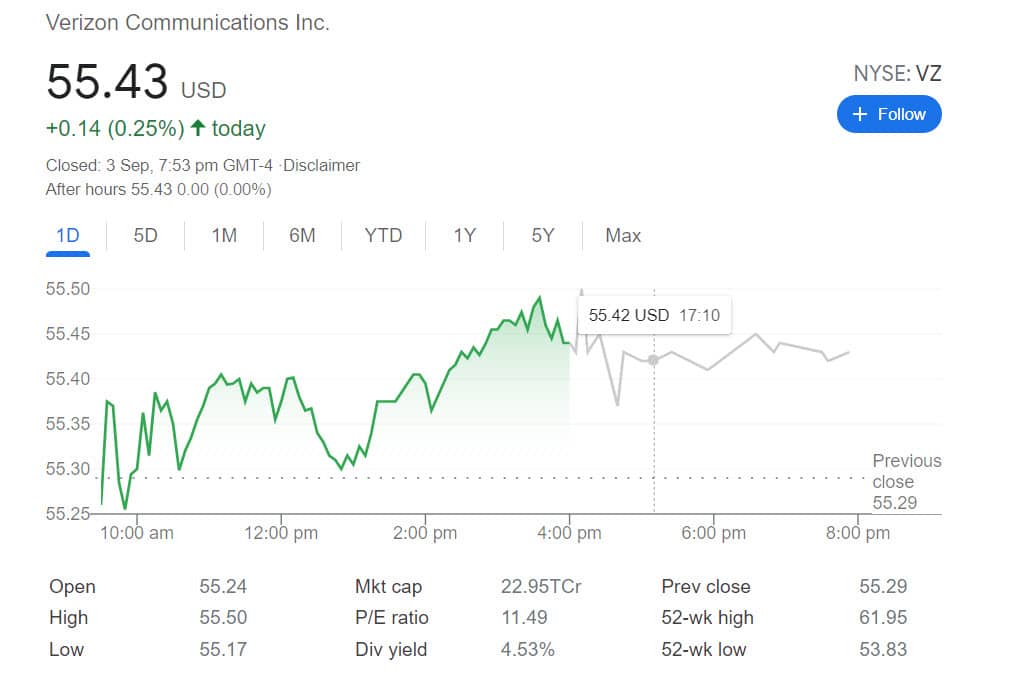 Though they are not in their highest position, Verizon is on its way up. After a low right before April, they spiked and have been steadily climbing over the last year. During the pandemic, they were hard at work adding more fiber optics across the US. Because of their efforts, 5G is in more sports than ever, doing away with dead zones.
Their P/E ratio is just 0.50%, making it one of the top 5g stocks to buy now. They are rolling out a ton of new technologies and working to further connect the world, making them a stable market perfect for trading or investing for the long run.
Verizon is also one of many 5G stocks out there that are set to roll out dividends in the very near future. Currently, the yield is at 4.4%, which could be a sign of their stability. They are the largest and the fastest-growing for a reason, with many individuals and companies turning to them for communication.
4. American Tower – Best ETF 5G Stock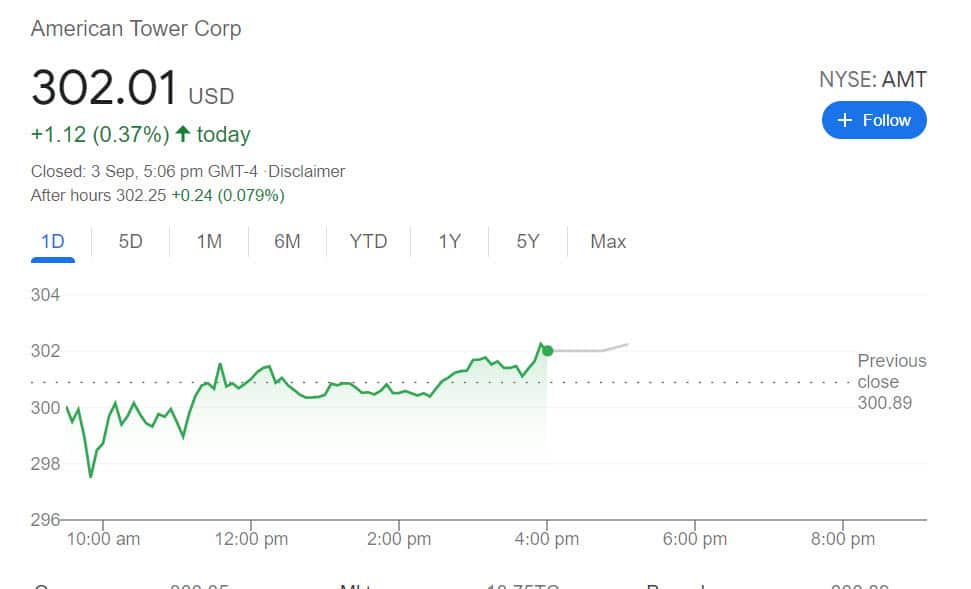 American Tower is one of the top contributors to the evolution of 5G throughout the United States. During their time in the market, they've had a strong run, increasing 13% over the last year. Due to their strong performance, they are set to pay out dividends, which are somewhere around 2.15%.
At the moment, American Tower is not in its strongest position and is said to be on the way up with all of the new investments and improvements they are making. Now, this is one of the best 5g stocks to invest in and one that could prove profitable in the very near future.
They showed a recent increase in tenant billings by 7%, something that will definitely help them climb out of their debts from investments they've made. These investments are sure to pay off in the very near future, giving investors something to smile about if they're looking for a reliable way to grow their money over time.
5. Ericsson – Best European 5G Stock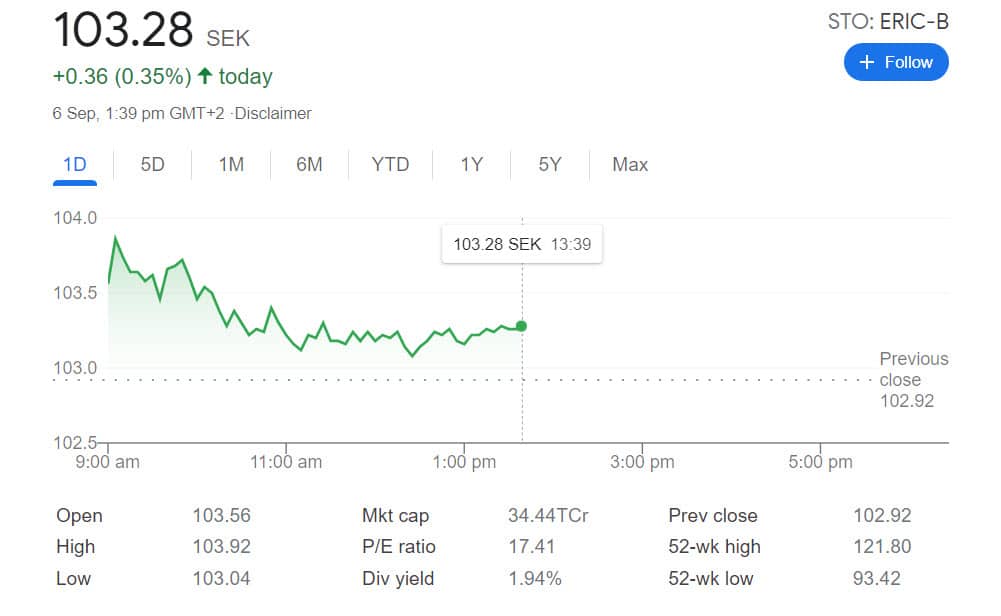 Ericsson has been in the business of 5G connectivity for some time now. If you go with a broker that has availability for European stocks, this one is a good one to take a log at. Since their dip around March, they have shot up 87% and continue to climb up. They are a solid stock for investing, with a stronghold on developments across the globe.
Ericsson is a great choice for long-term investments, showing a 5% growth every year. They've increased across many aspects, including their operating margin and their investments in cloud infrastructure as well. At some points throughout the year, they've also outperformed the NASDAQ, something that is surprising for a European market.
Not only is Ericsson expanding in their home territory but they have recently acquired contracts with other countries including a few in Asia. They have grown in other high consumer countries like the United States, China, and Australia as well, setting themselves up for long-term success that they are sure to come face to face with very soon.
6. Nokia – Best Long-Term Investment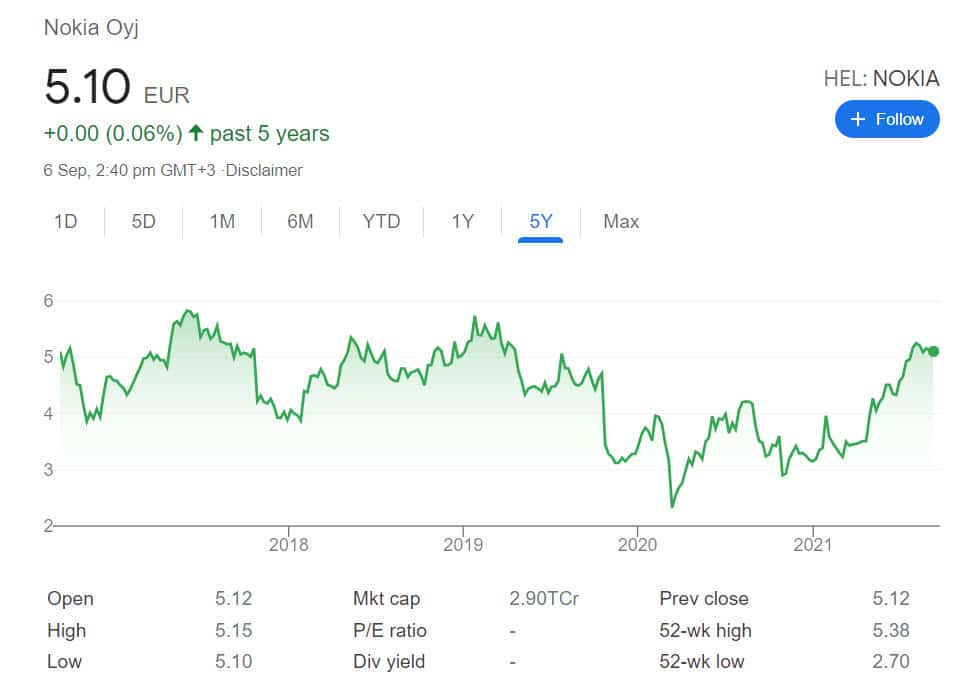 Nokia is one of those stocks that have good days and bad days. Its volatility makes it an attractive investment to make, especially for investors that are looking for ways to trade. Because of their ties with China, they were hit severely during the pandemic and have been slowly climbing up ever since.
Now that things are getting back to normal, the company is starting to show some movement in the positive direction, though it's not certain how that will play out. They have been behind in several innovations but have been slow to launch them compared to other 5G stocks out there.
7. T-Mobile – Largest 5G Network in the US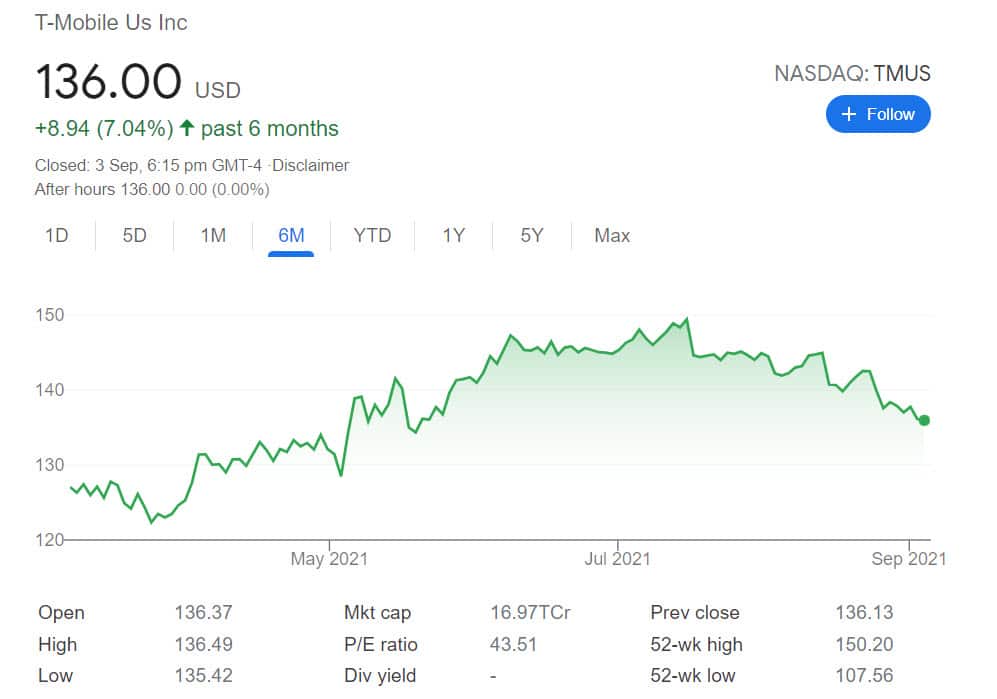 T-Mobile has the reputation for being one of the largest networks in the US. Since they hit a low back in March, they have been climbing steadily and also investing substantial amounts in its infrastructure. These investments are part of the reason why their customer base is beginning to grow, as they are now faster and more reliable than ever.
When put head-to-head with their top competitors that serve the US like Verizon, they are taking steps that would help them serve more than double the number of customers, something that is sure to pay off in the long run. It was reported that they cover more than 1.6 million miles in the US, which is 4 times more than two of the other top telecommunication operators in the US.
Just like most other companies, analysts say that they are on their way back up, showing a lot of promise for investors who are wanting to get in on a stock that will be stable in the near future. Still, at the moment, it is considered high risk, something that all should keep in mind though it shouldn't keep anyone from spotting the true opportunity.
8. Skyworks – Best Diversified 5G Stock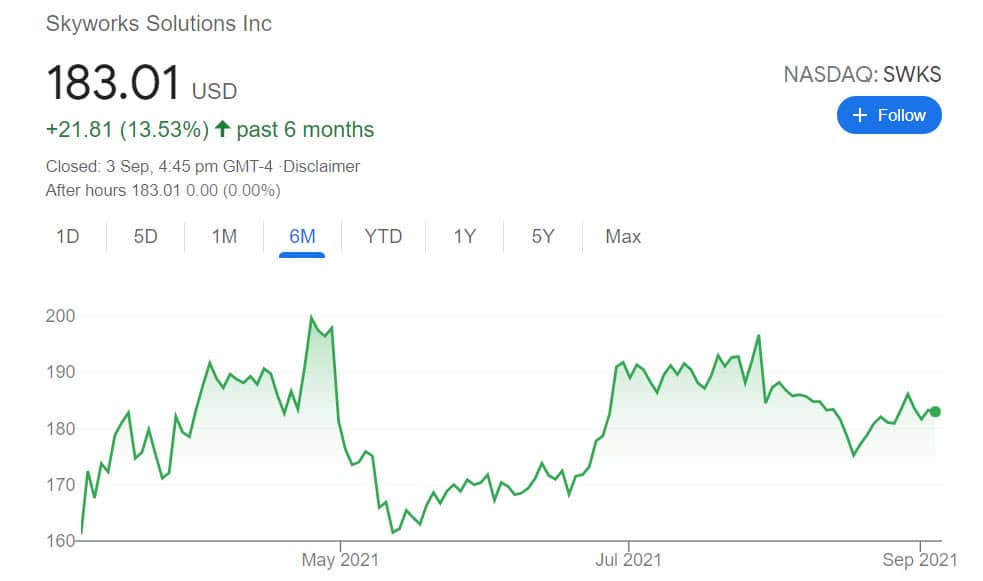 Just when many investors and stock advisors thought that this company was going toward the gutter, Apple's upgrade came in to save the day. After a rough time when the pandemic hit, this company started to soar, pumping out their 5G chips with the rollout of Apple's new iPhone 12 upgrade.
They've been through a lot of changes over the last few months and are set to go through more as the year continues. Though their direction is not certain as of yet, they are still paired up with Apple, leaders in innovation and mobile products.
One of the most unique things about Skyworks is that they are highly diversified, with their hands in many other markets other than smartphones. It is because of their ability to branch out that they offer a promising stock for buyers to get in on, one that will likely continue to rise the more products they pump out.
9. Intel – Best Microprocessor Stock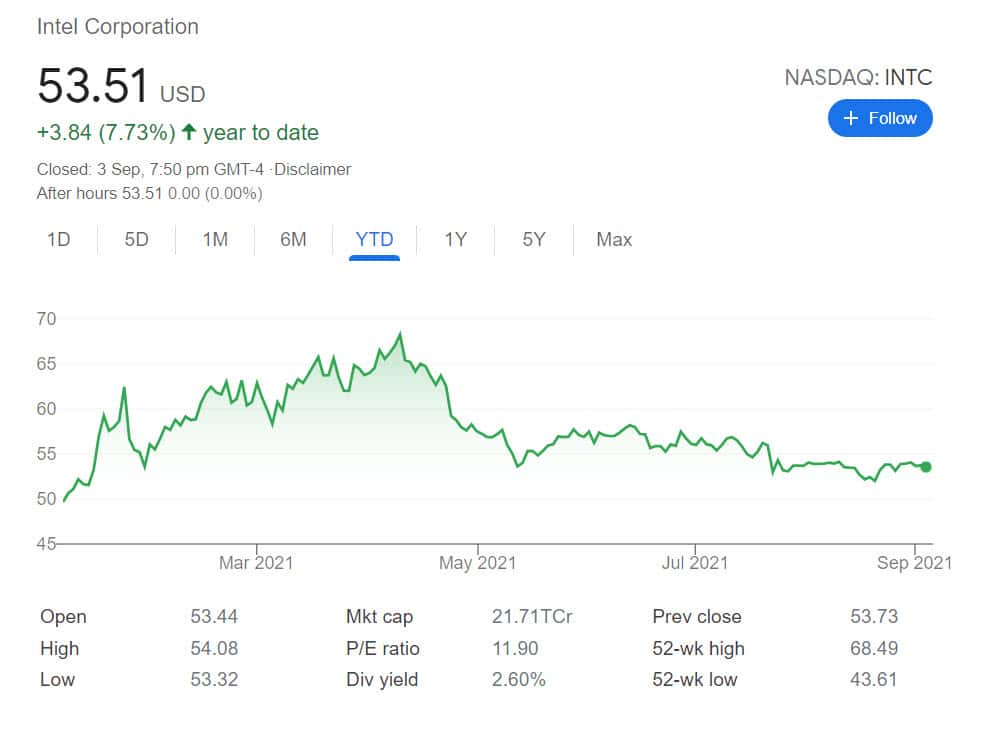 With the push to work from home, companies with strong microprocessors were a necessity. Intel happened to be the one to call, with a long list of products that few can rival. In 2021, their stock has taken a hit, especially after the announcement that they were going to push back their new microprocessors until 2022.
A change in CEO plus other key changes in their day-to-day business made their market presence a little shaky, however, it's now shooting up once again. Over the last few months, they've been climbing steadily and are said to shoot up with the release of their new and improved products.
Currently, they are up 37% from their lowest point in 2020 and are set to continue to rise. They have a long list of powerful computers and other software set to hit the market soon, something that all buyers should keep their eyes peeled for.
10. Advanced Micro Devices – Best 5G Gaming and Connectivity Stock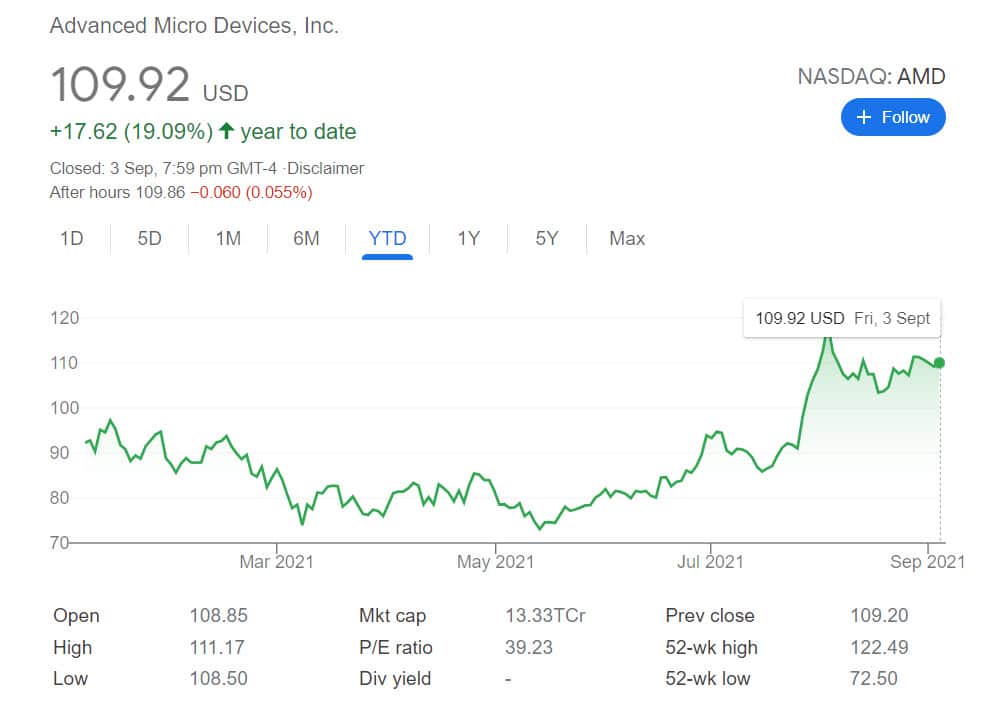 Looking at this stock just a year ago, it didn't seem so promising. When they changed their CEO, they had a sudden boost and it's remained that way since August of last year. Their products were bought up by Microsoft and are now in some of the most popular computers and tablets around.
Their new and improved chips are making a splash across the market and giving the company a ton to boast about. As of now, it's labeled as a stock to buy and hold onto, as they are set to stay steadily growing the more they invest in their 5G products. They have not yet reached their full potential and when they do, it's going to be the stock that everyone's looking to get into.
The release of their new and improved chips along with their recent acquisition of Xilinx put them on the map, gaining them some serious recognition. Now, they are taking the spot as one of the top dogs in microchips that increase productivity and efficiency across the web.
Are the Best 5G Stocks a Good Investment?
5G is becoming a common household word, making its way around the world. The popularity and the possibilities make it an attractive market but, are 5G stocks a good investment? To answer that question, there are a few things to ask yourself first before we come to a final consensus. First of all, it depends on the amount of time you're looking to invest.
Though 5G is spreading, it has not quite reached its peak and will not do so for some time. While it's making its way around as a long-term investment to make money over time, it could be a solid choice, that is, if you can deal with the fluctuations. The pandemic is still taking the market in waves, and it's unclear where it will go as we deal with new closures and policies to battle the pandemic.
Another thing to be wary of with the best 5g stocks is their P/S ratio. Many 5G companies are in the investment stage, setting themselves up for the future before some of the newest and most innovative technology is readily available. Now is a time to keep a close watch on companies and see how they handle their profits and whether or not they are making the right decisions about them.
Keeping all of that in mind, deciding whether or not investing in 5G stocks really depends on your goals. Long-term is the best option for some stocks, which short-term trading is the best for others. Take a look at a company's infrastructure and keep a close watch on the investments they're making to decide.
When deciding to invest, the stock needs to be reliable. Investors should put their money in knowing that they have a solid company with a reputation for successful dealings. If that confidence is not there and the stock is jumping around too much, it can make the initial investment weak and deplete it before it has time to grow.
Best Stock Brokers to Buy the Best 5G Stocks USA
Now that you have a good idea of which 5G stocks to buy, it's time to jump in and start buying. The first thing you need to start doing that is a broker, one that is solid and one that you can trust. A quick online search will reveal that there are tons of options out there, which can get a bit confusing if you're not sure what to look for.
Instead of going at it alone, we've gathered up three of the top brokers on the web, scoring points for their safety, low fees, and easy-to-use platforms. Below, we'll tell you more about them to help you decide which broker is the right one for you.
1. eToro – Overall Best Broker for 5G Stocks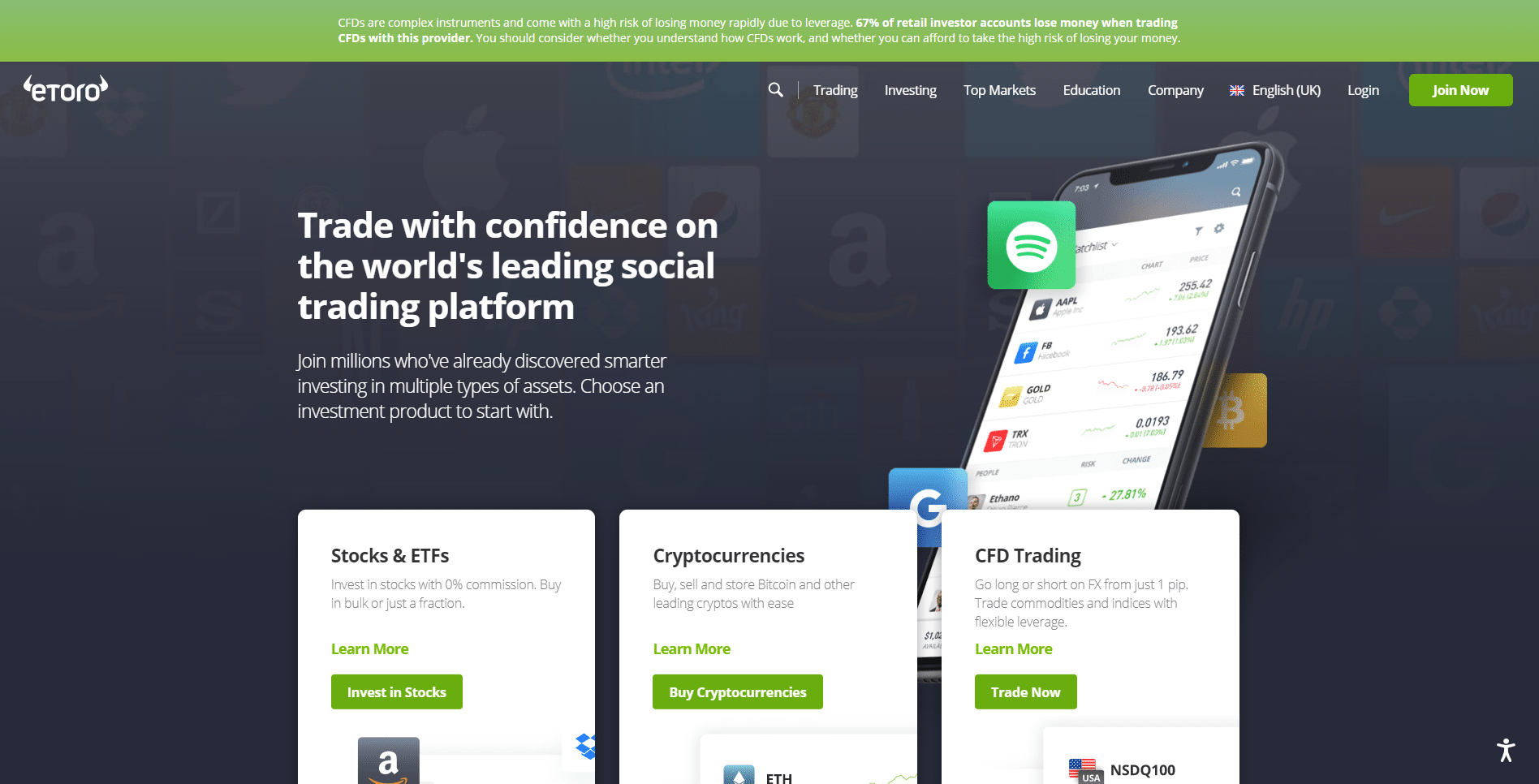 If there is one broker that truly has it all, it's eToro. From their easy-to-use platform to their lack of fees, they are one of the best that the market has to offer. When you sign up for eToro, you will have more than 2400 markets at your fingertips and have the opportunity to bet in 17 international markets.
When it comes to fees, there are no commissions tied into trading, which makes it a good option for those who want to trade instead of invest. For as little as $200, investors can log in and start putting their money into the top 5G stocks.
While seasoned investors may have trading and investing figured out, new investors have to figure out the market. eToro makes it easy for those who are new, to trading, providing them with educational resources and the ability to copy trade as well.
Not only are they top rated but they also have a lot of respect from top investors and their large customer base too. They offer a long list of perks and have an amazing customer care that users can take advantage of if they ever have issues while trading using the platform.
| | |
| --- | --- |
| Fees | $5 cashout fee and 0.5% conversion fees |
| Minimum Deposit | As low as $200 |
| Deposit Methods | Credit or debit card, e-wallet, bank account |
| Speed of withdrawal | Typically, 3 business days |
| Spread ranges | 0.75% to 5% |
| Leverage Options | Up to 5% |
Pros and Cons of eToro
| | |
| --- | --- |
| Pros | Cons |
|  Option to partake in copy trading |  Not much to offer for advanced traders |
|  Trade among more than 800 markets offered | |
|  Regulated by the FCA | |
|  Lots of payment options including e-wallets | |
|  Comes with a downloadable app | |
2. AvaTrade – Best Broker with Software Integrations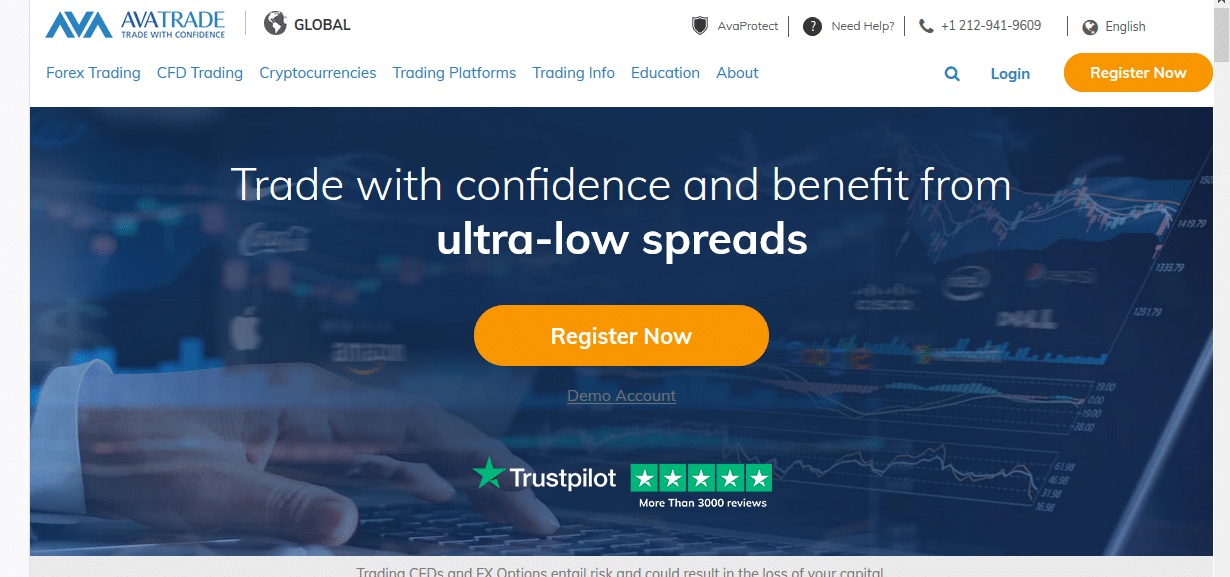 AvaTrade is compatible with market analysis software like MT4 and MT5. Adding this software along with AvaTrade's market tools can help investors have more insight than ever, making more informed trades. Other options include automating trades and even copy trading to follow successful investors.
With as little as $100, investors can get in on the action, trading in one of many markets that span across stocks indices, and even ETFs. Sign-up is simple and they offer an app that's downloadable onto any mobile phone or tablet.
They have been in the business of trading since 2006 and are regulated in several markets in different countries around the globe. That opens up doors when it comes to buying and trading 5G stocks, as connectivity is bringing borders closer together on the market.
They have an interactive platform with a ton of educational resources so that you can learn the ropes before you trade. Plus, they have great ratings from across the web and plenty of recommendations from top companies and from top investors too.
| | |
| --- | --- |
| Fees | $50/quarter for inactivity |
| Minimum Deposit | As low as $100 |
| Deposit Methods | Credit or debit card, bank transfer |
| Speed of withdrawal | As little as 3 business days |
| Spread ranges | 0.91 on average |
| Leverage Options | 1:400 |
Pros and Cons of AvaTrade
| | |
| --- | --- |
| Pros | Cons |
|  One of the best spreads on the web |  Inactivity fees if you don't use after a quarter |
|  Options to integrate MT4 and MT5 technologies | |
|  Option to automate trades | |
|  No commissions on trades | |
|  Choose from stocks, indices, and bonds | |
3. Capital.com – 5G Broker with the No Fees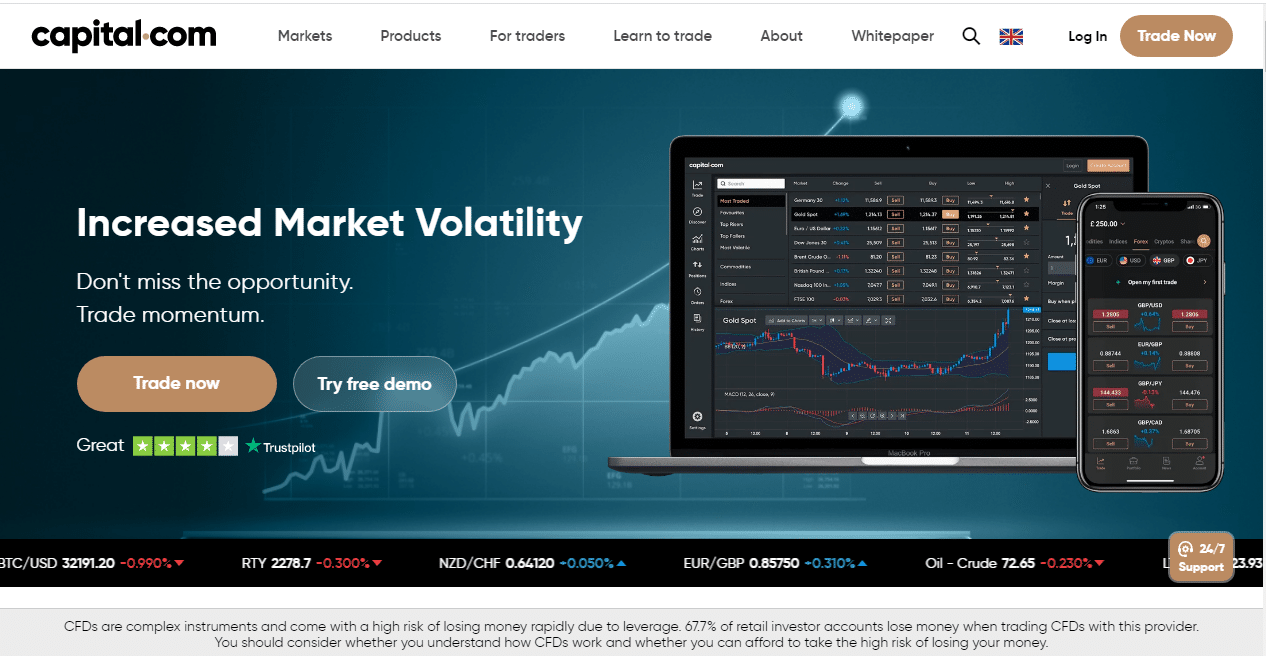 Yes, you read that right! Capital.com has no fees attached, including for inactivity or for withdrawals. Without any fees, they offer a huge incentive to bettors, as they can make trades and invest without having to worry about fees taking away from their net earnings.
Capital.com works a little differently than most other platforms, powered 100% by AI. This offers a huge advantage over other markets as well, as investors can automate their trades, use state-of-the-art analysis tools, and even track particular stocks and receive alerts when they start to do something interesting.
With more than 2800 stocks, 120 cryptocurrencies, and 20 indices to choose from, there is something for everyone at Capital.com. Getting started is a breeze and they provide an interactive mobile app full of tools to make the best out of each betting day. It's quick, easy to use, and filled with opportunities to grow investments without losing it to fees.
Not only are they highly recommended but they come with customer care that is unmatched by other brokers. If you have an issue, there will always be someone there to answer your questions or concerns. They have a top rating for customer service and platform, so you can't lose when you choose them for your investing needs.
| | |
| --- | --- |
| Fees | No inactivity or withdrawal fees |
| Minimum Deposit | As low as $20 |
| Deposit Methods | e-wallet, debit and credit card, bank account |
| Speed of withdrawal | 3-5 business days |
| Spread ranges | 4 pips |
| Leverage Options | 5:1 for CFDs and 30:1 for Forex |
Pros and Cons of AvaTrade
| | |
| --- | --- |
| Pros | Cons |
|  One of the best spreads on the web |  Inactivity fees if you don't use after a quarter |
|  Options to integrate MT4 and MT5 technologies | |
|  Option to automate trades | |
|  No commissions on trades | |
|  Choose from stocks, indices, and bonds | |
How to Buy the Best 5G Stocks – eToro Step by Step Guide
When you're ready to start investing, you'll have to take a few steps to get there first. Below, we'll walk you through what you need to do when you're looking to invest, taking you from start to finish and everything in between.
Step 1: Create an Account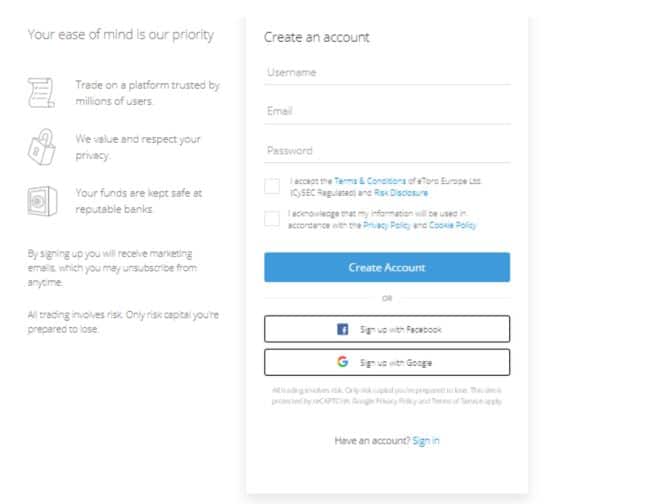 When you're ready to go, simply head over to eToro and select 'Join Now.' From there, you'll be asked to enter a few details, including your name, email, and phone number. You'll also be able to create your username and password, which will allow you to log in on your computer or the mobile app.
Be sure that you keep a hold of your information so that you can log in quickly and don't forget. After you have your account created, you'll need to head over to your email to confirm your email and keep the process rolling.
Step 2: Verify your Identity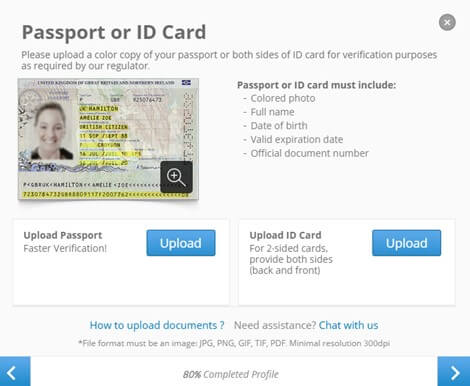 Next, you'll have to verify your identity. Because you're dealing with money and personal information, eToro attempts to protect your identity and make sure that it's you who is creating the account. To verify, you will be asked to provide:
A valid driver's license or passports
Proof of address (utility bill or another statement)
Verification of your banking account
Verification of identity doesn't take too long and, in most cases, takes only a few minutes until it's done and you can start exploring the platform. Verification of your identity is key to keeping your information safe and making sure that everything checks out before they approve any deposits or trades from your account.
Step 3: Add Funds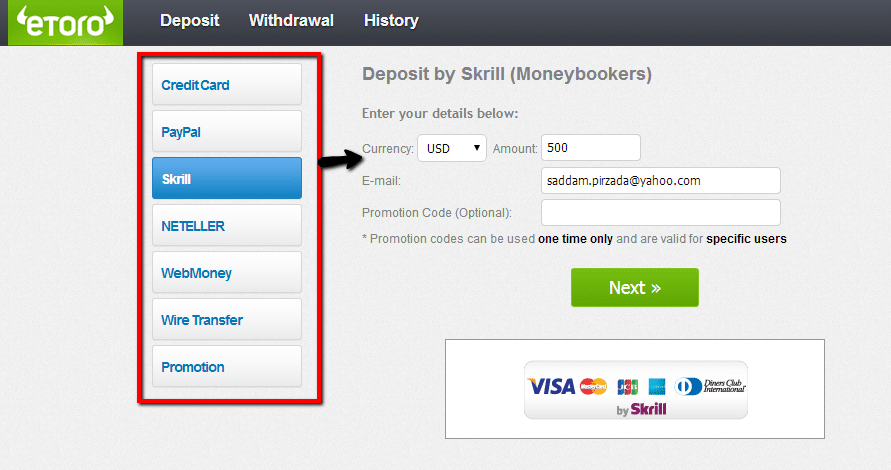 With your account up and ready to go and your identity verified, it's time to make your first deposit. For eToro, you can deposit any amount from $200 and up, using any one of the following payment methods:
PayPal
Skrill
Neteller
Visa or MasterCard (debit or credit card)
Your bank account
Keep in mind that most payment options will need to process, some of them longer than others. E-wallets and debit or credit cards process instantly whereas bank account transfers may take a day or two. Whichever method you choose, carefully deposit an amount that you're comfortable with and use those funds to make your first trade no matter the outcome.
Step 4: Pick your 5G Stocks

Once you have access, you can browse stocks and take your pick from any number of 5G stocks. If you already know which stock to pick, head over to the search bar and type in the name, finding it instantly. If you're not sure and would like to browse, simply take a stroll around 5G stocks and see if there are any that catch your eye.
Like we mentioned above, there are a number of top-rated stocks, all of which are good for different kinds of investors. No matter what kind of trading you're looking into, you're sure to find something with a 5G stock. We mentioned 10 of the top-performing 5G stocks out there today, which you should keep an eye on for long and short-term investing.
Step 5: Make your First Trade
With your stocks selected, all you have to do is click 'Trade' to start the process. From there, you're taken to a page where you can configure the type of trade you want to make and enter the amount that you would like to trade.
Once you do that, hit 'Open Trade' and sit back. eToro will send you over a confirmation email and you can watch and keep an eye on your 5G stock, seeing how it performs throughout the day and over time from your computer or mobile phone.
eToro – Best Broker to Buy 5G Stocks with 0% Commission
When it comes to buying into 5G stocks, the broker that you choose matters. There are a lot out there and not all of them are created equal. With eToro, you're getting a solid trading platform with possibilities to integrate innovative software. Plus, without all of the commissions and fees typical of other brokers, you can keep more of your earnings when you decide to collect your cash and make a trade.
In 2021, you shouldn't have to pay to trade, especially when using an online broker. eToro makes it simple and has evolved the process so that you can trade with peace of mind, avoiding all the other things that get in the way. You'll have a long list of 5G stocks, low fees, and no commissions on your trades, what are you waiting for?
Conclusion
5G stocks are a hot commodity these days, getting a lot of attention from investors. Part of the reason why they are on the radar is because of the demand for more connectivity and faster more reliable networks. As we increase our reliance on technology, we also increase the need for strong connectivity like 5G.
Investing in a new market full of speculation can be tricky, especially if you're a first-time investor. Still, that shouldn't keep you back and neither should the possibility of growing your funds. Choosing the best 5G stocks and the best brokers on the web will help you make better trades, getting the hang of investing and trading with popular stocks.
You have the top stocks and the top brokers that offer long and short-term trades. Plus, you have the steps to get started along with a look into one of the most top-rated brokers around, eToro. Now, all you need to do is create your account and start investing, joining at the perfect time before the market starts to reach its full potential.
OTHER STOCKS:
FAQs
What's the difference between 5G and 4G?
Is 5G harmful to the environment?
What is the best 5G stock to buy right now?
Which country is leading the 5G race?
Are there diversified business models in 5G stocks?