Myanmar does not enjoy good trade relations, especially with the western countries. The US does not import anything from Myanmar. Australia and the European Union have also imposed sanctions on the country, restricting the import of certain products. Myanmar's exports fell drastically during the global economic crisis of 2008-09. However, Myanmar is a member of the WTO, ASEAN and BIMSTEC. It shares healthy trade relations with its neighboring countries, including India, Thailand and China.
The country's poor infrastructure is one of the main hindrances to international trade. The primary route of trade is across the Thai border, which is also used to export many illegal drugs through the Ayeyarwady River. Burma has a wealth of precious stones and gems. However, due to the infamous working conditions in the mines, international companies refuse to import these stones.
Burma has a large trade deficit that has also crippled its economic growth. In 2007, the country imported 18,250 bbl/day and exported only 2,200 bbl/day of oil. The total overall imports rose to $3.555 billion in 2009, from $3.388 billion in 2008 (excluding the import of smuggled products). The total overall exports fell to $6.504 billion in 2009, from $6.677 billion in 2008 (excluding export of smuggled products).
Myanmar Imports: Commodities
The major commodities imported by Myanmar are as follows:
Fabric

Petroleum products and crude oil

Fertilizer

Plastics

Machinery

Transport equipment

Cement and construction materials

Food products and edible oil
Myanmar Imports: Partners
The share of Myanmar's major import partners (as of 2008) is depicted in the following graph: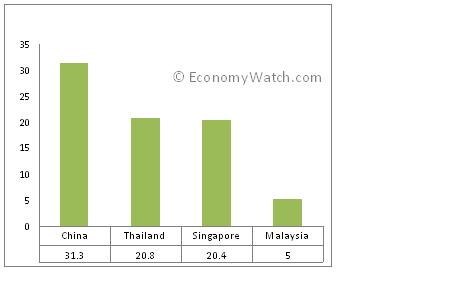 Myanmar Exports: Commodities
The major commodities exported by Myanmar are as follows:
Natural gas

Wood products

Pulses and beans

Fish

Rice

Clothing

Jade and gems
Myanmar Exports: Partners
The share of Myanmar's major export partners (as of 2008) is depicted in the following graph: