How to Invest in Diamonds UK – Invest in Diamonds Today!
It's believed that the first diamond deposits were established some 900 million years ago. These days, many people look to invest in diamonds for their long-term value, however accessing and securing this precious stone can be challenging, expensive, and cumbersome.
Today we talk about how to invest in diamonds in the UK. This guide sheds light on the convenient option of buying shares in diamond focussed companies and also reviews the best platforms to facilitate your investment in a safe manner.
#1 Broker to Invest in Diamonds UK – eToro
How To Invest in Diamonds UK – Choose a Broker
When you get into the swing of how to invest in diamonds in the UK, one of your first challenges will be finding a brokerage fit for the task. See a short list below of the best-rated platforms to add diamonds to your portfolio in a safe manner.
eToro – Overall Best Place to Invest in Diamonds UK
Capital.com – Trade Diamonds Stocks With Leverage at 0% Commission
For further information on any of the above-listed platforms, you can study our full reviews, which you will find after the quick guide below.
How to Invest in Diamonds UK – A Quick Guide For 2021
To invest in diamonds in the UK, you are best to do so in a regulated space. Follow the below guide to sign up with FCA-regulated broker eToro, where you will find a variety of ways to expose your portfolio to diamonds.
Step 1: Open an Account with eToro – Open the eToro site in your browser and find the 'Join Now' button. Once selected, you can complete the information required to open an account, from which you can invest in diamonds. Complete your email address and full name. The broker will also need you to enter your chosen username and password
Step 2: Upload Your ID – Finish the ID validation process by attaching a copy of your passport and a utility bill, dated within 3 months. This KYC process is quick and simple at eToro
Step 3: Deposit Funds – Once eToro has validated your ID, you can finance your account to invest in diamonds in the UK. You can deposit as little as $50 (approximately £36). Supported methods include e-wallets, credit/debit cards, and bank transfers
Step 4: Search for Diamonds – Now you can search for your chosen diamond market by using the search function. For instance, 'Petra Diamonds', or its unique ticker 'PDL.L'. Once found – click Trade'
Step 5: Invest in Diamonds – In the order box, enter the amount you wish to allocate to your chosen diamond stock and select 'Open Trade' as confirmation
When you invest in diamonds via stocks at eToro, you will pay 0% commission. Moreover, the broker covers stamp duty tax on all shares listed on the LSE (London Stock Exchange).
If the market is closed, you will see 'Set Order'. If you select this, eToro will ensure the purchase goes through when the relevant exchange opens for trading. The LSE is open from 8 am until 4:30 pm and the US stock markets trade between the hours of 2:30 and 9 pm.
67% of retail investor accounts lose money when trading CFDs with this provider.
Where to Invest in Diamonds UK  – Full Broker Reviews
If you are still making your mind up on where to invest in diamonds in the UK, you will see the results of our in-depth investigation below. Both of our chosen platforms are regulated by the FCA and give you access to diamond-centric stocks at 0% commission.
1. eToro – Overall Best Place to Invest in Diamonds UK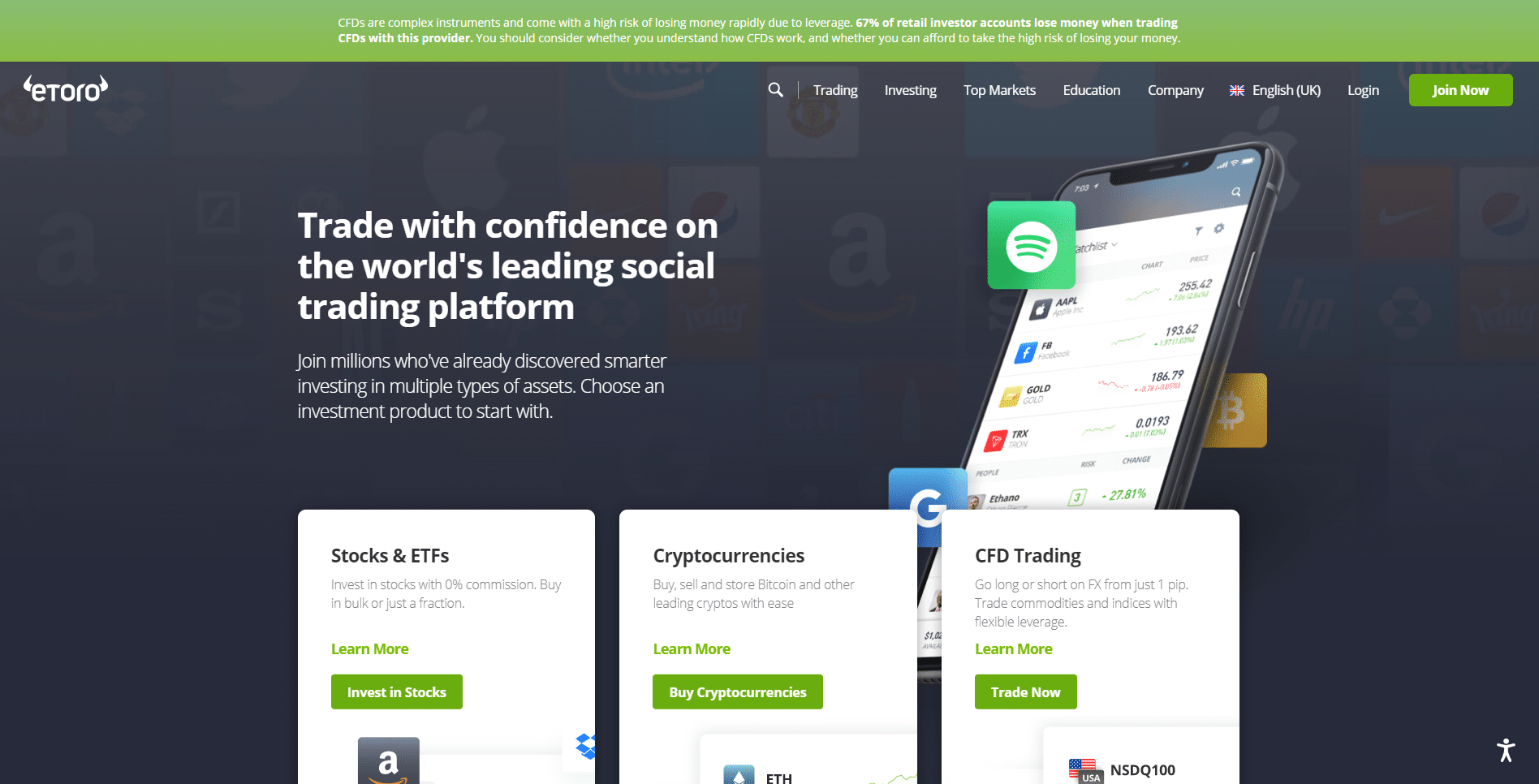 eToro is a reputable broker that serves over 20 million people around the world. You can invest in the diamond industry in safety here as the platform is covered by the FSCS. It is also regulated by multiple bodies comprising the FCA, ASIC, SEC, and CySEC. There are numerous avenues when it comes to adding diamonds to your investment portfolio. This brokerage lists over 2,500 stocks from no less than 17 exchanges around the world.
This allows you to invest in diamond focussed companies listed on the LSE, the NYSE, the NASDAQ, and beyond. One of the top companies to access this high-value gemstone includes Petra Diamonds. This is an independent diamond mining group that is listed on the LSE and offers direct exposure to the market. Furthermore, eToro charges 0% commission to invest in stocks and soaks up all stamp duty tax on shares listed on the LSE.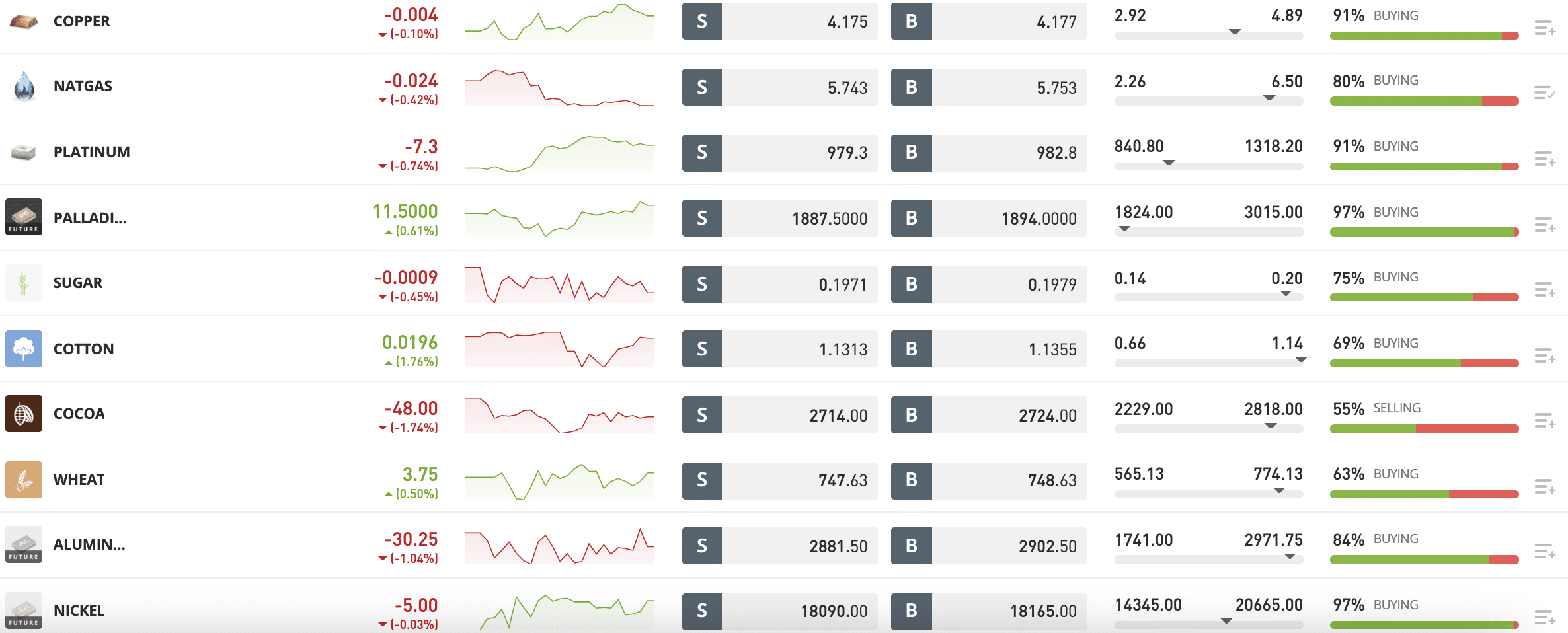 Other options include Rio Tinto (RIO), BHP Billiton (BHP.L), Anglo American (AAL.L), and Signet Jewelers (SIG). Regardless of the current share value, eToro supports fractional investments as low as $50. The minimum deposit is also $50 and you can fund your broker account in many ways. This includes e-wallets such as PayPal. eToro supports credit/debit cards from major providers too. You can also select a bank transfer if you don't mind waiting 4-7 days.
Finally, eToro offers some passive investing tools. Notably, this includes Copy Trading, whereby you can invest in industries or specific asset classes by simply mirroring someone else. For example, let's say you invest in CopyMine123 and they risk 15% of what they have on SIG shares, and 20% on BHP.L. If you invested £1,000, you would see £150 allocated to shares in Signet Jewelers, and £200 on a BHP Billiton position – having not done a thing.
Pros
Invest in stocks at 0% commission and ZERO stamp duty
Minimum investment per stock just $50
Supports debit/credit cards, e-wallets, and UK bank transfers
Regulated by the FCA and covered by the FSCS
Used by over 20 million people
Perfect for beginners
Social and copy trading tools
Cons
Perhaps too basic for technical traders
No support for MT4 or MT5
 67% of retail investor accounts lose money when trading CFDs with this provider.
2. Capital.com – Trade Diamonds Stocks With Leverage at 0% Commission

Capital.com serves around 2 million clients and operates under the regulation of the FCA, ASIC, NBRB, and CySEC. As such, this is considered a safe trading environment. You will not be able to invest in diamonds here in the traditional sence. Instead, you can trade share CFDs. If you are unfamiliar with this trading derivative, the CFD will track and mirror the price of the underlying diamond stock. All you need to do is speculate on its future price.
For retail traders, share CFDs attract leverage of up to 1:5 at Capital.com and you will pay 0% commission. This allows you to increase your purchasing power and magnify your stake fivefold. If you think the diamonds stock will fall, you can also place a sell order, as CFDs enable you to speculate in either direction. Learn the ins and outs of what leverage is before using it, because if you predict the market incorrectly and make a loss, it will be amplified.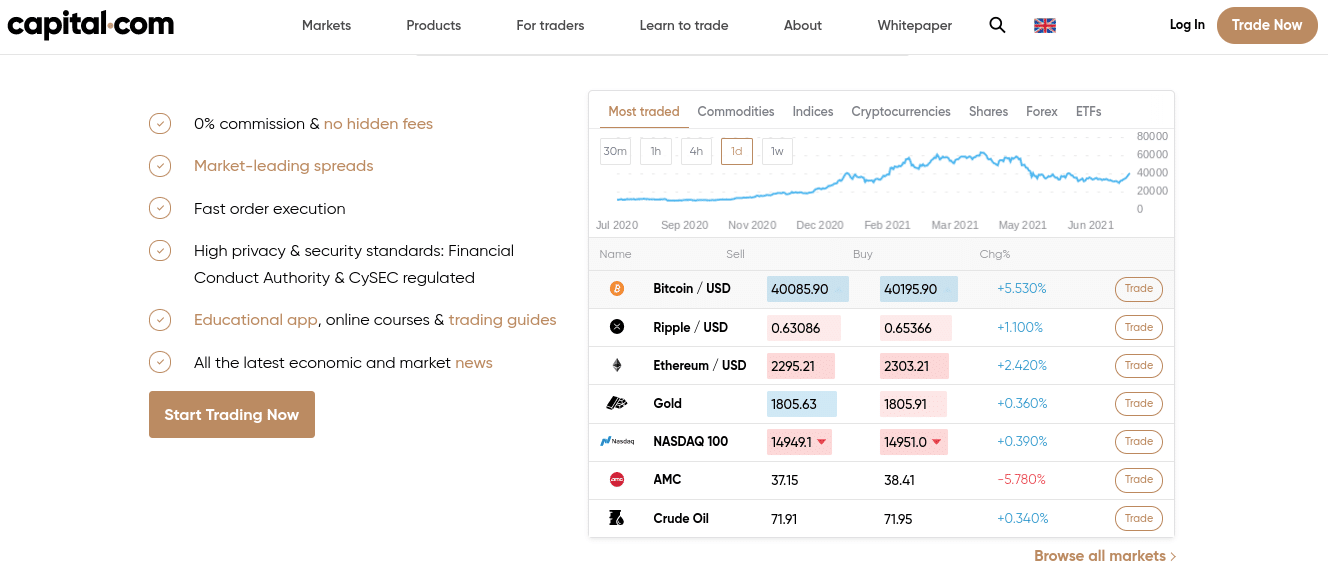 The best share CFDs to access diamonds here include Rio Tinto, Lucara Diamond (LUC), BHP Group (BHP), Anglo American, and Signet Jewelers. If you finance your account using a bank transfer at Capital.com, this will require a minimum deposit of £250. A far more budget-friendly and faster option is to choose an e-wallet or debit/credit card. In which case, the minimum deposit is just £20.
Pros
Top-rated spread betting and CFD broker
Licensed by the FCA, ASIC, CySEC, and NBRB
£20 minimum deposit (debit/credit cards and e-wallets)
0% commission on all markets
Tight spreads and no fee on deposits or withdrawals
Supports thousands of financial markets
Convenient for newbies
Cons
Experienced traders might consider the broker too basic
£250 minimum deposit on bank transfers
Spread bets and CFDs are complex instruments and come with a high risk of losing money rapidly due to leverage. 78.77% of retail investor accounts lose money when trading spread bets and/or CFDs with this provider.
How to Invest in Diamonds UK – Detailed & Explained in Full
We've already offered a full review of the best platforms in the UK to access this gemstone. This should help you to make an informed decision on which might be suitable when you successfully learn how to invest in diamonds.
If you have no idea how to open an account with a broker to access diamond stocks, see a more detailed walkthrough below.
Step 1: Open a Broker Account
The first step to gaining exposure to diamonds in the UK is to create an account at an online brokerage. We have opted to use eToro as an example for this walkthrough. The platform offers easy navigation, cover from the FSCS, and 0% commission on heaps of diamond-related stocks.
Click 'Join Now' to create an eToro account. As soon as the box you see below appears, you can get started and fill in the required information. As you can see, this is going to include your full name, email address, and phone number. You can also add a unique username and password to access your portfolio hereon.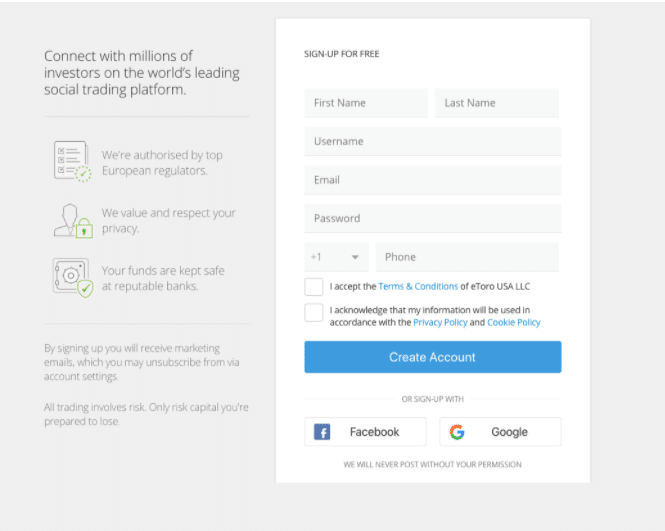 After adding some fundamentals, such as your address, nationality, and date of birth, you can complete the necessary KYC process. When prompted, upload a photo of your passport or driver's license. So that the broker can validate your address, you can also attach a dated bank statement or tax bill.
67% of retail investor accounts lose money when trading CFDs with this provider.
Step 2: Deposit Investment Funds
Deposit some funds to invest in diamonds by entering an amount to add, and choosing a payment type from the list. Supported methods are inclusive of credit/debit cards from the likes of Mastercard and Visa. E-wallets are also accepted and they include PayPal, Skrill, WebMoney, and Neteller. Only select a wire transfer if you don't mind delaying your ability to place an order by up to 7 days.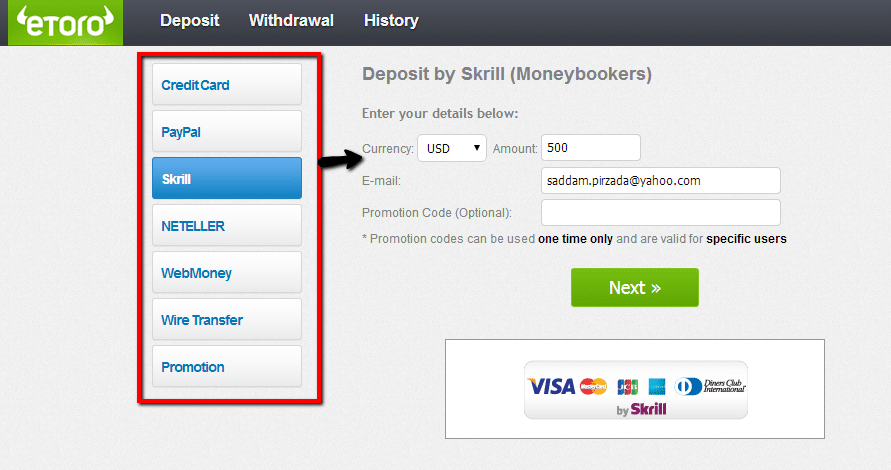 Furthermore, as we touched on earlier in this guide, when you make a deposit you will pay 0.5% to exchange your currency for US dollars. With that said, the broker absorbs the 0.5% stamp duty you would usually have to pay to buy shares listed on the LSE. You can finance your account with an amount of $50 or more at eToro, which is great for beginners.
Step 3: Choose Diamonds Investment
Search for your desired market to invest in diamonds. Here we are choosing to invest in Signet Jewelers. This is the world's biggest diamond jewelry retailer.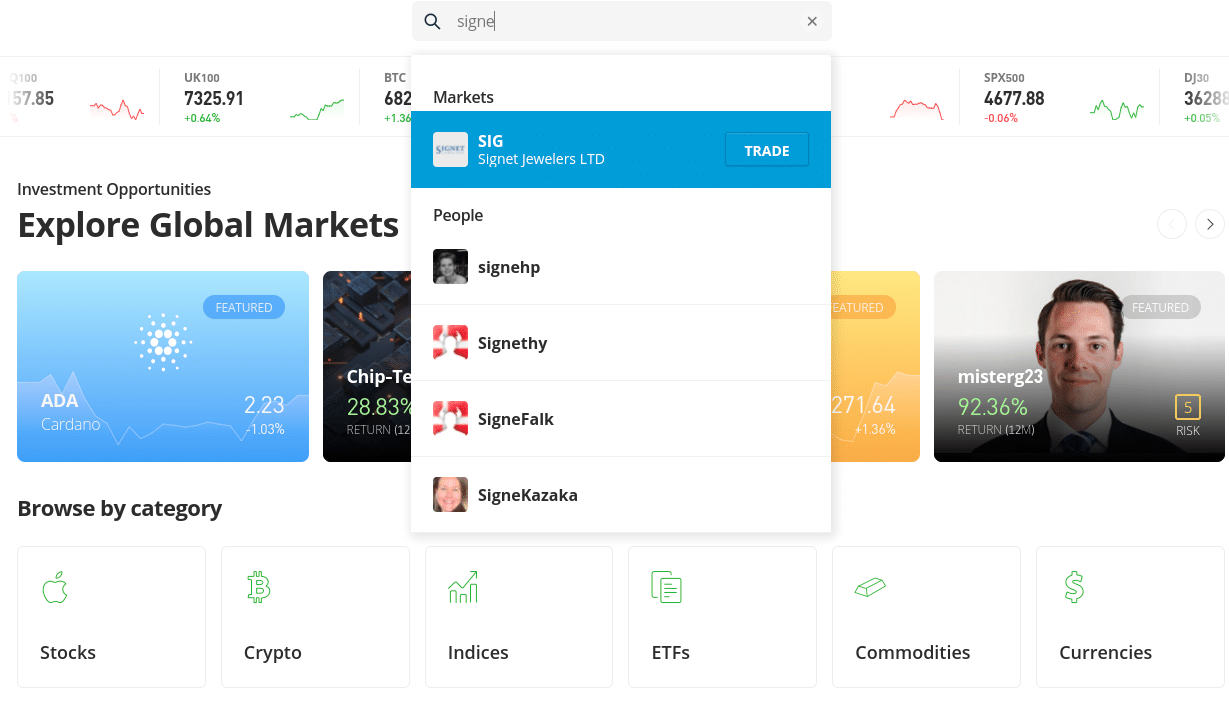 When you are satisfied with your choice, confirm the market by selecting 'Trade'.
Step 4: Invest in Diamonds UK
By this point, you should have financed your account and completed the quick KYC process. Now you can invest in diamonds in the UK! To complete your purchase, first, make sure the order is for the correct market. The example below says 'BUY SIG', because this is the ticker symbol for Signet Jewelers.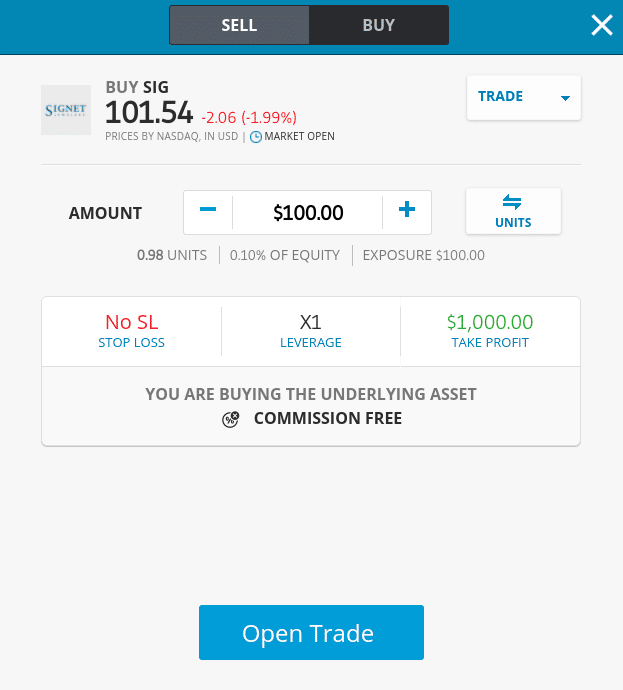 We have opted to invest $100 in this diamond company. Consider how much you want to invest in diamonds and enter the amount in the correct field. This can be a minimum of $50 and remember this is only around £36. As such, if the price of your chosen market is more than $50, you are investing in a fraction of a share. When you click 'Open Trade', eToro will execute your order.
Best Diamond Shares to Invest in
If you'd prefer more in the way of variety, the best way to invest in diamonds is via shares in companies that focus on this gemstone. There are four main companies taking up 70% of the diamond mining industry. When researching how to invest in diamonds in the UK, you will have no doubt come across a company called De Beers.
De Beers is a group that specializes in the mining, trading, grading, manufacturing, and retail of diamonds and is one of the world leaders in its field. Another popular choice for people looking to invest in diamond shares is Anglo American (AAL.L). This is a multinational mining company. Interestingly, this group also owns 85% of the aforementioned De Beers.
Alternatively, you can add diamonds to your portfolio by investing in a jewelry company like Harry Winston, or Tiffany. A potentially lucrative way to invest in diamonds could be Signet Jewelers (SIG). This company is listed on the NASDAQ and sells diamonds and specialty jewelry. In 2021, the company announced that it will buy Diamonds Direct, a deal that is costing the company $490 million. You can invest in SIG with a 0% commission at eToro.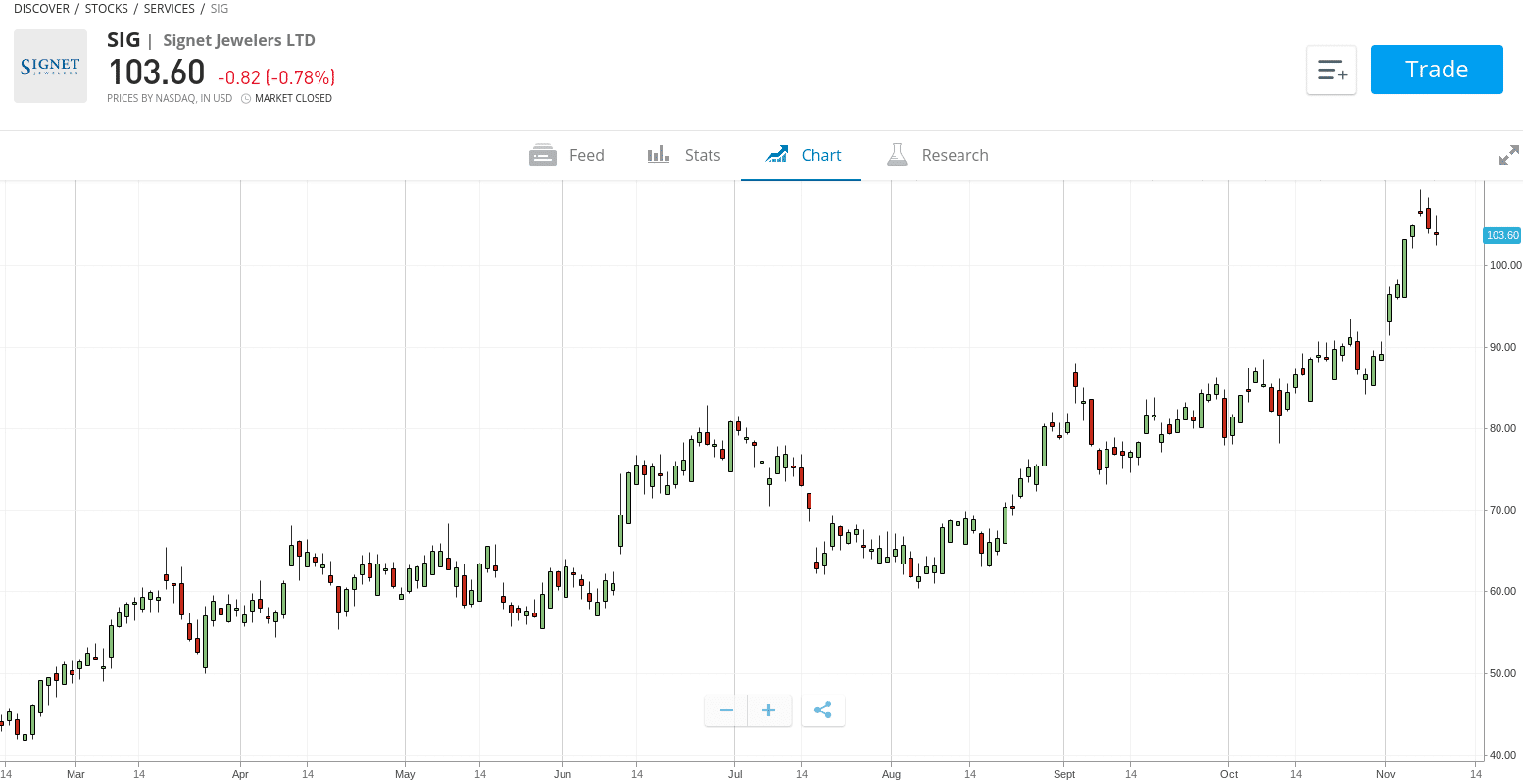 Alternatively, you might elect to invest in Alrosa. This is a mining group based in Russia that also specializes in the processing, sale, production, and exploration of diamonds. Mining takes place in multiple locations, including Russia and Africa. By volume, the company is the biggest diamond mining outfit in the world.
If you would like to diversify, you could access the diamond market in the UK by buying shares in the BHP Billiton. This is a group that mines diamonds, as well as commodities such as oil, copper, and silver. The multi-billion-dollar firm is now one of the largest mining companies in the world.
67% of retail investor accounts lose money when trading CFDs with this provider.
Are Diamonds a Good Investment?
See some information below to help you decide whether diamonds might be a good investment for you. As always, carry out research of your own before choosing to invest in any asset.
What are Diamond Used for?
A diamond is classed as a gemstone and is unique in this category, in that is made of one element. Put simply, diamonds are minerals that are composed of pure carbon. Millions or even billions of years ago, severe pressure and heat caused pure carbon to turn into diamond crystals that spanned miles.
Diamonds were discovered by humans in the 4th century BC
In 1074 AD, diamonds were utilized to make a crown for the Queen of Hungary
By the 1800s, diamonds were seen as valuable on a wider scale and were worn by wealthy Europeans at social events
Diamonds are mined and are still used to make jewelry to this day
The top diamond mining countries include Russia, Canada, Botswana, South Africa, and Angola
As you can see, diamonds have a long history. Due to the durability of the material, it is also used as an abrasive to make various tools. In fact, this gemstone is utilized in various industries, which we talk about in more detail later.
Diamonds Price History
When you are looking to invest in diamonds in the UK, you are likely to need some information surrounding the price history of the asset. However, as in the case of lithium, there isn't a universal valuation of diamonds.
Diamonds are valued in carat weight and prices vary based on the four C's (cut, color, carat, and clarity) and the country of purchase. As of late 2021, one carat can carry a price tag of anywhere between £6,000 and £10,000.
A good way to view the historical price fluctuations of diamonds is to look at the data of a company that mines them. As we mentioned earlier, one of the biggest is Anglo American, which is listed on the LSE (priced in GBX).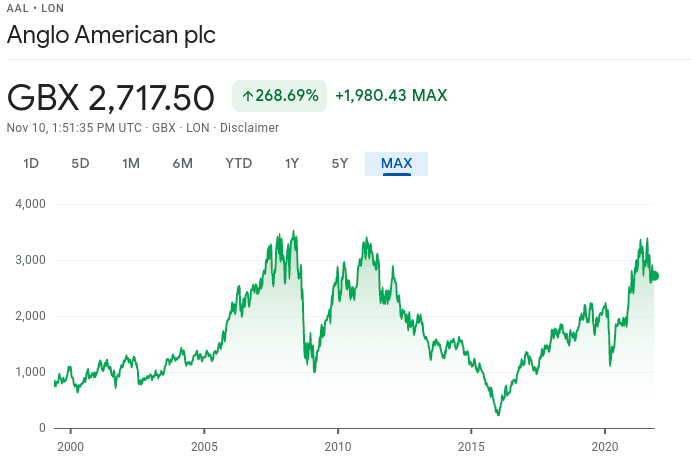 Take a look at the real-world price history of diamonds, via the Anglo American mining company as a prime example:
On 20th April 2000, AAL shares were priced at around 634p

By 7th June 2002, the market had risen by around 97% to 1,252p
Five years later, Anglo American shares were at 3,403p, showing an increase of 171%
On 22nd January 2016, the diamond mining company was trading for 93% less at 225p per share
By 20th March 2020, Anglo American shares were valued at 1,100p
At the time of writing, this diamond mining company was trading at 2,717p, which is an increase of around 147% in a period of 20 months. This company was one of the best performing FTSE 100 companies for a time in 2021. Some commentators think this is a good time to invest in diamonds, as the price may dip again when the next stock rotation occurs.
There are heaps of options at eToro, so instead of merely focussing on jewelry manufacturers to invest in diamonds, you might purchase shares in a mining company. This way, you are accessing the gemstone at its source. It's important to carry out your own investigation before investing, regardless of what commentators are saying.
Should I Invest in Diamonds?
In this guide on how to invest in diamonds in the UK, we have talked about some of the ways in which you can access the market. Next, you will see some common reasons people may decide to add this asset to their portfolio.
Diamonds Have Stood the Test of Time
One reason to invest in diamonds in the UK could be that they have stood the test of time. Even though the supply of this gemstone is declining, the global demand for diamond jewelry seems to be on the increase. Despite the rise in lab-created diamonds, commentators say that the market for mined gemstones has hardly budged.
There is no sign of the global demand for diamonds waning. As we said earlier, using a huge mining company as a benchmark is a good way to gauge the wider market.
Next, we look at the second-largest metals and mining company in the world, Rio Tinto:
Rio Tinto was trading at 2,934p per share in mid-November 2016

Five years later, the company was valued at 4,443p – illustrating an increase of over 51%

According to market analysis, the average diamond appreciates by around 8% each year

Of course, this depends on all the aforementioned factors, including, but not limited to, quality, color, cut, and rarity.
Bearing this in mind, now could be the time to invest in diamonds in the UK. As we said, the most convenient way to do this is to avoid specialist dealers and to opt for a stock involved in the mining or production of it instead. At eToro, you can invest in diamonds via a variety of shares with 0% commission and a minimum stake of just $50.
Diamonds Can be Used to Diversify
Some people elect to invest in diamonds as a low-volatility financial hedging tool. However, it is also a popular option to diversify. Creating a diverse portfolio prevents you from overexposure to one market and its potential volatility.
When you invest in diamonds, you are exposing yourself to an asset that doesn't move in relation to many other markets. This low correlation with other assets, such as gold stocks, for instance, potentially makes it a valuable addition to any portfolio.
Diamonds Have Many Uses
We all know that diamonds are a popular material for making jewelry, such as engagement rings. However, this mineral has other surprising uses that might just make it a worthwhile investment.
See some uses for diamonds below:
Diamonds are hard, around 58 times tougher than corundum, making them somewhat resistant to scratches
This gemstone also possesses thermal conductivity, five times higher than copper
As such, diamonds are also thermally resistant and can take temperatures of 1,700 degrees centigrade before going black
Diamonds are chemically inert, so won't corrode when brought into contact with alkalis or acids
This gemstone is utilized by various industries for its pressure resistance. This includes audio equipment and medical technology, like optical devices
Diamonds are widely used to make grinding and polishing wheels, saw blades, engraving tools
There you have it. Diamonds have many use cases. The atoms inside diamonds are also alined and used for a process called hyperpolarisation, which is an important factor in detecting cancer in its early stages.
Correlation Between Stocks and Diamond Spot Prices
As we have mentioned throughout this guide, finding a reliable place to invest in diamonds in the UK is no simple feat. The easiest way is to sign up with a regulated brokerage and add diamonds to your portfolio via stocks. This opens up the doors to various options, such as jewelry companies and mining firms.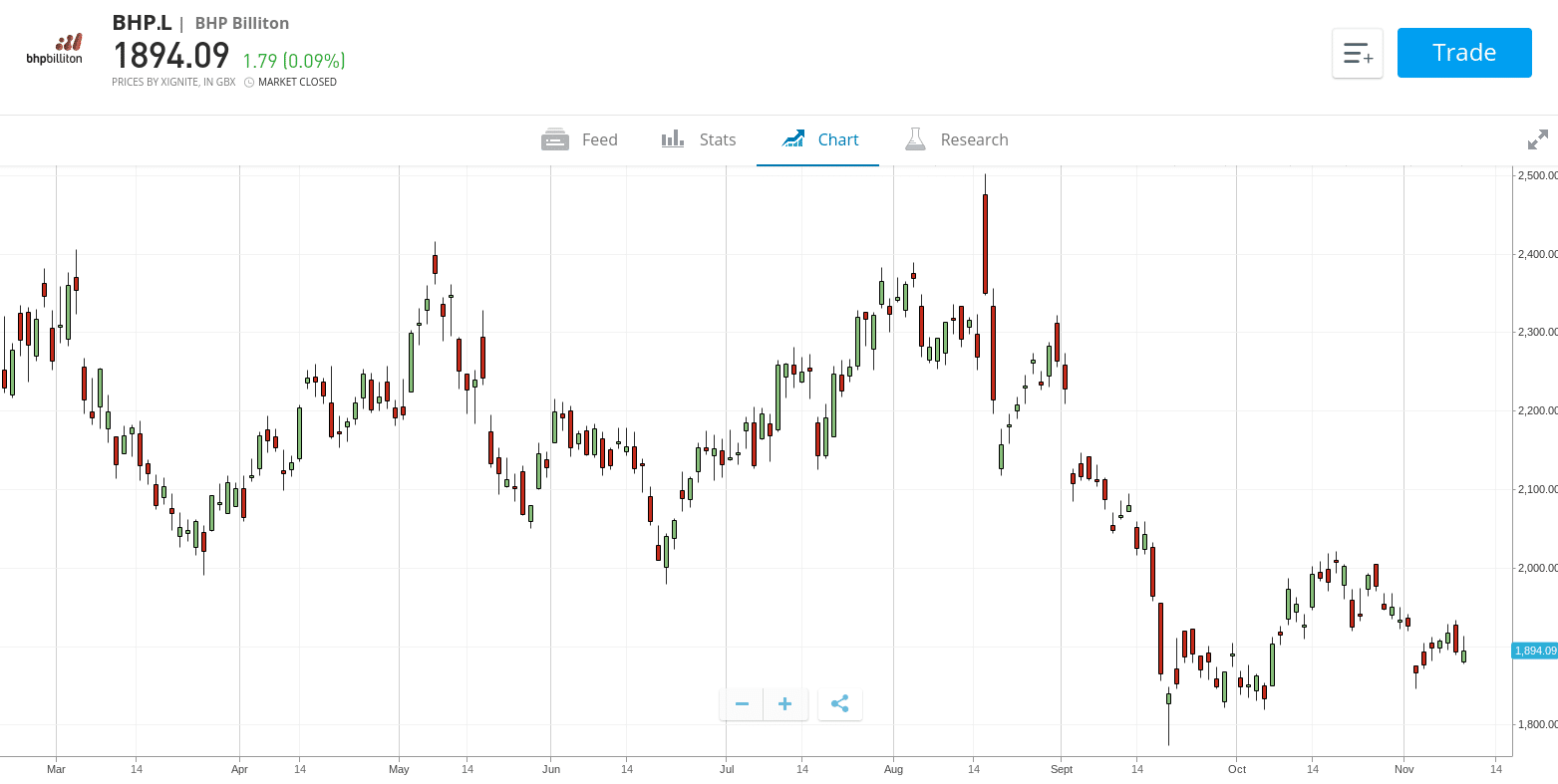 As we mentioned, the price of diamonds will be different in each country and is determined by clarity, color, cut, and carat. This can make it hard to get a clear market value.
With that said, a general rule of thumb would be that if the price of diamonds is on the rise, shares in the companies that mine, polish, or trade the gemstone will too. This isn't always the case though, so do investigate matters for yourself before you invest in diamonds via stocks.
The Cost of Investing in Diamonds in the UK?
When you invest in diamonds in the UK, expect to be charged by the broker that facilitates your purchase. This will vary, but to give you a clearer idea of what to keep an eye out for, see the two most common diamond investment fees below.
Deposits and FX Fees
Before you make your final decision on which brokerage to sign up with, you need to check out the fees in place. One such charge to look out for is a deposit fee. When you fund your account to invest in diamonds, some brokers will take a percentage of the deposit. You will also come across plenty of brokers that charge an FX fee to swap GBP for USD – not least because many diamond stocks are listed on the US.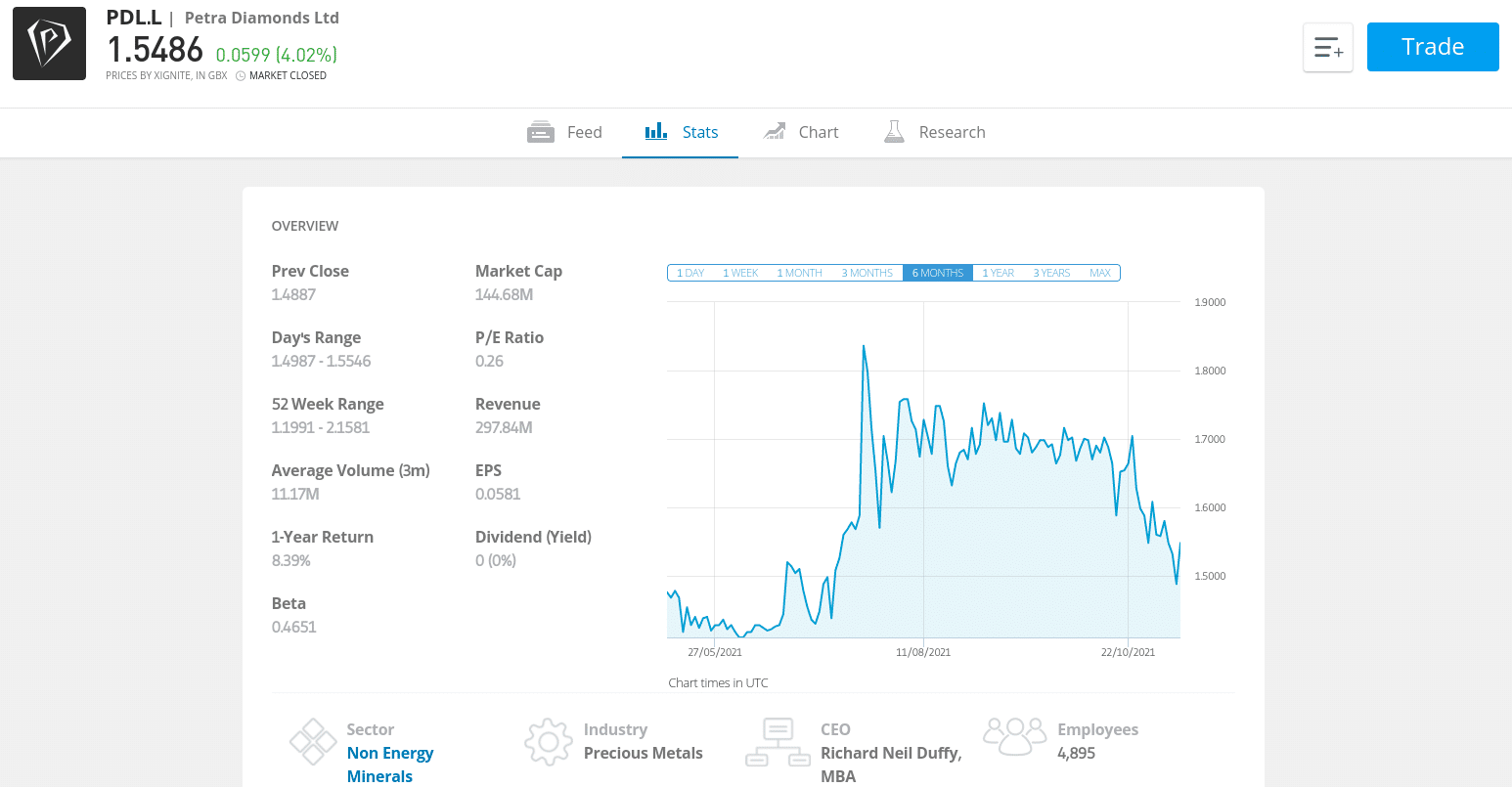 eToro keeps the cost of investing in diamonds low, by charging a simple 0.5% fee when you make a deposit. This is simply to cover the cost of swapping Biritsh pounds to US dollars. Furthermore, you won't pay the stamp duty tax of 0.5% when trading diamond stocks listed on the LSE.
Diamonds Stock Commission
If you have researched how to invest in diamonds or any other asset before, you will be familiar with commission fees. This is charged by most brokers upon entry and exit from the diamond market.
To offer an example, if you buy shares in Petra Diamonds at Hargreaves Lansdown, you will pay £11.95 per order. In contrast, if you invest in Petra Diamonds at eToro, you will pay 0% commission. Always check the fee table before joining to a broker.
How to Invest in Diamonds UK – Conclusion
That brings us to the end of this guide on how to invest in diamonds in the UK. There are numerous ways to add this gemstone to your portfolio. The least costly and cumbersome method has to be via a multifaceted brokerage offering heaps of diamond stocks.
eToro came out on top in this respect. The broker is covered by the FSCS and operates within the rules of regulatory bodies the FCA, SEC, CySEC, and ASIC.
You can invest in diamonds via huge mining companies such as Petra Diamonds, or dominant retailers like Signet Jewelers – with 0% commission. eToro supports low minimum investments of just $50 and there are plenty of payment methods accepted to finance your purchase.
eToro – Best Broker to Invest in Diamonds UK
FAQ
How do you invest in diamonds in the UK?
Where to invest in diamonds UK?
Are diamonds a buy or sell?
How much do you need to invest in diamonds in the UK?