Economic Indicators Export & Import 
FOREIGN TRADE

Uzbekistan has experienced a trade surplus in the recent years.


Major exportable items of the country are Gold, cotton, manufactures, and textiles. Exports partners of the country are South Korea, Turkey, Japan, US and Russia.

Metal, chemicals and foodstuffs are the important importable items of the country. For imports Uzbekistan depends upon the countries such as Germany, South Korea, US and Kazakhstan.

The levels of exports and imports of the country over various years are as follows: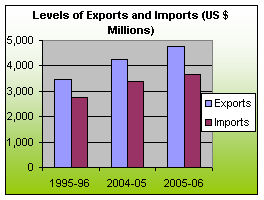 CONCLUSION

In the year 1992, Uzbekistan joined the World Bank. Since then the bank has undertaken various programmes for the country to reduce poverty and to foster economic growth.