Uruguay has experienced a better trade environment over the years.
Its major exports are leather products, electricity, vehicle and rice. Important exports partners of the country are United States and EU.
Important importable commodities in the country are crude petroleum, machinery and electrical vehicles. Its imports partners are EU and US.
Levels of Exports and Imports in the country is as follows: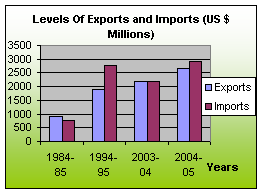 Overall trade scenario in the country is as follows:
Foreign Trade 2000 2003 2004 Merchandise trade (% of GDP) 27.9 39.2 45.9 Net barter terms of trade (2000 = 100) 100.0 105.8 107.7 Foreign direct investment, net inflows (BoP, current US$) 274.0 million 417.0 million 310.8 million Exports of goods and services (% of GDP) 19.3 25.6 29.6 Imports of goods and services (% of GDP) 21.0 23.2 27.9

CONCLUSION
The World Bank has started its country Assistance strategy for Uruguay, which provides more assistance to the country. The bank has funded the country for reducing poverty and fostering high economic growth.