Nigeria's trade relations revolve around the oil and natural gas sectors. After the economic reforms of 2005, the government is making efforts to diversify its export profile beyond the oil sector, such as minerals and agricultural products.
Nigeria Trade: Exports
Oil and natural gas are the most important export products for Nigerian trade. The country exports approximately 2.327 million barrels per day, according to the 2007 figures. In terms of total oil exports, Nigeria ranks 8th in the world. As of 2009, Nigeria has approximately 36.2 billion barrel oil reserves. Despite large scale liberalization efforts, this sector is under close check of the government agencies. Nigerian National Oil Corporation (NNOC) is the regulatory body for the oil and natural gas sector.
Prior to oil production, which surged after the 1970s, agricultural production was the largest export sector for Nigeria. After the country became a largely oil-intensive economy, the agriculture sector took a back seat. However, it still provides employment to almost 70% of the total working population.
According to the 2009 figures, the country's total export volumes stand at US$45.43 billion. Major items of export are oil products, cocoa and timber. The UK and the US are the largest trade partners for Nigerian exports.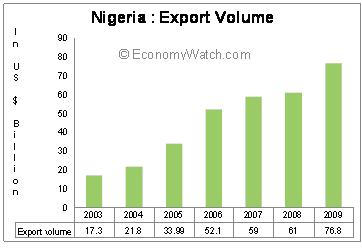 Nigeria Trade: Imports
Due to high international oil prices, Nigeria's import trade is able to balance export revenue. According to the 2009 figures, the country's imports grossed over US$42.1 billion. Machinery, heavy equipments, consumer goods and food products are the major imports. A large portion of the imports arrive from the EU, particularly the Netherlands, the UK, France and Germany. China, the US and South Korea are also major import trade partners.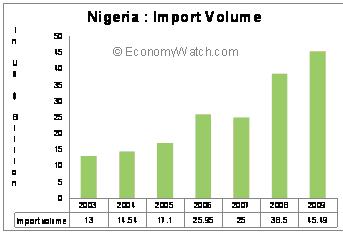 After 2005, Nigeria has fostered trade relations with emerging economies, such as India, China and South Korea. After the US, India is the second largest exporter of Nigerian oil.