New Zealand, with its small size and distance from the major world markets, faces tough challenges in the form of finding market niches and distribution channels, as well as understanding local market and customer psyche, while gaining entry into the global markets and competing therein. Despite these issues, exports form the foundation of New Zealand's economy, especially due to its very efficient agricultural sector.
Until the mid 1990s, New Zealand's trade thrived as a result of several reforms achieved under the Uruguay Round of trade negotiations. As part of these negotiations, the country's agriculture and dairy sector benefited from various trade opportunities in the long term. New Zealand is also a member of various trade organizations, such as the Asia-Pacific Economic Cooperation (APEC), World Trade Organization (WTO) and Organization for Economic Co-operation and Development (OECD).
New Zealand Trade, Exports and Imports
New Zealand is heavily dependent on free trade, specifically on agricultural products. As of 2007, exports account for roughly 24% of the country's output. While New Zealand's total exports amounted to $26.25 billion in 2009, its total imports came in at $24.29 billion.
New Zealand's leading exports include:
Tourism destinations

Meat

Dairy products

Fruit and vegetables

Fish

Machinery

Wood and wood products
Tourism, which accounts for 8.9% of New Zealand's total GDP through its contribution of $12.8 billion, plays a key role in New Zealand's economy. Moreover, tourism provides full-time equivalent jobs to roughly 200,000 people, or 9.9% of the country's total workforce (as of February 2008).
The country's leading imports include:
Machinery and equipment

Vehicles and aircraft

Petroleum

Electronics

Textiles

Plastics
The countries with which New Zealand trades include:
Export (as of 2008)
Australia: 23.2%

US: 10.1%

Japan: 8.4%

The People's Republic of China: 5.9%
 Import (as of 2008)
Australia 18.1%

China 13.2

US 9.5%

Japan 8.3%

Singapore 4.7%

Malaysia 4.4%

Germany 4.3%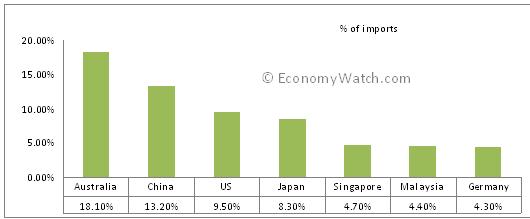 Apart from being a panacea, trade poses risk for New Zealand's economy. Heavy dependence on trade leaves the country and its economy highly vulnerable to the economic performance in Asia, Europe and the US. Moreover, earnings from agricultural exports and tourism fall significantly short of the cost of imported goods such as advanced manufactured goods and fuels, resulting in the country facing net foreign debt.