The largest country in mainland Southeast Asia, Myanmar lies mostly between the Tropic of Cancer and the Equator. Its neighbors include Bangladesh, India, China, Laos and Thailand. It has an uninterrupted coastline stretching 1,930 kilometres (1,199 miles). The culture of the country is deeply influenced by its neighboring countries. It has a population of 56 million (as of 2009). The country is controlled by the military under the State Peace and Development Council. International flights operate marginally in Myanmar, since some western countries, including the United States, have imposed economic sanctions on the nation.
Myanmar Economy: Profile
Counted among the world's poorest nations, Myanmar features the least open economy in Asia. The one-time wealthiest nation of Southeast Asia (under British administration), Myanmar went through years of stagnation and mismanagement. Decades ago, Myanmar was the largest rice exporter in the world but today is it the world's most corrupt nation (as revealed in the 2007 Corruption Perceptions Index by corruption watchdog organization Transparency International). Due to extreme poverty, corruption, unemployment and highly underdeveloped infrastructure, the nation's GDP grows at an average rate of 2.9% per year.
Myanmar Economy: Statistics
GDP (purchasing power parity):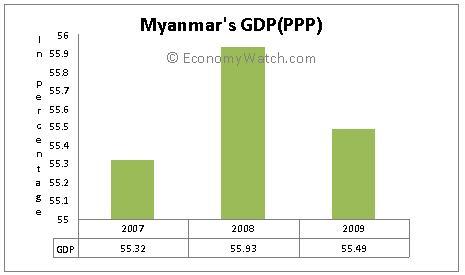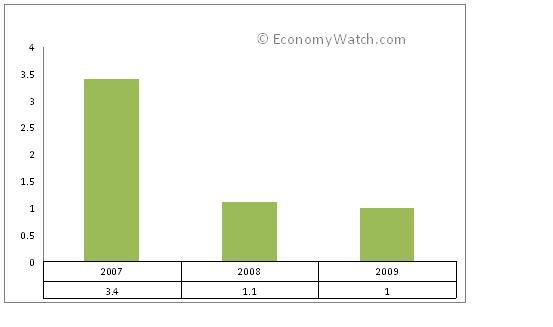 GDP - per capita (PPP):          
$1,200 (2009 est.)

$1,200 (2008 est.)

$1,200 (2007 est.) 
GDP (official exchange rate): $26.52 billion (2009 est.) 
Labor force: 30.85 million (2009 est.) 
Unemployment rate:

4.9% (2009 est.)

5% (2008 est.) 
Budget:

Revenues: $1.142 billion

Expenditures: $2.354 billion (2009 est.) 
Inflation rate (consumer prices):

7.7% (2009 est.)

26.8% (2008 est.)