Mongolian economy is dominated by services and agricultural products. The Mongolia trade is primarily dominated by products, such as minerals, apparel, livestock, animal products, cashmere, wool, hides, fluorspar, machinery and equipment, fuel, cars, food products and industrial consumer goods.
Mongolia Trade, Exports and Imports
Ever since Mongolia joined the World Bank in 1991, the International Development Association has helped the country with more credits. Mongolia is also a member of the World Trade Organizations (WTO).
Historically, Mongolia has suffered from trade deficit; however, the trade gap has been very low. The recession of 2008 has marred the extent of exports and imports from Mongolia, with exports falling from $2.539 billion in 2008 to $1.902 billion in 2009.
Mongolia has some of Asia's richest mineral deposits which, however, remain largely unexploited. Following are products that feature prominently in Mongolia exports:
Copper

Apparel

Livestock

Animal products

Cashmere

Wool

Hides

Fluorspar

Coal

Other nonferrous metals

 
The country's major export partners as of 2008 are:
China - 64.5%

Canada - 6.9%

UK - 6.5%

Luxembourg - 6.4%,

US - 4.5%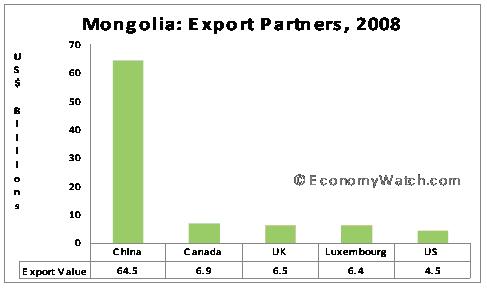 Mongolia's import trends show a fall, which is a positive sign for maintaining positive trade balance. The import volume has contracted from $3.224 billion in 2008 to $2.131 billion in 2009.
The main import items include:
Fuel

Machinery and equipment

Chemicals

Foodstuffs

Cars

Industrial consumer goods

Building materials

Sugar

Tea 
Mongolia's main import partners are:
Russia - 38.4%

China - 27.8%

Japan - 7.4%

South Korea - 6%