Malaysia is a South-East Asian country separated into two regions by the South China Sea. The two parts are Peninsular Malaysia and Malaysian Borneo. Kuala Lumpur is its capital city. As of 2009, Malaysia's total population stands at over 28 million. Its neighboring countries include Thailand, Indonesia, Singapore, and Brunei. Malaysia Airlines (MAS) and AirAsia are the major national carriers of the country. Malaysia can be reached by air from destinations, such as Australia, China, Cambodia, Hong Kong, India, Indonesia, Laos, Macau, the Philippines, Singapore, Sri Lanka, Thailand, the United Kingdom and Vietnam.
Malaysia Economy: Profile
Malaysian economy witnessed an economic boom in the 1970s, following which it expanded to become a multi-sector economy from being a raw materials producer. The country's rich natural resources ensure sound developments in agriculture, forestry and mining. Economic growth is also attributed to its border with the Strait of Malacca which is an important international shipping crossroad, which promotes the country's international trade. Malaysia's well developed manufacturing sector produces a diverse range of goods. The first three quarters of 2009, however, witnessed steep decline in the country's economic growth. Volume of exports reduced drastically due to reduced consumer goods demand globally. The situation, however, improved somewhat in the Q4FY09. The Tenth Malaysia Plan is all set to be introduced in June 2010.
Malaysian Economy: Statistics
 GDP (purchasing power parity):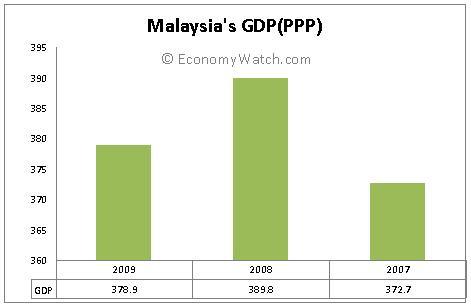 GDP - real growth rate: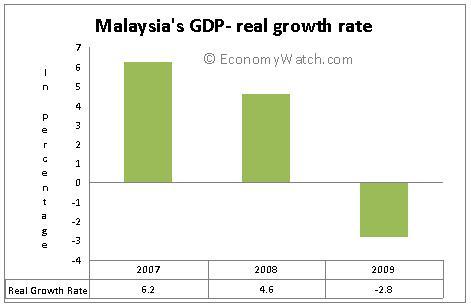 GDP (official exchange rate):   $207.4 billion (2009 est.)
GDP - per capita (PPP):
$14,700 (2009 est.)

$15,400 (2008 est.)

$15,000 (2007 est.) 



5% (2009 est.)

3.3% (2008 est.) 
Population below poverty line: 5.1% (2002 est.) 

Inflation rate (consumer prices):
0.4% (2009 est.)

5.4% (2008 est.)