Being a land of abundant timber resources, Latvian trade is dominated by wood products. However, Latvia excels in other products as well such as chocolates, telecommunication products, locomotives, tram cars and dairy products. Its location makes Latvia the center stage for global trade. Its central position in Europe makes it the most preferred country to trade with and therefore EU giants, such as Germany, have strong trading relations with Latvia.
Latvia Trade: Exports
Being a country that exported $9.634 worth of commodities in 2008 and $6.721 billion in 2009, the recession has been a major spoiler for the Latvian trade. Being an economy that was driven by spiked demand and consumerism, Latvia faced a shortage of resources for production and thus exports decreased significantly.
Latvia's main exported commodities are:
Wood and wood products

Machinery and equipment

Metals

Textiles

Foodstuffs 
The main export partners are:
Lithuania

Russia

Estonia

Germany

Sweden

Denmark

 
The graph below shows the share of different countries in Latvia exports: (in percentage)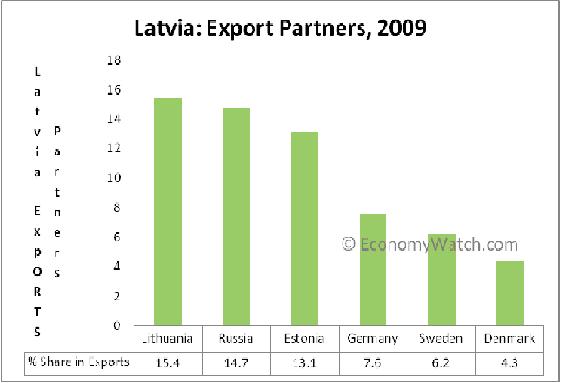 Latvia Trade: Imports
Latvia imports fell almost 50% as the reserves constricted and demand descended. Latvia imports decreased from $15.65 billion (2008) to $8.849 billion (2009).
Latvia's main imported commodities are:
Machinery and equipment

Chemicals

Fuels

Vehicles 
The main import partners are:
Lithuania

Germany

Russia

Poland

Estonia

Sweden

Finland  
Latvia also imports energy, primarily in the form of electricity. With its consumption of 6.822 billion kWh and production of 4.62 billion kWh, the imports for electricity amounted to 4.643 billion kWh. Oil imports too stand large at 43,400 bbl/day.