Kenya is largely a trade deficit country. The negative balance of trade occurs because the country's exports are vulnerable to both international prices and the weather conditions. Since independence, Kenya has enjoyed close international relations, particularly with the western countries. It is also a member of several regional trade blocs, such as the COMESA (Common Market for Eastern and Southern Africa) and the EAC (East African Community). These blocs are a key components of Kenya's trade volumes.
Kenya Trade: Exports
Agricultural productivity is central to Kenya's export industry. More than 75% of the population is engaged in agriculture and allied activities, which contribute almost 25% to the national production. Horticultural produce and tea are the major items of export for Kenya. In 2006, the combined share of these two products was 10 times higher than the share of the other export items. The country has subsistence petroleum production, which is consumed internally and exported to neighboring countries. Kenya has signed an MoU (Memorandum of Understanding) with China regarding oil exploration in the country. Till January 2010, no oil was found.
Apart from horticulture and tea, other major items of export are coffee, fish and cement. In 2009, Kenya's exports grossed over US$4.9 billion. The UK is the largest export partner of Kenya, accounting for more than 10% of the total export volumes. It is followed by the Netherlands, Uganda, Tanzania, the US and Pakistan.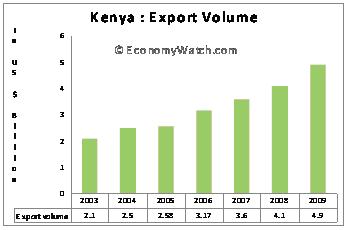 Kenya Trade: Imports
Kenya's imports include machinery, transport equipments, motor vehicles, metals, plastics and electrical equipments. India and the UAE are the largest import partners for Kenya. In 2009, both countries accounted for more than 11% of the total import volume. Other major import partner countries are China, Saudi Arabia, South Africa, Japan and the US.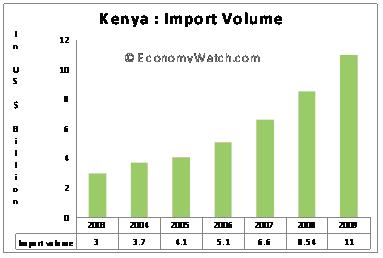 To enjoy a favorable balance of trade, Kenya has to diversify export products. Over-reliance on agricultural productivity hampers the economic growth of the country.