Helped by trade and attractive policies, Ireland's economy has made the intelligent transition from an agriculture based economy to a more trade based one. Although Ireland's trade, especially the export sector, remains dominated by foreign multinationals, exports contribute significantly to the national income.
Ireland Trade: Exports
Ireland's trade has been the reason for the nation's prosperity. Although the recession devalued the sterling and forced the government to implement various strategies, foreign companies, such as Apple, Microsoft, IBM, Oracle, Google, eBay, Pfizer, Cadbury-Schweppes, Dell and Intel, have kept the exports alive through their wide range of products.
In 2009, the Irish export volume went down to $107.3 billion, from $119.8 billion in 2008. The main exported commodities were:
Machinery and equipment

Computers

Chemicals

Pharmaceuticals

Live animals

Animal products 
Ireland's exports partners include 
US

UK

Belgium

Germany

France

Spain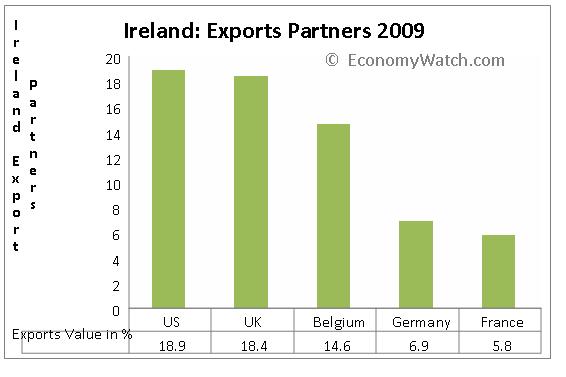 Ireland imports a huge amount of wood because its own timber industry has subsided due to deforestation and industrial set ups. The economic recession faced during the 2008 global financial crisis threw up challenges for Irish food and dairy products. The value of Irish exports, especially in the food and beverage segment, dropped significantly with the figures falling by 12% to stand at €7.12 billion, in comparison to the 2008 exports of €8.12 billion.