Ireland has an area of 84,421 square km and is the third biggest island in Europe. Situated in North Western Europe, Ireland is surrounded by a multitude of islands. Its most prominent neighbour is Great Britain. The population of Ireland is estimated to be around 6.2 million.
The island has vast lands of vegetation, although agriculture does not contribute much to the exports. Although it remained a major source of employment as well as GDP, agriculture has been overtaken by the industry and service sectors. The latest trend seems to be towards a knowledge-based economy that focuses on services, trade and the high tech industry.
According to the OECD-28, Ireland's economy is ranked as one of the wealthiest. The main trigger for such a shift is the low corporate tax, which is even lower than the EU average.
Ireland Economy: Overview
The country has managed to rise beyond its agricultural dependencies and become a modern trade dependant economy. In fact, the shift has been so positive that the country could grow at a consistent rate of 6% during 1995-2007. However, the recession has had a negative effect on the growth rate, leading to a constriction in the economy. This is how the economy performed during 2007-2009: (Real growth rate)
2009: -7.5%

2008: -3%

2007: 6%
As the rate declined, the GDP also declined significantly. The following figures show how the GDP fared during 2007-2009:
2009: $177 billion

2008: $191.3 billion

2007: $197.2 billion
The figure below shows how the Ireland economy fared in terms of per capita GDP: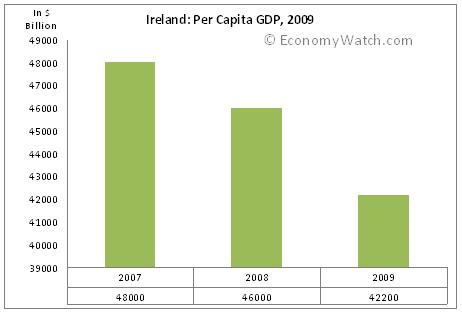 Ireland Economy: GDP Composition by Sector
From agriculture to being a service-dominated economy, Ireland's economy has made the transition very effectively. It has been helped by FDIs and the real estate market. In terms of contribution to the national GDP, services contributed the maximum at 49%, industries came in second with 46%, while agriculture contributed 5%.
Employment was generated the maximum by the service sector, which employed 67% of the labour force. The industries accounted for 27% and agriculture for 6% of the employment. The unemployment rate, however, remained at 12%, according to the 2009 data.