Honduras, a nation situated in the Western Hemisphere, relies heavily on exports of coffee, banana and apparel. Honduras is also highly vulnerable to changes in commodity prices and frequent natural disasters. Increased investments in the maquila (export processing apparel assembly) and non traditional export segments have allowed Honduras to expand its export base to include products such as seafood, palm oil, fruit, lumber and beef. The country's economy is closely linked to that of the United States, which is its biggest trading partner. Honduras continues to run large trade deficits due to its large-scale imports of machinery and transport equipment, chemicals, food stuff and industrial raw materials.
Honduras Trade: Current Account Balance and US Linkage
The country's current account balance has declined from -$1.977 billion in 2008 to -$247 billion in 2009 due to the global financial crisis and the consequent decline in trade. The country's current account balance for the year 2007 stood at -$1.274 billion. The increase in the country's current account deficit for 2008 is attributable to a sharp increase in global oil prices.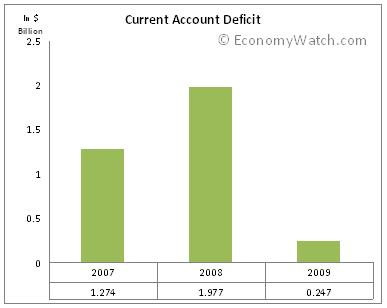 The United States, Honduras' largest trading partner, accounts for over 60% of its exports and nearly 50% of imports. The association between the two countries strengthened after the ratification of the Central American Free Trade Agreement or CAFTA in 2005. The agreement has led to increased foreign investment in Honduras and a sharp growth in the country's textile and apparel products industry. 
Honduras Exports
The country's total exports have declined from $6.046 billion in 2008 to $5.25 billion in the year 2009. Although traditional agricultural commodities like coffee and banana are the main items exported, Honduras has a strong export processing industry which is primarily focused on assembling textile and apparel goods for re-export to the United States. Other items exported by Honduras include shrimp, wire harnessing, cigars, gold, palm oil, fruit, lobsters and lumber. El Salvador, Guatemala and Mexico are the other trading partners of Honduras.
Honduras Imports
Honduras imports have declined from $10.39 billion in 2008 to $7.57 billion in 2009. The major items imported by Honduras are machinery and transport equipment, industrial raw materials, chemical products, fuels and foodstuff. The US, Guatemala, El Salvador, Mexico and Costa Rica are the country's main import partners, which accounted for 49.8%, 7.6%, 6.1%, 4.7%, and 4.2%, respectively, of Honduras' total imports in the year 2008.