FOREIGN TRADE
Grenada has experienced both trade deficit as well as balance of payment deficit over the years.
The major exportable commodities of the country are cocoa, banana, mace, citrus, fruits and vegetables. Its exports partners are United Kingdom, United States and Netherlands.
Important importable commodities are manufactured goods, machinery, chemicals, fuels and food. Its partners are United States, United Kingdom and Japan.
Levels of merchandise exports and imports of the country are as follows: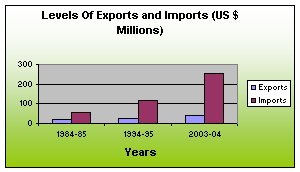 Over all trade situation in the country are as follows:
  2000 2003 2004 Merchandise trade (% of GDP) 69.9 66.5 77.7 Foreign direct investment, net inflows (BoP, current US$) 37.0 million 84.6 million 42.4 million Long-term debt (DOD, current US$) 179.8 million 300.1 million 347.1 million Present value of debt (% of GNI) .. .. 105.9

 
CONCLUSION
Grenada is presently a member of Eastern Caribbean Currency Union (ECCU). It has also accepted the membership of Caribbean Community (CARICOM).
The World Bank with its Country Assistance Strategy has stepped forward for attaining higher economic growth and reducing poverty.