Croatian trade is characterized by heavy machinery and electrical equipment. Croatia receives much desired foreign currency through substantial amount of exports and is further boosted by a sustained tourism industry.
Croatia Trade
Croatia's export trade amounted to $10.05 billion in 2010 and the country ranked 80th in the world. However, this figure was down from $14.36 billion in 2008.
Italy is Croatia's primary trade partner, being the largest import and export trade relation. Germany is also a key partner.
Croatia Exports
The major export commodities include transport equipment, machinery, textiles, chemicals, foodstuffs and fuels.
Croatia's primary export partners are  Italy (18.9% of exports), Bosnia and Herzegovina (15.3%), Germany (10.7%), Slovenia (7.7%) and Austria (5.7%).
The following graph shows how the various countries contributed to the total export volume (in percentages):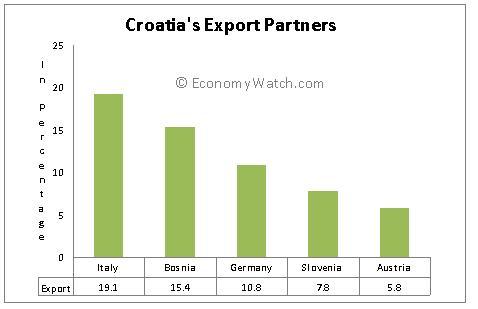 Croatia Imports
As for Croatian imports, 2010 import trade was valued at $20.47 billion and ranked the country was the 66th in the world.
Import trade revenues declined from 2008 when import trade was valued at $30.42 billion.
The main import commodities include machinery, transport and electrical equipment; chemicals, fuels and lubricants and foodstuffs.
The primary import partners are Italy (17.1%), Germany (13.4%), Russia (10.5%), China (6.1%), Slovenia (5.6%), Austria (4.9%).
The following graph shows how different countries accounted for the total import volume (in percentages):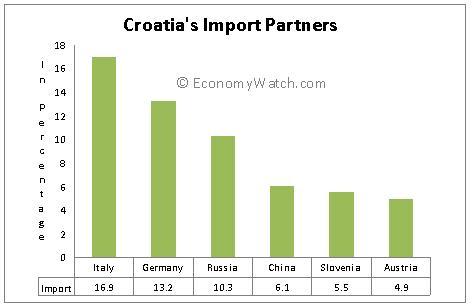 Croatia's trade deficit seems to have almost doubled in the recent years, therefors, tourism provides a major pillar in its economy and trade, contributing largely to foreign exchange - balancing the deficit.