Bolivia's estimated GDP in 2008 totaled $18.94 billion and the nation's growth can be attributed to privatization of various public sector enterprises, and growth in the hydrocarbon and mining sectors. Bolivia has the second largest natural gas reserves in South America. The Bolivian state oil corporation, Yacimientos Petrolíferos Fiscales Bolivianos (YPFB), has signed contracts with Brazil and Argentina to steadily increase the country's gas exports in the next ten years.  
Bolivia Trade: Exports and Imports
Bolivian exports were approximately $4.8 billion in 2009, up from $652 million in 1991. Imports stood at $4.1 billion in 2009.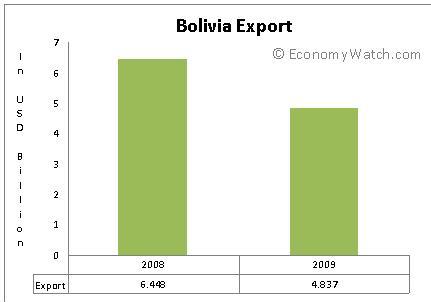 Bolivia's primary export commodities include natural gas, soybeans, crude petroleum, zinc ore and tin. The country's main export partners are Brazil, the US and Japan. The chart below shows the imports in Bolivia in 2008 and 2009.

p>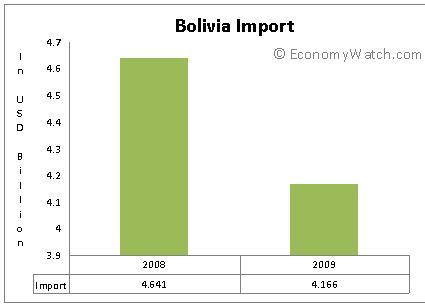 Bolivia's primary import commodities include petroleum products, plastics, paper, aircrafts, automobiles and insecticides. The country's main import partners are Brazil, Argentina, the US, Peru and China.
Bolivia's trade with neighboring countries is growing due to its participation in several regional trade agreements. Bolivia is a member of the Andean Community, along with Peru, Ecuador and Colombia. Bolivia is also an associate member of the Mercosur, and is focused on developing its market through membership in the Bolivarian Alliance for the Americas (ALBA), whose members include Venezuela, Cuba and Nicaragua.
The Andean Trade Promotion and Drug Eradication Act (ATPDEA), which allowed specific Bolivian products to enter the US duty-free was revoked from Bolivia by President Bush on December 2008, due to the country's failure to meet international counternarcotics obligations. In June 2009, President Obama determined that Bolivia was still not meeting the program's eligibility criteria. Despite this restriction, the US remains an import-export partner of Bolivia. In 2008, the US exported $511 million worth of goods to Bolivia, and imported goods worth $393 million.