In the early 1990s, Armenia suffered from steep decline in productivity following breakup from the Soviet Union. However, the economy rebounded in the mid 1990s owing to their strategic fiscal policy and liberalization efforts. To foster Armenia trade, the government set out the path for gradual conversion from socialist to market-oriented economy. The small and medium enterprise section was opened to private and foreign investment. Following the WTO accession in the early 2000s, the country has put in place an international trade-friendly policy.
In 2000, Armenia government shifted its focus to developing favorable environment for trade by leveraging exports and fostering private sector investment. As per 2007 statistics, Armenia ranks 39th out of 178 countries, on Doing Business index. 
Armenia Trade: Exports
Armenia trade is highly dependent on multilateral agreements with Soviet Union's Commonwealth of Independent States (CIS). It has free trade agreements with Russia, Kyrgyz, Georgia, Turkmenistan, Moldova, Ukraine, Tajikistan, Belarus, and Kazakhstan. Besides, EU also has significant share in Armenia trade figures.
Major export items for Armenia are pig iron, nonferrous metals, unwrought copper, diamonds, mineral products and foodstuff. As per WTO statistics, the country ranks 145 in terms of merchandising export and 123 in the export of commercial services.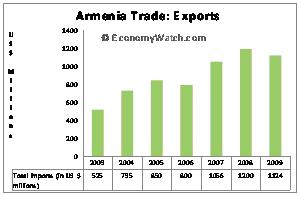 Armenia Trade: Imports
Russia is the biggest partner for Armenia trade imports. As per 2008 figures, Russia enjoys 19.3% share of the total imports to Armenia, followed by China (8.7%) and Ukraine (7%). Major import items include petroleum, oil products, natural gas, tobacco and diamond.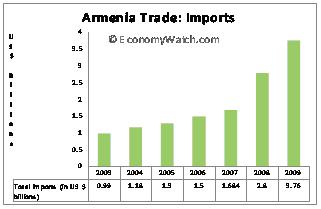 Since the 1990s, Armenia economy has been suffering from huge trade deficits. Despite strategic measures, the rate of growth of imports has been higher than that of exports. The rising trade deficit is an impediment to the economic growth of the country. A better managed trade equation can be achieved by diversifying the country's economic profile and fostering a range of industrial sectors.