FOREIGN TRADE
Major exports items of the country are food, manufacturing, machines and petroleum products. Country's exports partners are Italy, Germany, Poland and Singapore.
Important importable items in the country are food, machines, chemicals and oil. For imports, it depends upon the countries such as China, Germany, Singapore, and US.
The following diagram shows the level of exports and imports of merchandise goods in the country over years: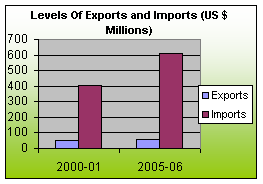 CONCLUSION
The country's economy is largely dependent upon the services sector. Tourism accounts for more than 50% of the total GDP of the country. It is a me

mber of WTO and CARICOM.