Since the end of 30 years of the civil war, Angola government has made considerable efforts for stabilizing the economy. The country has developed multilateral trading relations with regional as well as global partners. With the liberalization of the economy, Angola trade profile is attracting significant foreign investment, particularly in the mining sector.
Angola Trade: Exports
Petroleum products dominate Angola export trade figures. Diamond is yet another significant contributor. These two products constitute more than 80% of the total export value. Angola exports products mainly to China, France, the USA and EU. Almost all oil export from Angola goes to the USA. Other major items of export are:
Coffee

Sisal

Cotton

Lumber

Fish
Due to the favorable trade environment, Angola export figures have almost increased threefold in the period 2006-2009. Surging international oil prices are one of the primary drivers for Angola's export growth. The country ranks 46 in terms of merchandising export and 147 in export of commercial services (based on 2008 WTO figures.)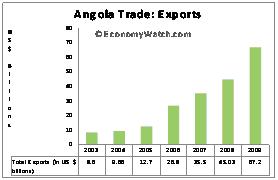 Angola Trade: Imports
Since the colonial period, Portugal has been the leading trade import partner of Angola. The country imports food, textile products and consumer goods. Other key import partners are South Africa, the USA, Brazil, the UK, France, China and South Korea. As the Angolan economy is evolving, there is a gradual increase in imports. However, with exports much higher than the import value, the country has a favorable balance of payment.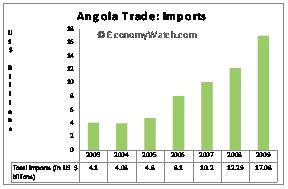 Being a part of the least developed countries, Angola benefits from duty-free preferential agreements by EU (known as EBA, "Everything But Arms") and the US (known as African Growth and Opportunity Act, "AGOA"). After accession to the WTO, Angola has molded its fiscal policy to integrate international standards. The country is making efforts to adjust custom tariffs as per GATT 1994 structure. Due to the scarcity of human and technical infrastructure, the country has asked for aid from WTO and IMF.