Invest in RBS – Invest in RBS Shares Today!
To buy shares in RBS, you need to invest in its parent company, the NatWest Group (LSE: NWG). To achieve this, you need to open an account with a credible broker to gain entry to the London Stock Exchange.
Read on, as today we discuss how to invest in RBS, which includes a full review of the best stock brokers available. You can also follow our simple 5-step walkthrough to join a trading platform and purchase RBS shares today!
#1 Stockbroker to Invest in RBS – eToro
How To Invest in RBS – Choose a Stockbroker
NatWest is listed on the LSE. To invest in RBS shares, you need to decide on a platform that is able to offer you entry to this specific marketplace. We've listed the most credible stock brokers with access to RBS stocks below.
eToro – Overall Best Place to Invest in RBS
Capital.com – Trade RBS Shares in the UK at 0% Commission
AvaTrade – Invest in RBS via Leveraged CFDs
Scroll down to view a full review of the aforementioned RBS stockbrokers, covering regulatory standing, fees, and much more.
How to Invest in RBS – A Quick Guide For 2021
First, you will see a fast and convenient guide on how to invest in RBS via commission-free and low-cost broker eToro:
Step 1: Open an Account with eToro – To access the LSE and invest in RBS in safety, open your browser and go to the official eToro website. Once there, you can click 'Join Now' to get the ball rolling and sign up. Provide the broker with your name, a password, username, and contact information – such as your email and phone number. You will also be prompted for your home address, nationality, and date of birth
Step 2: Upload Your ID – eToro is regulated by the FCA and follows AML rules. As such, you will be required to provide proof of your identity and address. This is straightforward enough. Take a photo of your passport and a bill showing your address and upload them. As long as they are clear and mirror the details you provided in step 1, eToro will validate your ID instantly
Step 3: Deposit Funds – When the KYC process is complete and eToro has successfully validated your ID and address, you can add funds to invest in RBS. Note that each time you make a deposit, eToro charges an FX fee. This will be 0.5% of the amount and will cover the conversion of GBP to USD (the broker operates in US dollars). There is a wide variety of deposit methods, covering most credit/debit cards, e-payments such as Paypal, and wire transfers. The minimum deposit is $50
Step 4: Search for RBS – To find your chosen stock, type 'NatWest'. RBS is now listed under the ticker 'NWG.L' so when you see this market appear, click 'Trade' to make your purchase
Step 5: Invest in RBS – The order form that pops up next should read 'BUY NWG.L' at the top. Now, you can enter an amount to invest in RBS. eToro supports fractional stakes from $50. This means you can buy shares in RBS starting from approximately £36. Confirm the investment by clicking 'Set Order' if the market is closed, or 'Open Trade' if the LSE is open (8 am-4.30 pm GMT)
Note that if the market is closed, your order will be placed the moment it reopens. Until this happens, when you view your portfolio, it will say 'pending' next to NWG.L. As soon as this eToro has executed your order, you will see RBS shares appear in your portfolio (under the ticker NWG.L).
67% of retail investor accounts lose money when trading CFDs with this provider.
Where to Invest in RBS  – Full Stockbroker Reviews
When you are clued up on how to invest in RBS, you can make your mind up on where to access the relevant stock exchange. In this case, you need access to the LSE. The below brokers offer low-cost trading and investing and are regulated by at least one tier-1 organization.
1. eToro – Overall Best Place to Invest in RBS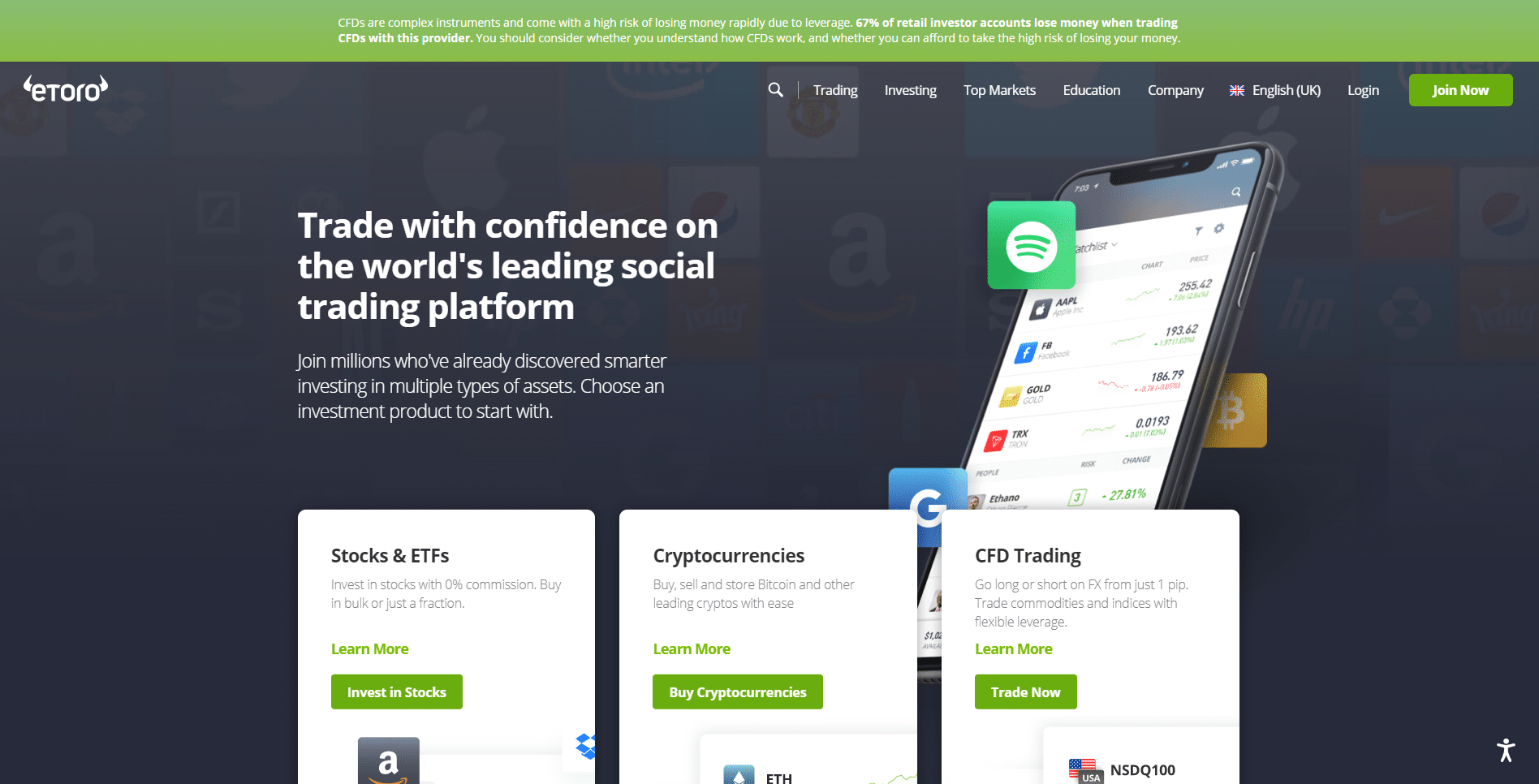 eToro is a beginner-friendly platform with a wide range of assets on offer. You can buy RBS shares, listed under the name NWG.L, without paying commission. There are also over 2,500 alternative shares to choose from. The spread on most markets is highly competitive and you can also access assets such as commodities, forex, cryptocurrencies, ETFs, and indices.
Financial regulators, including the FCA, CySEC, and ASIC, regulate this trading platform so high standards are maintained. If you are looking to invest in RBS but only want to allocate a small amount to begin with, eToro allows you to stake from just $50. The platform converts all funds into US dollars. This means you will be charged a small fee on GBP deposits. This is only 0.5%, which is just 50p from every £100 deposited.
A key advantage of investing in UK stocks with this broker is you will save 0.5% on stamp duty tax. This is because eToro absorbs this cost for you. Moreover, the platform offers 0% commission across all stocks and ETFs, leaving only the spread. To invest in RBS, you'll need to fund your account with a minimum of $50. This can be done via debit and credit cards from Mastercard, Visa, and Maestro. Electronic wallets are also supported, including Neteller and PayPal.
Notably, wire transfer deposits are accepted by this broker. However, you will wait up to 7 working days to access the funds as available equity in your account. For those unaware, at eToro, you can drastically shorten the learning curve and invest in stocks by mirroring a seasoned trader. This is done via a Copy Trading tool. You can view the credentials of millions of people and invest in one with similar goals in a few clicks.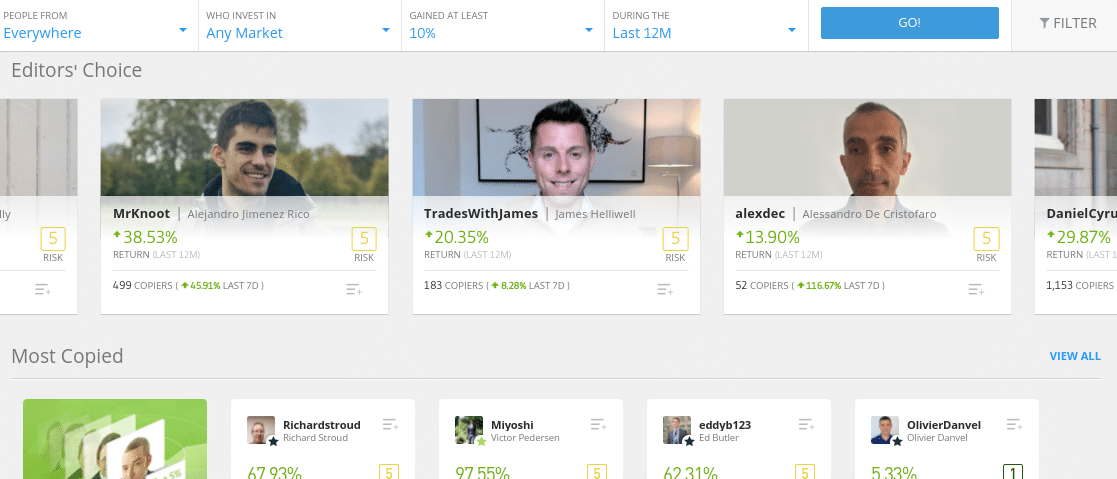 For example, let's say you choose to allocate $1,000 to CopyMyStocks123. This trader risks 25% of their balance on buying RBS shares and 15% is allocated to MRW. In this hypothetical scenario, you have passively invested $250 in RBS, meanwhile $150 is allocated to Morrison's. Finally, the eToro app is free and allows you to buy RBS shares on the move, and check the performance of your portfolio on a safe platform.
Pros
Invest in stocks at 0% commission and ZERO stamp duty
Minimum investment per stock investment is $50
Supports debit/credit cards, e-wallets, and UK bank transfers
Regulated by the FCA and covered by the FSCS
Used by over 20 million people
Perfect for beginners
Social and copy trading tools
Cons
Perhaps too basic for technical traders
No support for MT4 or MT5
 67% of retail investor accounts lose money when trading CFDs with this provider.
2. Capital.com – Trade RBS Shares in the UK at 0% Commission

If you are looking for a flexible and burden-free way to enter the stock market – look no further than FCA regulated broker Capital.com. This platform offers 0% commission on RBS share CFDs. CFDs track the price of the underlying asset. As such, you are free to speculate on the value of RBS stock, without owning it. Unlike traditional stock trading, which requires an increase in value to make gains, you can also opt to go short on a falling market with a sell order.
Let's say you place a sell order on RBS share CFDs and the price falls by 10%. Because you speculated correctly, that's a 10% profit. If you predicted a price increase, you would instead go long with a buy order. Either way, if you are incorrect about your prediction, you will make a loss. Share CFDs invite leverage of up to 1:5. Let's say you have £100 to allocate to RBS and apply 1:2 leverage. Your stake is now magnified to £200.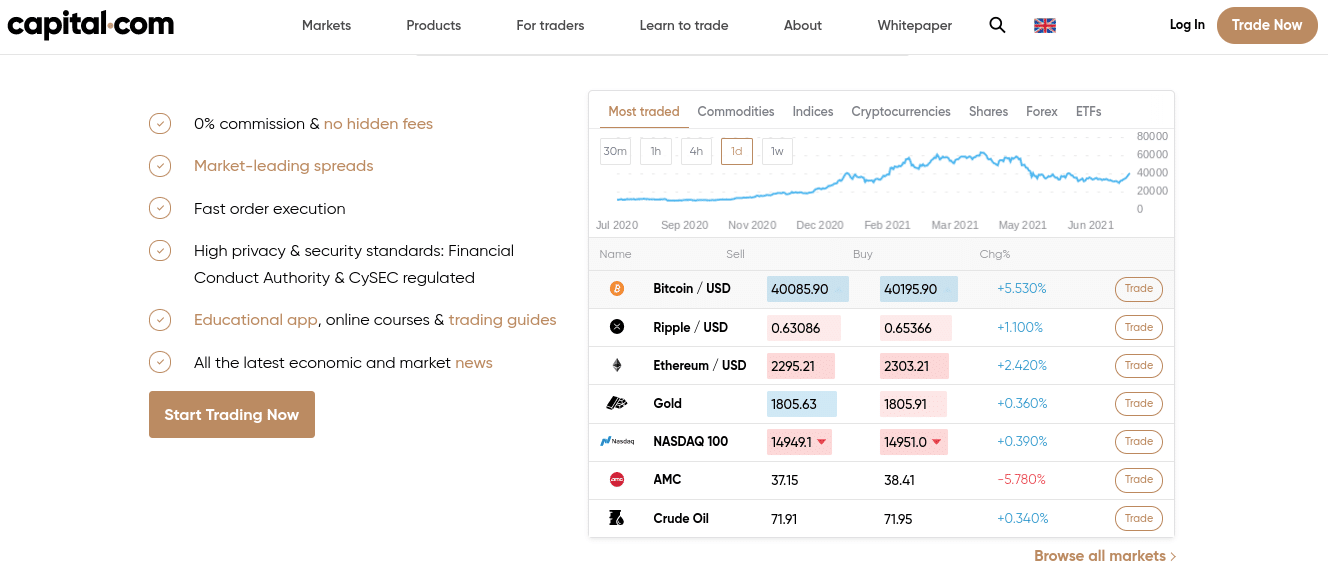 In this example, if you speculate on the direction of RBS shares correctly, your profit will also be doubled. If you are wrong, your losses will be amplified two-fold, so educate yourself on the ins and outs of leveraged CFDs first. Capital.com accepts minimum deposits from £20 via many payment types. This comprises credit and debit cards, online banking, and e-wallets. Bank transfers require a £250 minimum deposit. There are thousands of markets to trade as CFDs at Capital.com.
Pros
Top-rated spread betting and CFD broker
Licensed by the FCA
£20 minimum deposit (debit/credit cards and e-wallets)
0% commission on all markets
Tight spreads and no fee on deposits or withdrawals
Supports thousands of financial markets
Convenient for newbies
Cons
Experienced traders might consider the broker too basic
£250 minimum deposit on bank transfers
Spread bets and CFDs are complex instruments and come with a high risk of losing money rapidly due to leverage. 76.25% of retail investor accounts lose money when trading spread bets and/or CFDs with this provider.
3. AvaTrade – Invest in RBS via Leveraged CFDs

If you like the sound of buying and selling RBS shares in the form of CFDs, you might also consider AvaTrade. Numerous financial bodies regulate this broker, and most will find the website easy-to-use. The platform offers leverage up to 1:5, so you can increase your buying power five-fold if you wish. As we said, tread with caution when using leverage. Notably, to trade RBS here, you will need to link your stock broker account to the third-party trading platform MT5.
For anyone unaware, MT4 and MT5 are industry-leading trading platforms. This also opens the door to plenty of other share CFDs and provides traders with access to important stock price data, technical indicators, and free demo accounts. AvaTrade offers 0% commission on CFDs, so when you trade RBS shares, you will only be expected to pay the spread, which is quite competitive.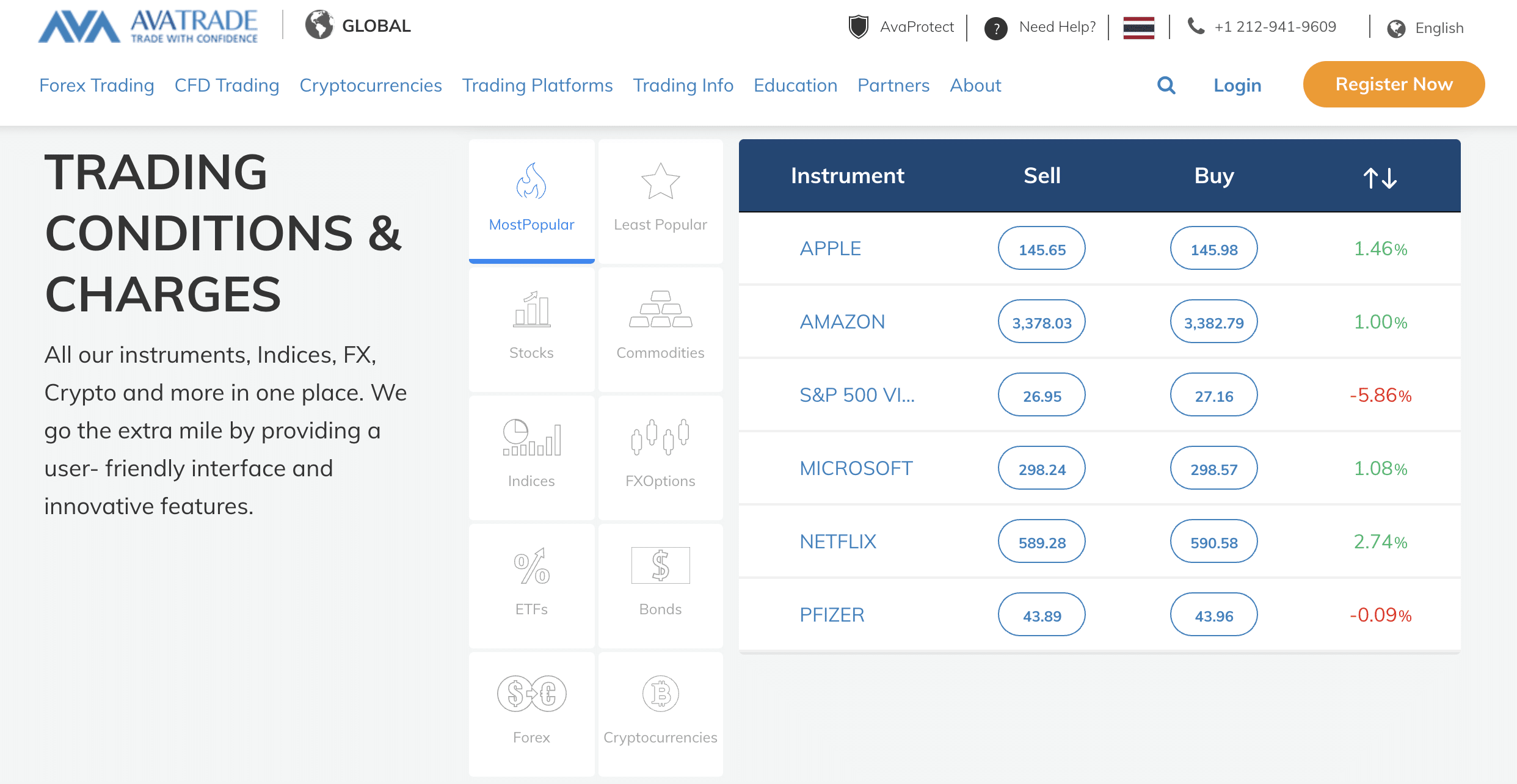 When you have completed the KYC process and created an account, you can get started. The minimum deposit at AvaTrade is higher than the aforementioned brokers. You will need a minimum of £100 and can fund your account with e-wallets, wire transfers, and credit/debit cards. This CFD broker does not charge a deposit fee. Note that if you don't actively trade on or fund your account for 3 months, you will be charged a £50 inactivity fee.
Pros
Regulated in seven jurisdictions
0% commission on all supported markets
Offers spread betting and CFD instruments
Minimum deposit of just £100
Free demo account
Supports MT4 and MT5
Cons
Spread betting department limited to just 200+ financial markets
No support for instant bank transfers
Trading CFDs and FX Options entail risk and could result in the loss of your capital.
How to Invest in RBS – Detailed & Explained in Full
The parent company of RBS – NatWest, features on the LSE and there is no shortage of online brokers able to provide entry to this marketplace. Before you invest in RBS, you will need to think carefully about what you need from a stockbroker. This might hang on low-cost trading fees, having access to multiple stock exchanges, or depend on whether the platform is regulated.
This walkthrough is based upon signing up with eToro. Following our reviews, the broker was revealed as the best place to invest in RBS. It is regulated by the FCA, is commission-free, allows fractional stakes, and is perfect for beginners.
Step 1: Open a Stockbroker Account
Request a sign-up form by hitting 'Join Now'. Accept the terms and conditions, fill in your name, desired password and username, phone number, and email address. To move to the next stage of opening an account to invest in RBS, eToro will ask for your residential address, as well as your date of birth and nationality.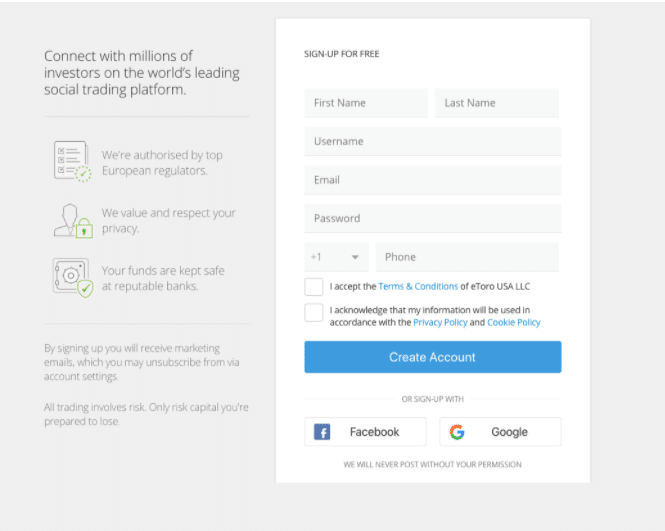 This broker aims to counter financial crime by adhering to AML practices, namely the completion of the KYC procedure. Send a clear photo of a recently issued bank statement, and a photo ID such as a driving license or valid passport. Confirm everything. After eToro has validated your ID, you will have a complete portfolio. After this, you are free to proceed to the next stage to invest in RBS shares and can withdraw funds as you wish.
Note: You can skip the uploading of ID and documents. However, your account will be restricted when it comes to deposits of over $2,250 and withdrawing funds.
67% of retail investor accounts lose money when trading CFDs with this provider.
Step 2: Deposit Investment Funds
Financing your new eToro account to invest in RBS should be quick and convenient. Check out the list of supported payment methods and choose one to fund your account with. You will find options such as credit/debit cards, e-payments, and wire transfers.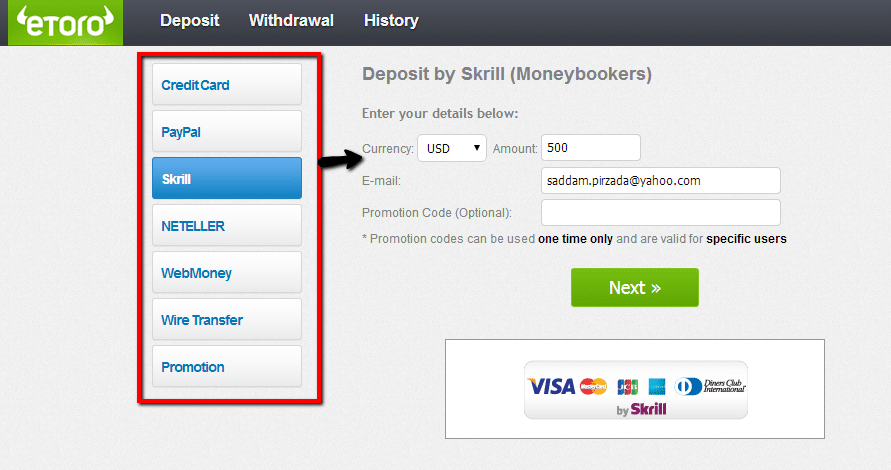 Enter an amount to deposit. The minimum is $50, which is around £36. Depending on the payment method you opt for, your account will be funded straight away. The platform states that debit/credit cards and online banking payments are credited immediately, whereas bank transfers can take up to 7 days.
Remember, there is a low FX fee of 0.5% to pay, which is because the broker converts all GBP deposits to USD. But, this is countered by the 0.5% you save when investing in RBS – as eToro waivers stamp duty tax!
Step 3: Search for RBS
As we said, RBS is now listed as NatWest. With that in mind, when you type RBS into the eToro search bar, you will see Natwest appear.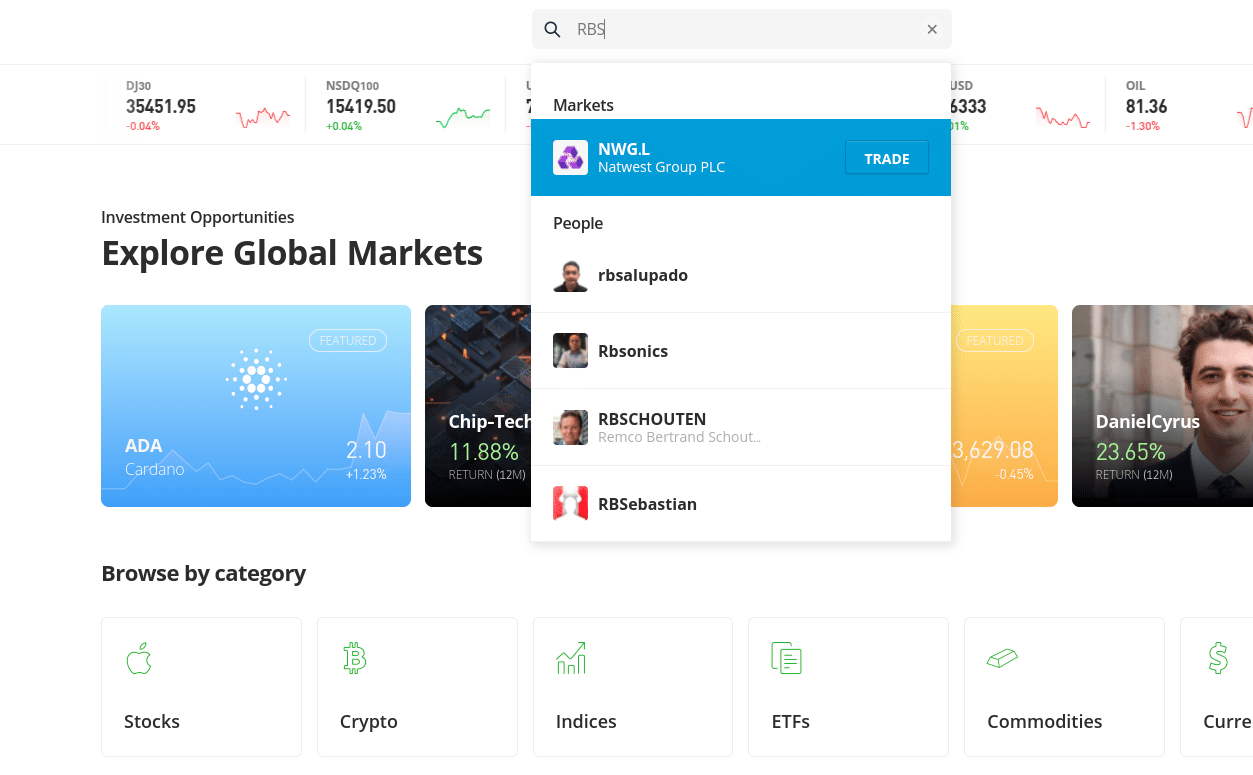 When you see NWG.L, click the 'Trade' button to buy RBS shares.
Step 4: Invest in RBS
This is the final step to allow you to invest in RBS. Check that it says 'BUY NWG.L' in the order box and decide how much you want to allocate to RBS.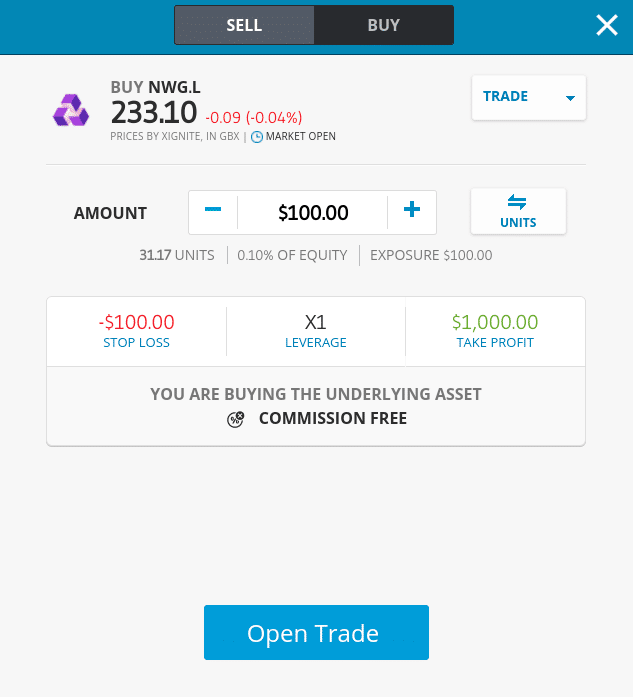 As you can see, we are allocating $100, which is around £72. You can risk low amounts, as eToro facilitates fractional investments, starting from $50. As we said, if the UK stock markets are closed when you place your order to buy shares in RBS, click on the 'Set Order' button and the broker will place your trade when the exchange opens.
Step 5: How to Sell RBS Shares
When you invest in RBS, you will want to cash your investment out at some point, whether months or years down the line. eToro makes this process super simple.
With this in mind, below you will see a walkthrough of how to sell RBS shares in a few clicks:
Sign in to your eToro account and click Portfolio to view your purchases
Look for NatWest (ticker NWG.L) and create a trading order
Enter the amount to sell and confirm by clicking 'Open Trade' or 'Set Order'
If you pressed 'Set Order', the proceeds from the sale of your RBS shares will be added to your account when the LSE opens. Alternatively, if you click 'Open Trade', eToro will credit your account right away, at the current market value.
Buy RBS Shares – Best Place to Invest in RBS
RBS and its parent company, the NatWest Group, are listed on many trading platforms. The best brokers will satisfy a multitude of requirements.
Below we have listed some considerations to bear in mind when deciding on the best place to invest in RBS:
Is the stockbroker approved by a regulatory body, and does it hold a license?
Can you invest in RBS shares on the LSE, and also access international markets?
Will the brokerage support fractional investments and low deposits?
Are there lots of different payment types accepted to fund your account?
Is the platform jargon-free and simple enough to navigate?
Earlier in this guide on how to invest in RBS, we reviewed the best stock brokers for the job. eToro was the overall best option. It offers an FCA-regulated environment to invest in RBS. As well as 0% commission, thousands of stocks, and low investments from $50.
Is RBS a Good Stock to Buy?
When you are learning how to invest in RBS, you will probably be second-guessing whether it's a good buy. The truth is, you should decide yourself whether RBS is a worthwhile investment, and take personal opinions lightly. It's important to make your decision based upon a combination of hard facts, personal goals, and your own in-depth research.
To kick start your research into this stock market, you will need to look at both RBS and its parent company, NatWest. To give you a running start, we've detailed some price history and information surrounding dividends.
RBS Stock Price History
The first RBS bank was opened to the public in 1783. Between 1918 and the late 1990s, RBS acquired multiple banks around the UK. By 1999, RBS had 664 offices in the UK alone. Mergers and amalgamations usually result in a change of company name, which can be confusing to investors trying to buy shares.
For instance:
In 1969, RBS merged with the National Commercial Bank of Scotland. Following this, it became known as the National & Commercial Banking Group
Later, RBS changed to the Royal Bank of Scotland Group
However, on July 22nd, 2020, the company changed its name again, this time from the RBS Group to the NatWest Group
It is important to know about mergers and name changes when researching the company/companies behind a stock. As we said, this means when you invest in RBS stock, you can still locate shares using the old company name but will see the ticker NWG instead. This is sometimes NWG.L – and the 'L' represents the LSE.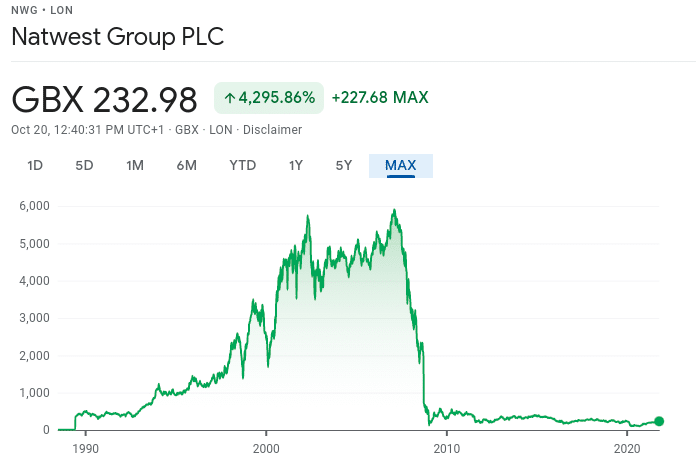 RBS has actioned two stock splits, to date. The first was early September 2008 – a split of 1,025 for 1,000. This means for every 1,000 shares held, investors now owned 1,025. A mere two months later, a reverse split was announced. This time, if you held 20 shares pre-split, you would now have 1.
See some RBS share history below, with prices adjusted for stock splits:
In mid-late October 1991, a share in RBS would have cost 432.31p
10 years later, in October 2001, RBS was trading for 4,781.44p
On October 14th, 2011, RBS shares were priced at 242.60p
By October 31st, 2014, RBS was trading at 388p
At the time of writing, in late October 2021, RBS shares are priced at 228.90p (now under the ticker NWG)
As the above data illustrates, if you had learned how to invest in RBS in October 1991 and held onto your shares for 10 years, you would have made an impressive profit of 1,006%! Stock market conditions are prone to change.
However, if you are willing to risk it, it could be worth investing in RBS shares now. This might entail adopting a buy-and-hold approach for the foreseeable future. Learn the ins and outs of how to invest in RBS and consider fractional stakes before taking the plunge. At eToro you can invest in RBS from just $50.
Do RBS Pay Dividends?
Not all companies pass their profits down to shareholders, so you are probably wondering whether RBS pays dividends? The answer is yes, although not consistently historically. However, if you invest in RBS now, you will receive dividends payments.
Take a quick look at some dividend history:
RBS dividends were paid regularly between 1998 – 2008
The highest dividend payment was 33.2p on 6th June 2008
RBS reinstated dividends on 12th October 2018
Between 12th October 2018 and September 17th, 2021 – dividends ranged between 2p and 12p
The latter dividend payment was 3p per share
When you feel confident in how to invest in RBS and you begin to buy shares, you can start to strategize. For instance, instead of withdrawing dividends, you could reinvest them. This could see you building a diverse portfolio, or simply buying more RBS shares.
Should I Invest in RBS?
As we said, to invest in RBS, you need to buy shares in the NatWest Group. eToro, for instance, lists RBS under NWG.L. However, when you search for RBS, the correct shares still appear to save confusion. With that said, some brokers still list these shares under the ticker RBS.
If you are still weighing up on whether you should invest in RBS, you will see some further information below to help you make your mind up.
RBS Shares Have Increased Two-Fold
RBS stock is nowhere near its all-time high of 6,036.81p per share (in March 2007). However, in the past 12 months, RBS shares have near enough doubled. This is quite impressive when you consider the impact of COVID-19 on the global economy. Throughout 2020 and early 2021 especially.
If nothing else, this shows that when you invest in RBS, there is every chance the stock price could still perk up.
With higher inflation being experienced throughout the UK, market commentators predict that the Bank of England will increase interest rates.
This could be a good thing for NatWest stakeholders. The reason is the higher interest rates are, the greater RBS's gains will be on financial transactions and loans.
RBS Profits Higher Than Expected
Why should you invest in RBS? Well, in the first half of 2020, RBS faced an operating loss of £770 million (before tax). In the first half of 2021, the NatWest group saw operating gains of around £2.5 billion.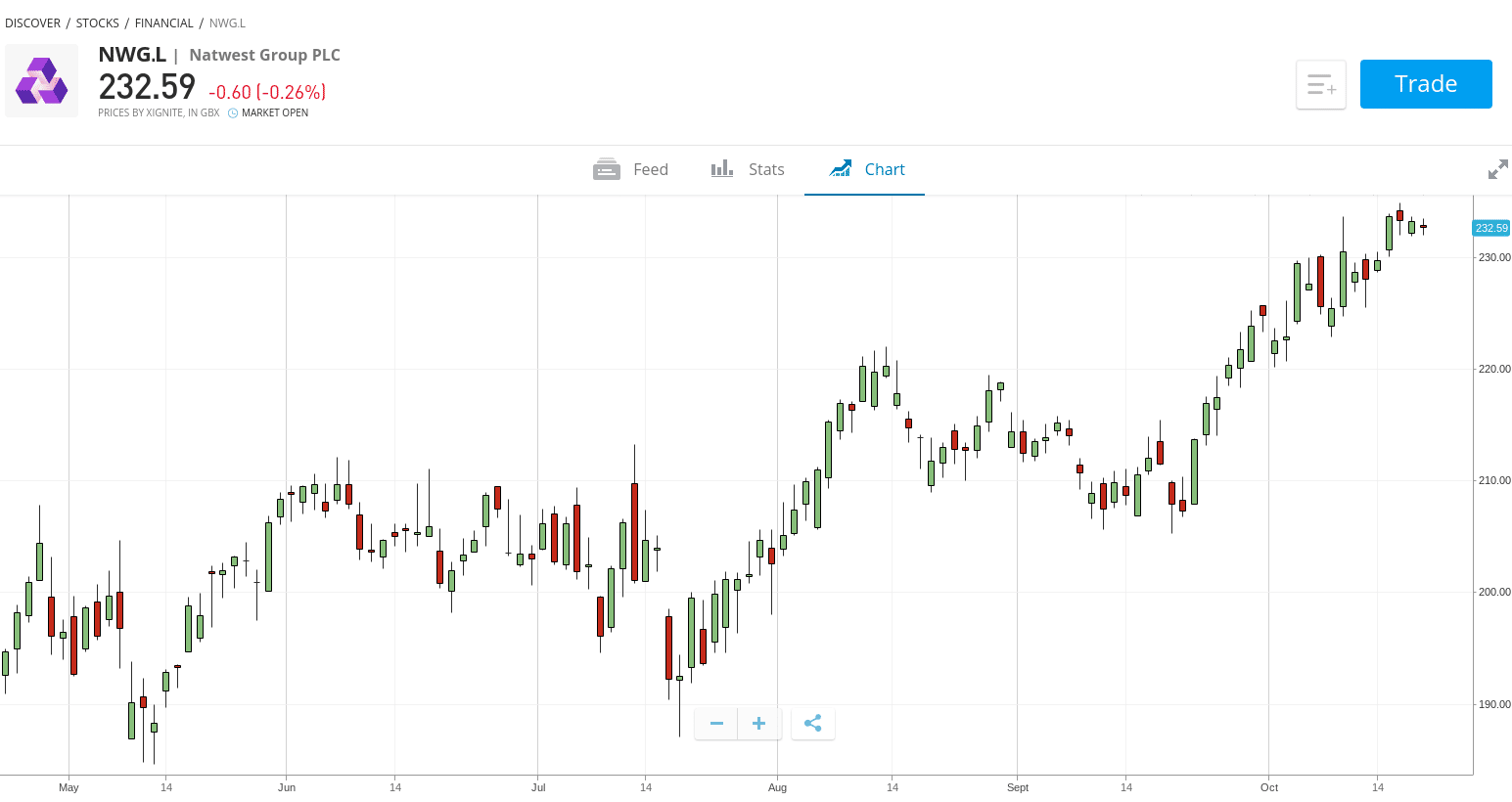 Market commentators had predicted a reported profit of a much lower amount, totaling £1.8 billion. As such, the stock made gains 40% higher than expected. For anyone looking to invest in RBS now, this increase in price could bode well for the coming years.
RBS is Part of a Powerful Banking Group
On July 22nd, The Royal Bank of Scotland became NatWest Group plc. As such, when you invest in RBS, you will also be buying shares in a range of other companies, many with a good operating performance.
Its wider banking group includes:
Ulster Bank
Coutts
Isle of Man Bank
NatWest
Drummonds
Royal Bank of Scotland
Lombard
RBS has displayed strength and resilience during hard times in the economy. In the first quarter of 2021, defaults were low and impairment provisions of £0.6 billion were released. Net lending has increased, as did customer deposits. Furthermore, RBS announced a stock buyback of up to £750 million.
As we said, this also led to the company reinstating its dividend payments at 3p per share. It's crucial you follow news surrounding the group and do some detailed research before you decide to buy RBS shares.
Ways to Invest in RBS
There is more than one way to invest in RBS. What is available to you will rest on the stockbroker you choose.
Invest in RBS With Debit Card
Debit cards are widely accepted to invest in RBS. You can check whether this payment type is supported by looking at compatible payment types on your chosen platform. Also, check any deposit fees you may be liable for.
Invest in RBS With Debit Card Now
Invest in RBS With Credit Card
Investing in RBS with a credit card is also an option, but again, you will have to see whether it's listed as a supported deposit method. eToro accepts credit and debit cards, with only a small 0.5% FX fee chargeable.
Invest in RBS With Credit Card Now
Invest in RBS With Paypal
PayPal is less commonly seen amongst the list of accepted deposit methods at stockbrokers. eToro allows you to invest in RBS with PayPal in a couple of clicks. Again, you will pay that 0.5% conversion fee for a GBP/USD swap. This broker covers the stamp duty when you invest in RBS, so you will make a saving of 0.5% on each stock purchase.
Risks of Investing in RBS?
Each investor will have different tolerance for risk. As such, when you conduct research into how to invest in RBS, open your eyes to the level of risk. Another way to look at it is, there is often no reward without taking a risk.
See a list of some of the risks of investing in RBS below, and how you might counteract them:
The biggest risk you face is allocating money to RBS and getting less back than you invested
You could consider buying shares RBS in bite-sized chunks so you never risk too much at once
If you only invest in one market, you are pinning all of your hopes on a single stock doing well
A common approach is to invest in various stocks to offset the risk of overexposure
There is no such thing as a risk-free investment. By signing up with a regulated broker able to offer multiple local and international stock markets, you can diversify in a safe environment. At eToro, you have thousands of markets to choose from and can invest in RBS from just $50!
The Cost of Investing in RBS?
When you are learning how to invest in RBS, it's also important to understand the potential fees involved.
To clear the mist, we've listed some common charges you might face when buying RBS shares via the NatWest Group.
Brokerage Deposit Fees
Deposit fees are charged by many stockbrokers in the UK. Many stipulate different fee amounts depending on the deposit type. For instance, you may have to pay a higher fee to fund your account with a credit card or a bank transfer.
eToro doesn't charge deposit fees, albeit, you will just pay 0.5% to change British pounds to US dollars. This fee is counteracted by the fact the broker absorbs the stamp duty tax of 0.5% – which is usually charged when you invest in UK-listed stocks like RBS.
Share Dealing Fees
Share dealing fees, also known as stamp duty, are very common charges to be aware of when you invest in stocks listed on the LSE.
Below, you will see some contrast between places when you invest in RBS shares on the LSE:
At eToro you will pay ZERO share dealing fees
Over at Hargreaves Lansdown, you would be charged £11.95 on each transaction
If you buy RBS shares via stockbroker IG, you will be liable for £8 every time you place an order
The disparity between broker fees is clear to see. This is why it's crucial that you do your homework before signing up with a broker. eToro not only allows you to invest small amounts, but the broker covers all share dealing fees and stamp duty tax. As you can see, this represents a big saving when you invest in RBS.
How to Invest in RBS – Conclusion
As you learn the ins and outs of how to invest in RBS, you will see that this LSE stock is now listed under the ticker NWG. Furthermore, there is much more than the risk of loss to consider. If you choose a stockbroker in haste, you might find the fees are through the roof, or they don't accept your chosen payment method.
The best places to buy RBS shares will offer advantageously low fees, a long list of alternative markets, and hold a license from the FCA. If you are yet to decide which broker fits your needs, eToro is a good fit. You can invest in RBS by buying shares in NatWest, with a 0% commission.
You only need to allocate small minimums of $50 to buy shares, and there are numerous deposit methods accepted. The broker will allow you to finance your account using Visa, Mastercard, Maestro, PayPal, Skrill, online banking, wire transfers, and more.
eToro – Best Broker to Invest in RBS
FAQ
How do you invest in RBS?
How much do you need to invest in RBS?