Debt Relief Order UK – What is a Debt Relief Order? Full In-Depth Guide For 2021
If you've been unable to access debt relief because of the costs involved in other forms of formal debt relief, a debt relief order (DRO) is a suitable option. Debt relief orders provide a more accessible debt relief option for debtors with relatively low debt levels, minimal assets and insufficient disposable income to access alternative debt solutions.
You should get a debt relief order if you're looking for a fresh start or a way out of unmanageable debt without filing for bankruptcy. In this guide, we'll explore and review the best DRO providers in 2021 and how you can start writing off your debts with a debt relief order.
You'll get to learn what a debt relief order is, how it works, and whether it's the right option for you. You'll also discover what a debt relief order covers, the costs, pros and cons, eligibility criteria, and some frequently asked questions about DRO's to ensure you make an informed decision.
Best Debt Relief Order UK Services In 2021

What is a Debt Relief Order?

A debt relief order (DRO) enables you to deal with your debts if you can't afford to repay them. It's within the United Kingdom's statutory framework, and you can use it if you satisfy the eligibility criteria. It's a more straightforward and cheaper alternative to other debt-relief options like bankruptcy and involves collaboration with the debt advice sector.
If you have low debt levels, few assets and no way to pay creditors, a debt relief order will provide a low-cost solution. It gives a ray of hope if you're in financial distress, over-indebtedness, or struggle under the weight of multiple unmanageable debts.
A debt relief order provides everyday Brits with a way to write off or discharge debts they can't afford. Court involvement is not necessary to grant a DRO. It involves arrangements between you and your creditors by the Insolvency Service and the skilled debt advisers we'll connect you with at Reform Debt Solutions.
How Does a Debt Relief Order Work?

Once a debt relief order is in place, your debts freeze for a year and are written off entirely if your circumstances don't change during this period. You enter into a DRO period known as a moratorium for 12 months once a debt relief order is in place.
You'll make no further payments to creditors or the people you owe money to during this period, and your situation will be assessed continually. If your financial situation remains unchanged at the end of the period and it's unlikely you'll be able to clear your debts, the debts within the order are written off or discharged. Therefore, you get a fresh start and don't have to pay any of the included debts!

Note that your debt relief order can be revoked or cancelled if your circumstances change within the moratorium period. If you get a better job, a windfall of over £2000 or a pay rise, you'll have to start repaying creditors. Also, if any of your debts were acquired through fraud, you'll have to restart repaying them at the end of the DRO period.
You can only make a debt relief order application through an authorised debt advisor, and you'll get free access to several of those at Reform Debt Solutions!
Is a Debt Relief Order right for you?

A debt relief order is for you if you have a debt of £30,000 or less, don't own a home, don't have assets or items of value and have little to no income to spare. Regular household possessions and clothes are excluded as assets, and we'll only consider the second-hand value of the asset.
If you're in financial hardship and there's little to no hope of repaying your debts, a debt relief order is a suitable option. It's a kind of insolvency that's cheaper and better than going bankrupt. While both will help you write off debts you can't repay, going bankrupt will profoundly affect your circumstances.
Bankruptcy is highly disruptive and challenging. Once it's in effect, you'll lose control of your assets and finances for 12 months. The official receiver can sell your assets or use your finances to organise debt repayments. A debt relief order is the opposite of this, as your debts and repayments are frozen. You maintain control of your assets and finances, and you'll be free of the included debts after 12 months!
A DRO translates to less stress as it gets creditors off your back for a year! They can force you to pay, take legal action against you or use other debt recovery means during the DRO period.
Debt Relief Order Example

| | | | |
| --- | --- | --- | --- |
| DRO Provider | Cost | Maximum Debt | Decision Time |
| Insolvency Service | £90 | £30,000 | 10 Working Days |
What Does a Debt Relief Order Cover?

You can only include qualifying debts in a debt relief order, and you don't have to pay them during the DRO period, even if creditors ask you to.
| | |
| --- | --- |
| Debts Covered | Debts Not Covered |
| Credit cards | Student loans |
| Loans | Social fund loans |
| Overdrafts | Child support and maintenance |
| Rent Arrears | Magistrates court fines |
| Telephone bills | Compensation for injury or death |
| Income tax | Confiscation orders |
| Council tax | Unpaid TV license fees |
| Benefits overpayments | Debts secured against assets you own |
| Conditional sale agreements | Debts incurred after the DRO is granted |
| Hire purchase | |
| Buy now pay later agreements | |
| Bills for services like solicitors or vets | |
| Debts you owe family or friends | |
| Business debts | |
You can't add debts once your DRO starts, so ensure you include all covered debts during your application. Debts that aren't covered will not count towards the £30,000 limit.  Ensure you inform Reform Debt Solutions about all your debts during the application because the debt relief order can be revoked or cancelled if any missed debts could have taken you over the £30,000 limit.
Costs of a Debt Relief Order

You must pay a £90 non-refundable fee when applying for a debt relief order in the UK. The fee goes to the Insolvency Service, and there are no exemptions. You must pay in cash in instalments or at one go at a Payzone outlet or post office. Your DRO application goes through after you've finished paying the total amount.
Confirm eligibility before you pay the fee because you won't get a refund even after rejection. Through Reform Debt Solutions, you'll get access to an authorised insolvency practitioner who will assess your income, debts and assets to ensure you're eligible and on the right track. For extra convenience, we'll also help you find your nearest Payzone outlet and advice you on charities and trusts that can help you pay the DRO fee if you can't afford it individually.
Debt Relief Order Pros and Cons

Debt Relief Orders like many other debt solutions, come with pros & cons. Ensure you read and understand each to avoid getting into any trouble with your credit file and financial status in the future.
Pros
They're low-cost debt solutions
You don't pay any debts for one year
Creditors can't pursue you during the DRO period, take you to a court or send debt collectors to your home
They're formal debt solutions that don't involve court processes
Freedom from debts after one year
There are no recurring monthly payments since you only pay for a debt relief order once.
Cons
A DRO appears in your credit record for six years and can affect your future credit options
If you bought any goods on hire purchase, you might have to return them
DROs can affect tenancy agreements.
You may lose your bank account and have to open a new one.
You'll lose power of attorney.
If you're applying for British citizenship, it will be affected.
Your employment may be at risk if you work in the financial services industry because of insolvency restrictions.
If you have joint debts or guarantors, the DRO doesn't protect them from liability
Debt relief order applications and approval come with strict income, asset and debt restrictions
Best Debt Relief Order Companies Reviewed
Below are brief reviews of each of the best Debt Relief Order providers in the UK.
1. Debt Nurse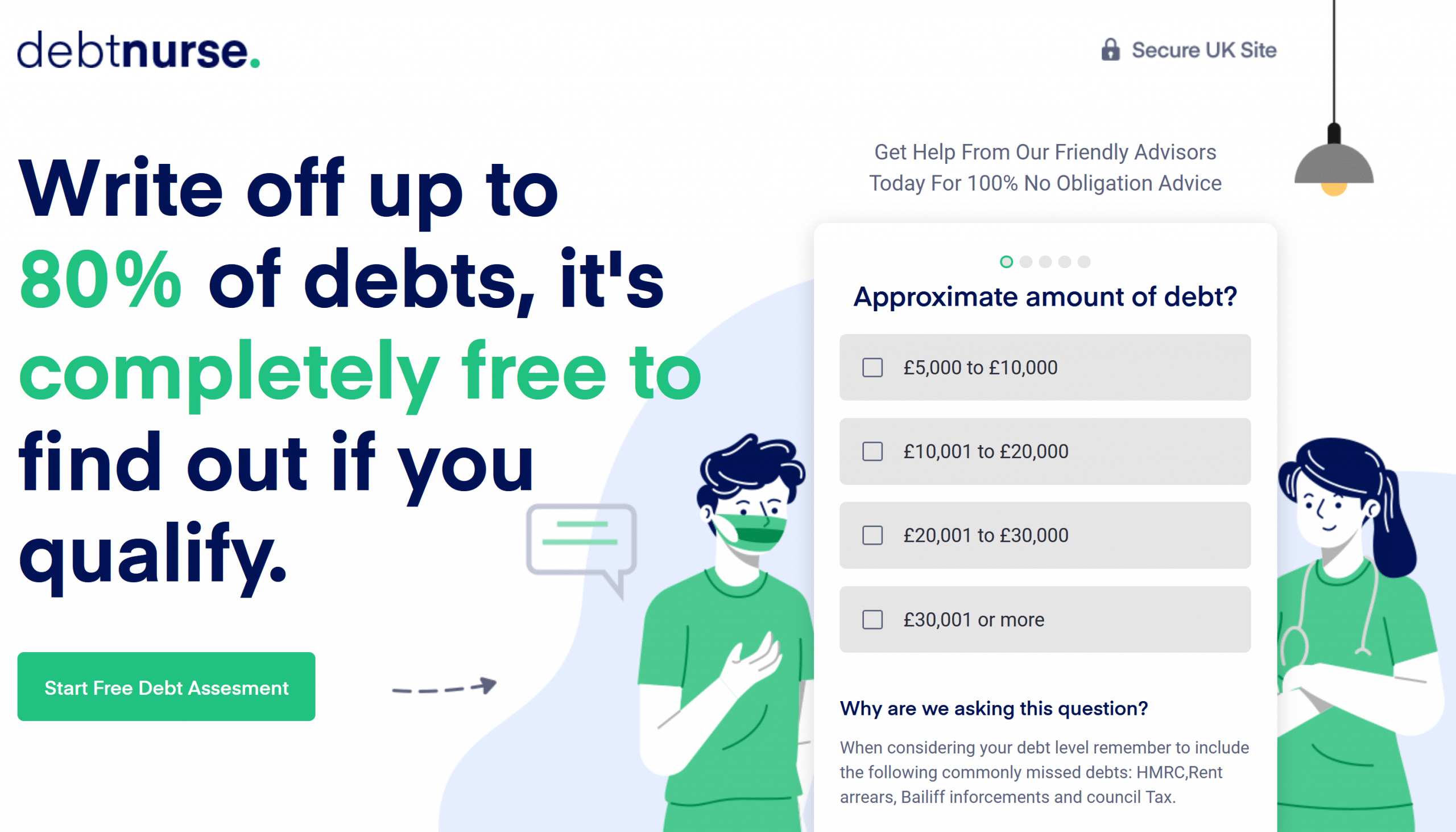 Debt Nurse enables thousands of residents of England and Wales get the help they need with their mounting debt. Although they don't provide debt advice, they'll connect you to the most suitable debt solutions provider according to your needs.
You only need to fill out the online form, and a friendly professional from Debt Nurse will help you determine your eligibility and the most suitable option for your circumstances.
Use of Debt Nurse services is free, so you don't have to worry about any costs. They only partner with registered debt solutions providers regulated by the Financial Conduct Authority (FCA).
Pros
Easy online application
Free access to debt solutions
Quick response
Cons
Not available on weekends.
2. National Debt Advisors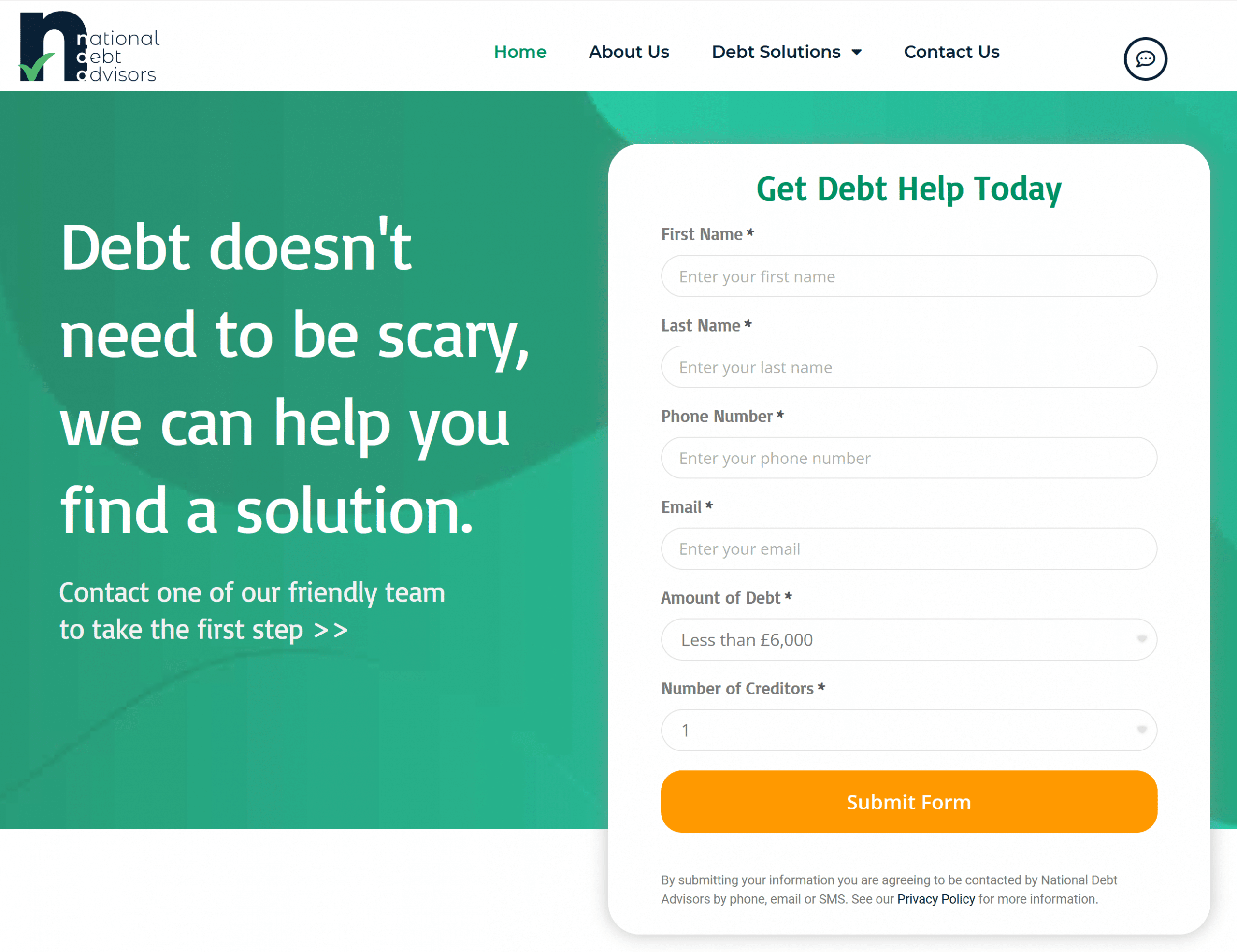 National Debt Advisors does an excellent job at ensuring you understand all the options available to you for debt relief. They're like a guiding light in the scary, dark hallways of debt.
National Debt Advisors makes it easy to solve your debt and get back on track with your finances. Although they don't administer or provide advice related to debt management products, they connect you to registered debt solutions providers who do.
They make it easy to find the resources you need to make the right decision for your situation. Plus, they hold your hand and guide you through every part of the process free of charge!
Pros
Comprehensive guidance
Very professional
Makes it easy to find a debt solution.
Cons
They cannot help with secured loans.
3. Reform Debt Solutions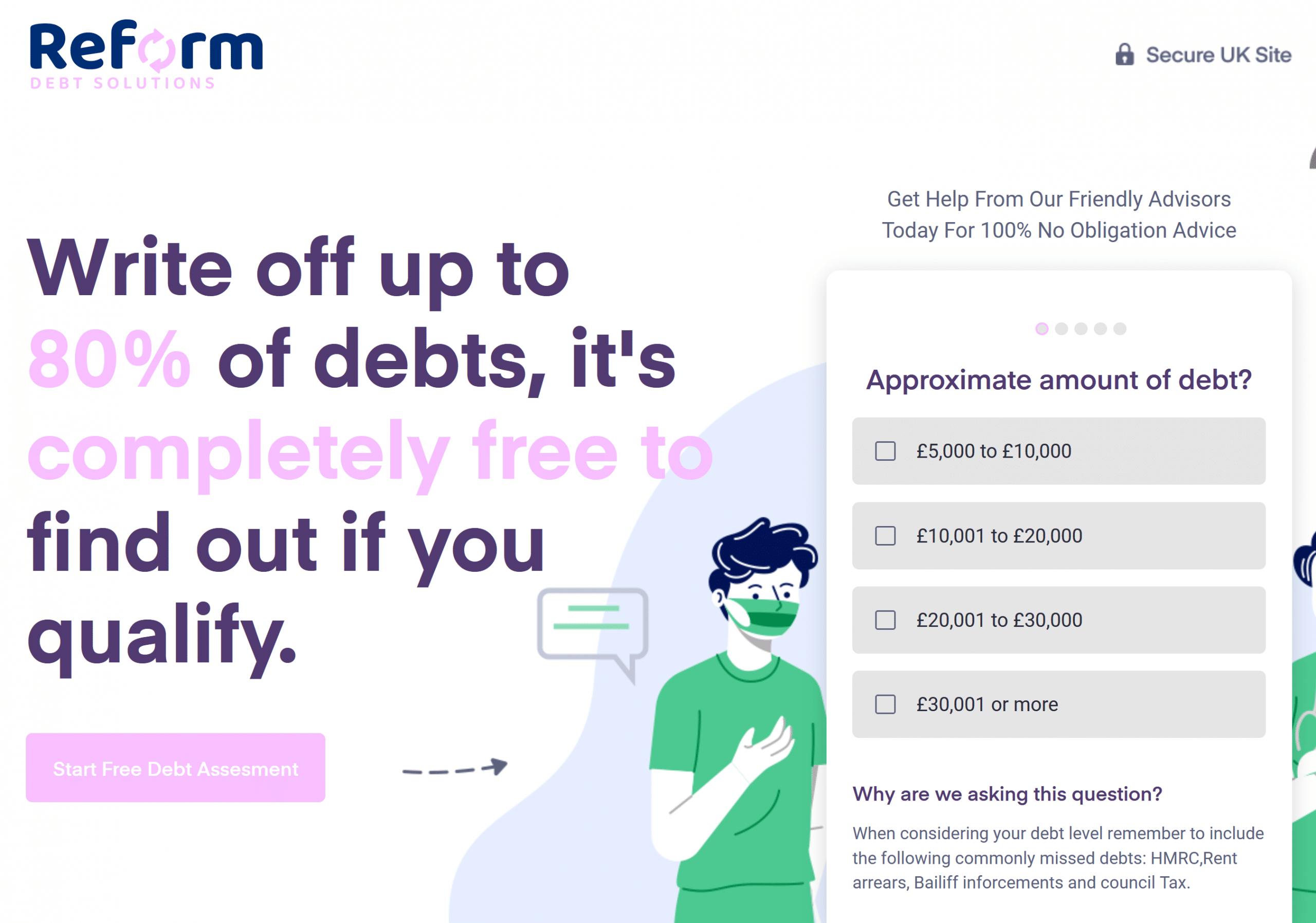 If you're in England or Wales, Reform Debt Solutions is an excellent option to find help with your debts. They collaborate with different registered debt solutions providers, ensuring you can find a suitable option to meet your needs.
Reform Debt Solutions can help you make the right steps towards your financial freedom, no matter your situation. Plus, using their services is free of charge, so you can take a free debt assessment and know where you stand with no obligation.
Reform Debt Solutions only collaborates with registered debt solutions providers regulated by the Financial Conduct Authority (FCA). It ensures you're protected and have peace of mind at all times.
Pros
High customer satisfaction
Total transparency
Prompt feedback
Cons
Solutions are only available for unsecured debts.
4. The Debt Experts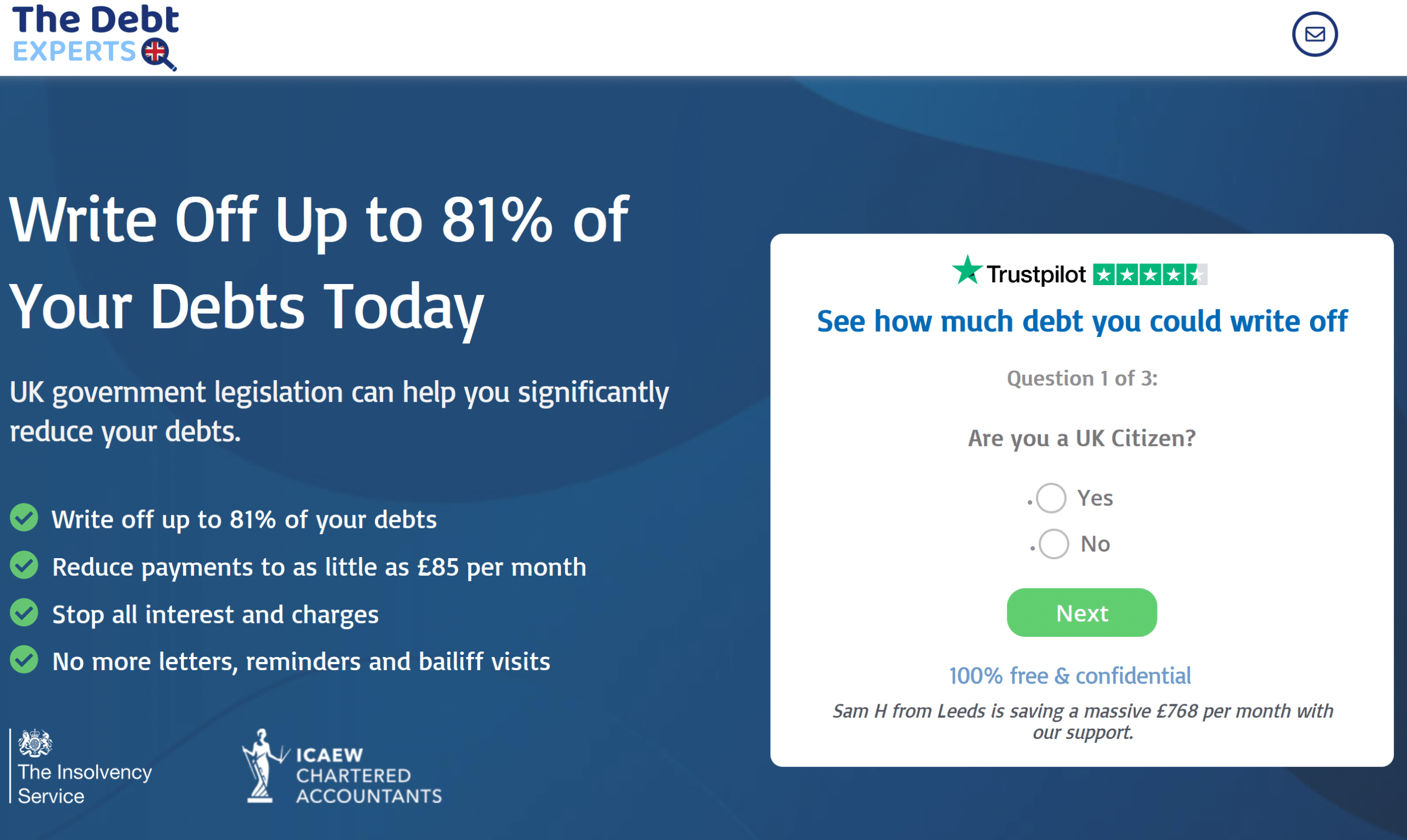 The Debt Experts helps many UK companies and individuals consider their options for debt relief. Like the previously mentioned providers, they don't offer debt advice but ensure you get a comprehensive understanding of all your options.
The Debt Experts collaborates with reputable debt advisers, and they'll connect you to them at no cost. They provide a quick way to determine if a DRO is right for you, and you can also compare a debt relief order to other debt management options.
Using their services is free, and the security and privacy of your data are guaranteed. They're licensed under the Information Commissioners Office (ICO) for data handling with the Financial Conduct Authority (FCA) regulations.
Pros
Excellent customer service.
Highly professional
Provides educational resources for debtors
Cons
They can only help with unsecured debts.
Apply For A Debt Relief Order – Step by Step Guide

Follow these simple steps to start writing off your debts with a DRO:
Step 1 – Visit DebtNurse.co.uk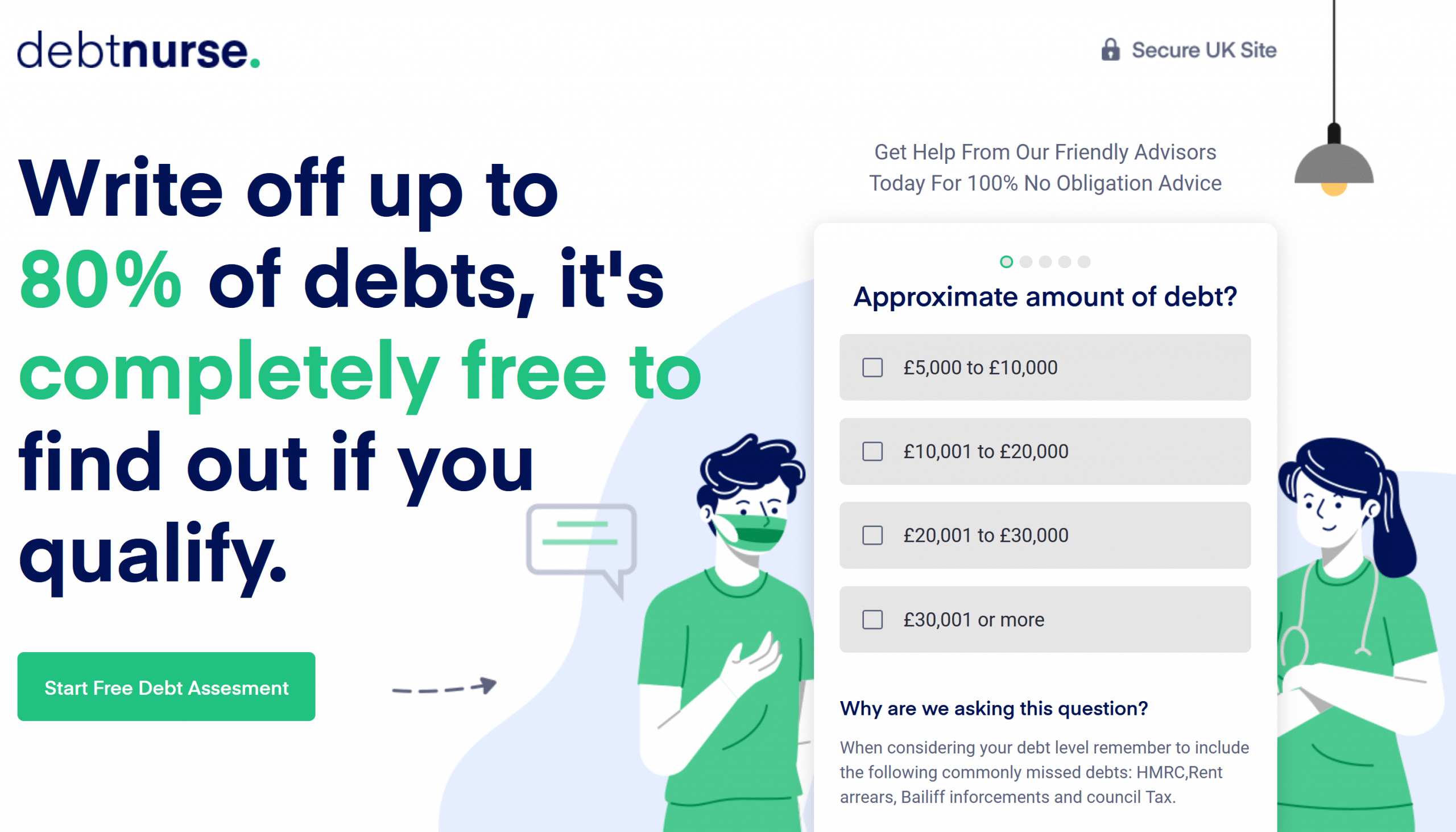 An approved intermediary is needed to get a debt relief order. Debt Nurse's third party partners will connect you directly to approved intermediaries who are debt advisers authorised to make the application on your behalf.
Step 2 – Complete the Quick & Easy Online Form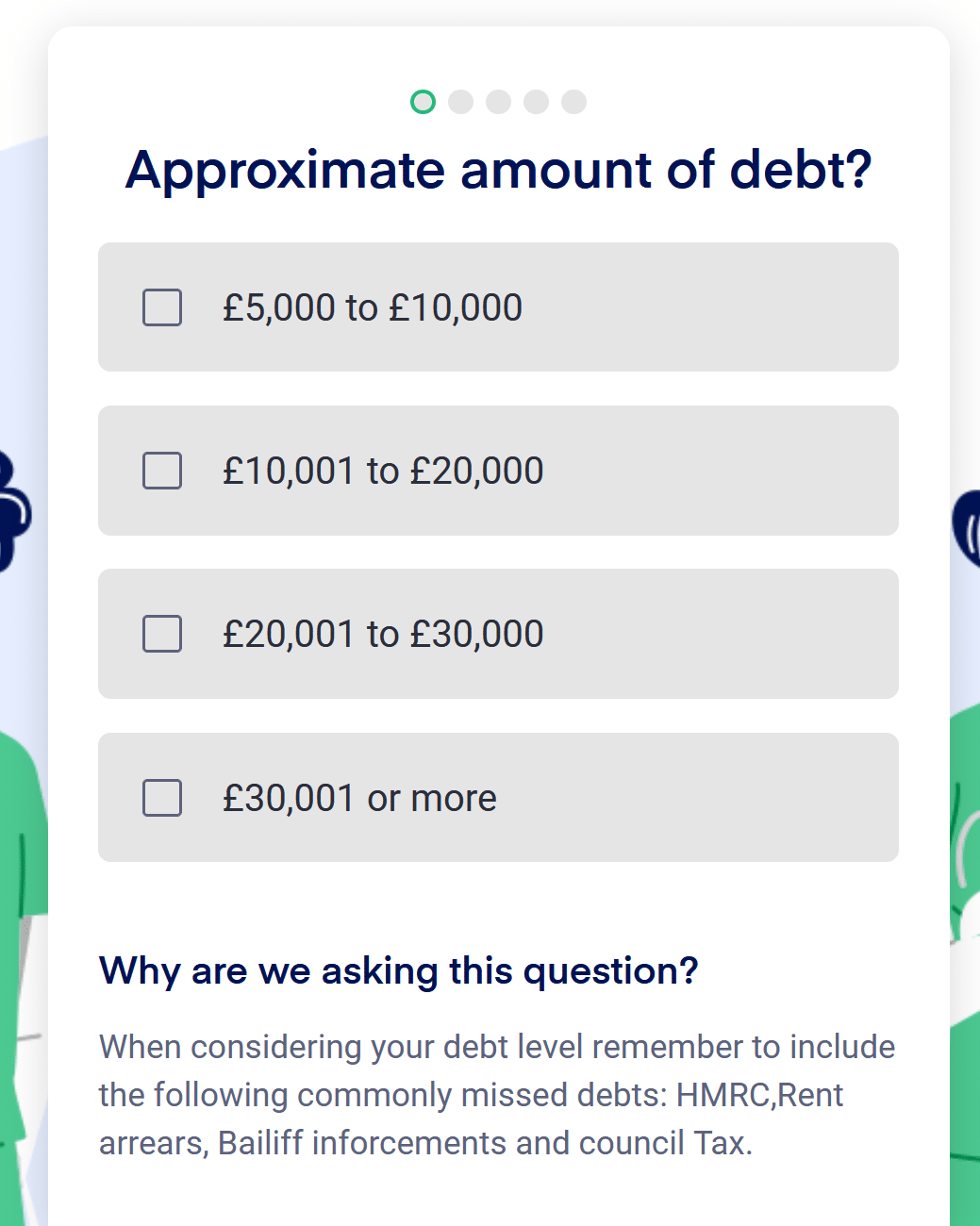 When applying through Reform Debt Solutions, you'll fill in a short online application form to help the debt advisers we connect you to determine whether you're eligible for a debt relief order and if it's right for you. You must be transparent and honest when providing your information. Any deception or omission on a DRO application can have dire consequences that you'd rather avoid.
Step 3 – Wait for a Call from a Friendly Advisor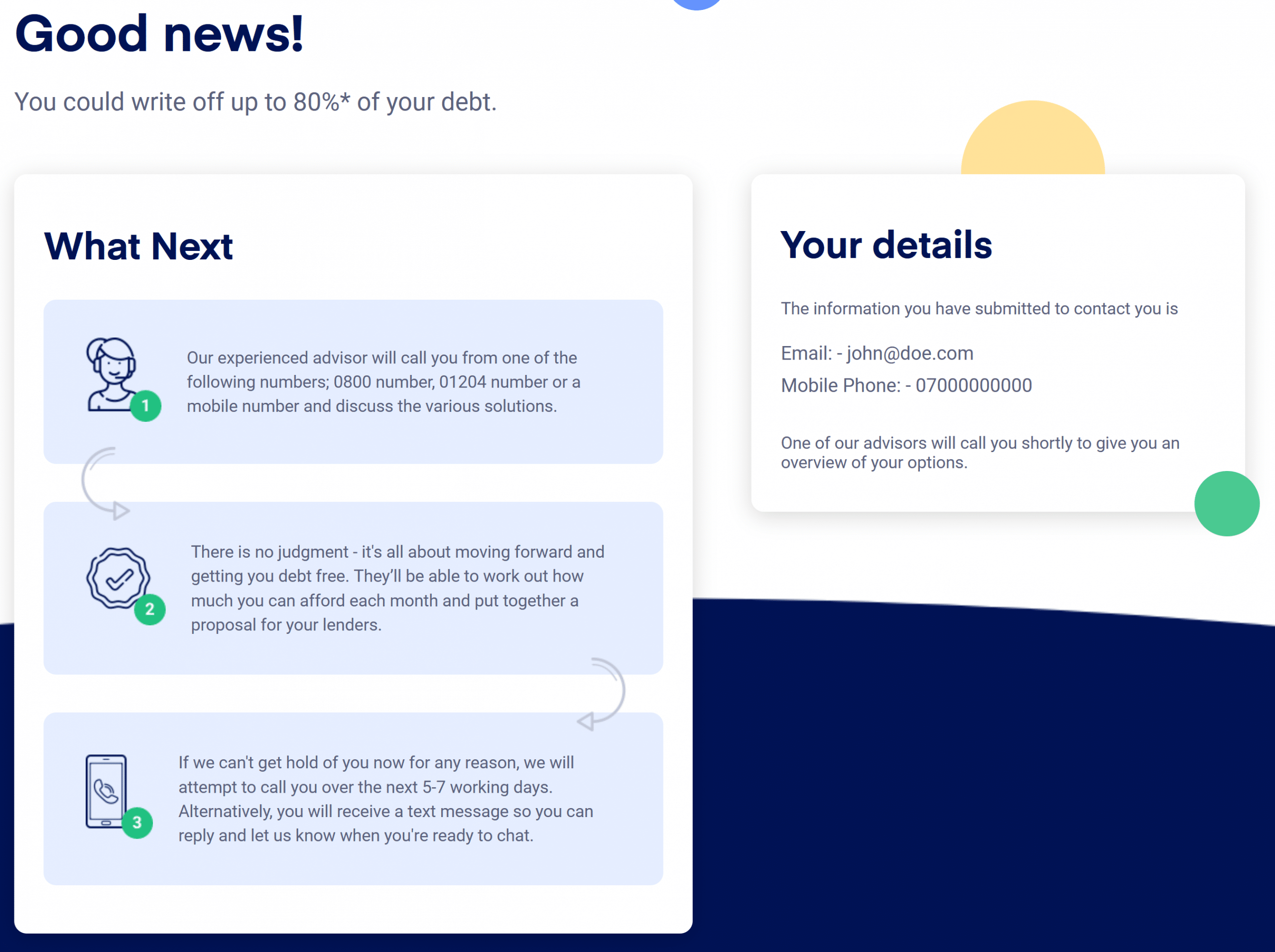 Once you've captured your details, one of the friendly advisers from Reform Debt Solutions will give you a call to talk you through the process and confirm your information.  The application is then sent to the official receiver at the Insolvency Service. The official receiver decides whether a DRO will be granted. They can also contact you for further information. Ensure you cooperate and answer them truthfully.
Step 4 – Pay the Small Fee and Start the Journey Towards Debt Freedom
The Insolvency Service charges a £90 fee to apply for a DRO. It's all you'll pay when you apply through Reform Debt Solutions, and it must be paid in cash in instalments or at once at a post office or Payzone outlet. After you've paid and made the application, the official receiver will:
Grant the DRO provided you meet the eligibility criteria and the application is correct.
Postpone the application if more information is needed.
Deny your application if you're ineligible or the information is false.
With rejection, you'll get written reasons why, and you're allowed to challenge the decision.  Rejections include less than 1% of all applications, so you have a high chance of approval!
Do You Qualify for a Debt Relief Order?

The Official Receiver will only consider your debt relief order application if you meet the following criteria:
Your qualifying debts don't exceed £30,000.
You can't pay your debts after accounting for essential expenditure and living costs. Professionals at Reform Debt Solutions will help you determine if this is the case or not.
After paying usual household expenses, you're not left with over £75 each month.
You don't own your own home.
Your savings or assets aren't worth over £2,000, excluding household items or tools you use for your occupation.
You're not going through any other formal insolvency process like bankruptcy or an individual voluntary agreement (IVA), and six years have passed since your last DRO.
You've lived, worked or had property in England or Wales in the last three years.
The Official Receiver considers the facts of your case before making a final decision. Your application can fail if in the past two years you've:
Given away assets.
Sold assets for less than their value.
Given priority to pay back certain creditors over others.
FAQs

What Are Debt Relief Order Restrictions?
What is the Citizens Advice Debt Relief Order?
What Can Make Me Get a DRRO?
What are the Consequences of a DRRO?
What Can I do if My Debt Relief Order Application is Rejected?
Is My Credit Score Affected by a Debt Relief Order?
Is My Vehicle Counted as an Asset in a Debt Relief Order
What Can I Do if I Forget to Include a Debt in My DRO Application?
Are Creditors Allowed to Contact Me During the DRO Period?
Can I Get Prove That the DRO Has Ended and Debts Written Off?