Buy Cryptocurrency UK – How To Buy Cryptocurrency for Beginners in 2022
Cryptocurrencies, while initially coming out as a niche technology, have over time become one of the largest markets in the world.
There are over 10,000 cryptocurrencies and if you do not want to be side-lined and want to engage with cryptocurrency trading, check out this cryptocurrency UK guide where you will learn everything you need to know about buying, selling, or trading cryptocurrencies.
eToro – #1 Broker to Buy Cryptocurrency UK
How to Buy Cryptocurrency UK – Quickest Method in 2022
Let's face it, not everyone has the time to read through the full comprehensive guide, however, if you want a quick summary of just how to get in there, make a purchase, and carry on with your day, here's what you need to do.
Step 1: Open an account: First, open an account with a cryptocurrency exchange or brokerage, here we'd recommend using eToro as it is the quickest.
Step 2: Provide ID:

Second, you'll need to provide some ID, and this will involve you having to upload a copy of your passport, or driver's license in order to verify your identity. This is part of the KYC (Know Your Customer) process that many exchanges and brokerages will have as a requirement.

Step 3: Make a deposit:

Third, make your deposit. If you do not already own any cryptocurrencies, you'll need to use a UK credit or debit card, or you can even use an e-wallet when picking eToro.

Step 4: Buy cryptocurrency:

Last but not least, you buy the cryptocurrency itself.
All-in-all, this process should take you just a few minutes, and you should see your cryptocurrency within your eToro wallet.
Bitcoin
3 Providers that match your filters
What we like
Trade real cryptos and crypto CFDs

Licensed broker with deposit insurance

Integrated wallet
Features
Payment methods
CFDs are complex instruments and carry a high risk of losing money quickly through leverage. 75% of retail investor accounts lose money when trading CFDs from this provider.
What we like
Amount of withdrawal fee: $0

Large amount of cryptocurrencies for CFD trading

Minimum deposit: $20
Features
Payment methods
CFDs are complex instruments that have a high risk of losing money quickly due to leverage. 72.6% of retail investor accounts lose money trading CFDs with this provider.
What we like
Careful selection of cryptocurrencies

Regulated by CBI and MiFID in Europe

No commissions and low spreads
Features
Payment methods
CFDs are complex instruments and carry a high risk of possible rapid loss of capital due to their leverage. 71% of retail investor accounts lose capital when trading CFDs with this provider. You should consider whether you understand how CFDs work and whether you can afford to take high risk in losing your capital.
How to Buy Cryptocurrency UK – Top Brokers Revealed

There are plenty of exchanges and brokerages out there that you can use in order to purchase cryptocurrencies throughout the entirety of the UK, and it is in your best favour to find the perfect option for your specific requirements and expectations. You can compare the best crypto exchanges as well as brokers alongside their features, fees, and payment methods throughout the entirety of this guide.
There are currently over 500 cryptocurrency exchanges, exchanging over $140 billion worth of cryptocurrencies within a 24-hour interval. BTC leads the pact with a dominance of 41.7% with ETH following second with a dominance of around 20%.
This being the case, a lot more people in the UK, especially investors who might have only been attached to traditional assets such as stocks or bonds, are starting to show interest in cryptocurrencies.
Best Platforms to Buy Cryptocurrency in the UK
1. eToro: Trade with Confidence, Move by Move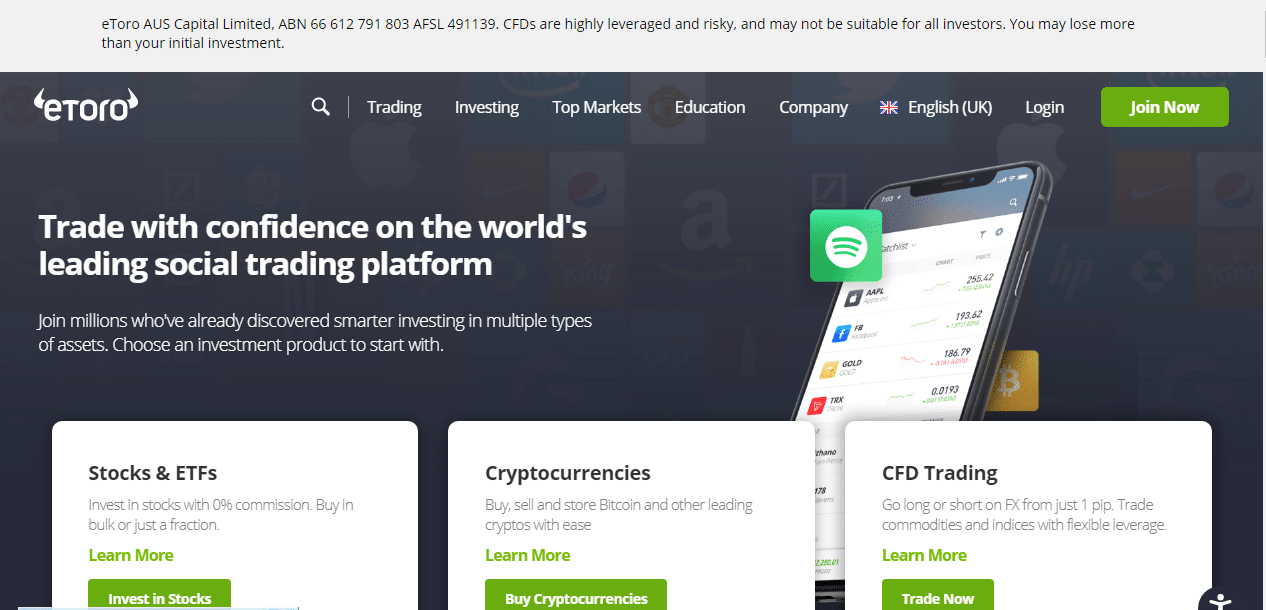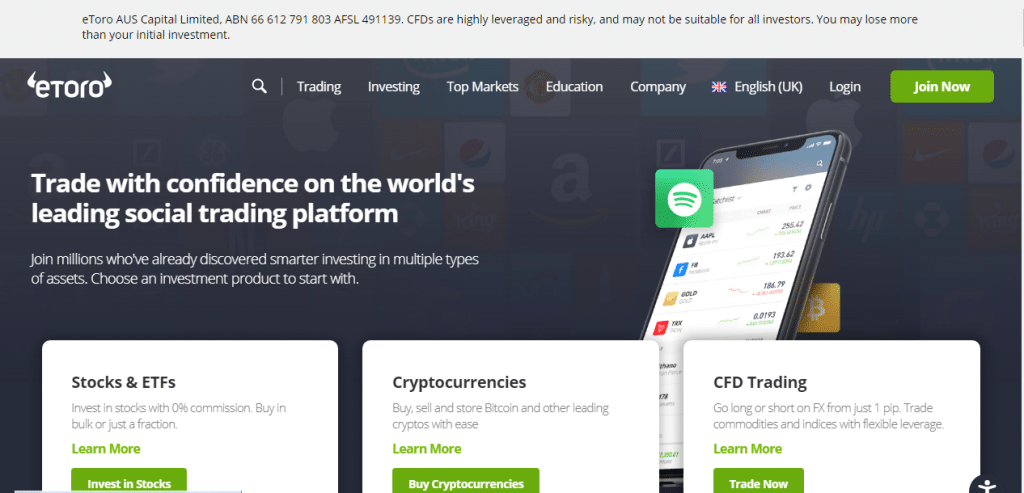 eToro has been around since 2007 and has had over 17 million users from across 100 countries. It is an excellent choice for anyone who wants to buy and sell the most popular cryptocurrencies quickly and easily and is intended specifically for newcomers due to its streamlined user interface and design.
The fees are competitive when you compare them against other platforms, and it is an excellent way to access a community that will share a lot of knowledge with you. Best of all, it gives you access to 23 cryptocurrencies, which serve you a lot of variety.
It takes just a few minutes to get started with eToro, and once you enter some personal information you can begin trading instantly.
Pros
You can buy cryptocurrency commission-free
There are more than 17 million users on it
Accepts credit cards, debit cards, e-wallets, and bank transfers.
Supports copy trading
Fully regulated by multiple regulatory bodies
Gives you access to 23 cryptocurrencies
Cons
You will have to convert GBP to USD which has additional fees
You won't find many altcoins here
68% of all retail investor accounts lose money when trading CFDs with this provider.
2. Coinbase: The Easiest Way to Get Started with Cryptocurrencies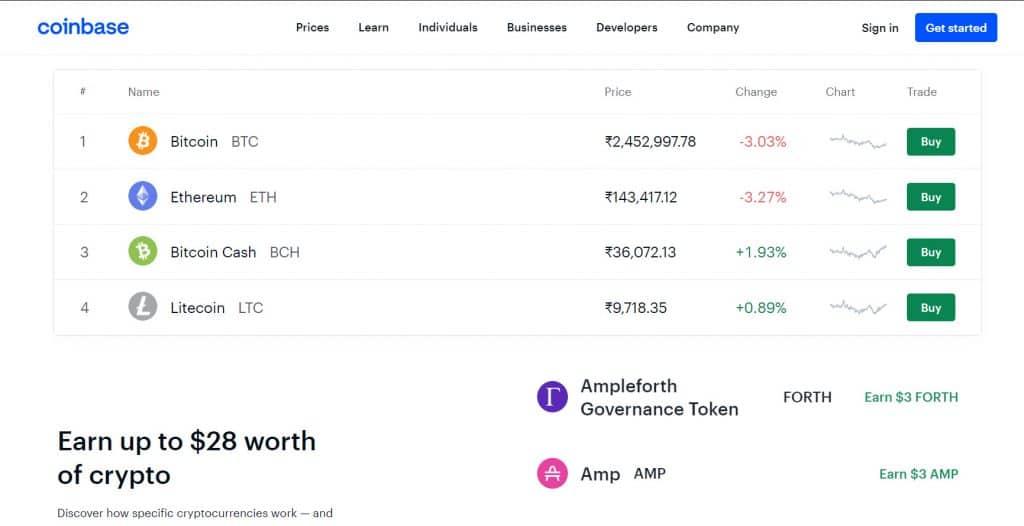 If you're looking for an easy way to get into the world of cryptocurrency, Coinbase is the perfect place to start. Look no further than Coinbase! One of the most secure and respected exchanges in the world, Coinbase makes it easy for beginners to buy and sell Bitcoin, Ethereum, Litecoin, and other cryptocurrencies. With a user-friendly interface and responsive customer support, Coinbase is your go-to source for all things crypto. Coinbase was founded in 2012.
With approximately 73 million verified users, Coinbase is one of the most popular exchanges around, and with good reason – it's simple to use and fully regulated. When Coinbase started out, it mainly focused on buying Bitcoin in the UK, but over time evolved and started to support a lot more cryptocurrencies.
It has an additional service known as Coinbase Pro that offers you an intuitive interface with real-time order books and charting tools. The account setup is straightforward, and you can browse and view more than thousands of assets. Keep in mind that not all of them are tradable though.
Pros
Gives you access to many altcoins aside from the main ones
It has a simplistic user interface that newbies can understand.
You have a high level of liquidity.
Approximately 73 million verified users.
Fully regulated by multiple regulatory bodies
Excellent mobile application.
Cons
High fees when you aren't using Coinbase pro.
Does not control wallet keys.
68% of all retail investor accounts lose money when trading CFDs with this provider.
3. Binance: Reliable, Secure, Fast, and Trusted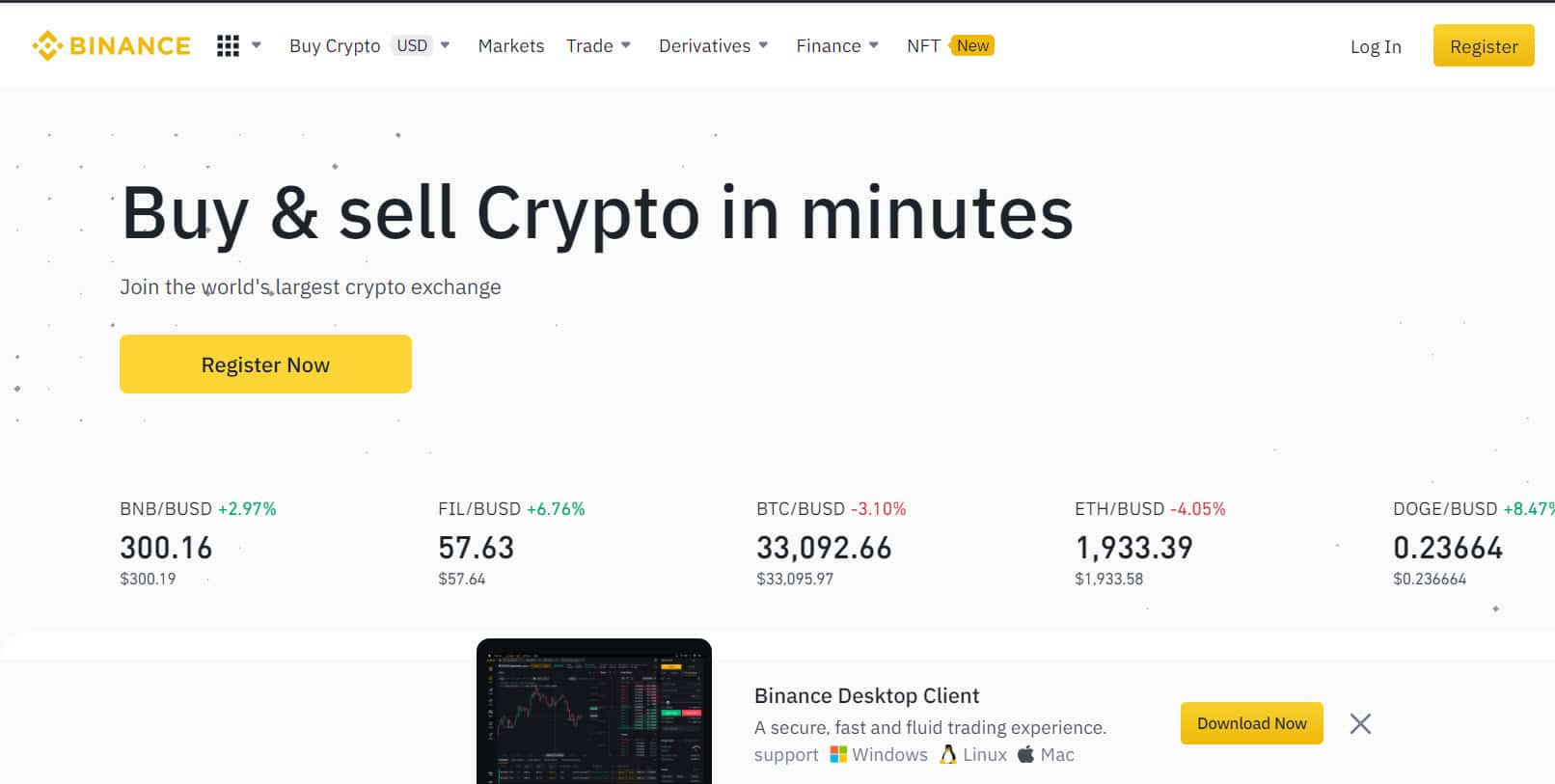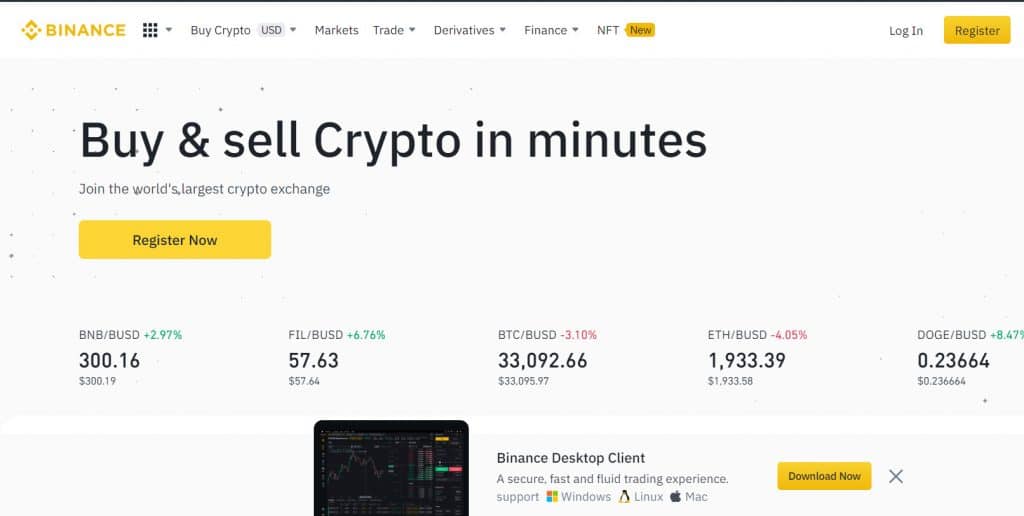 Looking for a reliable and trustworthy cryptocurrency exchange? Look no further than Binance! Binance is the perfect choice for experienced cryptocurrency investors. With low trading fees and a wide selection of cryptocurrencies, it's easy to find the right investment for you. Binance is your best bet for getting started in this exciting crypto market. With a user-friendly platform and plenty of ongoing support, you'll be trading cryptocurrencies like a pro in no time!
Founded in 2017 in China, Binance is always at the forefront of the latest industry trends and news. So whether you're just starting out or you're a seasoned pro, Binance has everything you need to get ahead in the world of cryptos! Now, it has moved to Malta and operates in the U.S. and Singapore as well. Furthermore, Binance.US also launched in September of 2019 specifically for that targeted user-base. It is an ecosystem and offers a decentralized blockchain-based network.
You can trade over 300 cryptocurrencies on Binance, and it has its own software wallet known as the Trust Wallet.
Discussing the sign-up process, it's also fairly simple, and Binance charges only a 0.1% spot trading fee on most pairs.
Pros
Over 300 cryptocurrencies to trade from.
Only 0.1% trading commission.
Supports a wide range of UK credit and debit cards alongside bank transfers.
Has an amazing community and reputation.
Constantly supports new projects through the Launchpad and Launchpool.
Cons
Has a steep learning curve.
Has a fee when it comes to FIAT card deposits of 2%.
68% of all retail investor accounts lose money when trading CFDs with this provider.
4. CEX.io: Crypto Investing Made Simple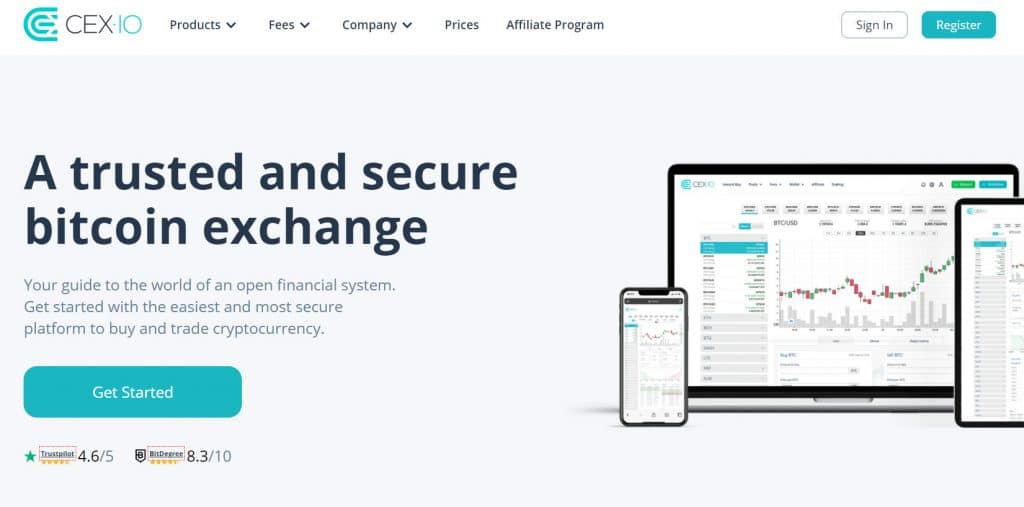 CEX.io is a cryptocurrency exchange platform that accepts multiple deposit types and supports different cryptocurrencies. It is intended for both newcomers to the world of cryptocurrencies as well as advanced users. It is licensed by the Financial Crimes Enforcement Network (FinCEN) which means that it is legitimate. CEX.io was originally founded in London, UK in 2013, and was a cloud mining provider that owned the GHash.io mining pool, which in 2014 was one of the largest.
Pros
Excellent Support
Offers several different trading pairs and multiple FIAT currencies.
It's easy to use and navigate through.
There are Margin trade options available.
It is fully registered and secured.
Cons
Not too many supported cryptocurrencies.
Fees are on the higher end of the spectrum.
68% of all retail investor accounts lose money when trading CFDs with this provider.
5. EXMO: A UK Crypto Exchange with a Global Presence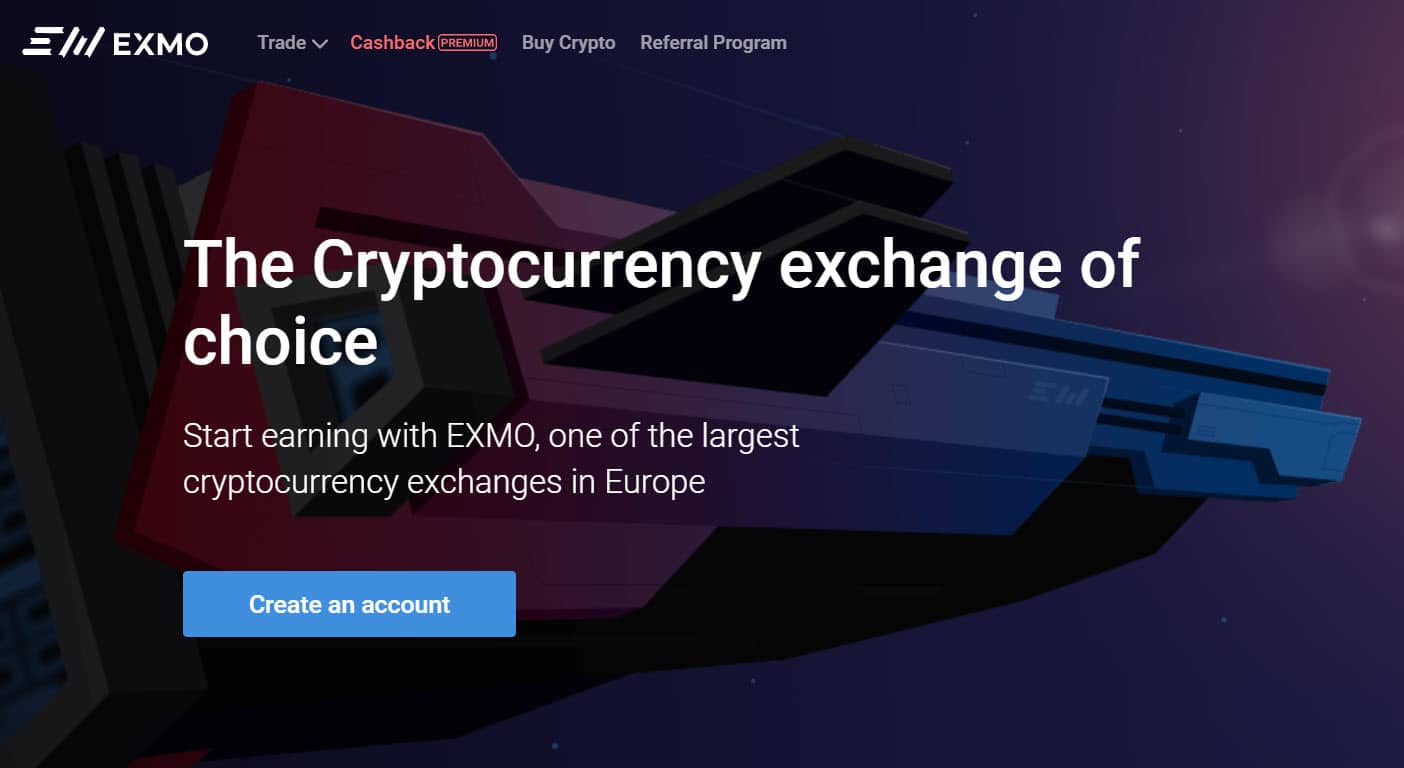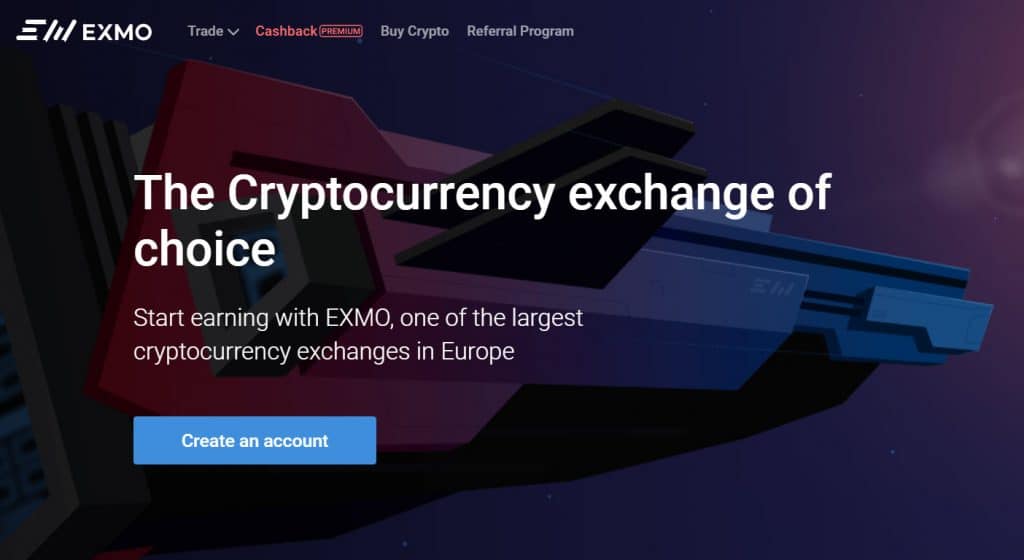 EXMO is yet another UK-based cryptocurrency exchange that has a high reputation among avid traders. The platform was released in 2014 and is one of the largest global crypto markets regarding volume as well as liquidity. Aside from being registered in London, the company actually has branches in both Moscow and Kyiv. It has a team of over 150 people who are bringing cryptocurrency trading to the next level through convenience. EXMO has features such as an OTC desk, voting, VIP service, an API, Cashback, and a Referral program.
Pros
Native support for trading BTC for EUR as well as GBP.
Supports over 180 currency pairs.
Has over 20,000 active traders.
Offers up to 70% of trading fees through its cashback program.
It is fully registered and secured.
Cons
Lacks sufficient liquidity across certain trading pairs.
Support might not be the best.
68% of all retail investor accounts lose money when trading CFDs with this provider.
6. Coinmama: Invest in the Future of Money Today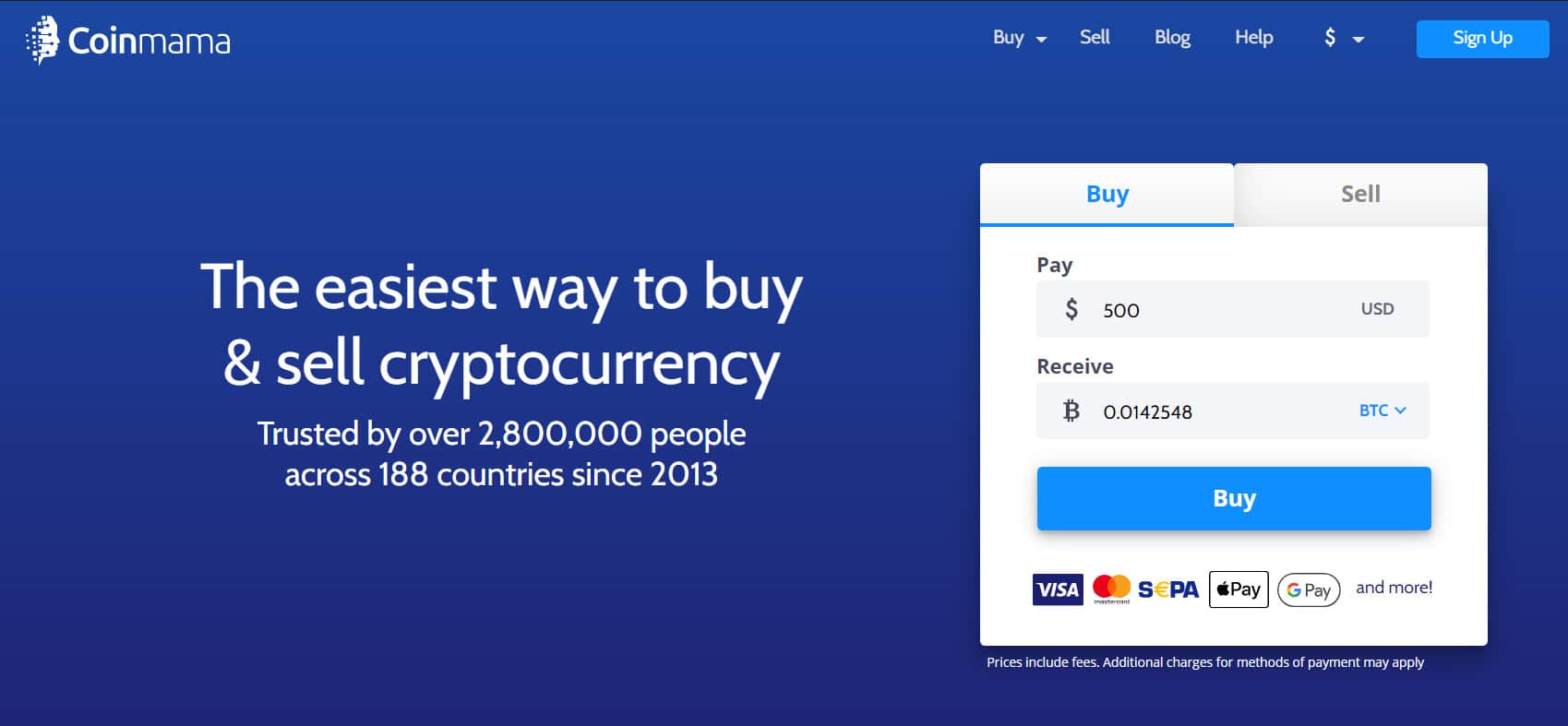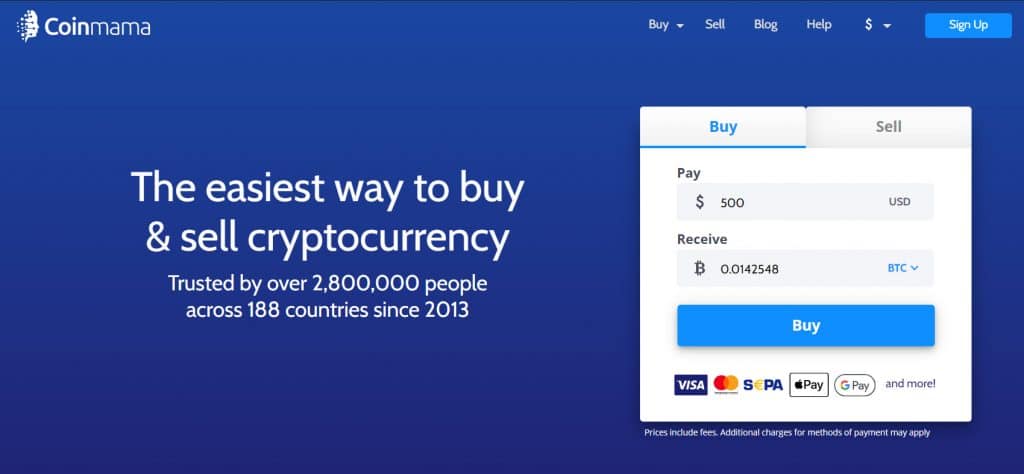 Coinmama was actually established in Israel in 2013 and has expanded to over 188 countries and has 2 million users on a worldwide scale. It is known for offering many payment options, has high spending limits, has a quick verification process, instant delivery, and has excellent support.
When it comes to cryptocurrencies that are supported, Coinmama supports Bitcoin, Bitcoin Cash, Ethereum, Dogecoin, Ethereum Classic, Cardano, Litecoin, Ripple, and Tezos. In terms of FIAT currencies, Coinmama supports USD, EUR, AUD, CAD, JPY, and most importantly in the case of UK visitors, GBP. It has high fees, however, it's one of the quickest options out there and is available on a worldwide scale.
Pros
Quick verification process
Live chat support availability
Strict security standards
Once you get to level 3 user verification, you can buy £100,000 worth of cryptocurrencies at a time
Cons
5% fee for card purchases
Limited cryptocurrency support
No on-exchange wallet available
68% of all retail investor accounts lose money when trading CFDs with this provider.
7. Crypto.com: The Only Crypto Exchange App You'll Ever Need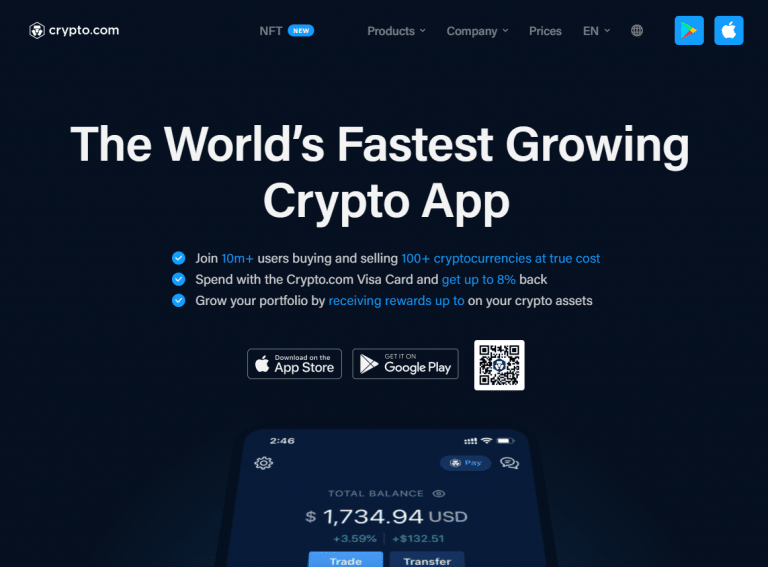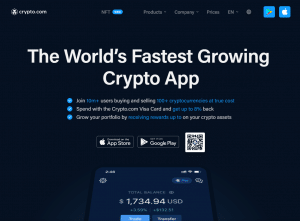 Crypto.com is the world's most secure cryptocurrency app and exchange. With over 150 supported cryptocurrencies, Crypto.com makes it easy for users to buy, sell, store, and spend their cryptocurrencies. So whether you're just getting started in the world of cryptocurrency or you're a seasoned pro, Crypto.com has everything you need to take your crypto game to the next level!
The Crypto.com App is easy to use and offers a variety of features that make it the perfect choice for anyone looking to invest in cryptocurrencies. The Crypto.com App is the go-to for all your crypto needs. Access anything you might need right on your fingertips, like coins, markets, charts with up-to-date info, and more! With Crypto.com, you can rest assured knowing your investments are safe and secure.
Crypto.com guarantees the best prices because they want you to stay put. If you've got their hands full, there really isn't anywhere else better to go. Get lost in a sea of trades and never worry again about transaction fees. The 0.40% fee and reduced rates when holding a significant stake in CRO allow you to truly make money from your investment, not from the site's pocket. Plus, high-volume traders and those with a large CRO stake can qualify for even lower rates! Go Crypto.com!
Staking is a way to earn some extra money from the crypto world. Check out our list of best crypto staking platforms for all your needs!
In addition to Crypto.com's easy-to-use platform and app, the company managed to get the Staples Center on board, renaming it the Crypto.com Arena in a reported $700 million naming rights deal! So whether you're a Lakers fan or not, make sure to check out Crypto.com for all your cryptocurrency needs!
Placing your financial future in the hands of cryptocurrency has never been simpler. From unbeatable features like low-fee trading to your Crypto.com Visa debit card, there are no boundaries with Crypto.com.
Pros
Buy and sell a wide variety of cryptocurrencies with low fees
Earn cashback rewards and enjoy numerous privileges
Invest in a portfolio of coins and tokens with just one click
Earn interest on your crypto holdings
Safe and Secure Transactions
Cons
Fees are higher unless you own and utilize CRO
Navigating can be difficult for beginners
Inadequate client service
Discounted trading fees can be difficult to understand
Insufficient educational resources
68% of all retail investor accounts lose money when trading CFDs with this provider.
8. Gemini: The Most Trusted Crypto Exchange in the World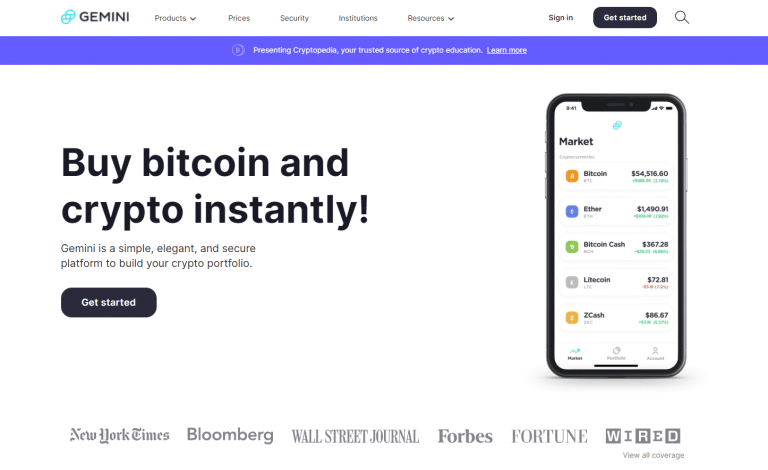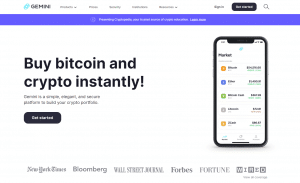 Gemini is the world's most trusted crypto exchange. Whether you're a first-time trader or a seasoned professional, Gemini has everything you need to get started in the exciting world of crypto trading.
With sophisticated tools and an intuitive interface, Gemini makes it easy for anyone to trade cryptocurrencies like Bitcoin and Ethereum. And because Gemini is backed by Tyler Winklevoss and Cameron Winklevoss, you can be sure that your money is always safe and secure. So why not sign up today? It's free to join!
Gemini is the easiest way to fund your account and start trading! Gemini makes it simple and affordable to get started with free and easy transfers via ACH, wire transfer, or crypto transfer from external accounts. Plus, debit card deposits only incur a small fee of 3.49%. So get started today and take advantage of these competitive rates!
Convenience fees are included in the quoted price of the crypto you are buying and are normally 0.5% higher for buy orders. The transaction fee is defined by the currency and transaction volume.
Gemini is the perfect platform for those looking to get into trading. With no account minimum, it's easy to start investing in various crypto assets. Plus, Gemini makes trading simple and easy to understand, so you can start seeing success soon!
Looking for a safe and secure way to store your Bitcoin? Check out our top picks for the best Bitcoin wallets in the UK. These sleek and user-friendly options offer security, peace of mind, and easy access to your funds. Plus, they're perfect for buying and selling Bitcoin on the go!
Pros
Add more diversity to your investment portfolio
Intuitive features for a more efficient workflow
A cutting-edge trading platform
Earn daily interest for your crypto holdings
High quality, reputable exchange
Maintain peace of mind knowing that your assets are insured
Makes you feel like a pro
Create a portfolio that reflects your personality
Cons
The fee structure is prohibitively expensive for modest trades
Could be challenging for beginners
68% of all retail investor accounts lose money when trading CFDs with this provider.
9. Kraken: Make a Splash in the Crypto World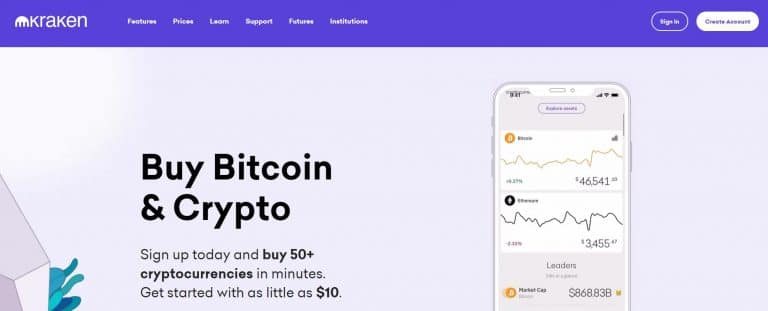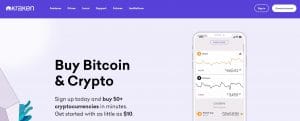 Kraken is one of the world's leading cryptocurrency exchanges, supporting more than 50 different coins and offering competitive fees. Whether you're a new or experienced investor, Kraken is an excellent choice for buying, selling, and trading cryptocurrencies. With dedicated customer support and access to cryptocurrency futures, Kraken makes it easy to get started with cryptocurrency investing.
Kraken has a long history, dating back to its founding in 2011. It quickly became one of the most popular exchanges thanks to its combination of features and ease of use.
Instant purchases cost 1.5% for the majority of coins and 0.9% for stablecoins utilizing USD or another stablecoin.
Additional fees may apply depending on the payment method used to complete the transaction. For instance, funding costs differ from 0.5% when utilizing a bank account to more than 3.75% when using a debit card, credit card, or digital wallet.
Kraken Pro is the perfect tool for experienced traders who want to get more out of their cryptocurrency trading. With detailed information on assets and open orders, users can make better decisions about when to buy and sell. The platform is also available through your web browser or smartphone, so you can trade wherever you are.
Kraken Pro is the advanced interface for Kraken users who want to pay less in fees. With lower fees, you can save money on every trade.
Kraken is perfect for those looking to get into the cryptocurrency market. With its low fees and futures trading, Kraken allows users to invest in several different cryptocurrencies with ease. So what are you waiting for? Get started today!
Bitcoin trading platforms can be daunting for those new to the game. Luckily, there's an easy way around these challenges with some of the best crypto apps that allow traders instant access whenever they want! So you won't miss another opportunity in investment freedom as long as your phone has a connection and battery left – just remember, not every app will suit all needs, so do research first before downloading anything!
Pros
Low fees
Easy to use and understand
Simplify the process of exchanging many different crypto assets
Trade in a safe way
Earn rewards on staked assets
Cons
Fees are prohibitively high for novices who use the Instant Buy platform
Customer service is limited
68% of all retail investor accounts lose money when trading CFDs with this provider.
10. Uphold: Diversify Your Investment Portfolio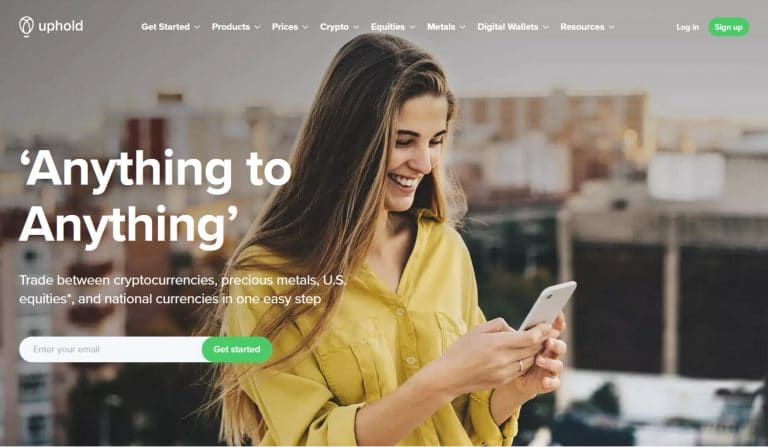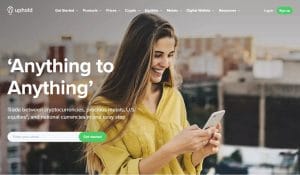 Looking for a way to diversify your investment portfolio? Look no further than Uphold. Uphold is the perfect investment platform for anyone who wants to explore the world of stocks, commodities, and cryptocurrencies.
With Uphold's robust selection of options from all over the world, you'll be able to find the perfect investment for your needs. Additionally, Uphold's user-friendly platform makes it simple to get started — so you may begin investing immediately. With Uphold, you'll always have the perfect investment at your fingertips!
Looking for an easy way to invest in Bitcoin? Look no further than Uphold. Uphold makes it simple and convenient to buy cryptocurrency with a variety of payment methods. So whether you're using your debit card, credit card, or bank transfer, Uphold makes it easy to get started with Bitcoin and other digital currencies. Therefore, don't miss out on this exciting investment opportunity – sign up today!
Uphold offers a safe and easy way to invest in precious metals or conduct crypto-to-crypto trading. In addition, Uphold provides high-quality products and services that are certain to fulfill your requirements. Unsurprisingly, Uphold provides affordable rates that are certain to impress. Plus, Uphold's excellent customer service is always available to help you with any questions or concerns you may have.
Uphold members can utilize an ACH withdrawal or a bank account to purchase a variety of assets without incurring costs. On the other hand, Uphold's spread is substantially broader and more variable. However, similar to Coinbase, Uphold charges a transaction fee of 3.99% on credit card transactions.
Uphold is the perfect solution for anyone looking to get the most value for their money. Uphold's competitive exchange rates make it easy to get great deals on conversions of different assets. In terms of cryptocurrencies, the spread varies between 0.80% and 1.20% for customers in the United States and Europe and is approximately 1.80% in other countries.
Whether you're looking to convert cryptocurrencies or other assets, Uphold has the spread you need to make the most of your money. So sign up today and see how much you could save! Don't miss out on this opportunity to invest in the future!
Pros
Provides trading in precious metals, equities, and cryptocurrencies
Without any hidden fees or spreads, you'll always know what you're going to get
Eliminate the fear of making costly mistakes when managing digital assets
You can begin using Uphold in minutes
Cons
Compared to competitors, it has fewer educational resources
68% of all retail investor accounts lose money when trading CFDs with this provider.
Top 10 Cryptocurrencies To Buy Now
Information on the top 10 cryptocurrencies are provided below – updated live.
Top 10 Cryptos
| # | Coin | Price | Volume (24h) | Change | Last 24h |
| --- | --- | --- | --- | --- | --- |
Buy Cryptocurrency Now from the World's leading Trading Platform, eToro
Cryptocurrency Explained: An In-depth look
Cryptocurrencies allow you to make payments that can be exchanged online for goods or services. There are plenty of companies out there that have issued their own currencies, known as tokens, and these can be traded specifically for the services that that company provides. Some of them actually power their blockchain, but we're getting ahead of ourselves.
Let's look at Bitcoin so you can have the best perspective of how all of this works in the world's largest cryptocurrencies. Bitcoins, or BTC, are not physical coins, they are all digital currencies.
It allows you to send, receive and transfer funds on what is known as the blockchain. The blockchain is a set of blocks, all of which have data that is generated onto them.
To generate this data, miners are required, and this is known as the proof-of-work (PoW) consensus algorithm. Miners essentially need to validate complex cryptographic puzzles each time a transaction is made, and for that, they are rewarded BTC.
Now that you have a general idea of how they work, you need to understand that cryptocurrencies have certain characteristics which set them apart from traditional currencies, such as the GBP you're used to using or even EUR or USD.
One of the main advantages of cryptocurrency and the reasons why so many people out there adore using them is the fact that they are not owned or controlled by a central bank nor even a government, like FIAT currencies would be. They are fully decentralized. These cryptocurrencies are also backed by blockchain technology, which allows every transaction to be secure and anonymous.
Whenever you make a cryptocurrency transfer, this transaction, with certain cryptocurrencies, is publicly viable on the blockchains and makes the network 100% transparent. Keep in mind that some cryptocurrencies go the extra distance to provide a higher level of anonymity.
Aside from that, cryptocurrencies have no borders, which means that transferring coins from one side of the world to another will cost the same as transferring a cryptocurrency to your neighbor. Furthermore, the blockchain never sleeps, as miners are constantly crunching to keep that blockchain running, so unlike traditional financial institutions such as banks, you can transfer crypto 24/7, 365.
While we discussed Bitcoin, which has the highest level of dominance on the market in terms of popularity and market cap, there are currently over 10,000 cryptocurrencies that exist out there, and with a total of $106 billion circulating within the last 24 hours across all of them, Bitcoin dominates with 43%.
Furthermore, another important aspect of cryptocurrencies is what you can actually do with them. You see, each project serves its own purpose, typically within the sphere of its own blockchain. Bitcoin has created a payment network, and there are other currencies that have created their own innovation to the market. Most notably, Ripple offers cross-border banking transactions, and Chainlink provides real-world data to blockchains.
The main reason why the interest in these cryptocurrency assets has spiked so much is due to the fact that many investors believe that over time, it is an inevitability that cryptocurrencies will truly revolutionize the way we use the internet for transacting value, and will serve us in the future about anything money-related. As such, the concept here is that their value will increase throughout time, due to their increased adoption rate. If you think about it, this is quite similar to traditional asset classes as well, and the fundamentals of investing in cryptocurrencies are not that complex.
Cryptocurrency Prices and Making Money
The main incentive a lot of people in the UK have when it comes to the process of purchasing cryptocurrencies is the fact that they want financial gains, and as such, there is a huge market that needs to fulfill this market demand. As such, many cryptocurrencies are listed in a multitude of cryptocurrency exchanges available for people in the UK, which allows them to buy, sell or trade a cryptocurrency they choose or deem to be a worthwhile investment.
This works quite similarly when you compare it to purchasing traditional shares that are listed on stock exchanges. The value of your cryptocurrency can go up or down with each passing second, due to the high volatility of the market. There are centralized, decentralized, and hybrid exchanges, however, one thing holds true across all of them and this is the fact that they operate 24/7, 365.
When you want to analyze the prices, and how they rise or fall within the cryptocurrency industry, things can get interesting, to say the least.
There is always the truth that they are based on conventional demand and supply, however, they can be influenced by real-world events, social media acceptance, and journalism headlines. However, when there are a lot more people buying the currency than the ones selling it, the price will go up due to the increased demand.
Just don't be surprised if it falls whenever a newer, better solution comes up to the one currently available, or when the world attempts to fight the increased fossil fuel generation caused by them. However, when we look at the value of cryptocurrencies as a whole, they are much higher in value than they were a year, or even two years ago, meaning that the overall value of almost every cryptocurrency out there has grown, and this is the main reason why they are so popular today.
Back on topic, whenever the price rises in your specific choice of cryptocurrency, or cryptocurrencies, remember, you are never limited to just one, you make a profit as a result and hopefully end up selling your cryptocurrency at a higher price than you paid for it, assuming financial gain is your main goal.
One thing you need to keep in mind is that, while you can set a custom parameter to showcase the value of cryptocurrencies in GBP on just about any cryptocurrency exchange out there, the USD is known as the native currency used to value cryptocurrencies in the marketplace. If you open any article out there, the chances are high that the value will be measured in USD, and you will have to open up a calculator and convert it to GBP, or just open up a cryptocurrency exchange and see it there.
For example, as of November 13th 2021, BTC has a value of £47,385.47, but you'll see it, by default as $63,512.34.
This means that, as a UK investor, you shouldn't really be concerned about it. You have the filters that convert this value for you automatically, and you have the ability to deposit GBP on just about any cryptocurrency exchange out there.
Specifically, the exchanges that specifically support UK investors will allow you to deposit British pounds using a credit or debit card, bank account, or e-wallet, after which the broker or exchange will end up performing a currency conversion into USD for you. In most cases, this does, unfortunately, have a conversion fee, but it's nothing too high, just something you need to keep in mind going forward.
Why Start Buying Cryptocurrency in the UK?
What you need to have at the back of your head throughout each and every time you decide to purchase a cryptocurrency is the fact that they are speculative, high-risk, and do not offer anything when it comes to regular income.
There are multiple reasons why people in the UK love buying cryptocurrencies, and these are the reasons why they have gotten so popular and in such high demand.
Cryptocurrencies Outperform Other Assets
This is by far one of the obvious reasons as to why they have gained such a high level of popularity, but you probably know this already. The growth of cryptocurrencies throughout the past few years has been exceptional, with extreme financial games on Bitcoin and Ethereum for example.
Let's put this into perspective:
Today, BTC is valued at $63,512.34.. In January of 2020, its value was around $8,105. In January of 2019, its value was around $3,840. You're getting the picture at this point.
ETH on the other hand is valued at $4,599.05 as of November 13th 2021, while in January of 2020 it held a value of just $136, and in January of 2019, it held a value of $153.
We cannot really know just how far, and how big the cryptocurrency industry can get overtime, especially when we look at some of the biggest cryptocurrency projects out there today. When you consider their global appeal, and ability to solve some of the biggest financial issues we are facing with traditional finance, the chances are high that inevitably they will have a mainstream implementation that will bring their value above and beyond anyone's speculation.
Traditional Investments Aren't at Their Best
Speaking of traditional financial issues, when you leave your money within a UK bank account, you might get, at best, 1% in interest per year. Alongside that, the majority of stocks listed on the London Stock Exchange haven't really recovered after their losses throughout the year. With traditional investments failing at such a large level, people in the UK are seeking alternative forms of investments, and cryptocurrencies, especially with their large gains and exciting innovations, seem to be the go-to investment option.
They Bring new and Exciting Technology
You can do a quick Google search about each and every cryptocurrency out there, and the chances are high that each of them will bring something new, different and innovative to the market, either solving an issue on-chain or solving an issue in the real world. Then there are also some currencies that are just made for fun. When you look at the history of Bitcoin, for example, the anonymous founders wanted to challenge the global monetary system by taking control away from traditional banks or financial instruments and putting it back into the hands of the users.
Many cryptocurrencies are decentralized, and there is no single owner of the network. They are highly conducive for cross-border transactions as well, which is extremely useful in the case of transferring money to the third-world, where there are more than 2 billion people that do not have access to banking facilities. What this means is that, through the usage of cryptocurrency to transfer value, the fees can be extremely low and the transfer can take a few minutes, instead of days.
What this means is that each and every time an investor in the UK decides to invest in a cryptocurrency of any kind, what they are essentially doing is investing in a new, innovative and disruptive technology.
They Have a Low Barrier When It Comes to Entry
When we look at traditional investments, if you are a newcomer to the world of investing, and happen to be from the UK, you are quite limited when it comes to the kind of assets you can access. Stocks and ETFs are easy to buy, however, bonds, government securities, and emerging market equities are a different story altogether when it comes to their accessibility.
However, when we look at the cryptocurrency market, you can easily buy any cryptocurrency within the UK that is supported by the brokerage or exchange you end up choosing. All you really need is, for example, to make an eToro account, and after you've made a deposit, you can decide how much you want to invest in any of the supported cryptocurrencies.
Diversification as An Option
You might have noticed that there is a huge interest specifically within the Bitcoin cryptocurrency. This is due to the fact that it has gotten the most mainstream media attention, and held its value and reputation as the champion of cryptocurrencies due to its dominant market share.
In any case, it is worth noting that you can diversify your investments, and given the fact that there are over 10,000 cryptocurrencies out there, you can spread out the risk through the process of purchasing multiple coins and seeing where they lead you.
Ideally, your main focus should be on major cryptocurrencies. Think of this as a suggestion, not as hard advice, however, you might want to allocate 60% of your cryptocurrency portfolio to some of the largest cryptocurrencies out there that you can predict will go up in value, such as BTC or ETH, and spread out the other % to various cryptocurrency projects you have a genuine interest in, want to back yourself, or engage in other cryptocurrency methods of generating a profit such as yield farming.
Cryptocurrencies are a Liquid Asset
Cryptocurrencies have high liquidity. This means that you can easily convert your coins back into GBP at any time. This is due to the fact that cryptocurrencies are actually traded 24/7, 365 across public exchanges. All you really need to do is exit your position by converting your cryptocurrency back into pound sterling, and then withdraw the money into your debit or credit card, or even to your bank account completely. This freedom means that your money will never end up being locked up whenever you have a requirement for your money.
Buy Cryptocurrency Now from the World's leading Trading Platform, eToro
What Cryptocurrencies Can You Actually Buy in the UK?
There are literally over 10,000 cryptocurrencies that exist out there. Many of these, however, are ERC-20 tokens, which means that they are built on the Ethereum blockchain. This being the case, few UK brokers will actually end up offering ERC-20 tokens, as their demand is quite low when compared to separate ones. As such, you will need to use a cryptocurrency exchange in order to be able to purchase many of them.
Many conventional cryptocurrency exchanges are unlicensed and do not have the legal permit to support FIAT deposits such as credit or debit cards, bank transfers, or e-wallets. So you will need to buy a popular cryptocurrency, transfer it to the exchange, and only then be able to buy ERC-20 tones using your previously bought cryptocurrency. This being the case, you want to focus on purchasing cryptocurrencies initially that are listed in the top 20 in terms of market capitalization, due to the fact that these will probably be available across many if not all UK brokers.
Currently, the top 20 cryptocurrencies according to market cap include:
Tether
USD Coin
Internet Computer
Chainlink
Solana
Polygon
Binance USD
Theta
VeChain
Bitcoin, Ethereum Binance Coin, Cardano, Dogecoin, Ripple, Uniswap, Bitcoin Cash, Chainlink, and Litecoin are all currently supported on eToro for purchase.
How to Invest in Cryptocurrency UK
There are multiple ways through which you can invest in cryptocurrencies. You can attempt short-term trading, where you can purchase a specific cryptocurrency after it has dipped in value and sell it the moment it gains short-term growth, or you can hold onto your cryptocurrency for years, if not decades until it reaches its all-time high before selling it.
The process when it comes to buying cryptocurrencies for investment is exactly the same as it would be for trading, but in this case, instead of selling your cryptocurrency after a short period of time, you simply leave it in your cryptocurrency wallet.
In order to invest in cryptocurrency within the UK, you will need a cryptocurrency wallet. This can be in the form of a digital or physical wallet, that can store your cryptocurrencies. The thing to note here is the fact that you aren't actually storing your currency within the wallet, just the public and the private keys that allow you to access your cryptocurrency that is kept in the blockchain.
How to Buy and Sell Cryptocurrency UK Safely
Just as with any investment, you want to maintain the highest possible level of security. Luckily for you, many brokerages, as well as exchanges out there, do go the extra distance to ensure that you have a high level of security for your cryptocurrencies, however, there are still a few things you need to look out for.
Use a Regulated Cryptocurrency Broker
Always ensure that the cryptocurrency broker you will end up buying cryptocurrencies from is regulated as if you do not choose one that is, you are essentially putting yourself at risk. You will, at one point, be required to deposit your money into the platform, and you should always buy cryptocurrency from a regulated provider to maintain a high level of security.
eToro for example is regulated by three tier-one licensing bodies.
The United Kingdom Financial Conduct Authority
Australian Securities and Investments Commission
Cyprus Securities and Exchange Commission
It is also regulated by the Financial Industry Regulatory Authority in the US.
Dollar-Cost Average to Avoid Volatility
Cryptocurrencies are by far currently one of the most volatile currencies you can invest in. This means that the value of the cryptocurrency you end up purchasing can go up and down in just a few seconds. This will put off newcomers, especially if they are not used to a high level of volatility.
You could consider the dollar-cost average strategy when you initially get into the world of cryptocurrencies, however. This means that instead of putting a lot of money into cryptocurrency, you can invest in it regularly, though smaller amounts of money.
Let's say you invest $50 per week, and every time you make a purchase, you get a different cost-price. Over a span of a month, for example, this price will average out, and ensure that volatility will have a limited effect on you throughout the long term.
Get a Hardware Wallet
There are two kinds of wallets, the first is a hot wallet, and the second is a cold wallet. Hot wallets are the wallets you get within the cryptocurrency exchange. This wallet is connected to the internet, and it could be susceptible to hacks or exploits, even though this is a rare occurrence. On the other end of the spectrum, you have cold wallets, which is the hardware or paper wallet. The main reason why you would want to get a hardware wallet is so that you can secure your cryptocurrency as much as possible, as, without a connection to the internet, it is practically impossible for a hacker to steal your cryptocurrencies.
Cryptocurrency Wallets Detailed
As previously mentioned, you are not storing your coins within your wallet, just the public key as well as the private key that allows you to access your cryptocurrency on the blockchain.
You have software wallets, such as web wallets, application wallets, and downloadable wallets, as well as hardware wallets such as hardware wallets and paper wallets.
The best wallets include:
Now, given the fact that you will already have a web wallet the moment you sign up for the cryptocurrency exchange, we'll be covering the ones you can get separately.
Electrum Wallet
Dash Wallet
Keeping Your Cryptocurrency Wallet Credentials Secure
This fact is valid throughout each and every kind of wallet out there. Your cryptocurrency wallet will come with two pieces of data, that only you should know.
These are:
The private key
The passphrase
The private key is what will stand in the way between you and your wallet being accessed by a third party, so you should keep it safe at all costs.
The passphrase is used as a backup, in the event that you might lose or for whatever reason, end up forgetting your private key. Ideally, you want to keep both of them in different locations.
What Payment Methods Can You Use to Buy Cryptocurrency UK?
If we take a look back at cryptocurrency exchange history, we can notice a pattern where, not long ago, many cryptocurrency exchanges didn't even accept FIAT currency deposits. You had to have crypto, to trade it for another crypto. However, this is now history. A number of exchanges actually appear that allow you to deposit funds through the bank transfer method. However, initially, the deposit process could take up to one month to process.
Now, today, the cryptocurrency world has actually opened up to regulated brokerage sites, and they have the legal remit to accept a full range of popular payment methods. eToro actually allows you to buy cryptocurrencies within the UK with the following methods:
Credit/Debit Cards
Trustly
Paypal
Skrill
Neteller
UK Bank Transfer
The best thing about all of this is the fact that each of these, except for the UK bank transfer method, is instantly processed, and as soon as you confirm the deposit you have the opportunity to purchase cryptocurrency in the UK.
What Are the Risks When You Buy and Sell Cryptocurrency in the UK?
So far, we have mostly discussed the benefits when it comes to cryptocurrency purchases and trading, however, it's time we discussed some of the risks involved with it.
Loss of Money
You can lose money on just about any investment out there, but when it comes to cryptocurrencies, this risk is significantly higher due to their volatile nature. There are plenty of cryptocurrencies that saw an astronomical rise in value in 2017, which dropped throughout the following year.
Regulation Risks
Cryptocurrencies are regulated in a grey area on a global level due to the fact that in most jurisdictions there is no cryptocurrency-specific legislation.
Brokers in the UK are required to verify all UK cryptocurrency buyers, which is linked to anti-money laundering regulations.
However, cryptocurrencies such as Bitcoin cannot really be fully regulated, as it relies on decentralized technology which no single person controls.
You also have the possibility that the UK government can, potentially, one day, ban cryptocurrency transactions.
Hacking Risks
There is always the chance that your cryptocurrency balance can potentially be stolen, especially if you are only relying on a hot wallet. This is why it is essential that you have a hardware wallet just in case, and never store all of your cryptocurrencies on a single wallet.
A Guide to Selling Cryptocurrency and Making a Profit
Once you have completed your first purchase of a cryptocurrency within the UK, you are now relying on the markets to tip the odds in your favor. In other words, if you want to make a profit, the value of the cryptocurrency you just purchased needs to increase. This will only happen if the demand outpaces the supply.
So, you can essentially buy, let's use ETH as an example here, hold onto it for a few years, when the value increases by a certain %, and sell it later on. TO sell it, at least on eToro, the only thing you need to do is click on the sell button next to the cryptocurrency on your portfolio page.
However, this is only the case if the cryptocurrency is still on the hot wallet. If at some point in time you transferred it to a hardware wallet, you'll need to transfer the coins from your wallet back to the exchange's wallet, sell it, convert it into USD, and then make the withdrawal, all of which will incur additional fees.
eToro – Your Best Option When It Comes to Buying and Selling Cryptocurrencies in the UK
Hopefully, at this point, you are fully aware of all of the methods, benefits, and risks that are involved with the process of purchasing, trading, and selling cryptocurrencies. There are many brokerages and exchanges out there that will allow you to purchase cryptocurrencies, however, you will really need to dig into them in order to find a solution that meets all of your specific needs. If you are looking for the best-regulated broker to buy cryptocurrencies right away, eToro will give you access to 23 cryptocurrency coins to pick from, all of which can be purchased easily. Keep in mind that you will need to fulfill the minimum investment first though.
The cryptocurrencies currently supported on eToro include Bitcoin (BTC), Ethereum (ETH), Bitcoin Cash (BCH), Ripple (XRP), Dash (DASH), Litecoin (LTC), Ethereum Classic (ETC), Cardano (ADA), IOTA (MIOTA), Stellar (XLM), EOS (EOS), NEO (NEO), TRON (TRX), ZCASH (ZEC), Binance Coin (BNB), Trezos (XTZ), Compound (COMP), Chainlink (LINK), Uniswap (UNI), Yearn. Finance (YFI), Dogecoin (DOGE), Aave (AAVE), and Decentraland (MANA).
How to Buy Cryptocurrency UK – eToro Tutorial
If you want to learn how to buy cryptocurrency, eToro might just be what you are looking for. Through eToro, you will have the simplest time when it comes to buying cryptocurrencies within the UK. This broker has been selected due to its low fees, a wide range of supported cryptocurrencies as well as a high level of security. This process, however, is quite similar to many other brokers and exchanges, so you should be able to follow along nicely no matter what you end up picking.
Step 1: Opening up a Brokerage Account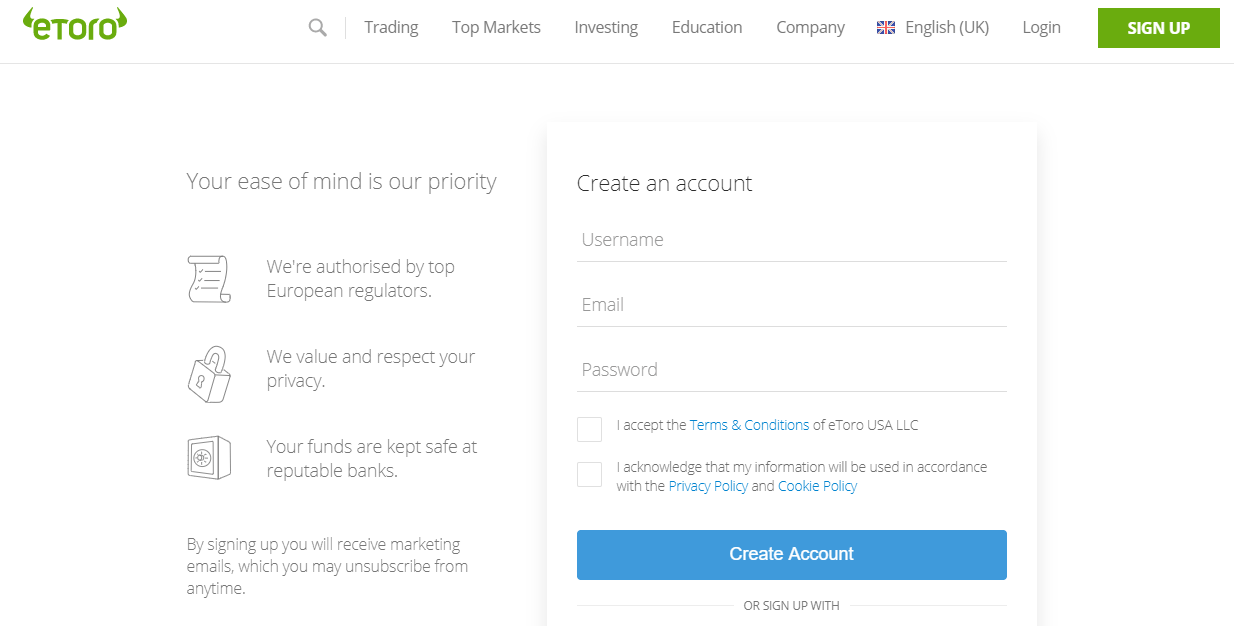 One of the very first things you'll need to do is open up an account, as this is what will be used to facilitate all of your purchases and trades on the platform. To do this, just visit the official website of eToro, select the option to open an account, and follow the on-screen indicators as to what you need to do. Keep in mind that throughout this step, you will be asked different questions in regard to your personal information, contact details, as well as if you have had any trading experience throughout your history. This is a simple and straightforward process, but ensures that all of the information here is fully legitimate, as it will have to be verified at a later point in time.
Step 2: Downloading the eToro application
You can use the web version if you want to, but given the fact that the cryptocurrency market has a reputation for being volatile, which briefly explained means that the prices can shift rapidly at any point in time, even within seconds, you want to have access to all of the information about the cryptocurrencies you have purchased at all times. This is why it might be a smart idea, and in your best favor to download the eToro application, which will send real-time pricing updates to your mobile device and allow you to buy and sell cryptocurrencies quickly.
Step 3: Make your deposit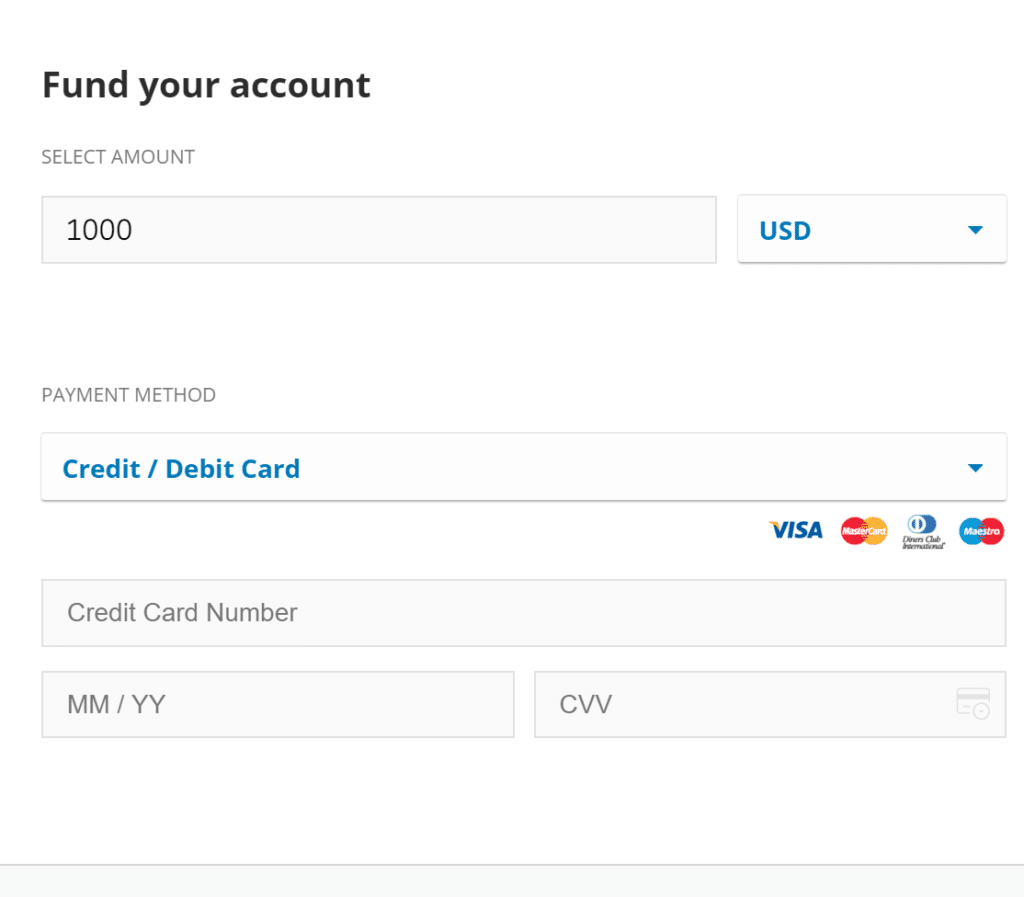 Deposits in the United Kingdom have a minimum requirement of $200. The only exception to this is if you are funding your account through Wire Transfer, where the minimum is $500. Redeposits have to be at least $50, and when you fund your account using GBP, eToro will actually charge you an additional fee to convert your deposit into USD. Keep in mind that your account can be instantly funded through a credit card, debit card, or an e-wallet such as Skrill or PayPal.
Step 4: Buying the cryptocurrency
Once you have created an account and deposited some money, you'll need to head over to the Markets page, where you can select crypto to access the full list of crypto assets that are available on eToro.
Next, you will need to select the cryptocurrency asset that you want to buy and select the Trade option.
After that, you will need to follow up this with the Buy selection, and ensure that leverage is set to X1.
Here, you will need to enter the amount or number of units that you want to trade, set the take profit parameter if you want to, and select open trade. That's all there is to buying cryptocurrencies on eToro.
Buy Cryptocurrency Now from the World's leading Trading Platform, eToro
FAQs
Is Buying Cryptocurrencies Safe in the UK?
Do I Need to Be Rich to Buy Cryptocurrencies?
How Much Should I Invest Starting Out with Cryptocurrencies?
What Can You Buy Using Cryptocurrency?
How Can I Buy Cryptocurrency Anonymously?
Can You Buy Cryptocurrency in the UK Using Pounds (GBP)?
What Is the UK Cryptocurrency Minimum Investment?
How to Buy and Sell Cryptocurrency in the UK?
What Are Some Other Cryptocurrency Exchanges Available in the UK?
What Exactly Are Altcoins?