ZOM Stock Forecast 2021 – ZOM Stock Price Prediction 2021, 2022, 2025 & 2030
Zomedica Pharmaceuticals (ZOM) has been attracting a lot of attention over the past year, as the company aims to solve some of the significant issues in veterinary medicine. Zomedica, through their point-of-care diagnostics, looks to help improve the care of companion animals – leading many to speculate that this stock could reach great heights in the future.
In this article, we'll discuss our ZOM Stock Forecast in detail. We'll touch on what Zomedica is and the stock's outlook before highlighting where you can buy ZOM stocks today – with 0% commissions!
67% of all retail investor accounts lose money when trading CFDs with this provider.
Key Drivers – ZOM Stock Price Forecast 2021 and 2022
If you buy stocks regularly, you'll be well aware of the importance of understanding the company you are investing in and the elements that may affect the share price. Relating this to ZOM, it's crucial to know how this firm works, as the company is still technically in the developmental phase. So, with that in mind, let's discuss what ZOM is and the drivers of its stock price.
Zomedica Corp. (ZOM) is a veterinary health company based in Ann Arbor that develops and markets point-of-care diagnostics. These products and services refer to the process of identifying medical issues in companion animals in real-time, which is much faster than the current process allows, meaning animals can be treated more efficiently. This looks to be a lucrative market for ZOM, as the amount of people with companion animals has skyrocketed since the COVID-19 pandemic.

The current animal healthcare process involves someone taking their pet to the vet, the vet then taking blood samples, which are then sent to a lab to be analysed. As you can imagine, this process is very lengthy and can result in the worsening of an animal's condition. Zomedica looks to improve this process by offering platforms such as TRUFORMA, which helps detect thyroid disorders in dogs and cats.
The ability for veterinarians to process assays at the point of care could revolutionise the industry as we know it. TRUFORMA only began being sold in March 2021, so revenue figures right now don't make for good reading. However, as the company builds up a client base and develops more diagnostic tools, the future could get a lot brighter for ZOM.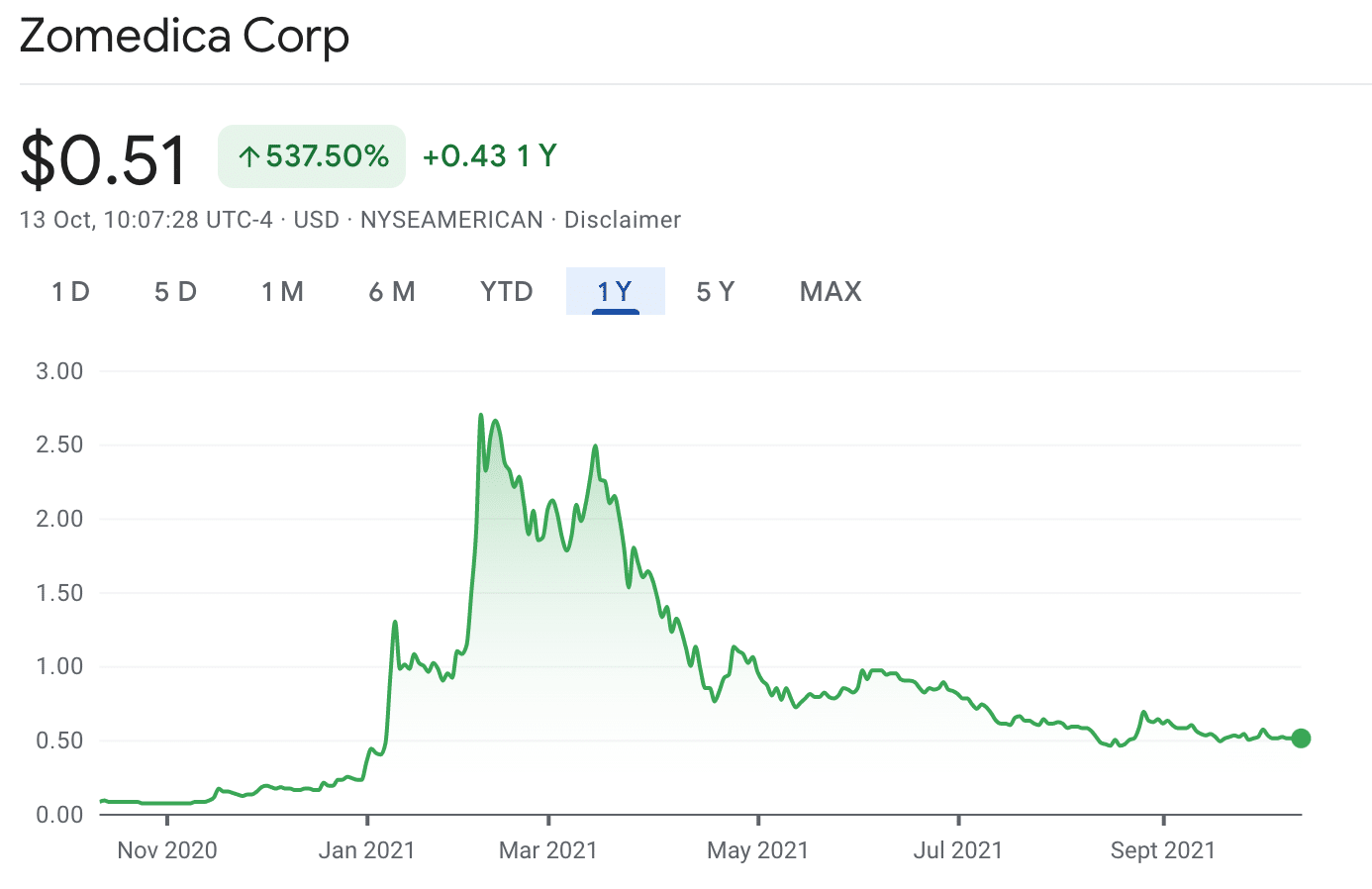 Now that you have an idea of what Zomedica Pharmaceuticals is, let's turn our attention to the drivers of its stock price:
Recent Acquisition: On October 1st, NASDAQ.com announced that Zomedica had struck a deal to buy Pulse Veterinary Technologies for $70.9 million in cash. This company has created shock wave technology that can stimulate the healing of certain conditions in animals. The fact that Zomedica is diversifying its product base is a good sign for the future.
Low Revenue Figures: Zomedica only began making sales in March 2021, so the company has been making a net loss every quarter since launching. Revenue figures for Q2 2021 were only $15,700, highlighting how far the company has to go. Thus, if Zomedica wishes to expand, it'll need to ramp up revenues in the next two quarters.
Huge Industry: The veterinary diagnostics field is expected to grow at a rate of 10% per year between now and 2026, according to data gathered from Fortune Business Insights. As such, Zomedica is growing at precisely the right time to make the most of this market opportunity.
67% of all retail investor accounts lose money when trading CFDs with this provider.
ZOM Stock Price History – What's Going On in 2021
Due to ZOM being a small-cap stock, the company is not traded on any of the major exchanges in the stock market, such as the NASDAQ or the NYSE. Instead, ZOM is traded on the NYSEAmerican, which deals primarily in small-cap stocks and derivatives. As such, ZOM is seen as more of a 'penny stock' by most analysts on Wall Street.

Looking at our technical analysis, we see that ZOM experienced significant volatility between February and April 2021. This coincided with the launch of their TRUFORMA platform, which saw the company begin generating revenues for the first time. As people who invest in stocks will know, this tends to increase hype and awareness, raising the stock price.
However, the current price of ZOM is sitting around 81% lower than the peak of $2.71 that was reached back in March 2021. As the stock price rose quite significantly, many investors would have sold their Zomedica stock holdings to generate a profit. Inevitably, this pushed price down to the lows we see today and price has remained there due to the slow revenue growth experienced thus far.
ZOM Stock Price Forecast – Short Term Outlook
Now let's discuss whether ZOM is one of the best shares to buy now for the short term. As you can see from the price chart, ZOM is trading below the 50-day and 200-day moving averages. This is a relatively bearish sign as these indicators can act as a resistance level and keep the price down. Furthermore, price is still making lower-highs and lower-lows, which tends to happen in a downtrend.
There does seem to be a strong support level around $0.45, which has held the price up well in the past. This was tested as recently as August and was immediately rejected, prompting a significant price increase. As we are nearing that area again, any strong rejection could be a bullish signal, so this is something to watch out for.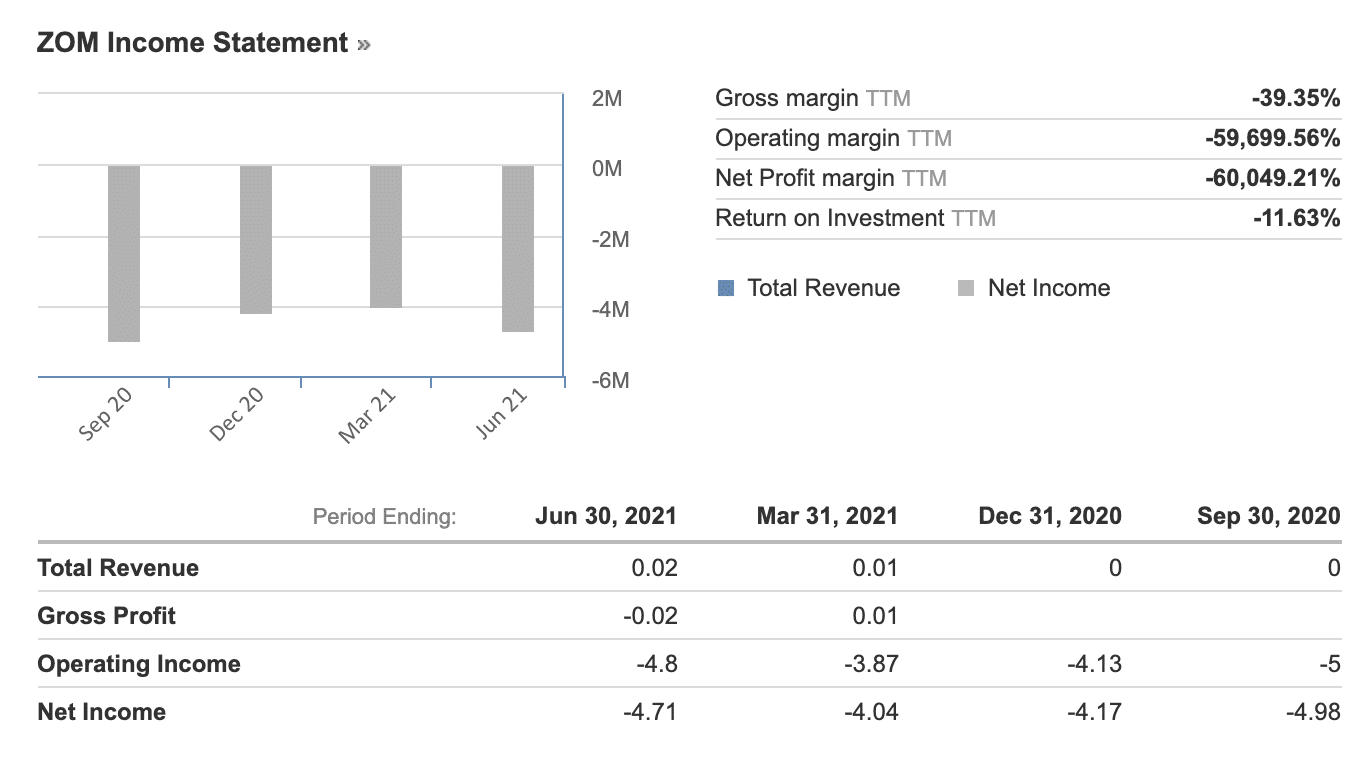 However, the technicals don't tell the whole story. As we've touched on earlier, Zomedica is still in the growth phase. As such, the financials don't look for great reading – although that is to be expected. The company generated a total of $29,800 in revenue between January and June this year. During the same time, the company had substantial R&D expenses, meaning Zomedica made a net loss of over $8.7m during the same period.
Now, this may look bad from the outside, but in reality, it is not uncommon. Companies tend to raise capital and then run at a loss whilst they are still growing, so in that respect, Zomedica is nothing out of the ordinary. However, as the company has now launched its TRUFORMA product to the market, shareholders expect Zomedica to begin generating significant revenue streams to prove that the product has demand.
Due to Zomedica running at a loss, EPS figures are negative right now, so that doesn't tell us much. Similarly, ZOM's P/E ratio is also irrelevant, making it difficult to compare the company to others within the same sector. Overall though, the short-term outlook for Zomedica is probably relatively neutral, as the company will be more likely to increase over the long run.
67% of all retail investor accounts lose money when trading CFDs with this provider.
ZOM Stock Price Forecast – Long-Term Outlook
Much like when you buy cryptocurrency, it's essential to have a long-term price target when investing in small-cap stocks. Now that Zomedica is generating revenue, it's likely that more attention will be paid to this company. As innovative as the diagnostic devices are, if there is no demand for them, all of the R&D will have gone to waste.
There are over 120,000 veterinary clinics throughout the US, which means that Zomedica does have a huge target market to aim at. Furthermore, if the demand is there, the company could even expand into Canada and Europe. Add to this the additional devices that Zomedica intend to develop, and it makes for exciting reading for speculative investors.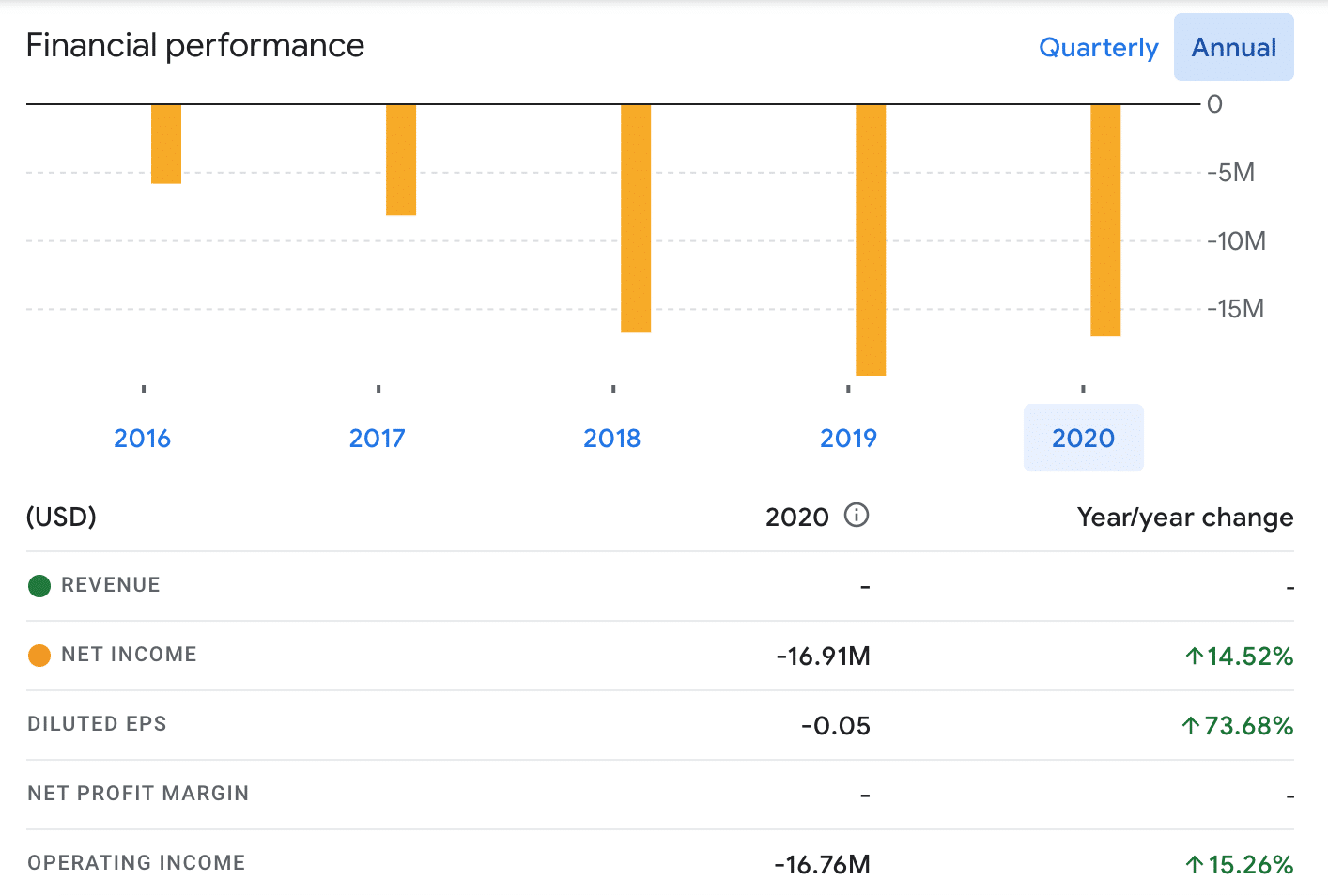 According to data from the Financial Times, Zomedica has 979.73m shares outstanding at present. This means that the company has a market cap of $504.07m, which is enormous for a company just coming out of the pre-revenue stage. It's hard to justify this valuation right now, which is perhaps another reason the market has been so bearish in recent months.
One exciting aspect of Zomedica's business model is that the company has changed to a 'direct to consumer' approach. This cuts out the distributor, meaning that Zomedica can really begin ramping up its marketing and increase hype about the product. Ultimately, once more devices are added to Zomedica's portfolio, this direct selling method will offer them more control over pricing, meaning larger revenues in the future.

Zomedica is still cash-rich, with data from Investing.com reporting that the company has $276.21m in reserves. Much of this is from the public offering in February 2021, although this puts Zomedica in a solid position. Having lots of cash on hand buys a company time to withstand losses and improve their overall business – which is what Zomedica are in the process of doing.
Overall, we like the look of Zomedica over the long term as opposed to the company's short-term prospects. The devices that Zomedica offers are extremely useful in clinics, allowing diagnoses to be made much faster than the current methodology allows. The key here is for Zomedica to begin marketing themselves appropriately to clinical veterinarians and create demand for their products. If this occurs, we may see the ZOM price start ramping up towards the end of the year to coincide with Q3 2021 results.
How to Buy ZOM Stock?
Before we round off this ZOM stock forecast, let's discuss how to invest in the company. To buy ZOM, you'll have to create an account with a regulated and trustworthy broker to facilitate your trade. There are numerous stock brokers to choose from these days, each with its own fee structure and features, so it's wise to research these before choosing.
However, through our research and testing, we've noted that eToro offers the best platform to buy ZOM shares today. This is because you can invest in stocks with 0% commission when using eToro and from as little as $50. So, with that in mind, here are the four steps you need to follow to buy ZOM right now.
Step 1 – Create an eToro Account
Head to eToro's website and click 'Join Now'. Enter a valid email address and choose a username and a password to open your account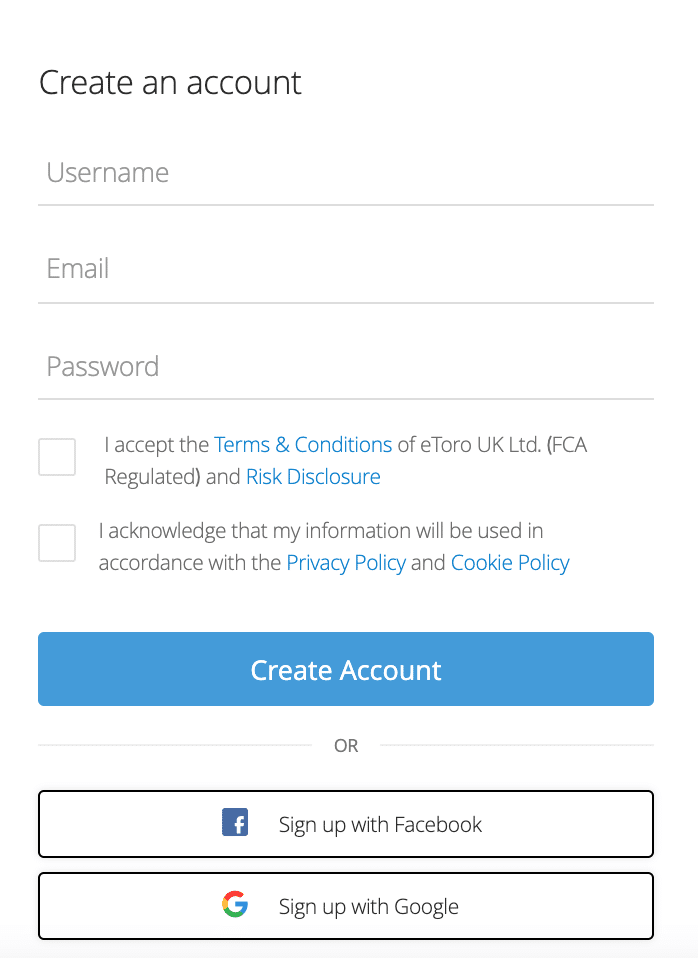 Step 2 – Verify your Identity
New eToro users must verify their identity before trading, as the platform is regulated by numerous top-tier regulators. To do so, head to your account dashboard and enter the required KYC information. You'll also have to upload proof of ID (a copy of your passport or driver's license) and proof of address (a copy of a bank statement or utility bill), which eToro will then verify.
Step 3 – Make a Deposit
eToro accepts deposits from as little as $50, with deposits entirely free to make. In terms of methods, eToro accepts funding from the following:
Credit card
Debit card
Bank transfer
PayPal
Skrill
Neteller
Klarna
Trustly
Step 4 – Buy ZOM Shares
When you are ready, click into the search bar at the top of the screen and type in 'ZOM', which is Zomedica's ticker symbol. Click 'Trade' next to the first option, and an order box should now appear. In this box, enter your desired position size, double-check everything is correct, and click 'Open Trade'.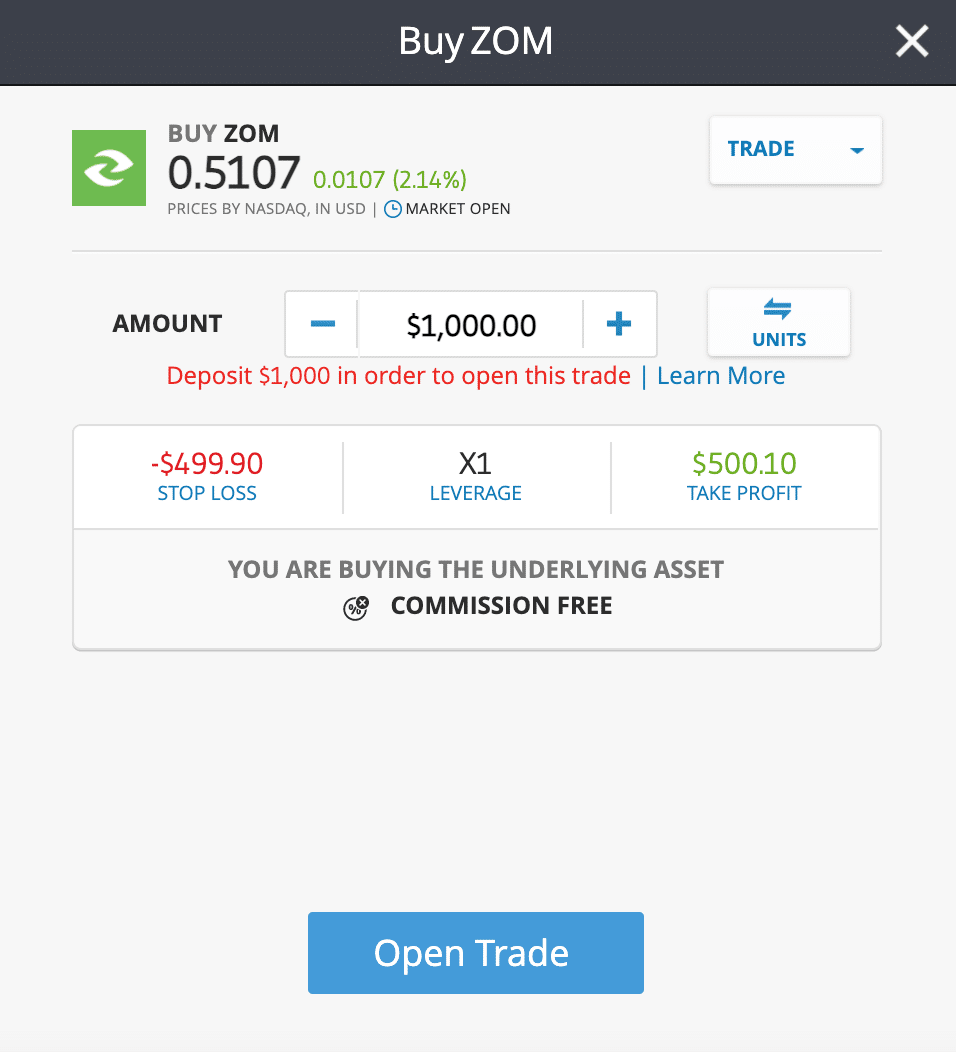 And that's it! You've just invested in Zomedica Pharmaceuticals with eToro – totally commission-free!
ZOM Stock Price Forecast – Final Word
In summary, this ZOM stock forecast has explored what the company is, the products it sells, and the stock's outlook. We've also highlighted where you can buy Zomedica stock right now without paying any commissions.
Overall, we do like the look of Zomedica stocks as a long-term play. Investors will be hoping that revenue figures for Q3 2021 show some solid growth from the previous quarter, which will help boost the price. If Zomedica can continue adding more devices to their portfolio whilst marketing TRUFORMA wisely, we could see some significant growth in the company in the years ahead.
So, if you'd like to invest in ZOM today, we'd recommend using eToro. eToro is a commission-free broker and is regulated by numerous top-tier entities. What's more, eToro is governed by some of the more reputable organisations in the industry, ensuring you are well protected when trading.


67% of retail investor accounts lose money when trading CFDs with this provider.
FAQs
Is ZOM a good investment opportunity?
Where can I buy ZOM stock?
Will the price of ZOM go up in the future?