SNDL Stock Forecast 2021 – SNDL Stock Price Prediction 2021, 2022, 2025 & 2030
With support for legal marijuana use at an all-time high, many cannabis companies have sprung up in the last few years in an attempt to capitalise on this shift. One of the most exciting companies is Sundial Growers (SNDL), a Canada-based company specialising in cannabis production.
In this article, we'll explore our SNDL Stock Forecast in detail. We'll touch on what SNDL is and the company's outlook for the months and years ahead before showing you where you can invest in SNDL stock today – commission-free!
67% of all retail investor accounts lose money when trading CFDs with this provider.
Key Drivers – SNDL Stock Price Forecast 2021 and 2022
When researching the best shares to buy now, one of the first things you should do is analyse what the company is and how its business model operates. This will enable you to make an effective investment decision regarding the potential asset. With that in mind, let's discuss what SNDL is and the key drivers of its stock price.
Sundial Growers Inc is a cannabis company that produces a variety of cannabis-based products for consumers. The company was founded in 2006 and is based in Calgary, Canada. SNDL sanctioned its IPO on 30th June 2019, priced at $13 per share initially.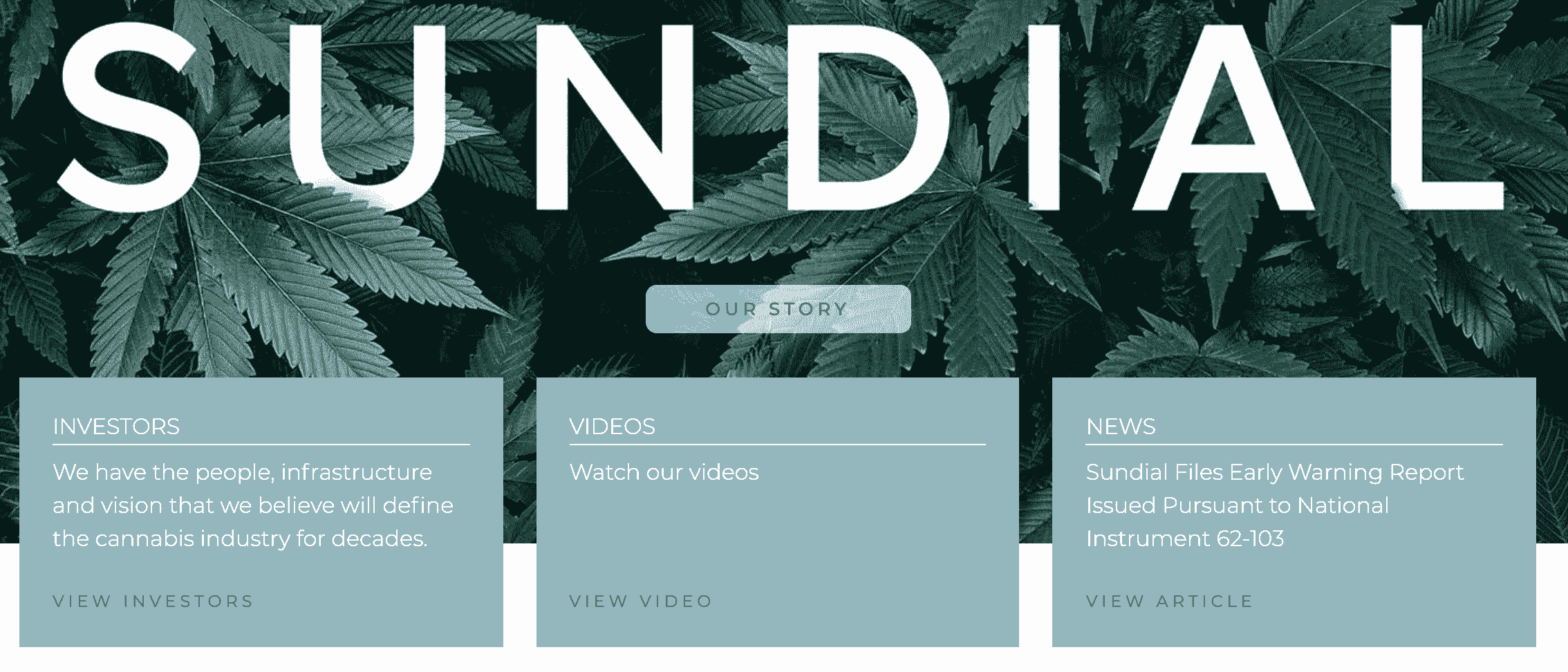 As you can imagine, the legalisation of cannabis in certain parts of the US and Canada has prompted massive interest in the sector, with companies such as Sundial, Tilray, and Top Leaf all vying for the top spot. Due to the nature of their businesses, cannabis companies have become sort-of 'meme stocks' for online communities, which can actually help the stock price at times.
In fact, the Sundial Growers stock price hit a high of $3.95 in February 2021, driven by Reddit. This was in the wake of the Robinhood scandal, which prompted various online communities to 'pump' a stock to heights it really shouldn't be at. This occurred with SNDL, with the stock eventually plummeting over 84% to the current price we see today.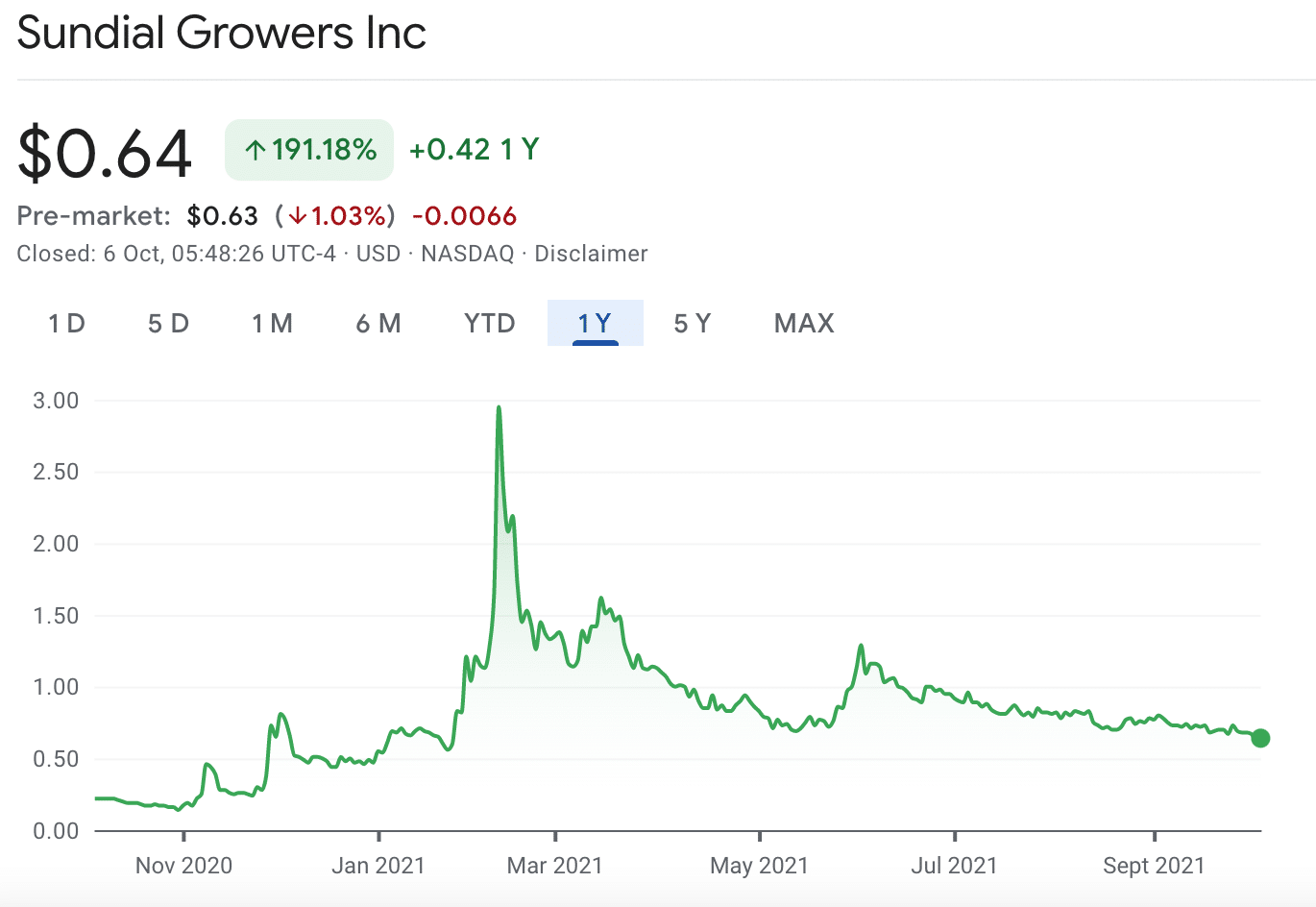 So, as you can see, SNDL is at the precipice of a potentially massive shift in the production and allowance of recreational marijuana. With that in mind, let's look at the factors that could drive the SNDL stock price in the future:
Legalisation of Marijuana: In 2018, Canada legalised cannabis for recreational use, which prompted an uptick in the number of cannabis companies. This was ultimately good for the economy, as noted by an article from TheConversation, which highlighted that Ontario now has more than 1000 physical locations where you can buy marijuana. Furthermore, 18 US states now allow recreational marijuana use, which is great for companies like SNDL.
Strained Financials: On the other hand, one of the elements affecting SNDL's stock price is its financials. Most cannabis companies aren't profitable – and SNDL is no different. Revenues have been plummeting since 2019, in part due to the effect of the COVID-19 pandemic. However, SNDL is now debt-free, which sets them apart from other cannabis firms.
Potential Mergers: Finally, due to SNDL's poor performance, there have been persistent rumours that the company may merge with another. SNDL has acquired some smaller companies in recent years to strengthen their position, although this hasn't helped the company's revenues or valuation much. In the future, if these rumours were to heat up, it would likely have a positive effect on price.
67% of all retail investor accounts lose money when trading CFDs with this provider.
SNDL Stock Price History – What's Going On in 2021
When you buy stocks, conducting technical analysis is a good way of determining price's outlook over the short and long term. As you can see from the price analysis below, SNDL is currently breaking through a significant support level at $0.65. Price rejected this level aggressively in May 2021 and then went on to rally by 129%. Ultimately, now is a pivotal moment for SNDL in that regard.
If the price rejects this level, it could provide the impetus needed for another uptrend. However, if the price were to break this level and retest it from the other side, this would be a bearish signal. SNDL investors will be hoping the latter doesn't happen, as the next support level is around the $0.46 region – another 25% drop from today's price.

Adding to the worrying technicals is the fact that SNDL is trading under the 50-day EMA. This moving average indicator helps identify the trend, with the 50-day one taking a medium-term time horizon. As SNDL is trading underneath this, we can see the price is in a downtrend. Unfortunately, there's no telling when this trend will turn around, so it's a case of waiting to see if there's any rejection from areas of support.
SNDL Stock Price Forecast – Short Term Outlook
Now that we've discussed what Sundial Growers is and how the price is looking currently, let's explore the company's short-term outlook. Stocks display much more volatility than bonds in the short term – and SNDL is no different in that regard. SNDL is trading under the 200-day EMA and the 10-day EMA, which give an idea of long term and short-term trends, respectively. Again, this highlights the stock's bearish nature at present.
Due to Sundial's 'meme' status in some circles, there's always scope for this stock to increase rapidly and unexpectedly. This has happened in the past thanks to support from WallStreetBets, which is a popular subreddit for retail investors interested in the stock market. As such, the fact that SNDL is trading so low right now may tempt this community to raise the price again. Although this is a very speculative viewpoint, this may be worth taking into account if you are a risk-seeking investor.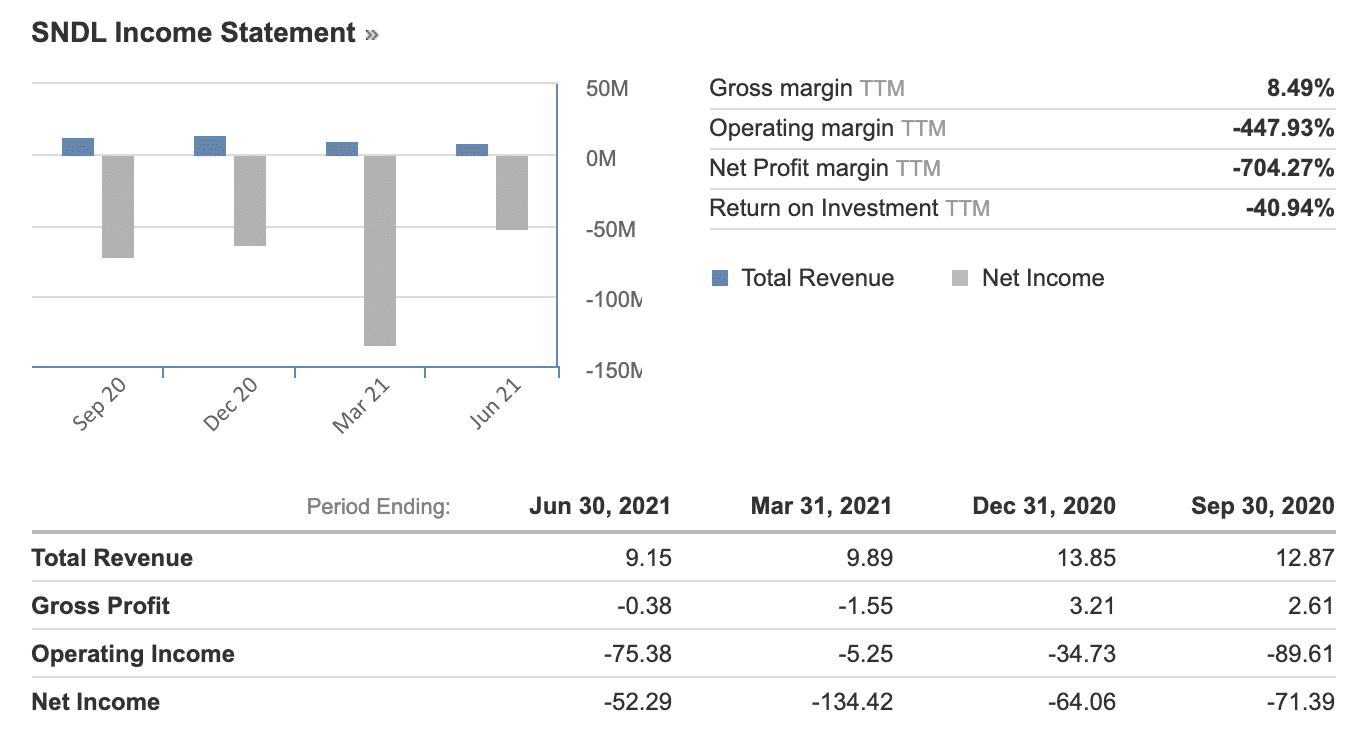 Moving onto SNDL's financials, data from YCharts shows that SNDL has generated lower revenue than the previous quarter for two straight quarters now. The most recent figures for Q2 2021 showed that SNDL generated $7.45m in income, compared to $7.80m in Q1 2021. This has resulted in a net loss of $42.58m for the most recent quarter.
As SNDL is not profitable, they do not have a P/E ratio or an EPS figure. These metrics tend to be good ways of measuring company performance, so it's hard to determine how SNDL stacks up against its rivals at present. Notably, net income figures have decreased by just over 59% in Q2 2021. However, this is because SNDL issued even more shares to raise capital, drastically diluting their shares.
Taking this all into account, the current state of SNDL's finances do look rough. Having said that, there is still hope for the future. Legalisation in America does take time, and the more states that legalise marijuana use, the better things are for cannabis-producing companies. Furthermore, at some point, the US will likely allow Canada-based companies to serve US clients. If this occurs, it'll pave the way for enormous revenues for companies like Sundial Growers.
67% of all retail investor accounts lose money when trading CFDs with this provider.
SNDL Stock Price Forecast – Long-Term Outlook
Due to the constraints posed by regulations, many of the best cannabis stocks have been on a gradual downtrend this year. Again, much of the bearish sentiment can be attributed to slow-moving institutions like the US government, which take an age to make decisions regarding recreational marijuana. As such, this vast market is currently shut off to many companies – including Sundial Growers.
One of the exciting things about Sundial Growers is that the company has an investing arm that it uses to buy stakes in smaller companies. Through this arm, SNDL can generate large amounts of revenue that aren't directly related to producing and selling cannabis. If the company can continue doing this, it'll put them in a good position in the years ahead as the industry continues to grow.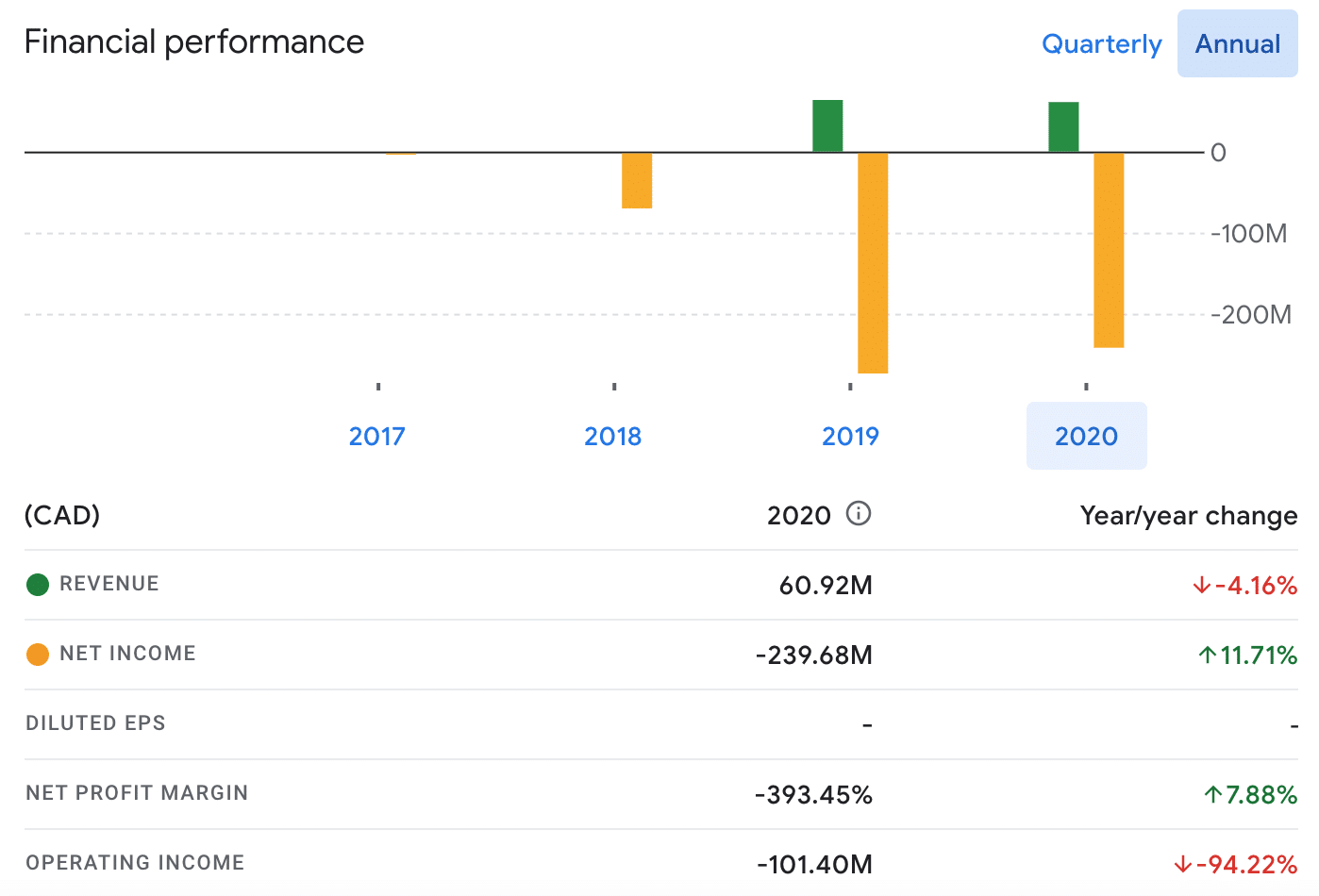 With a market cap of $1.27billion, SNDL is still in its infancy, so the low stock price shouldn't be a huge concern. However, the consistent issuing of stock is a potential concern as it continually dilutes shares. Data gathered from Yahoo Finance notes that SNDL issued over 1.2bn CAD worth of stock over the past 12 months. Although this does provide good funds to continue operations, it ultimately puts downward pressure on the share price.
Furthermore, as SNDL is not yet profitable, the company can't offer a dividend to shareholders. Any dividends are likely years away, as SNDL is still making consistent net losses. These factors are worrying for investors who are interested in topping up any capital gains with a passive income stream.

However, it's not all doom and gloom for SNDL. As we've touched on, much of this company's prospects hinge on regulation. The market for cannabis in Canada is vast but nothing compared to the potential customers that SNDL could service in America. Ultimately, federal law would need to allow SNDL to sell to US citizens, which may be years away – but if this were to pass, it would be a massive boost for SNDL.
Finally, the cannabis industry is expected to grow by $100billion in the US by 2030, according to FinancesOnline. This figure serves to highlight the incredible potential that this market has – especially considering the change in consumers' opinions towards marijuana in recent years. So, as you can imagine, if regulations allow and SNDL take the time to develop attractive products, we may see this company set itself up for future success in the years ahead.
How to Buy SNDL Stock?
Before rounding off this Sundial Growers stock forecast, let's discuss where you can invest in the company. As SNDL is listed on the NASDAQ, many top brokers and exchanges will allow investing in Sundial Growers. However, if you are looking for one of the best CFD brokers to buy SNDL with, then we'd highly recommend eToro.
We recommend using eToro because they are a commission-free broker and allow deposits from only $50 (£37). So, with that in mind, the four short steps below will walk you through how to invest in SNDL with eToro – in under ten minutes!
Step 1 – Create an eToro Account
Head over to eToro's website and click 'Join Now'. On the following page, provide a valid email address and choose a username and password to create your account.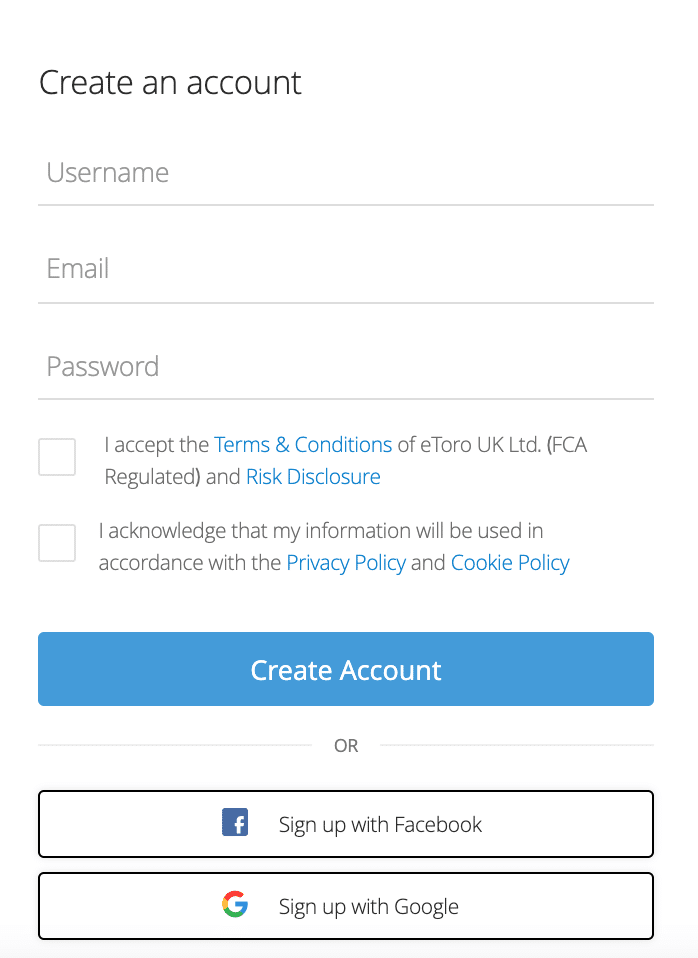 67% of all retail investor accounts lose money when trading CFDs with this provider.
Step 2 – Verify your Account
As eToro are one of the safest stock brokers in the industry, you'll need to verify your identity before trading. To do so, simply enter the required personal information for the KYC checks and then upload proof of ID (a copy of your passport or driver's license) and proof of address (a copy of a bank statement or utility bill). eToro will then review these documents, which usually takes minutes.
Step 3 – Make a Deposit
Once verified, you can proceed to make a deposit. Deposits are entirely free to make with eToro and can be completed using any of the following methods:
Credit Card
Debit Card
Bank Transfer
Klarna
Paypal
Skrill
Neteller
Step 4 – Buy SNDL Shares
When you are ready, click into the search bar at the top of the screen and type in 'SNDL'. Click 'Trade' next to the first option and enter your desired position size in the order box that appears. Once you are happy with everything, click 'Open Trade'.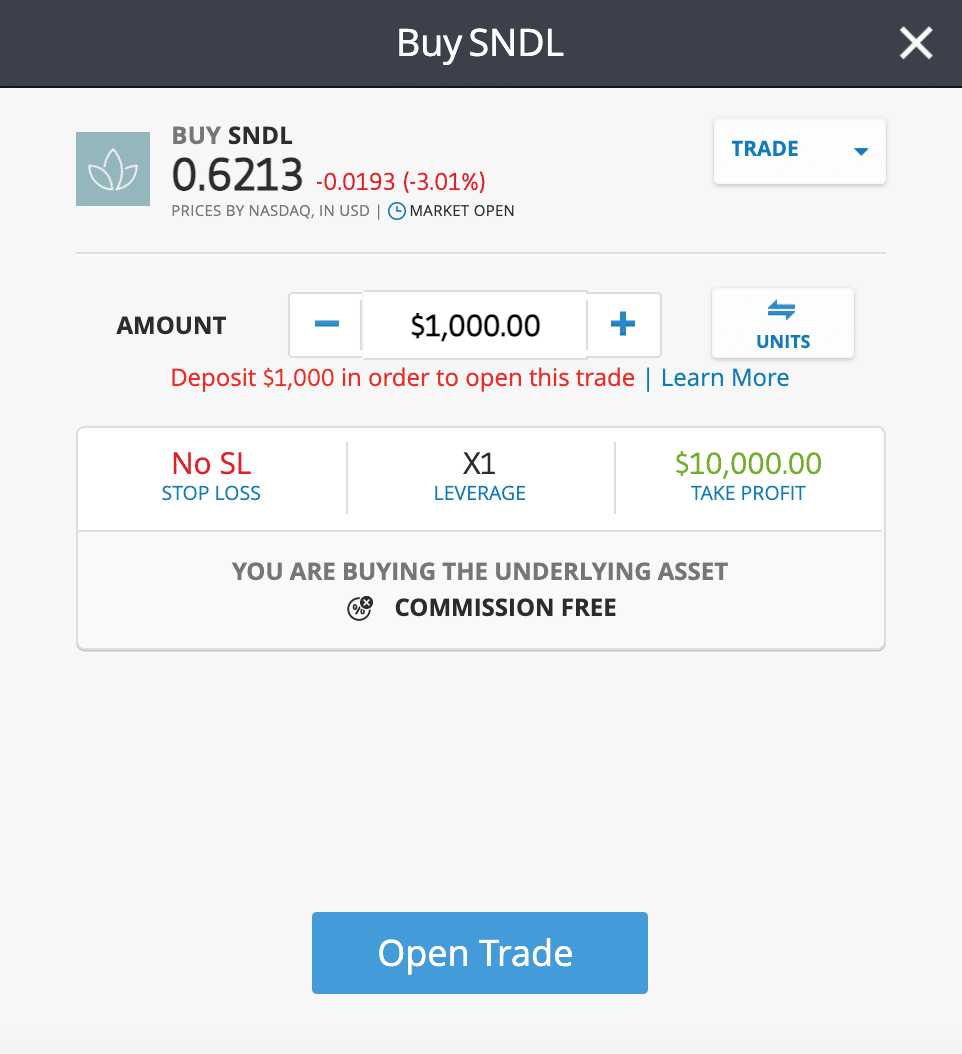 And that's it! You've just invested in SNDL shares with eToro – without paying a penny in commissions!
SNDL Stock Price Forecast – Final Word
In summary, our SNDL forecast has discussed what the company does and its outlook for the future. We've also touched on both the short- and long-term prospects of SNDL and highlighted where you can invest in the company today.
Although SNDL's financials are cause for concern, this is a common theme across most large cannabis companies. The combination of COVID-19 and the slow regulation process has hampered companies. However, if we see governments move faster in that regard, it'll be fantastic news for cannabis-producing companies – which will translate to positive returns for SNDL investors.
So, if you want to buy SNDL today, we'd recommend using eToro. eToro offers commission-free investing on SNDL and allows trades from as little as $50. What's more, users can sign up in minutes – and can even use PayPal to fund their accounts!


67% of retail investor accounts lose money when trading CFDs with this provider.
FAQs
Is SNDL a good investment opportunity?
Where can I buy SNDL stock?
Will the price of SNDL go up in the future?