Moderna Stock Forecast 2021 – Moderna Stock Price Prediction 2021, 2022, 2025 & 2030
The impact of the COVID-19 pandemic has meant that pharmaceutical stocks have received large amounts of attention over the past 18 months. One of the most talked-about companies is Moderna, which reached all-time highs as recently as August 2021.
In this article, we'll discuss our Moderna Stock Forecast in detail. We'll explore what Moderna do and how the company's stock might perform going forward before highlighting where you can invest in Moderna today – with absolutely no commissions!
68% of all retail investor accounts lose money when trading CFDs with this provider.
Key Drivers – Moderna Stock Price Forecast 2021 and 2022
When considering the best stocks to buy now, it's wise to look at the factors that could affect the stock price going forward. This is no different for Moderna, as the company has numerous elements that could impact its shares, both positively and negatively. Let's explore what Moderna does and its share price's key drivers.
Moderna, Inc (listed on the NASDAQ under the ticker symbol MRNA) is an American pharmaceutical and biotech company that focuses primarily on mRNA vaccines. The company has 15 vaccine candidates in clinical trials, with their COVID-19 vaccine being their only commercially available product. However, aside from this vaccine, Moderna does have treatments in the works for the flu and HIV, along with various cancer vaccines.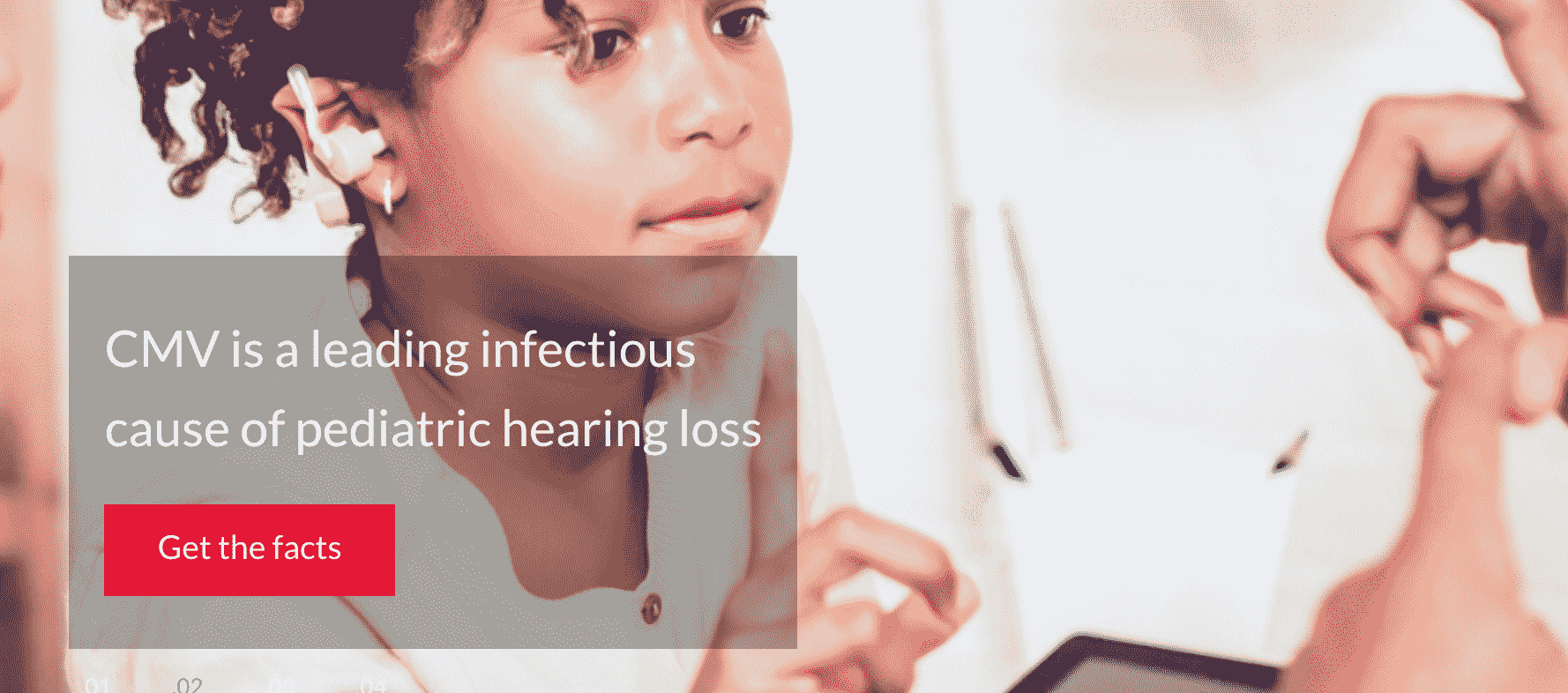 According to Yahoo Finance, Moderna has a market cap of $114.47bn at the time of writing and is trading at a current price of $282.35. The company really came into the public consciousness in late 2020 as Moderna, along with various other pharmaceutical giants, all began to offer the first dose of their COVID-19 vaccine. Ultimately, the rollout of these vaccines has caused substantial revenue increases for Moderna, with second doses and booster shots also contributing to income levels.
As of September 2021, Moderna is looking to the future and is creating a combined COVID booster and influenza vaccine. This would represent an annual shot for patients and provide a steady stream of income for the company in the years ahead. As this product would be taken in perpetuity, it will enable Moderna to perform at the same level, even once most (if not all) people are vaccinated.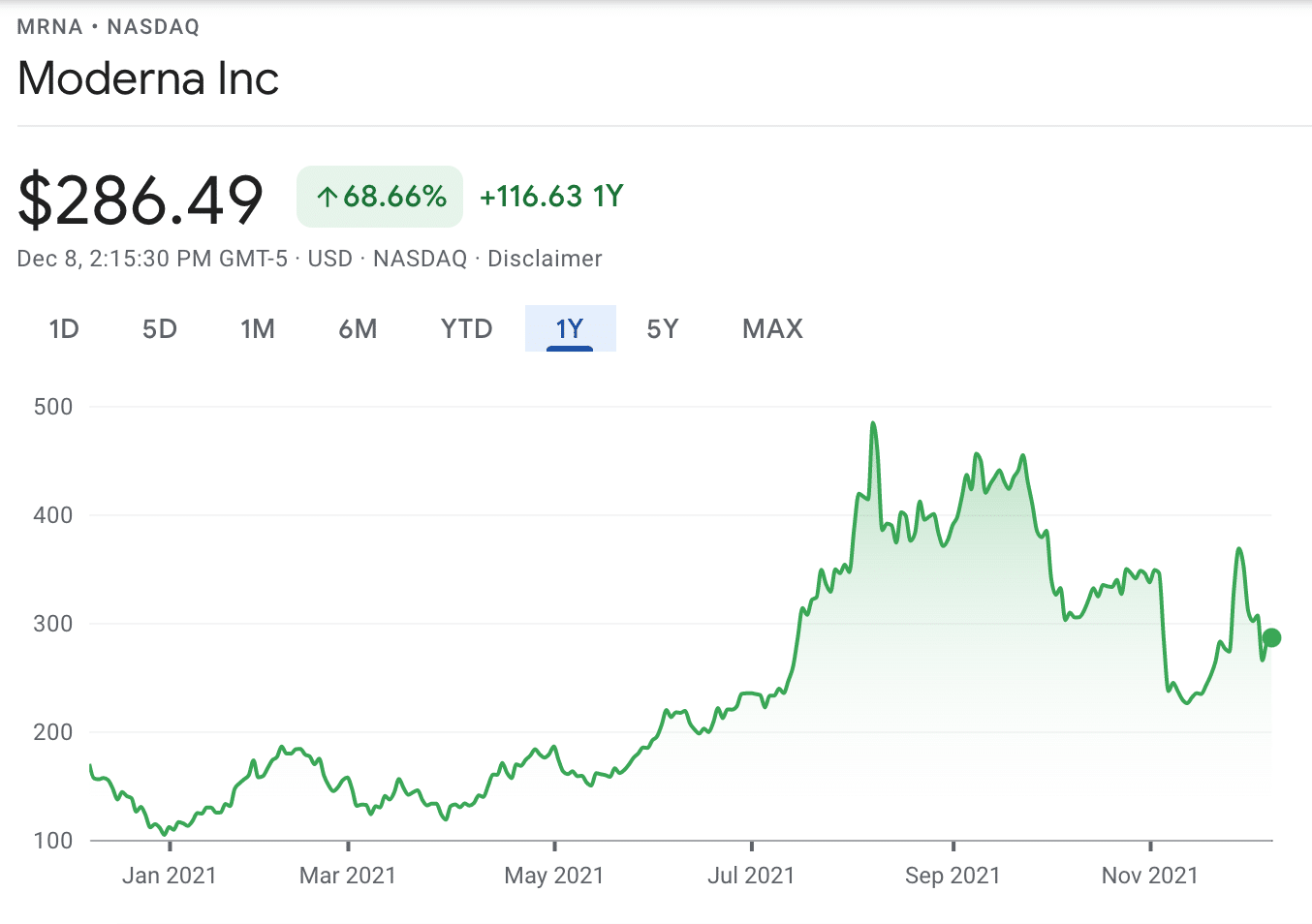 Now that you've got an overview of what Moderna does, let's dive into the main drivers of the company's share price:
Vaccination Rates: Large swathes of Moderna's revenue comes from delivering first and second doses of their COVID-19 vaccine. As vaccination levels rise, these doses will not be required as much, which will reduce Moderna's revenue – and affect the share price.
Clinical Trials: Moderna has numerous exciting vaccine candidates in the works, which would certainly help take the revenue-generating burden off of their COVID-19 vaccine if they were approved. Treatments for cancer and HIV would have a vast potential audience, acting as a significant driver of income.
Ongoing Pandemic Worries: Finally, the volatility caused by the Omicron variant has meant that there will likely be a continued need for vaccines as we advance. As Moderna has supply agreements until 2023 (and potentially beyond), we should see this translate into consistent income growth and share price gains.
68% of all retail investor accounts lose money when trading CFDs with this provider.
Moderna Stock Price History – What's Going On in 2021
Much like when forex trading, it's vital to conduct some technical analysis when looking at a stock. In terms of Moderna, we can see that shares reached an all-time high of $497.49 in August 2021. Since then, the MRNA stock price has fallen by around 43% – although shares are still up by 156% in the YTD!
Looking even closer, we can see that Moderna is trading below the 50-day EMA, which implies that the medium-term trend is slightly bearish. However, the good thing is that price closed below the 200-day EMA and then immediately retraced back above it. This moving average indicator helps show the overall trend – so the fact that the price moved back above it is a positive sign.
Looking ahead, the next major area of resistance is around $354, which price has struggled around twice in the past few months. If Moderna's share price were to head back to this price target, we'd likely see some consolidation. However, the solid bullish close on the 7th of December gives reason to be optimistic as we head into the last few weeks of the year.
Moderna Stock Price Forecast – Short Term Outlook
When you buy stocks in any company, it's essential to look at the firm's short term and long term prospects. In terms of the former, and as noted in the previous section, the rise above the 200-day EMA is a good sign. Furthermore, if Moderna can break the resistance level at $354, we may see a push back up to the highs posted earlier in the year.
Another thing that may boost Moderna's stock price in the short term is the recent news regarding taking Moderna as a second dose. An article from Reuters noted that users who took their first dose with Pfizer or Astra-Zeneca and then took Moderna as their second dose had a much better immune response. This is massive news for the company as it opens up a potentially vast target market of people who will now look to use Moderna as their second shot.
Looking at the financials, we can see evident growth in the company. During Q3 2021, Moderna brought in over $4.9bn in revenue – a 14.1% increase from the previous quarter. This translated into an impressive net income of $3.33bn, up 19.8% from Q2 2021.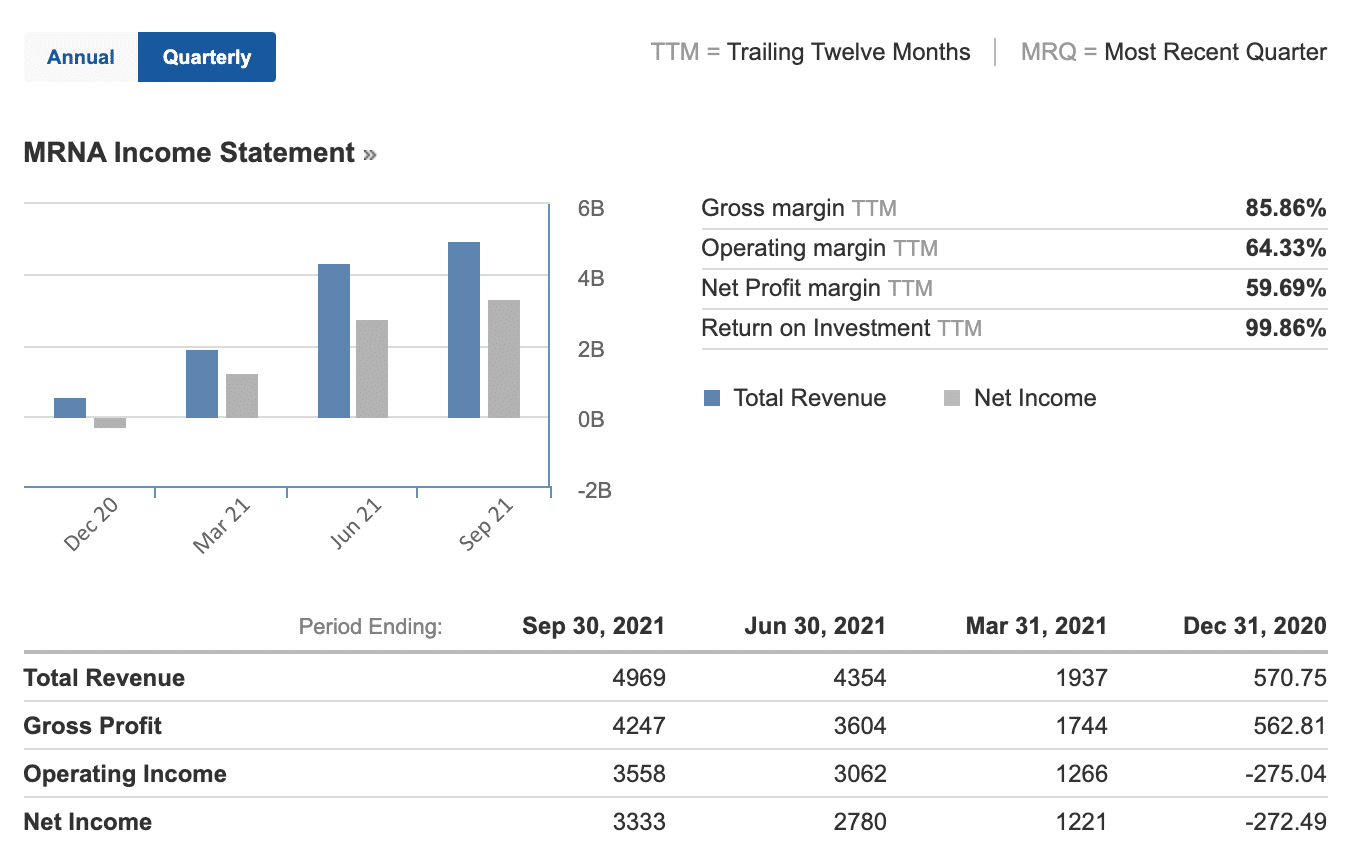 If we dig a little deeper, we can see that Moderna's EPS figure is now sitting at $8.27, which is the highest it's ever been. Furthermore, the company's P/E ratio currently stands at 17.31, which is excellent as it hints that Moderna's shares might be slightly undervalued for a healthcare company. Considering that the company's P/E ratio was around 187 in June 2021, this is undoubtedly a good sign.
Finally, those who invest in stocks will know the importance of free cash flow. As of Q3 2021, the company had over $3.1bn in free cash flow, which is huge considering it only had $873m a year ago. This cash flow can now be put to work in developing new vaccines and potentially even paying a dividend, which would make the company more appealing from an investment perspective.
68% of all retail investor accounts lose money when trading CFDs with this provider.
Moderna Stock Price Forecast – Long-Term Outlook
Now let's look at our Moderna stock forecast over the long term. The best companies to invest in often show consistent revenue and earnings growth, which is undoubtedly the case with Moderna. Furthermore, as the UK government has now agreed on supply contracts with the company until at least 2023, we should see this trend continue.
Although a massive negative for the general public, the recent rise of the Omicron variant may actually help Moderna. The impact of this variant highlights that Coronavirus isn't going anywhere anytime soon – which is ideal for Moderna as a large percentage of the company's revenue is derived from COVID-19 vaccines. Furthermore, if more variants are revealed in the future, this will again boost Moderna's output.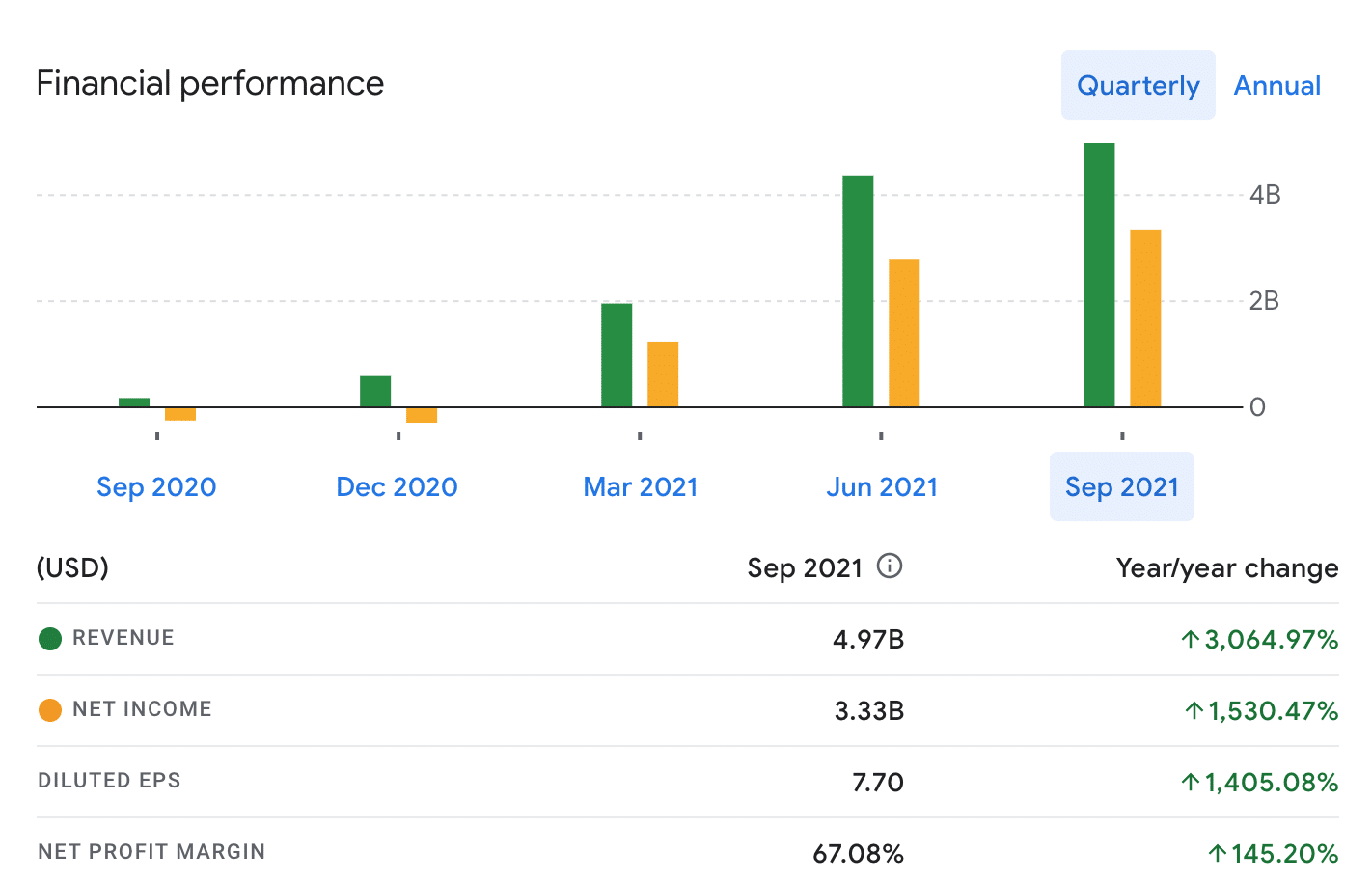 Another thing that will go in Moderna's favour over the long term is that Forbes reported that the Moderna vaccine is highly effective against the Delta variant – more so than other rival vaccines. The reputational effects of this will be huge, as pharmaceutical and biotechnology companies (such as Novavax and BioNTech) will be vying for market share in the future. Furthermore, as Moderna is so effective against the Delta variant, there's a greater chance that people will opt for Moderna boosters to combat the Omicron variant.
To provide a balanced argument, it's also wise to consider the volatility experienced by Moderna (and other vaccine stocks). When Dr Fauci, the Chief Medical Advisor in the US, noted last week that the Omicron variant wasn't as severe as first thought, it caused Moderna's stock to drop by around 8% over the weekend. So, although the company can be affected positively by the pandemic, specific news announcements can also cause panic in the stock market.

Overall though, we're still pretty bullish on Moderna's stock. The company is in a solid financial position now, thanks to vaccine-related revenues, which allows it to diversify into other areas. As the effects of COVID-19 rages on, Moderna can still produce income from upcoming vaccine candidates – meaning the company still looks an attractive prospect on Wall Street.
How to Buy Moderna Stock?
The final section of this guide will focus on the investment process. As you may be aware, you'll need to create an account with a stock broker to purchase Moderna stock. Most brokers will allow you to create an account from the comfort of your own home and begin investing right away.
Although there is an abundance of options to choose from, we'd recommend using eToro to buy Moderna stock. This is because eToro has over 23 million users worldwide and is regulated by the FCA, ASIC, and CySEC, ensuring you can trade safely. With that in mind, the four short steps will show you how to buy Moderna shares with eToro – all with 0% commission!
Step 1 – Create an eToro Account
Head over to eToro's website and click the 'Join Now' button. Enter a valid email address and choose a username and a password to create your trading account.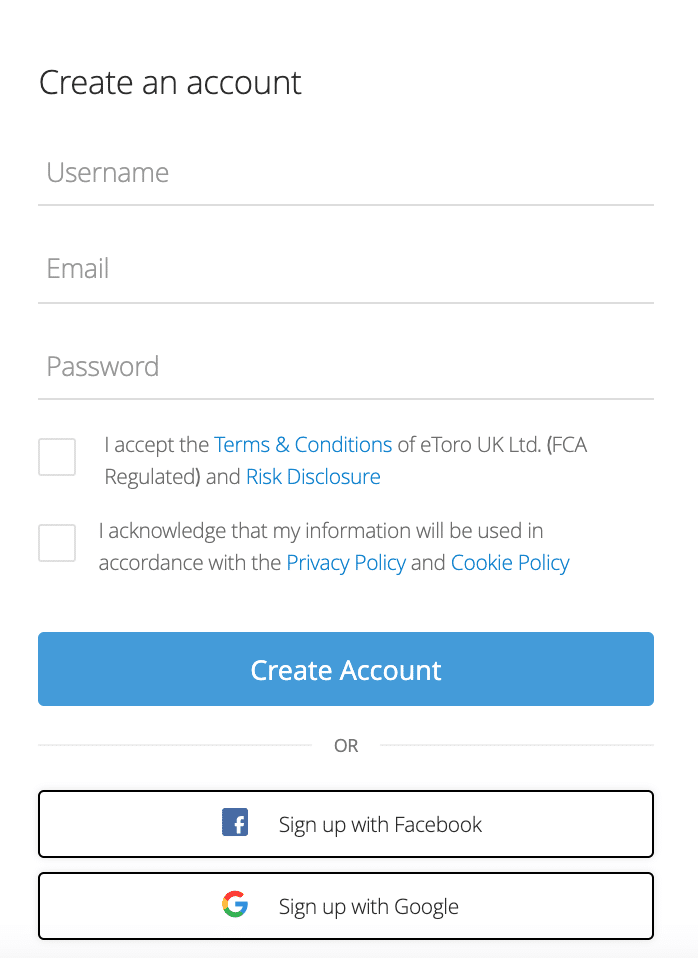 67% of all retail investor accounts lose money when trading CFDs with this provider.
Step 2 – Verify your Identity
Due to eToro being a heavily regulated broker, new users must verify themselves before trading. To do this, click the 'Complete Profile' button on your account dashboard and enter the details required for the KYC checks. You'll also have to upload proof of ID (a copy of your passport or driver's license) and proof of address (a copy of a bank statement or utility bill).
Step 3 – Fund your Account
The minimum deposit threshold with eToro is only $50 (£37), which can be made using the following methods:
Credit card
Debit card
Bank transfer
PayPal
Skrill
Neteller
Klarna
Step 4 – Buy Moderna Shares
Click into the search bar at the top of the screen and type in 'Moderna' or 'MRNA'. Click 'Trade' next to the appropriate option, and an order box will appear, much like the one below. Enter your desired position size in this box, choose a stop loss or take profit level if you wish, and then click 'Open Trade'.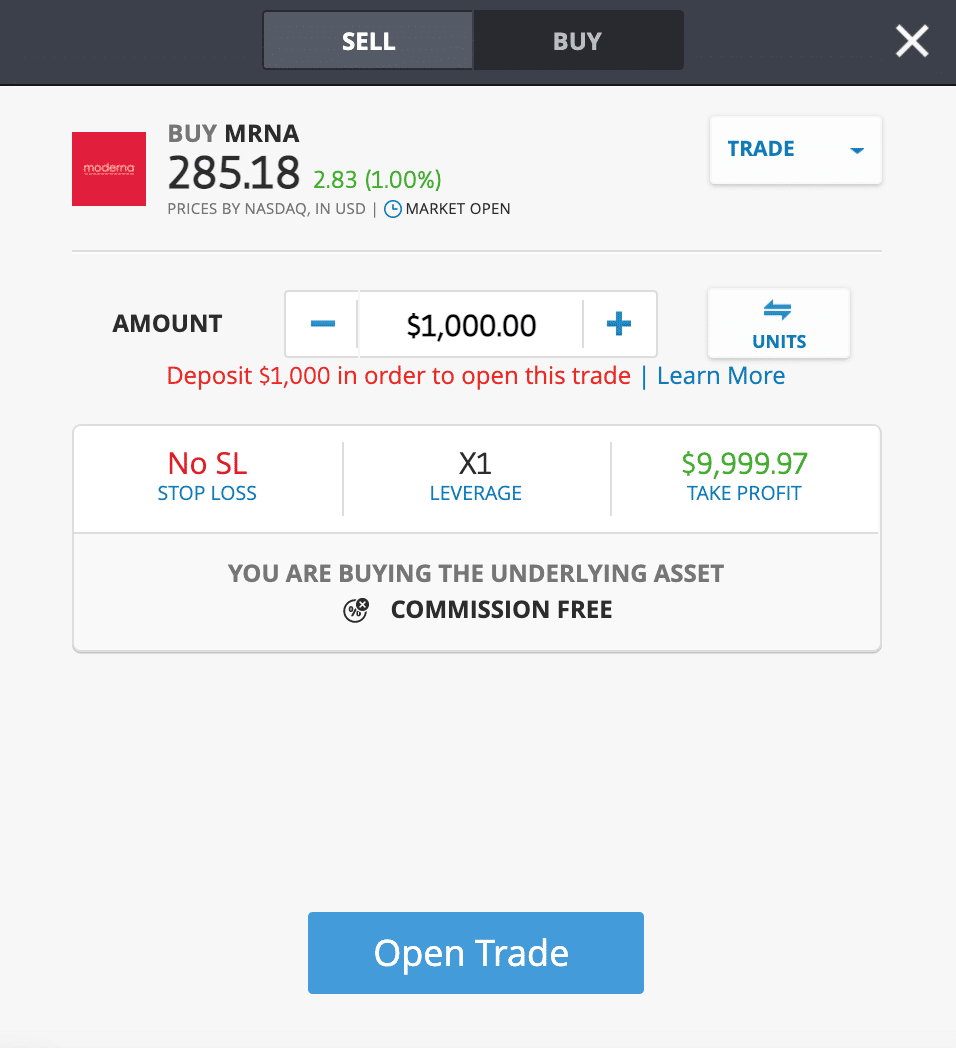 And that's it! You've officially invested in Moderna – all without paying any commissions!
Moderna Stock Price Forecast – Final Word
To summarise, this Moderna stock forecast has explored what the pharmaceutical giant does and the company's share price outlook for the future. We've also highlighted where you can invest in Moderna from the comfort of your own home – with no commissions.
Moderna has really come to the fore thanks to the impact of the COVID-19 pandemic, with vaccine-related revenues helping push the company into profitability. In the future, the cash flow generated from vaccine sales can be put to good use in developing additional treatments and lowering the company's debt burden – which is why Moderna Inc. stock should be considered for your watchlist!
So, if you want to buy Moderna stock today, we'd recommend using eToro. As noted earlier, eToro is a commission-free broker and is regulated by the FCA, ASIC, and CySEC. What's more, you can invest from as little as $50 with eToro, with fractional investing allowing you to tailor your position size to exactly what you'd like!


68% of retail investor accounts lose money when trading CFDs with this provider.
FAQs
Is Moderna a good investment opportunity?
Where can I buy Moderna stock?
Will the price of Moderna go up in the future?