HCMC Stock Forecast 2021 – HCMC Stock Price Prediction 2021, 2022, 2025 & 2030
You may not have heard of them, but Healthier Choices Management Corp (HCMC) has been attracting much attention in the media this year. The company is currently traded in the OTC market, with many retail investors believing that this stock could showcase some incredible returns in the months and years to come.
In this guide, we'll cover our HCMC Stock Forecast in detail. We'll examine what HCMC is and the outlook for the stock before showing you where you can invest in the stock market today – with 0% commissions!
67% of all retail investor accounts lose money when trading CFDs with this provider.
Key Drivers – HCMC Stock Price Forecast 2021 and 2022
Most people who buy stocks tend to focus on well-known ones throughout Wall Street, such as those listed on the NASDAQ or the Dow Jones. Yet, thousands more stocks trade on the 'Over the Counter' market, which can offer potentially huge returns. One of these stocks is HCMC, which social media has focused on significantly over the past year.
Healthier Choices Management Corp is a holding company that owns various brands that operate within the health and wellness sector. HCMC mainly focuses on healthy foods and vaping products but also provides a range of vitamins and health and beauty products too. The company owns a huge grocery store in Florida, along with three other food retail stores.

In terms of the vaping side of things, HCMC owns nine vape stores located in Southeast USA. Notably, HCMC has patented its 'Q-Cup' technology, which is an innovative way for people to vape on the go. The cup is heated from the outside, rather than directly applying heat to the e-liquid concentrate, which is much more efficient than the current way of doing things.
This is a crucial point to note, as HCMC is currently in a massive lawsuit with Philip Morris, a Swiss-American tobacco company with a market cap of $148.96bn. HCMC claim that the company infringed on their patent through their IQOS products, which are extremely popular. This lawsuit is one of the main reasons HCMC is seen as having huge potential, as if Philip Morris has to settle, the amount will likely be in the hundreds of millions – which would be fantastic news for the HCMC stock price.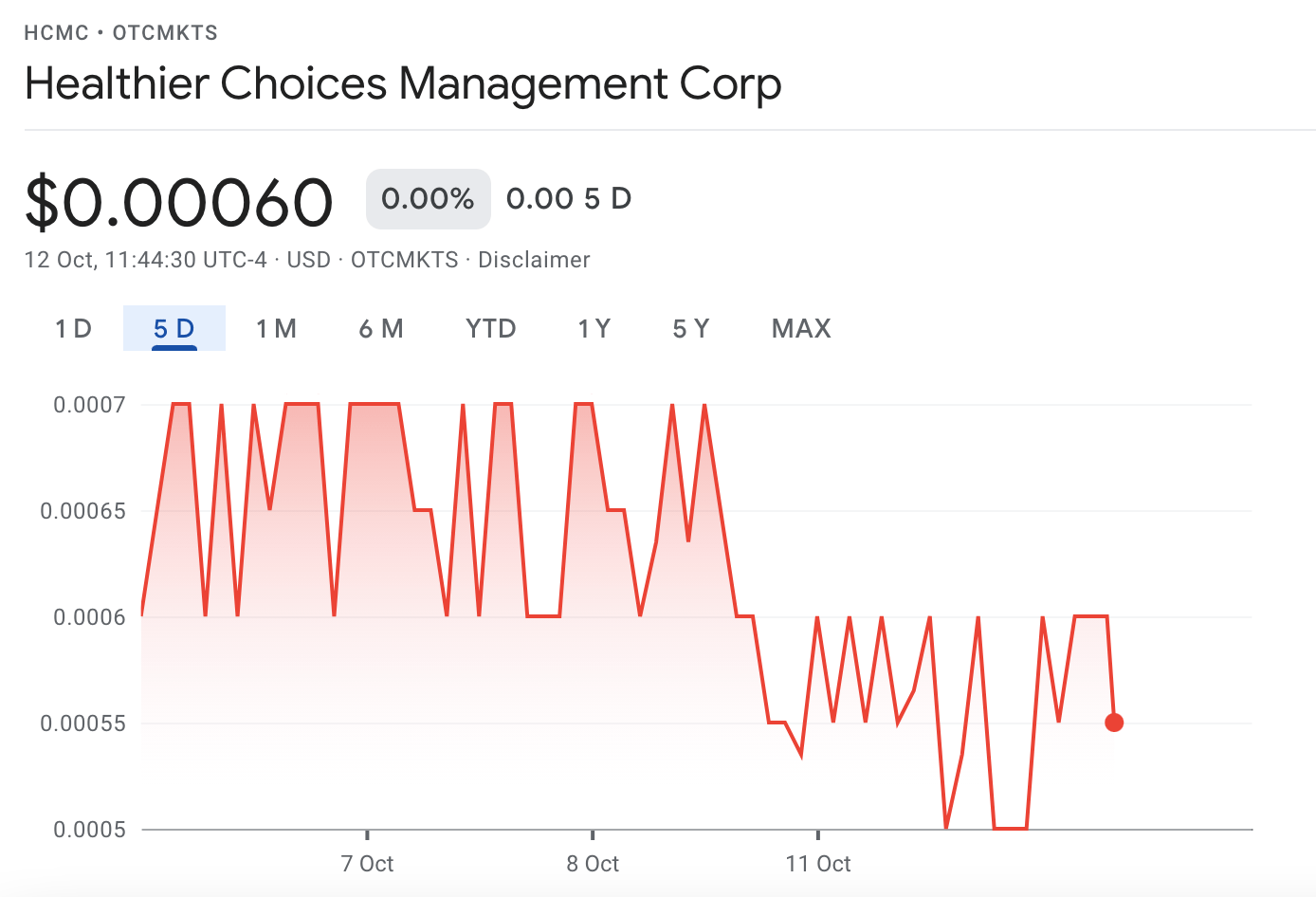 With all of that in mind, let's dive into the three main drivers that could affect HCMC going forward:
Philip Morris Lawsuit: As we've noted, this lawsuit is perhaps the primary reason why HCMC is getting so much hype. If HCMC wins the case, it will provide them with enormous cash reserves to play with, enabling the company to expand rapidly. This would ultimately translate to a larger share price.
Small Valuation: According to SeekingAlpha, HCMC currently has a market cap of $169.87m. Due to this small valuation, thanks to the company's large amount of outstanding shares, it's hard to justify this valuation, given that the financials don't match up.
Difficult to Trade: HCMC is traded on the OTC market, meaning that users must buy it directly with a counterparty rather than with an exchange. Due to this, buying HCMC is much more complicated due to lower liquidity and higher fees. This makes the process unappealing to many, reducing the bullishness of investors.
67% of all retail investor accounts lose money when trading CFDs with this provider.
HCMC Stock Price History – What's Going On in 2021
Now that you've got an idea of what HCMC is, let's look at how the company is doing currently. If you were to buy Tesla stock, the price chart would look a lot different than the HCMC price chart due to the differences in liquidity. As the image below highlights, the price seems a bit crazy, and it's hard to conduct technical analysis due to it being traded on the OTC market.
HCMC is trading around $0.0006 right now, highlighting how small this company is at present. Looking at the chart, we can see that price is now approaching a significant support level, which has acted as a 'floor' in the past. As market data in the OTC markets is much less frequent, it's hard to determine just how strong a support level may be. Thus, although the price may rebound from here, it would be wise to wait for a solid rejection before trading.

Furthermore, HCMC is trading underneath the 50-day and 200-day EMAs. These moving average indicators highlight the overall trend – so the fact that HCMC has gone below these is a bearish signal. Overall, looking at the price chart, there's not much reason to consider an investment in HCMC at present.
HCMC Stock Price Forecast – Short Term Outlook
If you wish to invest in stocks UK, you may opt to take a short-term outlook when entering the market. In the case of HCMC, the short-term investment horizon may be tricky to make a case for, as price does seem to be trickling downwards. The high of HCMC's 52-week range came in February 2021, when the price peaked at $0.065 – 1186% higher than today's price.
This aspect can give investors hope because the price has reached these heights before hints that it could return there again. Furthermore, as we noted previously, HCMC has received much attention from social media sites such as Reddit. The impact that these platforms have cannot be understated – just look at the saga with Gamestop earlier in the year!
One good thing that goes in HCMC's favour is that the company files its reports with the SEC. Many OTC companies do not file their reports with external companies, suggesting that the figures included in them are fabricated. As HCMC does disclose their financials, investors are more confident in the stock, which is a good thing overall.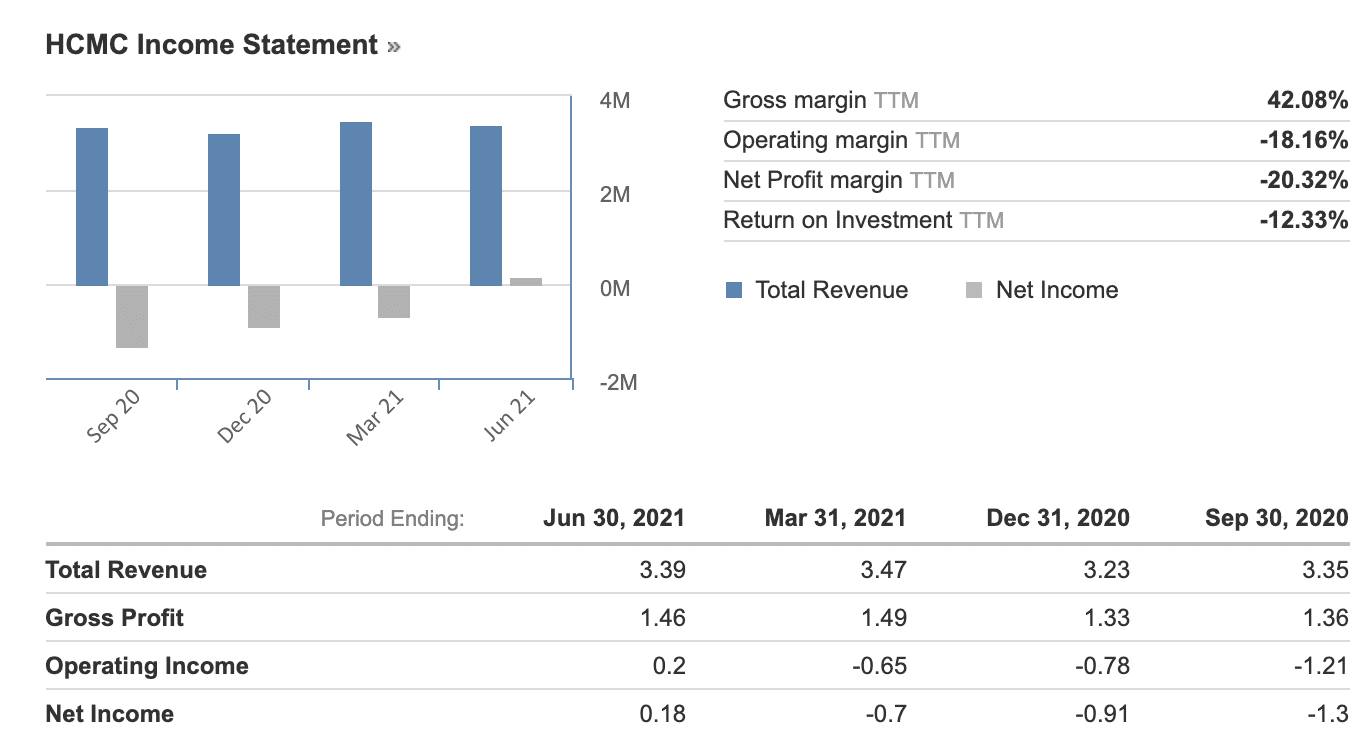 According to Investing.com, HCMC's Q2 2021 revenues hit $3.39m, around $800,000 less than Q1. However, operating expenses decreased by nearly $1m, meaning that HCMC made a positive net income of $180,000. This is the first time the company has turned a profit and highlights that HCMC is making good progress.
As HCMC has just turned a small profit and has so many shares outstanding, the EPS figure is non-existent. Furthermore, there is no P/E ratio for HCMC either, making it difficult to compare to the industry as a whole. Finally, as expected, HCMC doesn't offer a dividend to shareholders right now as the company has barely turned a profit and is not yet publicly traded.
67% of all retail investor accounts lose money when trading CFDs with this provider.
HCMC Stock Price Forecast – Long-Term Outlook
Now let's turn our attention to the company's long-term outlook. Many of the best investments UK are those that find a stock with a small valuation but incredible potential and gamble on the price rising exponentially. HCMC falls into this bracket, as although the company is tiny, the potential proceeds from the lawsuit could help HCMC burst onto the scene and drive the price upwards rapidly.
Hypothetically, if Philip Morris lost the lawsuit and settled with HCMC for a considerable sum of money, HCMC would initiate a share buyback scheme. This would take a lot of the shares out of circulation, thereby pushing the price exponentially higher. This is the ultimate goal for many HCMC shareholders, as once the price reaches those dizzying heights, many retail investors will likely sell their shares.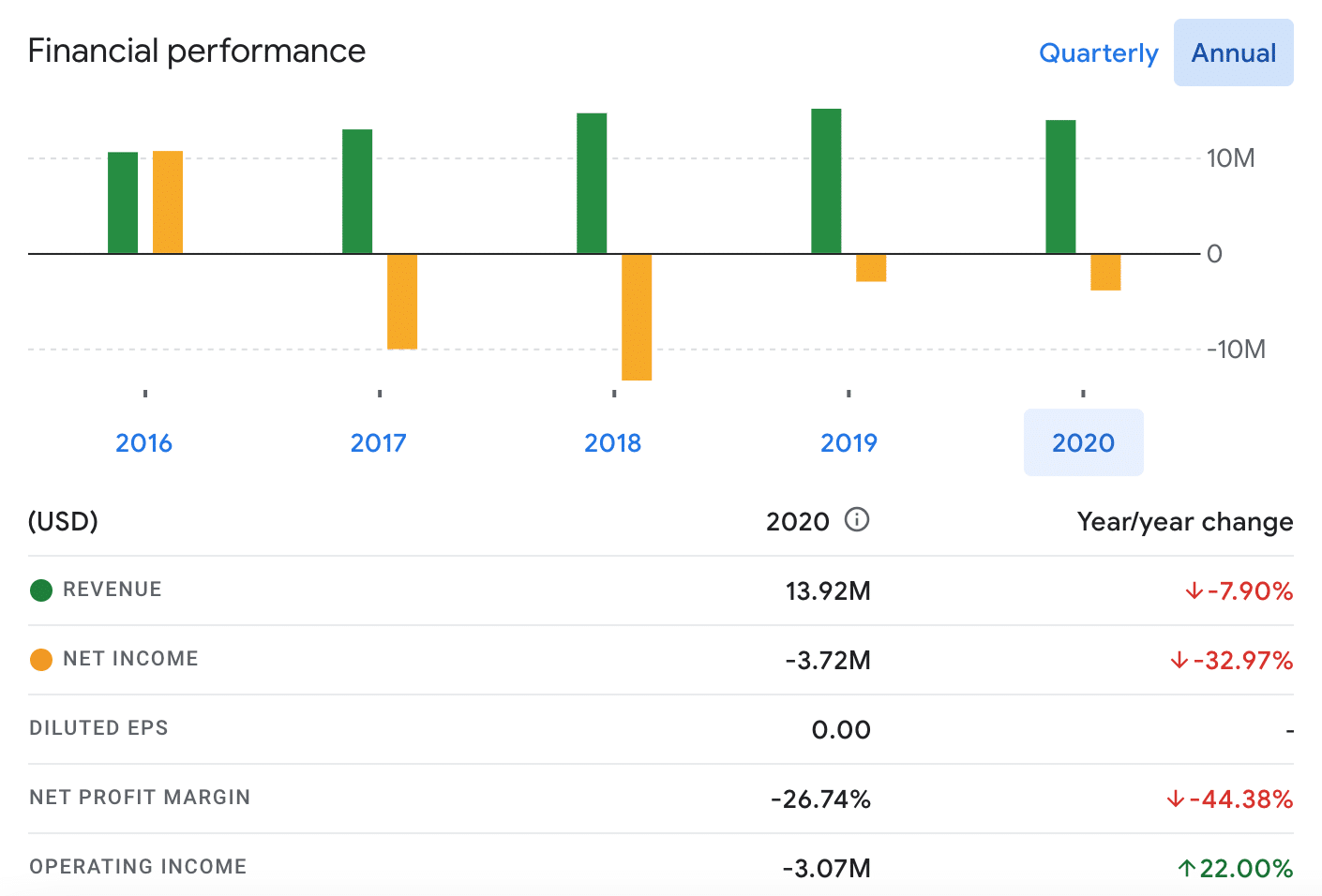 Another thing that goes in HCMC's favour right now is its strong cash position. The company has around $29.37m in cash reserves, which is a sign that the company is in a strong place. Having a stable cash flow means that HCMC can finance their everyday activities easily, without taking on debt. Ultimately, this makes the company look attractive to investors over the longer term.
The key is for HCMC to use this cash wisely. Jeffrey Holman, CEO of HCMC, said recently that they would be "utilising a portion of the proceeds from our recent capital raise to implement our growth initiatives". Although the specifics of this are unclear, it highlights that the CEO is thinking long term and looking to expand the business.

Overall, adding HCMC to your watchlist may be a good idea if you are located more on the risk-seeking end of the spectrum. Trading in the OTC markets is much riskier due to the volatility and lower liquidity, meaning that fees are a lot higher than exchanges. However, if you are happy with these factors and are looking to speculate on whether the lawsuit will fall in HCMC's favour, buying HCMC common stock may be a good idea.
How to Buy HCMC Stock?
Before we round off this HCMC stock forecast, let's take a look at the investment process. As we've noted, due to HCMC being traded in the OTC market, most online stock brokers will not offer the company's stock as a tradeable asset. As such, you'll have to find a broker that provides US penny stocks and allows investors from the UK to trade them.
However, if you're looking to invest in other companies within the stock market, then we'd recommend using eToro. eToro is a commission-free broker regulated by the FCA, ASIC, and CySEC, ensuring you are protected whilst trading. With that in mind, let's look at the four short steps you need to take to buy shares with eToro.
Step 1 – Open an eToro Account
Head over to eToro's homepage and click the 'Join Now' button in the top right. Enter a valid email address and choose a username and a password for your account.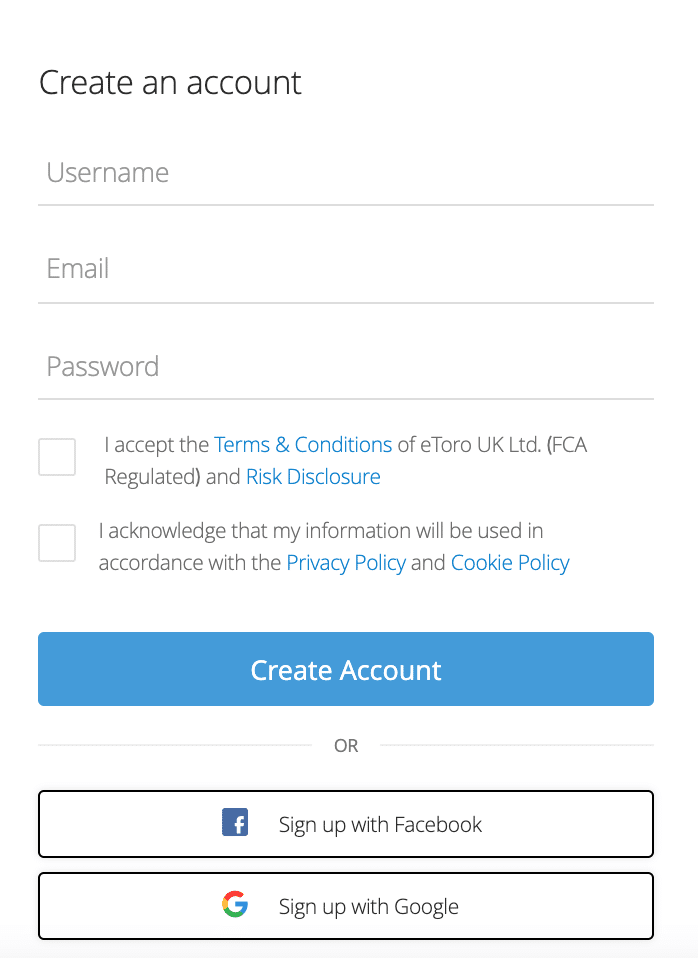 Step 2 – Verify your Account
As eToro are one of the safest CFD brokers out there, new users will have to verify themselves before trading. To do so, head to your dashboard and enter the required personal details for KYC. You'll also have to upload proof of ID (a copy of your passport or driver's license) and proof of address (a copy of a bank statement or utility bill).
Step 3 – Make a Deposit
New eToro users must deposit at least $50 (£37) into their accounts before trading. To fund your account, you can use the following methods:
Credit card
Debit card
Bank transfer
PayPal
Skrill
Neteller
Trustly
Klarna
Step 4 – Buy Shares
Click into the search bar at the top of the screen and type in the name (or ticker symbol) of the company you'd like to invest in, and click 'Trade' when you see it. An order box will then appear, in which you can enter your desired position size, along with your stop loss and take profit levels if you wish. Once you are happy with everything, click 'Open Trade'.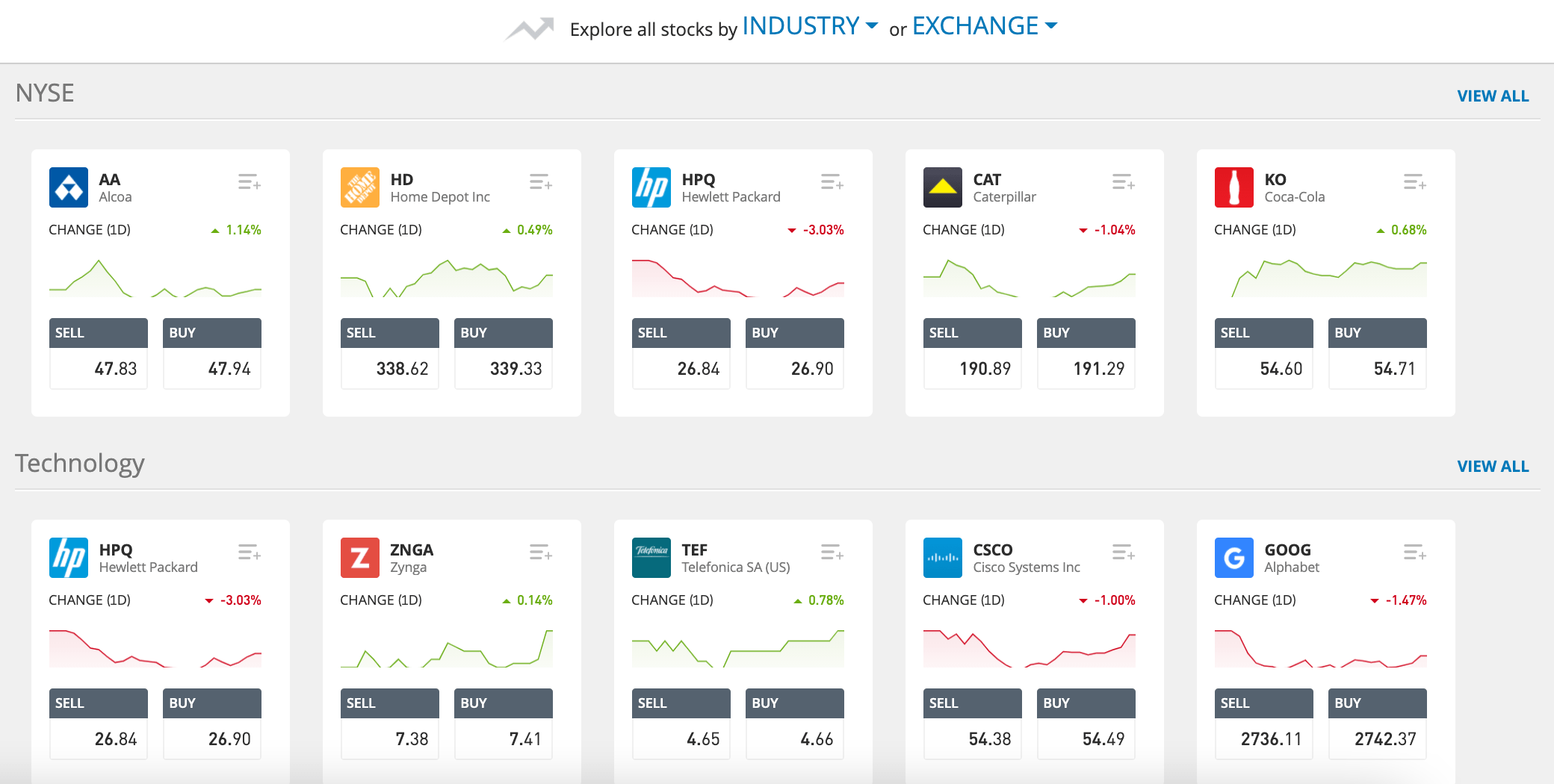 And that's it! By following the four steps above, you can trade stock with eToro – completely commission-free!
HCMC Stock Price Forecast – Final Word
In summary, this HCMC stock forecast has discussed what HCMC are and how they operate. We've also touched on the stocks short and long-term outlook before highlighting where you can buy stocks commission-free.
As you can see, we are pretty conflicted on HCMC, as although the company has excellent prospects thanks to the looming lawsuit, the underlying business model is still relatively inefficient. HCMC did make a profit in the last quarter, although this didn't translate into an operating profit, meaning the company still has work to do. Overall, if you were to invest in HCMC, it's wise to take a long-term approach and not invest more than you're comfortable with!
Finally, if you'd like to buy stocks today, we'd recommend using eToro. eToro is a commission-free broker and allows you to trade from as little as $50. What's more, eToro is regulated by numerous top-tier entities, ensuring you can trade safely on the platform.


67% of retail investor accounts lose money when trading CFDs with this provider.
FAQs
Is HCMC a good investment opportunity?
Where can I buy HCMC stock?
Will the price of HCMC go up in the future?