Google Stock Forecast 2021 – Google Stock Price Prediction 2021, 2022, 2025 & 2030
Everyone has heard of Google. The tech giant has been everywhere over the past two decades, establishing itself as one of the largest companies in the world. Furthermore, Google is continually innovating and expanding into new areas that may increase revenues in the future – ensuring the company stays ahead of the pack in the years ahead.
In this article, we'll explore our Google Stock Forecast in detail. We'll touch on Google's business model and the various factors influencing price before discussing the short-term and long-term outlook for Google's stock.
67% of all retail investor accounts lose money when trading CFDs with this provider.
Key Drivers – Google Stock Price Forecast 2021 and 2022
When you buy stocks, it's crucial to understand the various factors that could shape price in the years ahead. This is no different with Google, as although the company is incredibly well established, there are still certain things to keep an eye out for. With that in mind, let's briefly explore what Google is and the key drivers of the company's stock price.
As you'll no doubt be aware, Google is a technology company that specialises in services made available through the internet. These services include digital advertising, the Google search engine, cloud computing software, and more. The idea for Google was thought of in 1996 by Larry Page and Sergey Brin, who were PhD students at Stanford University at the time. The following two years saw the pair develop the algorithm behind the Google search engine and officially launch the company in September 1998.

Over the following years, Google grew exponentially, and the company relocated to Silicon Valley. Google eventually underwent its IPO in 2004 and used the funding to expand even more, acquiring various smaller companies in the process. Nowadays, Google is so much more than a search engine – the company's internet empire includes software, hardware, and a whole suite of products such as Gmail, Google Maps, and Google Calendar.
One important thing to note is that, in 2015, Google went under a large-scale reorganisation and created a new company called Alphabet Inc. Alphabet then became the 'umbrella company' and essentially now 'owns' Google, along with various other subsidiaries. Thus, when you buy shares UK in Google, you'll actually be purchasing Alphabet stock.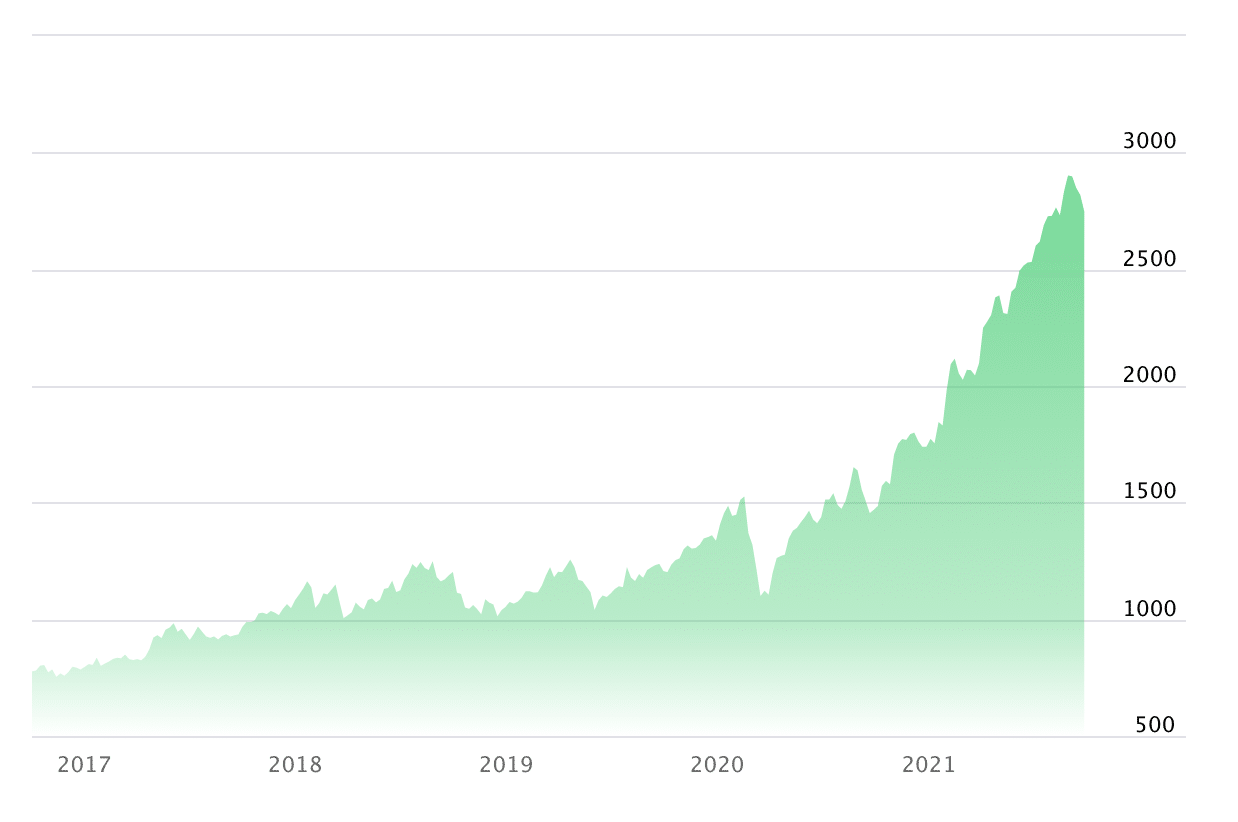 Now that you have an understanding of what Google is and how it works, let's explore some of the main factors that influence Google's stock market performance:
Increased Digitisation: The world is becoming more connected every year, with Google looking to capitalise on this shift. Q2 results from Google's services division showed an operating profit margin of 39%, which is remarkably high, even for an internet company. This margin highlights how in-demand Google's services are – with this trend expected to continue in the years ahead.
Cloud-Computing Technology: Data from Statista notes that spending on public cloud-computing services is expected to reach $396 billion in 2021 – with this figure projected to total $483 billion in 2022. These figures highlight how large this market is, with 7.5% of Alphabet's revenue now being derived from cloud-based services.
Innovative Businesses: Google has always been at the forefront of innovation and is investing in various exciting projects in the realms of AI and self-driving vehicles. Google's 'DeepMind' division is making huge strides in areas such as biology and meteorology, whilst Waymo (Google's self-driving project) is looking to rival others within this space.
67% of all retail investor accounts lose money when trading CFDs with this provider.
Google Stock Price History – What's Going On in 2021
When you invest in stocks, it's crucial to understand where price is and how it arrived at this point. As you can see from the technical analysis below, Google's share price has been in a strong uptrend since the beginning of 2021. You can clearly see the higher-highs and lower-highs on the daily price chart, highlighting how bullish the price has been.

The Google stock price reached an all-time high of $2904.31 on September 1st 2021, rounding off a fantastic year for the company. Following this high, the price has decreased around 8.40% to the current price, which is $2666 at the time of writing. However, this change of direction is most likely a pullback rather than anything significant.
One important thing to look out for is that Alphabet's price has just crossed the 50-day EMA. This moving average indicator helps define the trend that an asset is currently taking and can often be used as a support level. As you can see, Alphabet's price closed below this EMA, which tends to be a sign that the price may be changing direction. Time will tell whether this direction change is short term or long term, although we'd recommend keeping an eye on price over the next few days before making an investment decision.
Google Stock Price Forecast – Short Term Outlook
So, given what we've highlighted in the previous two sections, what's Google's outlook over the short term? Although it has recently pulled back, we are still very bullish on Google's stock price. The brand appeal and innovative divisions make Google one of the best shares to buy now as we approach the end of the year.
From the technical side of things, Google's price is still trading above the 200-day EMA. This EMA takes a more long-term view than the 50-day, so the fact that the price is still above this is a good sign. The pullback and close beneath the 50-day EMA may be leading to a rejection from the support provided by the 200-day EMA, so this is worth looking out for in the weeks ahead.
There is also a minor support level at the $2485 price point, which could coincide with a bounce from the 200-day EMA. This area would provide the best place to buy Google shares, as it would offer the highest chance of a bullish turnaround. Thus, we'd urge investors to be patient before placing any trades on Google.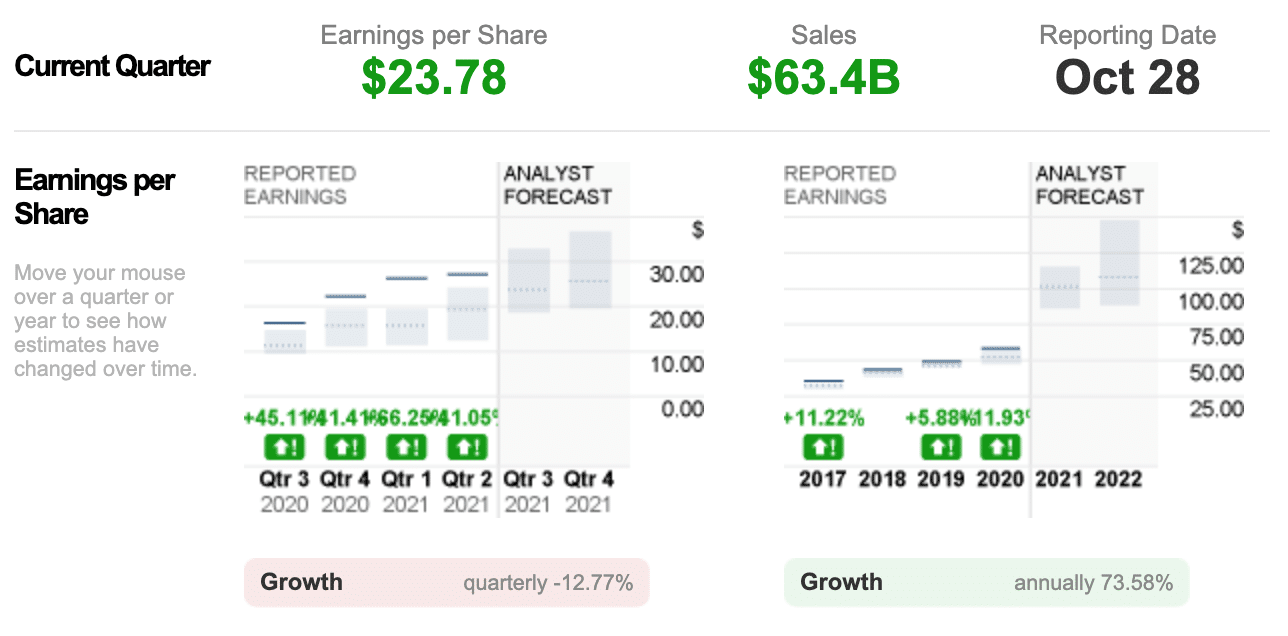 Aside from technicals, there are other factors to consider over the short term. The reputable analysis team at CNN are mainly bullish, with 39 of the 47 analysts giving a 'Buy' recommendation. Furthermore, six analysts believe that Alphabet will 'Outperform', which means that they believe Alphabet will provide better returns than its peers. These recommendations add more belief to the optimistic forecast for Google and Alphabet.
Earnings per share (EPS) figures for Q2 2021 beat analyst expectations comfortably, with analysts forecasting an even higher figure for Q3 2021. Furthermore, Alphabet reported revenues of $58.61 billion during Q2 2021, with this figure also expected to rise to $63.4 billion in Q3 2021. Thus, the overall sentiment around Google is that the company is in a solid position during the short term, with excellent prospects to generate a return for investors.
67% of all retail investor accounts lose money when trading CFDs with this provider.
Google Stock Price Forecast – Long-Term Outlook
Much like when you buy cryptocurrency, it's essential to use historical data to form a long-term vision of where price could go, which can help tame any emotions that might arise through market volatility. With that in mind, let's discuss what to look out for in the years ahead for Google.
One of the key risks that lie ahead relate to regulation. The recent court case involving Apple and Epic Games has set a worrying precedent for similar companies (such as Google), meaning they may be under scrutiny going forward. Much of this scrutiny will be related to whether Google is a monopoly or not; if they are deemed to be one, they could be punished, which will see the company lose out on large amounts of revenue.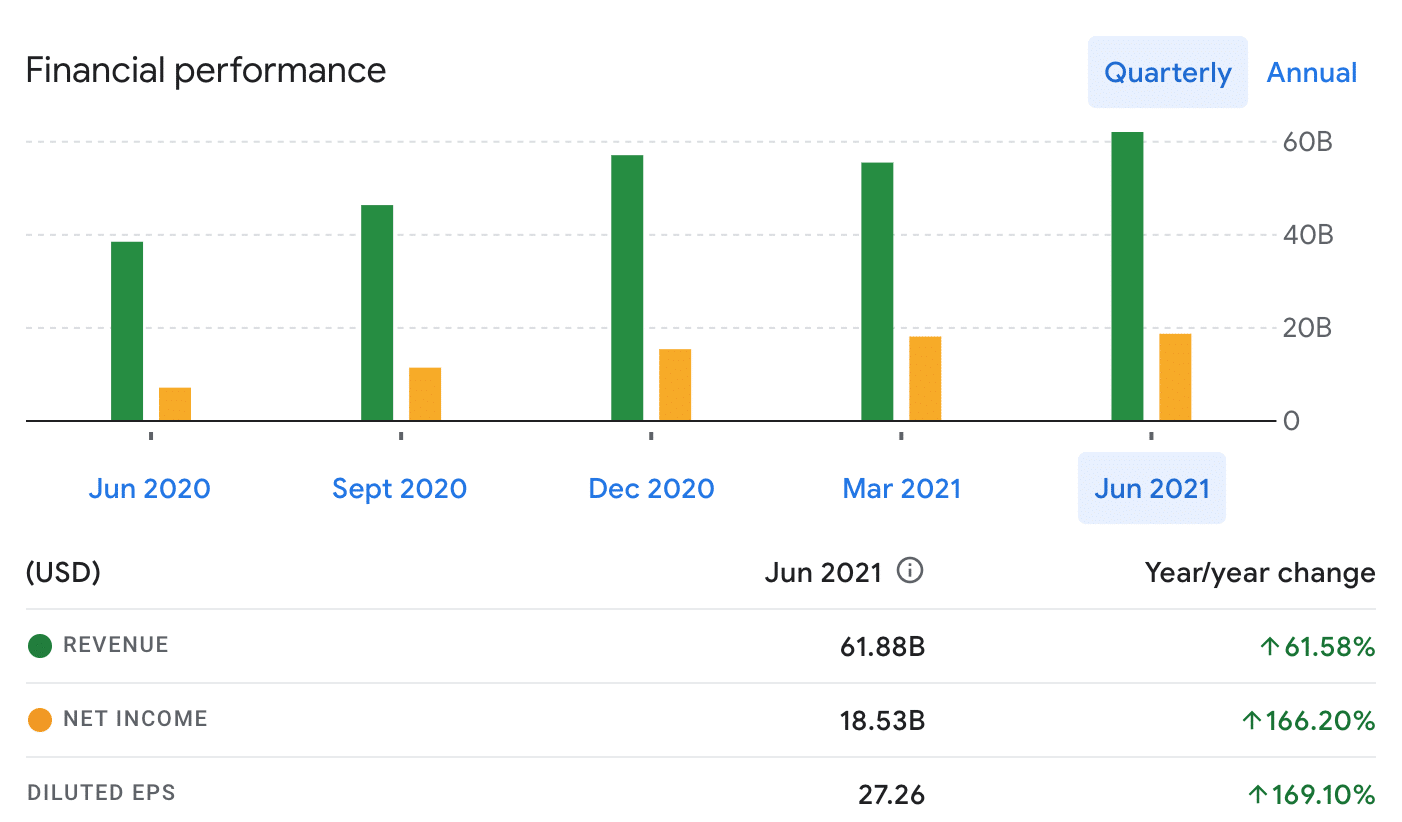 However, on the fundamental side of things, Google is still performing remarkably well. Q2 2021 revenues increased 62% from the previous year, whilst net income was up over 100%. These figures highlight the perpetual growth that Google shows, which is impressive for a firm of its size. Much of this growth is due to constant innovations in the fields of internet technology, which keeps Google ahead of competitors.
Google's innovations are one of the main reasons why we are so excited about this stock. We've already touched on DeepMind and Waymo, although there are many more Google products that have exceptional potential. LaMDA is a conversation technology that Google has developed that acts as an advanced 'chatbot', allowing humans to converse with an AI naturally. Also, as Google owns YouTube, the YouTube Shorts feature is expected to be a hit and rival other companies such as TikTok.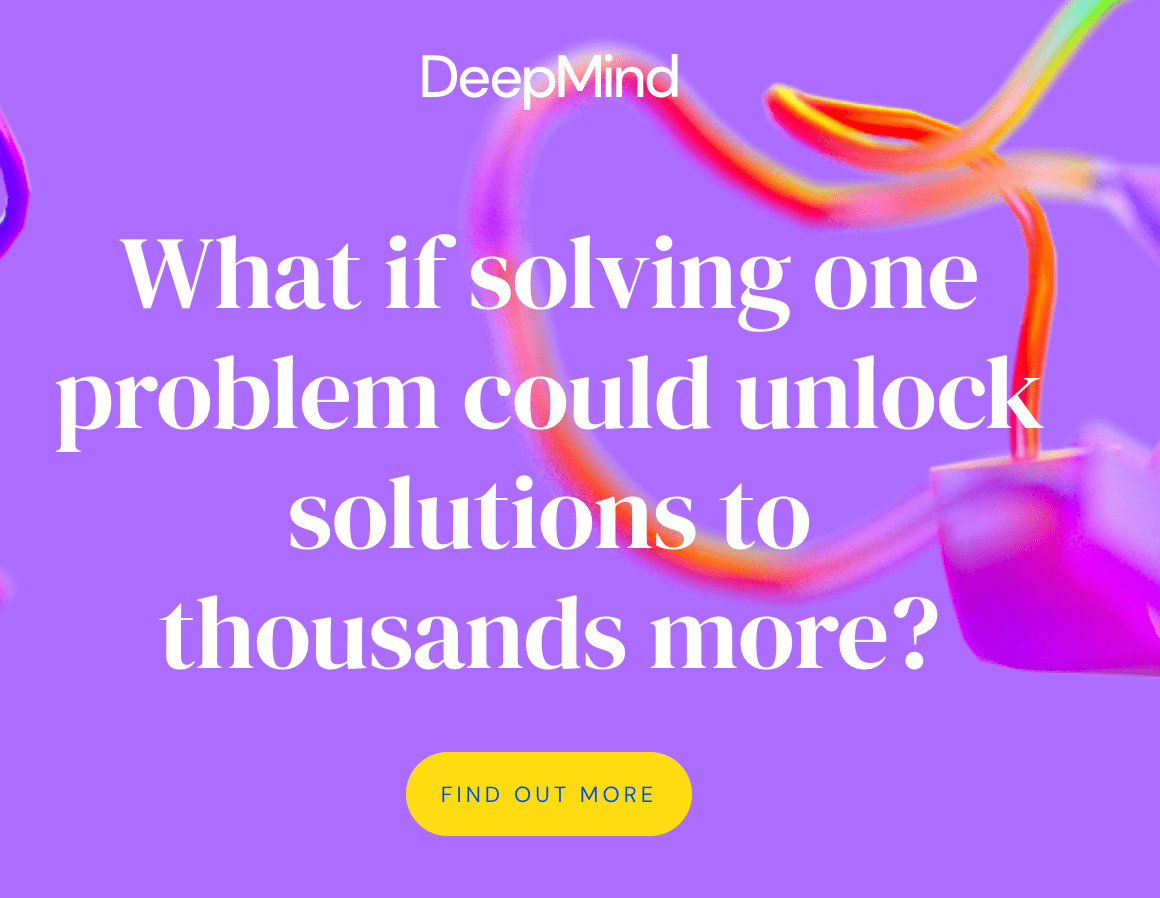 In fact, YouTube's ad revenue for Q2 2021 increased by 84%. YouTube relies heavily on advertising revenue, with more views equating to more income for Google. As consumers are constantly looking for 'quicker' and more accessible forms of entertainment, YouTube has grown exponentially in the previous decade. This revenue growth is expected to continue going forward, which is good news for Google's share price long term.
Overall, with a market cap of around $1.82 trillion, Alphabet has the size and experience to weather any potential storm in the future. The consistent innovation into AI and cloud computing areas will ensure that Alphabet continues to grow revenues in the years ahead. Furthermore, Google's sponsorship of the Android mobile operating system is sure to bear fruit, especially since Android 12 is due to release any day now. For these reasons, we believe that Google's share price will continue to grow steadily in the years ahead, making it an excellent long-term investment for traders.
How to Buy Google Stock?
The final element of this stock prediction will focus on where you can actually buy Google stock. Due to Google's being listed on the S&P 500 and the NASDAQ, most of the best trading platforms will offer Alphabet (Google's parent company) as a tradeable asset. As such, all you need to do is create an account with a reputable broker to complete your investment.
We've conducted the research and testing and determined that eToro offer the best platform for buying Google shares. This is because eToro charge 0% commissions when you place a trade and allow you to invest from only $50! So, if you'd like to buy Google shares with eToro, simply follow the four short steps below to do so – taking less than ten minutes!
Step 1 – Create an eToro Account
Head over to eToro's website and click 'Join Now'. You'll then be asked to enter your email address and choose a username and a password for your account. Once you're happy with everything, click 'Create Account'.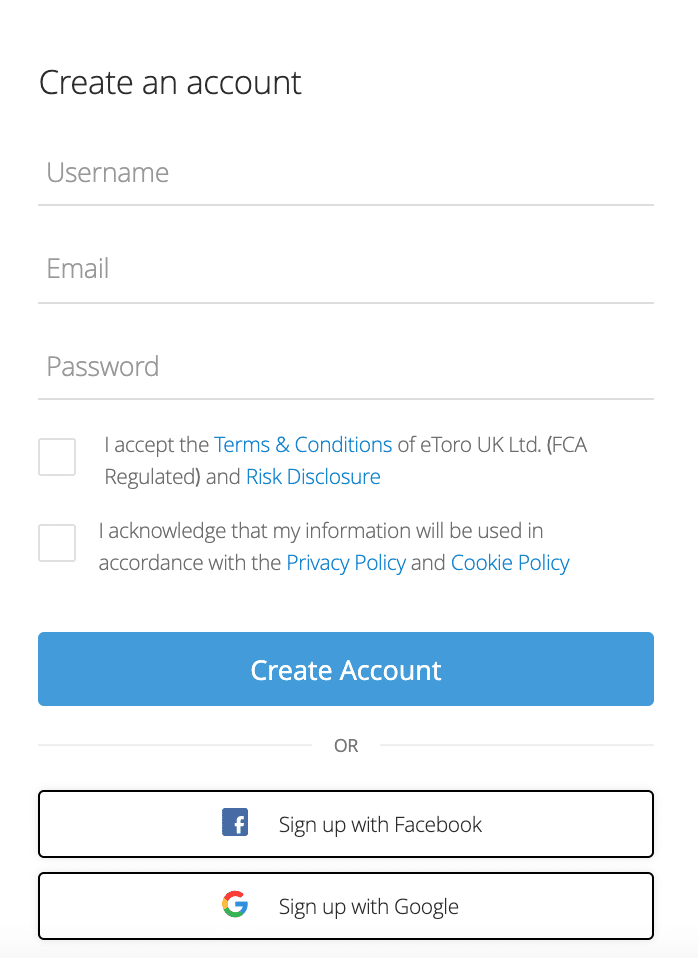 67% of all retail investor accounts lose money when trading CFDs with this provider.
Step 2 – Verify your Account
As eToro is one of the safest CFD brokers, you'll need to verify your identity before being able to trade. To do so, simply upload proof of ID (a copy of your passport or driver's license) and proof of address (a copy of a bank statement or utility bill). eToro will then verify these documents, which usually only takes a few minutes.
Step 3 – Fund your Account
You'll now be able to fund your eToro account. eToro allows deposits from a minimum of $50 (£37) and accepts the following methods:
Credit card
Debit card
Bank transfer
PayPal
Skrill
Neteller
Klarna
Step 4 – Buy Google Shares
Once you've funded your account, type 'GOOG' into the search bar (Alphabet's ticker symbole) and click 'Trade' next to the first option. An order box will now appear (similar to the image below), in which you can enter your position size and choose a stop loss or take profit level. Once you are happy with everything, click 'Open Trade'.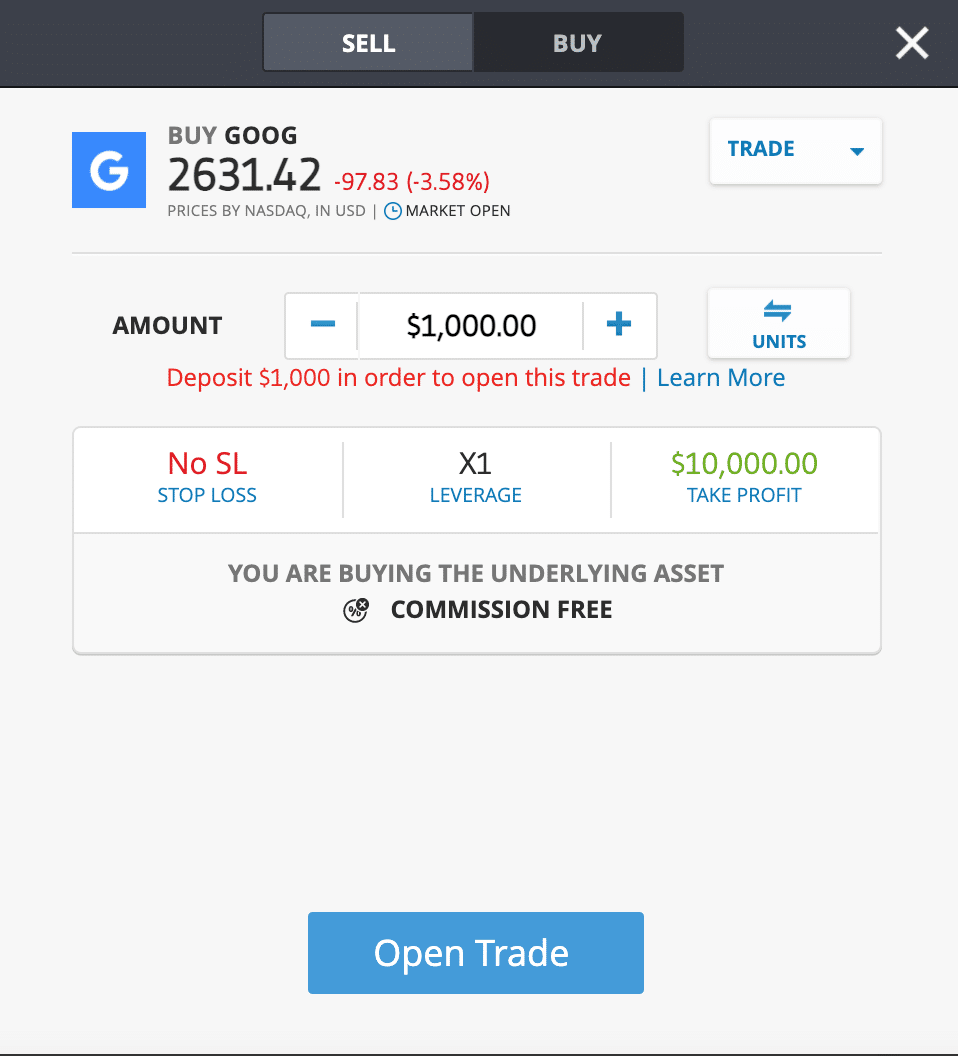 And that's it! You've just invested in Google shares – totally commission-free!
Google Stock Price Forecast – Final Word
In conclusion, this Google stock price forecast has explored what Google is and how price is looking currently. We've also touched on Google's outlook for the short term and long term, ensuring you have a good idea of the stock's prospects.
As Google has recently pulled back slightly, we believe now may be a great time to invest in the tech giant. Revenues and earnings growth tend increase year on year, whilst Google continues to pump money into innovative sub-divisions. Our analysis believes that Google will continue to grow for years to come, making it an excellent investment for various investor types.
If you'd like to buy Google shares today, we'd recommend using eToro. This is because eToro charges no commissions when you buy shares and allow investments from only $50. Simply click on the link below, and you'll be ready to invest in less than ten minutes!

67% of retail investor accounts lose money when trading CFDs with this provider.
FAQs
Is Google a good investment opportunity?
Where can I buy Google stock?
Will the price of Google go up in the future?
Is Google a risky investment?