FCEL Stock Forecast 2021 – FCEL Stock Price Prediction 2021, 2022, 2025 & 2030
As the decades have passed, more and more companies have begun offering products that provide clean energy at an affordable price for individuals and businesses alike. One of these companies is FuelCell Energy (FCEL), which offers various fuel cell solutions that are appealing to a vast array of business types.
In this guide, we'll explore our FCEL Stock Forecast in detail. We'll discuss what FuelCell Energy does and the outlook for the company's stock going forward before highlighting where you can buy FCEL right now – totally commission-free!
67% of all retail investor accounts lose money when trading CFDs with this provider.
Key Drivers – FCEL Stock Price Forecast 2021 and 2022
Before investing in the best shares to buy now, you first have to understand your chosen asset's business model and how the future looks for the stock. Relating this to FuelCell Energy, it's vital to understand the products this company provides before being able to analyse the various drivers of price. With that in mind, let's explore FCEL and the factors that influence the company's stock price.
FuelCell Energy Inc is a fuel cell company based in Danbury, Connecticut and listed on the NASDAQ. As the name suggests, FuelCell Energy offers a variety of hydrogen fuel cell products that enable clean energy to be produced. If you aren't familiar with fuel cells, they function similarly to batteries, in the sense that an internal reaction causes electrons to flow, which can, in turn, power things through electricity. The reaction inside a fuel cell is through the combination of Hydrogen and Oxygen, meaning that the only waste product from these cells is water.

As you can imagine, fuel cell technology is much cleaner than other energy sources, offering a viable alternative to coal, natural gas and oil. Unlike other clean energy companies, FCEL doesn't target transportation companies for use in cars and buses. Instead, it focuses on providing power generation capabilities to large clients such as utility companies, educational facilities, and more.
This business model makes FuelCell Energy's products very appealing, mainly because more individuals and companies than ever are looking to make their daily activities more eco-friendly. Furthermore, as FuelCell Energy operates power plants and provides energy directly to customers, they can generate revenues from various sources.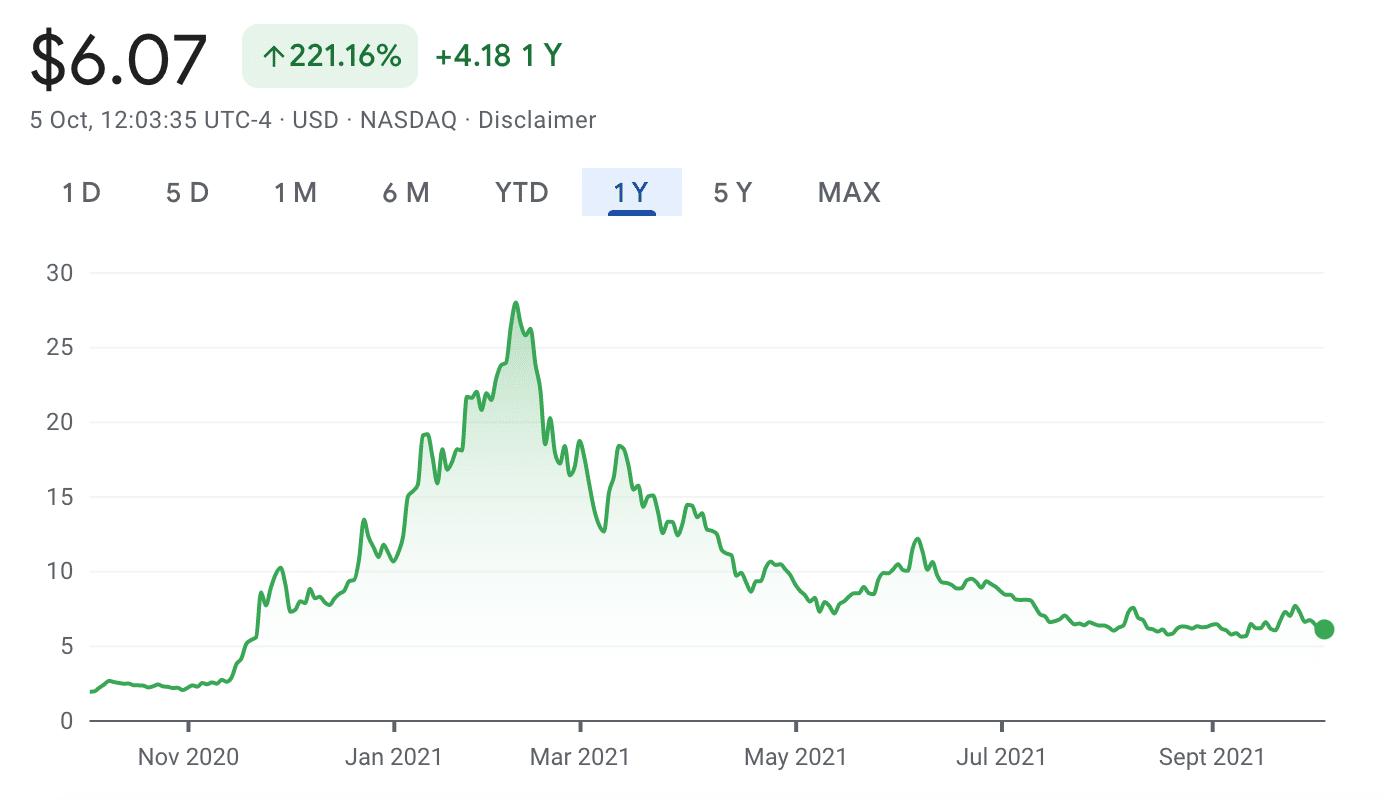 So, now that you have an understanding of FuelCell Energy, let's discuss the drivers of price – one of the most important things to do before you buy stocks:
Companies Looking To Go Green: Companies worldwide are looking to improve their business processes whilst protecting the environment. This is driven by a report by Forbes that states 88% of customers will be more loyal to a company that supports social or environmental issues. Due to this shift, FuelCell Energy's products look set to be in high demand going forward.
Competition From Rival Companies: Due to clean energy's popularity, the market is becoming increasingly saturated with companies offering similar products. Annual revenues have decreased since October 2018, highlighting how competitive this market is.
Regulation: The shift towards clean energy will likely be sped up by implementing regulations from governments. The US has various financial incentives for companies to use renewable energy, meaning FuelCell's products are attractive in this regard.
67% of all retail investor accounts lose money when trading CFDs with this provider.
FCEL Stock Price History – What's Going On in 2021
An important thing to do when you invest in stocks is conduct a technical analysis on the stock price using the price chart. As you can see from the image below, the FuelCell Energy stock price has declined dramatically since the all-time high experienced in February 2021. Since that high, the stock's valuation has declined by over 78%, highlighting the company's fall from grace in the stock market.

The current price of FCEL is down 42.93 % in the YTD and is heading towards the support level at $5.54, where the price was rejected twice previously. This area would be the ideal place to invest, as it would provide a higher chance of a bullish reversal than other areas. However, the overall downtrend that FCEL is in does cause concern for investors with a long-term investment horizon.
Another thing to note is that FCEL has just crossed the 50-day EMA. This moving average indicator tends to highlight the overall trend over the medium-to-long term. As price has broken through and closed past it, this usually indicates that some bearish momentum may be entering the market. Thus, we'd urge caution when investing short term, as price may be heading down a little more.
FCEL Stock Price Forecast – Short Term Outlook
Much like when you buy cryptocurrency, you can opt to utilise a short term or a long term time horizon. In the case of FuelCell Energy, the price chart doesn't offer many signs of optimism at present, as the price shows a clear downtrend with lower-highs and lower-lows. The crossing of the 50-day EMA noted in the previous section is also cause for concern regarding the company's price potential.
The share price is also trading under the 200-day EMA, which takes a longer-term view of the overall trend. In that regard, the technicals don't look so good for FCEL – although the upcoming support level could offer a great buying opportunity. When the nearby support level around $5.70 has been touched, the price has gone on to reject it and increase by 42% and 48%, respectively. Due to this, it's worth keeping an eye on this area in the weeks ahead.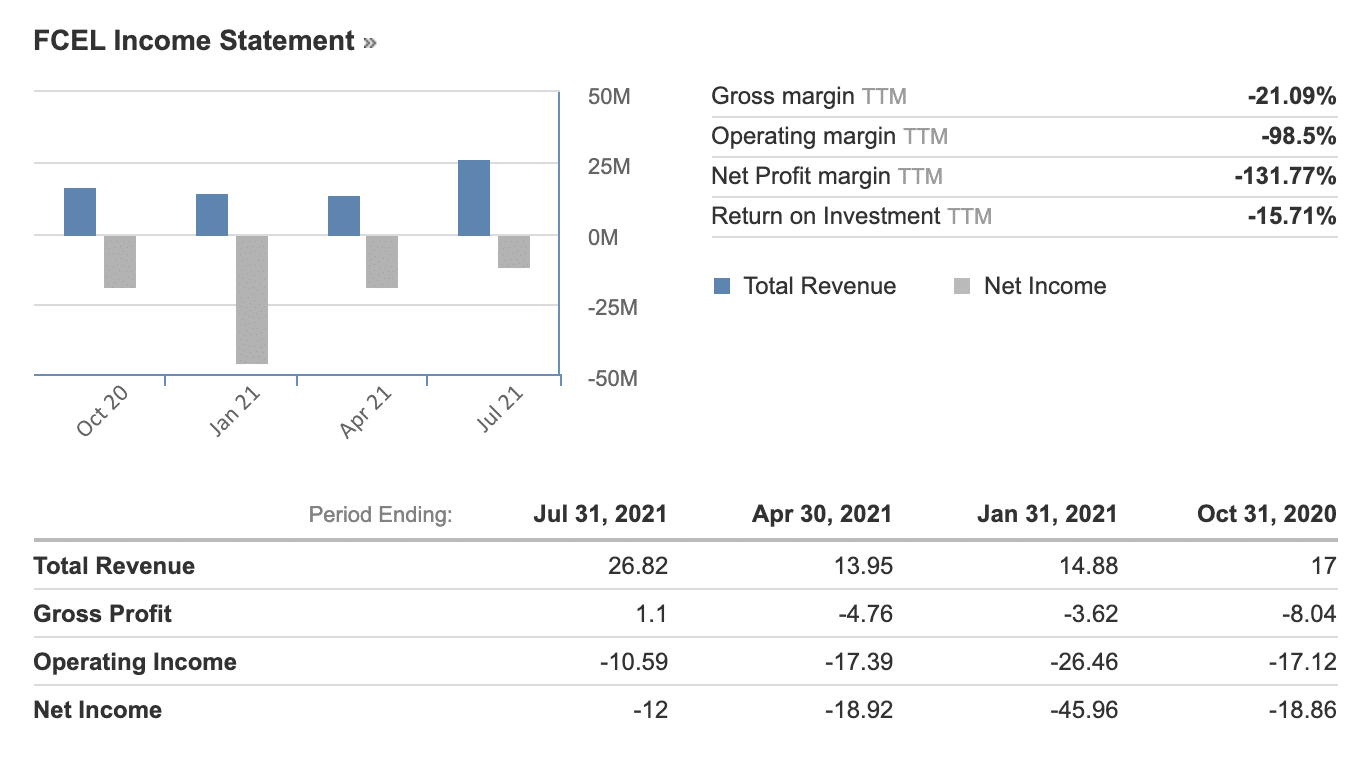 Aside from the technicals, there are also financial elements to consider. According to Yahoo Finance, FuelCell Energy currently has a market cap of $2.26 billion. This puts FuelCell quite far behind other clean energy companies, such as Orsted and JinkoSolar. Furthermore, the company is still not turning a profit and has made a net loss of $12m and $18.92m in the last two quarters, respectively. As such, the company is unable to offer shareholder benefits such as a dividend yield at this time and does not have an EPS (earnings per share) figure or a P/E ratio.
However, on the flip side, quarterly revenue rose for the first time since April 2020, coming in at $26.82m for the three months ending July 31st 2021. Due to this, losses are less than they have been in previous quarters, providing some optimism for shareholders. Overall though, as the company is still unprofitable, the short term prospects don't look too bright for FuelCell Energy.
67% of all retail investor accounts lose money when trading CFDs with this provider.
FCEL Stock Price Forecast – Long-Term Outlook
Whether you're looking to buy Amazon stock or any other company's stock, having a long-term vision and price target can help you make an effective investment decision. Relating this to FuelCell Energy, let's explore the prospects for this company in the years that lie ahead.
As we noted in the previous section, FCEL is still making a net loss every quarter. At this point, you're probably wondering how the company is still solvent. Well, the answer is that FuelCell funds itself through consistent share issuances. This means they create and sell more shares and use the funds to keep the business in operation.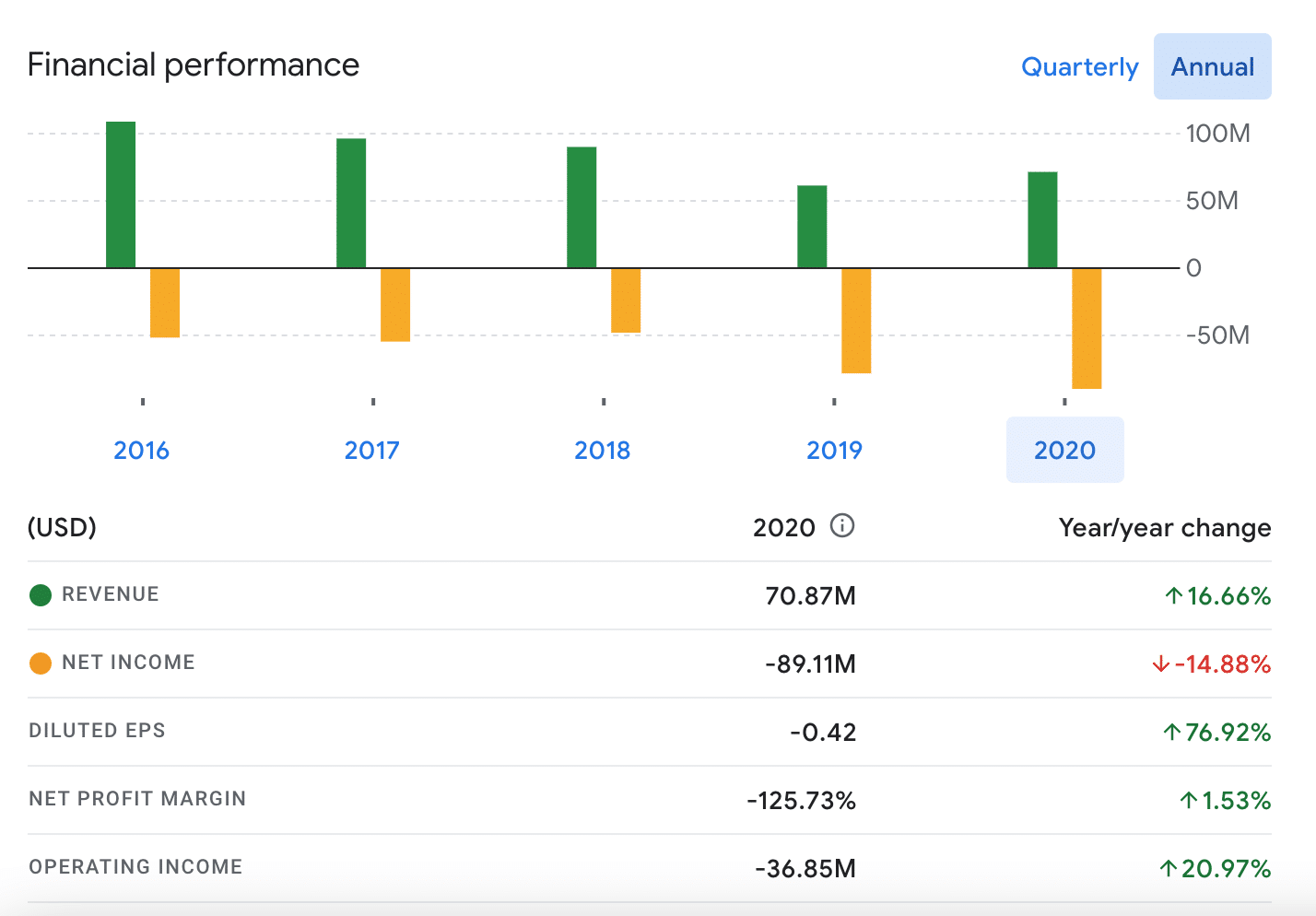 FuelCell only had 6.5m shares outstanding in February 2018, yet now have over 366m outstanding at the time of writing. This exponential increase in shares outstanding is a worry for shareholders, as it essentially 'dilutes' their current position. If you held 1% of the company's shares and then they sanctioned another share issue, you would therefore own less of the company than before – which is a significant drawback.
Another worry for FuelCell is that the company doesn't possess a considerable amount of customers. In 2020, over two-thirds of FuelCell's income was derived from three major customers. This structure is untenable in the long run as if one customer leaves, that would present a massive problem for the company. Combine this with the growing competition in the market, and you can see that FuelCell is in a tricky situation.

Finally, as FuelCell focuses solely on hydrogen-based fuel cells, it is in a perpetual state of competition with other fuel sources, such as wind and solar power. Furthermore, as companies such as Tesla rely on batteries rather than fuel cells, FCEL therefore misses out on a vast potential customer base. Ultimately, this hampers the company significantly and contributes to the net losses experienced every quarter.
Overall, with the most recent profit margin being -44%, it isn't easy to promote FuelCell as an attractive buy opportunity at present. The stock price is pretty low right now, which may be appealing to speculative investors who are happy taking on some added risk. However, unless FuelCell can get some large contracts that will help drive the company to profitability, the long-term outlook isn't great compared to many other clean energy companies.
How to Buy FCEL Stock?
Before rounding off this FuelCell Energy stock forecast, let's turn our attention to the process of investing in the company. Many trading platforms and CFD brokers will offer FCEL as a tradeable asset, although you'll have to do your own research and determine which one is right for you. Areas such as fee structure and regulation should be considered as these are vital parts of the trading process.
However, to streamline your decision making, we've done the research and found that eToro offers the best platform to invest in FCEL shares. eToro is regulated by the FCA, ASIC, and CySEC and charges 0% commissions when you buy shares. With that in mind, the four short steps below will show you how to get set up with eToro and begin investing right now – all from the comfort of your own home!
Step 1 – Open an eToro Account
Navigate to eToro's homepage and click 'Join Now'. On the page that follows, enter your email address and choose a username and a password to create your account.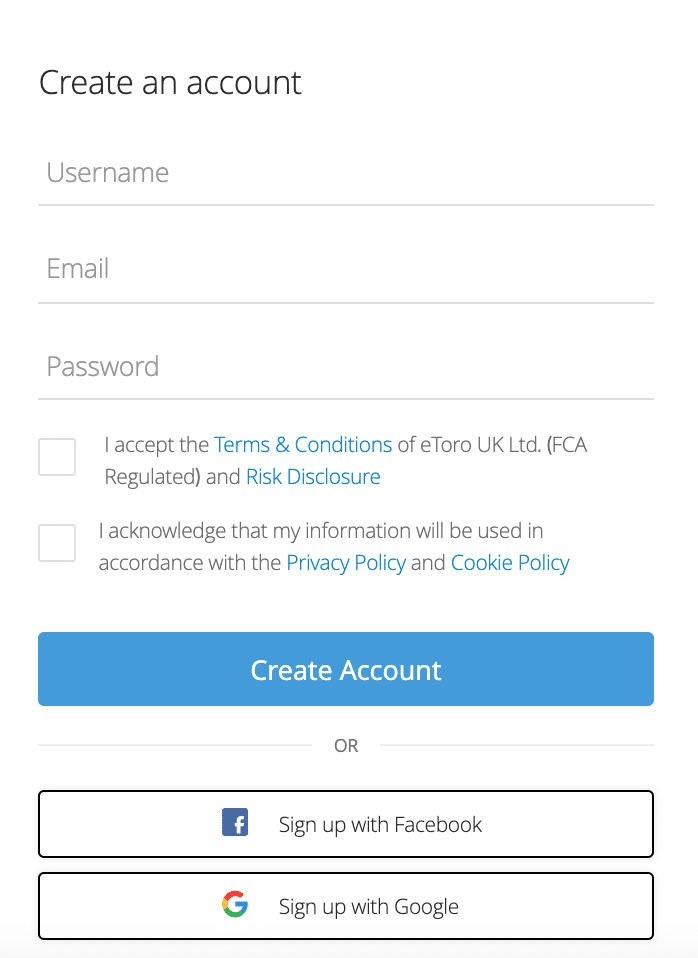 67% of all retail investor accounts lose money when trading CFDs with this provider.
Step 2 – Verify your Identity
As one of the safest stock brokers in the industry, eToro requires new users to complete some additional checks and verify themselves before trading. To do so, simply enter the necessary personal details and upload proof of ID (a copy of your passport or driver's license) and proof of address (a copy of a bank statement or utility bill). eToro will then verify these documents, which usually only takes a few minutes.
Step 3 – Make a Deposit
Once verified, you can then go on and fund your account. eToro allows deposits from as little as $50 (£37) and accepts the following methods:
Credit card
Debit card
Bank transfer
PayPal
Skrill
Neteller
Klarna
Step 4 – Buy FCEL Shares
Once you've made a deposit, click into the search bar and type 'FCEL', which is FuelCell Energy's ticker symbol. Click the first option in the drop-down menu, and an order box should appear, similar to the one below. In this box, simply enter the amount you'd like to invest, opt for a stop loss or take profit level if you want, and then click 'Open Trade'.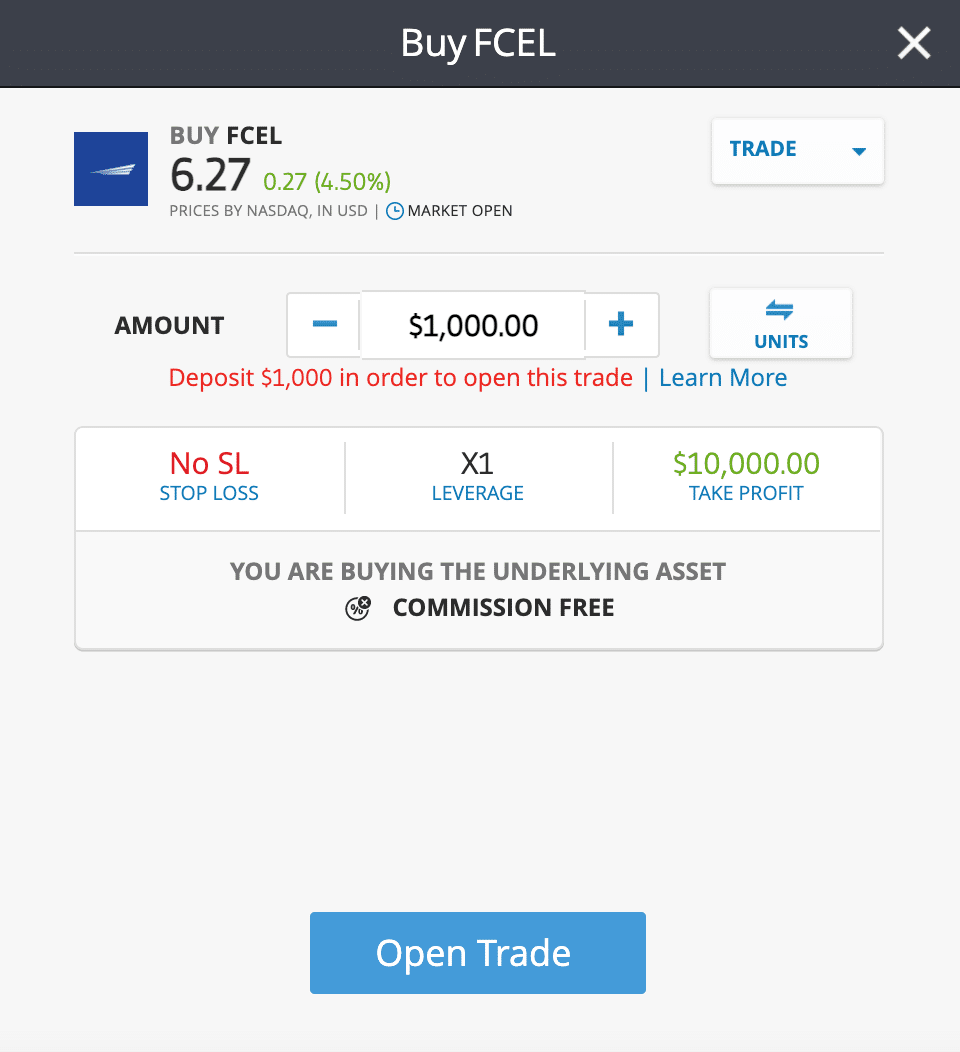 And that's it! You've just invested in FuelCell Energy – without paying any commissions!
FCEL Stock Price Forecast – Final Word
To summarise, this FCEL stock forecast has explored what FuelCell Energy is and how the business functions in today's society. Furthermore, we've highlighted both the short and long-term prospects, along with showing you how to invest commission-free.
As we've touched on, although FuelCell Energy has a great, eco-friendly product, the underlying financials are still concerning. The company is still making a loss every quarter and is funding the loss with more and more share issues. If FuelCell can begin fostering new partnerships with larger clients, it'll help turn the tides towards profitability, making the company a more attractive investment prospect.
So, if you'd like to buy FCEL shares right now, we'd recommend using eToro. eToro allows you to trade commission-free on a range of asset types, all from as little as $50. Moreover, eToro is regulated by numerous top organisations, ensuring you're as safe as possible when trading.


67% of retail investor accounts lose money when trading CFDs with this provider.
FAQs
Is FCEL a good investment opportunity?
Where can I buy FCEL stock?
Will the price of FCEL go up in the future?