CTRM Stock Forecast 2021 – CTRM Stock Price Prediction 2021, 2022, 2025 & 2030
This year, one of the most exciting small-cap stocks is Castor Maritime (CTRM), which provides ocean transportation services worldwide. After a significant peak in February 2021, the stock price has declined markedly – yet some recent developments in the market have given investors renewed optimism about this stock.
In this guide, we'll cover our CTRM Stock Forecast in detail. We'll touch on what CTRM does and its business model before highlighting our analysis of the company's short and long-term prospects.
67% of all retail investor accounts lose money when trading CFDs with this provider.
Key Drivers – CTRM Stock Price Forecast 2021 and 2022
If you invest in stocks regularly, you'll recognise the importance of doing your due diligence and understanding a company's business model before buying shares. This section will streamline this process for you in relation to Castor Maritime, ensuring you know how this company operates. So, without further ado, let's explore CTRM and the drivers of the stock price.
Castor Maritime Inc. (CTRM) is based in Limassol, Cyprus and offers dry goods transportation through its fleet of dry bulk carrier vessels. The company is listed on the NASDAQ Capital Market, which contains companies with lower markets caps in the growth stage of their life cycle. Castor Maritime's CEO is Petros Panagiotidis, who has been in the role since 2017.

Right now, Castor Maritime has a fleet of 26 vessels, which is remarkable considering the company only had one when it launched. The company generates revenue through contracts with parties that wish to transport goods overseas. The rate that Castor Maritime receives for contracting out their vessels is dictated mainly by the Baltic Dry Index (BDI) – if the BDI goes higher, then rates go higher, meaning CTRM generates more income.
According to Yahoo Finance, the company has recently entered new charter agreements for three of the ships on CTRM's fleet. These agreements generate between $30,250 and $32,000 per day from each of the three ships contracted out for between 70 days and six months. As you can see, contracts like this can generate massive revenue streams for CTRM – especially if they continue adding to their fleet.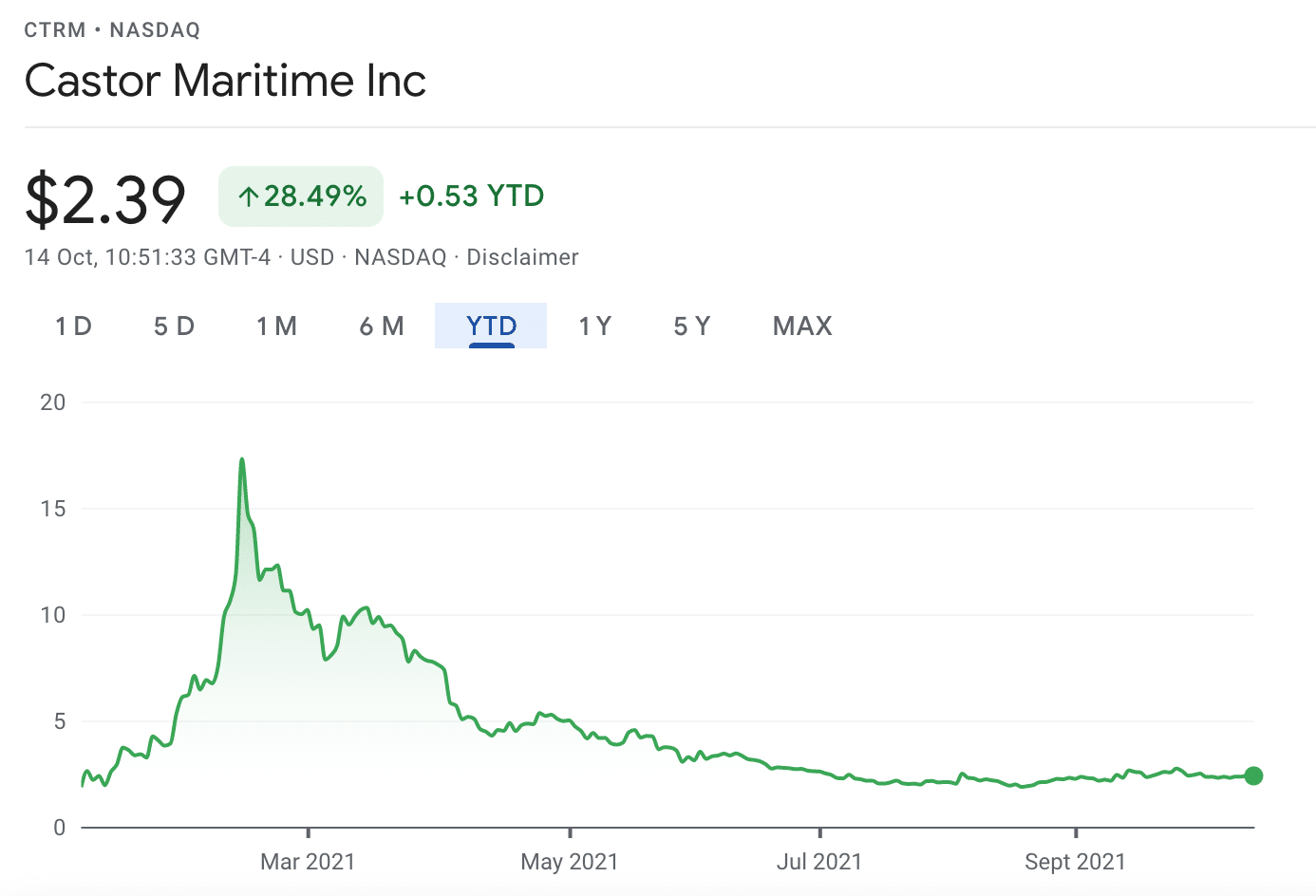 So, now that you understand Castor Maritime's business model, let's take a look at the drivers of the company's stock price:
Movement in the BDI: As noted, the Baltic Dry Index measures the economic activity levels concerning shipping routes. If there is more demand, the BDI will rise, which translates into higher daily rates charged by carriers. So, if the BDI were to continue growing, this would be great news for CTRM.
More Contracts: CTRM has a few legacy charters still outstanding, which means these contracts are paid at a substantially lower rate than what the company can charge now. Once these expire towards the end of the year, we'll likely see these ships hired out at a better rate, leading to more income for Castor Maritime.
Hype from Social Media: CTRM was one of the stocks affected by the WallStreetBets subreddit, which helped the company reach a peak in February 2021. Although the price has since died down, there is still a strong community following behind CTRM, which could pump price again.
67% of all retail investor accounts lose money when trading CFDs with this provider.
CTRM Stock Price History – What's Going On in 2021
Now let's turn our attention to what is going on in 2021. A key thing to do when you buy stocks is to analyse the price chart for signs of bullish momentum. As you can see from the technical analysis below, momentum in the CTRM stock price is pretty low right now, as the price has been on a gradual descent since the high of $19.51 on 11th February.

This 87% decline has sucked the life out of CTRM, and a lot of profit-taking has occurred in the past few months. However, there are some signs to be optimistic. From a technical standpoint, the price looks as if it may break above the 50-day EMA, which is a moving average indicator that highlights the medium-term trend. If we see a break above this, it could convince more investors to buy CTRM.
Furthermore, on the 4H chart, we can see a clear uptrend with higher-highs and lower-lows. If this continues, it'll become more evident on the daily chart, which will mean the overall sentiment may shift from bearish to bullish. However, this is all speculation at present, so it's wise to be patient and see where the price goes in the coming days and weeks.
CTRM Stock Price Forecast – Short Term Outlook
Many of the best shares to buy now may experience volatility in the short term but level out over the longer term – which is one viewpoint when it comes to CTRM. Our stock analysis in the previous section highlighted that there doesn't seem to be much momentum in the share price at present. Furthermore, as CTRM is trading underneath the 200-day EMA, we can see that the long-term trend is still pretty bearish.
The 52-week high of this stock is $19.50 – although the day range is now only $2.36 to $2.45. This showcases the drastic decrease in the valuation of Castor Maritime's stock. Much of this can be attributed to dilution in the share price. Data from YCharts shows that, between June 2020 and today, over 92m shares have been issued. This tends to drive price downwards, as the higher the supply is, the lower the price will be if demand remains the same.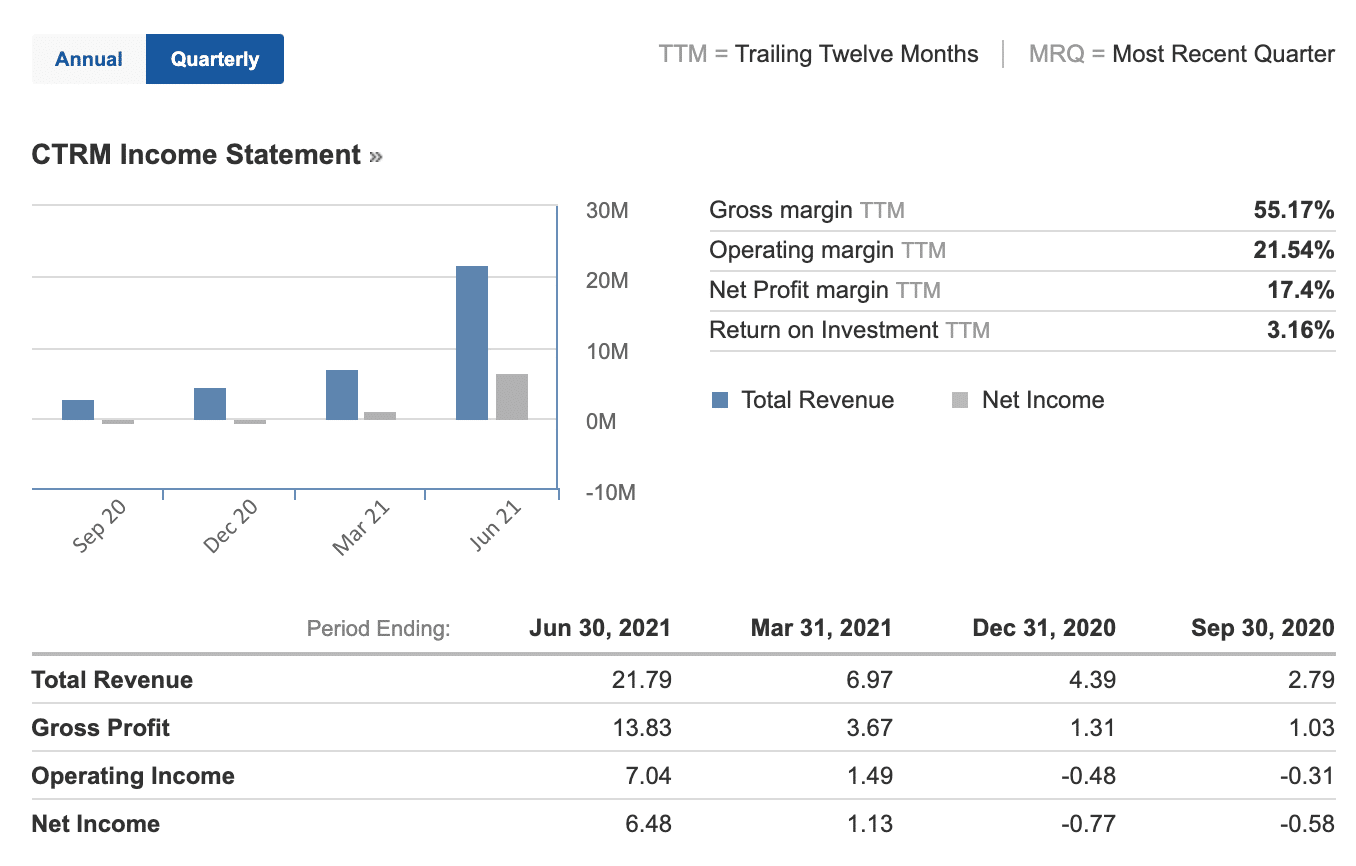 Turning our attention to the financials, things do seem a little brighter. Revenues increased from $6.97m in Q1 2021 to $21.79m in Q2 2021 – a rise of over 212%! Furthermore, Castor Maritime's gross profit percentage for Q2 2021 is around 43%, which is incredibly high for a company within this industry. So, looking at CTRM from a purely financial perspective, the company seem to be handling itself very well.
After four straight quarters of making a net loss, CTRM finally made a net income in Q1 2021 of $1.12m. This has increased by over 474% to $6.47m in Q2 2021, which again highlights how well the company is doing in terms of generating revenues and lowering expenses. However, much of this can be attributed to the increased in the BDI, which has allowed CTRM to ramp up charter prices.
Overall, there is undoubtedly a case to be made that CTRM's shares are undervalued in the market right now. Revenue and earnings growth is exceptionally high, with more on the horizon once legacy contracts have expired. If Castor Maritime can halt their share dilution schemes, we may finally see some upwards moves shortly.
67% of all retail investor accounts lose money when trading CFDs with this provider.
CTRM Stock Price Forecast – Long-Term Outlook
So, if you're looking to invest £5k UK in Castor Maritime, then you'll likely want to get a good idea of the company's long-term outlook. As we've noted previously, although the stock price is very low right now, it doesn't seem to tally with the solid financial performance of the firm. CTRM are growing revenues and earnings exponentially, whilst still adding more ships to their fleet.
The fact that many of these ships have been purchased using capital raised through aggressive share issues is perhaps the main reason CTRM is trading so low. When companies perform these sorts of schemes, it does raise lots of cash to expand the business – but at the expense of the share price. As there are now over 90m shares in circulation, the element of scarcity that CTRM had before the issue is gone, leading to extremely low share prices.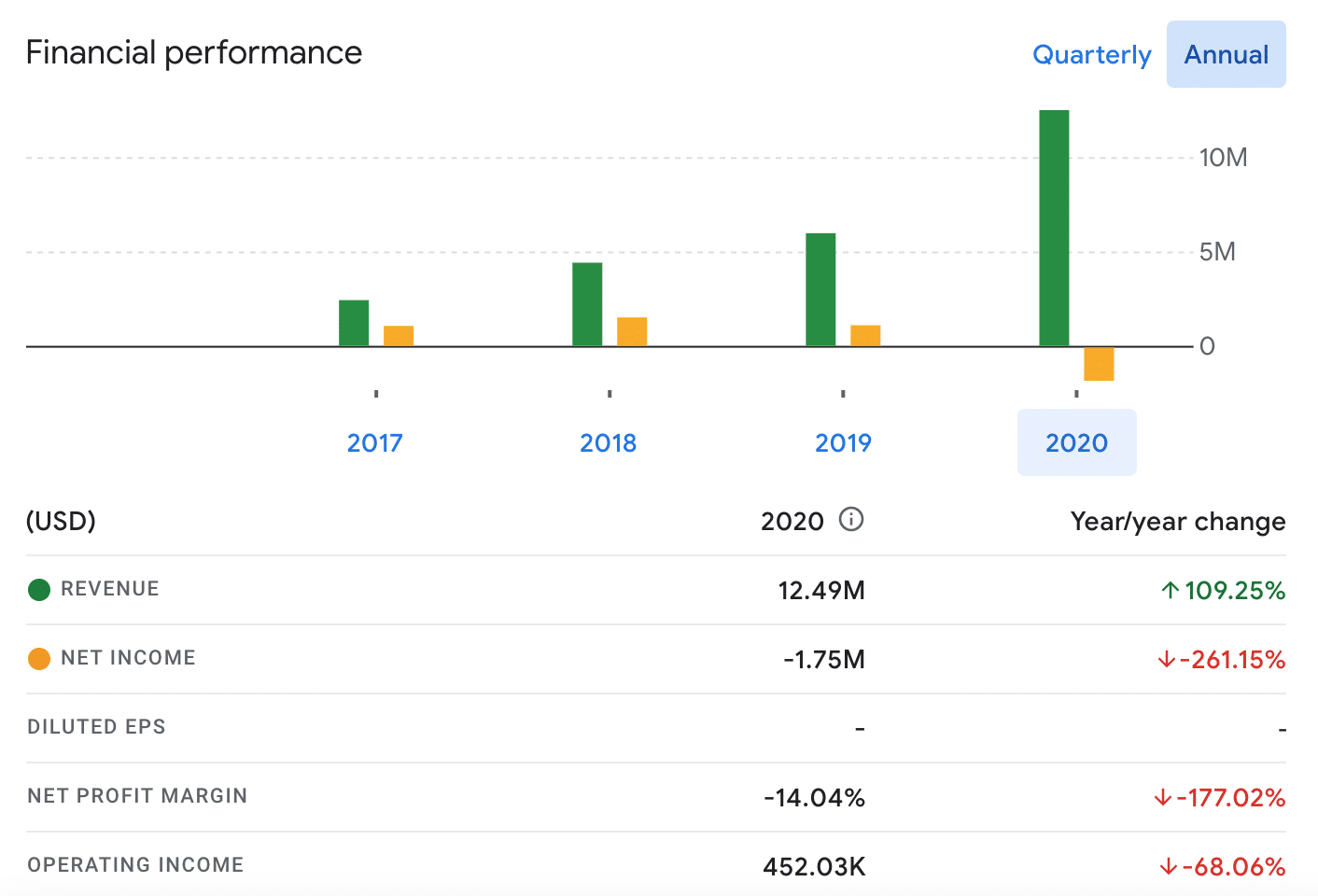 The other worrying thing is the rising debt levels. According to data from Investing.com, CTRM added nearly $20m of debt between Q1 and Q2 2021. Although the debt to equity ratio is only 15.96%, it is rising – so it's worth keeping an eye on this, as companies that fund a lot of their expansion through borrowing capital tend to be a lot riskier.
EPS figures over the past year are quoted at $-0.26 – although this is negative, it is still much better than the industry overall, which is $-9.02. However, the company's P/E ratio is now sitting at 14.77, which is lower than the industry average, which is 18.31. Thus, CTRM is making more profit per share and trading at a discount relative to the entire sector.
So, putting this all together, should you add CTRM to your watchlist over the long term? Well, it's difficult to say. From a financial perspective, the company is doing pretty well. Revenues and earnings are growing each quarter, the gross profit margin is very high, and the company are performing better than their peers. From the outside looking in, this seems pretty rosy.

However, on the other hand, there is a case to be made that the company's insiders may not have shareholders' best interests at heart. The stock dilution has hampered price movement, whilst there may be the chance that CTRM will undergo a 'reverse split' in future. This is where there will be less stock in the market, but the CTRM price will go higher – although if you were a shareholder, your investment value would remain the same. Usually, a reverse split is a sign of a weak company at risk of being delisted – so this would reduce the price after the split.
How to Buy CTRM Stock?
The final part of this CTRM stock forecast will focus on the investing process. If you decide you'd like to add CTRM to your portfolio, you'll need a reliable stock broker to facilitate your trade. Right now, there are numerous options in the market for you to choose from, all with different features and fee structures.
However, through our experience, we've found that eToro offers the best platform for buying CTRM shares right now. eToro allows you to invest in stocks commission-free and from as little as $50 (£37) per trade. So, with that in mind, let's look at the four steps you need to take to buy CTRM shares today.
Step 1 – Sign Up for an eToro Account
Head to eToro's homepage and click the 'Join Now' button. Enter your email address and choose a username and a password to create your eToro account.
67% of all retail investor accounts lose money when trading CFDs with this provider.
Step 2 – Verify your Account
As eToro are one of the safest CFD brokers in the industry, new users must complete some KYC checks before trading. To do so, head to your dashboard and enter the required personal information. You'll also have to upload proof of ID (a copy of your passport or driver's license) and proof of address (a copy of a bank statement or utility bill).
Step 3 – Fund your Account
eToro allows users to deposit a minimum of $50 into their accounts, which is free if you deposit in USD. In terms of deposit methods, eToro accepts the following:
Credit card
Debit card
Bank transfer
PayPal
Skrill
Neteller
Klarna
Step 4 – Buy CTRM Shares
Type CTRM (Castor Maritime's ticker symbol) into the search bar at the top of the screen and click 'Trade' next to the first option. In the order box that appears, simply enter your desired position size, check everything is correct, and click 'Open Trade'.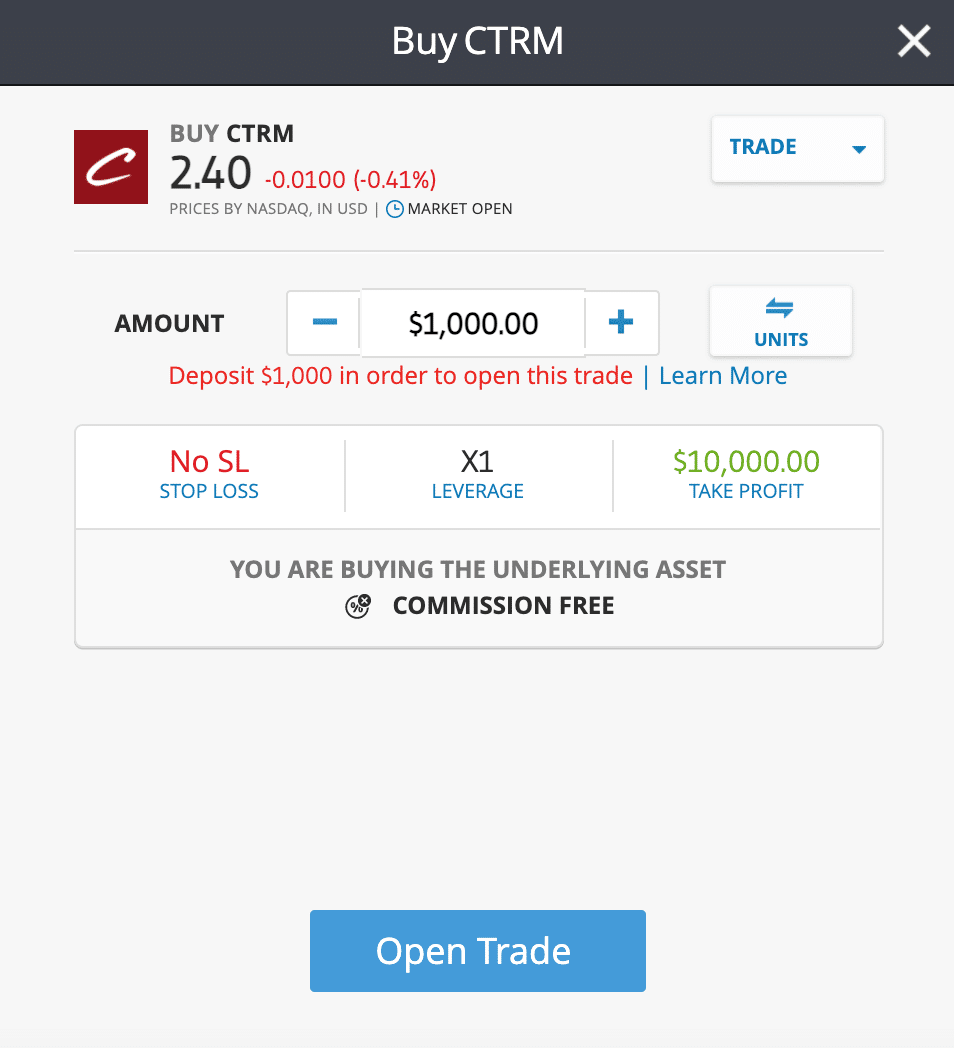 Congratulations! You've just bought CTRM shares with eToro – totally commission-free!
CTRM Stock Price Forecast – Final Word
In summary, this CTRM stock forecast has covered what CTRM is and how the company works. We've also highlighted CTRM's short and long-term prospects, so you've got a solid idea of whether they represent a worthwhile investment.
Overall, CTRM seems to be doing exceptionally well in growing its business model. Income is increasing each quarter, whilst the company are continually adding more vessels to their fleet. In the future, we'd recommend adding CTRM to your portfolio only if management ceases additional share issues and do not perform a reverse split, as these would likely be signs that the stock price will be staying bearish.
So, if you'd like to buy CTRM today, we'd recommend using eToro. eToro is a commission-free broker and accepts deposits from as little as $50. What's more, eToro is regulated by numerous top-tier organisations, meaning you are as safe as possible when using the platform.


67% of retail investor accounts lose money when trading CFDs with this provider.
FAQs
Is CTRM a good investment opportunity?
Where can I buy CTRM stock?
Will the price of CTRM go up in the future?