How To Buy Water Stocks – Investing In Water Stocks Beginner's Guide 2021
Water is a basic necessity of life. Human life cannot exist without it. This makes water an extremely valuable commodity in the market. The demand for water continues to rise, especially with the population growing at an exponential rate. Investors looking for long-term investments should consider water stocks. They are safer than other options as the demand for water is highly unlikely to go down. There are many companies across the globe that can give investors exposure to stocks in the water business, like water utilities. 
In this guide, we will cover everything you should know to buy water stocks. This will include the process to buy water stocks, the best brokers to help you do it as well as some pros and cons to buying water stocks.
#1 Broker to Buy Water stocks – eToro
How to Buy Water Stocks – step by step guide 2021
Buying stock can often be confusing, especially if it is your first time buying one. Here, we have compiled a quick guide to help you buy water stocks from any company of your choice.
Step 1: Register yourself on eToro:

The only prerequisite to buying any stock is to register yourself on a brokerage platform. We recommend eToro for its seamless blend of great features and security. Type 'eToro.com' in your browser and click on 'join now' to enter your details. 

Step 2: Verify yourself:

Upon creation of your account, you will need to verify it as eToro is a regulated platform. Provide a photo ID and address proof to verify your identity. 

Step 3: Fund your account:

The next step is to put money in your account to be able to trade water stocks. Simply click on the 'deposit fund' option, enter the amount you plan on investing, and click on 'deposit' and you are done. 

Step 4: Invest in water stock:

You are ready to buy your first water stock. Search for a company of your choice in the water market, say 'Essential Utilities Inc.' in the search bar, click 'trade', enter the amount you want to buy, then click 'open trade'. There you go. You bought the stock. You can view your investments in your portfolio. 
Where to Buy Water Stocks – Choose a Broker
Before you venture into the market of water stocks, you will need to choose a stockbroker platform. We have compiled a thorough review of some of the best platforms available today to help you make an informed decision.
1. eToro – Overall Best Broker to Buy Water Stocks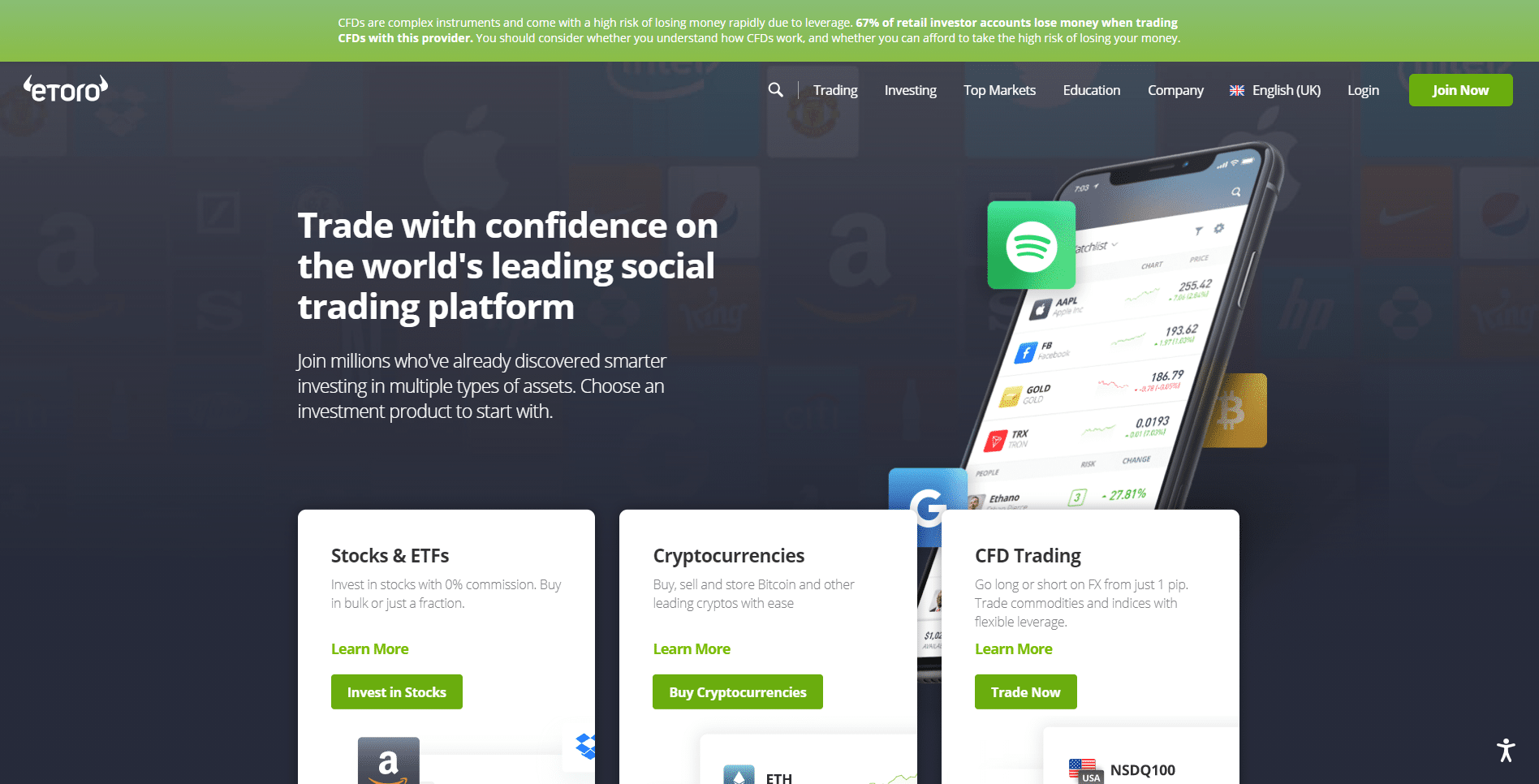 eToro has been in the market since 2007. Since then, they have managed to garner over 20 million loyal users, thanks to the variety of features provided by them. They also make sure to put the best security practices in place as well, ensuring top-notch protection of your data. They aim to serve beginners and seasoned users alike with their blend of features that are garnered toward both. Users can both learn with the educational material and better themselves with the seasoned tools provided by eToro. 
Security and Privacy
eToro takes their users' security very seriously. They ensure the protection of your data by enabling 128-bit SSL encryption. The platform is also regulated by the SEC, ensuring regular audits. Users also get the option to enable 2FA as an additional layer of protection. This feature requires you to provide a code sent to your mobile to perform any sensitive action. 
Fees and Features
The fees charged by eToro are significantly economical compared to other platforms. Beginners can make use of the eToro academy feature that provides them valuable information about the market they can browse through at their own pace. You can also take benefit of the CopyTrading feature that helps you copy the patterns of experienced users. You can learn about the market through these two steps before venturing into it yourself. Experienced traders can find use in the charting tools provided by eToro to perfect their strategy. 
eToro Fees
| | |
| --- | --- |
| Fee Type | Fee Amount |
| Commission Fee | 0% |
| Deposit Fee | $0 |
| Withdrawal Fee | $5 |
| Inactivity Fee | $10 (Monthly) |
Pros 
A regulated platform

Offers charting tools

CopyTrading for beginners 

eToro academy for learning 

128-bit SSL encryption security 

2FA feature protects your sensitive information
Cons 
MetaTrader support absent
67% of retail investor accounts lose money when trading CFDs with this provider.
2. TD Ameritrade – Traditional Broker to Buy Water Stocks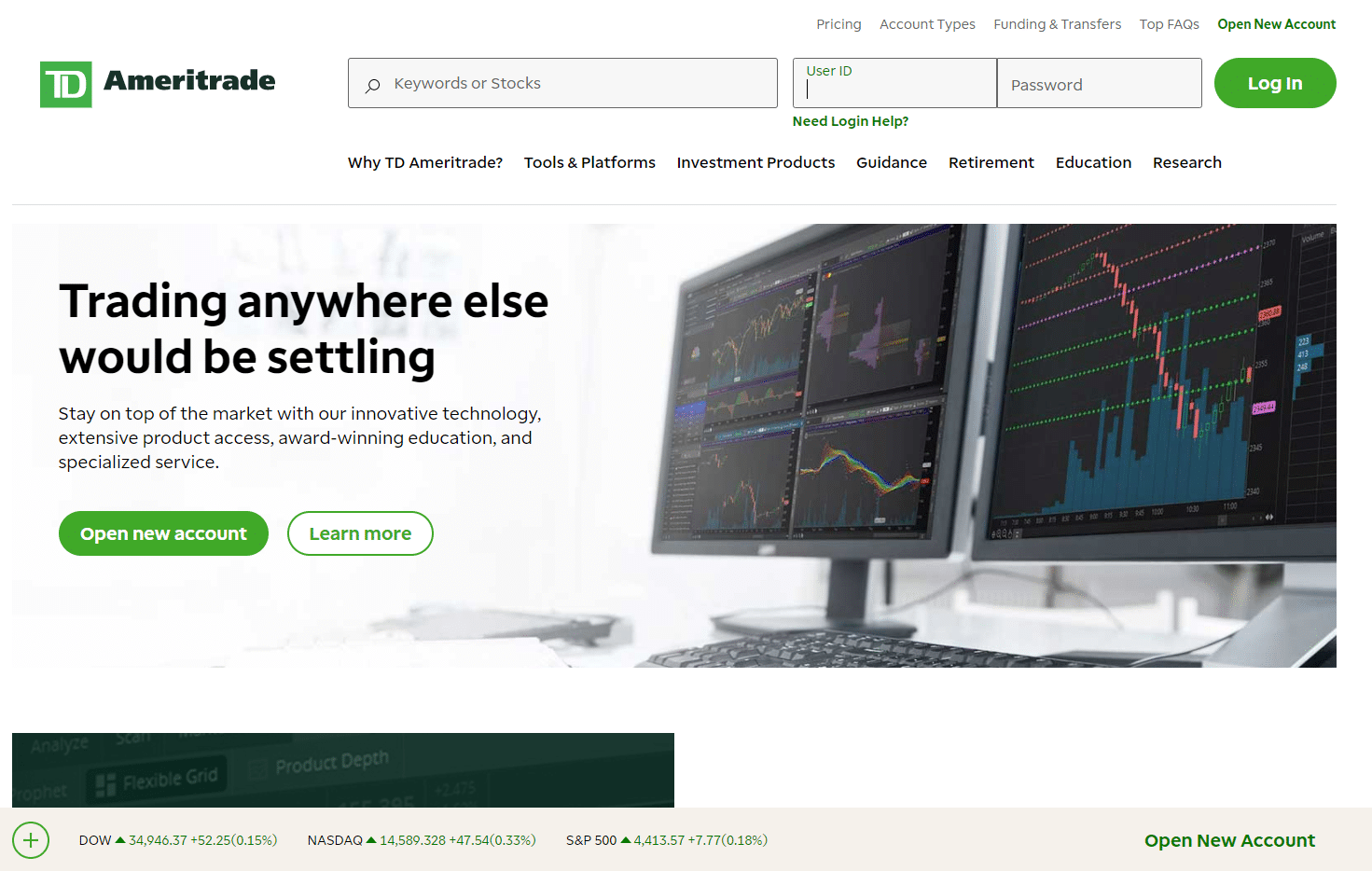 TD Ameritrade has been around the market since the 1980s, making them a traditional stockbroker on our list. They offer a wide variety of investments – old and new and are going strong despite the many name changes they have undergone. They happen to be the preferred choice of many seasoned users as well as traders who are looking to expand their portfolios. Users trading large amounts of money also look up to Robinhood because of the top-notch protection policies put in place by them. 
Security and Privacy
They clearly state that they 'take security very seriously'. This is a great sign about the way they work when it comes to privacy. Similar to eToro, TD Ameritrade is also protected by 128-bit SSL encryption and regulated by the SEC. The platform also offers a user verification phrase system. It assigns you a phrase you can ask any employee of TD Ameritrade to present to you. It will help you know whether they are a genuine representative of the company or not. 
Fees and Features
Following a simple fee structure, TD Ameritrade offers a huge variety of investment options, from traditional stocks to mutual funds and bonds. They also participate in Initial Public Offers (IPOs), offering their users a wide variety of new stocks as well. They have a feature called automatic dividend reinvestment that reinvests your dividend on its own based on your previous patterns. This helps ensure a flow of consistent income for investors. 
TD Ameritrade Fees
| | |
| --- | --- |
| Fee Type | Amount |
| Commission | 0% (on US stocks)  |
| Withdrawal Fee | $0 |
| Deposit Fee | $0 |
| Inactivity Fee | $0 |
Pros 
Offers 128-bit SSL encryption 

Is SEC-regulated

Offers a wide range of markets

User verification phrase for extra protection of users 

Automatic dividend reinvestment to help compound your interest
Cons 
Leveraged positions have a high fees

The user interface is a bit hard to understand 
3.Robinhood – Accessible Platform to Buy Water Stocks

Garnered toward beginners, Robinhood has managed to make its presence felt in the market. It is a mobile-only platform that is available only in the USA. Despite those limitations, Robinhood has amassed a massive user base of 13 million users today. They have achieved so by paying good attention to security as well as providing a host of services to their users. Being aimed at beginners also helps their cause, as is evident in their user interface. 
Security and Privacy
Robinhood takes great care of the security on its platform. Users are insured under SIPC insurance which covers up to $500,000. However, they go over and above that to offer 'excess of SIPC' insurance on balances worth $10,000,000. This is a rare feat and makes Robinhood a lucrative option for big traders. Moreover, they offer multisig verification as an added step of security. 
Fees and Features
The credit and debit card fees may be a bit high for some users. Otherwise, Robinhood's fee structure is quite good. It also offers 'cash management services' that are basically cashbacks on everyday purchases, a feature highly appreciated by its users. It does suffer from the limitations of being a mobile-only platform that is only available in the USA. 
Robinhood Fees
| | |
| --- | --- |
| Fee Type | Amount |
| Trading Fee | 0% |
| Credit/Debit Card Fee | 3.99% |
| Spread Fee | Variable |
Pros 
SIPC insurance for security 

Excess insurance over what SIPC covers

Multisig feature for security 

Easy interface

Available as a mobile application 

Easy to use

A cashback feature on everyday purchases 
Cons 
Missing some advanced features  

Experienced traders may find it basic
Buy water stocks – Broker price comparison
It is easy to get confused when comparing the features of all the platforms you are considering. Here is a simple comparison of the fee structure of the three platforms from above to help you make the right decision.
| | | | | |
| --- | --- | --- | --- | --- |
| Broker | Commission | Deposit Fee | Withdrawal Fee | Inactivity Fee |
| eToro | 0% | $0 | $0 | $10 monthly (after 12 months inactivity) |
| TD Ameritrade | 0% (on US stocks)  | $0 | $0 | $0 |
| Robinhood | $0 on up to 50 shares. Up to $5.95 on more than 50 shares | $0 | $0 | $0 |
What are the different kinds of water stocks? 
Many new traders assume that all stocks are the same. That is not true. There are many ways to invest in the market. The three main options are stocks, ETFs, and CFDs. Let us explore these options in brief before we move on to their pros and cons. 
Stocks
Stocks are the most common way to invest in the market and get exposure to a company. When you buy a stock i.e., share, you own a part of a company. This means that you become a part-owner. This makes you eligible for receiving dividends. Dividends are portions of the profit a company divides quarterly or yearly. You also have voting rights in matters of the company. Shares are a great option to give you long-term exposure to a company. 
ETFs (Exchange-Traded Fund)
An Exchange Traded Fund (ETF) is a safer investment option that gives you exposure to a variety of companies. Your fund manager or brokerage will bundle a bunch of related assets together to facilitate an easy investment for you. It is a safer option because if the value of a stock decreases, the other stocks in your bundle can help mitigate the losses in the long run. Remember that in this option, you do not own any underlying assets. 
CFDs (Contract For Difference)
A Contract For Difference (CFD) is an investment where you don't purchase an asset, rather speculate on the change in its price. They are speculative investments that predict whether the price will rise or fall for an asset. They are short-term in nature and considered high-risk investments. CFDs are leveraged instruments that can lead to losses. 
Best ways to buy water stocks
Now that you have a general idea about the types of investments, let us take a look at their pros and cons and the best scenarios to invest in them. 
Invest in water CFDs
Not everyone looks to invest in the market for the long term. If you are looking to make a quick buck, CFD is the way to go. CFD transactions take place over a much shorter period of time where you can take advantage of the speculative nature of the market. However, it is also a risky investment that can cause you losses. It is classified as a leveraged instrument. So, only venture into a CFD if you understand the risks associated with leveraged instruments. 
Invest in water ETFs
If you are looking for a safe long-term investment, ETF may be the option for you. Although an ETF doesn't provide direct exposure to water stocks, it is still a great investment option for risk-averse investors as a loss suffered in any one stock can be covered by other assets in your bundle. Remember that you will not be able to own any underlying assets and the profits will not be as high as they will be if you were to invest in traditional stocks. 
Invest in water stocks
Traditional stocks are still the go-to option for most traders for a reason. They are a great way to build wealth and get direct exposure to a company. If you believe water stocks are going to continue to grow, then stocks should be an ideal option for you. Although you stand to earn more with stocks than you would with ETFs, you may also end up losing more with them as there won't be other assets to help mitigate the loss. 
Is Buying Water Stocks a Good Investment? 
So far we've discussed the different kinds of investments and the different ways you can invest in water stocks. Now let us take a look at some pros and cons of the water stocks to see if they are the right choice for you. 
Safe option
Water stocks are some of the safest options in a volatile market. Water is a reliable utility sector that is never going to go out of demand. In fact, its rising demand coupled with limited supply makes it even more valuable. Consistent dividends and ESG mandates contribute to its strong position in the market and make it a lucrative investment option for many traders. If you are looking for a long-term investment that pays well, water stocks are the right option for you. 
Rising demand
Other than being consistent, all signs point to water stocks becoming extremely valuable in the near future due to their rising demand and limited supply. As the population increases and the water crisis worsens, water stocks are going to beat the market. The global pandemic also factors into the rising prices. Global Water Resources (GWRS) and Middlesex Water Company (MSEX) are two water stocks beating the market as of now. They are expected to grow revenues by around 6% in 2021.  
Buying Water Stocks – What Are The Risks?
As safe as water stocks seem, no investment is ever risk-free. You should always look at the risks associated and do your own research before investing in a market. 
Value has only just started rising 
Despite being such an essential commodity, the value of water stocks has only just started rising. For so long, water stocks weren't that high in value and even today, they are only marginally rising. The lure in the water stocks is in the belief that they will reach high values in the coming future based on certain assumptions. Whether they do or not is still something we will have to wait and watch. Though experts are of the opinion that the value of water stocks will go up, we will have to see when and by how much they do. 
How to Buy Water Stocks With eToro
The process of buying stocks can often be confusing as well as intimidating. It is easy to get overwhelmed by the large amount of financial jargon thrown at you. This can be disheartening, especially for new investors, and can also prevent you from buying stocks or altogether. This is why we try to simplify the process for you as much as possible. Earlier we shared a quick guide to buying water stocks with eToro. Here is a detailed step-by-step of the same to help you purchase water stocks with ease. 
Step 1: Open an account with eToro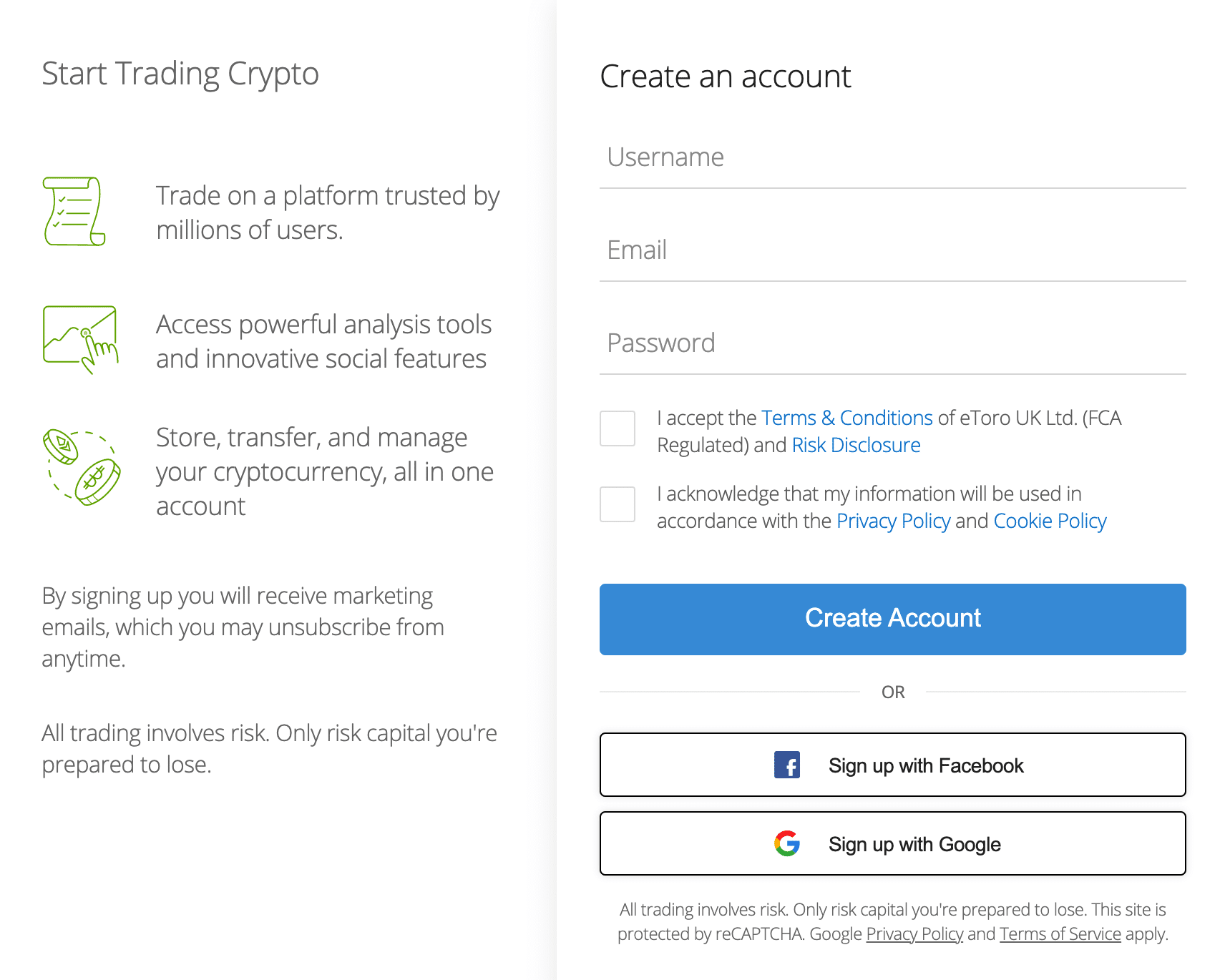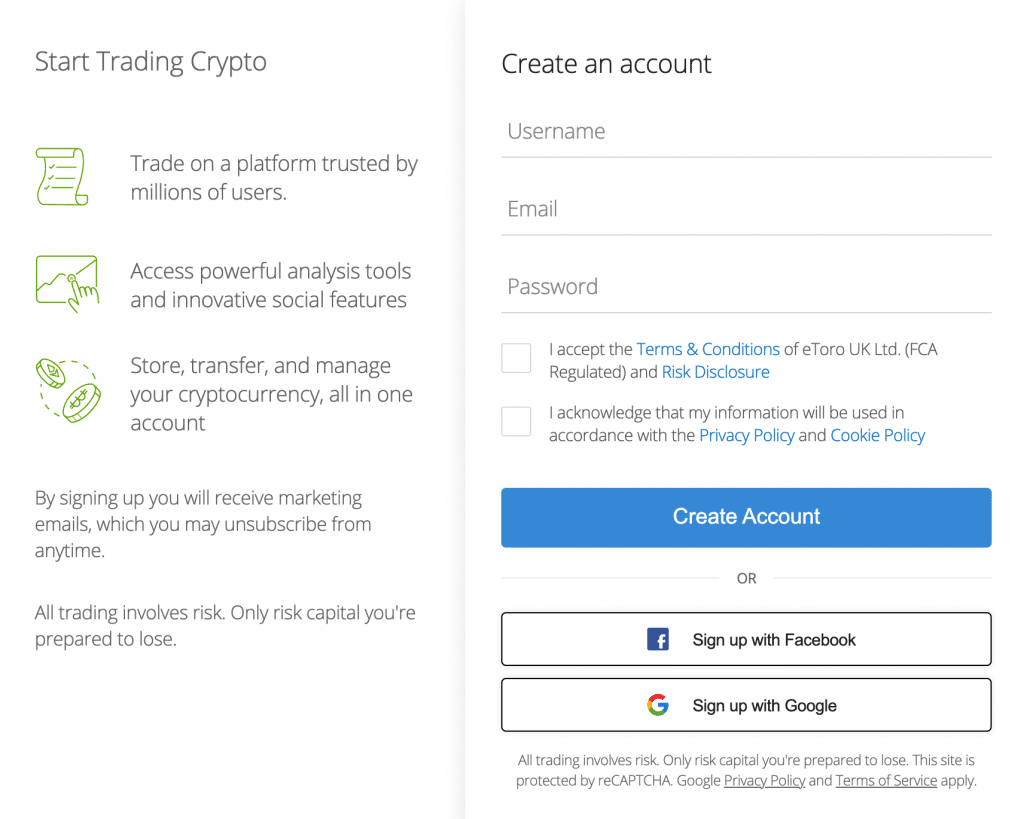 The only prerequisite to purchasing water stocks is to register yourself on a brokerage platform. Beware of the platforms that try to wring money out of you by having you pay exorbitant fees and complicate the process for you as well. We recommend eToro for its excellent blend of features with ease of use. It is a great platform for beginners. To get on eToro, simply type 'eToro.com' in your browser, click on 'join now'. A form will appear requiring you to fill out your details. Once you fill them, your account will be created. 
Step 2: Verify your account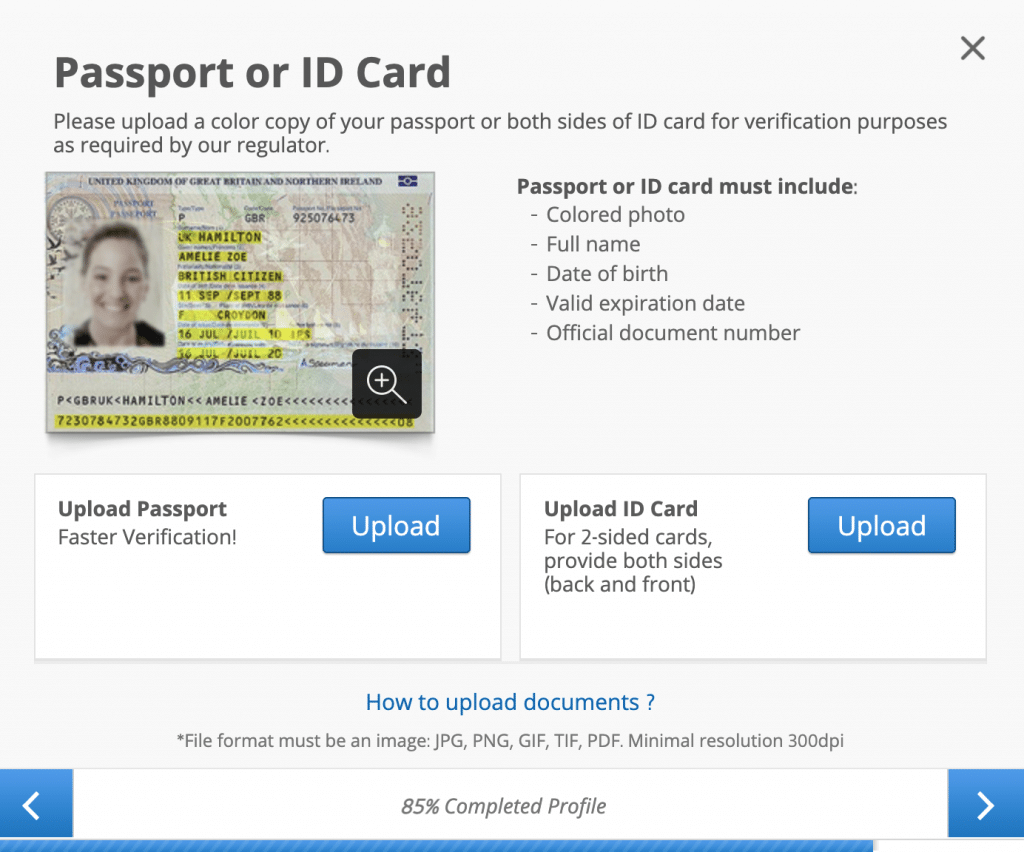 Upon the creation of your account, you will need to verify your identity. This is because eToro is a regulated platform that takes great care of its users' protection. You need to provide two documents here: a photo ID such as a passport or driving license, and proof of your address like the utility bill or a bank statement. 
Step 3: Fund your account
The only step left before you can buy water stocks is to put money in your account on eToro. This step is similar to putting money in one's wallet before they head for shopping. To deposit money in your account, click on the 'deposit funds' option and enter the amount you want to put in your wallet, say $100. Click on 'deposit' to complete the process. You can perform the transaction using your credit or debit cards, bank transfer, or an eWallet like PayPal or Skrill. 
Step 4: Buy water stocks!
When you have some funds in your account, you are ready to start trading. Type a company's name that deals in water stocks such as Essential Utilities Inc or York Water Company into the search bar and click on 'Trade'. Enter the amount you want to purchase and click 'Open Trade' to buy it. You can manage all your investments in the portfolio section of your account. 
Conclusion
To summarize everything from above, water is a precious resource that is both a necessity and limited in supply. It makes water a great option for investment in the market. After being lukewarm for years, the water industry is slowly picking up pace amidst the rising demand and scarce supply of water, especially in the pandemic. As the demand for water continues to rise, so does its value, making it a safe option to invest in if you are looking for long-term gains. Don't forget to do your own research and choose the best stocks options for yourself. All in all, as long as water stocks are on their current trajectory, there is no reason they will not be hitting high numbers in the near future. 
#1 Broker to Invest in Gamestop – eToro
FAQs
What's the Future of water stocks?
Where can I Buy Water Stock in the USA?