How to Buy Visa Stocks – Invest in Visa Shares Today!
Visa enables electronic payments to be made quickly and securely in over 200 countries. To invest in this global financial technology company from home, you need to register with a reliable broker to access the NYSE.
In this in-depth tutorial, we'll run you through how to buy Visa stocks at 0% commission in less than five minutes.
#1 Broker to Buy Visa Stocks – eToro
How to Buy Visa Stocks – A Quick Guide For 2022
Go to eToro and follow the steps you see below to get started. Once you've set up an account with eToro, you can invest in Visa stocks, not only in small increments but also with 0% commission. eToro holds a FINRA membership and also a license from the SEC.
Step 1: Open an Account with eToro – To create an account, give your full name, cell number, and email address to the stockbroker via the 'Join Now' button. You will also need to think of a username and password and enter this in the relevant box.
Step 2: Upload Your ID – After completing step one, you'll be prompted to attach a picture of your passport, and also a bank statement. This is due to eToro's compliance with anti-money laundering regulations. Other documents are also recognized by eToro for validation purposes.
Step 3: Deposit Funds – To fund your eToro account and buy Visa stocks, make a deposit of $10 or more. Payments can be made with ACH, wire transfers, credit/debit cards, and e-wallets.
Step 4: Search for Visa – Using the search feature and typing in 'Visa' is the quickest method to start investing. Click 'Trade' when you see Visa in the list of results.
Step 5: Buy Visa Stocks – This is the final step required to invest in Visa shares. Enter the amount of money you're willing to put up to buy Visa stocks. Despite Visa shares being valued at over $200 as of writing, you can start investing in this stock with as little as $10.
Following step 5, eToro will add the Visa shares you just purchased to your newly created portfolio. That's it, you just bought commission-free Visa stocks in 5 easy steps!
67% of retail investor accounts lose money when trading CFDs with this provider.
How To Buy Visa Stocks – Choose a Stockbroker
We have reviewed a plethora of stockbrokers and scrutinized them on metrics such as supported payment types, fees, account variety, and regulatory body approval. You can see the list of best brokers below.
eToro – Overall Best Place to Buy Visa Stocks
Webull – Buy Visa Stocks at 0% Commission
SoFi – Invest in Inovio via Fractional Shares
Zacks Trade – Top Broker for Advanced Traders
Fidelity – Invest in Inovio Stocks From Just $1
Ally Invest – Challenger Bank Offering Low-Cost Stock Investments
Interactive Brokers – Trade Inovio Stocks at 0% Commission
E*TRADE – Good Broker for Long-Term Investments
Merrill Edge – Online Brokerage With a Variety of Investment Accounts
Robinhood – Great US-Based Broker for Beginners
You will find a full evaluation of each of the above investment platforms next.
Where to Buy Visa Stocks  – Full Stockbroker Reviews
The brokers we have reviewed here hold a regulatory license from the SEC in the US and offer a range of accounts, features, and markets. Read these full reviews to make your decision on where to buy Visa stocks today.
1. eToro – Overall Best Place to Buy Visa Stocks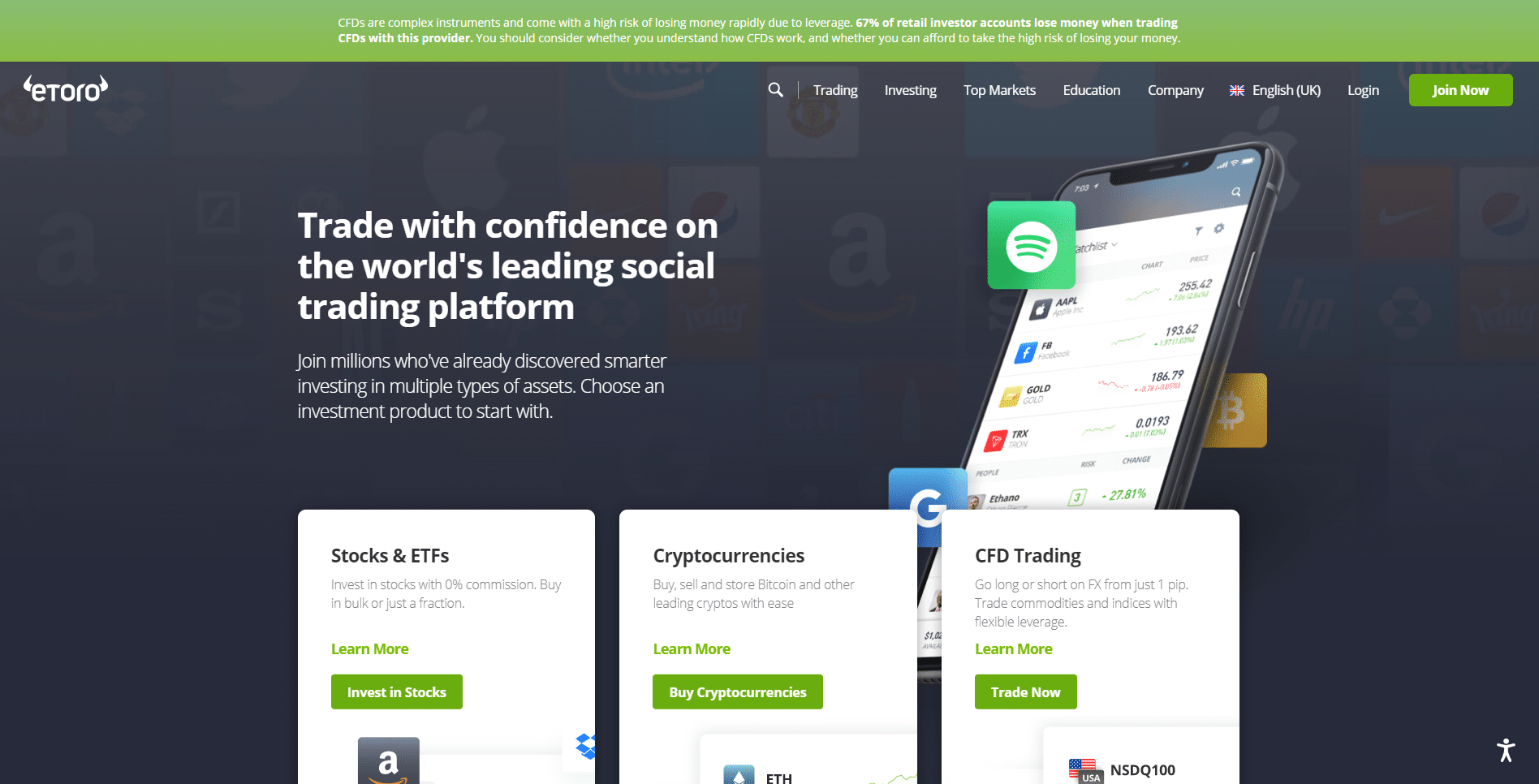 The overall best place to buy Visa stocks is eToro. This popular stockbroker has over 20 million users on its books and offers Visa shares, as well as 2,500 others. This platform lists equities from 17 locations, which includes stock exchanges based in the US, Asia, Europe, Australia, and the UK. Fractional shares will also be available for purchase at eToro.
As we touched on, even though Visa shares are currently priced at over $200, you can invest a US dollar amount of $10 and up. For example, let's say a share is $250, you can invest in just 4% of it. Moreover, eToro gives investors access to a wide range of different assets. This includes currency pairs, indices, crypto-assets, and commodities. Both shares and ETFs can be bought and sold without commission charges.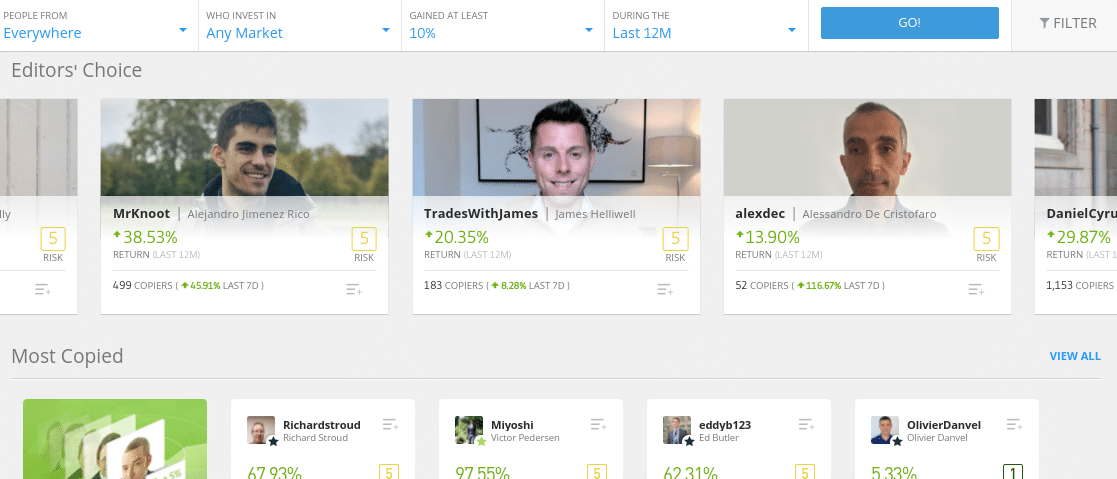 Although not specific to Visa stocks, you can shorten the learning curve with Copy Trading at eToro. This entails investing funds in a stock trader with some experience and passively duplicating decisions they make. For example, if they invest 50% of their balance in stocks and you initially allocated $5,000 to this person, you will find $2,500 of shares in your portfolio.
When you have created an account and have your portfolio set up, you can make a deposit with ease at this brokerage. Not least because you will have numerous options. You can finance your account and investment endeavors using a wire transfer, and e-wallets- which include Skrill and PayPal. You can also opt for a credit or debit card. Investors from the US will not be charged any deposit fees.
Pros
Invest in stocks at 0% commission
Minimum investment per stock is $10
Supports debit/credit cards, e-wallets, and bank transfers
Regulated by the SEC, ASIC, FCA, and CySEC
Used by over 20 million people
Perfect for beginners
Social and copy trading tools
Cons
Perhaps too basic for technical traders
No support for MT4 or MT5
 67% of retail investor accounts lose money when trading CFDs with this provider.
2. Webull – Buy Visa Stocks at 0% Commission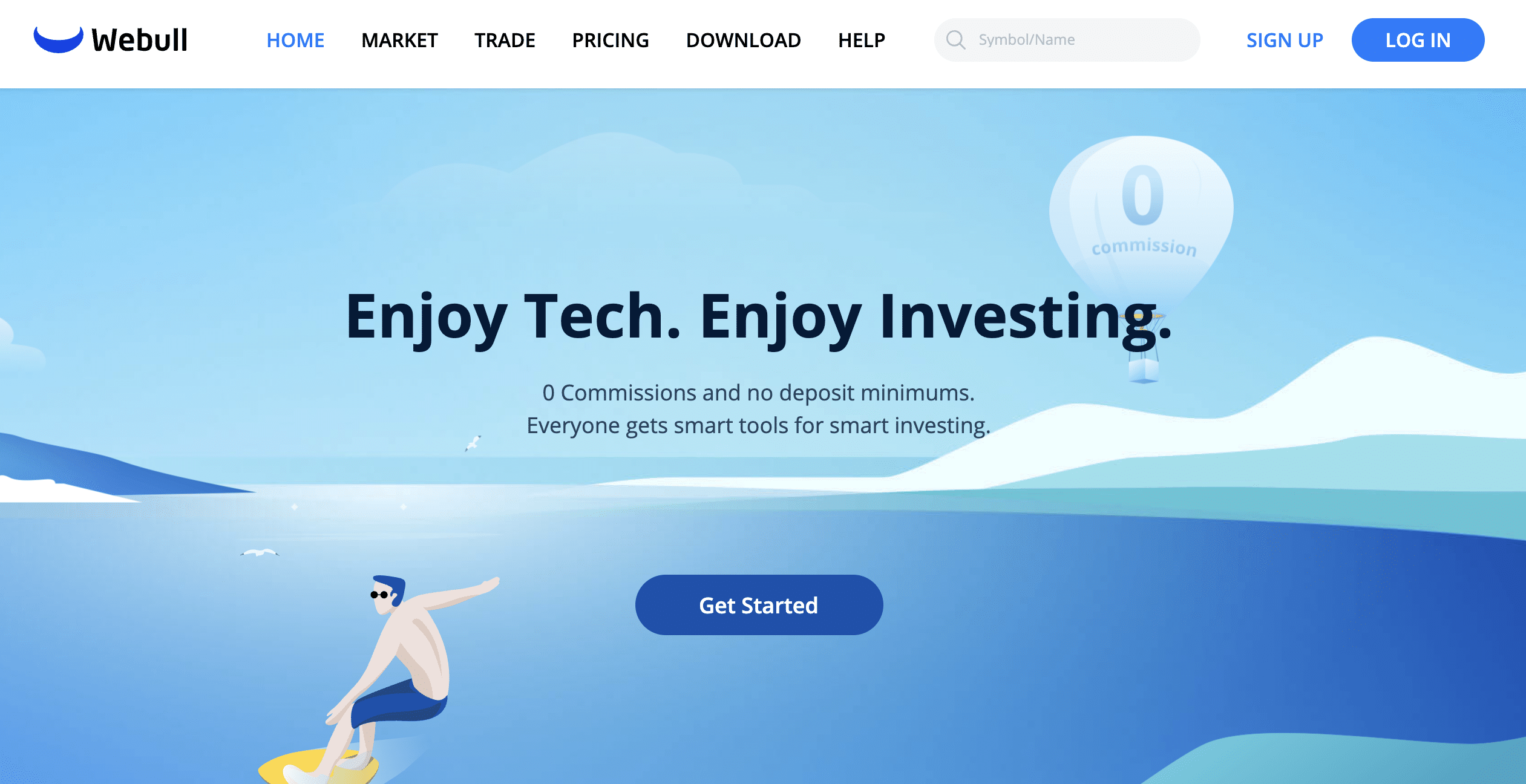 Webull offers a wide selection of stocks., including Visa, which you can buy shares in at 0% commission. Only a few corporations are listed outside of the US marketplaces so if you want to branch out later, stick with eToro. If you invest in Visa shares at Webull, the broker allows you to buy fractional shares. A fraction of a Visa share can be purchased for $5 or more – which is great for those on a budget.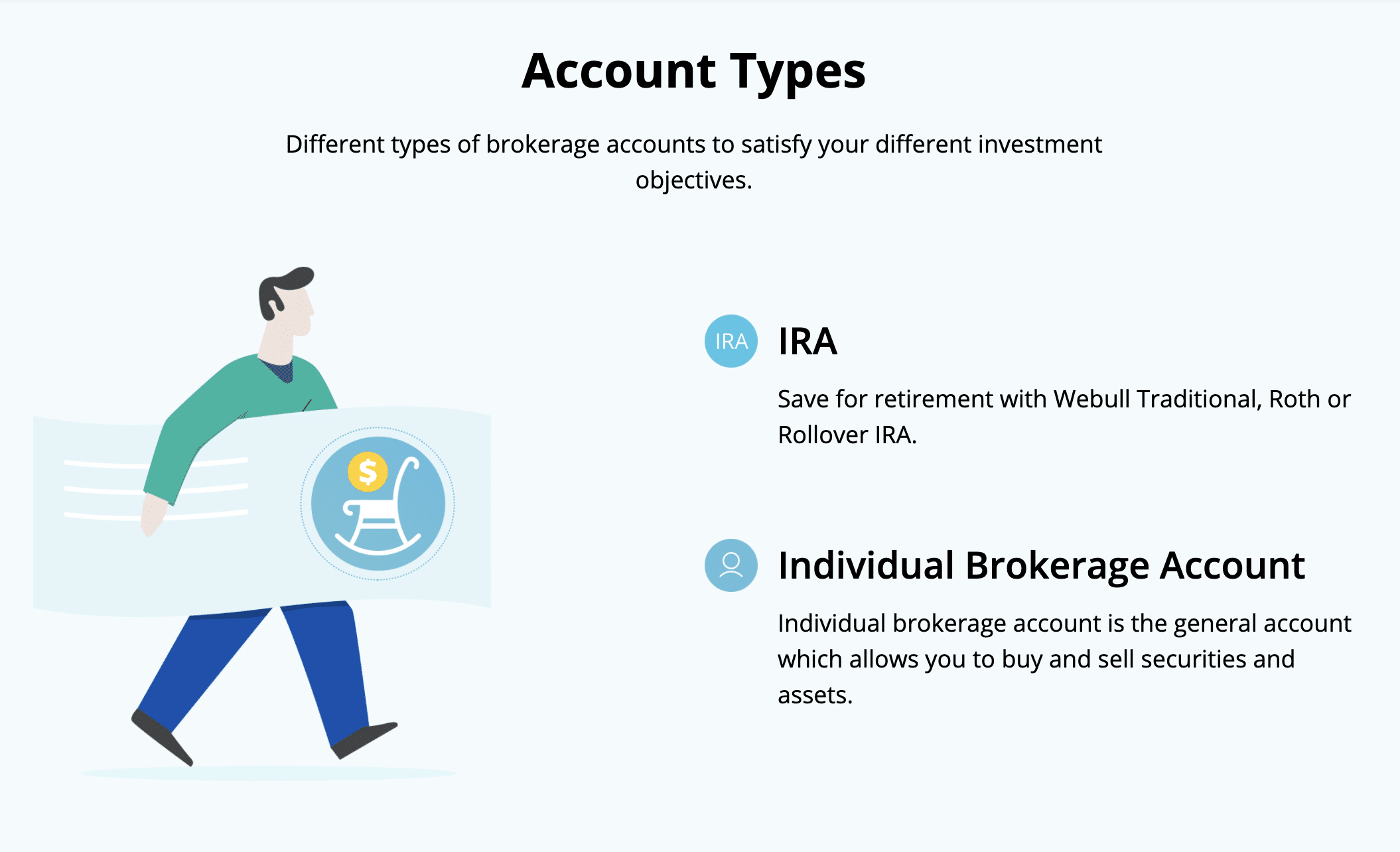 There is no requirement for a minimum deposit when you finance your Webull account as long as you opt for the standard self-directed plan. On this subject, Webull offers a variety of accounts to fit any investor's needs. This includes IRAs and self-directed funds. To deposit funds into your selected account and start investing, Webull accepts US bank wire and ACH transfers.
Pros
Thousands of US-listed stocks
0% commission trading
Also supports ETFs and stock options
No minimum deposit
Cons
No support for debit/credit card deposits
Very limited selection of non-US stocks
Spreads can be somewhat high
Wire transfer withdrawals cost $25 per transaction
at eToro, #1 Online Broker
 67% of retail investor accounts lose money when trading CFDs with this provider.
3.
SoFi – Invest in Visa via Fractional Shares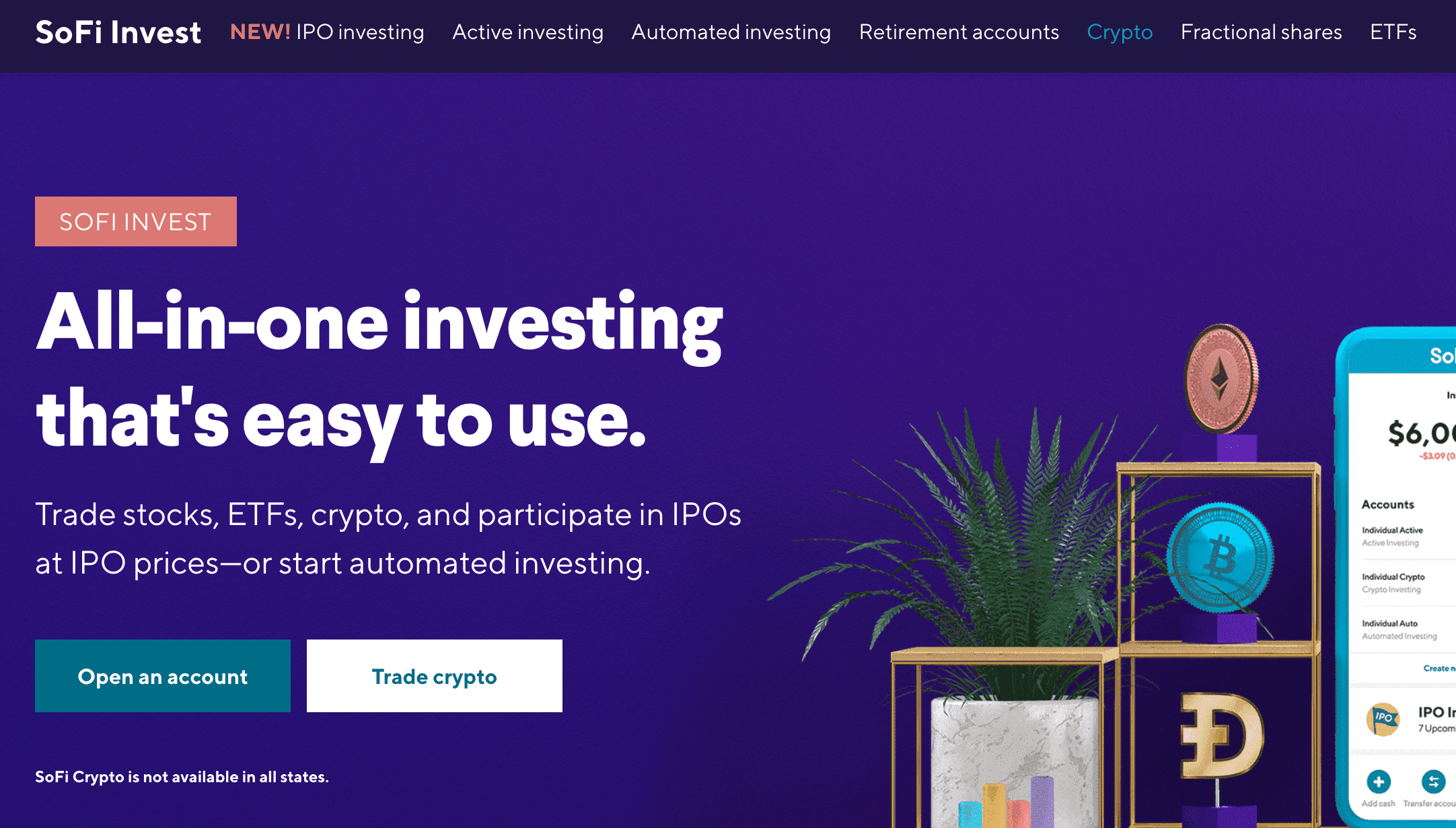 If you were considering partaking in fractional investing when you buy Visa shares, SoFi is one of the top brokers to facilitate this. This is because you can allocate as little as $5 to Visa shares. You should be aware that SoFi only lists US equities. Whilst this will suit you when investing in Visa, you may decide to buy shares from further afield later on. With that said, all the US-listed stocks and ETFs are offered without commission fees attached.
Multiple funds, cryptocurrencies, self-directed, automated active retirement accounts, and investment tools are all available at SoFi. The self-directed trading account enables you to deposit freely without needing to meet a minimum amount. When making a deposit to finance your investments at SoFi, you can pick between a check, US bank wire, or recurring transfer.
Pros
Supports fractional shares

Offers stocks, ETFs, and crypto

Access to IPOs 
Cons
Trading platform comes with limited features
No copy trading tools
Number of supported assets is somewhat limited
at eToro, #1 Online Broker
 67% of retail investor accounts lose money when trading CFDs with this provider.
4.
Zacks Trade – Top Broker for Advanced Traders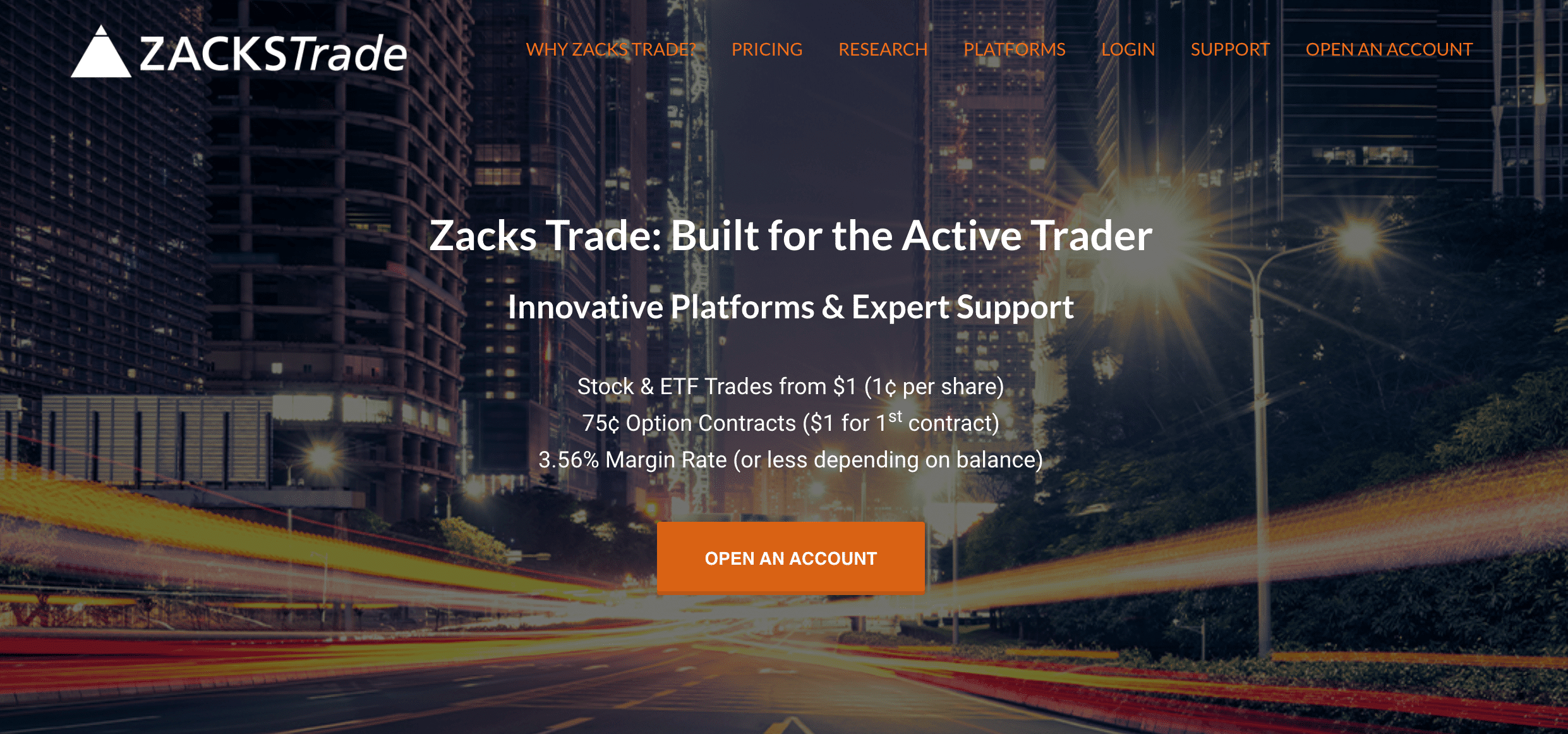 Advanced traders can use Zacks Trade's very own Pro platform to perform in-depth analysis on Visa stock or any other potential investments. We also discovered a range of educational tools and comprehensive customer support, which will suit intermediate investors. Zacks Trade provides access to ETFs, options, mutual funds, bonds, and stocks, but you will not find as many assets as at eToro. For instance, this broker doesn't allow you to trade currency pairs or commodities.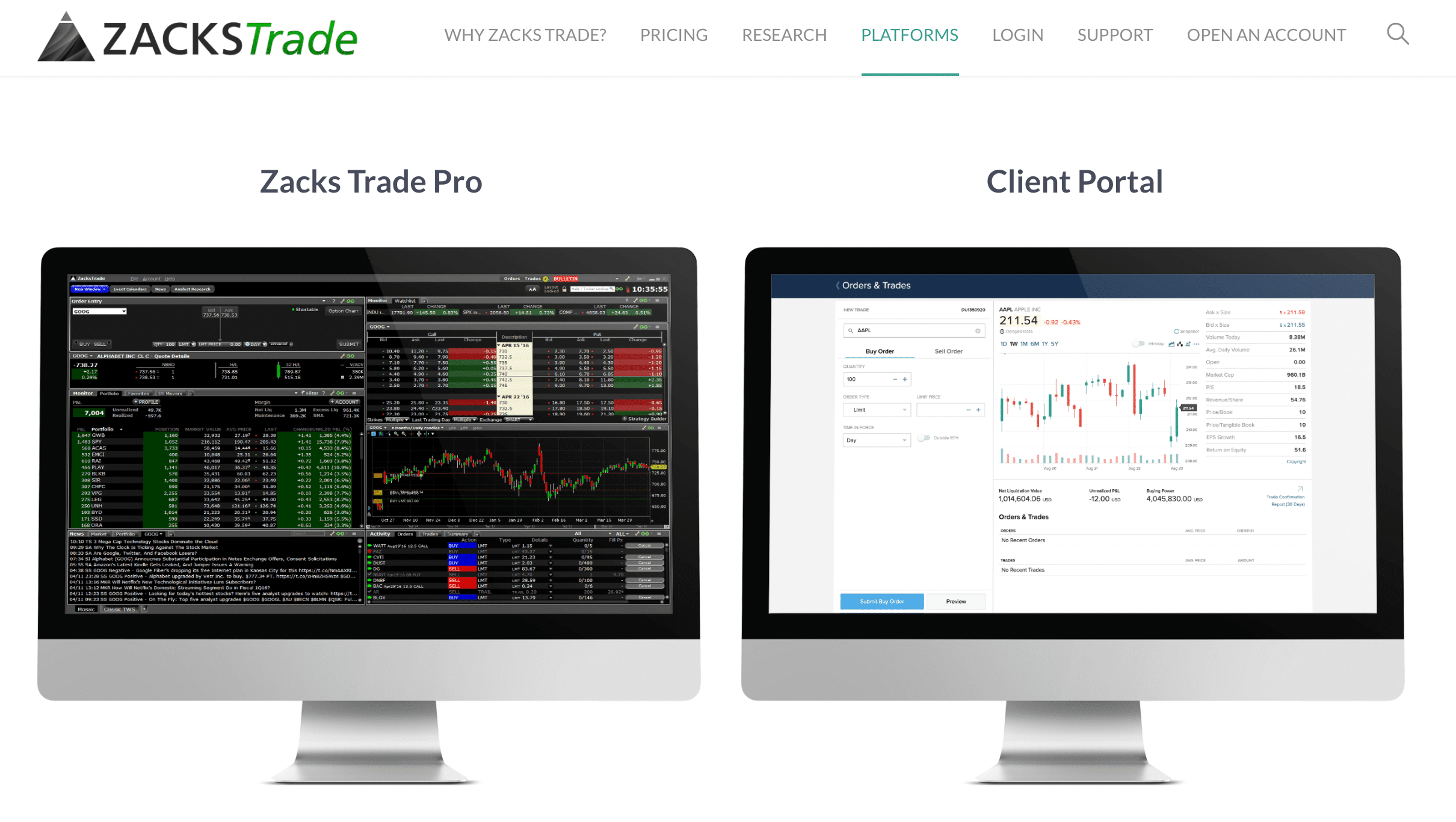 This might not be a problem now, but many investors prefer to add multiple asset classes to their portfolios. As such, as a multifaceted broker offering heaps of markets under one roof is usually the best option for investors. Either way, you will pay commission when you buy Visa shares here. Shares priced at over $1 command a fee of $0.01 each, anything under this will be charged at 1% per slide. Zacks Trade accepts the following deposit types: a limited number of e-wallets, credit or debit cards, and US wire transfers.
Pros
Advanced trading platform
Huge research and analysis department
Great for seasoned traders
Cons
Too complex for beginners
Cheaper trading fees available elsewhere
Minimum deposit required is $2,500
at eToro, #1 Online Broker
 67% of retail investor accounts lose money when trading CFDs with this provider.
5.
Fidelity – Invest in Visa Stocks From Just $1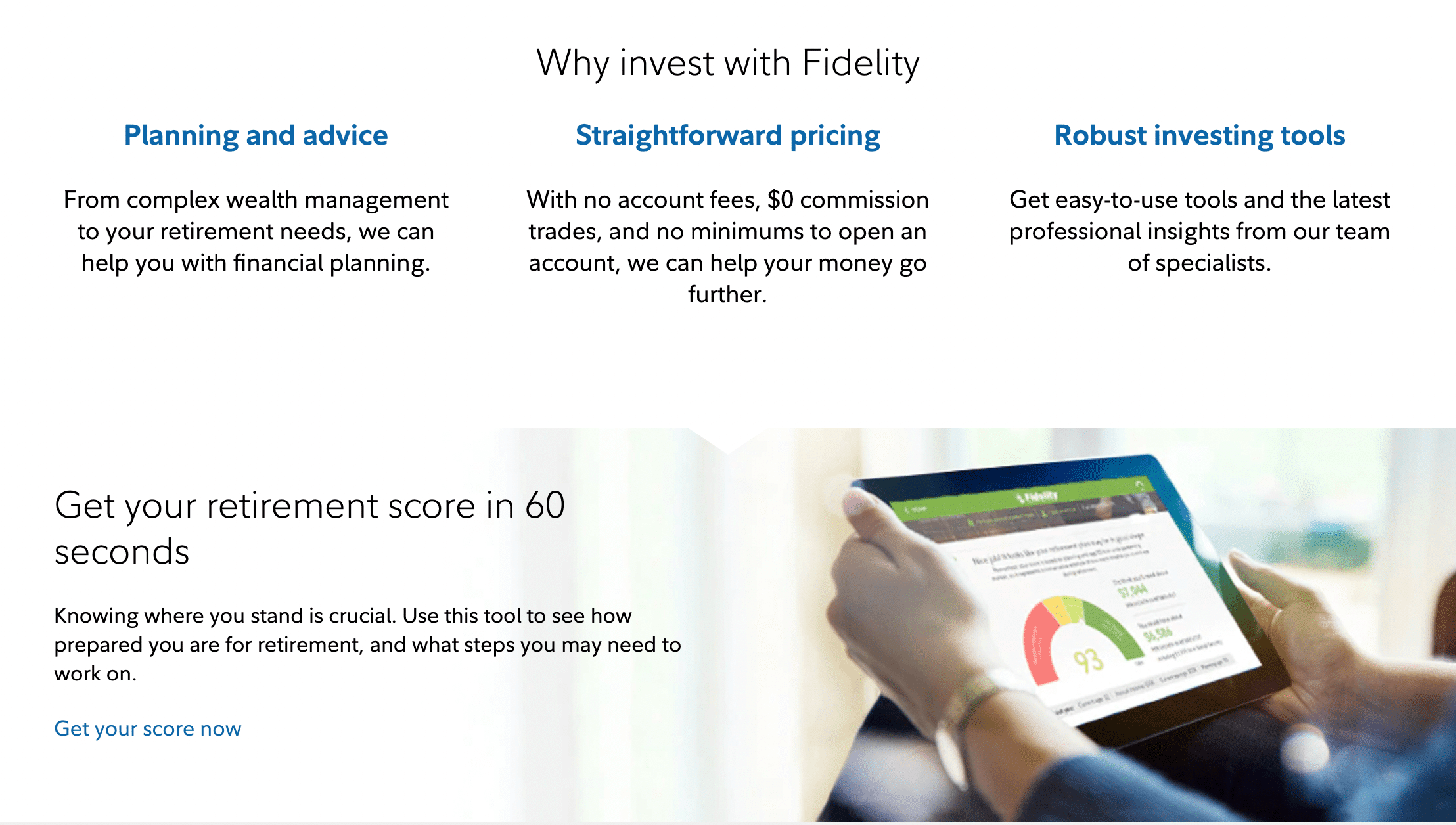 Fidelity is a US-based brokerage with a portfolio of over 7,000 equities in the US and beyond. Having said that, you should know that international shares have commission fees attached. On the other hand, when you buy Visa stocks, this will be on a commission-free basis, because it's a US-listed company. Furthermore, you can purchase just 0.001 of a share in Visa here.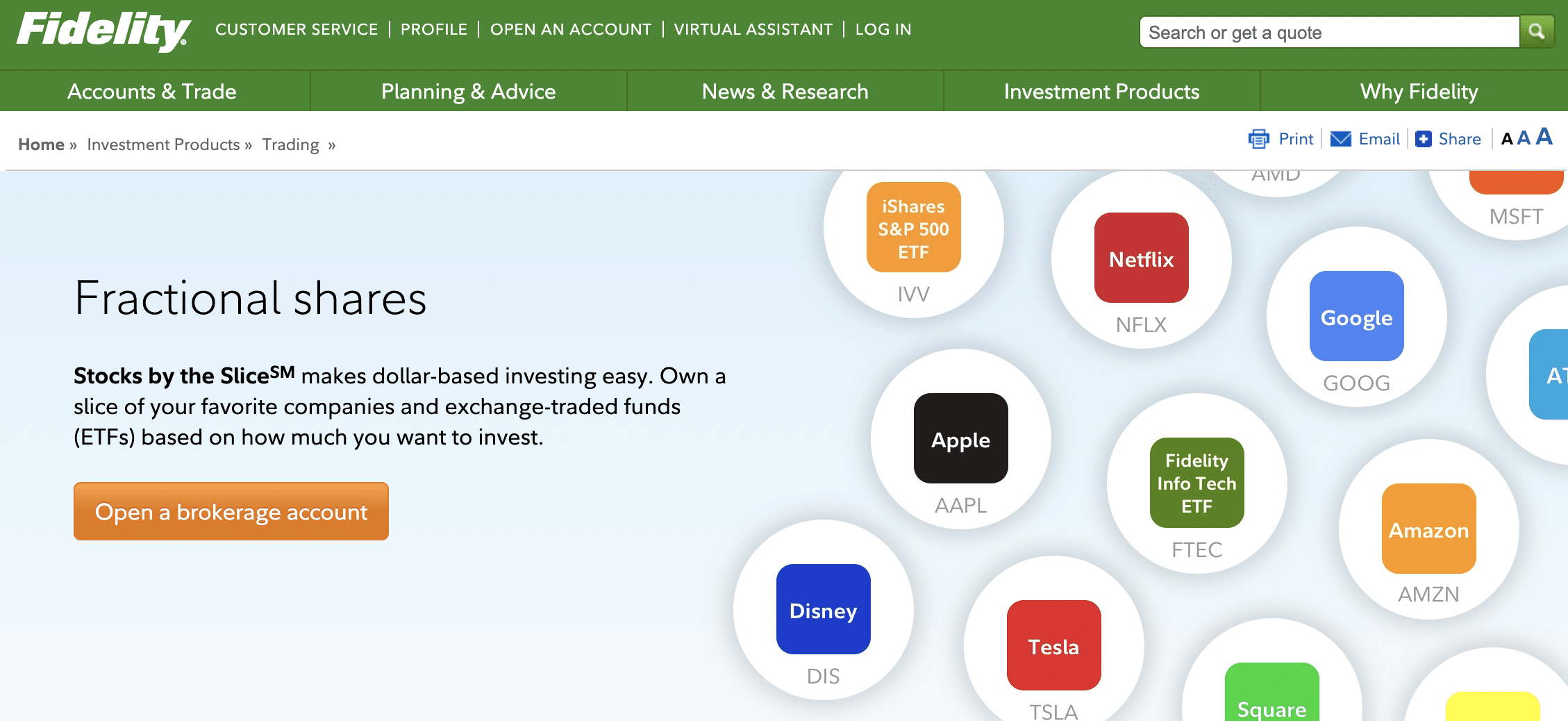 This broker also offers mutual funds, saving plans, and IRAs. Advanced stock investors might prefer the margin account but should be aware that a $5,000 minimum deposit is required. For standard accounts, you won't have to worry about a minimum deposit. Fidelity only accepts US bank wires and checks. This means that you might need to wait a few days for your deposit to arrive.
Pros
Trusted US-based brokerage

$0 commission on US stocks and ETFs

Stock Slice tool allows fractional investments of $1 
Cons
Perhaps too complex for newbies

Non-US assets come with high fees  
at eToro, #1 Online Broker
 67% of retail investor accounts lose money when trading CFDs with this provider.
6.
Ally Invest – Challenger Bank Offering Low-Cost Stock Investments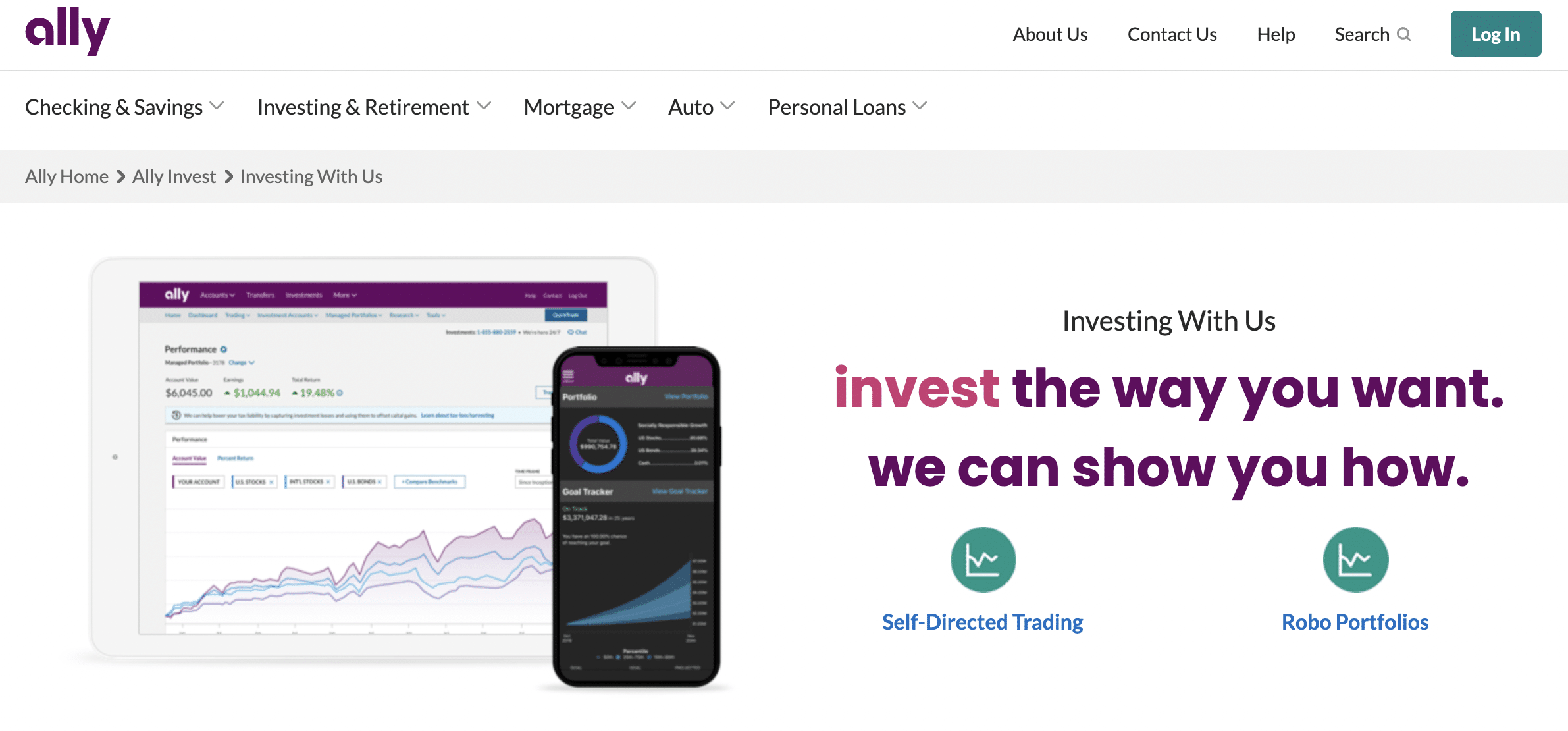 Ally Invest also provides a multitude of account options, inclusive of self-directed plans aimed at casual investors, as well as IRAs and automated robo portfolios. At this platform, you can access a variety of US equities, including Visa stocks. Importantly, tools are thin on the ground here and the broker doesn't support fractional share investing.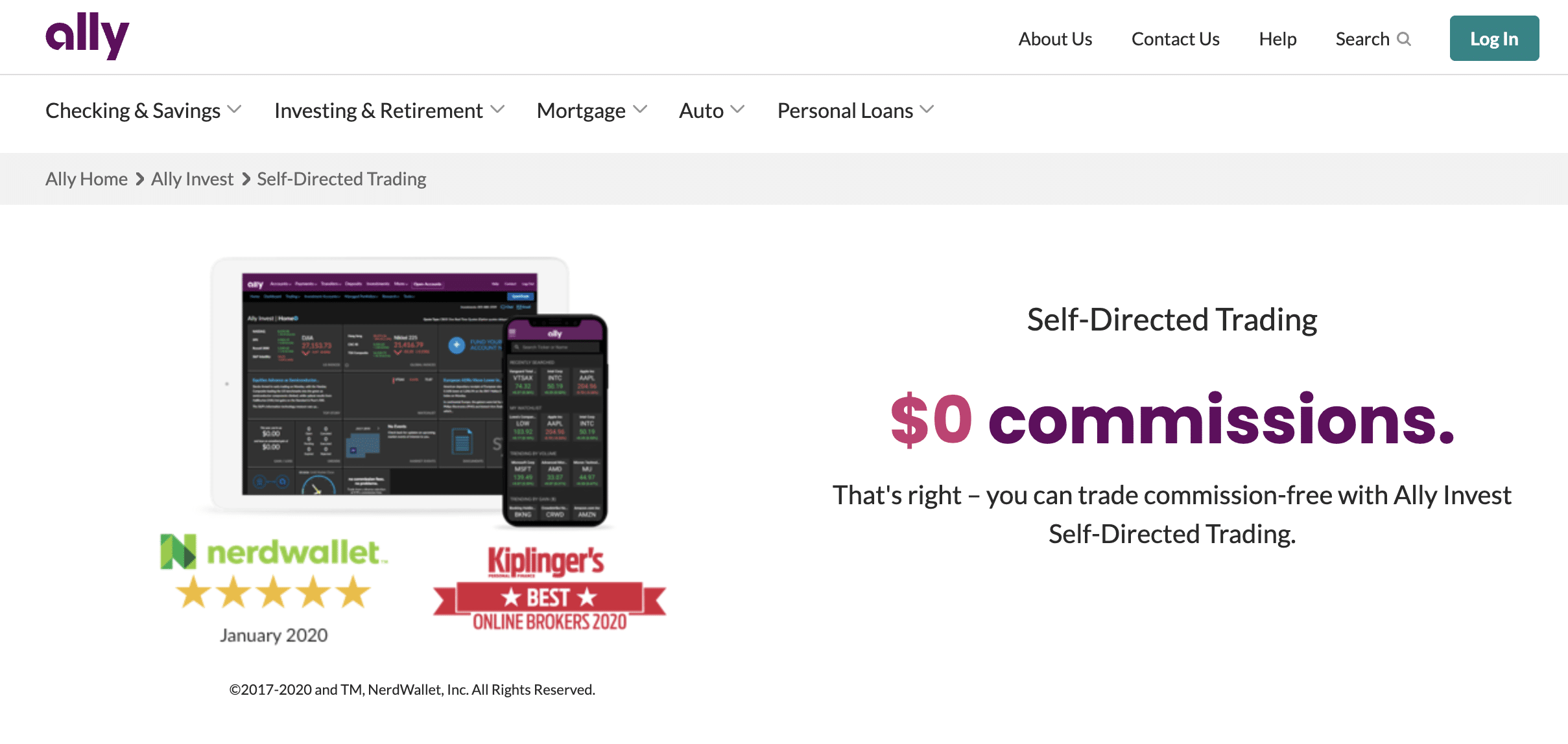 If this isn't a concern, you create an account with Ally Invest and buy Visa stocks with 0% commission. Furthermore, if you register for the standard account rather than one of the many savings and retirement options, you will not be required to satisfy a minimum deposit. Deposit some funds into your account by choosing a third-party transfer, US bank wire, check, or ACH.
Pros
Access banking and investment services via a single platform
$0 commission stocks and ETFs
No minimum deposit
Cons
Does not offer international shares

Tools and research features very limited   
at eToro, #1 Online Broker
 67% of retail investor accounts lose money when trading CFDs with this provider.
7.
Interactive Brokers – Trade Visa Stocks at 0% Commission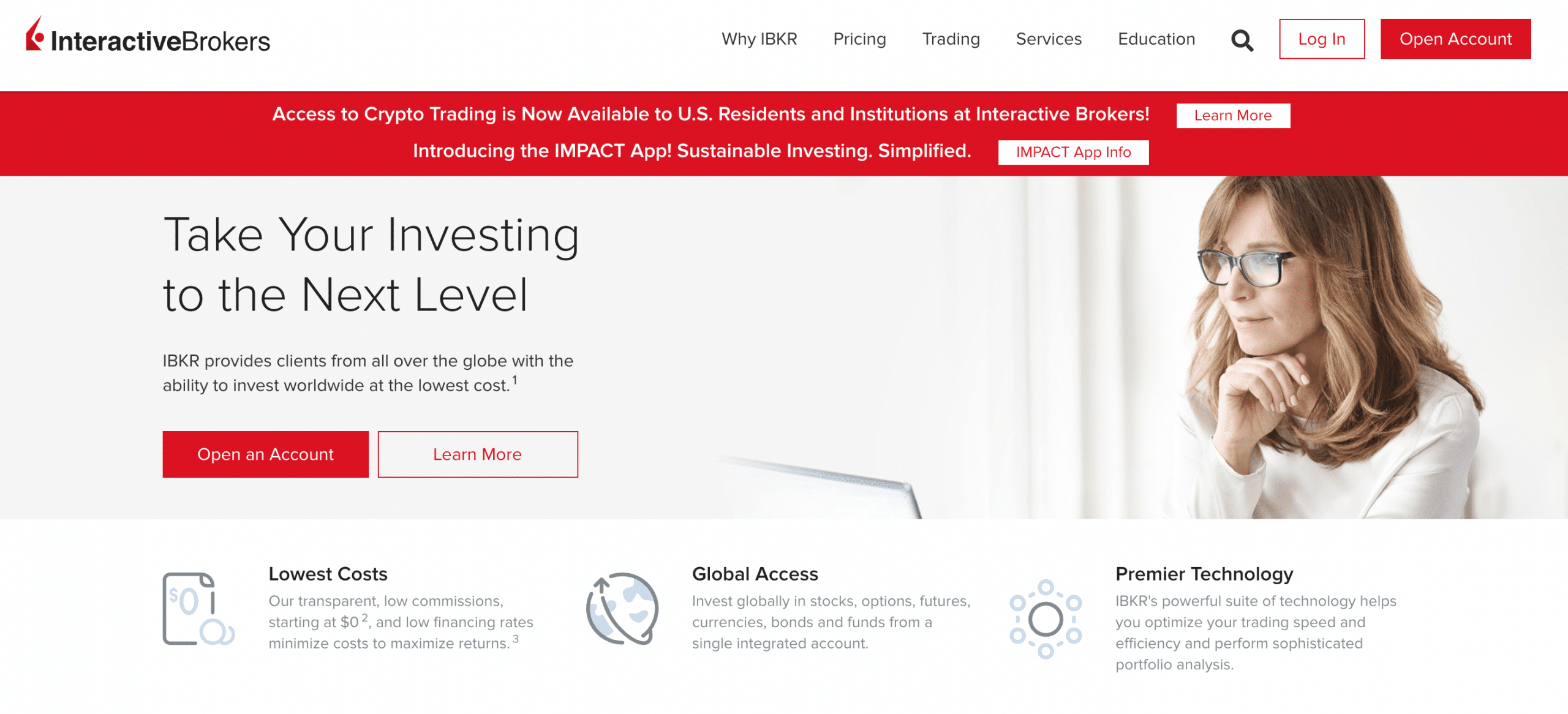 Unlike the previously mentioned Ally Invest, Interactive Brokers does support fractional shares. You can buy Visa stocks from a minimum of just $1. This only applies to stocks listed in the US, a category which Visa shares obviously fall into. There are over 135 worldwide markets listed here. However, if you decide to invest outside of the US you should check what fees you will be charged.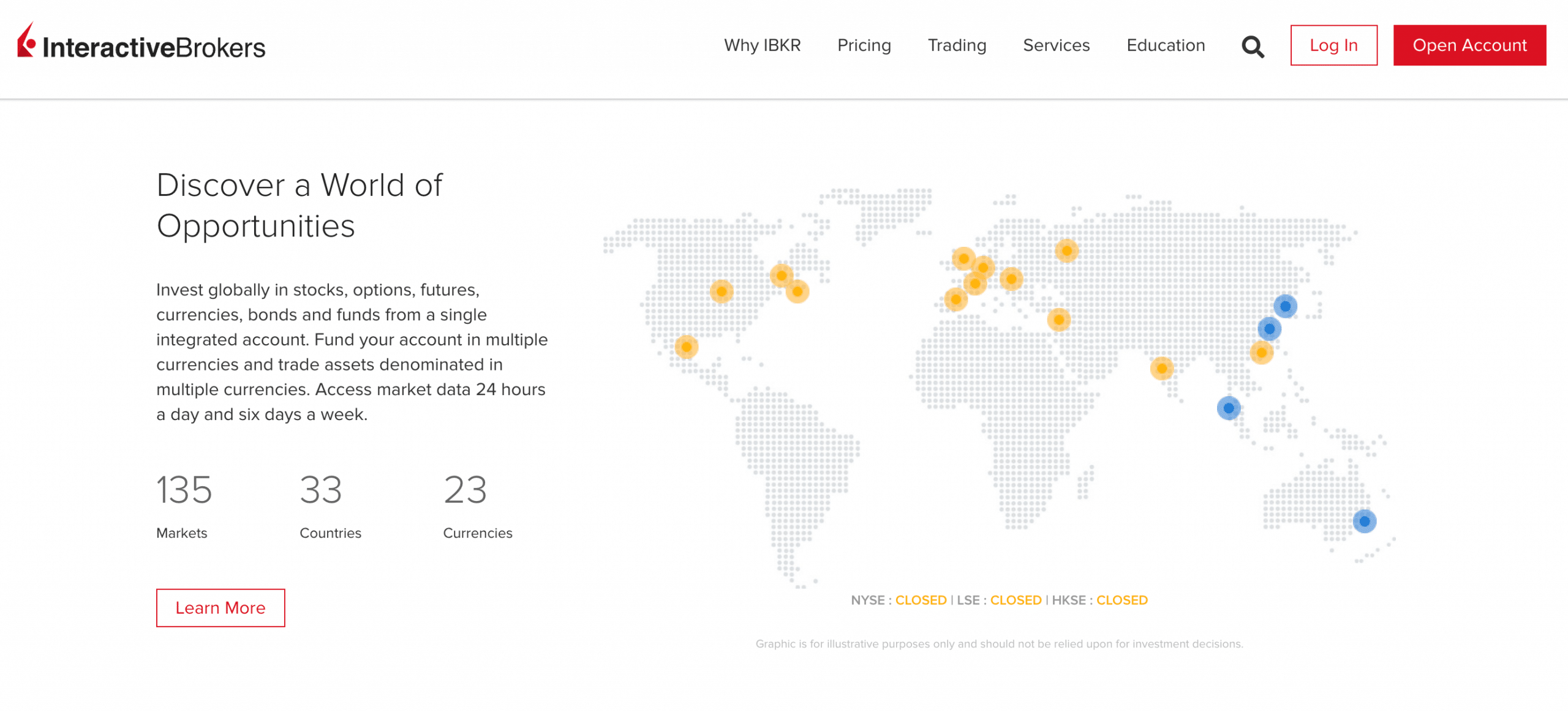 There are several accounts available when you join up with Interactive Brokers. Among the options are self-directed portfolios, savings accounts, and IRAs. A self-directed portfolio doesn't require a minimum deposit when financing your account. You can use a wire transfer or a cheque when making a deposit. Depending on your bank – this can take up to 4 days, but US accounts are usually funded quickly.
Pros
Thousands of investments across 135 markets

Advanced trading platform for seasoned investors  
Cons
Low fees only offered on US-listed stocks

Too complicated for beginners 

Debit card deposits and withdrawals not available     
at eToro, #1 Online Broker
 67% of retail investor accounts lose money when trading CFDs with this provider.
8.
E*TRADE – Good Broker for Long-Term Investments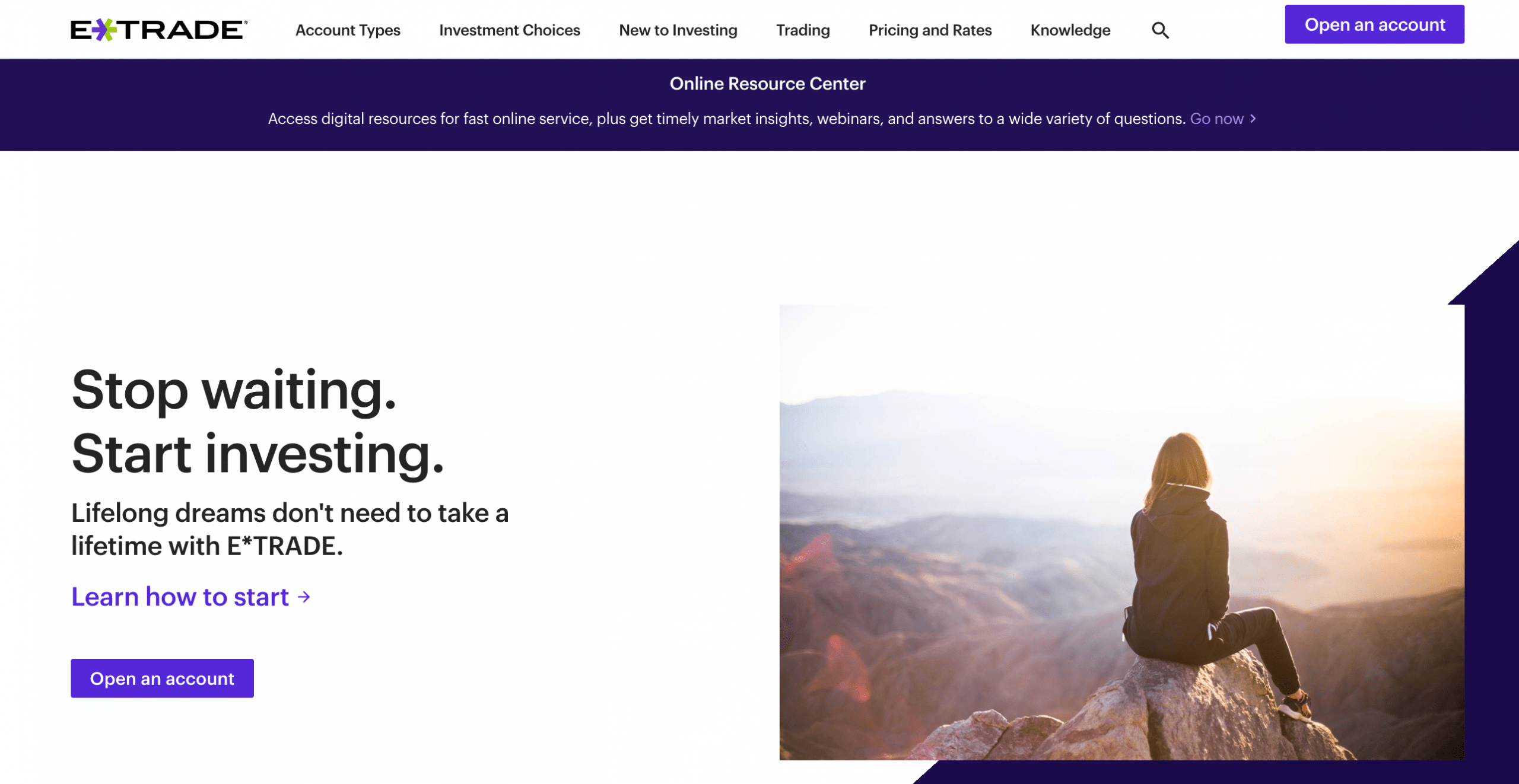 If your goals are limited to US-listed stocks such as Visa, you'll be glad to learn that E*TRADE charges 0% commission. There aren't many overseas stocks listed at this brokerage – so do bear this in mind. Due to the variety of IRAs available, long-term investors might prefer this platform. This is because you can use an IRA to invest in Visa and leave the shares in your account until retirement if you so wish.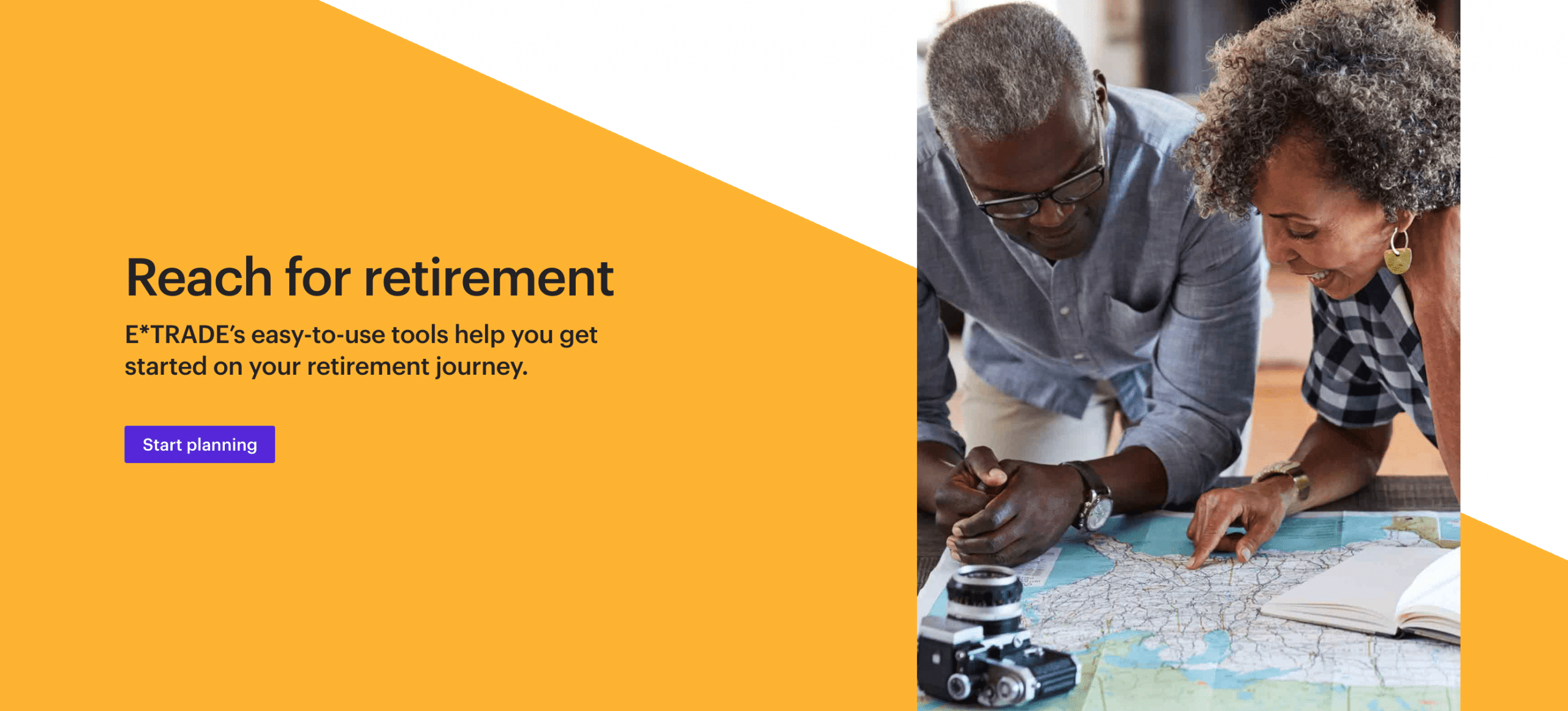 You can also access margin investing at E*TRADE, but the account minimum is $2,000. Deposits may be made in several ways at this investment platform. This includes ACH, cheques, or bank wires. Furthermore, if you choose a regular account, instead of a margin, there is no minimum deposit required. This will suit those that wish to get started with a small amount of capital.
Pros
Great for long-term investments

Supports a variety of retirement accounts

Low fees  
Cons
Very limited number of non-US stocks

Won't suit seasoned investors seeking high-level trading tools     
at eToro, #1 Online Broker
 67% of retail investor accounts lose money when trading CFDs with this provider.
9.
Merrill Edge – Online Brokerage With a Variety of Investment Accounts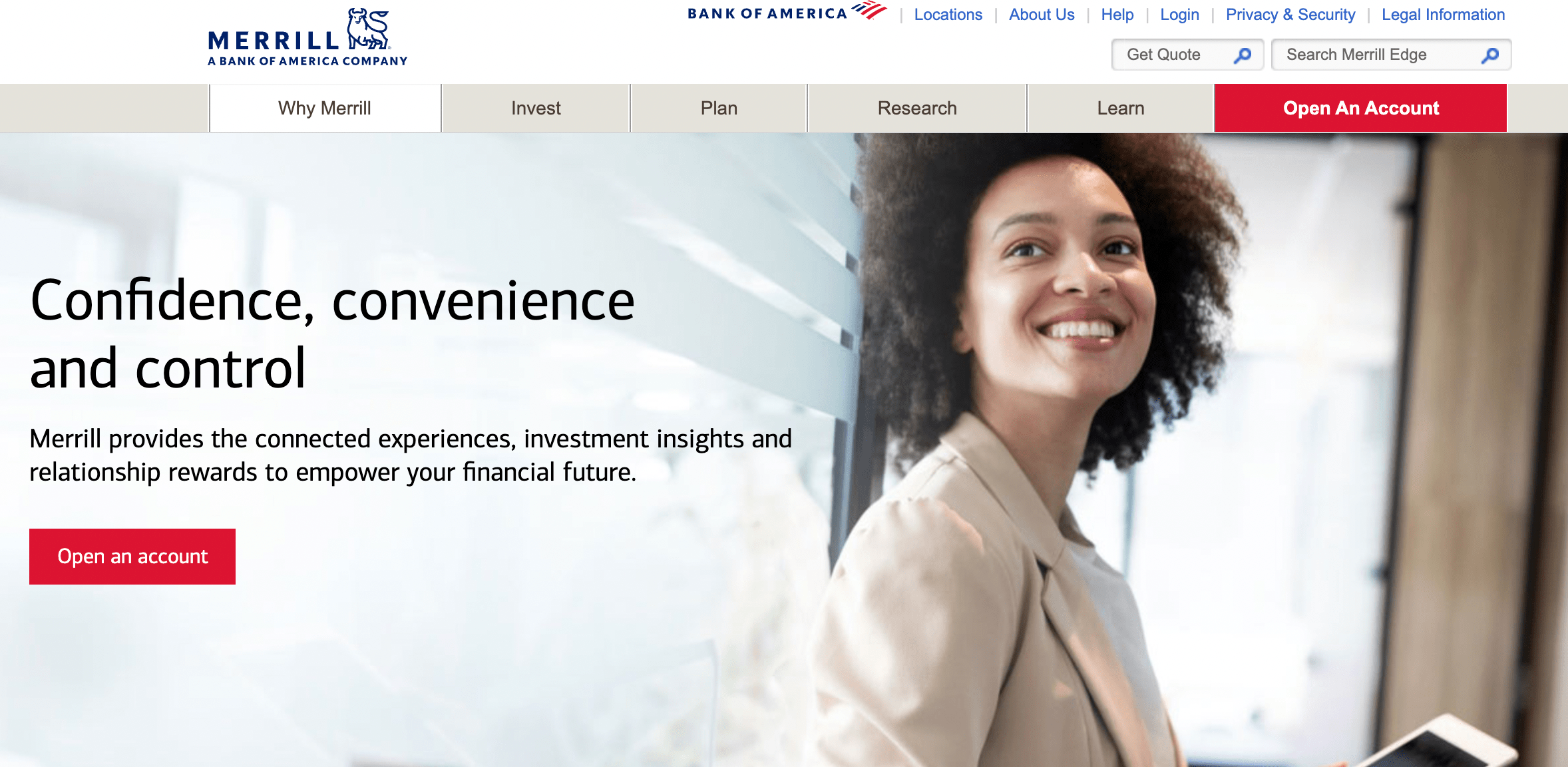 Bank of America clients may link their accounts with top-broker Merrill Edge, making it easier to finance their investment portfolio. Having said that, you don't have to be a Bank of America client to invest in Visa stocks here. Simply opt for a different deposit method, such as a wire transfer or check. Furthermore, Merrill Edge offers 0% commission on Visa shares, as they are listed on the NYSE.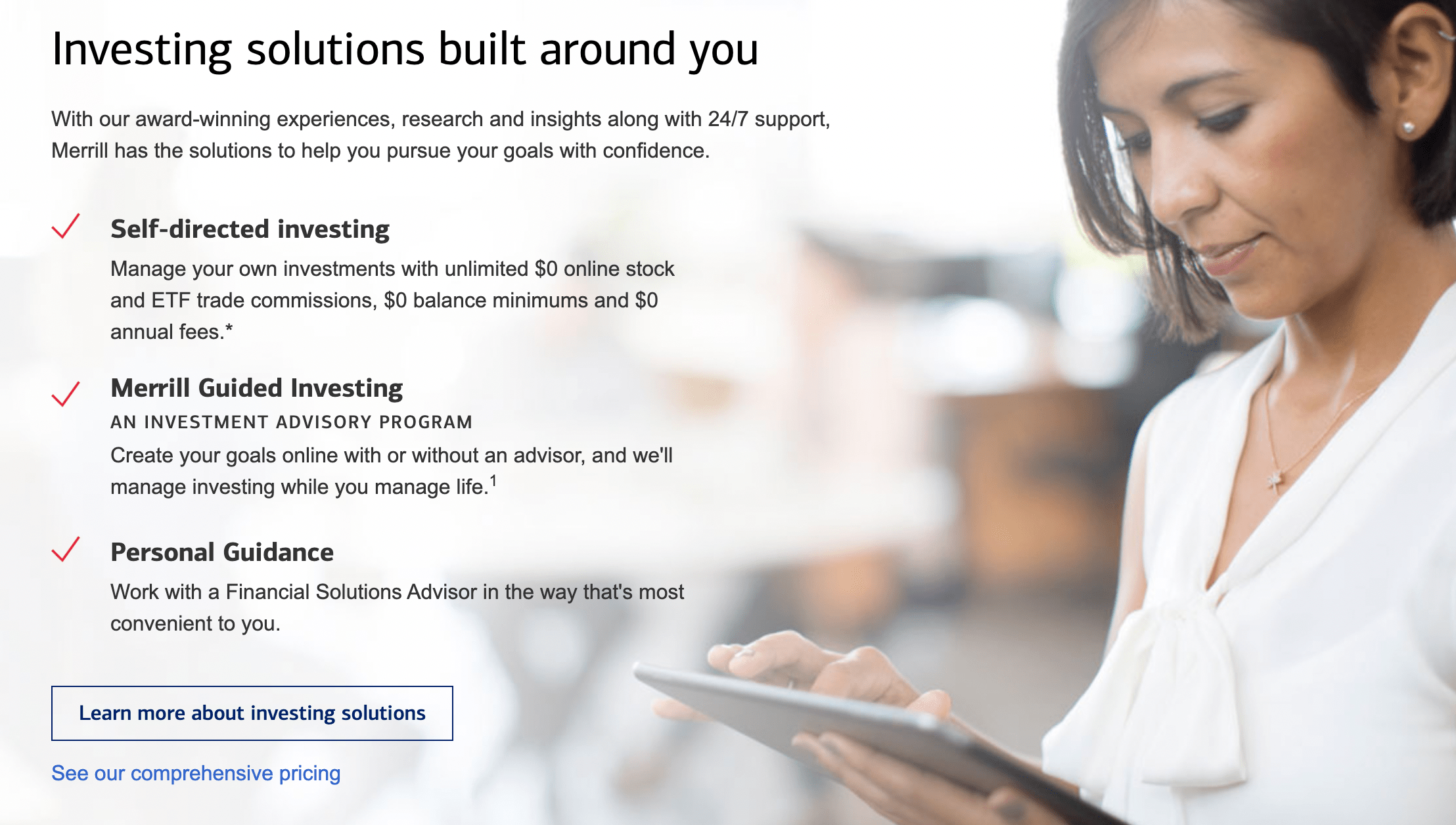 Merrill Edge offers accounts to suit most investors. In terms of trading accounts, this is inclusive of self-directed and guided plans. The latter will require you to fund your account with $1,000 or over to buy Visa stocks. Retirement accounts include 401(k) and IRAs. Again, registering for the self-directed account eliminates the need for a minimum deposit.
Pros
Several account types to choose from

Self-directing accounts offer 0% commission stocks

ETFs, mutual funds, and bonds also supported 
Cons
Financial advisory accounts require minimum investment of $20,000

No direct fractional share purchases    
at eToro, #1 Online Broker
 67% of retail investor accounts lose money when trading CFDs with this provider.
10.
Robinhood – Great US-Based Broker for Beginners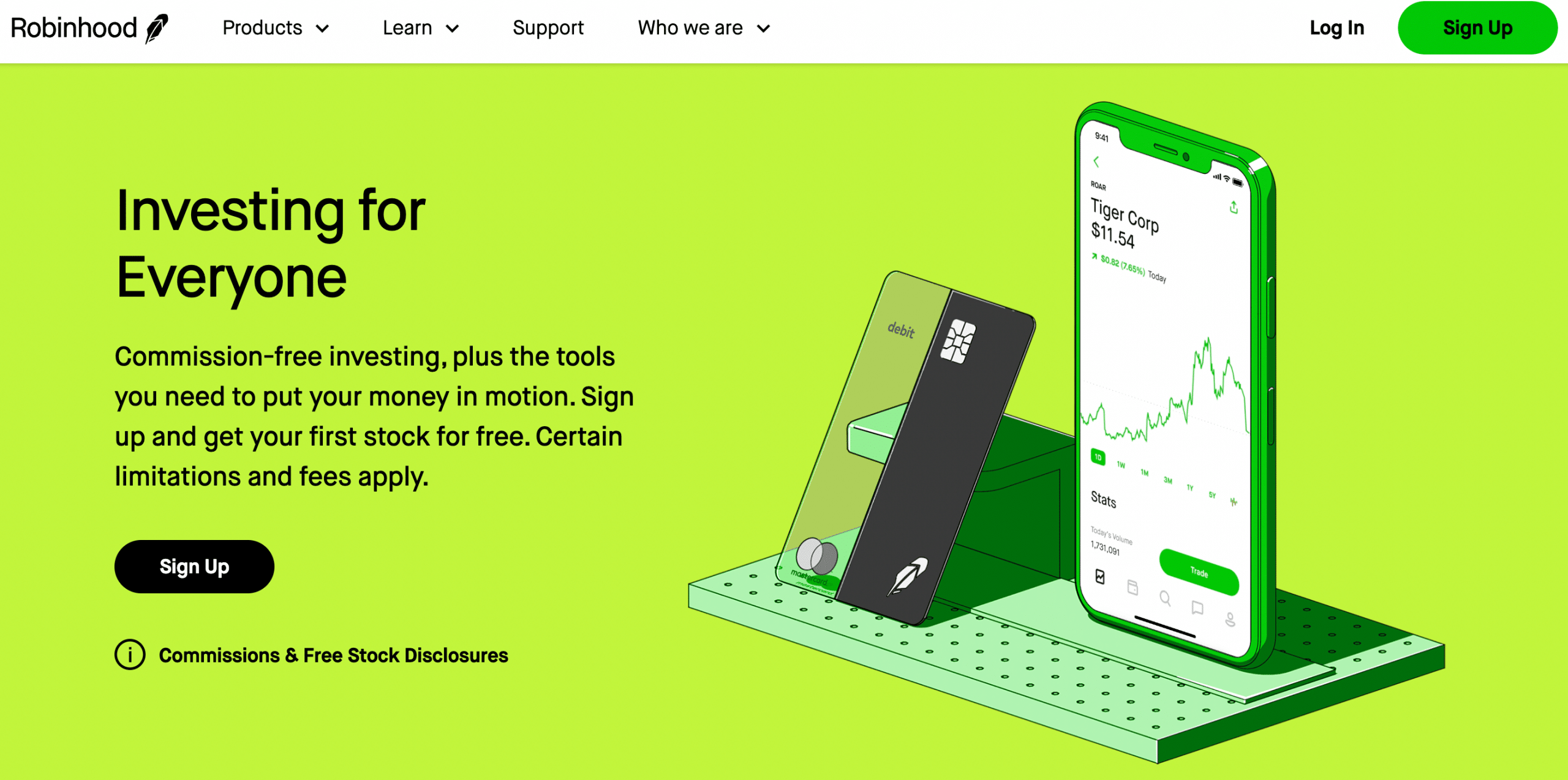 Rookie stock traders looking to invest in Visa shares might find Robinhood a great alternative to the other brokers we've reviewed today. This is because the website seems to have been designed with beginners in mind. There's also educational content to further help you learn how to buy stocks. This newbie-friendly platform, like some of the other brokers on our list, offers IPOs and allows you to invest in them without commission.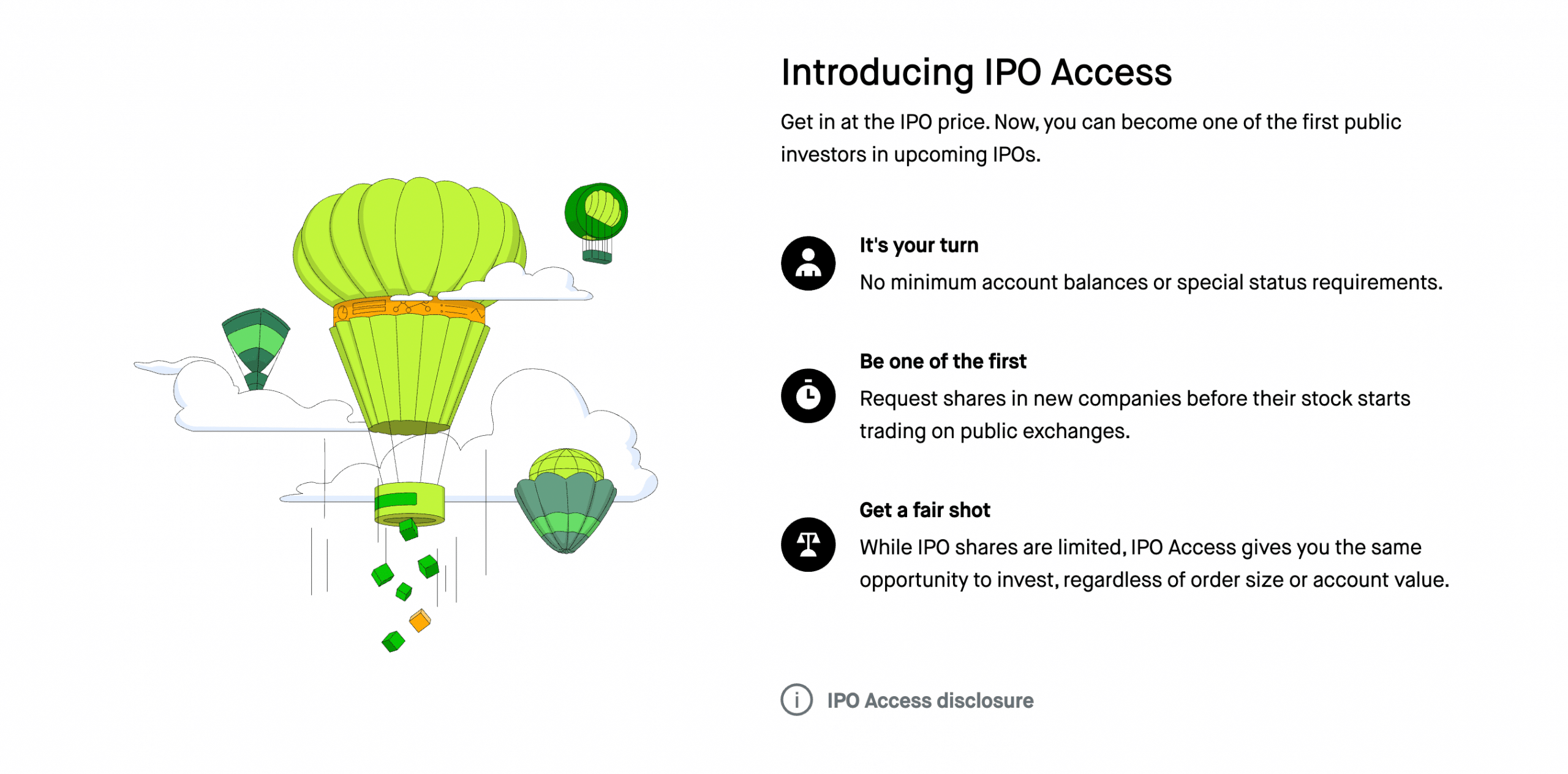 The same applies when you buy Visa stocks. There is no minimum amount required to fund a Robinhood account and invest in Visa shares. Furthermore, when you join up and fund your account, you have the option of using ACH or wire transfer. If you opt for the $5 per month gold account, you will have access to margin trading facilities and more advanced research tools.
Pros
No commissions charged
Offers US-based stocks, ETFs, and options
No minimum deposit
Very user-friendly
Cons
Spreads can be uncompetitive
No support for e-wallets or debit cards
No foreign stocks
at eToro, #1 Online Broker
 67% of retail investor accounts lose money when trading CFDs with this provider.
How to Buy Visa Stocks – Detailed & Explained in Full
Now that we've reviewed the best brokers available, we are going to show you how to join eToro and buy Visa stocks.
eToro charges 0% commission on stocks, in addition to being regulated by the SEC. Another reason to use this investing platform is the ability to purchase fractional Visa stocks for as little as $10.
Step 1: Open a Stockbroker Account
When you arrive at the eToro platform you will see a button that says 'Join Now'. Click this to begin the sign-up process. Input your phone number and email address. In addition to this, you must enter your name, as well as a username and password of your choice. By selecting 'Create Account,' you will move on to the next step.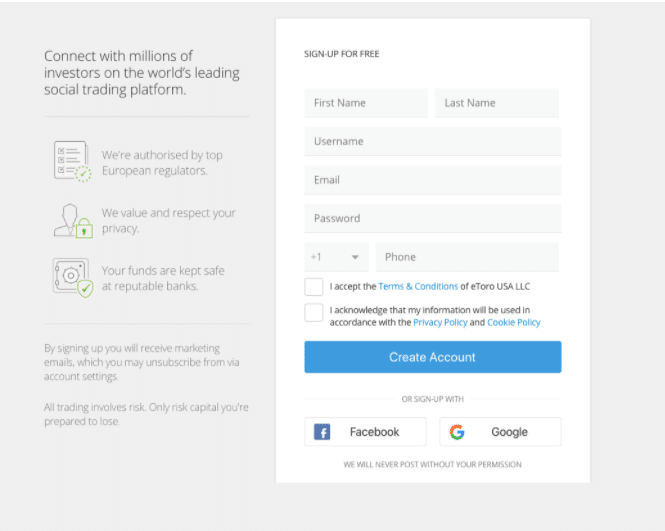 As previously stated, eToro complies with AML regulations, so completing the KYC process is to be expected. All you have to do now is attach a copy of your driving license or passport.
67% of retail investor accounts lose money when trading CFDs with this provider.
Step 2: Deposit Investment Funds
You must make a deposit to fund your eToro account in order to buy Visa stocks. With just $10 in your account, you can begin trading at this brokerage.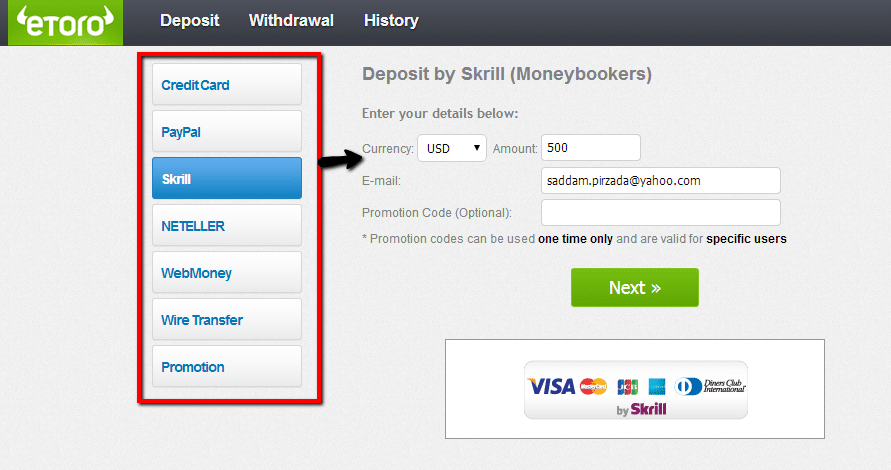 You'll need to fill out the deposit form with the US dollar amount you are comfortable with and confirm all to move to the next step of buying in Visa shares. You must also select a deposit type from a debit or credit card, wire transfer, or an e-wallet.
Step 3: Search for Visa Stocks
You can easily find Visa by typing it into eToro's search bar. As you can see, this will reveal a list of markets, so you just need to click 'Trade' next to Visa stock.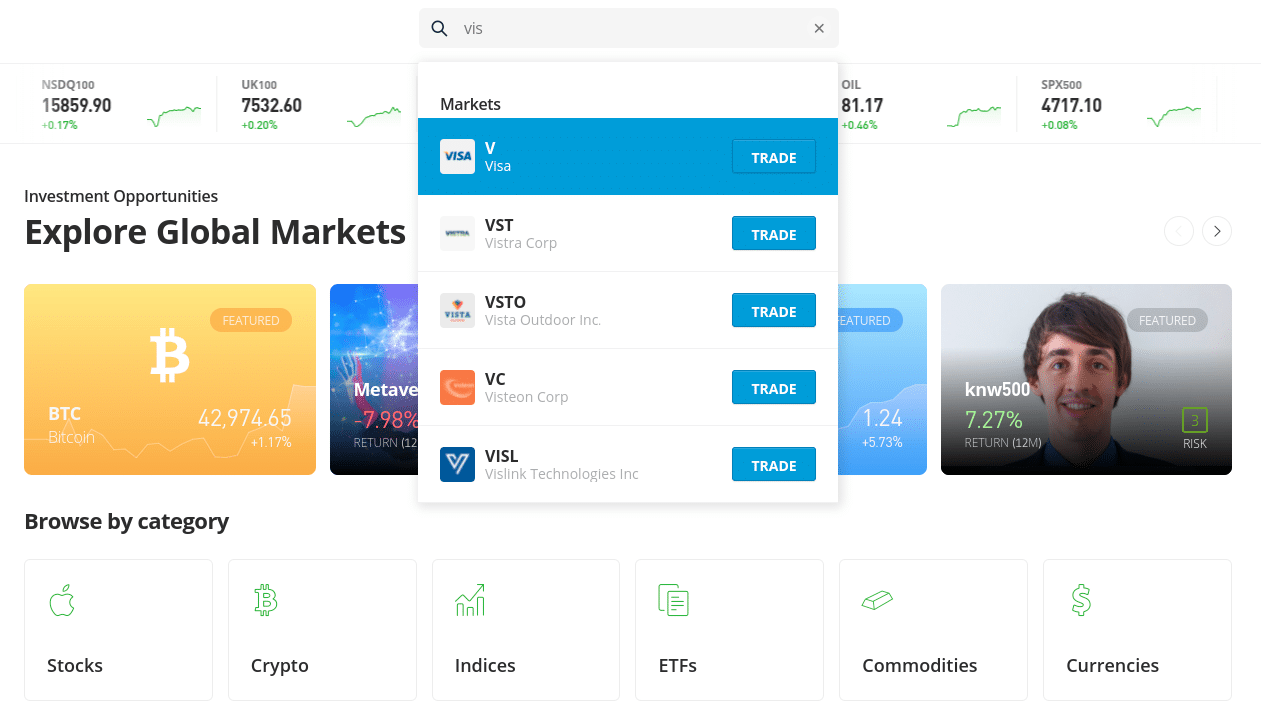 Once you have selected Visa, an order box will pop up so you can complete your investment.
Step 4: Buy Visa Stocks
To buy Visa stocks on a commission-free basis, input the US-dollar amount you wish to allocate to shares. Fractional investing is allowed at eToro, so you can start by allocating just $10 to your Visa investment if you want.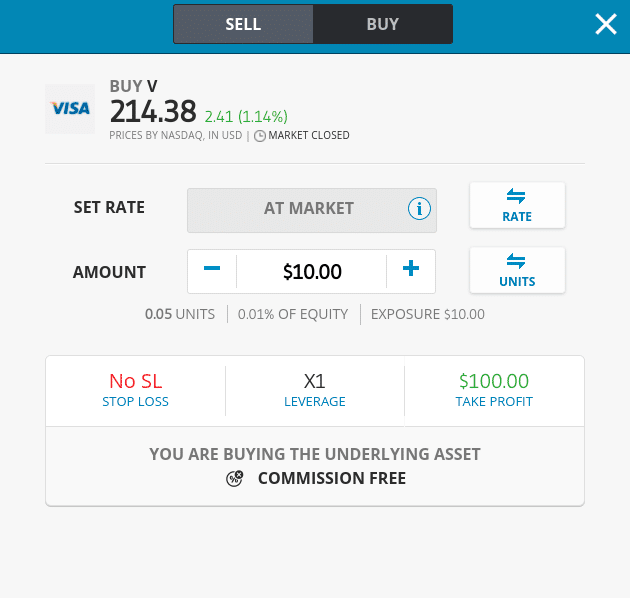 Confirm your order when you're happy with the amount you've input to buy Visa stocks, and eToro will add them to your portfolio.
Step 5: How to Sell Visa Stocks
Assuming you decided to buy Visa stocks at eToro, you will find cashing out incredibly simple.
Here's a simple walkthrough of how to sell Visa stocks:
To sign in to your eToro account, use the username and password you created when you set up your portfolio.
Locate the Visa shares you purchased by clicking 'Portfolio'
Select the 'Sell' button next to Visa
eToro will finance your account with the money almost immediately
As previously stated, one of the biggest benefits of using eToro is that it offers 0% commission, irrelevant of whether you are buying or selling Visa stocks.
Best Place to Buy Visa Stocks
Today, we have reviewed the best brokers for your consideration when looking for a place to invest in Visa stocks. Nevertheless, there are a few essential aspects you should consider before making a final decision and registering for an account.
Utilize the following checklist when sifting through brokers to buy Visa stocks:
If you want to buy Visa stocks with modest sums of money, make sure the platform allows fractional stakes
Before you join up with a broker to buy Visa stocks, make sure it is regulated
The best option is always a platform that is regulated by the SEC and is a member of FINRA
Another thing to check is what the minimum deposit is to finance your investment account
Consider whether the broker's platform will be simple enough to use and place orders on, to invest in stocks at a moments notice
Today we concluded that eToro is the best platform to buy Visa stocks. The platform enables fractional investing from $10 and setting up an account takes next to no time at all. Crucially, eToro is a member of FINRA and is regulated by the SEC.
Is Visa a Good Stock to Buy?
You've probably already made your mind up and decided you want to buy Visa stocks. There are, however, certain factors to consider when determining if Visa is a smart company to add to your portfolio. For example, stock price information and dividends are a good place to start.
Visa Stock Price History
It doesn't matter whether you are an advanced investor or a complete novice, you should check the price history of Visa before you buy shares in the company. This usually gives investors an idea of the financial health and general perception of the company. As such, analysts monitor publicly listed companies on a regular basis in order to assess the stock's overall viability and market performance.
Visa shares fell by 0.9% in 2021. In comparison, the S&P 500 grew by 27% in the same time period. Visa went on to make up for early-year revenue decreases, with strong showings in quarters 3 and 4 in 2021. The company reported year-over-year growth of 27% and 29% in the two quarters.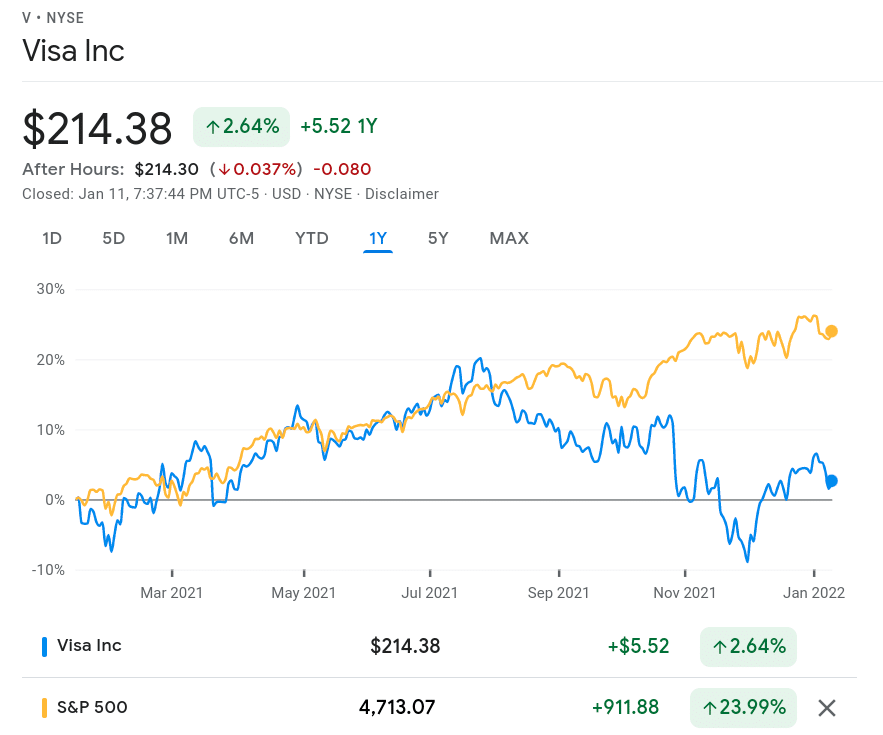 With that said, for the period ending September 2021, Visa's fiscal revenue increased by 10% year-over-year. This rounded off the year nicely for Visa and the company ended up with $3 billion more than it had by the end of the previous year. Visa's business often grows in tandem with the economy, resulting in higher income.
In other words, when people spend more, this payment processing company gets a portion. It's a no-brainer strategy. Of course, this also means that as the population rises, so does this company's target market, which is pretty much anyone that buys products and services in-store or online.
Does Visa Pay Dividends?
If you are keen to buy Visa stocks and want regular incoming cash flow, you will be pleased to discover that this company pays quarterly dividends. Specifically, Visa pays an annual dividend of 0.70% as of writing. The quarterly dividend amount distributed to stockholders was previously $0.38 per share. Visa's dividend has increased by almost 52% in the last three years of trading.
Should I Buy Visa Stocks?
If you are still undecided about whether you want to buy Visa stocks, you will see further information below. We talk in detail about some of the reasons an investor might be at an advantage when buying Visa stocks. This should help you decide if it's still a good choice for you.
Visa Stock Should Reap the Benefits in a Cashless Society
As we digitalize every part of our daily life, the next 10 years are expected to be swept by technological change. There is no exception when it comes to how we pay for products and services. More and more of the world is going cashless, and Visa stock is perfectly positioned to go along for the ride.
The company is also partnering with IT companies to provide its clients with a variety of digital alternatives
To stay with the times, Visa has made numerous acquisitions and formed multiple partnerships
As the pandemic has pushed more and more shoppers to make purchases online, this will almost definitely boost Visa's revenue
Cross-border transactions, tap/click to pay, and digital wallets are all part of Visa's strategy to grow its footprint in the cashless payments industry. This company's expansion into the digital payment market should be beneficial for people looking to buy Visa stocks.
Visa Stock Beat the S&P 500 Over a Long Period
It's worth noting that the current health of the wider economy does not provide much insight into Visa's future. Visa is included in the S&P 500 index, which for those unaware is one of the biggest indicators of how the biggest corporations in the US are performing.
In the last 10 years of trading, Visa has outperformed the S&P 500 by 494%. This is impressive given the aforementioned indices' holdings are inclusive of huge companies such as Apple, Amazon, Microsoft, Google, and Facebook.
Furthermore, we checked the stock's performance over the last five years and found Visa still came out on top in terms of increasing share value. Market commentators expect this to go on for the foreseeable future, and as we explain next, Visa is ready to reap the rewards of the digital payment revolution.
Visa Derives Revenue from Multiple Sources
When you elect to buy Visa stocks, it's good to know where the company's revenue comes from. Visa's profits are reported in a single section called payment services. Visa's activities, on the other hand, are divided into four parts, and each one produces income for the company.
Visa makes revenue by charging financial institutions for the privilege of issuing its cards. This also includes Visa's debit/credit cards
The company also receives fees from retailers depending on the number of transactions made using Visa cards for goods and services
Put simply, the company makes money by acting as a middleman in the transaction
Visa also derives revenue from data processing, client services, cross-border transactions, and conversion fees
This also includes value-added services, notably – licensing fees
Visa's network spreads across more than 200 regions and countries.
In a nutshell, Visa facilitates the smooth payment processing between the business and the financial services provider, or bank. The company doesn't actually profit from the interest imposed on Visa-branded credit card transactions though. Interest fees are paid to the institution that issues them.
However, as you can see, the company has a fairly diverse business model, with service fees, foreign revenues, and data processing fees making up its operational revenue. The company's customer incentive arrangements with its partners diminish its profitability through business facilitation charges.
Risks of Investing in Visa Stocks?
The benefits of buying Visa stocks have been discussed extensively. As such, it's only fair that we also discuss the possible risk that you might face when you buy Visa stocks.
General Financial Services Risks
On the one hand, this company is expected to beat the market during an economic downturn. However, systematic and unsystematic risk affects the majority of traded shares. As such, when you buy Visa stocks, this is something to be aware of.
Unsystematic risk refers to the possibility that events unique to Visa, or the financial services industry in general, will have a negative impact on the stock's price
This sort of risk can be mitigated by investing in a number of different stocks from various industries
Systematic risk, on the other hand, is the danger that the price of Visa shares will be impacted by broader stock market volatility
The historical reaction of Visa stock to market fluctuations may be measured by conducting some online research.
Amazon's Ban on Visa Credit Cards
Interchange fees have been a source of contention between networks like Visa and merchants for many years, with major retailers often leading the effort. Huge tech company Amazon has stated that it will no longer accept Visa credit cards. At least, this is the case for those issued in the UK.
Amazon is citing excessive surcharges as the reason behind this decision
Post-Brexit, Visa was no longer bound by EU restrictions on cross-border transactions in the UK, so it increased its fees
Cross-border transactions are normally charged a much higher premium than domestic ones
While intra-Europe cross-border transactions are priced similarly to domestic ones, this news is potentially damaging to the valuation of Visa's stock as it affects millions of retail and streaming service customers
It's unlikely this loss would be substantial in terms of Visa's total revenue. Frankly, this news would present a much bigger risk if it inspired other big retailers to jump on the bandwagon. The good news is that Visa debit cards issued in the UK will continue to be accepted by Amazon.
Regulatory Scrutiny of Debit/Credit Card Providers
Investors might also be concerned about Visa's debit business being subjected to more regulatory scrutiny. In early 2021, the Department of Justice in the US launched an antitrust investigation into Visa's actions.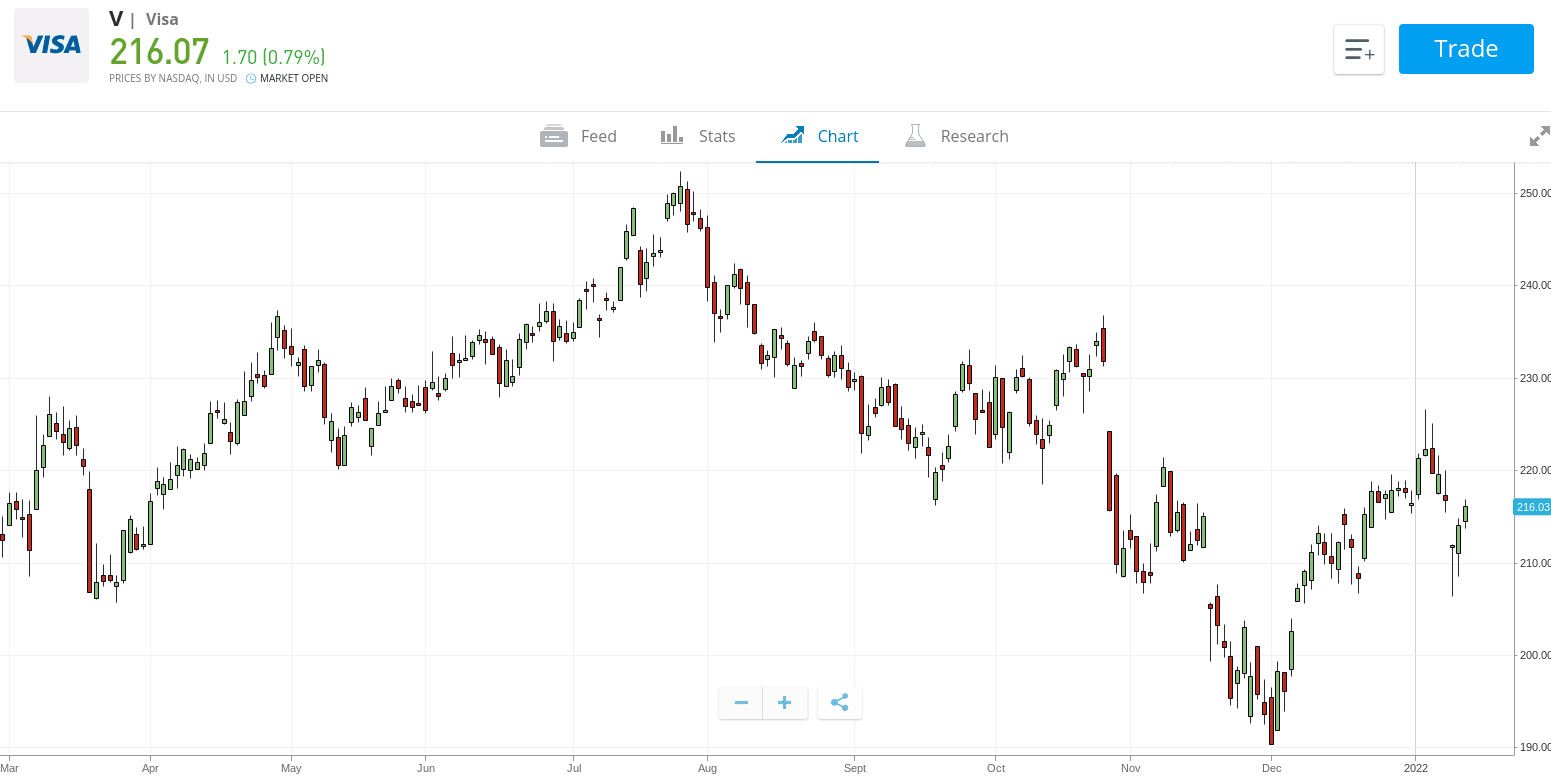 For those unaware, antitrust laws are rules designed to promote competition in the market. This is achieved by reducing a seemingly dominant company's market power. This frequently entails ensuring that acquisitions and mergers do not create monopolies, as well as the dismantling of monopolies by force.
The Federal Reserve issued a request for public opinion on proposed regulatory changes for debit businesses, such as Visa
This could allow more independent card networks to operate in the online transaction industry – which poses a potential risk for Visa
According to Federal Reserve rules, a debit network must have at least two unaffiliated networks
Independent networks are frequently unavailable for online transactions since card issuers, such as banks, do not enable them
Visa has a powerful stronghold in the online debit arena, but it may face increased competition if the Fed's proposed regulatory changes are implemented. It is important to note that Visa's debit operations are entirely compliant with the law.
Furthermore, the corporation is working with the Federal Reserve on its investigation. Government inquiries are often part of doing business for payments technology companies such as Visa.
The Cost of Buying Visa Stocks
The amount you need to pay to a broker when you buy Visa stocks will depend on the platform you open an account with. You will see a list below to give you a better understanding of what to anticipate.
Brokerage Deposit Fees
Brokerage deposit fees are payable each time you add money to your account to finance your investments. The amount you are charged will vary when you sign up with a platform to buy Visa stocks. Furthermore, depending on the payment method you opt for, certain brokers impose fees.
If you choose to fund your account with a wire transfer through Webull, you will pay an $8 deposit fee. You won't have to pay this fee on ACH transactions
In this regard, eToro is an easier option, because the broker charges absolutely nothing to US clients making a deposit – irrespective of the payment method.
eToro operates in US dollars, so there are no exchange fees to worry about either.
Commissions
It goes without saying that if you open a broker account that offers 0% commission on Visa stocks, you'll save money when investing. This is because a commission is charged whether you are buying or selling Visa shares, and this cost can add up and eat into your investment funds.
The good news is, except for Zacks Trade, all of the platforms we have talked about today will allow you to buy Visa stocks with no commission.
Spreads
Investment platforms that do not stipulate a commission to buy Visa stocks make money by charging a higher spread.
Here's an example of how this might work when you buy Visa stocks:
For the uninitiated, the spread is the difference between a market's ask and bid prices
As such, if the buy price of Visa is $216.63 and the sell price is $216.39, the spread is 0.1%
Try to avoid wide spreads, as it means there is a significant discrepancy between the two rates
Another way to think about the spread is that it's a commission paid to the broker.
Top-rated broker eToro offers tight spreads across most markets on its platform. Robinhood is a great broker for beginners. However, it offers uncompetitive spreads on stocks.
How to Buy Visa Stocks – Conclusion
In this guide on how to buy Visa stocks, we explained the steps involved when completing your purchase. We also included a review of the best stockbrokers to provide you with access to the NYSE marketplace.
Additionally, we covered Visa's stock price history, dividends, and some pros and cons of buying shares in the company. The best way to get started is to register for an account with eToro and take advantage of its 0% commission policy on Visa stocks.
This broker is regulated by the SEC and has successfully acquired membership with FINRA. You can open an account with as little as $10 and also indulge in fractional share investing when buying Visa stocks.
eToro – Best Broker to Buy Visa Stocks
FAQ
How do you buy Visa stocks?
Where to buy Visa stocks?
How much do you need to buy Visa stocks?