Buy House Stocks – 5 Best House Stocks To Buy Right Now in 2022
Housing is perhaps one of the most prominent costs in our life. It also has a major impact on any economy in the world, so it's not surprising that investors who want to shield themselves from inflation opt to invest in real estate and house stocks. 
Housing stocks are extremely varied, ranging from brokerages to home improvement companies. Thus, you have plenty of choices if you decide to invest in the best house stocks of this year. Below, we will introduce you to everything you need to know to add high-performing stocks to your portfolio. 
#1 Broker to Buy House Stocks – eToro
How to Buy House Stocks – A Quick Guide For 2022
Investing in house stocks has never been easier. Here's a short step-by-step guide to getting you started straight away:
Step 1: Open an Account with eToro – Access eToro and click to open a new account. Fill in the online form with your personal details.
Step 2: Upload Your ID –

All regulated brokers must comply with the KYC policy, so you need to upload your government-issued ID and proof of address.

Step 3: Deposit Funds –

Add funds to your account using one of the many payment methods available, including debit or credit cards and e-wallets like PayPal.

Step 4: Search for House Stocks – Next, type in your desired house stock or browse eToro's full list of stocks.
Step 5: Buy House Stocks –

Once you know what you want to invest in, click on "Trade", fill in your order details, and submit your order, which will be executed during market hours.
67% of retail investor accounts lose money when trading CFDs with this provider.
Best House Stocks to Buy Now – List of the Best House Stocks
House stocks can be extremely varied, but we have done our due diligence and picked some of the highest-performing stocks in the last year. Here are our top choices for house stocks to buy right now:
NVR – The Best House Stock with 40% Share Price Increase
Home Depot – Best House Stock to Capture Consumer Spending Habits
Lennar – The Best House Stock in the U.S.
PulteGroup – Best House Stock for Diversification
Redfin Corp. – Best House Stock for Growth Investors
How To Buy House Stocks – Choose a Broker
Before learning more about what house stocks are and why they are worth your attention, you need to sign up with an online broker that provides this category of financial assets. Based on our research, these are the best online brokers that provide house stocks, among many other assets:
What Are House Stocks?
A house stock refers to a company involved in the housing market. These may be firms that build and sell houses, provide financing (like a mortgage), manage and rent properties, or may be involved in the home improvement industry. What they all have in common is their reliance on the health of the housing market, which means that higher housing prices and demand directly increase their revenues.
Best House Stocks to Buy Now – Full Analysis
After doing our due diligence, we've picked these five best house stocks you can invest in right now. The next sections introduce you to why you may want to add them to your watchlist.
1. NVR – The Best House Stock with 40% Share Price Increase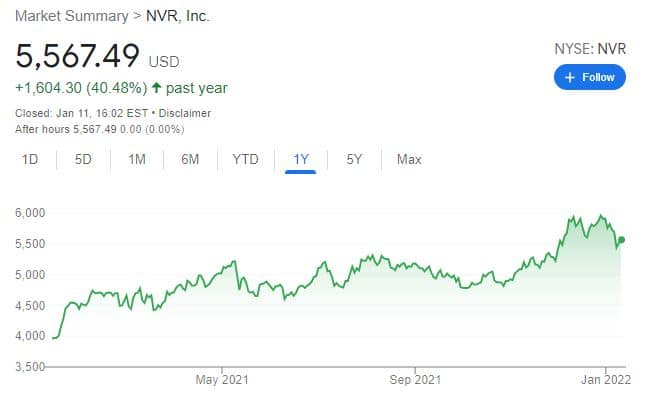 With a whopping increase of more than 40% share price increase in the past year, NVR is one of the best house stocks for discerning investors. The company is a premium housebuilder also involved in the mortgage business in 14 states. 
Priced above $5,500, NVR stock may not seem attractive for lower-budget investors. However, fortunately, brokers like eToro allow you to invest in fractional shares, so you can spend as little as $10 on NVR stock if you believe in this homebuilder's ability to drive returns in 2022.
67% of retail investor accounts lose money when trading CFDs with this provider.
2. Home Depot – Best House Stock to Capture Consumer Spending Habits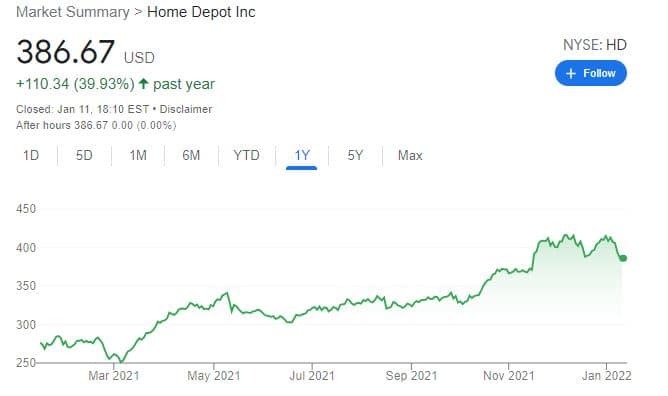 The booming housing market in the U.S. has perhaps benefited Home Depot the most. With a nearly 40% share price increase in the past year, the company has continuously reported excellent financial performance driven by people spending more time at home. Also, as the prices of houses skyrocketed, many people decided to invest more in their properties instead of changing homes, which meant higher revenues for this home improvement retailer. 
What investors may want to consider when it comes to Home Depot is that it is not only a house stock, but it also provides exposure to consumer spending habits. Furthermore, since house prices are on the rise, many people are likely to renovate their homes rather than move out, which translates into continued profitability for this company.
67% of retail investor accounts lose money when trading CFDs with this provider.
3. Lennar – The Best House Stock in the U.S.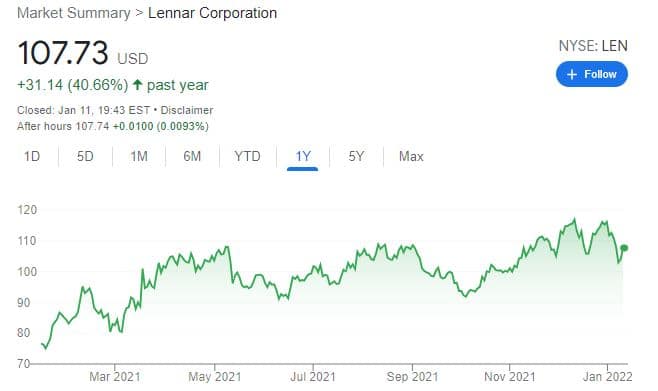 Lennar is the largest homebuilding company in the U.S. by revenues. Apart from having a healthy backlog of properties, the company has sturdy expansion plans for 2022, too. For instance, its joint venture with Centerbridge Partners aimed to develop a rental platform for single families. This is targeted towards median-income families who want to either own or rent homes. 
This is not the only sign of innovation, though. The company also backs Doma Holdings, a technology company that uses artificial intelligence to make real estate more affordable. Thus, despite being a leader in the U.S., it seems that there is still plenty of room to grow for Lennar and its investors.
67% of retail investor accounts lose money when trading CFDs with this provider.
4. PulteGroup – Best House Stock for Diversification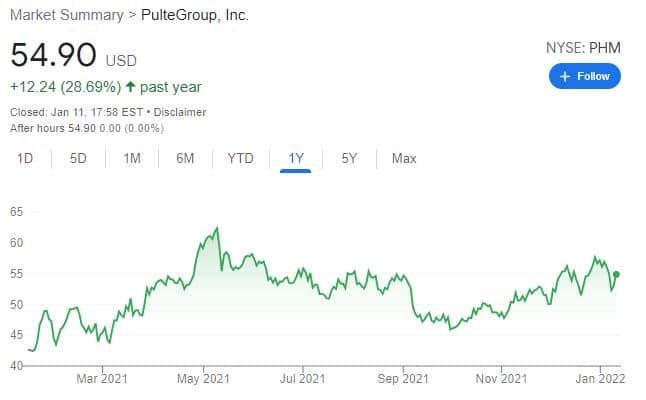 If you want to diversify your risk away, PulteGroup is perhaps the best house stock of this year. This is thanks to its diverse revenue streams as it activates under different brands, such as Del Webb and Centex. 
PulteGroup builds homes, 26% of which are bought by first-time homeowners and about 45% are second-time buyers. The house stock also provides a 1% dividend yield, but it also focuses on cutting down on its debt, which improves its financial stability.
67% of retail investor accounts lose money when trading CFDs with this provider.
5. Redfin Group – Best House Stock for Growth Investors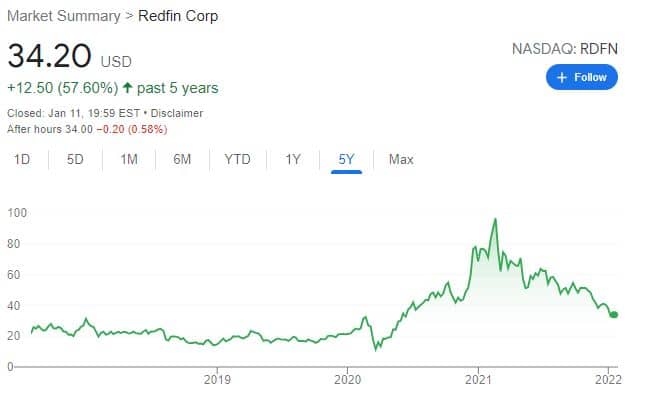 Redfin is an innovative brokerage firm that uses tech to cut down on commissions, being cheaper compared to traditional real estate brokerages. Although it is still in its early stages as it tries to shake off its debt and take steps towards profitability, the company is massively focusing on marketing to gain more market share. 
The technology-oriented firm may not be the best pick for just any investor. Unfortunately, the company's losses in 2021 lead to a bearish scenario throughout the year. Despite the lack of profitability, the company's stack of cash of about $800 million retains growth investors' interest as they bet on its ability to obtain more market share from incumbents. 
67% of retail investor accounts lose money when trading CFDs with this provider.
Investing vs Trading House Stocks
The housing stock market may seem extremely appealing from an investment perspective. Below, we discuss whether investing or trading such stocks may suit your expectations better.
Invest in House Stocks
Investing in housing stocks means that you buy the stock and hold your shares for a few years or even indefinitely. Such individuals often earn money in two ways: via dividends and capital appreciation, which means that your portfolio value grows as the share price increases, so you can sell at a profit if you ever decide to do so. 
Housing stocks, unlike real estate, are subject to different risk factors. This is because the industry is cyclical; in other words, the industry tends to fare better during economic growth, and decrease when the economy is in a downturn. However, long-term investors ride out any bumps down the road as they hold on to their investment, so temporary market fluctuations are not likely to affect them unless they sell at a low point. If you find a company that inspires confidence and you believe it has strong potential for long-term growth, an investing strategy may be exactly what you need.
Trade House Stocks
Some individuals may not find it appealing to buy stocks for years. Rather, if you want to buy and sell such stocks in the short term, you will be considered a trader. Housing stocks may not be the best target for short-term traders as the industry is not as volatile as others, such as blockchain penny stocks. In general, penny stocks or cheap shares are more suitable for traders, as these are significantly more volatile and uncertain than established, mature companies. 
Traders use different strategies compared to long-term investors. The actual long-term performance of a house stock or its inherent valuation may not be relevant for your objectives as long as you identify it as possibly starting a bullish run. For instance, some stock prices go up before earnings announcements if the market participants expect the company to have performed better than the estimations. This is known as news trading and it consists of buying the stock before the earnings announcement and selling it for a profit afterward. There are many types of trading strategies, some much more advanced than others, based on what type of technical indicators you decide to use.
How to Choose the Best House Stocks for My Portfolio?
There are many types of house stocks, as we stated at the beginning of this article. Yet, how do you know which one is the right one for you?
Type of House Stock
Choosing the house stock depends on your strategy and other assets in your portfolio. For instance, for full exposure to this industry's growth, you may want to choose one or a few different housebuilding companies. These develop and sell properties, so you are directly exposed to this industry. Brokerages or companies that provide financing to homeowners are also potentially a good choice, given the fact that millennials that are now adults will soon boost the demand for housing.
Long-Term Performance
Next, if you want to add long-term stocks to your portfolio, you may want to check the stock's performance over the past years. This may also depend on your strategy and risk appetite. For instance, a company like Redfin is a relatively new entrant on the market, and its reliance on technology makes it different, but also riskier. Its performance in the past year has not been favorable, but the company may suit the preferences of a growth investor, given its prospects. On the other hand, if you prefer a stable company, Home Depot is perhaps the most popular home improvement company in the U.S. and is not likely to be very volatile, unlike newer or smaller ones.
Size of the Company
Finally, in most cases, the size of the company is tightly related to the risk you'll expose yourself to. A larger, mature company is generally safer for investors as it has a healthy backlog of properties or contracts; at the same time, a smaller company may be riskier, but it comes with higher growth potential. You need to decide what level of risk makes you comfortable before choosing the best house stock for your portfolio. 
Benefits of House Stocks
The housing market has always attracted investors' interest. Below, we will discuss some of the main aspects that support the bullish scenario for this industry in 2022. 
Changing Working Patterns
During the pandemic, many people were forced to work from home, and, undoubtedly, many people have now returned to their offices. Yet, many workers are extremely likely to continue working from home (or at least partially). This means that these people are more likely to invest in their homes, move to bigger properties to make space for home offices, or renovate their current houses to fit their new working habits. 
Millennials
As briefly mentioned above, the new generation, or the children that grew up in the internet era, are reaching adulthood. Although some of them may not be willing yet to invest in their own homes, the millennials are likely to spike demand as they age. 
While the generation is weighed down by student loans, government support is likely to allow them to afford their first homes. As expected, increased demand will drive up current prices, so house stocks stand to benefit from this. 
Drawbacks of House Stocks
House stocks are not a foolproof way to earn income. Some of the main drawbacks you should be aware of are discussed below. 
Technology Disruptions
Nearly if not all industries are not subject to the challenges posed by technology. For investors, this means that they should be cautious when choosing the right companies. For instance, a market leader may easily fall behind new entrants that use technology to cut down costs and pass these savings to consumers.
At the same time, tech-based housing companies also come with risks, such as running out of cash to finance their operations, risky management practices that may send the company into bankruptcy, or any other firm-specific factors that may lead to stock price plummeting. 
Interest Rates
The housing market is heavily affected by interest rates as these influence the prices of accommodation. If investors believe that the credit market will destabilize (such as during a financial crisis), the risk premium will go higher, which will subsequently drive housing prices down. In general, higher interest rates make homes more expensive because of mortgages, so you are likely to see your investment value go down during recessions and back up when interest rates increase again.  
Where to Buy House Stocks – Full Broker Reviews
Below, you will find out which brokers provide house stocks at zero commissions. This means you can invest in these companies without being charged for your transaction, so they are a good choice for all types of investors and traders.
1. eToro – Overall Best Place to Buy House Stocks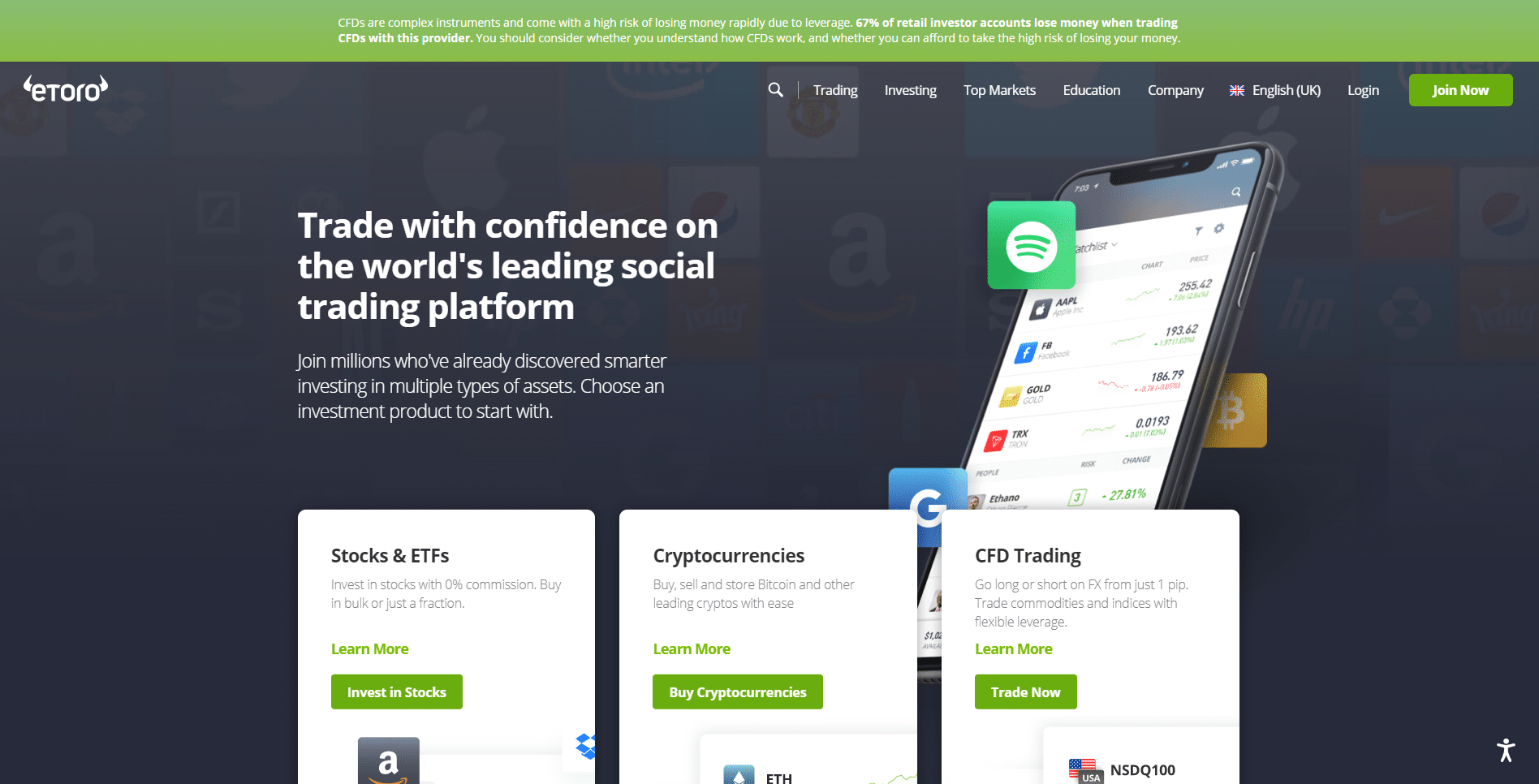 eToro is a world-leading online broker that provides a wide range of assets, including stocks, ETFs, currencies, cryptocurrencies, and many more. It is a well-rounded choice for both traders and investors because you can buy both real stocks and CFDs on stocks. Real stocks mean that you actually own the shares, and this comes with zero commissions, while CFDs (contracts-for-differences) are agreements based on the underlying stock. Traders usually use CFDs as they can leverage their positions and even short-sell assets, among other benefits, but must account for overnight financing (a small fee for holding the position open overnight). 
eToro is a top online broker for more than 23 million individuals, which is the number of registered users as of this writing. Apart from easily buying and selling house stocks on eToro, you can also copy master traders, invest in ready-made thematic portfolios, and stay in touch with the investing community. 
Pros
eToro is fully regulated in several jurisdictions 

Allows social trading, ideal for beginners 

Hundreds of stocks available, among other assets

Low-cost structure with zero commissions

Easy to use browser-based platform
Cons
CFD trading is not allowed in Hong Kong and United States
 67% of retail investor accounts lose money when trading CFDs with this provider.
2. AvaTrade – Trade House Stocks at 0% Commission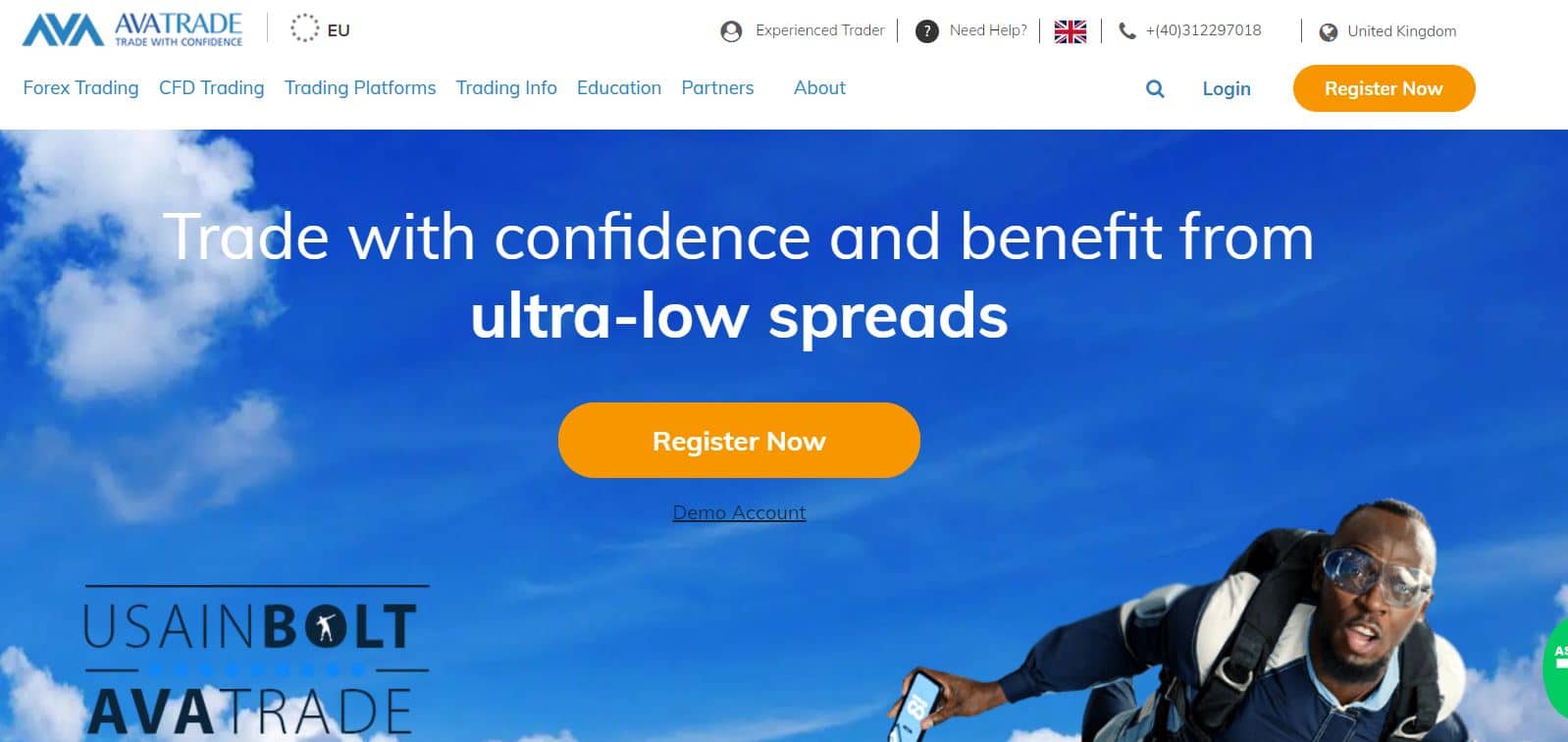 If you are more advanced, or you want more flexibility when trading, AvaTrade is an excellent choice if you reside outside the United States and other places where CFD trading is banned. This is a CFD-only broker regulated in several jurisdictions, including the European Union, Australia, Japan, the Middle East, and South Africa. 
AvaTrade provides no less than nine different trading platforms, ranging from MetaTrader 4, the most popular forex trading platform in the world, to AvaSocial, DupliTrade, and ZuluTrade, all of which allow for automated trading.
Pros
Zero-commission CFD trading

Numerous platforms to choose from based on your trading strategy

Automated trading and social trading capabilities

Regulated in numerous regions around the world

Safe broker ideal for traders looking for advanced features
Cons
Not available in the United States or Hong Kong
71% of retail investor accounts lose money when trading CFDs with this provider.
How to Buy House Stocks – Detailed & Explained in Full
Once you have a brokerage account, buying and selling financial assets can be done within a few clicks. Below, we will explain this process, so you can make your investment portfolio right away!
Step 1: Open a Broker Account
The first step is to open your brokerage account. Access your chosen broker, then click to register. A regulated broker like eToro will require you to upload your ID and proof of address to verify your identity, after which you can use your new account.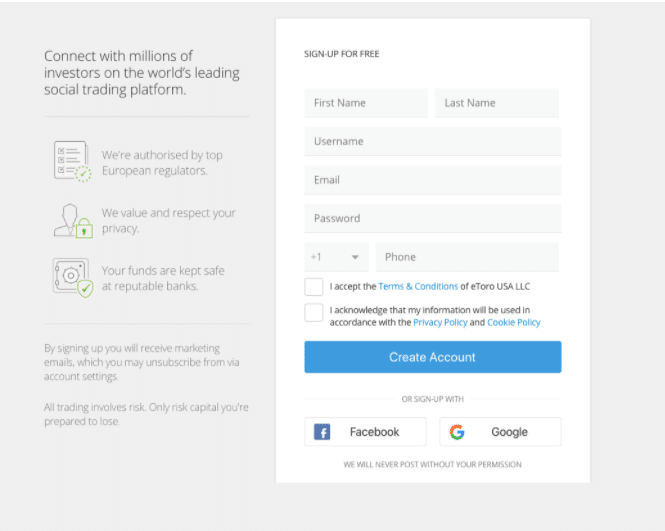 67% of retail investor accounts lose money when trading CFDs with this provider.
Step 2: Deposit Funds
Once your chosen broker validates your account, all you need to do is deposit your funds. With eToro, you can do so via multiple payment methods, including credit and debit cards or e-wallets.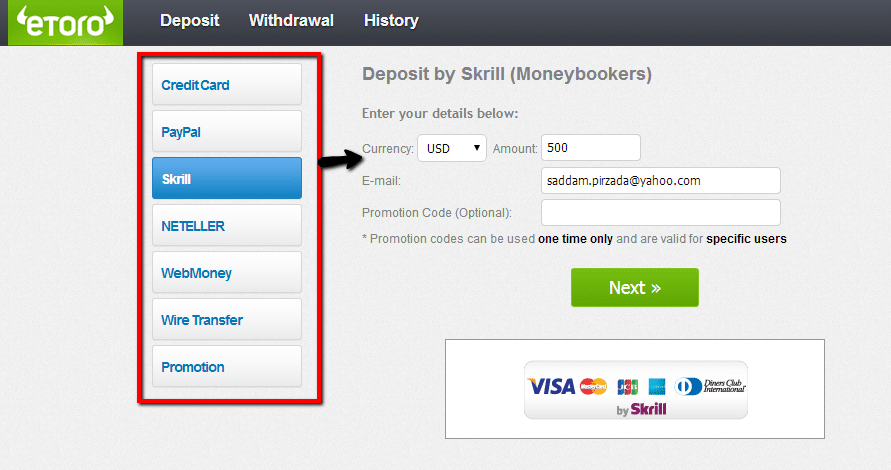 Step 3: Search for House Stocks
The next step is to look for house stocks. You can pick some of our recommended stocks or browse eToro's list of stocks to find the best ones according to your strategy.
Step 4: Buy House Stocks
The last step is to click on "trade" and fill in how many shares you want to buy. Fortunately, eToro allows fractional share buying, so you can invest as little as $10 in any stock.
How to Buy House Stocks – Conclusion
In conclusion, buying house stocks may be a lucrative opportunity in 2022. There are several companies with a robust past performance that will most likely stay atop of their peers this year, too. However, keep in mind that due diligence is important as past performance is not a surefire sign of future performance. 
To gain more knowledge and find out more about investing and trading, you can also check our other articles on trading and investing, such as the best trading platforms and the best companies to invest in right now.
FAQs
Is it good to invest in house stocks now?
What return should I expect from house stocks?
Do house stocks pay dividends?
What is the best broker to buy house stocks?