Buy Esport Stocks – Best Esports Stocks To Buy 2021
Investing in esport stocks may be one of the hottest investment opportunities right now. 
For our readers who may not be familiar with the term, esport (short for electronic sport) refers to the online spectatorship video game competitions. 
Early this year, in the wake of the COVID-19 pandemic, when major stocks suffered a severe blow, a few selected ones turned the tide and soared high with unprecedented gains. 
And as you might expect, a good majority of them were esport stocks.  
This article will take you through the best esports stocks and show you how to add them to your portfolio through an award-winning brokerage platform with zero commission.  
eToro – #1 Broker to Buy Esports Stocks
How to Buy Esports Stocks -A Quick Guide for 2021
You can buy esports stocks using different forms of investing. 
For one, you can invest through an ETF – a sophisticated form of investment that we will talk more about in a subsequent section. 
However, the traditional and most common way is through the buying and selling of esport shares, and for this, you will need to sign up with an accredited online stockbroker. 
Outlined below are the simple steps to buy esport stocks using the highly rated eToro brokerage platform – commission-free with an option to start with as little as $50. 
Step 1: Register an Account with eToro

– Head over to the platform's website to open an account.

Step 2: Apply for KYC verification

– As part of regulatory requirements, eToro will request you upload some identification documents. 

Step 3: Fund your account

– Next step is to fund your account with the amount you wish to invest.

Step 4: Search for esport Stocks

– In the market section where listed stocks/assets are cataloged, search for the trading pair that includes the esports shares you want to purchase. 

Step 5: Start trading esports stocks

– After finding the right trading pair for your favorite esports shares, tap on the 'Trade' button, then on the 'Amount' entry box, indicate how much you wish to invest (upwards of $50).

eToro will allow you to buy fractional amounts of the stock.
Step 6: Monitor your esports stocks investment

– After purchasing the shares, click on the 'Open Trade' button displayed on the investor's dashboard of your eToro account. 
You will be directed to a new screen where you can view and track the performance of your investment at any time. 
68% of retail investor accounts lose money when trading CFDs with this provider.
Best Esports Stocks to Buy Now – List of the Best Esports stocks
As with every investment, your portfolio and investment goals are the factors that will determine which esport stock is the best for you to invest in. 
If you are a day trader, highly volatile esport shares would be more suitable for your day-to-day profit strategy. 
But if you are the patient long-term investor, you will need to look out for those exhibiting slow but steady growth patterns. 
That said, below is our expert round-up of the online gaming companies with the best stocks you can purchase right now:
Activision Blizzard – An Industry Leader in the Esports Sector
Tencent Holdings

– A Chinese-owned company known for its multiplayer online games. 

Take-two Interactive –

Brand owner of the famous Grand Theft Auto title. 
Further down below in this article, we detailed why each of the above companies made it into our list. 
How to Buy Esports stocks – Select a Broker
A stockbroker is a licensed platform that allows you to buy and keep stocks of a publicly-traded company. 
Below are the best brokerage services providers where you can buy the best esport stocks – stress-free and with top-notch security features. 
eToro

– Overall Best Place to Buy Esport Stocks

Capital.com

– Commission-free platform for Trading Esports CFDs
Each of these is reviewed in more elaborate details after the following few sections. 
What are Esports Stocks? 
Esport stocks are shares of publicly listed companies from the online gaming market. The shares or stocks represent units of ownership in the company. 
Thus, the total number of stocks held by an investor equals the full value of the part of the company that belongs to that he owns
As a result, the investors' success is tied to the growth of the company. If the stocks perform well in the market, they (investors) can sell at a higher value than their initial entry points. 
In some cases, the investor will be entitled to monthly dividend payouts. 
Over the past decade, the meteoric rise in the valuation of esport stocks has been one of the most well-covered investment reports. Especially stocks of companies like EA, ESL, Cloud9, and Twitch, which are presently worth billions of dollars. 
Today, a dozen more examples of esport stocks are listed across several marketplaces like the New York Stock Exchange, NASDAQ, and LSE. More e-gaming companies are expected to emerge, especially from the crypto sector through NFTs (Non-Fungible Tokens).
Best Esport Stocks to Buy Now – The Comprehensive Analysis 
The valuation of esport companies reached a new climax in 2020 as on-location tournaments became virtually impossible to attend.
Even in the post-pandemic era, financial experts continue to speculate that the esport industry will build on the momentum achieved at the peak of the coronavirus disruption of the global economy.
In other words, top-performing esport stocks might attain yet new heights in the coming months/years. 
For one, lockdown measures are yet to be completely relaxed in some countries, including tier-one nations like the USA, England, and more. 
Aside from that, most social scientists suspect that COVID-19 has brought about semi-permanent (if not permanent) societal changes. 
For many, the stay-at-home experience has transformed into a way of life; 
Online conferencing tools replaced physical meetings, 

The freedom of remote work felt more satisfying than the appeal of the physical workplace, 

While traditional physical sports lost their charm as people developed a natural liking for internet-based entertainment platforms (esports being the chiefest).
With that in view, it's almost a given to say there is a massive runway for e-gaming stocks right now.
However, with more in-depth research, it is still possible to unravel the best stocks in the esports industry that are sure to yield the most significant returns on your investment. 
Below is our review of some of them. 
Activision Blizzard – An Industry Leader in the Esports Market
The US-based Activision has probably the most appealing franchise of games, including Call of Duty, StarCraft, OverCraft, Diablo, and World of WarCraft, all of which are designed to be intoxicatingly interactive. 
From a business growth perspective, gamers' excitement around these titles means Activision is presently well-placed to consistently attract crowds of hardcore game lovers.  
Aside from that, the widely reputed publisher is just one of a few esport companies with a billion-dollar market capitalization, estimated to be over $45 billion. 
As per a mid-year NASDAQ report, the company's total revenue for the first quarter this year was $2.7 billion, significantly dwarfing the projected $1.78 billion. 
With a proven history of consistently innovating around the e-gaming space, Activision Blizzard should continue its streak of delivering impressive gains to its shareholders.
Tencent Holdings – An Esport Company Known for its Multiplayer Online Games
For Tencent, esport is just one aspect of its business interests as the company is invested across multiple sectors. 
Tencent's investment interests can be seen in the Fintech space, Online Advertisement, and more.  
However, this doesn't mean the esport segments are not well-placed on the radar of its overall day-to-day operation.
Tencent is home to some of the best online streaming games such as League of Legends, Fortnite, and Honour of Kings. All of which were launched as big-time hits. 
However, the significant peril of buying Tencent esports stocks for US persons is the ongoing political rift between the US and China. 
That aside, Tencent is one of the best esports stocks to watch out for in 2021. 
As of this writing, Tencent has had a trailing 12-month revenue of around $549.6 billion. 
Take-two Interactive – Brand Owner of the Popular Grand Theft Auto
Though relatively new to the esports market, Take-two is reckoned to create a challenge that would force its more established rivals out of their comfort zones. 
Unlike its competitors, the NASDAQ-listed company doesn't only publish and market e-gaming titles designed by third-party content creators; it runs an in-house development team responsible for developing more games into its collection.
To date, the fan-favorite Grand Theft Auto, WWE 2K, and Red Dead Redemption are some of the well-known games created by Take-two. 
At the time of this writing, its trailing 12-month revenue was about $3.4 billion. 
Investing Vs. Trading Esports Stocks
There are several ways you can take financial advantage of the esport market. At different points in this article, we have mentioned some like ETFs, stocks investing, dividend shares, and more. 
However, you must choose the option that best aligns with your investment goals and profit strategy before you proceed to buy an esports stock. 
Investing in Esport Stocks
Companies tend to become more profitable over time in the stocks market, thereby effectively increasing their share price per unit. 
This growth pattern is exactly where long-term investment strategies come in. 
However, you might need to hold on to the purchase for up to a minimum of one year before you can realize meaningful profits. 
But if it's a dividend-paying stock, the long-wait will become easier to bear. 
However, when it comes to stock investing, a five-year maturity time is generally recommended. 
Trade Esports Stocks
If the esport company suffers a downturn in business, and your funds are already invested in its stocks, the outcome could be a significant reduction in your overall net worth. 
In the worst-case scenario, it might result in the complete liquidation of your investment. And this is where trading comes in. 
As a trader, you will content yourself with buying and selling esport stocks at an intraday time frame, scalping whatever little profits you can get. 
For example, if an esport company announced a takedown of one of its successful titles due to regulatory backlash, an abrupt drop in its share value would be one of the outcomes. 
In the reverse scenario, a swing-trader can capitalize on this by short-selling the stocks (or vice versa). 
Trading Esports Stocks as CFDs
Perhaps, the simplest way to invest in esport stocks is through CFD (contract for difference) through a cost-friendly broker. 
CFD is a form of trading that allows traders and investors to benefit from the price volatility of an asset without assuming ownership of it. 
CFD traders can also apply leverage to amplify their profits. However, this is often a risky strategy that can unleash a devastating effect. 
However, the beautiful side of trading esports via CFDs is that you can profit both when the asset's price rises (a long position) or falls (a short place).
Investing in Esports ETFs (Exchange Traded Funds)
Buying esports shares via an ETF is about the only risk-free method of investing in the asset class. However, they are expensive. 
ETFs are somewhat similar to CFDs, the significant difference being that ETFs are often a mixed basket of different investment types bundled up together. 
The diversity helps to give stability to the entire investment, such that the potential growth of one asset can easily offset the losses incurred from another. 
However, a fund can only be an esport ETF if a more significant proportion of the funds are allocated to the esport industry. 
A prime example of this is the NERD ETF, which deals mainly in the gaming and esport markets. 
How to Choose the Best Esports Stocks for my Portfolio? 
Investments in the esport industry have grown exponentially in the last few years. With further mainstream adoption expected in the coming years, there is a conducive space for emerging game streaming platforms to thrive. 
That's to say, the esport sector is not as fiercely competitive as other tech-based entertainment niches right now. 
That gives investors a dilemma of not knowing which esport stocks to buy from the innumerable number of options available in the marketplaces.
However, below are the key indicators to consider in identifying solid esport stocks that are worth betting on:
Overall stock value and market capitalization

Project team members (or the parent company reputation, if applicable)

Franchise catalog – the quality of games under the company's collection

Industry leadership position/rating

The company's history

Daily and monthly statistics in terms of revenue, average monthly visits, and more. 

The caliber of investors backing the project
Benefits of Buying Esports Stocks
Both in the short and long term perspective, esport stocks offer a plethora of benefits to investors. 
We present a detailed discussion of these benefits below:
Early Investment Opportunities
Esport began in the 2000s when South Korea handed out the first professional gaming license. It all started as a conceptual iteration of the already prevalent console-based video gaming platforms.
However, for several years, it will remain on the fringe of the entertainment world. Until 2010 when online streaming came on the scene. 
Since then, the world of esports has been on a colossal rise in popularity and industry investments. 
That has given rise to many smaller esport companies with the potential to multiply and attain billion-dollar valuations. 
As an investor, you can look out for such companies and snap up a significant number of their shares at a bargain price.
Overall Industry Growth Potential 
Many analysts believe the esports market has high growth potential. 
They cite as a critical factor the noticeable impact of the COVID-19 pandemic in elevating online gaming as the choice entertainment category for sports lovers. 
With the industry still at a warm-up stage, now may be the perfect time to load up on some of the best esport stocks. 
Market Size and a Renewed Interest
According to global statistical data by Newzoo, 173 million people stream esport tournaments daily. 
Newzoo also projects the figure to surpass 645 million daily viewers by next year (twice the entire population of the US). 
And if these figures still don't sound convincing enough to show that esport games have gone mainstream, market research data by NPD Group suggest that close to $14 billion were spent on video games alone in Q2 2021. 
Risks of Investing In Esports Stocks
There are two major risk factors to keep in mind when buying esport stocks:
The industry is yet to discover an effective audience monetization model for generating healthy revenue. 

Citing the above, plus the fact that the market is expanding quickly, some experts believe the recent growth is akin to a bubble that might burst anytime. 
Where to Buy Esport Stocks – Full Broker Reviews
The safest way to buy and sell esport stocks is to go through the regulated environment of a licensed stockbroker. 
As the world of online investing continues to grow, several internet-based brokerage platforms have sprouted up. So you have a bucket load of options to pick here. 
However, you will be able to make the best decision if you take the time to compare the trading fees, commissions, minimum investment rules, available payment methods, investment tools, and the quality of customer service available across brokerage sites. 
It sure sounds like a lot of homework. But don't worry, we have researched for you. 
1. eToro – Overall Best Place to Buy Esport Stocks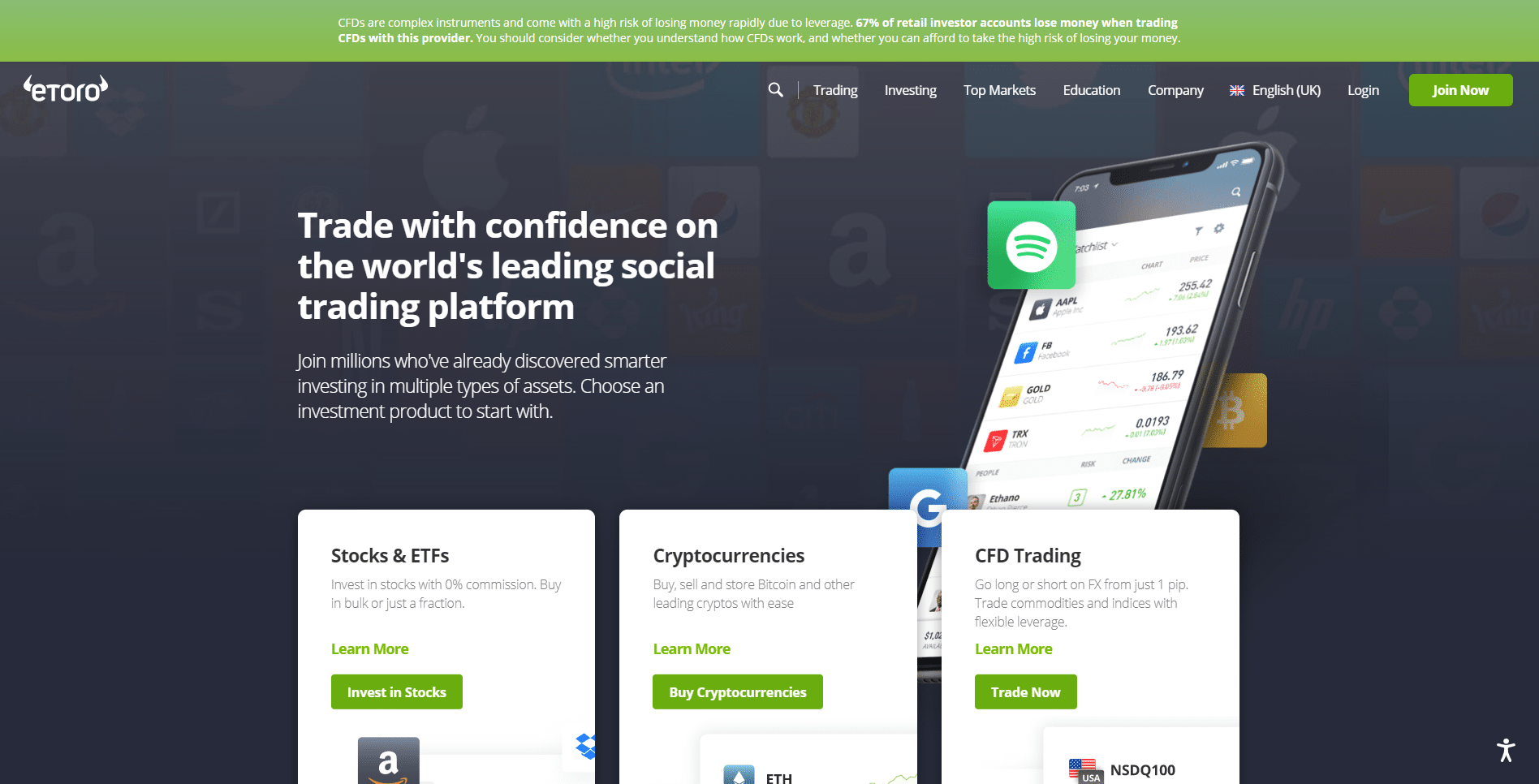 This is the platform where you can invest in esport stocks with blind trust. 
eToro is one of the most regulated online stock trading platforms, currently providing brokerage services to over 20 million users. 
However, aside from esport stocks, you can diversify your investment by selecting over 2500 stocks listed. But, note that the minimum investment allowed is $50. 
The one good side is that you get to do it all at a 0% commission. Then anytime you want, you can withdraw your funds using any of the following payment methods: credit cards, PayPal, Skrill, bank transfers, and e-wallets. 
Moreover, you don't have to be a trained investor to use eToro and make profits. The Copy Trading Feature allows you to leverage the experience of high-performance traders who will manage your funds on your behalf. 
Overall, buying and selling esport stocks on the eToro platform is super easy. 
Pros
Zero-commission

Affordable minimum investment ($50)

Different payment methods

Regulated by FCA, FCS, SEC, and ASIC

Beginner-friendly

Copy Trading supported
Cons
Less-advanced for sophisticated traders

MT4 and MT5 not supported
68% of retail investor accounts lose money when trading CFDs with this provider.
2. Capital.com – Commission-free Platform to Buy Esport Stocks
Capital.com offers an exciting and straightforward way to trade esport stocks through speculation, AKA, CFD trading. 
However, to do that, you will need to acquaint yourself with some unique buy and sell order types (shorts and longs). 
Capital.com will also allow you to enlarge your position far beyond your actual stake. However, that can be a two-edged sword- increased profits if your prediction proves correct or an amplified loss if otherwise.  
And just like eToro, Capital.com offers 0% commission trading across all the listed markets. 
However, unlike eToro, the minimum deposit allowed depends on the payment method used – For example, $20 for e-wallets and $250 for bank transfers. 
Pros
Regulated by the FCA, CySEC, ASIC, and NBRB

Simple account opening process

CFD trading with the best spread

Commission-free

Multiple financial markets are supported. 

Starter friendly
Cons
Not fit for experienced investors

$250 minimum on bank transfers
68% of retail investor accounts lose money when trading CFDs with this provider.
How to Buy Esport Stocks Using eToro 
If you're ready to buy esport stocks right now – this section of our guide will walk you through the processes with eToro. 
Step 1: Open an Account
Go to the eToro official website (with the HTTP header) and click the 'Join Now' button. On the next screen, fill the form with the required email address, passwords, and username.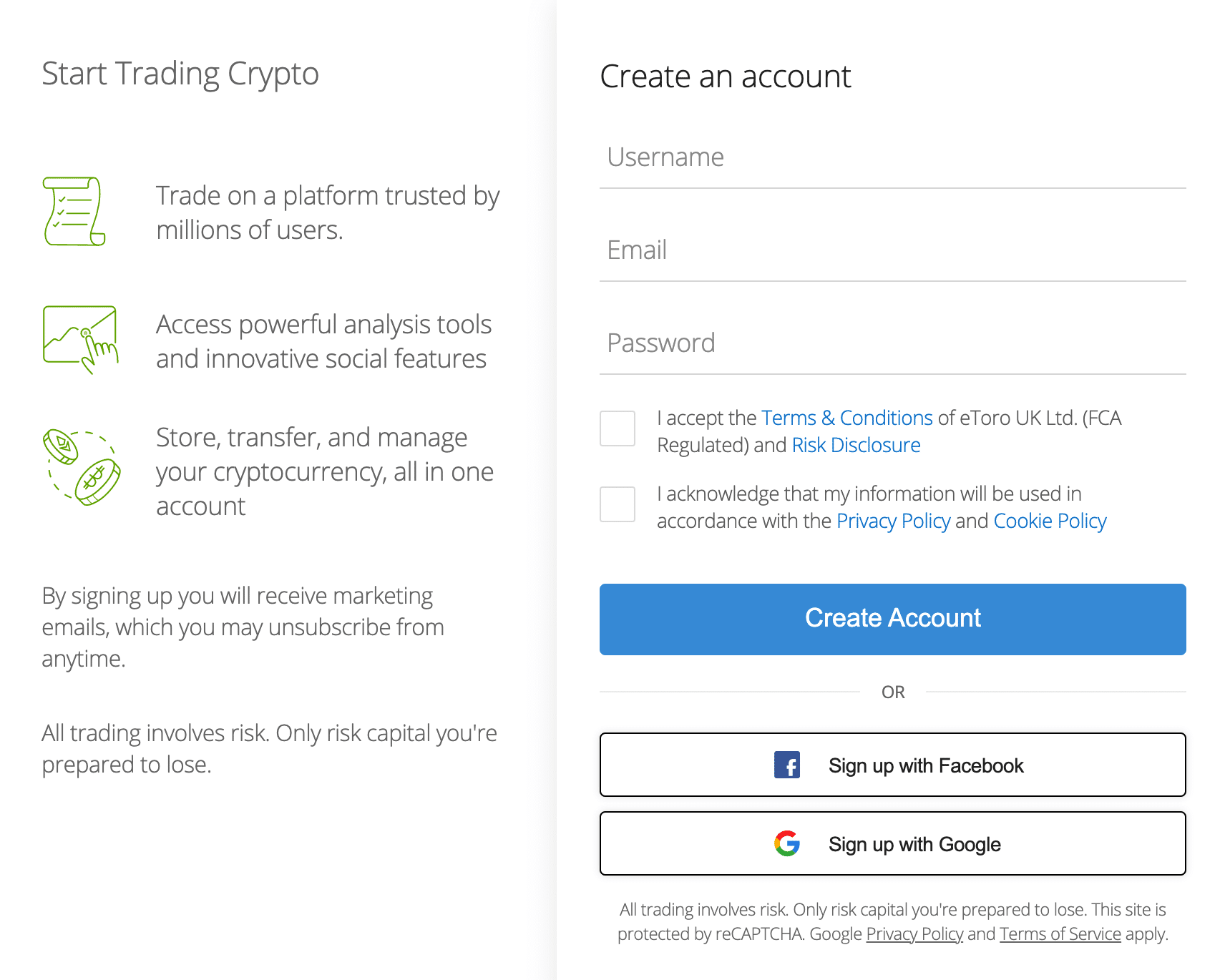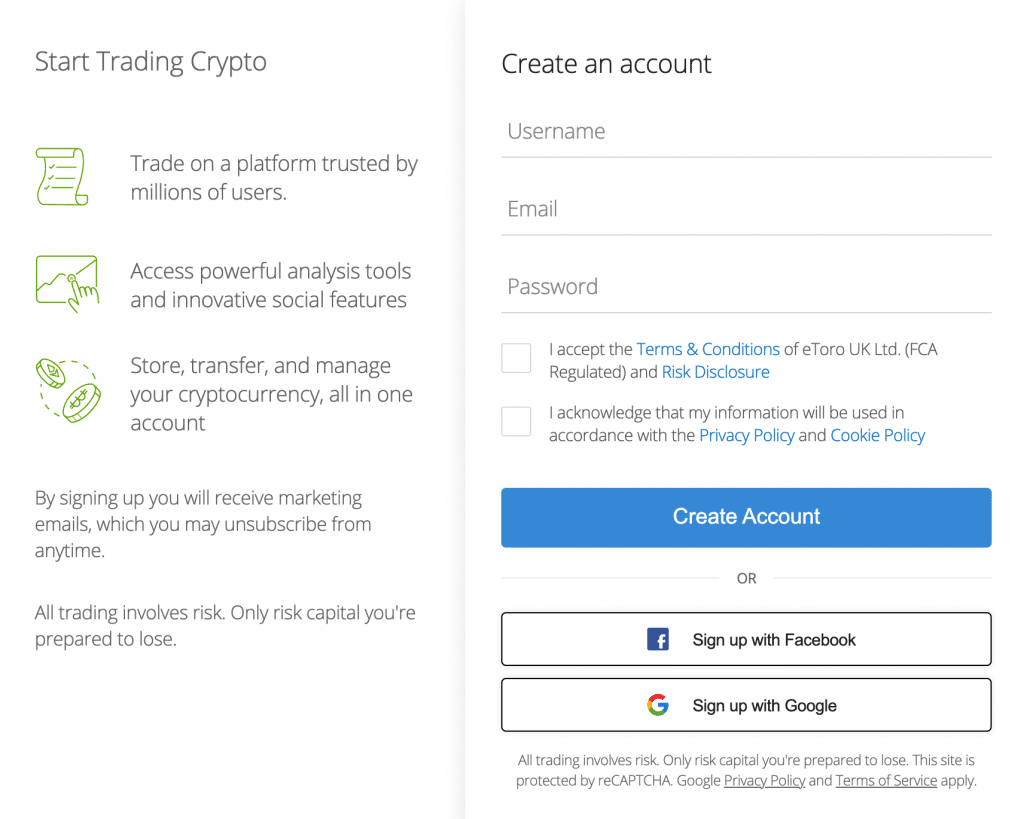 Step 2: Verify Your Identity
Upload your government-issued ID and a recent statement bill for address verification. 
You need not worry about the safety of your data, as eToro is bound by regulation to secure and protect the details with the highest level of confidentiality.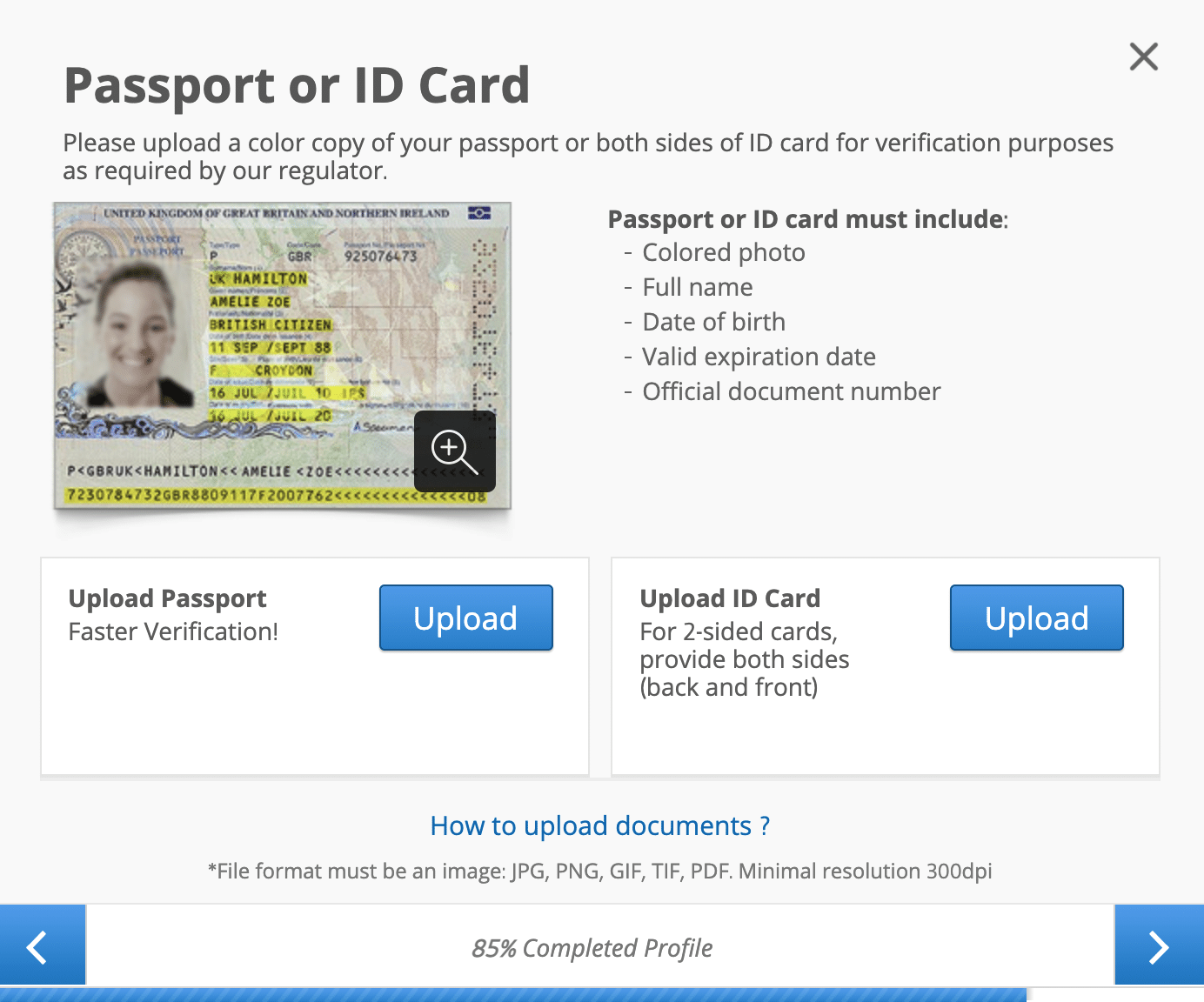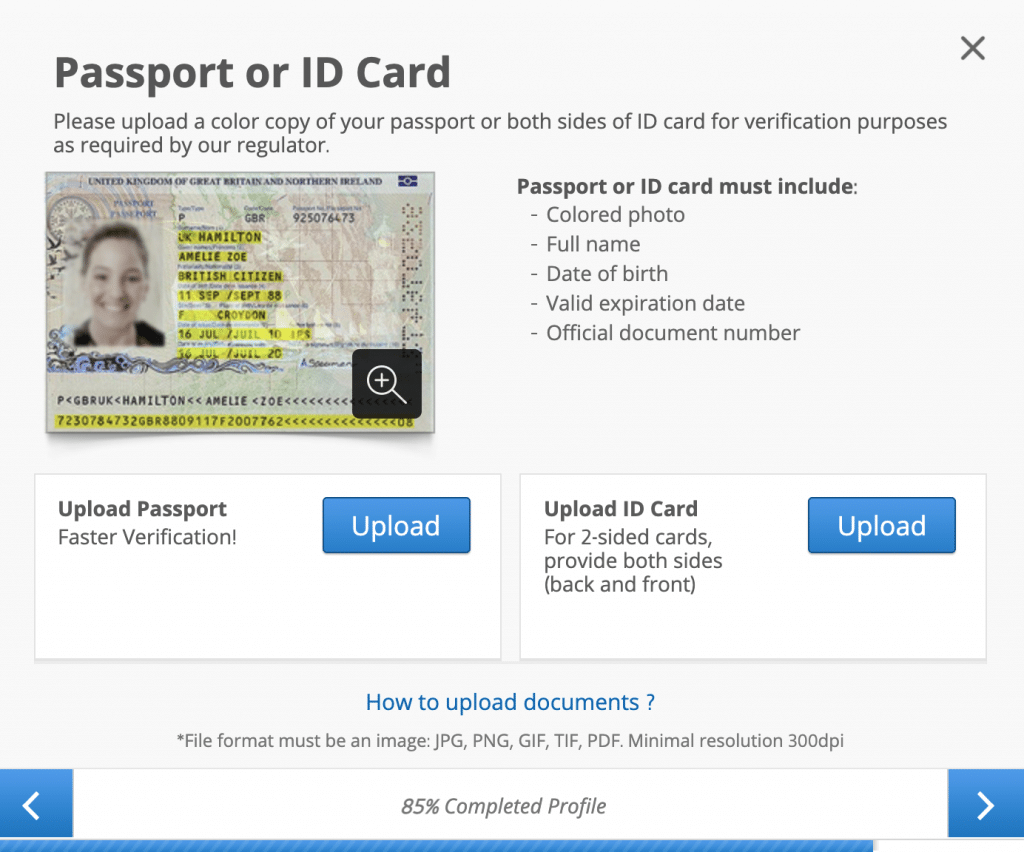 Step 3: Deposit Money 
On the eToro website, there are various payment methods available, so you can select whichever one feels more convenient for you. 
Be reminded, however, that for a start, $50 is the minimum amount you should deposit. 
Also, depositing in currencies other than USD attracts a 0.5% fee. 
Step 4: Search for Esport stocks
Search for the appropriate trading pair for the esport stocks you wish to invest in. For example, you might type 'EA' into the search box to find available trading pairs, including the esports company.
Step 5: Buy Esport Stocks
Now it's just a case of deciding how much you want to invest, and you don't need to buy full shares. 
Conclusion
Esports may seem a bit of a strange concept. Still, it has expanded in popularity and market valuation over the years, gaining $177 billion in 2020 as one of the fastest-growing entertainment sectors.
Moreover, with an overwhelming number of fast-rising esports companies, investors might get lost trying to pick the best stock in a sea of options. 
However, beyond finding a trustworthy esport company to invest in, it's more vital that you select a credible investment platform like eToro to stake from. 
Best Broker to Buy Esports Stocks- eToro
ALSO CHECK:
FAQs
How to Buy Esport Stocks?
Where to Buy Esport Stocks?
What are the Best Esport Stocks to buy right now?
Should I buy Esport Stocks?
How Much Do You Need to Buy Esport Stocks?