How To Buy Alcohol Stocks – Investing In Alcohol Stocks Beginner's Guide 2021
If you are looking to diversify your portfolio or dabble into some adventurous territories of the stock market, alcohol stocks might be the option you are looking for. Also referred to as Liquor investment, alcohol stocks are stocks of companies that manufacture and distribute liquor such as wine, beer, and whiskey. They belong in a category called 'sin stocks', a term used to describe products that are considered unethical by many people. Other sin stocks include war equipment and drugs. Alcohol, however, is a lucrative option for traders. You stand to gain high dividends and alcohol is a product that is consumed all year round and everywhere around the world.
If you are considering venturing into the world of alcohol stocks, this guide is for you. We cover everything you need to know about the alcohol market, from the process of buying stocks to the best brokers to help you with it as well as some pros and cons of liquor investment.
#1 Broker to Buy Alchohol Stocks – eToro
How to Buy Alcohol Stocks – Step By Step Guide 2021
Many platforms needlessly complicate the stock-buying process, alienating investors, especially beginner investors in the process. We have come up with an easy and quick guide to help you buy your first alcohol stock with utmost ease.
Step 1: Register yourself on eToro: To buy your first alcohol stock, you will need to register yourself on a brokerage platform. We suggest eToro for the blend of premium features and top-notch security it offers. All you have to do is type 'eToro.com' in your browser and click on 'join now' to fill in your details and register yourself on the platform.
Step 2: Verify yourself: Upon creating your account, the first order of business would be to identify yourself as eToro is a strictly regulated platform. You will need to submit a photo ID and proof of your address to verify your identity.
Step 3: Fund your account: The last step before you can buy alcohol stocks would be to deposit funds into your accounts in order to make purchases. Click on 'deposit funds', enter an amount such as $100, and then click 'deposit' and you are done. You can perform the transaction with credit and debit cards, bank transfers, and eWallets such as PayPal.
Step 4: Invest in alcohol stock: You are finally ready to buy your first alcohol stock. You will need to type the name of a company on the alcohol market in the search bar. For example, Boston Beer (NYSE: SAM). Click on 'trade', enter the amount you wish to purchase and click on 'open trade' again. There, you bought your first alcohol stock!
Where to Buy Alcohol Stocks – Choose a Broker
Before you dive deep into the sin stocks of alcohol, you should take a moment to select a good-quality stockbroker. With so many options available in the market today, it can be quite a confusing process. Fret not, we have compiled in-depth reviews of the best brokers to buy alcohol stocks below.
1.   eToro – Overall Best Broker to Buy Alcohol Stocks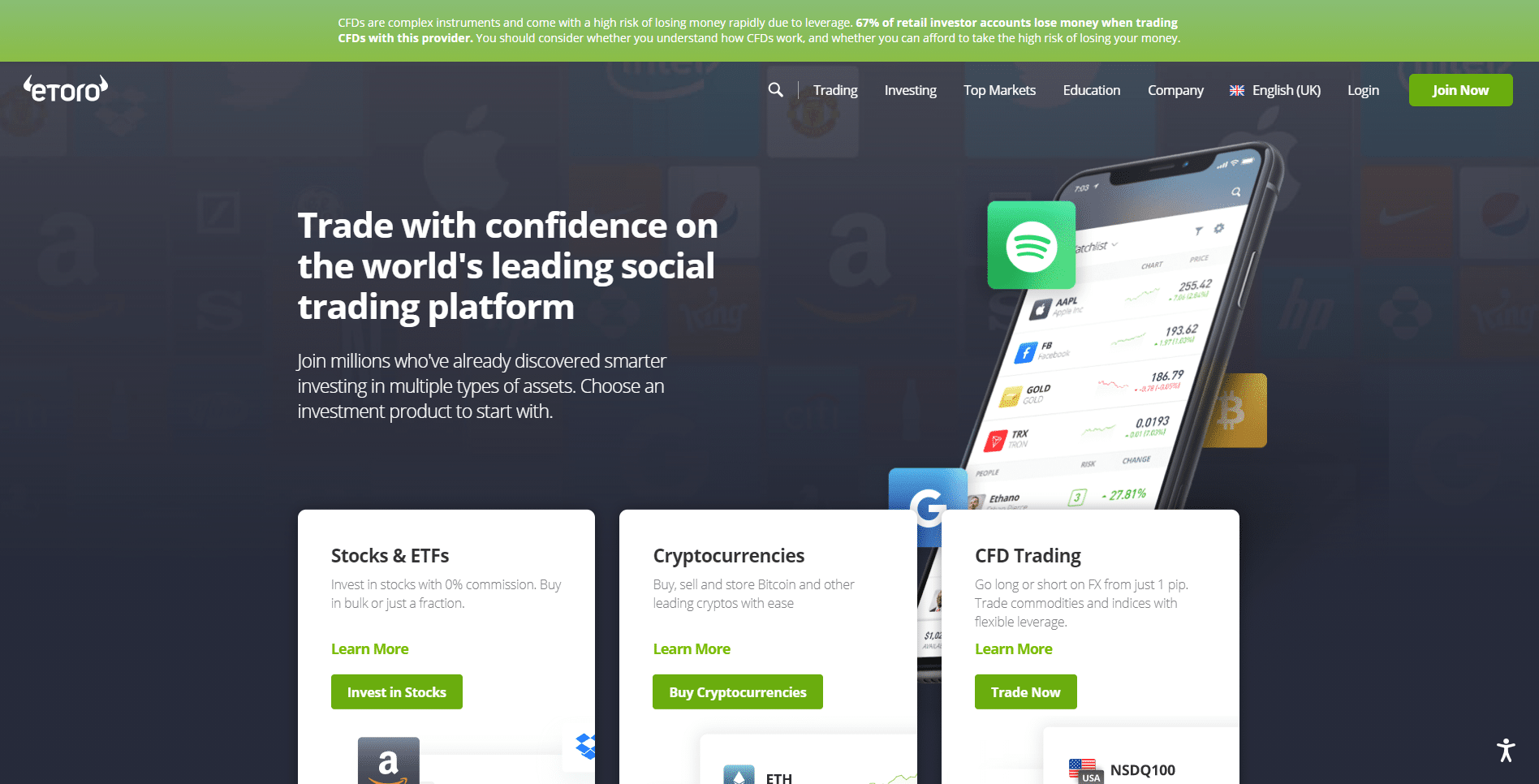 eToro is one of the biggest stockbroker platforms in the world. It has been around 2007 and has managed to build a loyal user base of over 20 million fans today. It owes its success to the blend of great features and strict security protocols it offers its users. It is a great platform for both beginners and seasoned traders as both will find features catered to them on eToro.
Security and Privacy
eToro takes the protection of its users quite seriously. It is evident in the many protocols put in place by the platform such as the 128-bit SSL encryption. Moreover, it is regulated by the SEC that prevents any and all illegal activities from happening. Users are also given the option of enabling a feature called 2FA as added protection. It sends a code to your mobile phone every time a sensitive action needs to be conducted on your account.
Fees and Features
eToro is a very affordable platform compared to its contemporaries. As for features, it offers some excellent ones for both beginners and experienced traders. the feature called eToro academy provides information about the market the users can consume at their own pace. Another feature called CopyTrading lets them mimic the trading styles of experienced users. Seasoned users can take advantage of the powerful charting tools to map out their strategies better.
eToro Fees
| | |
| --- | --- |
| Fee Type | Fee Amount |
| Commission Fee | 0% |
| Deposit Fee | $0 |
| Withdrawal Fee | $5 |
| Inactivity Fee | $10 (Monthly) |
Pros
A regulated platform
Offers charting tools for experienced users
The feature of CopyTrading for beginners
eToro academy feature for beginners
128-bit SSL encryption protection
2FA feature as added protection
Cons
Could have had MetaTrader support
2.   TD Ameritrade – Traditional Broker to Buy Alcohol Stocks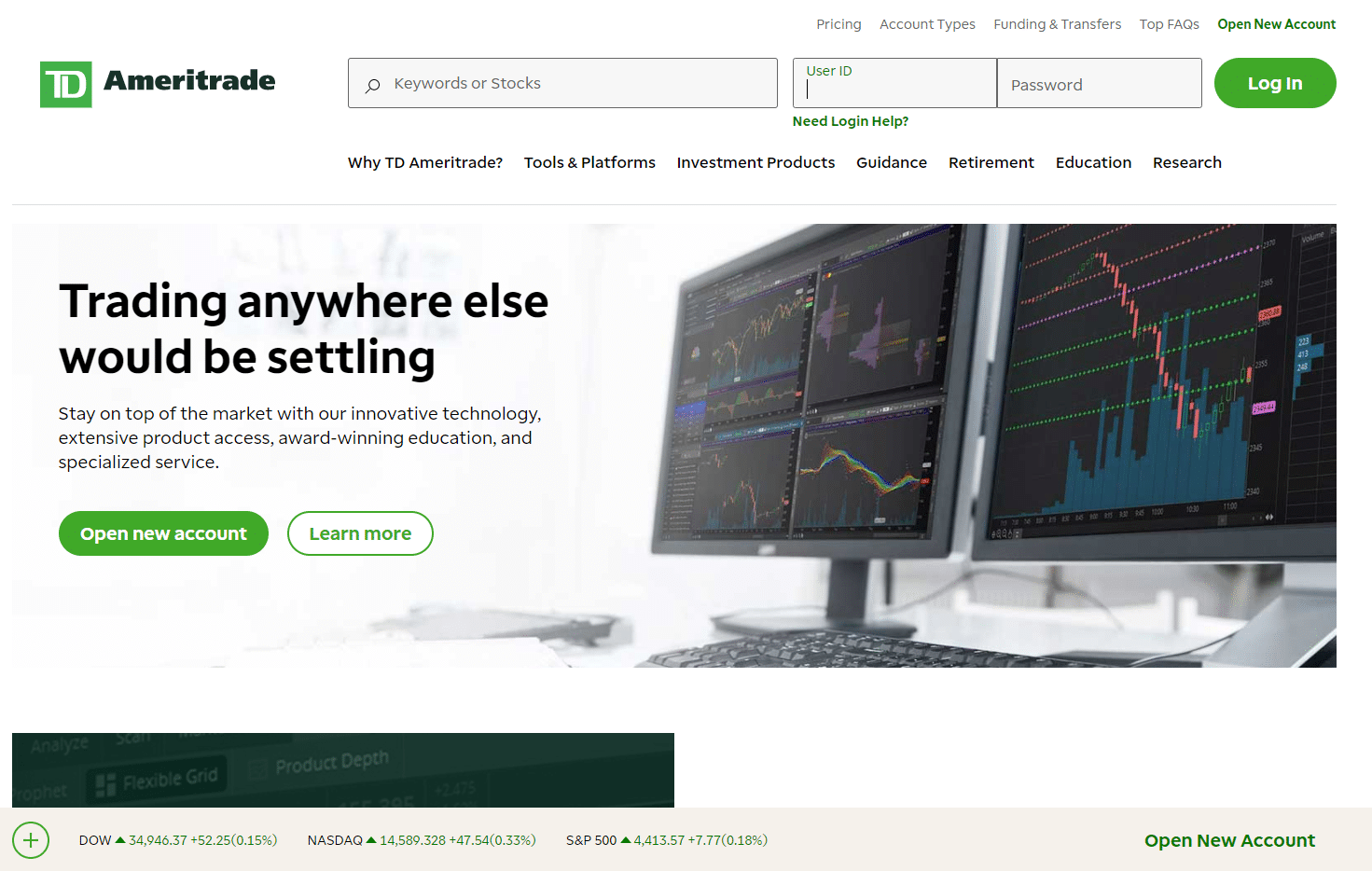 TD Ameritrade has been around the market since the 1980s, making it a reliable platform for traders. It has gained quite a lot of trust and goodwill along the way. If you are looking for a traditional stock broker, TD Ameritrade is a great option for you. It offers a variety of investment options – both old and new and applies plenty of security protocols to protect user data.
Security and Privacy
TD Ameritrade states that it takes security very seriously, which is a great sign for any investor as they join the platform. Similar to eToro, TD Ameritrade is also protected by the SEC and offers 128-bit SSL encryption. It is regularly audited. As an additional layer of protection, it offers a user verification phrase system. You are given a special phrase upon creation of your account that you can request of any TD Ameritrade employee to verify if they are a genuine representative of the company or not.
Fees and Features
TD Ameritrade is a traditional platform. Its fee structure is affordable and since it has been around for a long time, it has accumulated a great collection of stocks over the years. Traders get access to a variety of investment products such as traditional stocks, mutual funds, and bonds. It also participates in Initial Public Offers (IPOs) on a regular basis. Both these features help diversify your portfolio. Moreover, you can make use of the automatic dividend reinvestment feature that automatically reinvests your dividend to compound your interest and create a constant stream of earnings for you.
TD Ameritrade Fees
| | |
| --- | --- |
| Fee Type | Amount |
| Commission | 0% (on US stocks) |
| Withdrawal Fee | $0 |
| Deposit Fee | $0 |
| Inactivity Fee | $0 |
Pros
Offers 128-bit SSL encryption security
Is SEC-regulated
Offers a wide range of markets
Uses user verification phrase for protection
Automatic dividend reinvestment compounds your interest
Cons
Leveraged positions have high fees
The user interface may be hard to understand
3.   Robinhood – Great Platform to Buy Alcohol Stocks

Despite being launched fairly recently, investment giant Robinhood has amassed well over 13 million users. It is a mobile-only platform that is available only in the USA as of now. Despite those limitations, Robinhood has managed to make quite an impact owing to its easy-to-use interface and being beginner-friendly. Its security practices being catered to the big fish of the markets have also helped establish its presence.
Security and Privacy
All Robinhood investors are fully covered under the SIPC insurance that protects them in case the platform gets compromised. The insurance covers up to $500,000 of investments. It also offers 'excess of SIPC' insurance on the balance of up to $10,000,000. This is a rare feat and lucrative feature for the big whales on the platforms. Robinhood also offers Multisig verification as an additional layer of protection.
Fees and Features
Other than a bit high credit and debit card fee, Robinhood is quite affordable. It has made a name for itself amongst newer investors by having an ultra-simple user interface that they can easily follow. It offers 'cash management services' that are appreciated by the traders. It gives cash back for everyday purchases. However, being a mobile-only platform that is only available in the USA has limited its reach.
Robinhood Fees
| | |
| --- | --- |
| Fee Type | Amount |
| Trading Fee | 0% |
| Credit/Debit Card Fee | 3.99% |
| Spread Fee | Variable |
Pros
SIPC insurance available
Excess insurance outside of what SIPC covers
Multisig feature for added protection
Sleek interface
Available as a mobile app
Easy to use
Cashback available on daily purchases
Cons
Some advanced features are not available
Seasoned traders may find it too basic
Buy Alcohol Stocks – Broker Price Comparison
In addition to the reviews of the platforms, here is a simple, side-by-side run-down of the fee structure of every platform to help you arrive at the correct decision about choosing the right vehicle for your brokerage activities.
| | | | | |
| --- | --- | --- | --- | --- |
| Broker | Commission | Deposit Fee | Withdrawal Fee | Inactivity Fee |
| eToro | 0% | $0 | $0 | $10 monthly (after 12 months inactivity) |
| TD Ameritrade | 0% (on US stocks) | $0 | $0 | $0 |
| Robinhood | $0 on up to 50 shares. Up to $5.95 on more than 50 shares | $0 | $0 | $0 |
What are the Different Kinds of Alcohol Stocks?
New traders often think that all stocks are the same. That is not true. Although there are many investment products in the market, there are three primary ways to invest in a company of your choice. They are stocks, ETFs and CFDs. Let us learn about them in brief.
Stocks
To this day, the most common way to invest in a company is by buying its stocks, i.e., shares. Once you purchase shares of a company, you essentially buy a small fraction of it. It means that you become a part-owner. Firstly, you become eligible to earn a yearly or quarterly dividend from the company. A dividend is the profit of the company that is divided into portions and distributed among shareholders. Secondly, you become eligible to vote once you purchase a certain number of shares of the company.
ETFs (Exchange-Traded Fund)
An exchange-traded fund is an investment that can provide you with immediate exposure to a number of companies in the market. Your fund manager or brokerage will bundle up a bunch of related assets in a group to facilitate easy investment. This is usually a low-risk investment compared to traditional stocks. Even if the price of one stock decreases, other stocks in your bundle can help mitigate the losses. One thing to remember with ETFs is that you don't get to own any underlying assets.
CFDs (Contract For Difference)
Contract For Difference is a short-term investment where you don't have to buy any assets. Instead of purchasing an asset, you speculate on a change in the price of that asset. You speculate on whether the price will rise or fall. Therefore, CFDs are speculative investments that take place over a short period of time and take advantage of the price swings in the market. This also means that they are leveraged instruments that are considered a high-risk investment.
Best Ways to Buy Alcohol Stocks
Now that you have a general understanding of the different types of investments, let us look at their pros and cons as well as the situations they will best be suited to investing in.
Invest in alcohol CFDs
If you are looking to make a quick buck in the market and not tie yourself to an asset for the long term, a CFD is an apt option for you. CFDs take place during a much shorter period of time and are best suited to day traders. You should remember that they usually involve leverage that carries a high amount of risk. So, only tread forward if you fully understand the risks involved with leveraged instruments.
Invest in alcohol ETFs
For investors looking for low-risk and long-term investments, ETFs are the perfect blend of the two. Other than giving you a long-term and safe investment, ETFs also provide you with exposure to a multitude of companies. You can use alcohol ETFs to create a steady stream of income. It will also help to diversify your portfolio.
Invest in alcohol stocks
Traditional stocks are still one of the most profitable investment options that give you long-term exposure to companies of your choice. If you believe alcohol stocks would continue to grow in the future, then you can definitely buy stocks of companies of your preference. The margin of profit is higher in stock compared to ETF. However, so is the risk. Therefore, they are best suited for traders who have a strong degree of faith in the alcohol industry and want long-term exposure to a specific company.
Is Buying Alcohol Stocks a Good Investment?
Let us break down some of the positives and negatives of the alcohol industry. This should help you gain a better understanding of whether alcohol stocks are right for you or not.
Higher dividends
Liquor companies have strong brands and high pricing power. Couple that with most of them having global distribution networks i.e., availability all around the world and it results in them having a rich cash flow and turning in good profits. Therefore, most alcohol stocks pay handsome dividends to their investors. You not only get to diversify your portfolio when you add liquor stocks in there, you actually stand to gain great profits from them in the long run.
Steady sales all around
Alcohol manufacturing and distribution is a business that has been around for a long-time and is spread all around the world. This makes it a well-oiled machinery of sorts. It even overlaps with the water utility segment in some parts as the distillation process of liquor needs to use a large number of local water supplies. The beverage business is a steady business that sees stable sales even when other consumer spending may take a hit. In fact, America recorded its largest consumption of alcohol since 1990 in 2020, in the midst of a global pandemic.
Buying alcohol stocks – What are the Risks?
No investment is ever risk-free. The alcohol industry is hailed as the one always delivering even when other sectors of the market fail to perform. That is not the truth. Here are the risks involved in the alcohol market.
May not perform well in the recession
Despite being hailed as a stock that performs well in all situations, especially economic crises, some alcohol stocks have historically failed to prove so. The idea is that people tend to consume more of such products during difficult times. However, some alcohol brands have failed to deliver on that. The stocks of alcohol brands Diageo and Constellation performed poorly during the financial crisis of 2008. In fact, all wine and other beverage stocks hit multi-year low valuations during that time. Wineries and distillers saw a huge drop in their P/E ratios as well.
Uncertainty even in good times
It is believed that the market for certain products never dies down, such as alcohol and cigarettes. Alcohol markets, however, have shown a propensity to fluctuate a little more wildly even in healthier economic times. Both Diageo and Constellation may have suffered in the 2008 crisis, but Constellation, despite being a smaller company, showed great improvement in 2015 while Diageo dwindled. Moreover, as people become more health-conscious, the overall demand for liquor is on a decline. The demand for beer saw a decline from 78.9% to 78.3% from 2017 to 2018.
How to Buy Alcohol Stocks With eToro
Earlier, we provided a quick guide to help you buy your first stock. Here is a detailed step-by-step of the same to help clear all your doubts when it comes to investing in alcohol stock.
Step 1: Open an account with eToro
The only prerequisite to buying stock is registering yourself on a brokerage platform. We recommend eToro as it is a reputable platform with plenty of features catered to new users. Type 'eToro.com' in your browser, click on 'join now', and fill in the necessary details.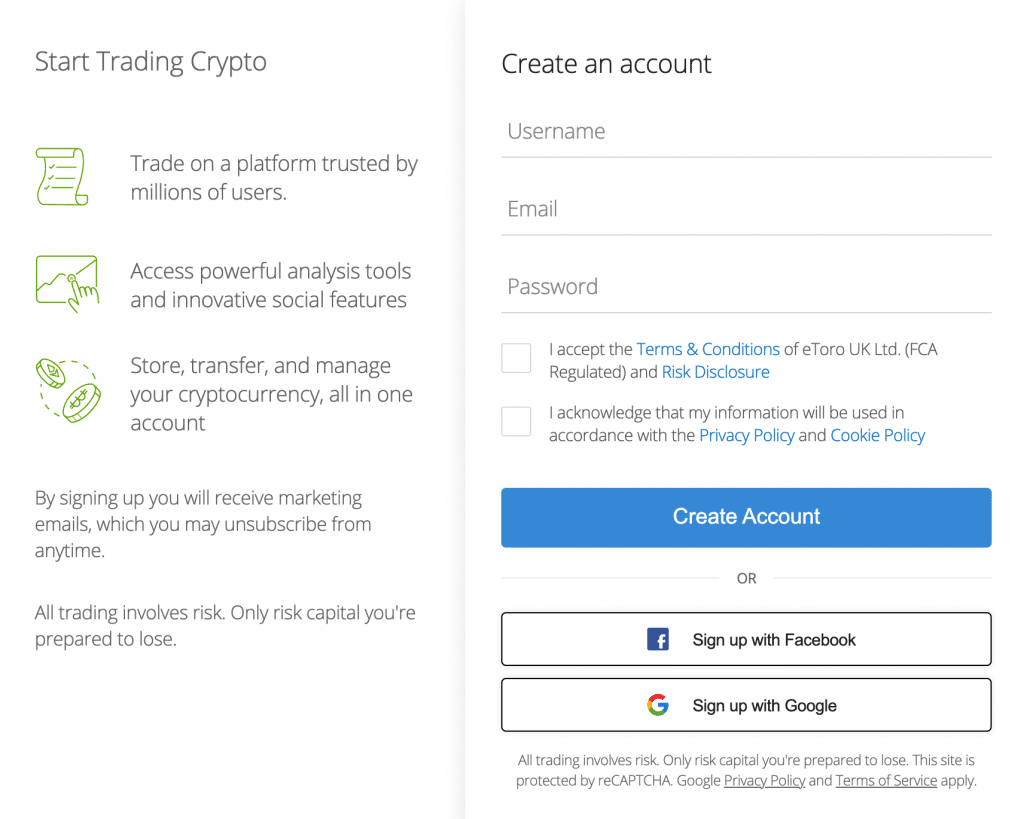 Step 2: Verify your account
eToro is a regulated platform that goes to great lengths to protect its users' data. One such step is the verification of every new user. For this, you will have to provide a photo ID like a passport or driving license and proof of your address such as a utility bill or a bank statement.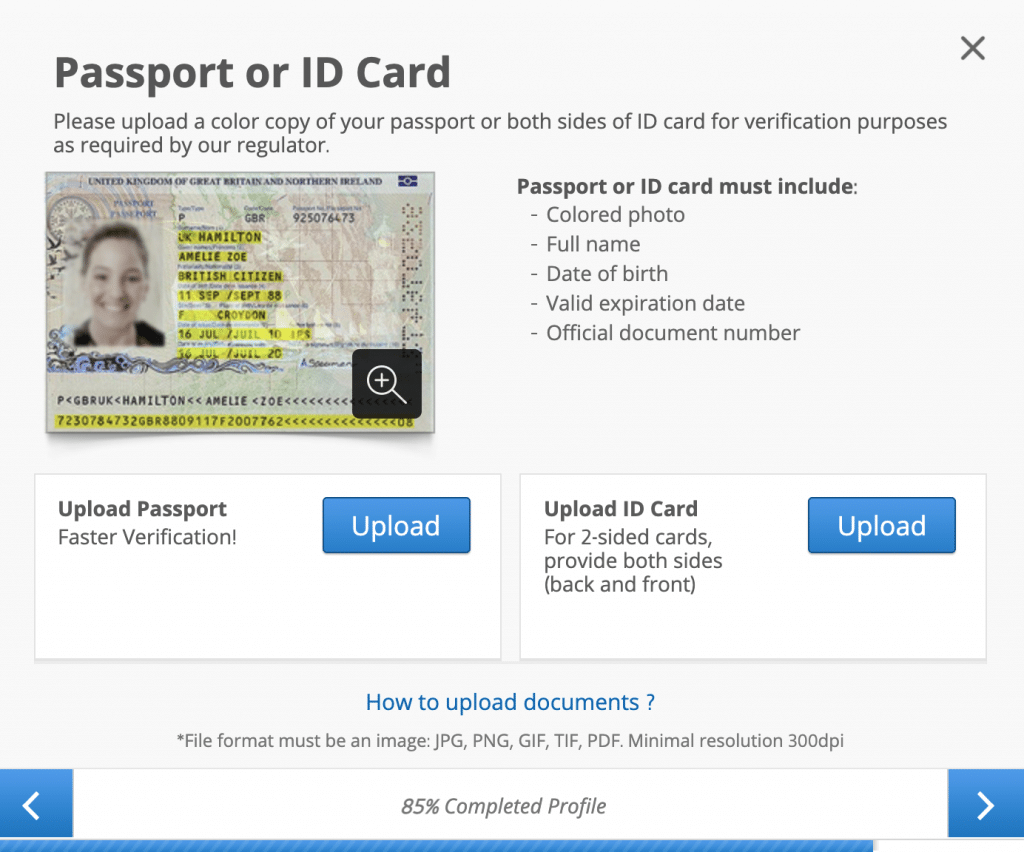 Step 3: Fund your account
This is the last step before you can buy stock. Think of it as putting money in your account as you head out to the mall for shopping. To deposit the money in your account, click on 'deposit funds', enter the amount you want to add and click on 'deposit'. You can perform the transaction via credit or debit cards, bank transfers, or eWallets like PayPal.
Step 4: Buy alcohol stocks!
For this final step, simply type a company's name in the alcohol industry that you want to buy stocks from in the search bar. For example, Boston Beer (NYSE: SAM). Click 'trade' followed by the amount you wish to invest in the company, and click 'open trade'. You can manage your investments in the portfolio section of your account.
Conclusion
To summarize everything up, alcohol stocks are a promising investment option as they are available worldwide and offer higher dividends than most other options. Though there have been some exceptions where alcohol brands failed to perform as per expectations, alcohol stocks are still a great option to investors daring to take a little risk. Alcohol consumption has also gone up in the pandemic, leading to a steady rise in the market as well. All in all, the sin stocks of alcohol are a great option for all kinds of traders, especially the ones that like to take a little risk.
Best Platform to Buy Alchohol Stocks – eToro
FAQs
What's the Future of alcohol stocks?
Where can I Buy Alcohol Stock in the USA?