Cash Loans Philippines – Fast Cash Loans Online 24/7 With Low Interest
In recent years, the Philippines' Fintech business has grown dramatically. As it made financial products more accessible, it also produced new ones, providing consumers with additional alternatives that are better suited to each Filipino's lifestyle and preferences.
You don't have to travel far to apply for a loan nowadays. You may now acquire financial goods online thanks to the Philippines' fintech industry, and Filipinos can apply for one right now.
These online-only loans are now more accessible than ever before! Whether you're a Pinoy working abroad (OFW) or merely at home, we've got you covered.
Best Cash Loan Philippines in 2021 – Money Cat

5 Best Cash Loans Philippines 2021 – Quick-Pick:
Money Cat – For Fewer Stringent Requirements
Radiowealth Finance Corporation – for the Best Loan Flexibility
Cashwagon Cash Loan – for the Best Rates
Global Dominion Salary Loan – Best for Individual Tailored Approach
Asteria Personal Loan – For the Best Loan Repayment Schedule
What Are Cash Loans?
A cash loan is a short-term loan in which lenders make high-interest loans to you, depending on your income. The deposit is frequently computed as a percentage of your future earnings. cash loans have interest rates since they are intended for quick, short-term credit. You can also refer to them as check advance loans or cash advance loans.
Cash loans have high-interest rates and minimal security requirements; hence they are unsecured loans. They are also referred to as predatory loans since they have high-interest rates, do not consider the user's creditworthiness, and contain hidden clauses that incur additional expenses.
As a result, they may trap people in debt. When choosing a cash loan, check into safe personal lending options.
How To Qualify For Cash Loans – Eligibility Criteria
Most payday lenders, according to the Consumer Financial Protection Bureau (CFPB), require applicants to simply:
To apply, you must attain at least 18 years old.
You must show evidence of income as well as a valid identification card.
Most cash loans are only accessible for a few weeks. When the loan matures, the client has the option of paying it off or authorising the lender to cash the post-dated check or otherwise withdraw money from the consumer's account.
Common uses of Fast Cash Loans
Below are the most common uses of cash loans:
1. Paying Your Mortgages 
Failure to make mortgage payments is a significant challenge—the mortgage lender will most likely believe you are unable to make the instalments. As a result, if you continue to pay late, they may take legal action against you.
However, you have two choices: call your mortgage lender and offer a more acceptable payment arrangement or downsize your living accommodations. In any event, you will not be required to apply for another bad credit fast loan to stay current.
2. Paying Off Bills 
Paying off high-interest debt is one of the most popular reasons individuals take out cash loans. People should search for other methods to reduce their energy expenses rather than loan the money. The most efficient approach to achieve this is to reduce your energy use. Instead of squandering money on gasoline, you might invest in more excellent home insulation.
Furthermore, thicker curtains help keep your home warmer without requiring any expensive alterations. Alternatively, you may save water by shortening your showers.
3. Consolidation of Debt 
The majority of people who take out cash loans use the money to pay off other obligations. As a result, you can use the loan to pay off a debt owed to another firm or a debt owed to you from another source, such as a credit card.
In this instance, seeking a cash loan may be necessary, especially if the interest rate quoted is lower than what the consumer owes on the other debt. The estimated amount of interest, however, is not always totally correct. Extra costs that may add up to a significant fee that is difficult to avoid are often excluded.
Instead of taking out a cash loan, consumers should consider debt consolidation. This program can consolidate all of your bills so that you can pay them off quickly—far, and it's safer than taking out a cash loan.
4. Medical Emergency 
A medical emergency will always be pricey if you do not have medical insurance. It might cost anything from $2,000 to $100,000, depending on the drug you're taking.
If you do not make your payment on time, you will be charged interest, just like any other loan. Even so, it might be costly. One of the most common reasons individuals seek cash loans or short-term loans is for medical reasons. Obtaining health insurance, on the other hand, is the most basic solution to the problem.
5. Holiday Expenses 
Direct lenders may benefit from the holiday season. During this time, parents feel anxious as they strive to buy everything their children desire. cash loans are popular because they appear to be the most cost-effective option. You may be able to rapidly get the cash you want for the holidays and return them the following year, especially if you have accumulated some assets.
It looks reasonable to some extent; but, parents frequently borrow far more than they can afford. They give their kids almost everything they desire, but they can't keep them out of debt. Although birthdays might be stressful, Christmas takes the cake since it has a magical quality that children connect with. It's tough to explain to a youngster why you can't buy gifts on certain occasions.
Best Cash Loans the Philippines – Fully Reviewed
Now that you know what cash loans are and what you can use them for, below are some of the best cash loans in the Philippines:
1. Money Cat – For Fewer Stringent Requirements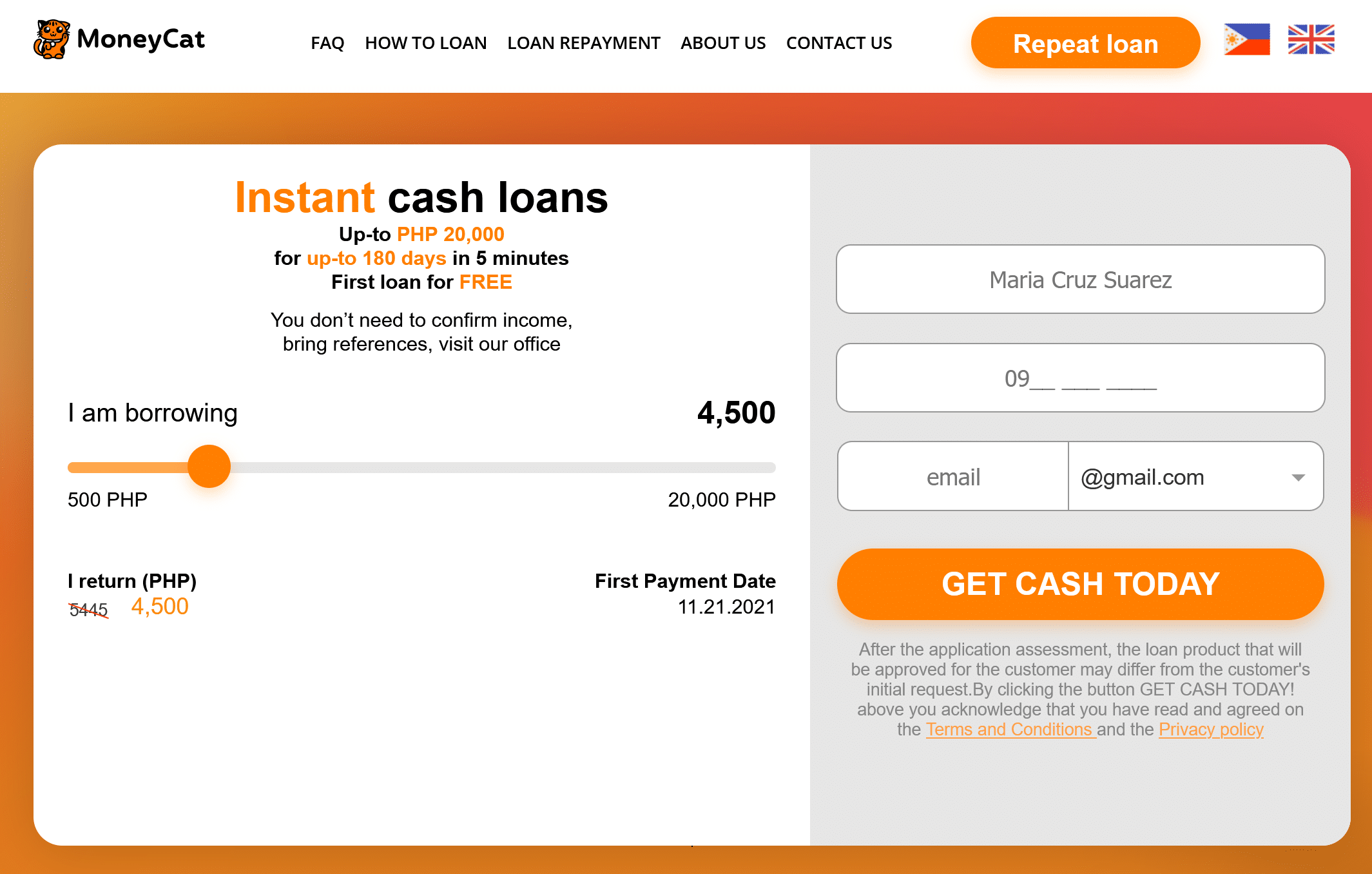 Money Cat was founded in Japan as a non-bank financial firm. They provide clients with financial services in the form of unsecured loans.
This loan is similar to one, but with a better deal. Money Cat, like any other rapid cash loan, offers a one-day loan approval and less demanding criteria and application process. What distinguishes this from others is that the loan amount can grow over time until it reaches 500,000 anytime you complete a loan period.
One of the most distinctive features of Money Cat's rapid cash loan is the possibility to pay simply the bare minimum (8%) of your existing debt. Customers may apply for a loan through three channels: their mobile app, website, and physical branches.
This loan product appears identical to previous products on the surface; nevertheless, it distinguishes itself with a unique repayment structure, renewal policy, restrictions, and catering to specialised self-employed persons such as ESL instructors and Grabs partners.
You can also apply in person or online, depending on which method is more convenient for you. However, because they do not have any branches outside Metro Manila, the in-person application is only available in Metro Manila.
Money Cat is the only company that allows you to pay a minimum amount of your outstanding debt, more petite than the monthly instalment. It's similar to credit card payment plans that will enable you to make monthly payments on a flexible basis. This allows you to pay less in months when money is tight and provides you with some budget management alternatives. However, you face the danger of your debt snowballing because you must still pay off the whole loan before the end of the term.
The loan limit also starts small, but you'll be able to access higher amounts once you've demonstrated your ability to pay and established a strong payment history with Money Cat. This implies you'll have to gradually build up your loan history with the organisation before you can apply for larger loans.
The 500,000 maximum loan amount for an interest-free loan is also quite unusual for this sort of loan. However, it will come with a high-interest rate because their loan rate isn't the finest in the market. So be sure you just borrow what you can afford to repay.
Eligibility
Filipinos aged 21 to 65 years old
At least three months of work experience
A minimum annual income of $7,000 is required.
A current business landline phone and a personal cell phone number. However, independent ESL teachers and partner drivers/riders are exempt from this requirement.
Pros
This company offers the only non-bank unsecured loan with a loan amount of up to $500,000. While getting to that level may take some time and credit development, it is available as an unsecured loan, especially from a non-bank entity, which puts Money Cat ahead of its competition.
Your application will be approved within one day if you meet all of the conditions on the same day.
They notably name ESL freelancers, food delivery riders, and car-sharing partners in their certified professions, making them more welcoming of non-traditional labour.
Because you only need to submit anything to the website or app, the requirements are straightforward and paperless.
Their repayment strategy, which lets borrowers pay only the minimum amount due on their loan, is unusual. While we do not advise paying simply a minor amount owing, it does provide borrowers with a more flexible payment choice.
Cons 
Their marketing and advertisements are straightforward about the prices, albeit they minimise it by emphasising the monthly equivalent of their yearly pricing.
Your initial loan will be $10,000, with six months and a monthly interest rate of 3.315 per cent – 4.563 per cent. If your loan is evaluated at the upper end of the interest rate range, which is 4.563, your 6-month interest estimate would be at least $2,737.
Another feature of this loan worth noting is the repayment plan, which allows you to pay only a small portion of the remaining debt (eight per cent).
2. Radiowealth Finance Corporation – for the Best Loan Flexibility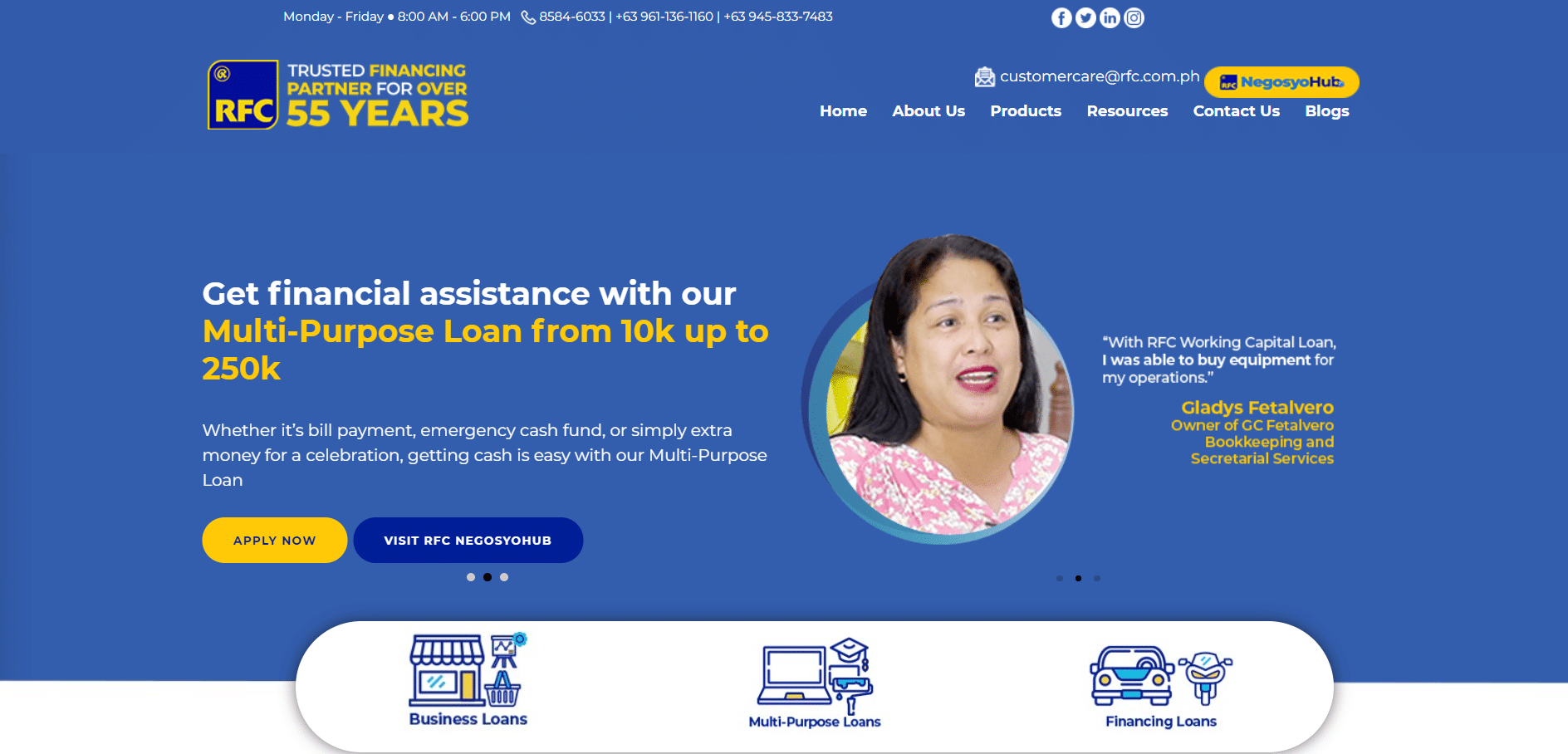 RFC is among the Philippines' oldest private finance/lending organisations. The firm was founded in 1964 and was the first non-bank lender to offer vehicle and equipment loans to Filipinos. They have broadened their financial services throughout the years, providing a variety of personal lending choices to their consumers.
Given that you aren't in such a financial bind that you can wait at least a week for a loan, this is the finest lending choice on your list. It offers the best interest rate, the most flexible conditions, and the most significant loan amount. Longer-term loans, such as those provided by RFC, can help you better manage your financial flow.
Borrowers may return their RFC loan in a variety of ways, according to Radiowealth Finance. You can make your monthly payments in person at an approved bills payment centre (Bayad Center, ECPay, Palawan Express, Unified GPRS) or online using GCash's or any partner bank's bills payment service.
You can borrow money again by renewing your current RFC loan if another urgent financial necessity arises while you're still repaying your existing RFC loan. Even if the remaining debt is not yet paid in full, RFC permits borrowers who have paid at least 50% of their loan to renew it. The debt, on the other hand, will be taken from the new loan amount.
Renewal applications with RFC are more straightforward and faster than initial loan applications. You simply need to provide one most recent evidence of income. Additionally, if you consistently pay your monthly amortisations on time, you will have a greater chance of getting authorised for a new RFC personal loan in a more considerable amount.
One of the most appealing features of an online loan, such as the RFC personal loan, is how simple it is to qualify. You can apply for an RFC loan if you're a Filipino between the ages of 21 and 64 and earn at least PHP 10,000 each month.
When you apply for a loan with Radiowealth Finance, this is not the case. You'll need to complete a significant number of documentation for both government and bank loans. Only three items are required a valid government-issued photo ID, evidence of billing, and proof of income or company registration.
Eligibility
Filipino citizen who is at least eighteen (18) years old.
Except if you are a new homeowner, you must have lived in your house for at least two (2) years.
Good character and a good name
a source of revenue If you are employed, you must have worked for your present employer for at least two (2) years and be paid at least Php 18,000 a month.
How to apply for RFC Personal Loan
Browse to RFC's webpage and click over the "Products" tab in the upper left-hand corner. If you're using a smartphone or tablet, select the drawer button in the top right-hand corner of the screen, which will bring up the header choices, including the "Products" tab. Click on "Multi-Purpose Loan" under the goods category.
You can apply for eight different types of multipurpose loans. Select a "Personal Loan" and then click "Get It Now."
The next page is where you enter all of your essential personal information. When you're finished, click "Next."
The final page requires you to provide information regarding your source of income. On this page, you will also need to upload your papers. When you're finished, click "Submit."
You will receive a phone call after 24 to 48 hours of submitting your application, and you will be able to claim your cash in a branch near you.
Pros 
You can apply for eight different types of multipurpose loans.
Within 24 to 48 hours, you will receive a call.
It's quick and straightforward to use. On that particular day, I did not anticipate getting authorised.
Claim Loan Proceeds in a Simple Way
Loan repayment options that are easy to find
Cons 
The loan has been granted; however, the process of payout is taking too long.
Customer service is atrocious.
3. Cashwagon Cash Loan – for the Best Rates 

Cashwagon, a part of Green Money Tree Lending Corp, is a well-known provider in the field of technology,
Their primary focus in the Philippines is consumer e-finance, which provides access to digital cash loans without the need for security, complicated approval processes, or lengthy application approvals.
Their business concept uses the internet to provide consumers with simple access to their loan services, which they supplement by giving a short response time.
In essence, Cashwagon simply provides one product: a primary cash loan. It is offered online to anybody who satisfies the qualifying requirements and provides the necessary documentation. The sole distinction is between the first and recurrent consumers. Below is a significant distinction:
Introductory loan: up to P6,000 at 0% for ten days.
Next loans: up to P40,000 at variable rates for up to 6 months.
This implies that current clients can receive various terms depending on the quantities they choose to receive, the terms, and their personal information. But, without the initial loan, it is difficult to identify these requirements. Users have reported that the charges do not surpass 1.3 per cent per day or 40 per cent per month. Simultaneously, the corporation states that the average interest rate is 12 percent per month or 144 per cent per year.
Unlike prior agreements, this point applies to all Cashwagon branch clients. The lender specifies very favourable standards to serve the underbanked community. As a result, to be accepted, you must fulfil simply four criteria:
You must be a legal Filipino citizen.
You have to be between the ages of 20 and 60.
Have a job or another steady source of money.
Provide your formal identification, such as your SSS, TIN, or UMID.
To obtain the cash, simply complete a brief form and enter your individual bank account information. Cashwagon customer support is always available to assist with applications, documents, and other needs. You may contact it through the app or the website's chat.
The online form is the most straightforward method of acceptance. The firm walks you through the entire procedure in four simple stages. This method is significantly easier for existing clients because the lender already has your information.
Pros
Various clients claim that the charges do not surpass 1.3 per cent every day.
The lender provides favourable standards to serve the underbanked community.
Cashwagon service is always available to assist with applications, documents, and other needs.
The application online is the most straightforward technique of acceptance.
You may pick between regular approval, which can take up to 3 hours, and express consent, which can take as little as 30 minutes.
Cons 
The expedited service costs an additional P500.
There is no iOS app version.
4. Global Dominion Salary Loan – Best for Individual Tailored Approach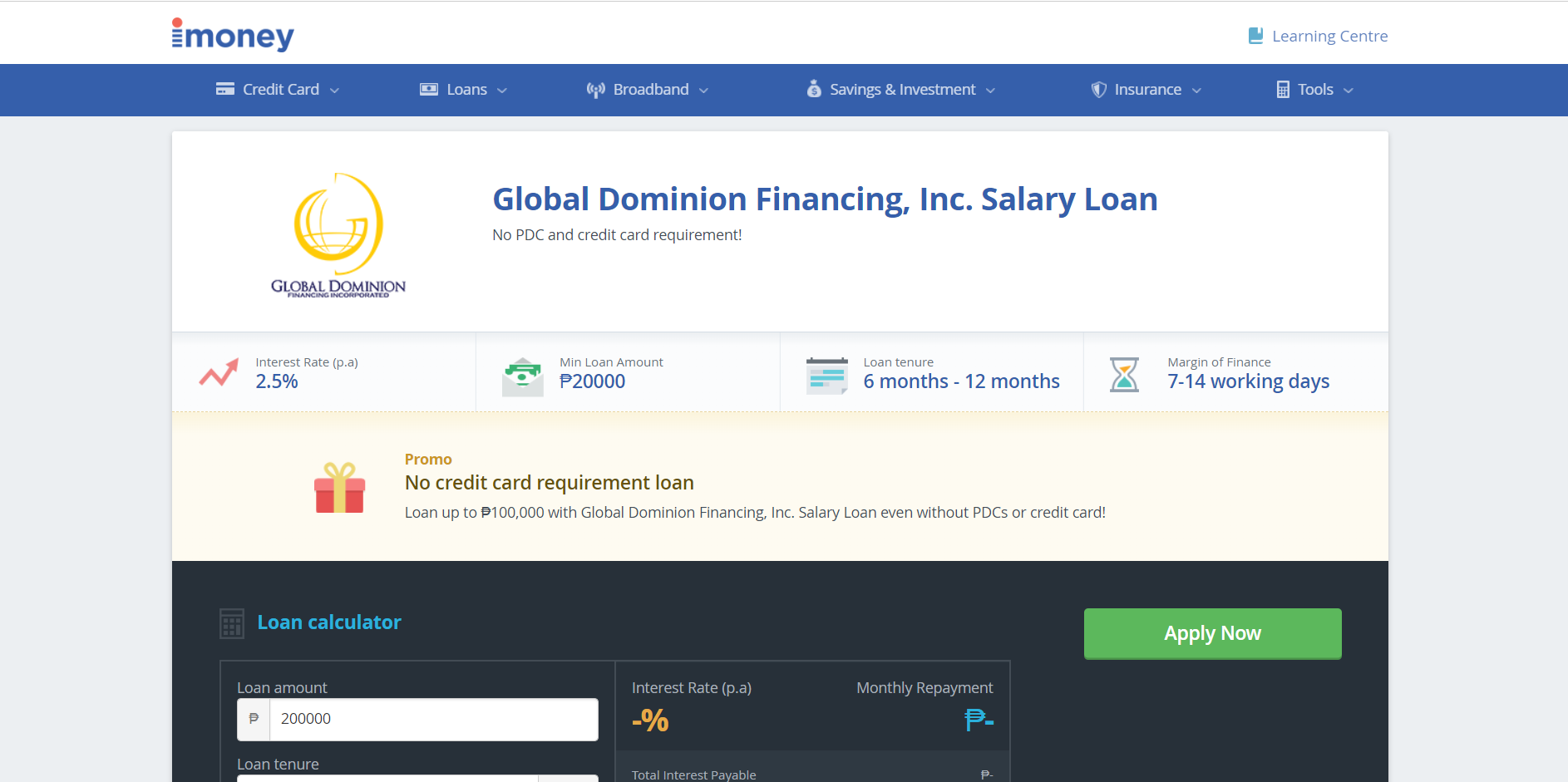 This financial service company is one of the nation's most well-known private loan firms. They provide more comprehensive loan options that appeal to a broader population and a broader range of financial demands among Filipinos. They have several branches around the country, and you may also apply in person at one of their locations.
The salary loan from Global Dominion is a reasonably accessible financial solution for almost everybody who works. While they don't have the lowest interest rates in the market, they make it easier for applicants to be accepted, which is worth considering for most individuals who simply want a simple loan. The only disadvantage is that a guarantor or co-maker must accompany the application.
The GDFI Salary loan, among its other lending options, is designed for individuals who want quick money. These are usually transitory loans that you should repay after the client earns their next month's income.
If you need a short-term loan to help you through till your next payday, GDFI might be the appropriate answer for you. Please remember that the aim is to repay the borrowed cash as soon as possible, so if you have a different purpose, there are probably other types of loans given by GDFI that may be a better fit based on your needs.
With Citi Personal Loan, you may be confident that you'll receive the most excellent service a financial provider can provide because it is an international bank with branches in several countries. One of their most significant advantages is the rapid response time when requesting a loan. You will receive approval within 24 hours of submitting an easy online application.
Borrowing amounts ranging from 20,000 to $2,000,000 are available, with repayment terms ranging from 12 to 60 months. The effective interest rate begins at a reasonable fixed annual rate of 26.9 per cent. To be eligible, you must have a monthly salary of at least $21,000, be a credit cardholder, and be between the ages of 23 and 54.
The GDF Incorporated Loan calculator estimates the projected borrowing costs as well as the amount paid every instalment. Input the required loan amount to calculate the projected monthly payback for various tenors.
Pros 
The organisation provides a personalised approach to each client.
Loan cash is provided quickly within 24 hours of approval.
Borrowers are subjected to essential requirements.
It is simple to utilise the company's services—the availability assures accessibility of an extensive network of branches around the nation.
Competitive interest rates, as well as loan payback conditions that are easy;
Professional, experienced personnel with a track record of achievement in the credits industry for over ten years.
Cons 
The company has to be in the top ten thousand in the world.
The applicant must be between the ages of 21 and 60.
5. Asteria Personal Loan – For the Best Loan Repayment Schedule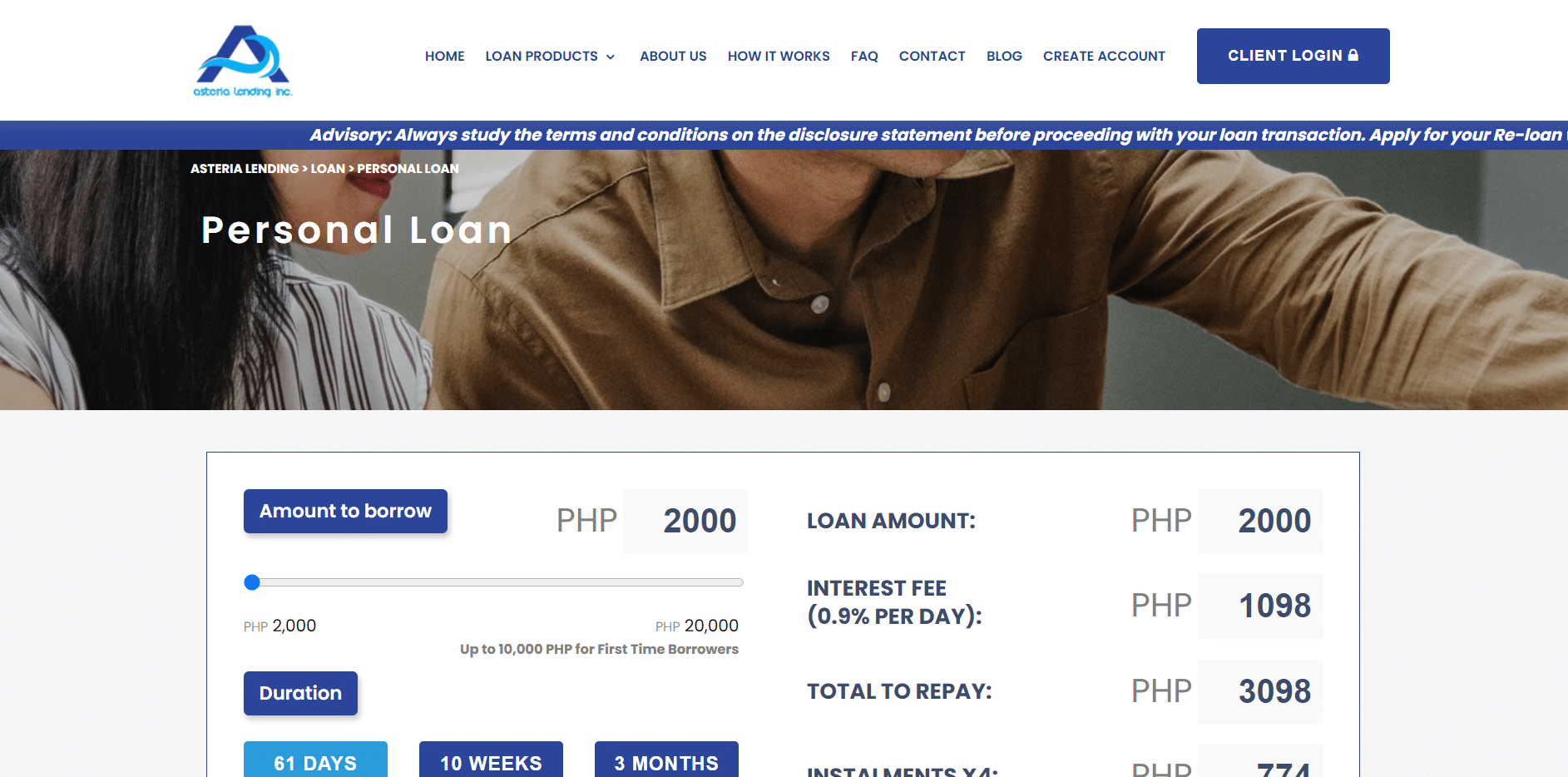 Asteria Lending Inc. is another emerging fintech firm in the Philippines that provides cash loans via online applications. They provide a broader choice of financial solutions, ranging from personal and salary loans to business and automobile loans.
They will essentially match an applicant's financial need with specific financial solutions. The firm was founded to provide personal loans in the Philippines to provide its consumers with an online, hassle-free service.
They not only provide consumers with simple access to their financial goods, but they also provide long-term financial solutions with flexible payment periods. You may now apply for two types of loans through Asteria: Personal Loan and Salary Loan.
Despite having almost identical maximum loan amounts, interest rates, and payment terms, the two loan options have significantly different qualification requirements. The payback of the salary loan will fluctuate based on the borrower's income dates, whereas the personal loan will have a predetermined due date established at Asteria's discretion.
They're entirely online. Everything is accomplished with the use of a computer and a smartphone. There is no need for you to go out and apply. So, it's all right. Staying at home is always the safest option. Thanks to Asteria and other internet loan firms.
If you are between 21 and 60 and currently reside and work in Metro Manila, Pampanga, Batangas, Bico, Quezon, or other nearby areas, you are encouraged to apply.
A new customer's minimum-to-maximum amount is P2,000.00–P10,000.00, while a renewing customer's minimum-to-maximum amount is P2,000.00–P20,000.00. They have a term that comes in useful. You can choose from 30 days, 61 days, 75 days, or 90 days of service. In addition, there is a daily interest rate of 0.9 percent.
You can save your application and continue later if you forget to bring an essential document, such as your valid ID. You are free to return at any time and continue where you left off. Within 24 hours, you will assess your loan request, and if granted, monies will be paid to your bank account as quickly as feasible.
Sign up for UnionBank right now from the comfort of your own home. They levy late fees and a 1 percent per day penalty for late payments. Make sure you pay on time. To avoid paying unnecessary fees.
Pros 
It's dependable, and it's simple to use.
They have helpful employees that will guide you throughout the procedure.
Creditor's minimum criteria;
Debt that is not secured;
Loan repayment within 24 hours;
The repayment schedule is correct;
Availability at all times;
It's a convenient way to communicate without taking up too much of your own
Cons 
There should be a chance that your application will be denied after submitting all of the required information or that the approval process will take too long.
Their services are only offered at these locations. If you live outside of these cities, you will be unable to use their services.
Payday Loans in Philippines Regulations 
The maximum interest allowed in the Philippines is 12% per year loans, 14% for unsecured loans, and 6% in loans or judgments, or what is referred to as the legal rate of interest, where there's no contract as to such rate of interest.
The Lending Company Regulation Act (R.A. No. 9474) mandates that the business of lending activities can only be engaged/entered into by a stock corporation duly registered and licensed by the Securities and Exchange Commission ("SEC" or "Commission");
The Exchange Commission and Securities (SEC) has appealed to the Bangko Sentral ng Pilipinas (BSP) to consider capping the interest rates and other fees that lending and financing companies may charge on consumer and payday loans.
States in the Philippines Where Payday Loans are Available 
The Philippines Fintech business has massively developed over the recent years, and it has been able to make financial products more manageable and more accessible. It has gone further to create new ones that have ensured consumers have different alternatives suitable for their preferences and lifestyle. 
Unlike in the past, lately, you don't have to make trips to apply for a loan as it's possible to use and acquire loans online. All this is attributed to the Philippines Fintech industry that has brought loan accessibility to Filipinos' doorstep. Below are some states where you can access payday loans in the Philippines: 
San Miguel

Mandaluyong City 

Metro Manila
Local Loan Stores in the Philippines
Payday borrowing is a relief to many—any individual with a checking account, good job, and identification can easily acquire cash ranging from $100-$500 valid until their next payday. 
These borrowers issue post-dated cheques or sometimes written authorizations to lend companies for the loan plus the interest rate mainly 15%. The loan can either be paid in person, by cheque or institute electronic cash transfer. 
Below are loan stores in the Philippines:
Asteria Lending

Aguirre Loan Co. 

Cash Mart Philippines

Pagasa Philippines Lending Company Inc.

Kabayan Loans Credit Solutions
Types of Cash Loans
Fast Cash Loans No Credit Check
A no-credit-check loan, also known as a no-credit-check-instalment loan, is a type of financing business that does not do a credit check on its customers. No-credit-check companies pull in many consumers with bad credit.
The interest rates on these loans are high; in some instances, the rates might surpass 400 per cent. The rates are far higher than those offered by credit unions and other online lenders. Consequently, before taking out a loan, think about all of your options and be aware of any potential financial risks.
At first glance, a no-credit-check loan can appear to be the ideal source of fast cash, but the devil is in the details. Because of the high-interest rates, you'll have to make huge payments, which might quickly trap you in a debt cycle. Furthermore, failing to pay on time has severe penalties.
Online Cash Loans With Bad Credit

A Bad Credit loan is designed to help people with terrible credit have access to financial services. These loans, on the other hand, have fixed interest rates and are paid in fixed instalments. Lenders consider your credit score, credit history, and debt-to-income ratio to determine if you qualify for such a loan.
Each lending organisation has its own set of criteria for loan request approval and pricing, such as credit score requirements. This makes it tricky to determine the exact APR they'll charge you for a personal loan if you have a bad credit history. Interest rates on personal loans can range from 5.5 per cent to 36%. If you have a bad credit history, though, you should expect higher rates in this area.
Cash Loans Guaranteed

A loan guarantee is a promise by one party to fulfil the borrower's financial obligations if the borrower defaults on the loan. The secured loan might be restricted or unconstrained in nature. In a modest circumstance, the guarantor, on the other hand, will only pay a portion of the defaulted amount. At the same time, the unlimited guarantor will spend the whole amount of the failed debt.
A loan guarantee is a legally binding arrangement between a private lender, the government, and a borrower. The government agrees to pay the borrower's financial commitments if the loan is not repaid.
Guarantee loans include things like guaranteed mortgages, cash loans, and federal student loans.
Cash Loans Direct Lenders
Direct lending is a method of company funding. Financial institutions deal with clients directly instead of via a broker, investment bank, or private equity company.
Credit unions, banks, and big lending companies are examples of direct lending facilities. Working with direct lenders, you'll interact with loan officers, processors, underwriters, mortgage closers, and financiers, all operating for the same firm. Loan officers are the sales representatives of financial institutions in the direct lending business.
Cash Loans in an Hour

Cash loans in an hour are loans that can be transferred or withdrawn on the same day. They are promptly moved into the client's bank account. However, most of the clients' deposits are not same-day cash because clients have to wait for at least 24 hours to get their money.
The Federal Reserve CC authority requires banks and other lending agencies to advise clients about the status of the fund and any applicable rules. The clients can obtain their money on the first working day using wire transfers, cash deposits, direct deposits, or government checks.
Cash Loans With No Employment Verification
A no employment loan is a short-term line of credit that microfinance institutions typically provide. Consumers in this situation do not have to be employed ineligible for a loan. Instead, the loans are approved based on the individual's previous income and work history. Cash loan terms and interest rates differ based on the provider.
Cash Loans Online With Easy Approval
Loans with swift approval are short-term loans that you must return as soon as possible, especially on your subsequent salary payday.  The loans are famous for being easily accessible to borrowers since financial institutions rarely evaluate the applicants' credit records. Despite this, the borrowers of these loans face considerable disadvantages. Others, for instance, have an APR of 400%.
The most convenient approach to receiving a loan is selecting a loan option with a simple permitting process. Withdrawing cash immediately via a home equity loan, a credit card cash advance, or family and friends are all possibilities.
Cash Loans For Unemployed
Unemployed individual cash loans are quick cash advances with exorbitant interest rates based on the consumer's monthly income. The payback policy is often dependent on a percentage of the consumer's monthly wage (monthly).
The unemployment loans can be detrimental to your budget, rendering personal loans more accessible to let you remain financially stable. Jobless persons can also request loans; however,  they must demonstrate that they've other financing streams.
Advantages and Disadvantages of Online Cash Loans
Advantages 
1. Easy Accessibility
The significant advantage you're likely to notice while shopping for cash loans is their availability. The bulk of cash credit loan companies guarantee money in as little as 24 hours and instant lending response. Furthermore, other lenders have relocated all of their services on the internet, making them available to applicants at any time.
Unlike other loan providers, which require a lengthy application process, the payday application is completed in a matter of minutes.
2. No Collateral Needed 
cash loans are often unsecured, as opposed to regular loans, which require private property as collateral. Consequently, if you don't pay back the loan on time, you won't lose your property.
However, lenders may want to regularly access your bank account to withdraw the payment when the term ends automatically. If your account is not adequately funded, the payday lender can instruct debt collectors to your residence or sue you.
3. No Strict Credit Policy 
Many payday lenders do not perform thorough research on your credit records. Therefore, there will be no stringent credit searches, which may significantly damage your credit rating.
Moreover, cash loans will not help you improve your credit score, allowing you to obtain higher-quality financial products.
4. 14 Days Cooling Period 
cash loans are administered by the Consumer Credit Act of 1974, which specifies that you have two weeks to terminate the arrangement if you are undecided about taking the loan.
If you decide to cancel the loan, you must repay both the principal and the accumulated interest. The lender must return whatever charges you paid.
5. Fewer Requirements 
cash loans have minimal requirements and flexible standards, making them easy to get. On the other hand, many conventional loans will require you to supply your social security number, an ID card, proof of income, a credit check, and an assessment of your ability to repay the loan.
The sole prerequisites for cash loans are listed below.
You should be over the age of 18.
You have to issue a valid photo ID or your Social Security number.
You must have a job or a source of consistent income.
You must have a bank account.
Nonetheless, alternative criteria, such as authorisation to view your account, may be applied in some cases to increase the client's and lender's comfort during the loan period.
How to get Fast Cash Loans from Money Cat Revomax
Sign in to their site or get their application from Google Play (Android) or the App Store (iOS).
On the main page tab, select "Apply Online."
Specify the amount of loan you want, then use the slider to match the loan amount.
You'll be prompted to log in by your Facebook account, email address, mobile number, or Apple ID. Select the one that best suits you.
After you've logged in, you'll be prompted to input your details, check your account number and submit a valid photo ID.
Within 24 hours, they will approve your request, and the monies will be paid into your account.
Conclusion – Best Place to Get an Instant Cash Loan

At some time in our lives, we all run out of funds. However,  cash loans may be quite helpful in such urgent circumstances.  Our highest payday lending platform is Money Cat, where you can acquire short-term, emergency funds quickly. To get started, please go to their webpage and fill out the accessible loan application form.
Best Cash Loan Philippines in 2021 – Money Cat

FAQs 
Does a Cash Loan Affect Credit?
How Can I Get a Loan if I Can't Get Money?
Are Payday Lenders Good or Bad?
Can Lenders See cash loans?