CFD Brokers – Best CFD Brokers in 2021
CFD trading has enabled traders from all over the world to make profitable trades. CFD stands for "contract for difference" which basically means that there is a contract that is put in place between a buyer and a seller. This contract states that the buyer must pay a seller the difference between the current value of a given asset and its value at the time of the contract.
The interesting part of this kind of trade is the fact that traders are able to profit from price movement without having to actually own the asset. CFD brokers come into the picture as an intermediary between the market and traders. Brokers will provide traders with the platform as well as the technical analysis tools so that they can make intelligent trades.
There are traders out there that are making excellent incomes with CFD trading. This does not come without a mass of discipline and hard work. If you want to become a seasoned CFD trader then you are going to need to commit to ongoing education as well as consistent actions that propel you closer to your goals.
#1 Best CFD Broker: eToro
CFD trading is something that is going to be meant for those who have a solid level of experience in trading. This is a bit more complex than doing swing trades or even options trading for that matter. If you feel that you would like to get into CFD trading then make sure to spend some time with this guide so you can learn more about how these trades work and the best CFD brokers to choose from.
Best CFD Brokers – Top 5 CFD Brokers List
This list is put here so that you do not have to spend countless hours sifting through different brokers wondering what you are going to get with them. Here, you will find all of the best CFD brokers that are out right now and some of their most key features.
eToro: Best overall CFD trading platform
Fineco Bank: Best for stock CFDs with no commission
Forex.com: Most popular platform
Trade Nation: Best for risk management
Cryptorocket: Blockchain-based CFD brokerage
Overall, these are some of the best CFD brokers that are available to traders. In order to get a detailed review of each of these brokers, check out the full review below.
Best CFD Brokers Reviewed
There are many brokers all over the world that offer CFD trading, but some are not going to be as efficient for traders as others are. These brokers are going to offer multiple asset classes as well as different financial instruments. Make sure to read through each of the reviews so that you can make a decision that is in line with the kind of CFD trading that you would like to pursue.
1. eToro: Best Overall CFD Trading Platform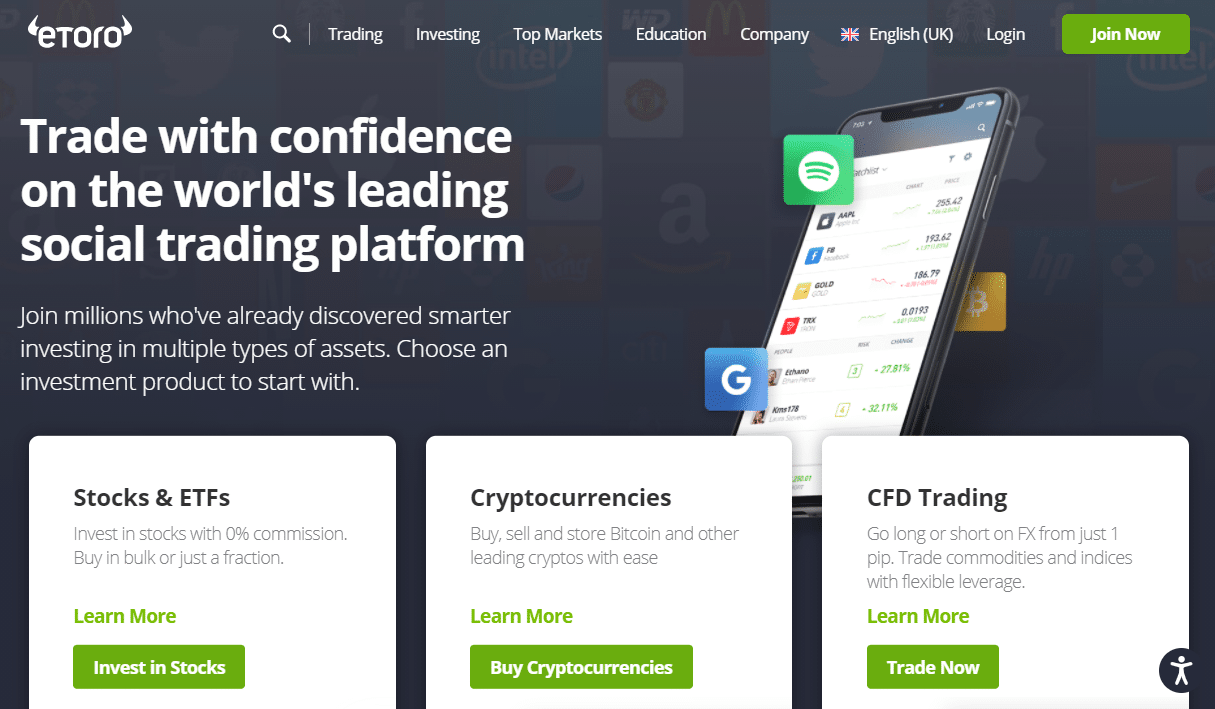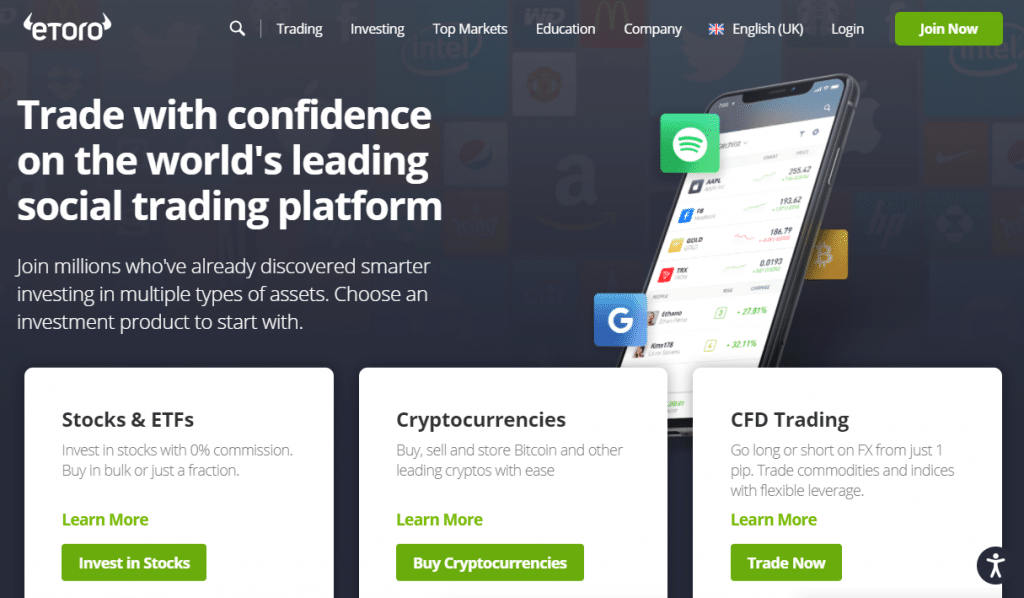 eToro has made a massive name for itself when it comes to trading stocks. The platform actually offers traders the ability to trade in 16 different markets from all over the world. These include the major markets in New York, Tokyo, Hong Kong, and London.
When it comes to CFD trading, eToro is second to none. They have made it a point to offer software that is among the fastest in the industry. This means that traders can experience trades that are placed in real-time with accurate prices.
They offer some of the most cutting-edge charts and technical analysis tools which allows for people to become seasoned traders as they gain experience working with the platform. One of the biggest reasons that people can grow to become expert traders with this platform is the amount of research and educational tools that are offered. You can spend hours learning different techniques and chart patterns with eToro.
There is even a bit more of an incentive to work with eToro because of the community that it is based around. This platform almost serves as a social network where traders can follow one another and interact with each other. This is a great way for traders to expand their knowledge and create meaningful relationships.
| | |
| --- | --- |
| Pros | Cons |
|  Trade stocks in 16 different global markets |  Could use some more tools for customizing indicators |
|  Low minimum deposit of only $50 |  Cryptocurrency fees can be relatively high |
|  Social trading: The ability to interact with other traders for educational purposes | |
2. Fineco Bank: Best for Stock CFDs With no Commission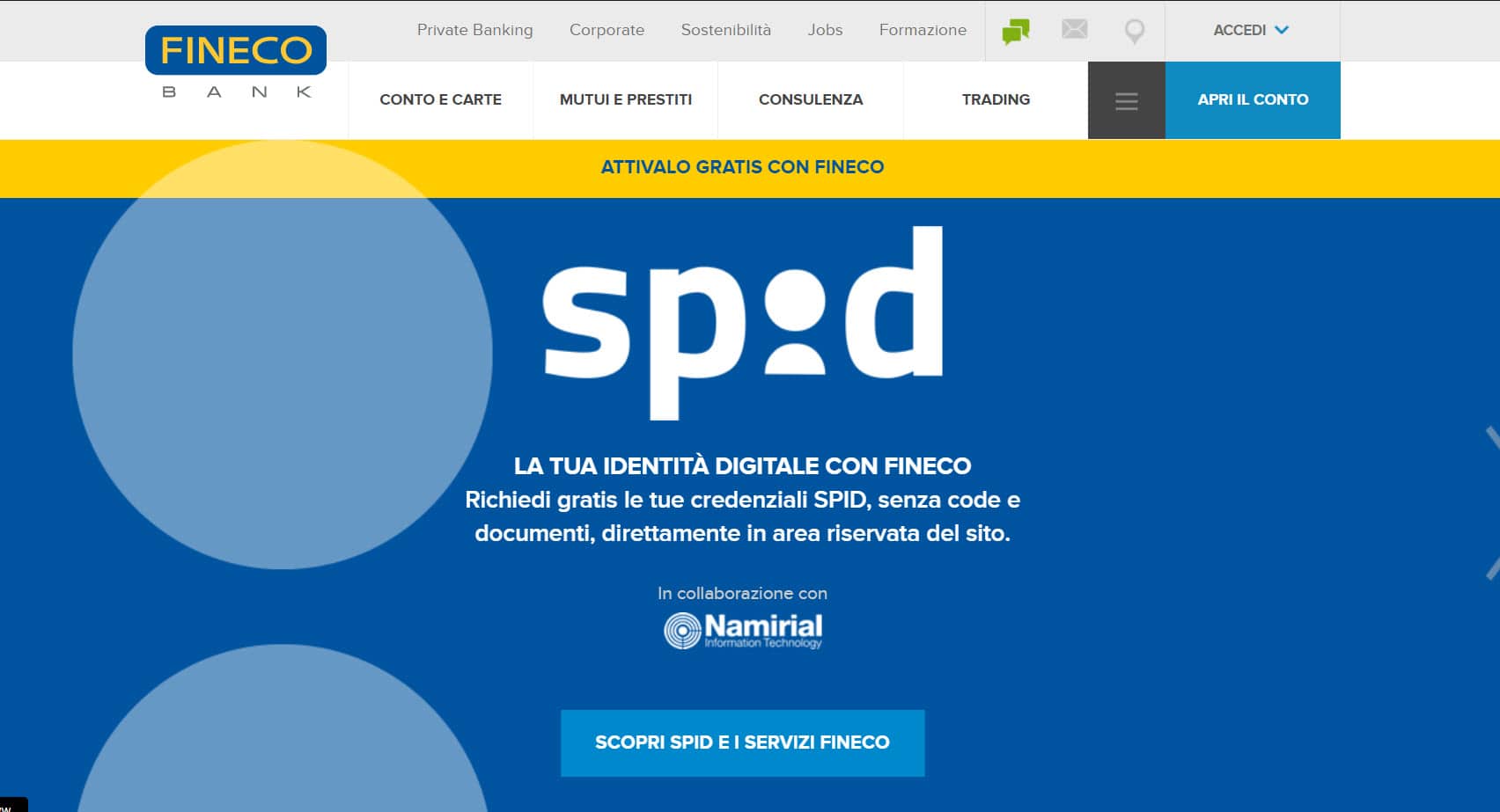 Fineco Bank has set themselves apart from their competition by maximizing the amount of profit that a trader can make. They have done so by offering traders the ability to trade CFD stocks without any commission. In addition to that, there is no minimum deposit required in order to trade with this platform. Ultimately, that makes this a great place for beginners, though seasoned traders can certainly benefit from this Fineco Bank.
Something that is really strong about Fineco Bank is the desktop platform. They bring traders the ability to see a real-time look at the market so that they can make trades that are as accurate as possible. They also offer a news feed that gives traders important news as it is coming out. Additionally, the desktop platform allows traders to create an entirely customizable experience for their technical analysis needs.
The desktop trading platform offered by Fineco Bank is excellent, but the mobile app could definitely use some work. You are able to trade while on the mobile app, but you are not going to find nearly as many tools in the mobile app for you to make educated trades. Ultimately, you are only going to want to work with Fineco Bank if you are looking to trade from your desktop.
Since the start of the platform back in 1999, over one million users have come aboard to make trades with this platform. This is great news for those who are looking to get started with Fineco Bank because it shows that there are many people who have experienced service that is both compelling and trustworthy.
| | |
| --- | --- |
| Pros | Cons |
|  Over 10,000 stocks total |  The mobile platform needs work |
|  No minimum deposit | |
|  Excellent desktop platform | |
|  Start with 100 free trades | |
3. Forex.com: Most Popular CFD Trading Broker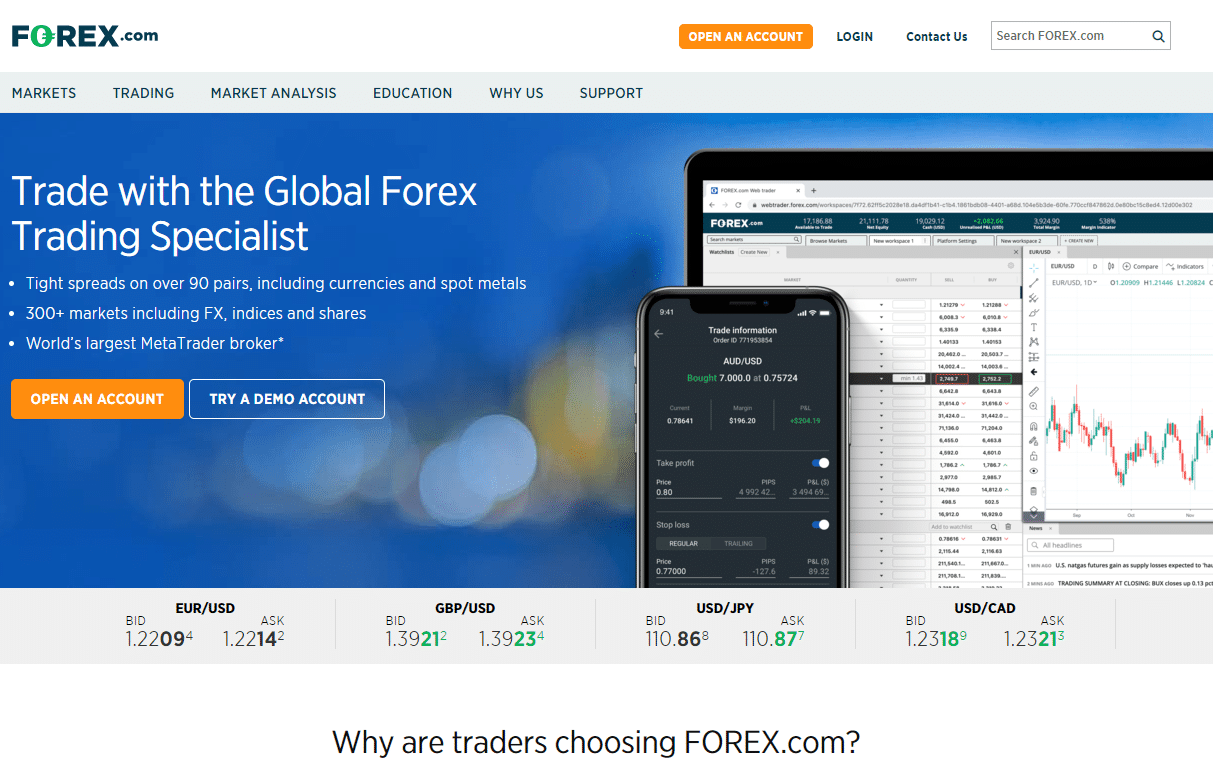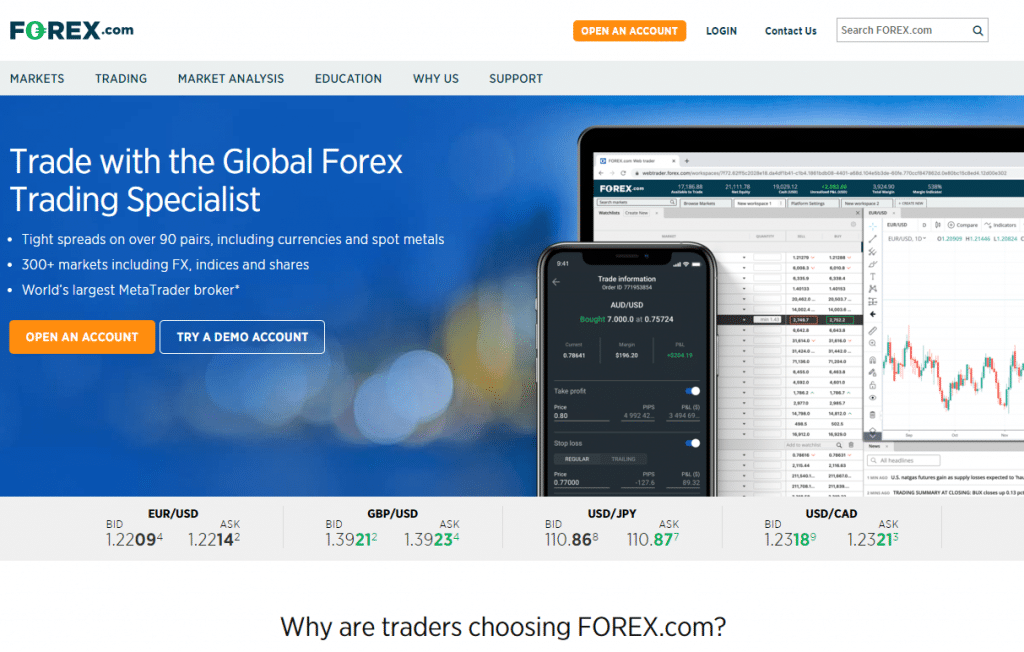 Forex.com operates in over 180 countries around the world, making it the most widely used trading platform that is covered in this guide. With this platform, you are able to trade CFDs in the form of stocks, commodities, forex, and indices. This is great for traders because it will enable you to diversify your asset classes which can improve your chances of being profitable.
There are three kinds of accounts that you can open with Forex.com. These accounts are standard, commission, and direct market access accounts. Though for most people, sticking to either the standard or commission will do justice. There is an account minimum of $25,000 for the direct market access account.
All in all, Forex.com will offer the technical analysis tools that are necessary for becoming profitable with CFD trading. This is more of an all-seasons platform as you are going to be able to work in many different ways here.
| | |
| --- | --- |
| Pros | Cons |
|  Up to 1:50 leverage on all trades |  Some believe that the product portfolio is limited |
|  Ability to trade on MT4 and MT5 platforms |  Higher stock CFD charges |
|  Excellent customer support | |
4. Trade Nation: Best for Risk Management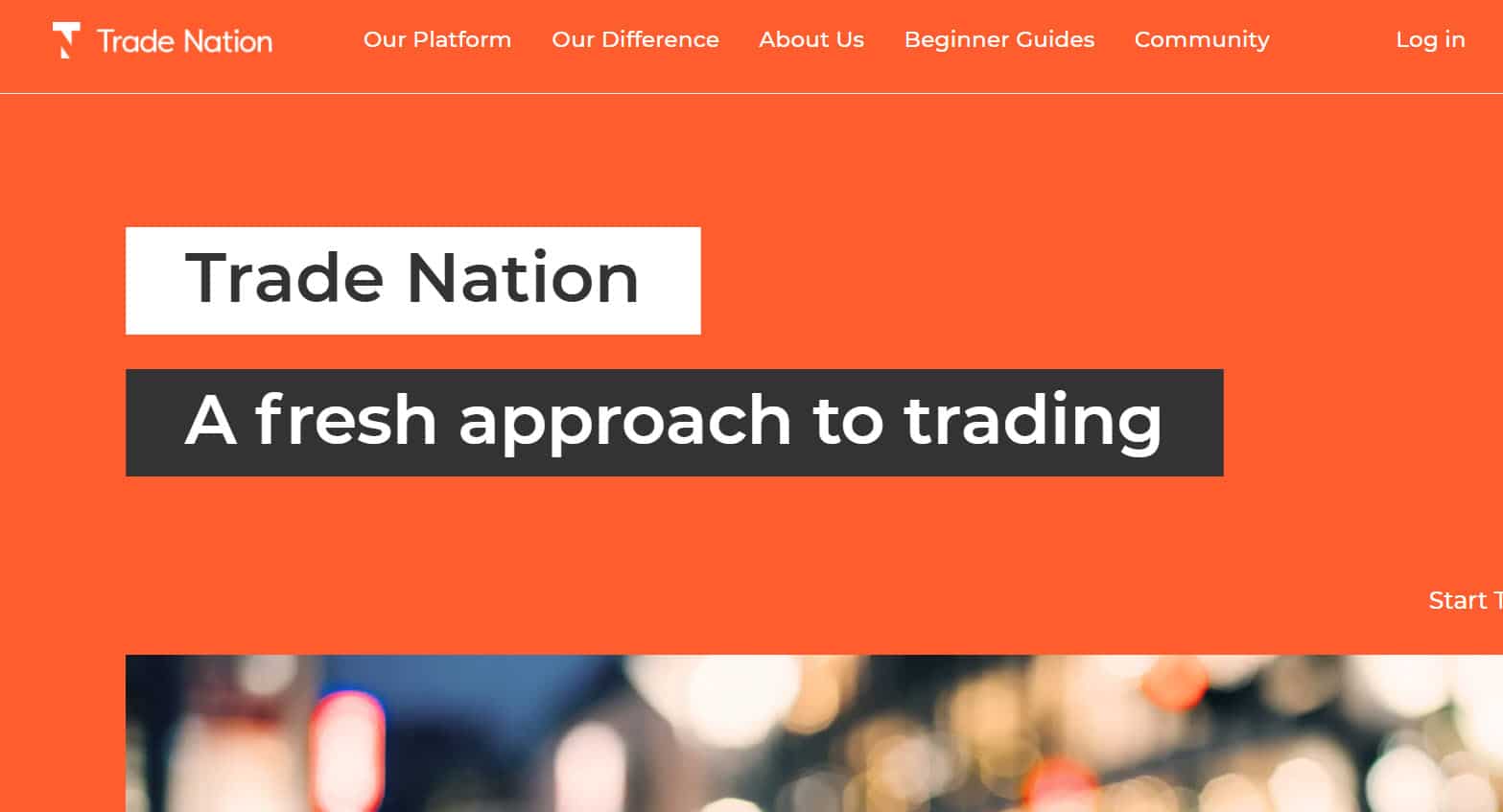 As of right now, there are many different markets and currencies that can be traded with this platform. Though one critical thing that is not offered with Trade Nation is cryptocurrency trading, this is hopefully something that can be offered in the future but at the time of this writing, it is not offered.
Something that has gotten the attention of many traders is the fact that there are fixed spreads as opposed to variable spreads. This can be a great benefit for those who are trading with accounts that have a lot of money in them.
The actual trading platform is one that has excellent compatibility with both desktop computers as well as mobile devices. The platform offers technical analysis tools that allow you to mark up your own charts. Additionally, you will have access to some great educational resources so that you can continue learning while you trade.
One of the most notable features that are offered by Trade Nation would certainly be the risk management tools. You will be equipped with advanced management tools that help you mitigate risk on your trades. This is done through the process of hedging your trades and even using trailing stops which will help you cut your losses before it is too late.
| | |
| --- | --- |
| Pros | Cons |
|  No minimum deposit |  Does not offer cryptocurrency trading |
|  Hedge trades and place stop-loss limits | |
|  Fixed spreads | |
5. Cryptorocket: Blockchain-Based CFD Brokerage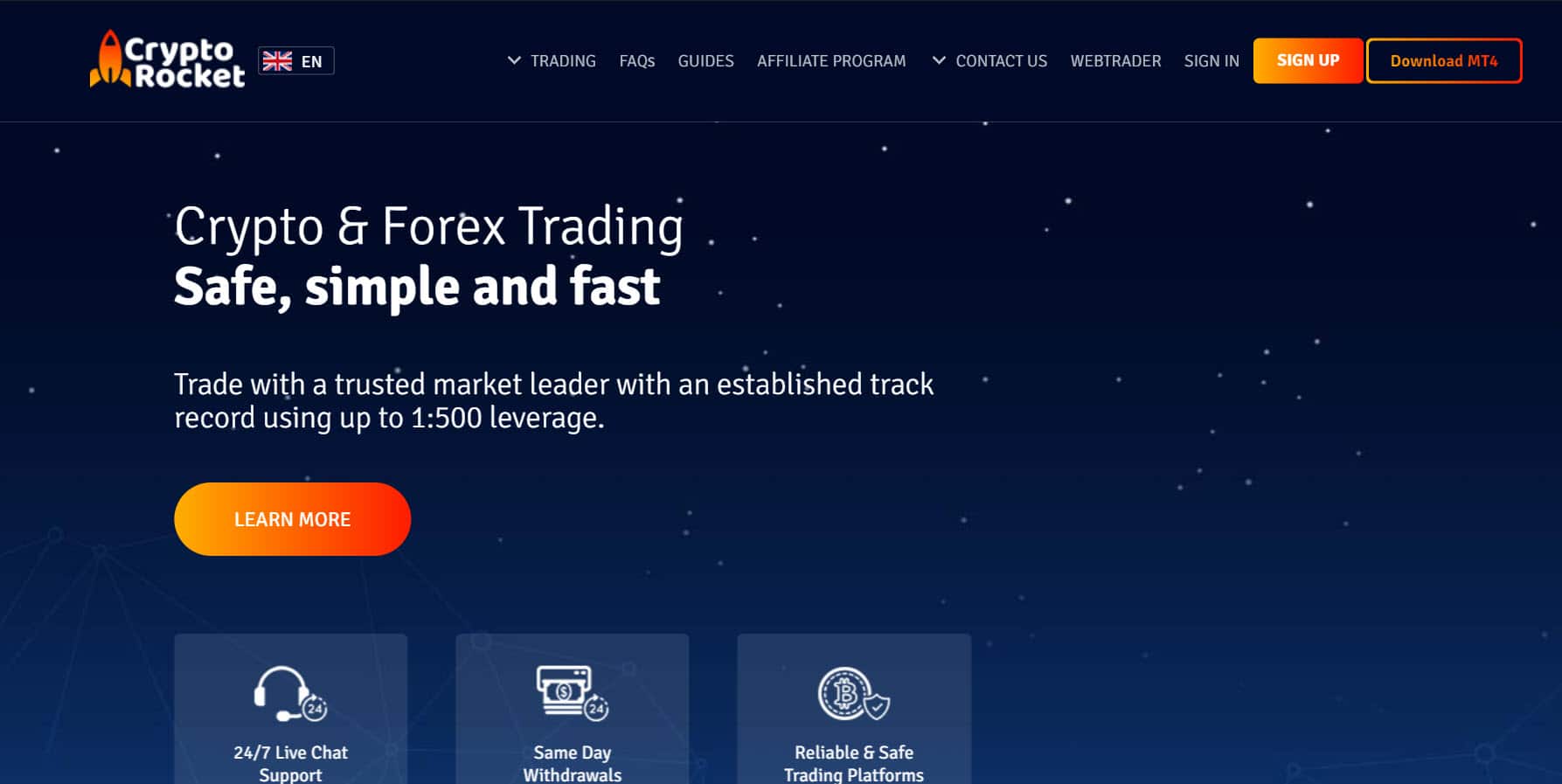 The fact that Cryptorocket is blockchain-based certainly makes it stand out among other CFD trading platforms. In addition to that, traders will experience high trading leverages of up to 1:500.
Many of these other brokerages offer different kinds of trading accounts, but Cryptorocket only offers one. This is not necessarily a bad thing though due to the fact that it is absolutely enough for you to become profitable with Cryptorocket.
With Cryptorocket, you can trade CFDs on cryptocurrencies, forex, and indices. This is great because it will offer you some diversification in your portfolio, which is always a good idea.
One of the most attractive features of this platform is the fact that there is no minimum deposit required. Though something that can be confusing to some people is the fact that its base currency is expressed in BTC.
| | |
| --- | --- |
| Pros | Cons |
|  STP order processing |  Unregulated exchange |
|  Low trading costs |  No live chat |
|  No deposit or withdrawal fees | |
How to Choose the Best CFD Broker
Something that makes up a big part of trading is understanding what your goals are. Of course, every trader wants to make money, but that does not mean that every trader has goals that are exactly the same. So as a trader, it is important to establish your unique goals and formulate a plan that will allow you to get there.
Part of this plan would be choosing the CFD broker that makes the most sense for your goals. For example, if you are looking to trade CFDs with cryptocurrency then it would not make sense to work with Trade Nation due to the fact that they do not offer crypto trading. You have to be self-aware of what you are looking to get out of this. Lacking a vision of your intent will likely steer you away from committing to consistent action.
This guide is meant to give you the information necessary so that you can make an informed decision. The criteria of each trading platform have been laid out for you, if you continue reading below then you will see some of the biggest factors that could help you determine which CFD broker to choose.
Regulation and Licenses
One of the biggest things that are going to go into your decision is the amount of trust that you can have in your platform. If you have a platform that holds multiple licenses and is legally regulated then you are going to be able to hold a higher level of trust for that broker.
This is not to say that the software is necessarily great, but having regulations will ultimately mean that you can trust your money in that platform. Overall, you want to make sure that you are working in a secure environment.
Available Asset Classes
CFDs can be traded among many different assets. Whether it is cryptocurrencies, stocks, or forex, you want to make sure that you are trading assets that you understand. This means that you have to choose a CFD broker that offers to trade of your desired asset.
If you are looking to trade multiple different kinds of assets then you want to find a platform that offers these asset classes. Many of the CFD brokers listed above offer several different asset classes.
Working with multiple assets at once is a great way to diversity your portfolio and expand your knowledge. As you gain more experience with these different assets you will become more versatile in your trading career.
Trading Fees
Fees are very important when it comes to any kind of trading. The truth of the matter is that you can get burned if you pay fees that are too high. This is the last thing that a trader is going to want to happen to their portfolio.
In some cases, trading fees are unavoidable, the idea is to find brokers with trading fees that are not going to have too much of an impact on your ability to make profitable trades.
There is no one rule of thumb for stating what makes a fee excessive. The important thing is just understanding exactly how much you are going to be charged for a trade before you execute. This will help you foresee how much money you need to make before fees in order to still be able to make a profit from the trade after paying the fee.
The biggest takeaway here is to find the brokers that offer the lowest fees to trade with. Depending on your situation you may want to go with a platform that offers fixed fees as opposed to variable fees. All in all, fees matter, and understanding the fees of your chosen platform will be a great benefit to your trading career.
Trading Tools
Each broker is going to offer a set of technical analysis tools that are meant to assist you in your trading decisions. As a trader, you are going to be making stressful decisions that are all based on the way that you use your resources. The more resources that you have the deeper you are able to look into the charts.
You can also look into each broker that you are considering to see if there is any form of automated trading that is offered. For example, you can mimic the trades of professionals on the eToro platform. This will not guarantee that you see success but you may be able to benefit from these people making trades for you. This also takes a lot of the stress off of you because you are not the one that is making the big-time decisions.
In addition to the tools that will help you make decisions in real-time, there are also many CFD brokers that offer educational resources. It is always a good idea to work with a broker that offers ways for you to grow your knowledge. These can be tutorial videos or blog posts that seek to teach you different things about trading and investing.
Trading Signals
A trading signal is basically a message in real-time that informs you of a trade that is showing potential to be profitable. Upon receiving this message you can make the decision as to whether or not you would like to take part in that trade. This tool allows for some people who may not have expert knowledge of trading to make professional-level trades.
It is very tempting to blindly dive in and just follow what the trading signals tell you to do, but this is not recommended. The reason being is that the trading signals are not always going to provide profitable trades. If you have experience in trading then you can look at the trading signal yourself which will help you determine if this is a good trade to get into.
In addition to trading signals, there are also many platforms that offer copy trading. This was mentioned above in the trading tools section but it is certainly a great way of automating your trades so that you can make profits without having the high level of stress that comes with trading in any form.
Customer Service
When you are trading with money that you have earned yourself, you do not want to mess around with a platform that is unresponsive when something bad happens. The truth of the matter is that there are going to be glitches in the software from time to time. Some of the biggest brokerages in the world experience technical difficulties from time to time.
When things like this happen, you want to make sure that your money is in a safe place. This can be reassured to you if you are working with a brokerage that has good customer service. Whether it is a live chat on the platform or phone support, customer service is a very important aspect of using a trading platform.
How to Get Started in CFD Trading Broker
When you are looking to first break into the world of CFD trading, you are going to want to start with a mass of research so that you can gain a solid grasp on what CFD trading actually is. From there you are should absolutely gain some hands-on experience by conducting trades in a simulator platform. This is a step that many beginners skip and often leaves them burnt out very quickly.
The actual process of trading CFDs has grown to become much more simple than it was years ago. Now, you can complete the entire trade on a desktop or mobile device. In order to get started, you will need to open and fund an account with a CFD broker. This is a process that can take a couple of days due to the fact that the CFD broker needs to verify all of the information that you put in.
Once you have your account activated and funded, you are ready to start trading. From here, you will want to locate some potential trades that can bring in some profits. This is where you can benefit from trading signal software as it will steer you in the right direction to make trades.
Tips for Success as a CFD Trader
There is no secret formula that will have you making successful trades every time, but there are some proven methods and habits to get into to increase your chances of success. CFD trading can give you some short-term profits but is by no means a get-rich-quick scheme. It is important to keep your long-term goals in mind when making your trades every day.
Whether you are just getting started or have been trading CFDs for years, these following tips will help you make more winning trades.
Use Stop-Loss Orders
There are no two ways about it, you are going to lose some trades. In order to make sure that you do not lose too much money, it is important that you use a stop-loss tool. This makes it so that you can cut your losses before it is too late. When the asset drops to a certain price, it will simply back you out of the trade. That means that you will be losing some money, but not everything that you put into it.
Overall, using a stop-loss order will enable you to move on from this trade and get into the next one. Taking losses is a part of this game, having a stop-loss in place will prevent you from losing so much that you have to leave the game.
Start With a Demo Account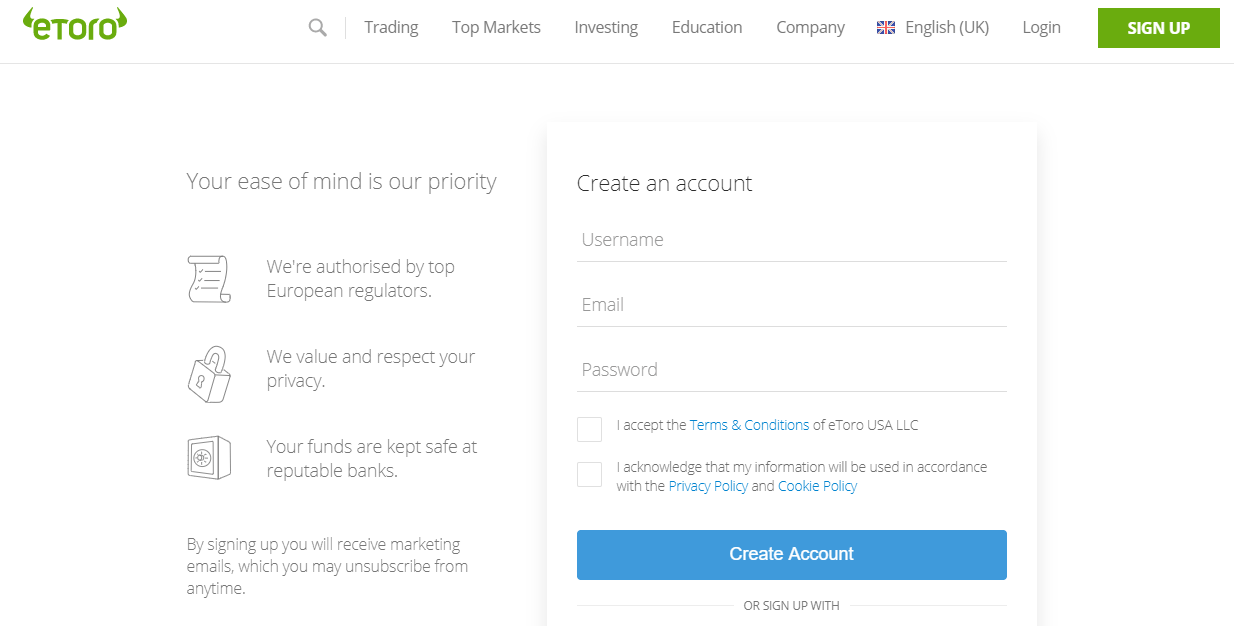 This is one of the most important tips that you'll find here. A demo account is basically practicing your CFD trades without using real money. You will not make any money while doing this, but you will be able to gain some hands-on experience in the market. The best thing about it is that you will not be risking any of your money.
It is best to not switch over to a real account until you have made enough winning trades that you feel confident putting real money into an account. Do not go into a real account after you have made one or two winning trades because those can easily be flukes. Shoot to make 50+ winning trades over the course of either a couple of weeks or a couple of months. This will allow you to really familiarize yourself with the market.
Take your time to really learn the criteria before moving on. Don't make this a race because you'll run the risk of making the jump too early which could leave you losing a good chunk of your money.
Develop a Trading Strategy
There are tons of different strategies for determining the future price of an asset. Each asset will differ in characteristics but for the most part, technical analysis charts are going to be very similar across the board. Developing a method of reading these charts is going to be essential in becoming a successful trader.
From there, it is a good idea to think up some scenarios and how you would act in those scenarios. Ask yourself things like what will I do if the price is to go up by 10%? What if the price drops 5%? Simply having a plan set in place before you dive into a trade will allow you to not panic when there is a big change in price.
Prepare For Red Days
There is no way around a red day when you are a trader, you will experience days where you lose money. This is not something to stress about if you can prepare for the downside. Protecting against the downside will typically make the upside take care of itself. This means that you should have cash on hand for additional deposits into your account as well as cash that you can use for your living expenses.
Diversify Your Trades
If you have an account that has $10,000 for trading and you put all of it into one trade that loses, then you are putting yourself into a bad position. Instead, you should make multiple trades that lessen your chances of losing money. Putting all of your eggs in one basket is a very bad idea when it comes to trading or any form of investing.
Diversification is important because if you make ten trades and three of them lose, you are likely to still be profitable by those seven winning trades.
If we zoom out even further, it is a wise decision to rely on multiple sources of income so that you can stay afloat. Whether this is trading different kinds of assets or having a side hustle that supplements your income from CFD trading. Some people do make full-time livings with CFD trading, but most people burn out quickly when it comes to trading, so it is best to try to have a couple of sources of income.
Disadvantages of CFD Trading
Protecting against the downside is a very important part of investing. So, if you are looking to get into CFD trading then it is important that you understand the downsides to this form of trading. This is not to steer you away from trading CFDs, instead, this portion of the article is meant to show you the reality of CFD trading so that you do not go into your trading career with a mass of uninformed optimism.
You Will Pay The Spread
The way a CFD broker earns money is by forcing traders to pay the spread amount. Unfortunately, this will decrease your earnings on trades that you have won and even increase the losses on trades that you lost. There really isn't a way to get around this, it is something that every CFD trader has to deal with.
The good news is that these spread charges are typically minimal, and there are tons of traders who are highly profitable despite the spread charges. So this is not a reason to steer yourself away from CFD trading.
CFD Trading Is Widely Unregulated
As a trader, you must be very cautious with the money that you put into CFD trading. There are not many regulations that line up with CFD trading, so there are absolutely some scams out there. This is not to say that every CFD trading platform is going to be a scam. In fact, the ones that are reviewed in this guide are all entirely legit.
The main thing to take away from this is that you should proceed with caution. CFD trading can be a lucrative way of bettering your financial life, but there are absolutely going to be some roadblocks along the way. If you keep your head on a swivel then you will likely avoid many of the scams.
Conclusion
CFD trading is an excellent way to get into some actively managed funds that can give you an income at the end of every month. Though CFD trading is not going to be something that will come easy to you. This requires extensive knowledge and technical analysis skills. At the end of the day, you are basically predicting future prices, which is not easy by any means.
This form of trading is so interesting because of the fact that you are able to profit off of assets that you never actually owned. Instead, you set up contracts that state that the buyer must pay the seller the difference between the current value of a given asset and the value at the time of the contract.
A CFD broker is necessary because it will serve as the intermediary between the market and traders. Each of the different CFD brokers is going to offer different tools for your success. It is going to be a very important decision to make sure that you are trading with a broker that lines up well with your goals.
Each of the CFD brokers that are reviewed above is among the best in the world. Though there is one that is probably going to be the best for your specific situation. Using this guide to weigh your options and ultimately make your decision will have you well on your way to becoming a profitable CFD trader.
When getting into the world of CFD trading, it is understandable that you are going to have many questions that you would like answered. With that being said, some of the most common questions asked by beginning traders are all listed below.
Best Online CFD Broker Platform: eToro
FAQs
Can you trade CFDs in the United States?
How much do CFD traders make?