EnQuest Share Price Forecast July 2021 – Time to Buy ENQ?
Shares of EnQuest PLC (LSE: ENQ) are in the green today, on the back of successive projects that have seen the company value rise in recent months. The company refinanced itself with a new debt facility worth $750 million, allowing it to acquire 27% interest in the Golden Eagle Project. These recent developments have attracted the attention of investors.
EnQuest PLC – Technical Analysis
According to the financial statement of EnQuest PLC, the company's current market cap is £366.684 million, with total assets worth £2.712 billion and total debts worth £1.569 billion. Revenue for 2020 was at £672.93 million with a profit margin of -72.52%. EnQuest PLC's revenue for 2019 was at £1.32 billion. At the time of writing, ENQ shares are at £22.15 with an uptrend of 3.69%.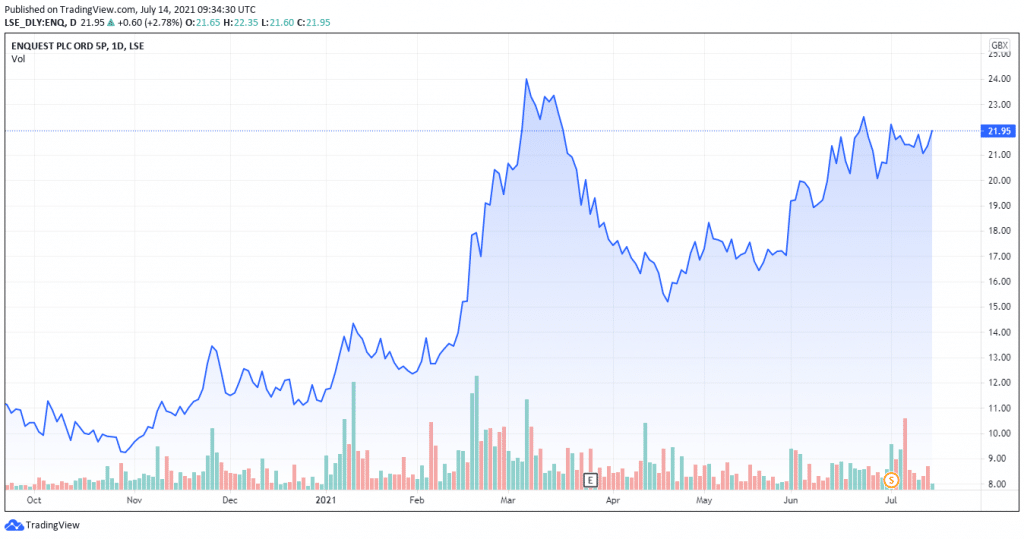 Oscillators for EnQuest PLC such as Relative Strength Index (14)(59.02), Stochastic %K (14, 3, 3)(54.31), Commodity Channel Index (20)(102.55) and Average Directional Index (14) (29.98) are pointing towards neutral. The majority of moving averages such as Volume Weighted Moving Average (20)(21.43), Hull Moving Average (9)(21.51), Exponential Moving Average (200)(17.08) and Simple Moving Average (200)(15.54) are pointing towards buying.
67% of all retail investor accounts lose money when trading CFDs with this provider.
Recent Developments
EnQuest PLC recently secured a borrowing base debt facility of $600 million and an additional $150 million for letters of credit for up to 7 years. As mentioned before, the company will use it to acquire a 26.69% interest in Golden Eagle assets. Last week, the company purchased the P1078 license containing Whalsay Energy Holdings Ltd's proven Bentley oil discovery. EnQuest will pay a total of $2 million-plus $40 million in deferred payments for the entire equity interest in Bentley discovery. ENQ shares experienced an unexpected drop from £29.30 to £7.57 in 2 months at the beginning of 2020. Till the end of 2020 ENQ shares could not recover and stayed low. Share prices started to pick up by the start of 2021.
Should You Buy ENQ Shares?
Investors should be pleased to see a 45% growth in share prices over the previous quarter. However, they have underperformed the market in general as it has lost 46% of its value over the last three years. The positive thing for investors is that EnQuest's income has experienced a compounded 29% growth each year over the last three years.
Because the company is not profitable at the moment, investors may be looking at sales growth to see how quickly the core company is expanding. The company has also rewarded its shareholders with a TSR of 51% in the last year, beating the loss of about 3% per year over the last 5 years. Overall, investors may consider adding ENQ to their wishlist for now.
Buy EnQuest PLC Shares at eToro, the World's #1 trading platform!