Binance Coin Price Up 16.45% – Time to Buy BNB?
Binance Coin has remained one of the most valuable digital assets for most of this year. The currency's continued relevance indicates why several investors are keen to buy BNB.
BNB: Breaking Through The Bearish Doldrums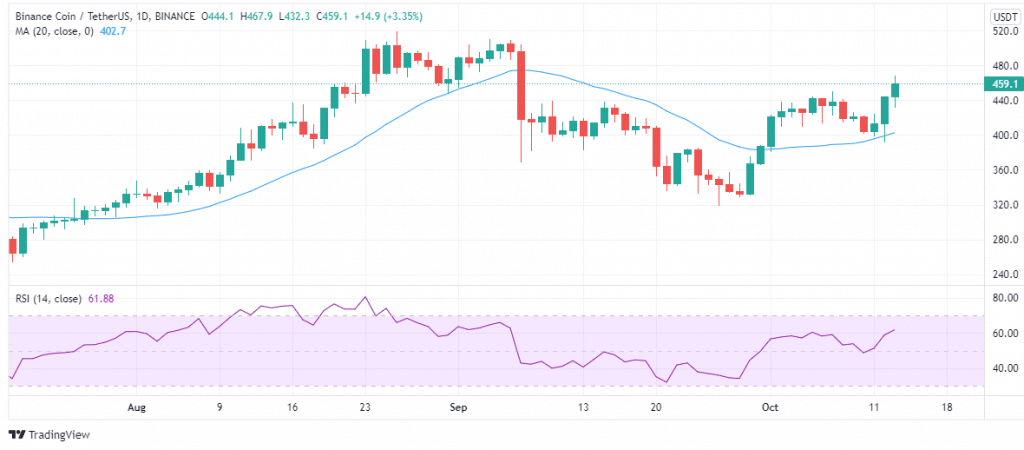 The impressive run by Binance Coin at $38 pushed BNB to an all-time high of (ATH) of $675.68 on May 3, reflecting a more than 2,000% increase in its value. BNB retested the $670 mark following a brief dip, finding resistance at the $672.33 on May 11.
However, the digital asset was hard hit by the crypto market meltdown, and it dropped more than 45%, finding support at $264.78 on July 20. BNB has been on an uptrend ever since and has largely traded between the $350 to $400 range. Meanwhile, the discount token is seeing an upsurge in value as more investors look to buy BNB. At press time, BNB is up 16.45% in the last 24 hours and is trading at $459.1. Its seven-day trailing record increase is pegged at 9.65% showing strong interest in the utility token for the Binance Smart Chain (BSC) and the entire Binance ecosystem.
BNB Technical And Fundamental Analysis
BNB's technical indicators are some of the most impressive. On the daily trading chart, BNB is soaring above the 20-day moving average (MA) support price of $403.6, indicating a strong bullish push back into the market after a lacklustre performance in September. This is confirmed by the 200-day MA price of $408.1, which shows that BNB is set for more long-term gains as the Binance ecosystem fleshes out its plans.
The moving average convergence and divergence (MACD) figure of 10 with the green line maintaining a dominant position indicates a buying signal for investors.
However, the relative strength index (RSI) figure of 63.07 shows that BNB is still largely underbought, given its key position in the blockchain ecosystem. This is expected to change in the coming days as the crypto market recovers its footing.
Given its uniqueness, BNB's remarkable rally and price gain are attributed to the world's largest crypto exchange by trading volume Binance. The Bitcoin exchange, which recently shut down its Chinese operations, has rolled out some new partnerships.
The most recent is the multi-year partnership with elite Italian team S.S Lazio to launch a Binance Fan Token Program for the team's supporters worldwide. The Fan Tokens will allow users to participate in surveys and other club-related activities while enjoying exclusive team offerings.
Another is the recent launch of the biggest crypto growth fund by the Binance exchange. This will see a total of $1 billion invested in aiding mass adoption of the Binance Smart Chain and crypto as a whole.
Following the growing popularity surrounding blockchain-based gaming protocol Axie Infinity, the Binance exchange has launched AXS Staking-as-a-Service (SaaS) for Binance users. This will see users earn up to 152.18% in annual percentage yield (APY), further endearing crypto investors to the exchange. With Binance continuing its strong push for blockchain adoption across all sectors, investors would do well to buy BNB before it hits another record value.
Buy BNB at eToro from just $50 Now!