eToro Review – Is eToro Safe? Fees & Minimum Deposit Explained
eToro is a super-popular online broker – with a customer base that now exceeds 20 million users. The platform gives you access to thousands of commission-free shares and ETFs, alongside low-cost cryptocurrency, commodity, and forex trading markets.
But, is eToro the right online broker for you?
In this comprehensive eToro Review – we cover everything there is to know about the platform. This includes supported markets, fees and commissions, core features, customer support, and regulation.
What is eToro?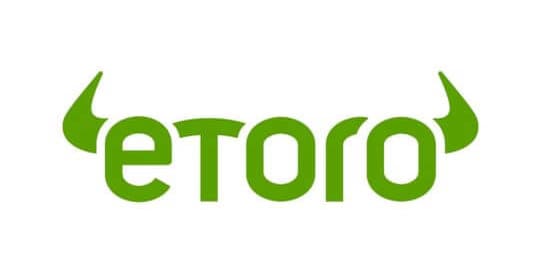 Launched in 2007 – eToro is a user-friendly online broker that now serves over 20 million investors. You will have access to a huge number of markets on the platform – many of which focus on stocks and shares. In fact, eToro is home to thousands of shares from 17 UK and international markets.
The latter includes everything from the US and Hong Kong to Germany and France. eToro also offers a number of other popular asset classes – which are inclusive of ETFs, forex, cryptocurrencies, commodities, and indices. On top of offering a simple barrier of entry to the financial markets, eToro is one of the cheapest brokers available to UK, US and Australian residents.

This is because you can buy and sell shares without paying any commission. Additionally, if buying shares listed on the London Stock Exchange, eToro waivers the 0.5% stamp duty tax that you ordinarily need to pay. Getting set up with eToro is also a seamless process, as the broker supports debit/credit cards, local bank transfers, and even e-wallets like Paypal and Skrill.
Another reason why so many traders are turning to eToro is because of its social and copy trading tools. In a nutshell, this allows you to select a successful eToro user and copy their investments like-for-like. Most importantly, not only is eToro authorized and regulated by the FCA, but your capital is also covered by the FSCS scheme.
eToro Pros and Cons
If you're looking for a snapshot overview of our eToro review – check out the pros and cons listed below.
Pros
Buy thousands of UK and international stocks at 0% commission
Invest in cryptocurrencies on a spread-only basis
Trade indices, commodities, and forex via leveraged CFDs
Buy fractional stocks from just $50
Supports debit/credit cards, e-wallets, and local bank transfers
Regulated by the FCA and covered by the FSCS
Used by over 20 million people
Social and copy trading tools
Cons
Perhaps too basic for technical traders
No support for MT4 or MT5
Cryptoassets are highly volatile unregulated investment products. No EU investor protection. 67% of retail investor accounts lose money when trading CFDs with this provider.
eToro Supported Assets
In the first section of our eToro review, we are going to explore what assets and markets the broker offers. Let's start with its stocks and shares department.
eToro Stocks and Shares
eToro is a great option if you are interested in building a long-term portfolio of stocks and shares. This is because the brokerage site gives you access to 17 stock exchanges. This includes the hundreds of shares that are listed on the UK's London Stock Exchange – so you can invest in companies like HSBC, Royal Mail, BP, AstraZeneca, and Entain.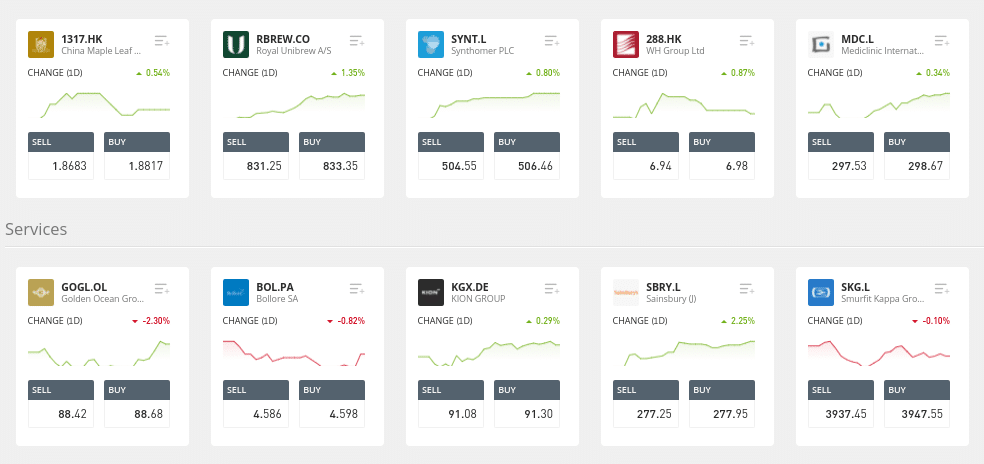 If you're also looking to add some international shares to your stock portfolio, you will find hundreds of US-listed companies. This covers both the New York Stock Exchange and the NASDAQ – so you'll have access to some of the largest stocks globally. This includes everything from Apple, Facebook, and Amazon to Johnson & Johnson, Paypal, and Tesla.
Below you will find a list of the 17 stock exchanges that eToro covers:
Amsterdam
Brussels
Copenhagen
Frankfurt
Helsinki
Hong Kong
Lisbon
London
Madrid
Milan
NASDAQ (US)
NYSE (US)
Oslo
Paris
Saudi Arabia
Stockholm
Zurich
As you can see from the list of supported stock exchanges above, eToro is a great online broker for those of you who want to build a highly diverse portfolio of UK and international shares.
Fractional Shares
One of the best things about the eToro stock department is that you can buy fractional shares. This is a relatively new phenomenon that allows you to buy a small 'fraction' of one stock. For example, let's suppose that you were interested in buying Alphabet (Google) stocks – but you don't want to fork out over $2,500 on a single share.
After all, at current exchange rates, this amounts to a capital outlay of approximately £1,800. Not only is this a huge amount to risk on a single share, but you would likely be overexposed to just one company. This is where the eToro fractional ownership feature comes into play – as you only need to meet a minimum stock investment of $50 – or about £35.
Here's an example of how this would work in practice when investing in Google:
You want to invest $250 into Google
To recap – one Google share is priced at $2,500
This means that you own 10% of one Google share
Now let's see how you can make money from a fractional share purchase:
Let's say that two years after your investment, Google shares are now worth $5,000
This amounts to a share price increase of 100%
You originally invested $250 – so your money is now worth $500
As you can see, the process of making money from a fractional investment is much the same as buying full shares. After all, you simply need to multiply the share price increase by your original investment. In this case, that's 100% on an investment of $250.
eToro ETFs and Investment Trusts
On top of stocks and shares, our eToro review found that the broker also offers a wide range of investment funds. This includes ETFs and trusts – both of which allow you to invest in a passive manner. This is because the respective fund will determine which assets to invest in and when. In most cases, you will receive a quarterly dividend from your chosen ETF or investment trust.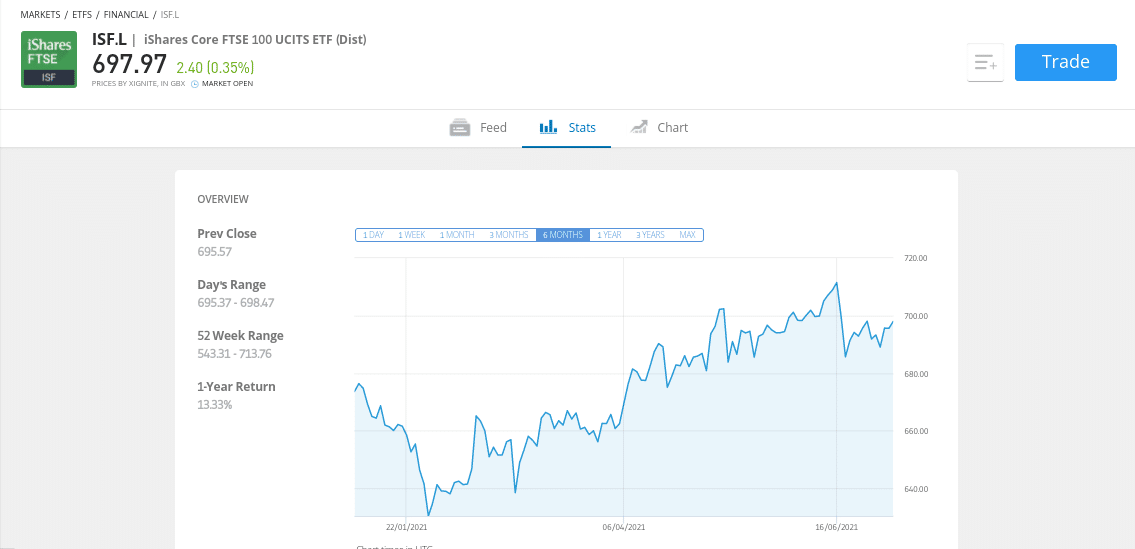 To give you an idea of what's available, eToro is home to a sizeable number of index funds. This includes everything from the FTSE 100, NASDAQ 100, Dow Jones, and S&P 500. You can also invest in funds that specifically track dividend companies or growth stocks.
If you're looking to hedge against the stock markets, eToro also offers ETFs that track alternative assets like gold and silver. In a similar nature to stocks and shares, eToro allows you to invest from just $250 into your chosen ETF or trust.
eToro Cryptocurrencies
If you're thinking about buying cryptocurrencies – then eToro is arguably the best option on the table. Not only is this because the platform is regulated by the FCA, but fees are super-competitive. This is in stark contrast to most other cryptocurrency exchanges, which typically operate without a regulatory license.

At eToro, you can safely buy and sell a wide selection of digital currencies – including the likes of Bitcoin, Ripple, Ethereum, Bitcoin Cash, Cardano, and more. The platform has also begun adding decentralized finance (DeFi) coins to its portfolio of digital assets. This includes Decentraland, Aave, Chainlink, Uniswap, and more.
eToro CFD Trading
Our eToro review found that the platform not only allows you to invest in stocks, ETFs, trusts, and cryptocurrencies – but you can also trade CFD (contracts-for-difference) instruments. For those unaware, CFDs track the value of an asset in real-time, which allows you to speculate on its future value without taking ownership.
At eToro, you can trade CFD instruments that track:
Stocks
ETFs
Indices
Precious Metals
Energies
Agricultural Products
Forex
Although you won't own the underlying asset when trading CFDs at eToro, there are several benefits that you won't find with traditional investments.
For example, eToro allows you to trade CFDs with leverage. Limits are capped based on the asset class that is being traded, with major forex pairs offering the most at 1:30. This means that a $100 account balance would give you access to $3,000 in trading funds. In the stock CFD department, leverage of 1:5 is available – which allows you to increase your stake five-fold.
Additionally, you can trade CFDs at eToro on a long or short basis. In simple terms, this means that you can attempt to profit from both rising and falling markets. For example, if you think that the value of HSBC shares is likely to go down, you simply need to place a sell order. If you think the shares will increase, then it's a buy order that needs to be placed.
eToro Fees
We briefly mentioned earlier that eToro is one of the cheapest online brokers available to residents. The specific fee that you need to pay to enter or exit a market will ultimately depend on the asset. You also need to consider non-trading fees – including deposits and withdrawals.
To ensure you have a firm understanding of what charges to look out for, this part of our eToro review will outline all trading and non-trading fees to consider.
0% Commission Stocks and ETFs
The headline investment rate offered by eToro is that of its 0% commission stocks and ETFs. In a nutshell, this means that you can buy stocks and ETFs – irrespective of the market or exchange, without paying any dealing fees. This is a major benefit, as the vast majority of stockbrokers charge a flat commission.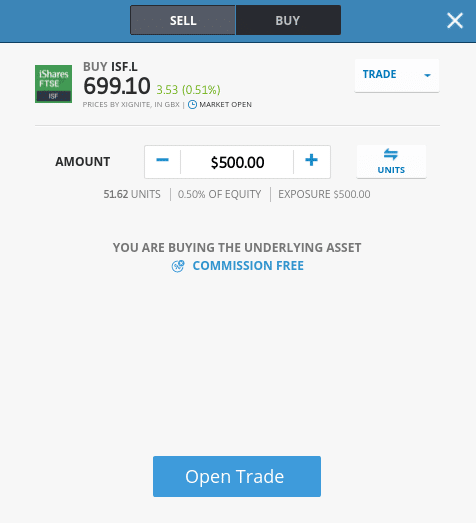 For example, at Hargreaves Lansdown – which is one of the most popular share dealing platforms, you will need to pay £11.95 per trade. This means that the fee needs to be paid when you invest in shares and again when you sell. But, at eToro, no commissions are in play at all.
0% Stamp Duty
Stamp duty is a minimum requirement when you buy shares listed that are listed on the London Stock Exchange. This amounts to 0.5% of the purchase amount and it is collected by the brokerage platform you are using. However, our eToro review found that the broker waivers this fee. This means that when you invest in UK companies – you are saving yourself a further 0.5%.
Spread-Only Markets
Outside of the stocks and ETF department – eToro operates a spread-only pricing model. In its most basic form this means that you won't be charged a commission on your trading orders. You will, however, need to factor in the size of the spread.
In the financial markets, the spread is the difference between the bid and ask price of an asset
The bid price is what the market is prepared to pay for the asset
The ask price is what the market is prepared to sell the asset for
The gap between these two prices is the spread and thus – it's an indirect trading fee
Across the board, spreads are generally very competitive at eToro. For example, the spread on Bitcoin is just 0.75% during standard market hours.
This means that you are paying 0.75% above the market, so you need to make gains of 0.75% to break even. Anything above this is pure profit. The likes of EUR/GBP can be traded from just 1 pip, and the spread on commodities starts at 2 pips.
Funding Fees
The eToro platform is denominated in US dollars – which is why you are able to invest in thousands of UK and intentional markets in a super low-cost environment. With that said, you will need to pay a small FX fee of 0.5% when you deposit funds GBP. When it comes to withdrawals, you will pay a flat fee of just $5 – or about £3.60.
Other eToro Fees
Other than trading and funding fees, you also need to consider the following:
If you decide to trade leveraged CFDs, you will need to pay overnight financing. This is the industry standard and will attract a fee for each day that you keep the CFD position open. If you close the CFD trade before the market closes, you will avoid this fee.
If you have a positive account balance on eToro and do not have any positions open – an inactivity fee will apply after 12 months. This amounts to $10 per month and can be avoided by placing a trade.
Fees, commissions, and spreads can change at any given time – so always check this before you open an account with eToro.
eToro Payments
If you want to invest or trade on eToro, you will first need to deposit some funds. Fortunately for UK residents, you will have access to a number of everyday payment methods.
Our eToro review UK found that you can deposit funds in the following ways:
Debit and Credit Cards – issued by Visa, MasterCard, and Maestro
E-wallets – including Paypal, Skrill, and Neteller
UK Bank Transfer
If depositing funds with a debit/credit card or e-wallet, this will be processed instantly and thus – adding to your eToro account straightaway. Bank transfers are slower and can take several days to arrive.
eToro Minimum Deposit UK
The minimum first-time deposit on eToro $200. At currency exchange rates, this amounts to approximately £145.
eToro Copy Trading
One of the most notable features that our eToro review UK came across is that of the copy trading tool. This is an innovative feature that allows you to actively trade and invest but in a passive nature. In its most basic form, you will have access to thousands of verified investors that use the eToro platform to trade.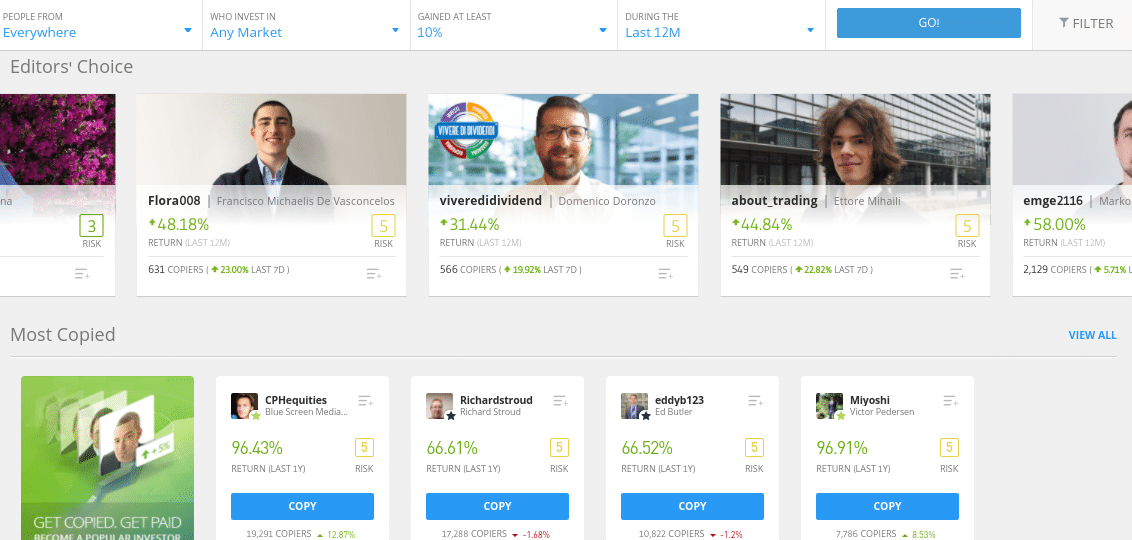 Once you find a trader that alligns with your financial goals and tolerance of risk – you can elect to copy them moving forward. This means that anything the trader buys or sells will be mirrored in your own eToro portfolio – but at a proportionate amount.
Here's a simple example of how the eToro copy trading tool works in practice:
You decide to invest $3,000 into a stock investor
The first trade that the investor places is on Nike stocks – with the individual allocating 10% of their portfolio funds
This means that you personally invest $300 into Nike stocks (10% of $3,000 investment)
After a few months, Nike stocks have increased to $450 each – so that's a rise of 50%
The trader closes the trade to lock in their profits
You made $150 profit on this trade (50% of $300)
The above example highlights that you no longer need to have any experience in the financial markets. This is because all investment-related decisions will be made by the eToro trader(s) that you decide to copy. As noted above, you will have thousands of traders to choose from – and eToro makes the selection process easy through its filter system.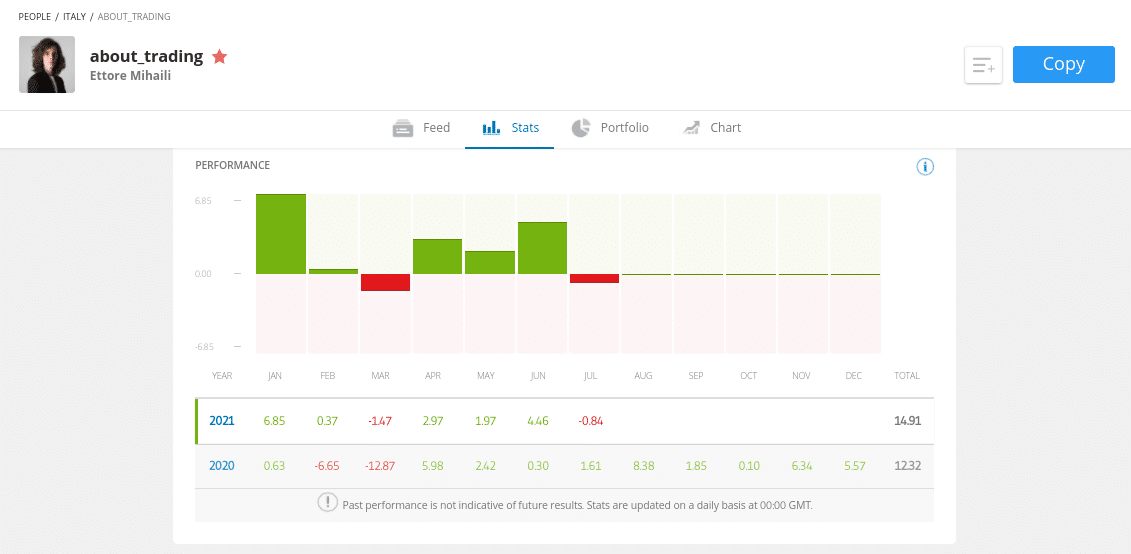 For example, you can search for copy traders by selecting the asset that you want to passively target – such as stocks or forex. You can also set a minimum ROI – for example, a trader that has made at least 30% every year since joining eToro. Other filters include the risk rating, average trader duration, and maximum drawdown.
In terms of pricing, you won't pay any additional fees to use the eToro copy trading feature. Intead, you simply need to meet a minimum investment of $500 on each trader that you elect to copy.
Invest in CopyPortfolios
In addition to the copy trading tool, eToro also offers professionally managed portfolios. These are managed by the team at eToro and there are plenty of strategies to choose from.
This includes:
TheBigBanks: This eToro CopyPortfolio gives you access to some of the largest publicly traded financial institutions in the world. This includes the likes of the Bank of America, JPMorgan Chase, Industrial and Commercial Bank of China, and Barclays.
DividendGrowth: As the name suggests, this eToro CopyPortfolio gives you access to some of the best dividend-paying stocks around. Among many others, this includes everything from Unilever and Pepsi to Walgreens Boots Alliance and McDonald's.
CryptoPortfolio: If you're keen to invest in the wider digital currency industry – the eToro CryptoPortfolio might be of interest. This gives you access to a diversified basket of crypto assets that are weighted, based on market capitalization.
There are dozens of CopyPortfolios to choose from – so it's worth spending some time seeing what's available. Much like the copy trading tool, there are no additional fees to invest in eToro CopyPortfolios. As each portfolio is professionally managed, you don't need to do anything once the investment is made.
Plus, eToro will regularly rebalance the portfolio to ensure it still alligns with its long-term objectives. In terms of investment minimums, this will depend on the respective CopyPortfolio. This starts at $1,000 but can be much higher.
eToro Features and Tools
Our eToro review found that the broker offers much more in the way of tools and features – which we elaborate on in more detail below.
Live Demo Accounts
Demo accounts are highly sought after by both beginners and seasoned investors. After all, they allow you to buy and sell financial instruments without risking any money. As a newbie, this is a great way of learning how to trade and invest in a risk-free environment. At eToro, you will have access to a demo trading account as soon as you register – meaning you don't need to deposit any money.
This is inclusive of $100,000 in paper trading funds. Most importantly, the eToro demo account mirrors the actual financial markets. This means that any price action you see is reflected of the asset itself. You can switch back and forth between your 'real' and 'demo' accounts at any given time.
Social Trading
This is an offshoot of the copy trading tool and it allows you to 'socialize' with other eToro users. In many ways, this follows the same concept as Facebook or LinkedIn, where you can communicate with other people in a public setting. For example, many traders will publish posts that outline their thoughts on a specific market.
You can then 'Like' their post or reply with a comment of your own. If you come across an eToro user that you like the look of, you can add them to your 'favorites. This means that you will be notified any time the individual posts an insight or replies to a comment. You can elect to build a profile yourself with an image and biography. Alternatively. you can keep your profile private.
Orders
When buying and selling assets, eToro allows you to choose from a wide range of orders.
This includes:
Buy and Sell Orders: This lets you decide between a long and short position – so you can always find trading opportunities irrespective of whether the markets are up or down.
Limit and Market Orders: You can specify the exact price that your trade is executed at by eToro through a limit order. Or, you can have your trade executed instantly via a market order.
Stop-Loss Orders: You can elect to have your open trade closed automatically by eToro if it goes down by a certain amount. For instance, you might want to cap your losses to 10%.
Take-Profit Orders: This ensures that your trade is closed automatically when a profit target is met. For example, you might want to lock in your gains when your trade is up by 40%.
Technical Analysis
On the one hand, eToro is rarely the go-to platform for experienced technical traders. Instead, the likes of MT4 and MT5 are preferred. However, our eToro review found that the platform is actually home to an impressive set of analysis tools.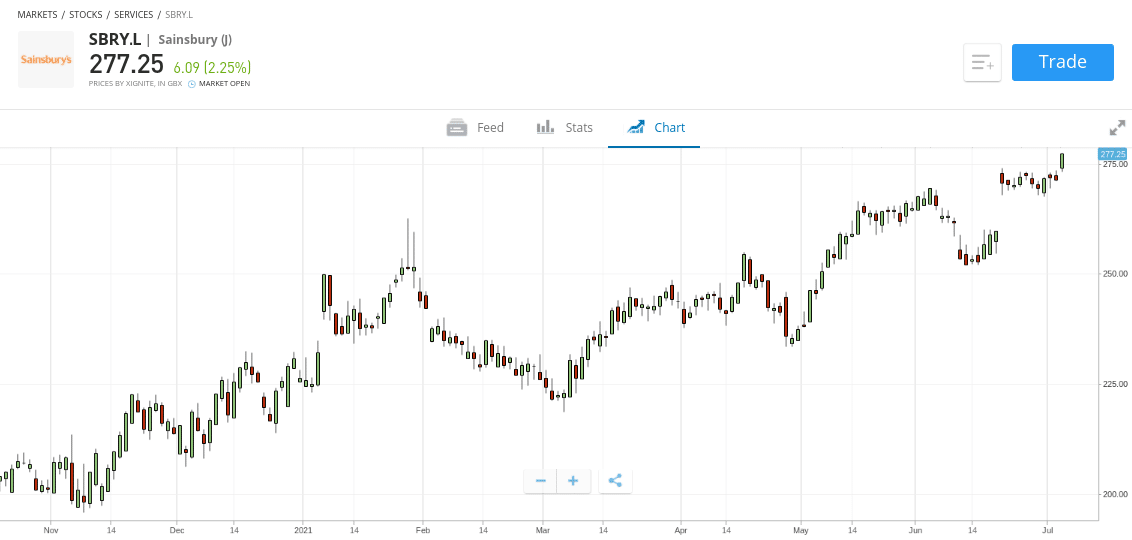 This includes the ability to customize pricing charts, draw lines and trends, and even deploy technical indicators like the MACD or Bollinger Bands. The technical analysis department at eToro can be accessed on all supported assets and markets.
Education
We mentioned earlier that eToro is perfectly suited for those that are investing online for the first time. This is especially the case when you look through the platform's educational suite. This is packed to the rafters with user-friendly guides and videos that allow you to learn the ins and outs of the investment landscape.
The team at eToro will also put on regular webinars that allow you to interact with an experienced trader. The webinar might focus on current market insights or a specific segment of the investment scene.
eToro Mobile App
eToro is also home to a fully-fledged trading app that is compatible with both iOS and Android devices. Once you have opened an account, you can switch between the mobile and online versions at any given time. This is because both accounts are linked.
Our eToro review found that the mobile app mirrors the online version pretty much like-for-like. Not only is this in terms of user-friendliness, but the features and tools on offer. For example, the eToro app allows you to buy, sell, and trade assets 24 hours per day. The app is also great for keeping an eye on your outstanding investments in real-time.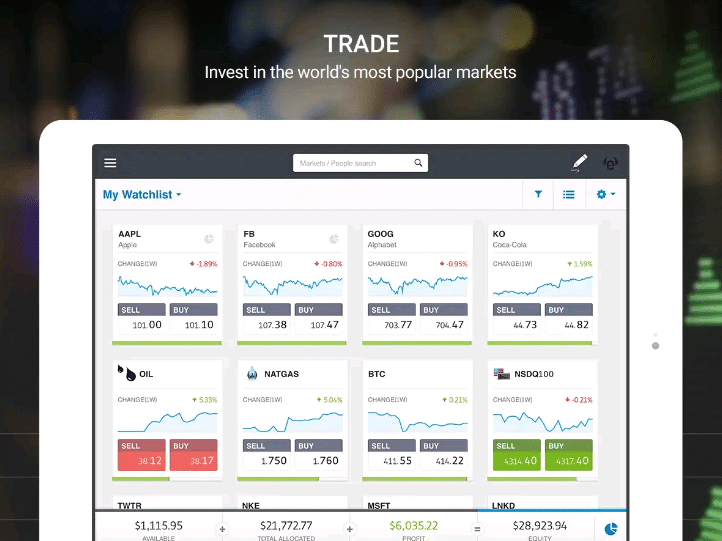 You can also set up pricing alerts. This means that you will receive a mobile notification when a price alert is triggered – ensuring that you never miss a trading opportunity.
Is eToro Safe?
When choosing an online broker to invest through, the most important metric to consider is whether or not your money is safe. Our eToro review found that the broker offers a safe and secure way of trading online, not least because it is authorized and regulated by the Financial Conduct Authority (FCA).
The platform is also licensed by ASIC (Australia) and CySEC (Cyprus) – and registered with the SEC and FINRA (US).
If you're a UK resident, you will also benefit from the protections of the Financial Services Compensation Scheme (FSCS).
For those unaware, the FSCS will cover your brokerage capital( up to the first £85,000) in the event that eToro runs into financial difficulties.
With that said, eToro is legally required to keep your money in segregated bank accounts anyway. This means that it must keep client funds in an account that is separate from its own operational capital.
eToro also complies with anti-money laundering laws, as it requires all new customers to go through a KYC (Know Your Customer) process. This means that you will need to provide eToro with a copy of your passport or driver's license, as well as proof of address.
Finally, we should also mention that eToro is planning to become a publicly-listed company later in 2021. This in itself will invite additional regulatory scrutiny – which adds a further layer of security on your funds.
eToro Customer Service
If you need to speak with a member of the eToro customer service team – you can do this near-instantly via the live chat feature. This ensures that you can get assistance on your account in real-time.
There is also the option of sending an email, albeit, this might not result in a speedy reply. The eToro support team works on a 24/5 basis – meaning that weekend inquiries will need to wait until Monday morning.
How to Use eToro – Get Started Today!
If you have read our eToro review all of the way through – you'll now know that the broker offers a top-rated service and that it stands out in most departments. If you're therefore keen to get started with an eToro investment account today – follow the detailed walkthrough outlined below.
Step 1: Open an eToro Investment Account
The first step is to open a brokerage account on the eToro website – which you can do by clicking on the 'Join Now' button. This is a simple and burden-free process that will initially require you to enter your name, mobile number, and email address. You will also need to choose a strong password and a username.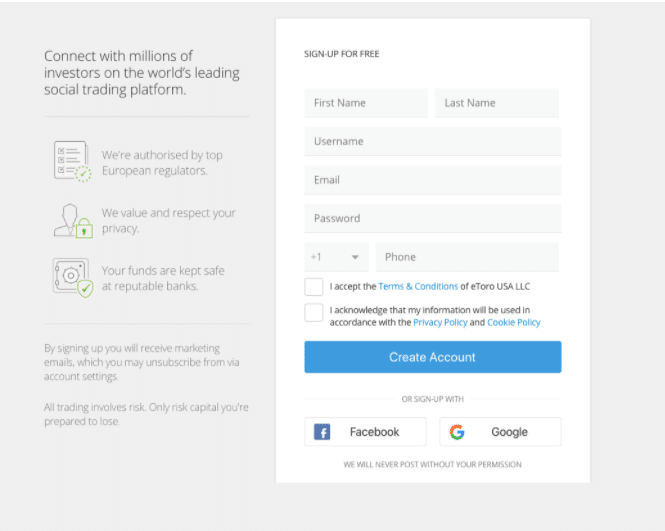 Next, eToro will collect some additional information from you – including your home address, date of birth, and national insurance number. You will also need to answer a few questions about your historical trading experience. Finally, eToro will send a code to your mobile phone via SMS. Enter this on-screen when prompted to complete your account registration.
Cryptoassets are highly volatile unregulated investment products. No EU investor protection. 67% of retail investor accounts lose money when trading CFDs with this provider.
Step 2: Verify Account
As we mentioned earlier in this eToro review, the broker is required to verify the identity of all new account users. You can actually skip this step right now if you wish – as long as you are not planning to deposit more than $2,250 – or about £1,600. Withdrawals will also be restricted until your account is verified, so it's best to quickly get this out of the way now.
The eToro KYC process requires the following two documents:
Passport or driver's license
Utility bill or bank account statement
Your proof of address document needs to have been issued within the past 3 months.
Step 3: Make a Deposit
You should now have a verified eToro account. Now it's time to deposit some funds.
You can choose from a debit/credit card or e-wallet like Paypal to deposit funds instantly. UK bank transfers are also supported by eToro, but this can take a number of days to process.
There will be a small 0.5% FX fee applied to your deposit – irrespective of the chosen payment method. The minimum first-time deposit for UK residents is $200 – or about £145.
Step 4: Search for Asset
Now that you have money in your eToro account, you can proceed to make your first investment. If you are unsure of which asset to buy, click on the 'Trade Markets' button. You can then browse what financial markets are available by clicking on the respective asset class – such as forex, crypto, or stocks.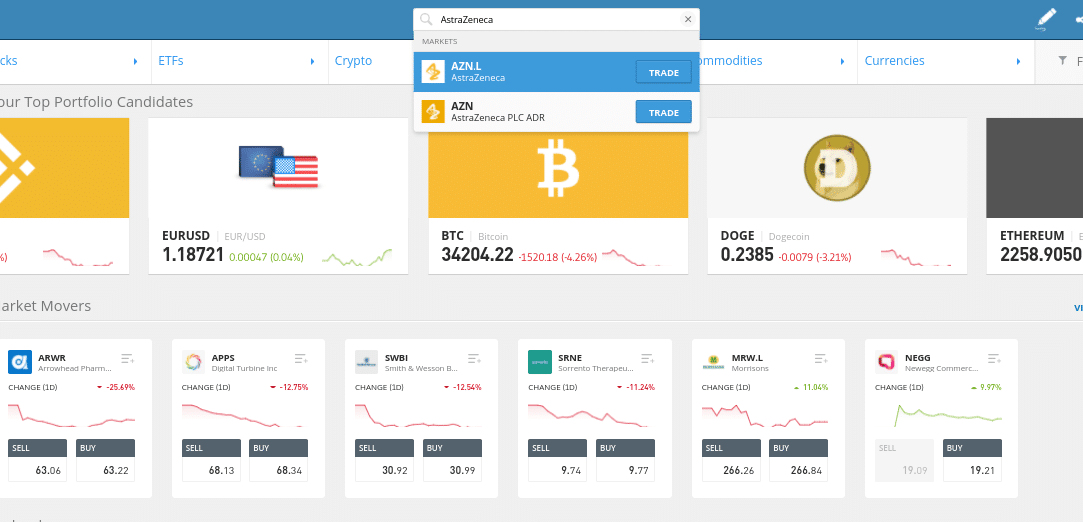 Alternatively, you can also use the search box at the top of the page to go straight to the market you wish to access. For example, in the image above, we are looking to buy 'AstraZeneca' stocks – so we enter the name of the company into the search box and click on the 'Trade' button.
Step 5: Invest in an Asset
You will now see an order box populate – which allows you to set up and complete your chosen investment. First, enter your stake in US dollars into the 'Amount' box. To recap, the minimum investment is $25 on digital currencies and $50 on stocks and ETFs.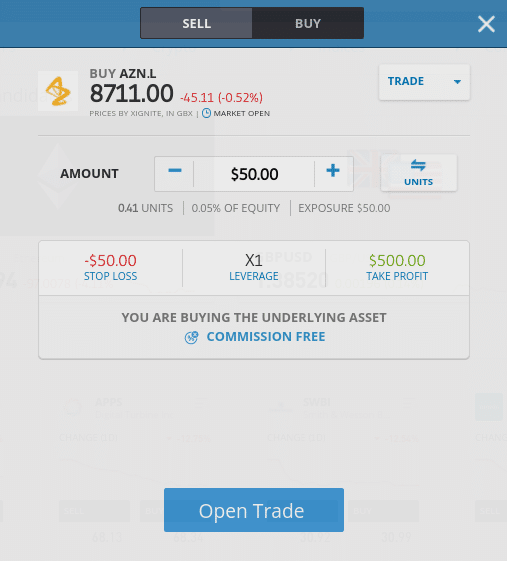 You can also set up a stop-loss, take-profit, and limit order if you wish. If you are happy with the current price of the asset, you can leave this set to a market order.
To place your investment – click on the 'Open Trade' button.
Step 5: How to Sell on eToro
Once you have made an investment – you can track its performance in real-time via your eToro portfolio. If the market in question is open, you can sell your investment at any given time. Simply click on the 'Sell' button next to the investment that you wish to cash out. The funds will then be added to your account balance – which you can then withdraw.
eToro Review – Conclusion
Our eToro review concluded that this FCA-regulated broker is well worth considering for your online investment needs. Once you open an account – which typically takes 5-10 minutes, you will have access to thousands of shares and ETFs – both in the UK and in markets abroad. You'll also be able to trade forex, commodities, indices, cryptocurrencies, and more.
When buying stocks and ETFs you will not pay any commission, dealing fees, or UK stamp duty. Other markets can be traded on a spread-only basis. Whether you decide to invest online or via the eToro trading app – you can easily deposit and withdraw funds via debit /credit card or an e-wallet.
All in all, eToro is certainly one of the best brokers serving traders in 2021.
FAQ
Is eToro good for UK users?
Can you make money with eToro?
Is eToro good for beginners?
How does eToro make money?