Payday Loans Nevada – 5 Best Payday Loans in Nevada in 2021
Are you struggling to get by this month due to an unexpected expense? Do you need a quick injection of cash for a medical emergency? Or perhaps, do you just need some extra money to take care of a personal project? If you answered yes to any of those questions, you are not alone. In your situation, a payday loan might be your best option.
Payday loans have become increasingly popular across the United States as a way to get money quickly without having to go through all the checks involved in traditional loans. The verification process happens in a matter of minutes, and you will have the money in your account in less than a day.
In the state of Nevada, there are very few restrictions when it comes to these types of loans.
Throughout this guide, we will explain in detail everything you need to know about payday loans. From what they are, to their requirements and the best websites to find one. Let's get started.
#1 Nevada Payday Loan in 2021 – Viva Payday Loans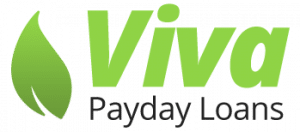 Best Nevada Payday Loans – Quick-Pick
Before we start with the guide proper, we have created a summarized list of the best websites for payday loans. If you just need a quick option to get money, check out this list:
What Are Nevada Payday Loans?
Payday loans are also known as deferred deposit and high-interest loans in the state of Nevada, and as such, they are regulated by the Nevada Stat. 604A.010 et seq. 2017 Chapter 274, which states that in order to operate a lender must have a license issued by the Nevada Financial Institutions Division.
A payday loan is a short-term loan with a high-interest rate that is normally deducted from your bank account on the agreed date. They receive their name due to repayments typically falling under your pay date. Typically, these loans are for amounts ranging from $100 to $5000 and are meant to be repaid within a few weeks. One of their main benefits is that they are approved quickly, without the need for credit checks.
Unlike other states, Nevada has no limits on the number of loans a person can get, or their amount, with the only stipulation being that a loan cannot exceed 25% of a person's gross monthly income. The maximum term for a loan is 35 days in Nevada, and it cannot be extended beyond 60 days.
Common Uses of Nevada Payday Loans
There are multiple reasons why someone would take a loan, and each would depend on the individual. When it comes down to it, almost anyone can take out a payday loan and they can use it however they please. Having said that, we have found that some uses are more common than others when it comes to people going for a payday loan. Some of these uses are:
To pay high or past due bills
To consolidate debt
To avoid asking friends or family for money
For holiday purchases
For a medical emergency
To buy or repair electronic appliances
For vehicle repairs
For unexpected expenses
To avoid overdraft fees
Due to recently becoming unemployed
To travel
As mentioned before, these are not the only reasons to get a loan. However, we do advise against getting a payday loan to consolidate debt or pay off another loan due to the higher interest rates they have. If the debt repayment would result in lower payments per month, it might be beneficial to do so.
How to Qualify for Nevada Payday Loans
The criteria used to determine whether you are eligible for a payday loan will vary depending on the lender, as they are the ones that ultimately decide if they agree to loan you the money or not. However, most lenders follow the same basic requirements, which are:
The borrower must be at least 18 years old
They must have a checking account
They must provide proof of income
They must provide a valid form of identification
The lender might also require that you have a working phone number and email address for contact purposes.
5 Best Nevada Payday Loans – Fully Reviewed
1. Viva Payday Loans  – Highest Approval Rate and Quick Payouts

Viva Payday Loans combines a simple process that provides a response on the approval in just 2 minutes, with a quick payout that happens within 24 hours.
They connect you directly with the lenders that provide the funds, who provide you with a loan agreement in order to get the process of depositing the funds started. Most loaners use automatic monthly debit to handle the repayments.
Their interest rates change depending on the lender but are usually within 5.99% to 35.99%. They offer payday loans for all kinds of borrowers, whether they have bad or no credit, receive social security benefits, or are unemployed.
| | | | | |
| --- | --- | --- | --- | --- |
| Lender | APR Rate | Loan Amount Range | Loan Term Range | Star Rating |
| LendUp | 30%-180% | $100-$500 | 2 to 24 months | 10/10 |
| Rise Credit | 50%-299% | $500-$5000 | 2 to 24 months | 10/10 |
Pros
Flexible range from $100 to $5000
Same-day payouts
Decision takes 2 minutes.
Cons
Unavailable in some states
An excellent option for payday loans that balances a simple application process and a wide range of loan options with fast approval and quick payout. You cannot go wrong with this one.
2. Credit Clock – Fast Approval Process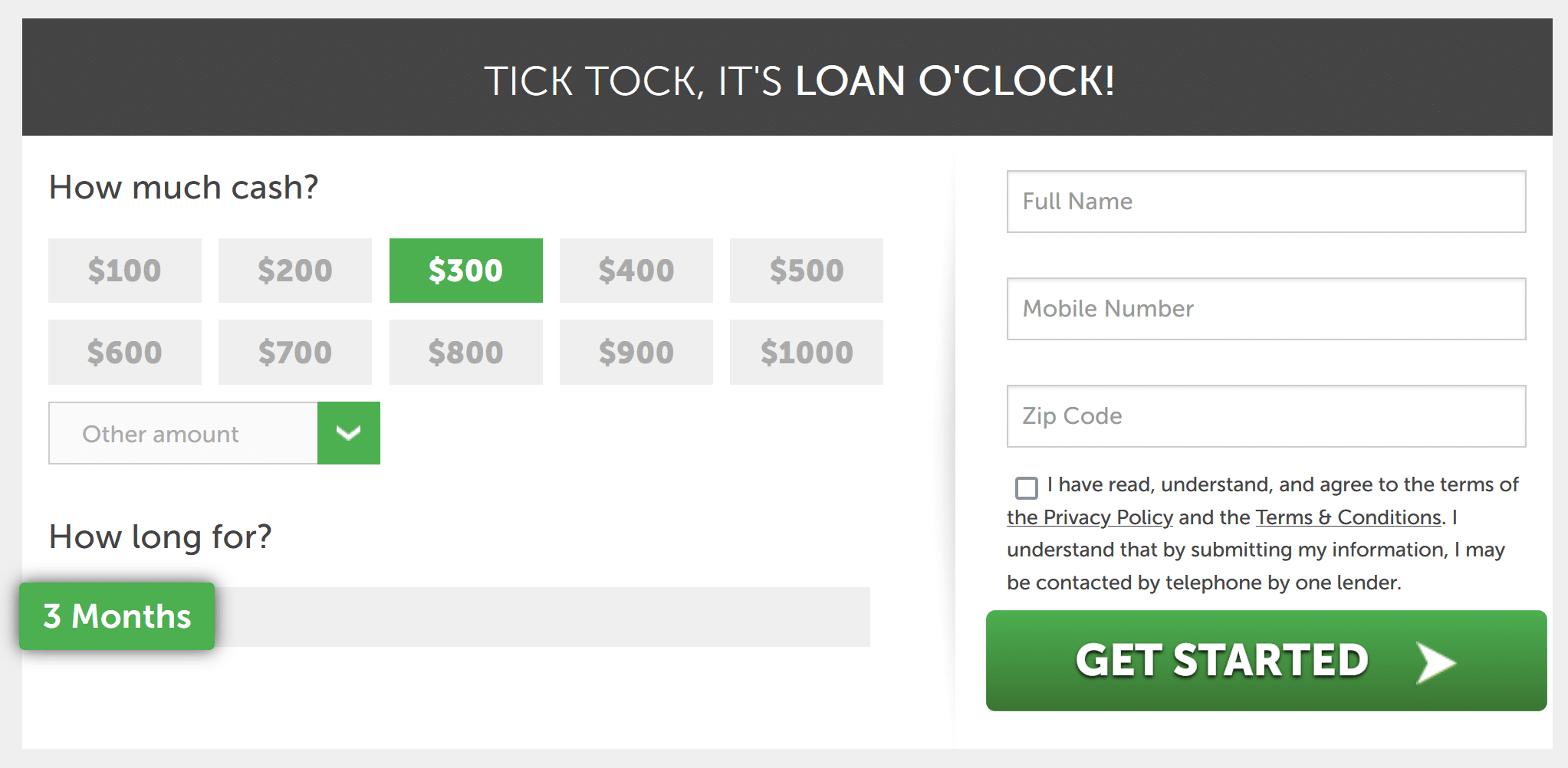 Credit Clock takes all kinds of borrowers. Offering loans that range from $100 to $5000 and repayment periods of months. They offer very customizable options when it comes to choosing a payday loan lender.
Plus, they have a very fast approval process, and their payouts traditionally take less than 24 hours.
| | | | | |
| --- | --- | --- | --- | --- |
| Lender | APR Rate | Loan Amount Range | Loan Term Range | Star Rating |
| OppLoans | Varies | $500-$4000 | 9-18 months | 10/10 |
| GreenDay | 5.99-35.99% | $100-$5000 | 24 months | 9/10 |
Pros
Accepts borrowers with bad credit
Approval process takes only 2 minutes
Payment within 24 hours
Cons
Has a minimum monthly income requirement of $1000
They have a very fast process and will get you in touch with a lender in minutes. The best option if you are strapped for time.
3. Money Lender Squad – No Guarantor needed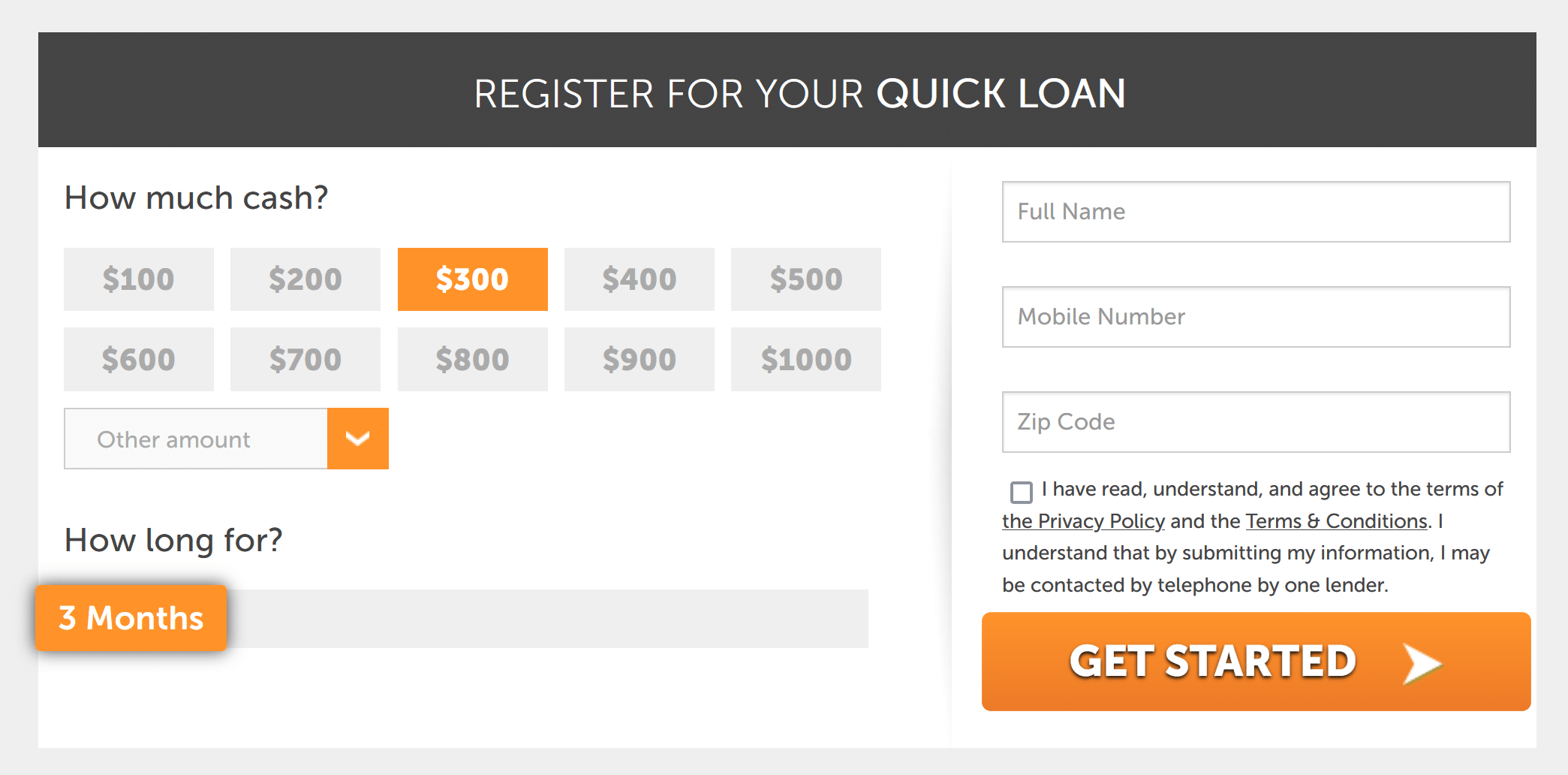 Money Lender Squad has excellent options for loan amounts without needing to present a guarantor and with low APR rates options. Their application process is very simple and approval does not take very long.
Another bonus of working through them is that they do not ask for a hard credit check, and accept borrowers without it.
| | | | | |
| --- | --- | --- | --- | --- |
| Lender | APR Rate | Loan Amount Range | Loan Term Range | Star Rating |
| OppLoans | 99%-160% | $500-$4000 | 2-48 months | 10/10 |
| RiseCredit | 89%-449% | $300-$3500 | 2-24 months | 10/10 |
Pros
Extended loan repayment terms
Quick application system
No guarantor necessary
Cons
Interest increases the lower your credit score is.
A great option for those that do not have a guarantor. However, if you have a low credit score you'll be dealing with high-interest rates.
4. Very Merry Loans – Fast 60 Minute Payouts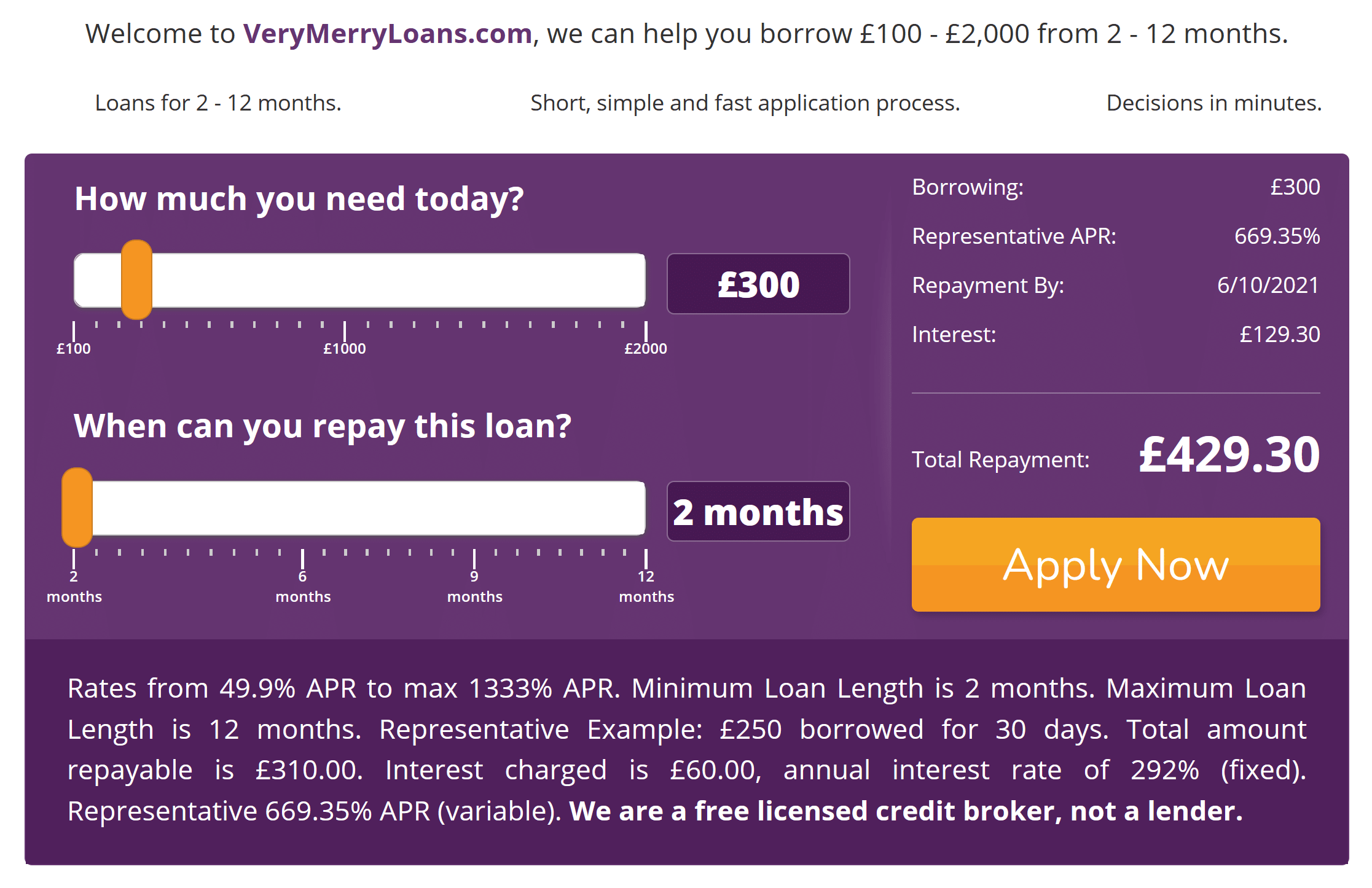 Like the previous platforms, Very Merry Loans is easy-to-use with a straightforward application process. The main benefit of applying for a payday loan through them is their fast payout time. If approved, which usually just takes a few minutes to decide on, you will receive your payout within 60 minutes. At worst, within 24 hours.
Their loans range from $200 to $500, with the repayment terms ranging from 8 to 31 days. However, they do offer extended loan repayment terms.
| | | | | |
| --- | --- | --- | --- | --- |
| Lender | APR Rate | Loan Amount Range | Loan Term Range | Star Rating |
| CashNet USA | 5.99%-34.99% | $500-$1000 | 8-31 days | 9/10 |
Pros
Accepts borrowers that are unemployed or have bad credit
Offers extended timeframes for repayment
Loan options range from $100 to $2000
Loan deposit within a few hours
Cons
High-interest rates on 30-day loans
If you need immediate payment after approval, they are the way to go. On the other hand, their rates are high if you need a loan that is not short-term.
5. Heart Paydays – Low APR on Short-Term Loans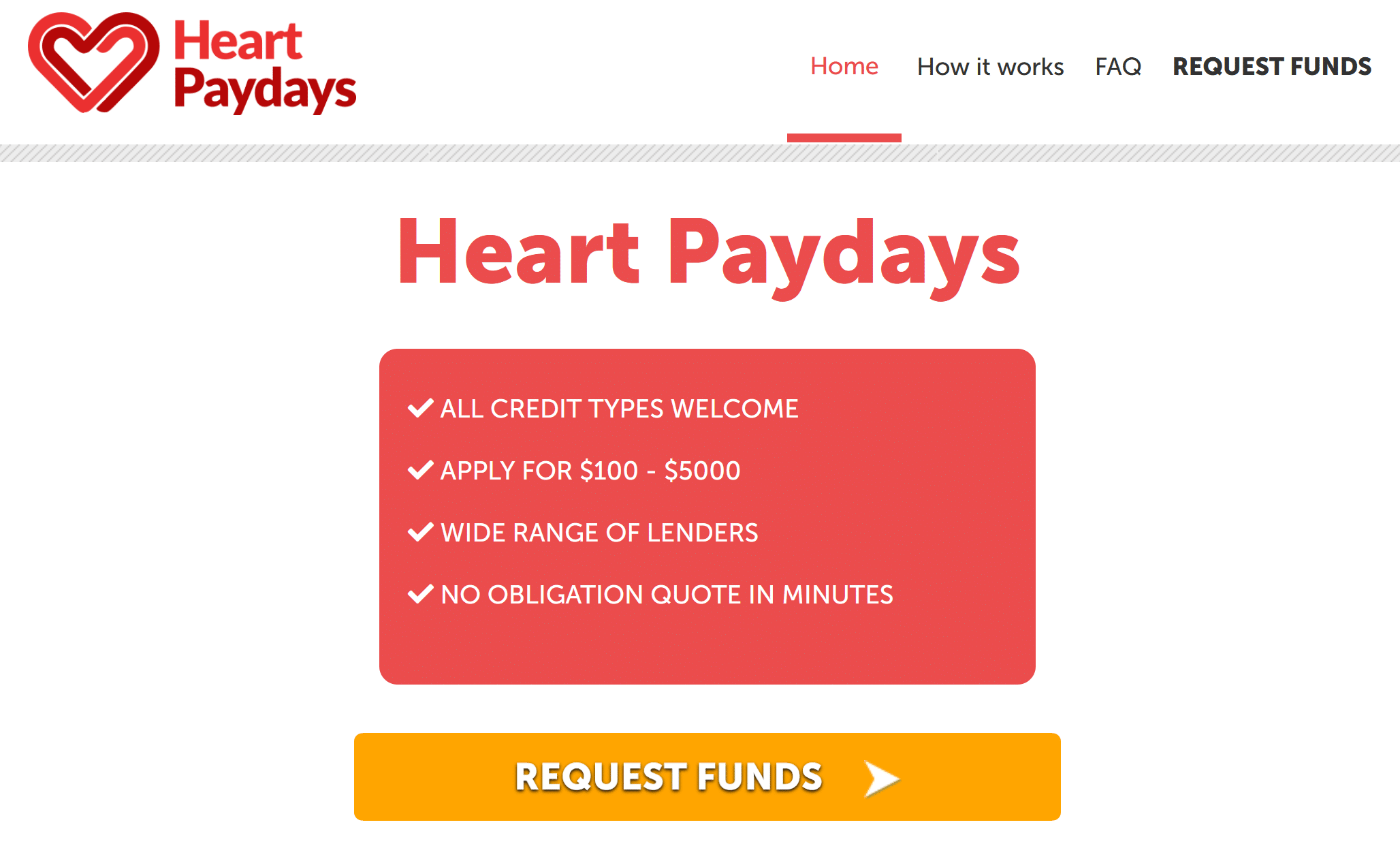 With an easy-to-use interface and a simple application process, Heart Paydays stands out as a great website to use for payday loans. They accept borrowers with bad credit, live on benefits, or are unemployed. The platform focuses on loans within the $200 to $2000 range with the aim to be paid within 30 to 60 days.
They are also known for their low APRs on short-term loans.
| | | | | |
| --- | --- | --- | --- | --- |
| Lender | APR Rate | Loan Amount Range | Loan Term Range | Star Rating |
| LendUp | 35.99% max | 30 days | 30 days | 10/10 |
| ACE Cash | 35.99% max | 7 to 30 days | 7 to 30 days | 9/10 |
Cons
High fees on some loan offers
A great option for those that need only a short-term loan due to their lower APR rates. For longer-term loans, the fees can become a problem.
Features of Payday Loans
Flexible Loan Amounts
Payday loans can normally range from $100 to $5000, depending on the lender. While requesting the maximum amount might be tempting, it is not recommended. Furthermore, in the state of Nevada, you will be limited to 25% of your monthly gross income max for these types of loans.
Fewer Requirements
The application criteria for a payday loan are much simpler than that of a traditional loan. Usually, all that's needed is proof of income, a bank account, and to be older than 18.
No Credit Check Needed
One of the biggest benefits of payday loans is that they do not require any type of credit check. Traditional loans come with an extensive checking process that includes a hard credit check, which can impact an already damaged credit.
If you have bad credit or have not built up your credit much, a payday loan can be an excellent way to get money for a project or other necessity. However, keep in mind that you will still need to provide proof of income.
Easy to Apply
Payday loans are known to be very accessible. You fill out a simple form with the necessary information, wait for a short approval process, and that's it. If approved, you will receive your funds within the next business day, sometimes even within an hour.
Quick Borrowing Decision
While the response time will vary from website to website, you typically get a response on your application within minutes. At worst, you will have to wait 15-20 minutes.
Types of Payday Loans
There are multiple different types of loans within the payday loan category. Each of them has its own quirks. Let's go over all of them:
Bad Credit
Bad Credit payday loans are those that are given to people with bad credit scores that otherwise would not be able or find it difficult, to apply for a more traditional loan. While these types of loans might have generated a bad rep, with some going as far as to call them predatory, they are basically the same as any other type of loan.
The main difference with a bad credit payday loan is that they have high-interest rates and are often paid out in a short timeframe. However, in some cases, lenders do allow for a longer timeframe of repayment.
Get a bad credit payday loan here >
No Credit Check
No Credit check payday loans are those that, like the name implies, do not require a credit check for the borrower. Like the bad credit payday loan before, these types of loans tend to have a high-interest rate to account for the increased risk, as well as a short repayment timeframe (typically a little over a month at most).
You will avoid the hit to your score that comes with a hard credit check, but the lender will inquire extensively about your employment status to verify that you can repay the loan after all. These types of loans can be useful for those that find it difficult to receive approval for more traditional loans, and if repaid in full and in time do not affect your credit score negatively.
Get a no credit check credit payday loan here >
Direct Lenders
Payday loans through direct lenders are the best way to get a loan. The reason for this is that you will have more control over the terms, and may be able to negotiate for a longer repayment period if needed. They also tend to carry lower fees and rates than other options as you are not dealing with any middlemen.
A benefit of getting a loan through a website is that you will often be put in direct contact with a lender, so the two of you can work together to figure out a loan option that works for you.
Get a direct lenders payday loan here >
Same-Day Deposit
Payday loans with same-day deposits are pretty self-explanatory. These are payday loans that are deposited into your account or preferred method of payment the same day you get approval for them. Since the period for approval for online loans is traditionally very quick, you normally will be seeing the deposit within 60 minutes of closing the deal with the lender.
However, it is important to note that same-day deposits work within business hours, meaning if your loan gets approved outside of them you would receive the funds during the next business day.
Get a same day payday loan here >
Unemployed
Payday loans for the unemployed are also an option. It can be very difficult to get approval for a loan when you find yourself without a job, which is why these types of loans can be lifesavers for those that find themselves in such an unfortunate position. Since banks will traditionally request proof of employment for loans, that option goes out of the window.
However, unemployed payday loans still have to be repaid, which means you need to provide proof of some form of income. In some cases, you will need to prove you are earning at the very least $1000 per month to cover the repayment. This income does not need to come from traditional employment. A banks statement proving your income source would suffice for verification purposes.
Get a unemployed payday loan here >
SSI Benefits
Payday loans for recipients of SSI Benefits are designed with those that have fixed or limited income in mind. Individuals that are blind, older, disabled, or receive limited income are usually receiving some form of social security benefits, such as the SSI.
Like the unemployment payday loan before, you will not require proof of employment when trying to get this type of loan. However, you do have to provide proof of your income source.
Get a SSI benefits payday loan here >
There are also payday loans aimed at retirees, payday loans that do not require a guarantor, and even payday loans that work with prepaid accounts.
Payday Loans VS Cash Advance Loans
From the point of view of the average person, both of these types of loans might seem the same. After all, they both are predicated upon the idea of receiving money now that will be taken from your paycheck.
However, while payday loans work with APR, Cash Advance Loans use a "tipping" system, where they suggest the user tip between $0 and $14 or 1% to 5% of the advance. Cash Advance Loans are still a fairly new concept, so the jury is still out on their merits.
It's important to note that if you were to tip often on your repayments it could end up being equivalent to a high APR. A $5 tip on a $100 loan would be equivalent to an APR of 365%.
Advantages and Disadvantages of Payday Loans
Just like with any type of loan, you should weigh the advantages and disadvantages of payday loans before making a decision on whether to take one or not. While they can be a great help in a moment of need, they have their drawbacks.
Advantages:
Fewer Requirements
Quick Cash
Easy to access
No credit checks needed
Online options
Collateral is not required
Disadvantages:
High-interest rates
Can lead you to get trapped in a debt-cycle
Short repayment timeframe
How to Get Payday Loans
Every website has its own process for loan acquisition, and some are simpler than others. For this particular explanation, we will use Viva Payday Loans as our example. To get a loan from them, you just have to follow these 4 steps:
Step 1: Visit Viva Payday Loans

Start by visiting Viva Payday Loans' website and clicking "APPLY" on the upper right corner of the screen.
Step 2: Complete the Application Form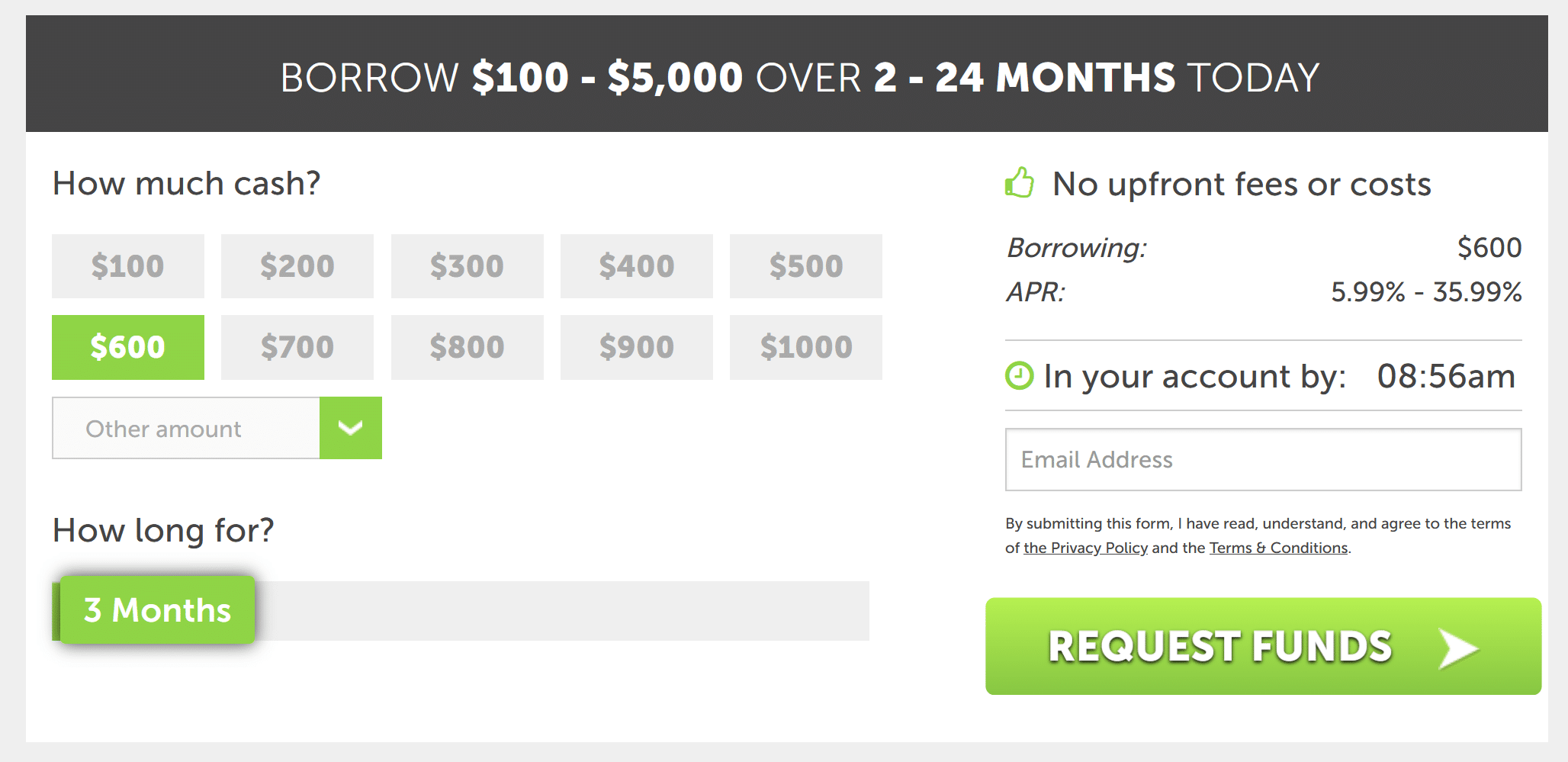 You will then be required to complete an application form information necessary to fulfill the loan such as your personal information, the loan amount, the bank account details, your address, and employment information among others. This information is considered confidential and will not be shared outside of the transaction.
Step 3: Get your Decision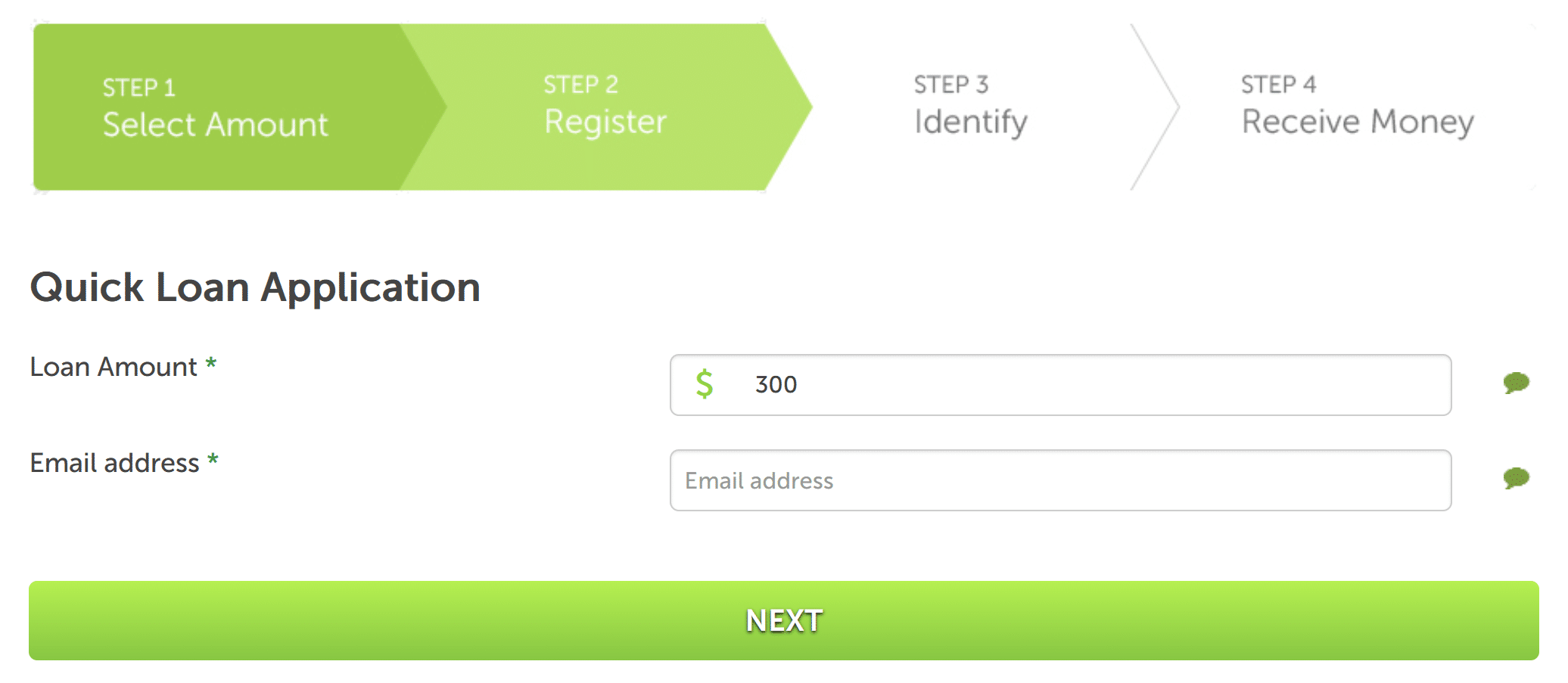 Once you have completed the form, you will get a response that confirms whether you are eligible for the loan or not. For Viva Payday loans, this only takes 2 minutes.
Step 4: Receive your loan
In most cases, you will be connected with a third-party lender to fill out the agreement. After all of this is done, you should be receiving your loan money by the next business day.
Request Your Payday Loan at our Top Rated Provider – Viva Payday Loans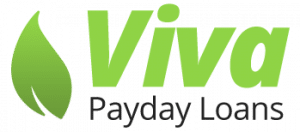 ALSO CHECK:
FAQs
What is the Limit of Payday Loans that You Can You Have in Nevada?
What is the Statute of Limitations for Payday Loans in Nevada?
Can You Be Arrested and Sent to Jail for Debt in Nevada?
Can Wages Be Garnished Due to Payday Loans in Nevada?
Can Payday Loans Affect Your Chances of Receiving a Mortgage?
Are Payday Loans Good or Bad for Credit?
What is the Maximum Monthly Payment for Payday Loans in Nevada?
How Do I know If a Payday Loan is a Good Option for Me?