Best Water ETF to Invest in Right Now – Beginners Guide 2021
Water is not only vital to life; it is also an economic driver as virtually every industrial company relies on it for production. That perfectly explains why there are always evergreen investment opportunities for investors looking to invest in water resources. Water ETFs (exchange-traded funds) are one of the best ways you can access highly profitable investment opportunities in the water industry. 
An ETF is an investment vehicle made of a basket of securities traded on an exchange like real stocks. That said, Water ETF companies invest in shares of corporate organizations directly or indirectly involved in water treatment, purification, and distribution. This article will give you a complete guide on investing in water ETFs and walk you through the pros and cons of doing so. 
eToro – #1 Broker to Invest in Water ETFs
How to Invest in Water ETFs – Step by Step guide 2021
Like other ETFs, water ETFs like FIW and EBLU are all traded on stock exchanges such as the NASDAQ and NYSE. To access any of the two exchanges, you must first be registered with a broker.  Registering on a trading platform like eToro will not only enable you to buy shares from water ETF companies, you will also be able to manage your portfolios strategically. That said, below are the four steps for anyone looking to invest in water ETFs:
Step 1: Open an account at eToro.com

: Launch your browser and paste "eToro.com" onto the search bar. On the site's homepage, click the "Join Now" button and fill the registration form.

Step 2: Verify your identity

: To pass the prerequisite KYC verification, upload the digitally scanned copies of your identity card, plus a utility bill or bank statement for address confirmation.

Step 3: Get your account funded

: Go to your profiles dashboard and click on the "Deposit funds" button. On the next page, select a payment method and authorize to have your account debited for the amount you want to invest.

Step 4: Invest in the Water ETF of your choice

: Now, with your account funded, locate the search bar feature on the site and input the name of a water ETF (e.g., FIW).
On the search results, select the right option and click "Trade." After entering the amount, just hit the "Buy" button. 
Where to Invest in Water ETFs – Choosing a Broker
Though there are no sure-fire ways to guarantee the profitability of an investment, selecting the right broker that aligns with your goals, needs, and trading style can significantly affect the outcome. And, with more and more online brokerage platforms sprouting up every other day, it is understandably more difficult now to select one broker that satisfies all your needs. However, for the water resources industry, below are the best online brokerages where you can invest in water ETFs and make the most of your money: 
1. eToro – The Best Trading Platform to Invest in Water ETFs Shares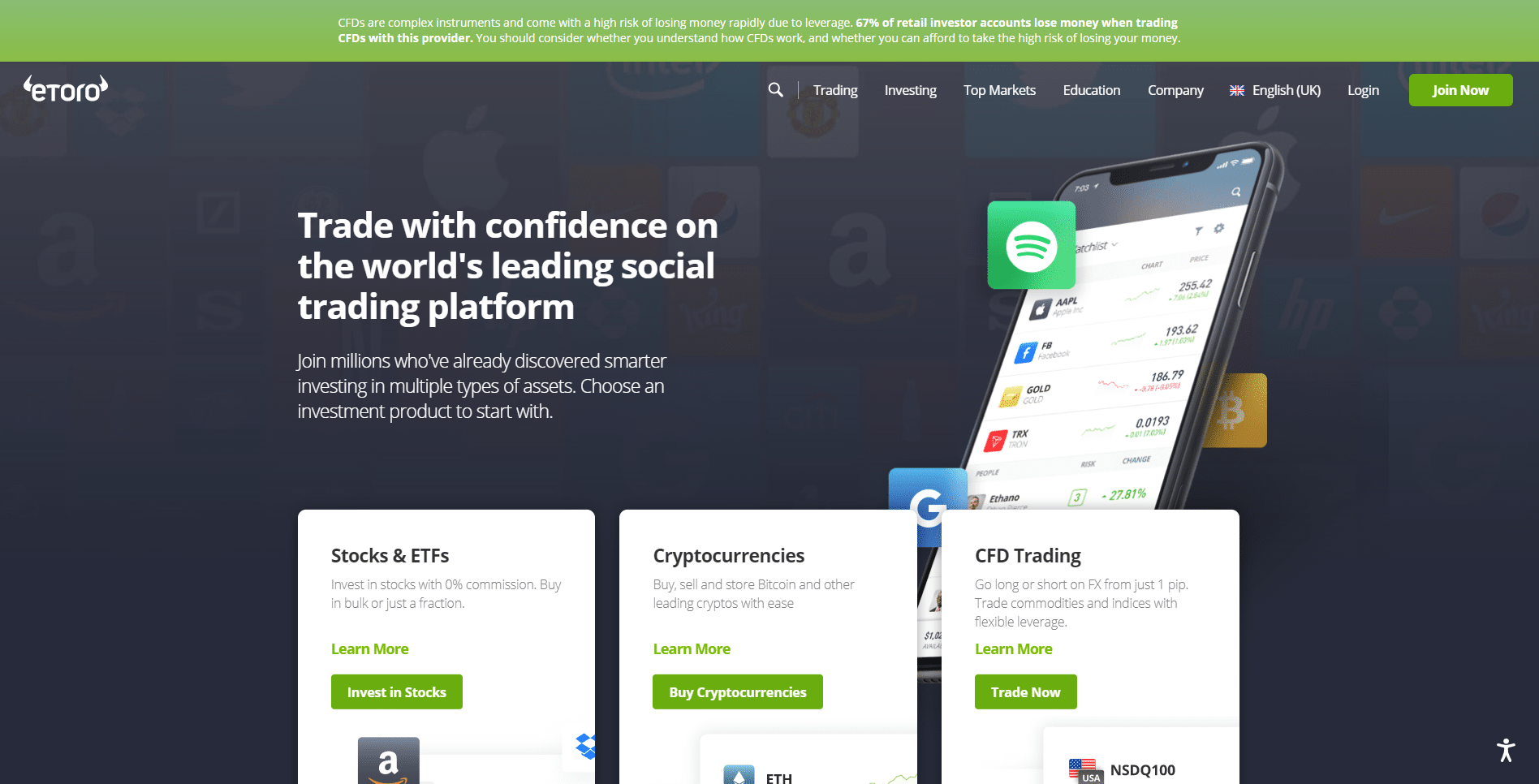 As an investor, you may be in one of three categories; a beginner who needs access to basic educational resources, the experienced investor seeking advanced-level materials, or the sophisticated investor that prioritizes having complex analytic tools. Whichever of the groups you may belong to, eToro's brokerage services are tailored to meet your needs. Since its official opening in 2007, the platform has evolved into one of the best trading platforms around. Today, it is actively used by over 17 million users and counting. 
Security and Account Protection
Security is one of the key features to consider before entrusting your funds to an online broker. Do they support the use of a two-factor authentication method like security questions or Google authentication code? What technology does the platform use to ensure users' accounts are safe? When you sign up on the eToro exchange, you will find that appropriate measures are already in place to satisfy those requirements. eToro uses SSL encryption to encode users' information. It also helps to know that eToro adheres to the regulation of the FCA and CySEC, which ensures your data doesn't get sold to third parties. 
Brokerage features and Usability
eToro's trading platform is an inexhaustible package of innovative features. Most notable is its merger of self-directed trading and copy trading in a single feature called CopyPortfolio. Thus, while copy trading is offered as an exclusive feature for inexperienced traders on other brokerage platforms, eToro makes the feature accessible to all. Independent traders can leverage the feature as a diversification tool to provide an extra backbone to their portfolios. Another noteworthy feature of this platform is its UI/UX design across all devices, making it easy to navigate and use. Investors can quickly set up watchlists on instruments across various markets and also be able to place buy/sell orders directly from the lists. 
Assets variety
In addition to providing an easy gateway to access Water ETFs companies, eToro hosts a plethora of assets from different industries, including cryptocurrency, forex, and traditional stocks. The exchange also supports the trading of commodities like gold, agricultural produce and more. So rather than shuffling across different platforms, you can manage all your investments in one place.
Usage Fees
Extensive details on eToro's pricing structure can be found on its website. For stock trading, the brokerage offers zero-fee commission. This, however, is not available to US persons. For crypto investing, the fee varies for all digital assets. However, for Bitcoin, the largest crypto token by market cap, the fee presently is 0.75%. For ETFs, eToro maintains a 0.09% fee for both buy and sell actions. See the table below for the fee on withdrawals, deposits and inactivity. 
eToro Fees
| | |
| --- | --- |
| Fee Type | Amount |
| Commission | No |
| Withdrawal | $5 |
| Deposit | $0 |
| Inactivity Fee  | Yes |
Pros
Beginner-friendly

Optimized for expert traders

Supports all kinds of assets

Educational materials available

Uses enterprise-level web protection technology

Multi-platform supports (mobile, desktop, and web)

Copy Trading

2FA login method
Cons
Automated trading not supported

Trading cost in the form of bids/asks spreads
2. Tradestation – Professional way to invest in Water ETFs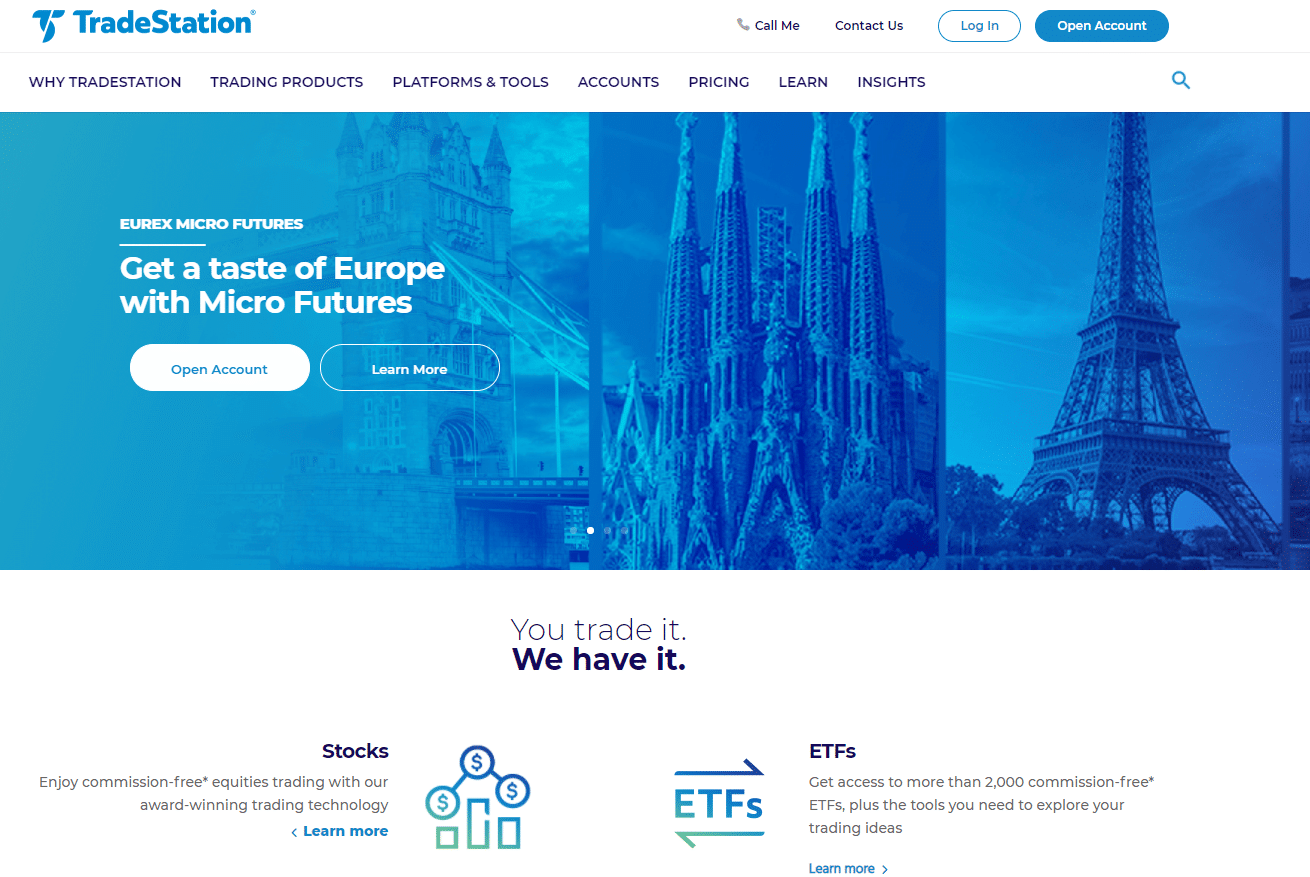 Tradestation is best known as a stock trading platform focusing on providing premium trading services to professional investors. Recently, however, there have been some strategic changes on the platform geared towards making their services attractive to entry-level investors. Most notably, the 100% reduction of the trading cost to 0% and the downward review of the minimum investment to $0. Now, both professional and beginner investors can access the brokerage's advanced trading tools at no cost. 
Brokerage Features and Usability
With over 270 professional charting tools, research features, indicators, and more, it's safe to say Tradestation provides the most robust platform for advanced investors. However, bear in mind that having a plethora of such tools at your disposal would not guarantee the precision of your trade decisions. Thus, you may be better off with a brokerage platform that offers easy-to-use analytic features, especially because Tradestation's advanced features are available on a pay-to-play basis. That means an extra financial outlay is required to access them. 
However, if you can afford to meet the financial requirements, here are some benefits:
Timely notifications on market moves

Access to intraday data

Proprietary tools like TriggerCharts EcoTrak and TAS Market Map 
Assets diversity
Tradestation keeps a broad range of assets under its management. These include stocks, bonds, cryptocurrencies, ETFs, options, futures, and over 2000 mutual funds. Forex is the only missing market. But, even at that, Tradestation's number of supported assets still looks impressive compared to other brokerages. 
Usage fees
Tradestation offers two types of accounts, TS GO and TS Select. Both accounts differ in many ways, but the major distinctions are the pricing structure and the number of accessible features permitted on each account. For TS GO, all trades are free if they are carried out through Tradestation's mobile or web platforms. However, for options, a cost of $0.5 is incurred per contract. 
Investors get complete access to Tradestation premium tools and carry out free trades with a TS Select account. That is only if a minimum account balance of $2000 is maintained.  However, for both account types, all trades are free if the limit of 10,000 shares per trade is not exceeded. Additional details on Tradestation's usage costs can be found on its website. 
Tradestation Fees
| | |
| --- | --- |
| Fee Type | Amount |
| Commission | Yes |
| Withdrawal | $0 |
| Deposit | $0 |
| Inactivity Fee (Monthly) | Yes |
Pros 
Over 270 advanced trading tools

$0 minimum investment

0% trading cost limited to 10,000 shares per trade

Multi-asset support

Multi-platform support

Customer support

Educational resources

Commission-free for stocks, ETFs, and options
Cons
Hard to understand pricing plans

Not-beginner friendly
3. Firstrade – A low priced way to buy Water ETFs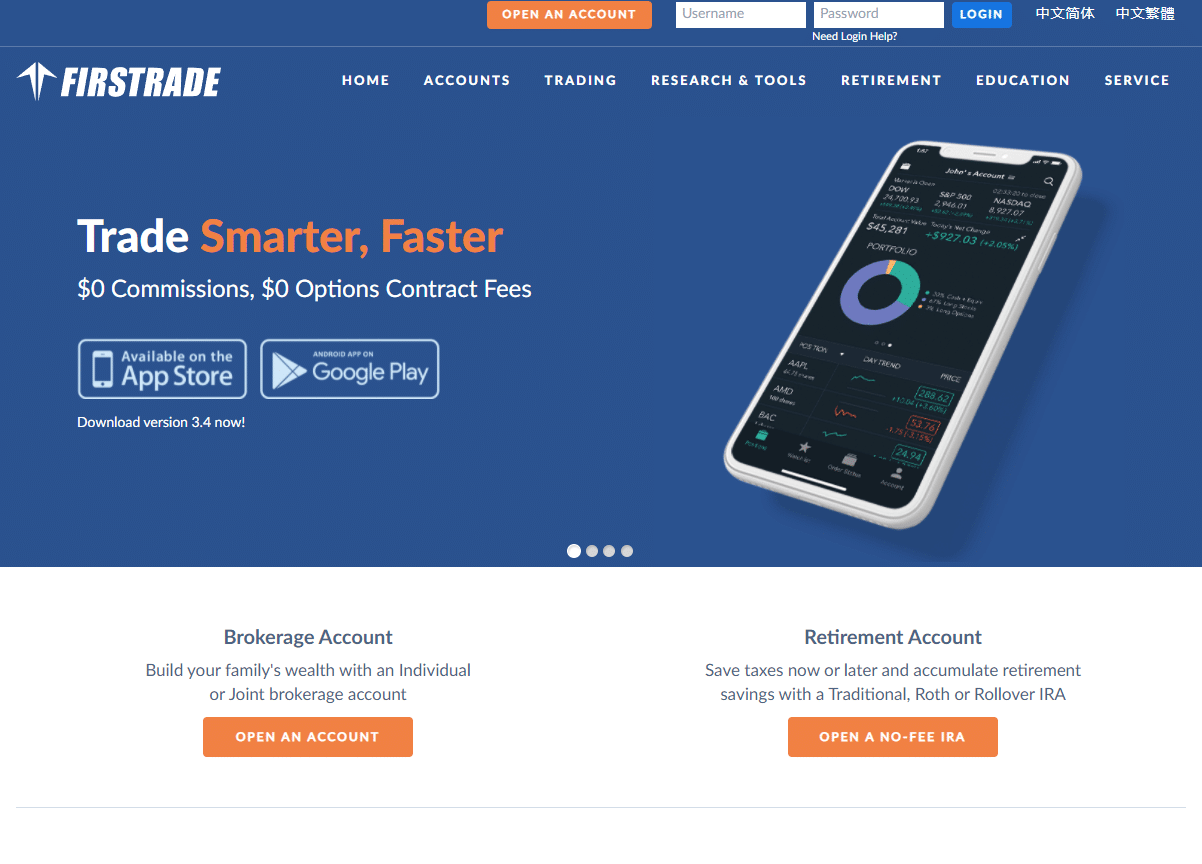 The brokerage was founded in 1985 in New York to serve as a gateway for the local Chinese immigrants to access investment opportunities.  Three decades later, Firstrade has stayed knitted to solving the problems that led to its establishment. However, recently, Firstrade is beginning to expand its horizon beyond that demographic. The investment management platform made a significant number of changes while also incorporating newer functions/tools, all in a bid to attract international clients. Below we will go over them briefly. 
Security and Account Protection
The brokerage is regulated by the Securities and Exchange Commission (SEC) and is also certified by the Financial Industry Regulatory Authority (FINRA). These are two of the top-tier financial watchdogs in the US. As their primary duty is to ensure the highest standards of fairness and integrity in the securities trading world, you can feel safe investing your funds through Firstrade's broker-dealer platform. 
Assets diversity
You will be forced to think again if you'd assume Firstrade's low-cost services were meant to compensate for the poor standard of its platform. When it comes to the number of supported assets, Firstrade fares better than most favoured competitors. There are presently over 2,200 ETFs, 3,700 mutual funds, and other tradable securities like Bonds and stocks. However, some professional investors may feel left out as Firstrade doesn't offer forex, futures, and futures options trading. That said, Firstrade is more suited to meet the needs of long-term investors. 
Brokerage Features and Usability
Firstrade's web and mobile application's interface is intuitive and straightforward. The order entry page is modelled according to the standard layout. A manual form of input is used to create spread legs, and the process is simplified further by the integrated chain sheet. However, this might be a drawback, especially for investors who have had a feel of sophisticated trading technology available on other platforms.  Moreover, advanced traders may be disappointed to find out that Firstrade doesn't support spray-routing. Nonetheless, the brokerage does take credit for being extremely easy to navigate. Most especially, the Navigator platform allows you to view your active trades and balances all under one screen. 
Firstrade's other two trade platforms, Options Wizard and Desktop platform, are also designed to be user-friendly. With Options Wizard, you can make an in-depth analysis of potential losses and profits when trading options. You also get to access over 40 advanced options trading styles. 
Usage fees
Since its official release, Firstrade has consistently cemented its reputation as the best discount broker. Unlike other brokerage platforms, Firstrade offers commission-free trading on all the assets listed on its platform. That means, whether you are a stock, mutual fund, or ETF investor, you can trade for-free on this brokerage. Moreover, options traders will be delighted to learn that Firstrade doesn't charge contract fees. That is nothing like no other among brokerage services providers. 
Firstrade Fees
| | |
| --- | --- |
| Fee Type | Amount |
| Commission | No |
| Withdrawal | $0 |
| Deposit | $0 |
| Inactivity Fee  | No |
Pros
Commission-free

$0 minimum account balance allowed

Suitable for all kinds of investors

Supports a broad range of securities

Easy to navigate
Cons
Crypto, futures, and forex trading not supported

Poor customer service

Limited functionality across the trade platforms
Invest in Water ETFs – Broker Price Comparison
Perhaps, you are yet unable to conclude which brokerage will serve you the best. In that case, here is a tabular summary to help you conclude faster.
| | | | | |
| --- | --- | --- | --- | --- |
| Broker | Deposit Fee | Withdrawal Fee | Commission Fee | Inactivity Fee |
| eToro | $0 | $5 | No | $10 |
| Tradestation | $0 | $0 | Yes | No |
| Firstrade | $0 | $0 | No | No |
What Is The Best Way to Invest in Water ETFs? 
Nowadays, finding a water ETF company to invest with has become so easy, as more and more investors throng into the water industry. Invesco Global Water ETFs (PHO), First Trust Water ETF (FIW), and Ecofin Global Water are the best water ETF companies today. However, before investing in any of them, it's important to define your investment needs and strategy. Doing so will help you identify which of the ETFs has the perfect investment opportunity for you. Below is a guideline to help you find the right water ETF company you can invest in.
Determine the time frame for investing
Make a forecast of your present and future expenditures. That will help you evaluate how much of your savings you will be able to set aside for potential investment and how long you can go. In other words, you will determine if a passive trading style in the short term will benefit you the most. The typical maturity time of some water ETFs may be longer than other ETFs in other markets. Hence, if you are investing to meet immediate expenditures, you may better look into other securities. 
Research ETFs
This is the second most important step when searching for the right water ETF. Water ETFs companies are distinct from each other. While some might engage in water treatment and distribution, others might be involved in supplying tools and pieces of machinery needed for the operations. As such, their performance can't be the same. Hence, it would be best to consider factors like the sector/activities of the ETF, its projected growth potential, and demand volume for its services/products. 
The trading strategy
If investing in a water ETF is your first time committing to an ETF, here is what you should know right off the bat: beware of taking an all-out approach. Rather, adopt the dollar-cost averaging method. This means dividing the total amount you wish to invest over periodic time intervals to make regular purchases of the ETF. That way, you would shield yourself from the price impacts of volatility and get more quickly familiar with the peculiarities of ETF securities.
Finding the appropriate brokerage platform
Think of these investing platforms as your guiding companions into the intricate world of water ETFs investing. They are each tailored to solve perceived problems that investors might face. Thus, while some are popular for offering rock-bottom trading costs, others are relevant to the high-powered trading tools they offer. However, eToro is our number one pick as the complete brokerage platform to access water ETFs investment opportunities. Aside from having an exceptionally easy-to-navigate user interface and being commission-free, eToro supports a diverse variety of assets and an array of sophisticated trading tools that can be accessed freely.  The platform also provides educational content and can be used on mobile, desktop or web platforms. 
Are Water ETFs good investments? 
Here are the two major reasons why investing in water ETFs can be profitable:
Supply exceeded by demand
The explosion of the human population in the face of technological advancements has led to an unprecedented increase in industrial activities. The notable by-effects are seen in the increased demand for raw materials, especially water. Nowadays, from the agricultural sector, beverage production companies, to food manufacturers, there always seems to be a shortage of water supply. Statistical analysts are projecting an almost 55% increase in global water demand by the year 2050. And the dwindling climate situation only makes the problem worse. These alone make enough points why any for-profit investor should consider betting some funds in the water industry. 
A desperate need for humankind survival
To underscore the importance of water, the UN General Assembly declared water to be a basic human right. That is a necessity for human life. One of the significant implications enacted by the announcement is the UN's obligation to provide aides to water processing companies in times of crisis. Thus, by investing in water ETFs, you are not only investing for profit, but you are also adding value to human society.
Investing in Water ETFs – What are the Risks
Compared to other ETFs, the water ETFs is a small niche. That, however, doesn't pose any serious reasons for concerns as the industry presently looks well-primed for a major upswing.  Thus aside from the recognizable risks of ensuring proper due diligence on the brokerage platform you invest with and the ETF company whose shares you wish to buy, there are hardly any risks worth mentioning when it comes to investing in water ETFs.
How to invest in Water ETFs using eToro
Here is a full-length guide on how to invest in water ETFs using our recommended broker, eToro: 
Step 1: Set up an account at eToro.com
To begin, go to your browser's search bar, type "eToro.com," and hit the Go button. You will be auto-directed to the broker's homepage. Then look for the "Join Now" button and wait for the registration form to load. After that, input the required details.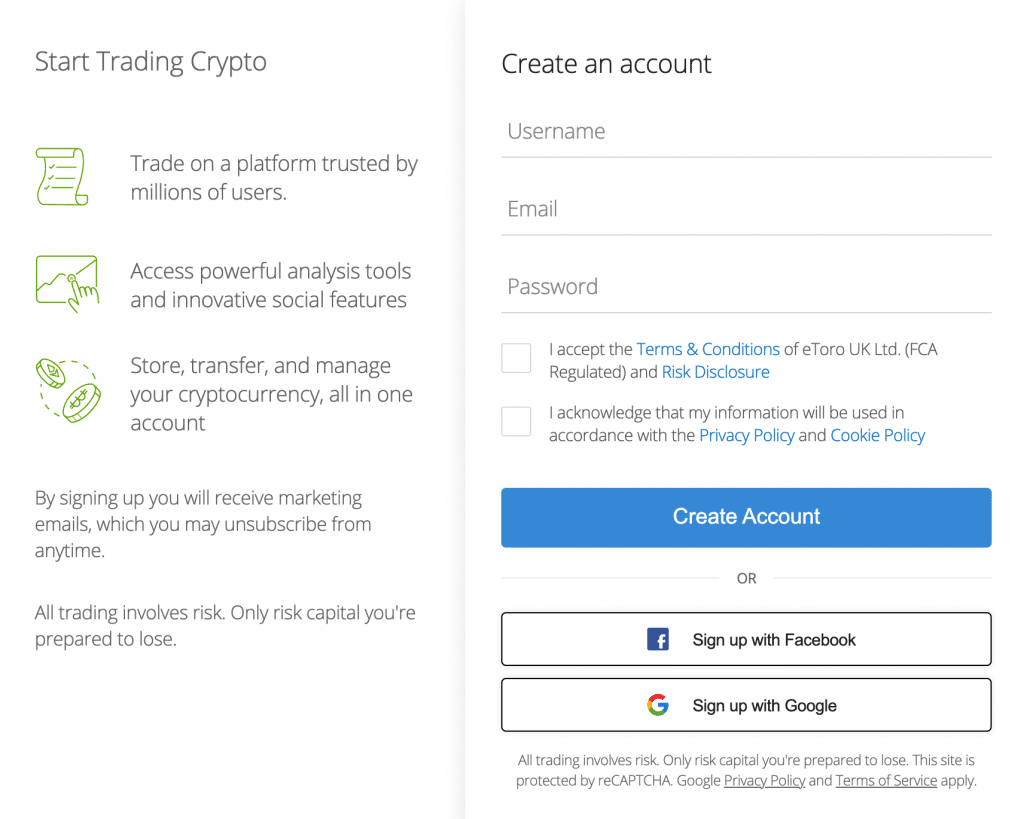 Step 2: Get KYC-verified
As per regulatory demand, you will need to pass eToro's investor's identity verification process. For this, you will need digital scan copies of your IDs (driving license, national ID, or passport). Then, similar copies of utility bills or bank statements will do just fine for the proof of address.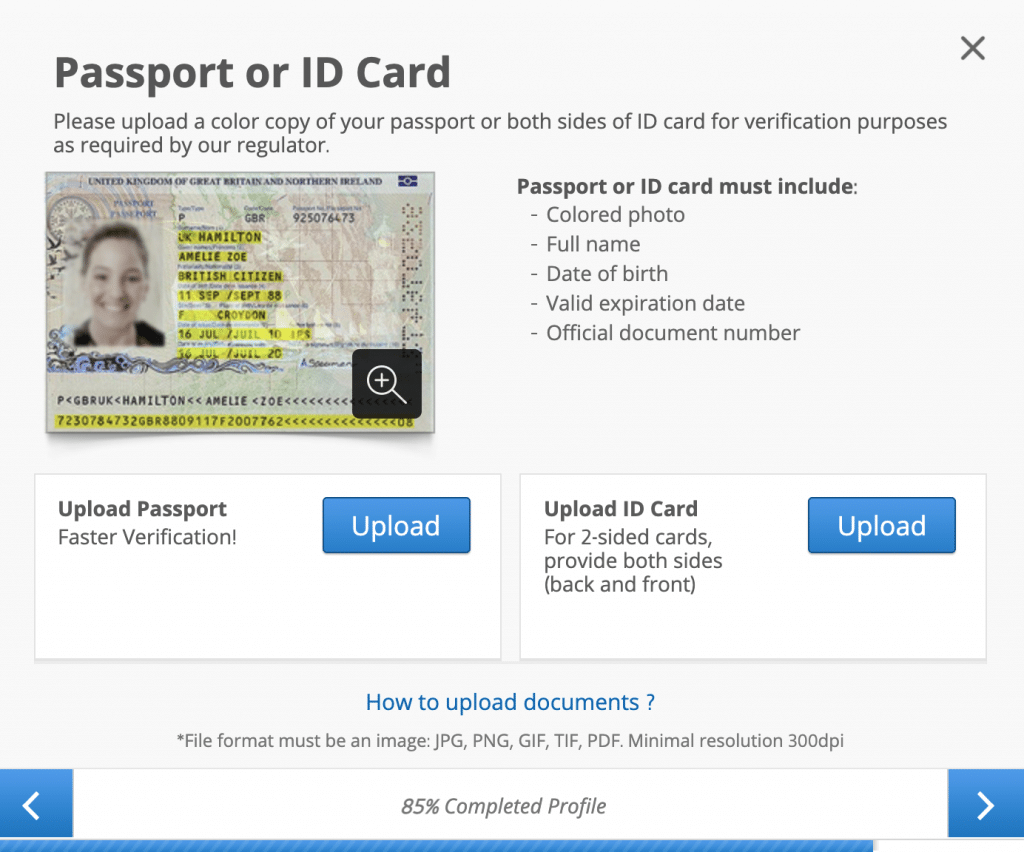 Step 3: Deposit funds in your account
Next, go to your profile's dashboard and click on the "Deposit Funds" button. Then, enter the amount you wish to buy the shares with and tap the "Deposit" button. 
Step 4: Invest in the Water ETFs of your choice
.
With your account fully set up, go to the site's search bar and write the ticker symbol of the water ETF you are investing into. Select the right option, click on "Trade," and enter the amount on the search results. Finally, click on "Buy." 
Conclusion
Water is vital to society, and with limited amounts of clean, used water in several parts of the globe, investments in water resources can be expected to grow in the next few years. Thus, as an investor, adding water ETFs to your portfolio might be a better option than investing in volatile tech markets or individual companies. You can get started anytime with eToro. 
Best Water ETF Broker – eToro
FAQs
What are the best ways to invest in Water ETFs?
What's the future of Water ETFs?
What are the disadvantages of investing in Water ETFs?