How To Invest In Stocks – A Beginner's Guide To Investing In Stocks
The internet has facilitated the process of buying stocks from multiple corners of the world as brokerage firms nowadays have developed platforms through which investors can easily buy and sell financial instruments from the comfort of their home or office.
Meanwhile, the cost of buying and selling stocks has also been dramatically reduced by the introduction of zero-commission trading services while these services have also contributed positively to the performance of the portfolios held by individual investors.
In the following article, we'll explain how you can easily invest in stocks through a regulated broker while we'll also share further details about the intricacies of stock investing.
Top Broker To Invest in Stocks – eToro
How to Invest in Stocks – A Quick Guide For 2021
If you think you are ready to make your first trade, the following is a simple 4-step guide you can follow to complete your first purchase:
Step 1: Open an Account with eToro – The first step to start investing in stocks is to open an account with a regulated broker like eToro. This broker charges no commissions for buying stocks and no stamp duty.
Step 2: Upload Your ID – Once you have completed your registration, you will need to provide a valid ID to activate your account.
Step 3: Deposit Funds – Upon validating your ID, you must now deposit the minimum amount required to open an account with this provider. At the moment, the minimum deposit required by eToro for clients is $50.
Step 4: Invest in Stocks – Now you are all set to start investing in stocks. If you already have a company in mind you would like to invest in you can easily find it by using the search bar located at the top of the eToro trading interface using the ticker symbol under which the company trades.
Once you click on the "Trade" button you will be able to complete your order by specifying the amount of money or the number of stocks you would like to buy.
How to Invest in Stocks – Complete Tutorial 2021
If you are a bit unfamiliar with how stock investing works, the following is a more detailed guide you can follow to complete your first purchase by using our preferred stock broker – eToro.
Step #1 – Open an Account with eToro to Get Started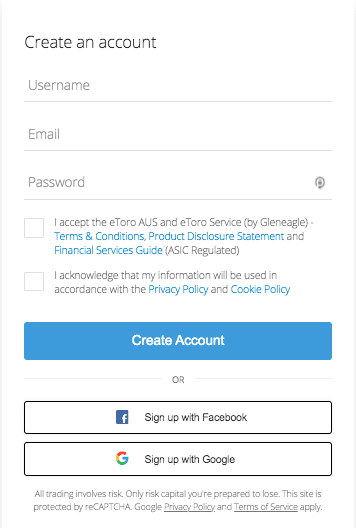 The first step to open an account is to go to the official website of eToro and then click on the "Join Now" button located in the upper right corner of the screen.
Once you are there, you will be prompted to provide some basic information about yourself including a username you will use to log in in the future or you could also complete the sign-up by using your Facebook or Google account.
Step #2 – Fund Your Account  — No Fees, 0% Commission on Stocks
You will now have to provide a valid ID that will be verified by the eToro team to make sure it is you as only deposits made from a bank or electronic wallet on your name will be processed.
After that step is completed, you will be prompted to fund your account by using any of the payment methods currently available to customers. These include bank transfers, electronic wallets, and credit and debit cards, among others.
The minimum deposit to activate an account with this provider for clients is $50.
Step #3 – Choose a Stock to Buy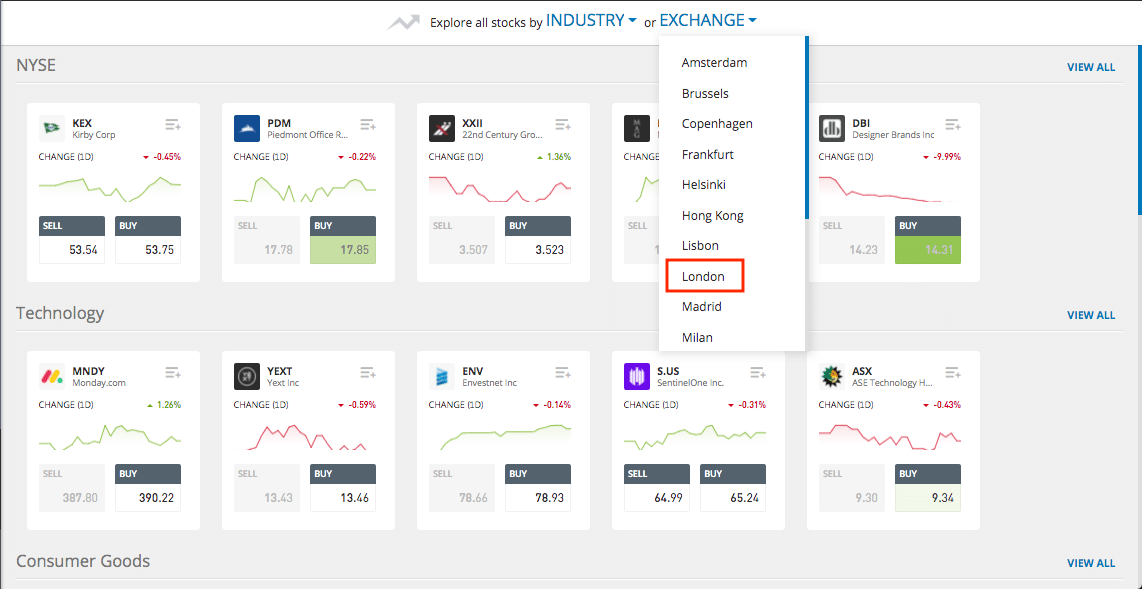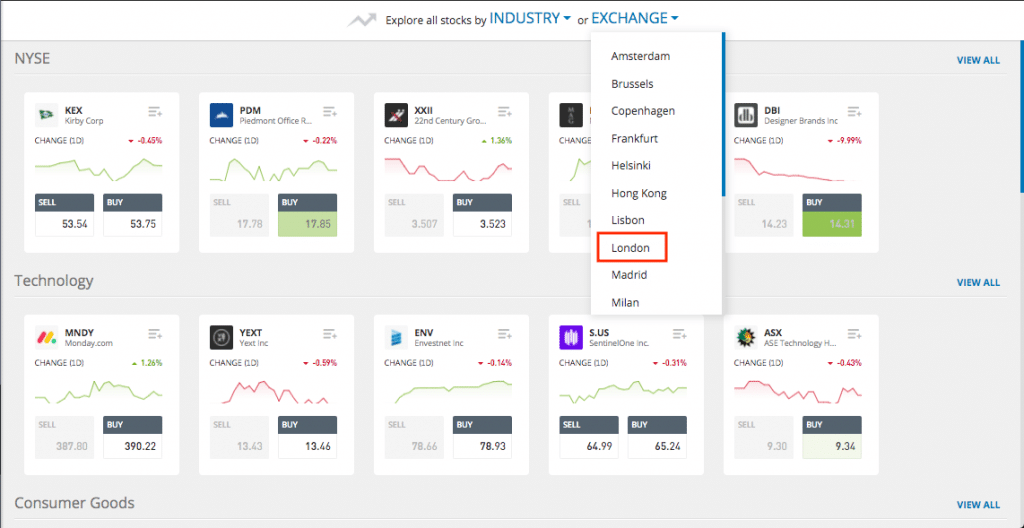 Upon completing this second step, you will be ready to invest in your first stock. You can easily locate these stocks by clicking on the "Trade Markets" button located on the left panel of the interface to then filter your selection by "Stocks".
Currently, eToro offers the possibility to buy a total of 301 stocks including top names like Avast (AVST), AstraZeneca (AZN), CMC Markets (CMCX), and Capita (CPI).
 Step #4 – Buying Your First Stock On eToro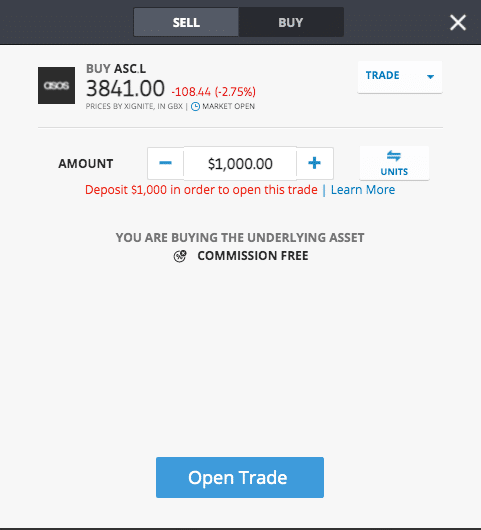 Once you have selected the stock(s) you would like to buy, you can click on their individual box. You will be redirected to their individual page and you will be able to see more details about the company, its fundamentals, the current sentiment of traders within the platform, and other similar information.
You can complete your purchase by clicking the "TRADE" button located at the upper right corner of the platform's interface or you could have also clicked the "Buy" button located in the small box you saw on the previous screen.
Buy Stocks Now From eToro, the World's #1 Trading Platform
 Step #5 – I Just Bought my First Stock – Now What?
Congratulations if you bought your first stock. Moving forward, the value of your stock will fluctuate based on the evolution of multiple factors that may affect the valuation of the underlying business.
For long-term investors, you may now focus on how the business performs over time by analyzing all upcoming interim financial reports. Meanwhile, for short-term traders, you can analyze the price action to determine when it will be a good time to exit your position at a profit and you can also set a Stop-Loss order to limit your losses in case the value of your holdings declines.
How To Invest in Stocks For Beginners — Understand the Basics
What is a stock?
A stock is an instrument issued by a company that gives the holder ownership of a portion of the assets, liabilities, profits (or losses) of the underlying business.
What do shareholders get in return?
Shareholders are compensated via capital gains if the price of the stock increases over time or through the periodical distribution of dividend payments. Moreover, shareholders have the right to vote about crucial matters concerning the company during the Annual General Meeting (AGM).
What do stocks look like?
Nowadays, stocks are traded electronically. This means that you won't receive a physical certificate of ownership as investors did in the past – even though you may request it for a fee.
You will be able, however, to track the performance of your stock holdings by using the eToro dashboard. Through it, you will be able to see a report of your profit and losses (P&L) along with the percentage gain or loss your holdings have experienced at any given point in time.
How To Buy Stocks in a Company?
Now that you know how to invest in stocks, you are probably wondering how you can pick potential winners.
There are many time-tested investment strategies that you can follow to increase the odds of producing positive net returns over time. However, keep in mind that even the best investors in the world experience losses in some of their investments. In essence, the primary goal of stock investing is that your winners outpace your losers to a point that your losses are far exceeded by your earnings.
Value investing is one of the most popular approaches to investing. This methodology was first brought up by Benjamin Graham in his book The Intelligent Investor and was later on refined by one of the most successful investors in the world, Warren Buffett, who was also one of Graham's protégés back in the day.
There are also other methods that investors can follow including growth investing, index investing, ETF investing, impact investing, ESG investing, momentum investing, special plays, and mergers and acquisitions plays.
In any case, you should read more about each of these strategies to pick the one that may suit you the best depending on your investment budget, background, expertise, and risk tolerance.
For beginner investors, investing in an index tracking a basket of stocks is one of the easiest ways to get exposure to stocks without taking too much risk. Here are some of the most prominent indexes that currently offer exposure to the stock market:
FTSE 100 Index
FTSE 250 Index
FTSE All-Share
FTSE AIM All-Share
In the past 10 years, the FTSE 100 – also known as the footsie – has delivered a total gain of 38.5% (not including dividends). This results in a 3.3% compounded annual growth rate (CAGR).
Invest in Stocks with eToro – the #1 Trading Platform
What do stock earnings depend on?
Multiple factors can affect the performance of a stock over time including some of the following:
External factors
The performance of the underlying business: this includes the evolution of the company's sales, earnings, and debt over time.
The overall state of the economy: a booming economy tends to have a positive effect on stock market valuations while recessions will usually plunge the price of equities.
Interest rates: higher interest rates result in higher minimum rates of return required by investors and this tends to depress the valuation of stocks and other investment instruments while lower interest rates typically have a positive effect on stock prices.
Internal factors
Risk tolerance: in the investment world, obtaining higher returns typically involves assuming higher risks. For investors, a low risk tolerance may lead to lower returns while a high risk tolerance could increase gains although losses can also accelerate if the investment goes sideways.
Making Money On Stocks: Investment vs. CFD Trading
There are two common approaches to stock investing. One is to trade stocks, which involves buying and selling instruments on a daily or weekly basis upon conducting a thorough technical analysis and the other is to buy and hold these securities for long periods upon conducting a thorough fundamental analysis of the underlying business.
CFD Traders — Contract For Difference (CFDs)
For traders, contracts for difference (CFDs) are one of the most advantageous vehicles with which they can operate. A CFD is a derivative that tracks the price of the underlying instrument, in this case a stock. Traders use CFDs to bet on how the price of a certain stock will behave over time, taking long positions if they expect that the price will rise or taking a short position if they expect that the price will decline.
Traders use technical analysis to spot signals by assessing the price action of a certain instrument and they enter and exit positions typically within a single day (day trader) or a single week (swing traders).
CFD traders will be compensated by the positive difference between their entry price and exit price and brokers like eToro offer the possibility of using borrowed money – also known as leverage – to increase the size of their positions and the subsequent gains.
That said, losses can also be expanded by using leverage and traders should be cautious when using borrowed money when trading as that could lead to lead to the loss of a significant portion of their invested capital.
Investment
An investment, according to Benjamin Graham's definition, is an operation that, upon performing a thorough analysis, offers the safety of the principal and an adequate return.
This definition involves estimating the intrinsic or fair value of the underlying business by performing a fundamental analysis using the information provided by the company through its financial statements.
Value investors typically use financial ratios and models like the discounted cash flow (DCM) model to estimate the fair value of these companies. The goal is to find businesses that are trading below their intrinsic value – also known as undervalued stocks – to buy their stocks with the expectation that the market will eventually realize its error and correct accordingly.
Investors typically hold on to their stocks for more than a year and they won't sell it unless the fundamentals of the business deteriorate.
Invest in Stocks Now From eToro with 0% Commission
Tips to Follow When Investing in stocks Online
Tip #1: Perform a thorough analysis (technical or fundamental)
Whether you prefer to trade or invest, you should only make decisions upon performing a thorough analysis of the operation so you can feel confident that the odds are in your favor.
In this regard, investors should not treat the stock market as a casino. Instead, each investment decision must be evaluated separately to determine how much the underlying business is worth and, upon completing this assessment, evaluate if the current market price is attractive or not.
Tip #2: Diversify your portfolio
Don't put your eggs in a single basket. As a rule of thumb, both traders and investors should devote no more than 5% of their invested capital into a single name to limit their losses in case their investment goes sideways.
Tip #3: Look for asymmetric risk/reward opportunities
An asymmetric offers a significantly high reward for the risk assumed. In this regard, if the investment's maximum drawdown is 10% but its upside is at least 100%, that would constitute a great asymmetric opportunity.
How to Invest in Stocks – Choose a Stock Broker
Fees and Commissions
When picking the right broker for you, one of the most important factors to keep in mind is how much it would cost to buy and sell stocks through their platform. In this regard, you should pick the provider that offers the most competitive pricing.
Some providers charge fees per trade while others have slashed their trading fees to zero. That said, you should also analyze if they charge non-trading fees like inactivity, deposit, and withdrawal fees.
Payment Methods

The availability of payment methods when funding your account or withdrawing money is another important aspect to assess when picking a broker. In this regard, the best brokers typically give you the choice of depositing and withdrawing funds from a bank account, credit or debit card, and an electronic wallet like PayPal.
Moreover, you should take a look at how much they charge for depositing and withdrawing funds for each method.
Where to Buy Stocks?
eToro — Best Low-Cost Stock Broker
Minimum deposit: $50
Stocks available: Yes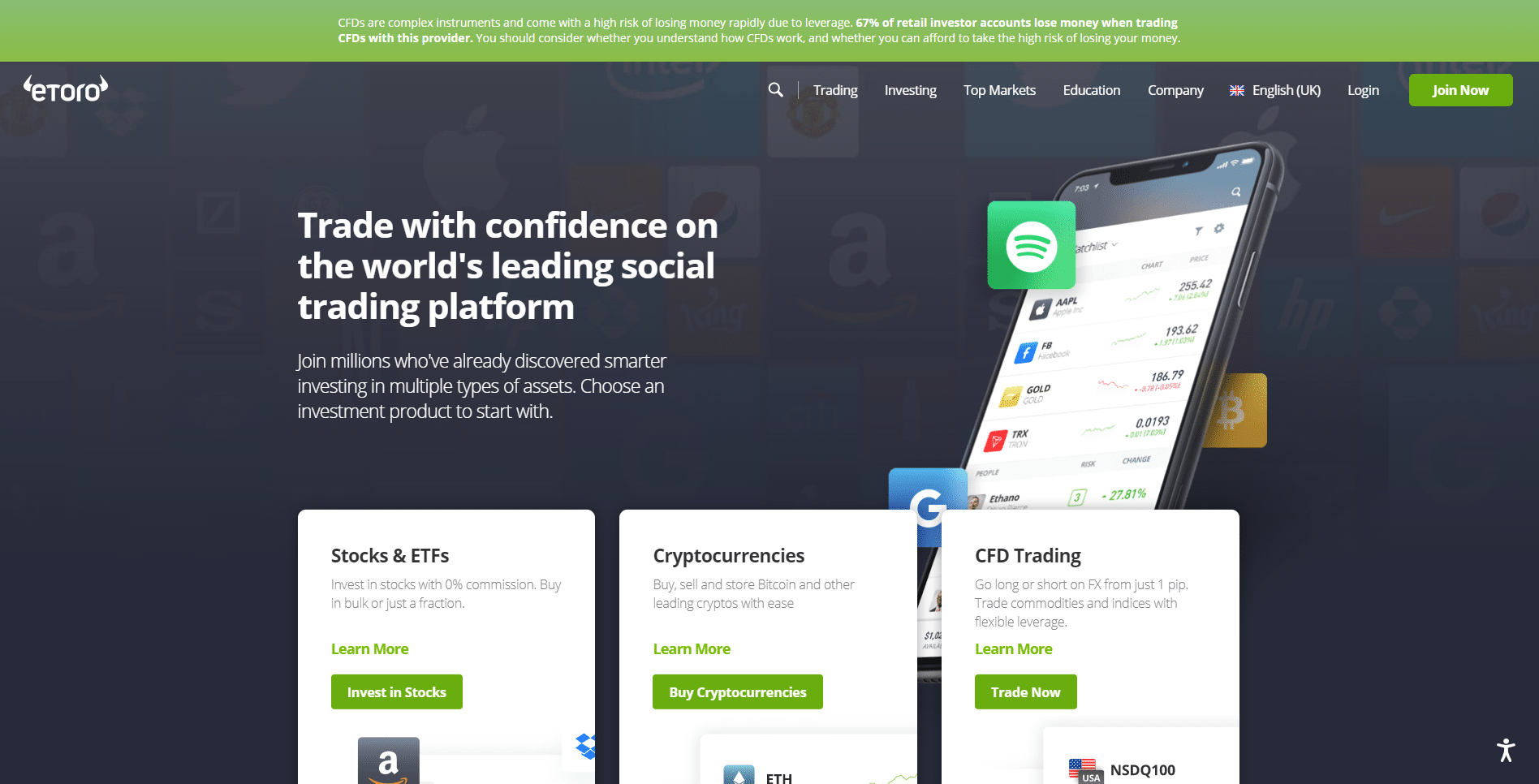 eToro is one of the largest brokers in the world, currently serving over 20 million investors from multiple latitudes. The company is based in Israel and it is regulated by various top-tier jurisdictions including the United Kingdom, Australia, and the United States.
eToro is considered a social trading platform as this broker has incorporated a social-media-like feature to its interface through which users can interact with each other.
Moreover, investors can even copy other people's portfolios using the CopyPortfolio™ feature and they will also have access to multiple other tools including a charting tool with hundreds of indicators and basic fundamental data from companies.
Aside from buying stocks, investors can also trade a wide range of other instruments including stocks for multiple global exchanges, cryptocurrencies, commodities, exchange-traded funds (ETF), and more.
Pros
Over 300 individual stocks can be traded with this provider.
This broker is regulated by multiple top-tier financial agencies including the Financial Conduct Authority (FCA) of the United Kingdom.
eToro does not charge a commission or fees for trading stocks.
Low minimum deposit.
Cons
eToro charges a withdrawal fee.
eToro only offers USD denominated accounts which means that foreign deposits are subject to conversion fees.
67% of all retail investor accounts lose money when trading CFDs with this provider.
Capital.com — Best CFD Trading stock Broker
Minimum deposit: $20
Stocks available: Yes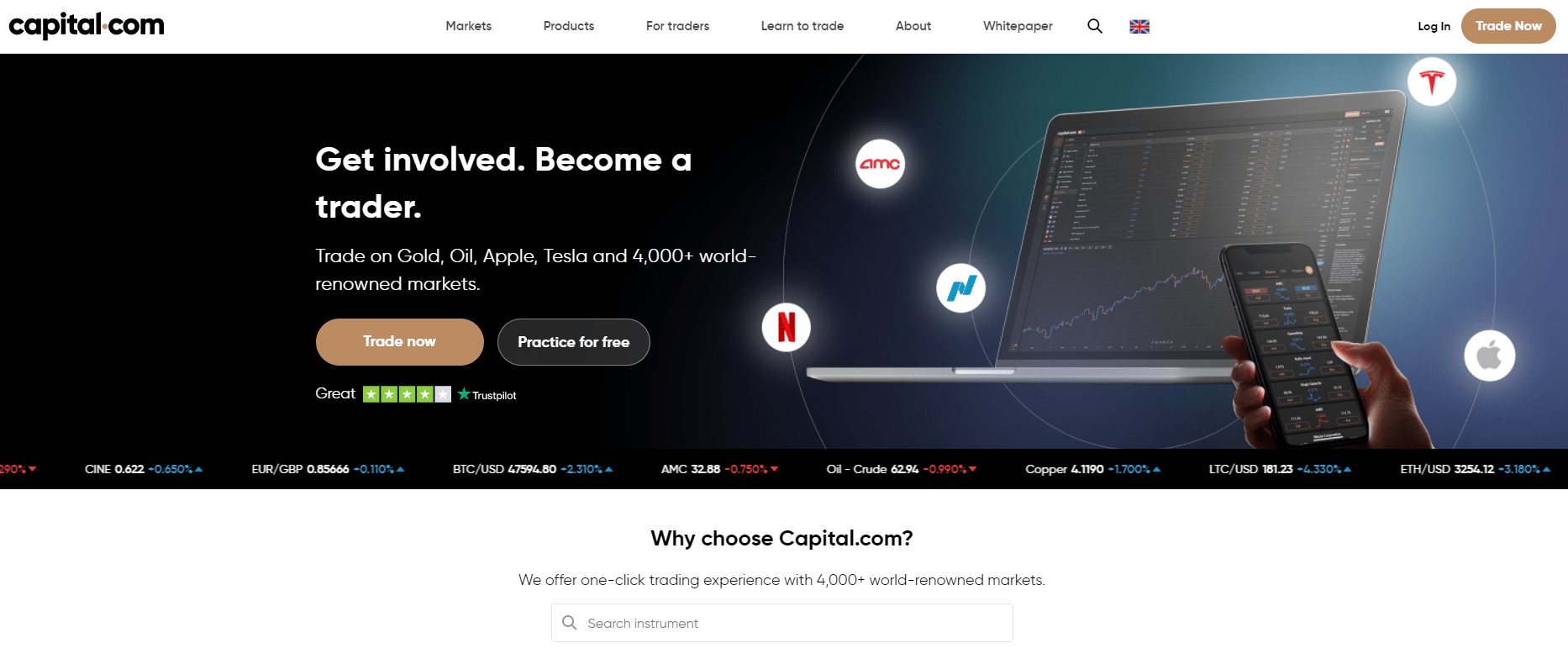 Capital.com is a regulated broker of contracts for difference (CFDs) that offers competitive spreads for trading multiple instruments going from stocks to cryptocurrencies.
Since this broker is based in the United Kingdom, the sign-up and funding process is typically more expedited while they offer multiple educational materials that should come in handy for beginner investors including regular YouTube videos about relevant market topics and forecasts for different instruments that can be traded through their platform.
Pros
Access to hundreds of stocks.
Competitive spreads and zero-commission trades for a selection of instruments.
US stocks, cryptocurrencies, and commodities can also be traded with this provider.
Low minimum deposit.
Cons
stocks can only be traded via CFDs.
67% of all retail investor accounts lose money when trading CFDs with this provider.
Pro and Cons of stock Investing
Like any investment, buying stocks comes with pros and cons. Let's review them:
Pros
Highly regulated stock market comprised of thousands of different companies.
The LSE is one of the most important stock exchanges in the world.
Positive performance over long periods.
Wide range of industries and segments of the economy that investors can get exposure to.
Cons
The stock market has underperformed the US market for many years.
stocks tend to be less liquid than their US counterparts.
Companies in the United Kingdom typically release limited updates on their financial performance every six months.
The United Kingdom economy is very susceptible to the performance of the European economy as a whole.
Buy Stocks Now From eToro, the World's #1 Trading Platform
FAQs
Who regulates the stock market?
What is the FTSE 100 Index?
Is it safe to buy stocks?