Invest in Square – Investing in Square Beginner's Guide 2021
Square is a project of Jack Dorsey, the co-founder and CEO of Twitter. Square allows its users to perform peer-to-peer and business-to-business transactions and offers services that are innovative and very forward-looking. After the launch of the company's IPO and its endorsement for cryptocurrency, it has seen a huge spark in its user base. 
This guide will teach you how to invest in Square, explain the pros, the cons and fully review the best brokers to invest with.
#1 Broker to Invest in Square – eToro
How to Invest in Square – Step by Step Guide 2021
Want to invest in Square? Here's how you can do so without any hassle: 
Step 1: Open an eToro Account – The first thing you need to go to eToro's website. C

lick the "Join Now" button. Enter the details required on the registration form.

Step 2: Verify Your Identity

– Verify your identity by

uploading your photographic ID and proof of address/utility bill.

Step 3: Fund Your Account

– After KYC is complete,

deposit funds via your preferred method, including PayPal, debit card, wire transfer, and online banking. The minimum deposit is only $50.

Step 4: Invest in Square

–

Once your account is funded, type in the search bar "Square" and select the stock. Click on "trade" and add the amount of money you want to invest in the company.
Where to Invest in Square – Choose a Broker
With so many options available, it can often become tricky to choose a good broker. Regardless of which broker you choose; the generic process of investing will remain the same as discussed above. However, we will discuss a few brokers here for you to be able to make an informed decision for yourself. 
1. eToro – Overall Best Broker to Invest in Square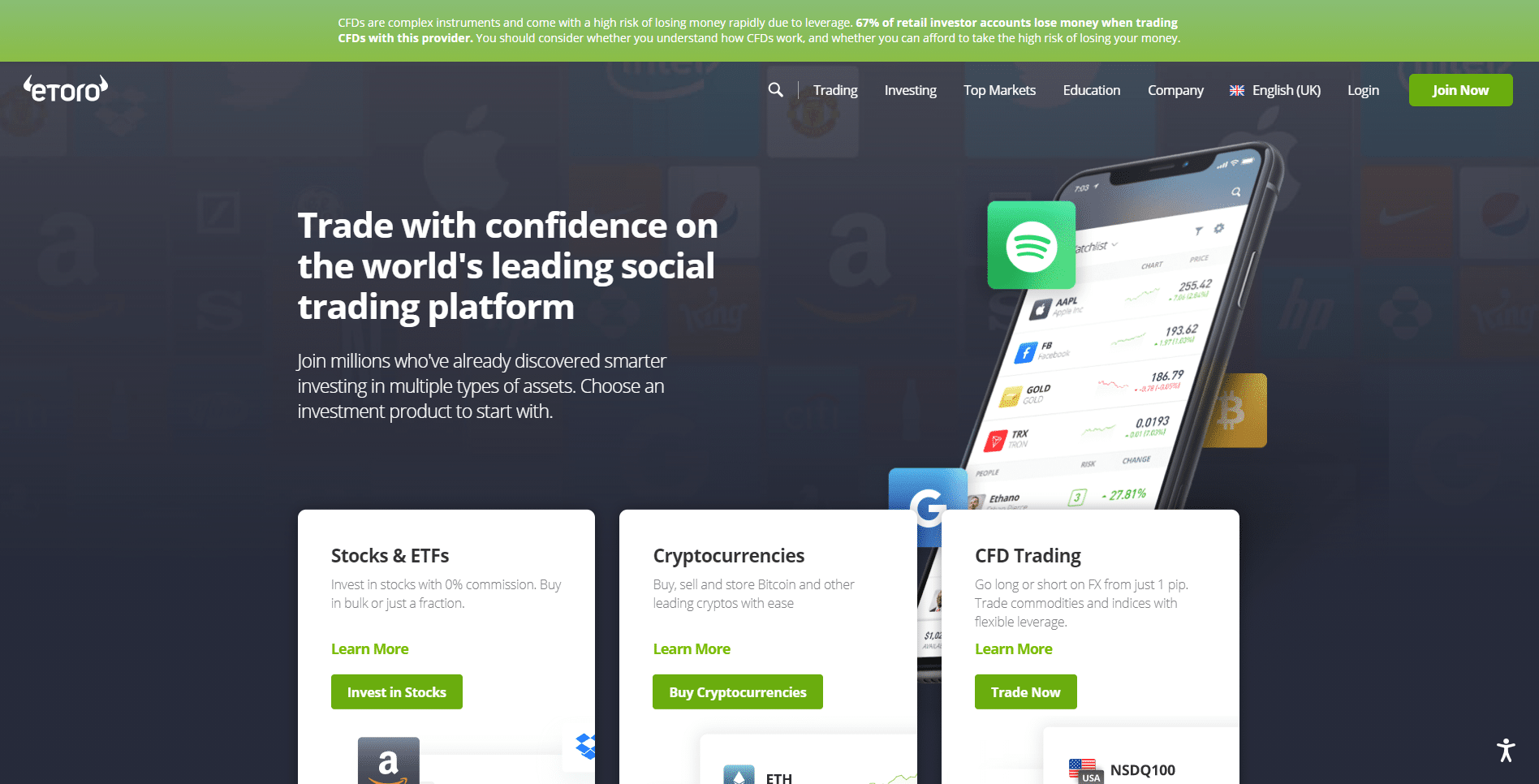 eToro is overall, a very userfriendly and amazing platform for trading stocks, cryptocurrency, and CFDs. It is an Israeli platform and since its launching, eToro has been the talk of town. Today it has more than 17 million users and operating in over 140 countries around the world. The platform has registered offices in Cyprus, United Kingdom, United States, and Australia. Etoro is currently worth almost $10.4 billion. They are also working on becoming a publicly traded company, for which they have recently been making several partnerships and evaluating their options. 
Security and Privacy 
eToro is a very safe platform, with a total trust rating of 92/99. At this point, etoro is authorized by two high trust regulators (tier-1), one average trust regulator (tier-2), and one low trust regulator (tier-3). 
eToro is regulated by the Financial Conduct Authority, the financial regulatory body of the United Kingdom, and also by Cyprus' Securities and Exchange Commission, which makes your money in there as safe as it can be. 
eToro Fees
| | |
| --- | --- |
| Fee Type | Fee Amount |
| Deposit Fee | $0 |
| Withdrawal Fee | $5 |
| Commission Fee | $0 |
| Inactivity Fee (charged monthly) | $10 |
Pros
Regulated

Copy-trading features

Easy-to-use platform

Commission-free

Many assets available
Cons
US clients can only trade cryptocurrency

No options or spread betting available
67% of retail investor accounts lose money when trading CFDs with this provider.
2. AvaTrade – Accessible platform to Invest in Square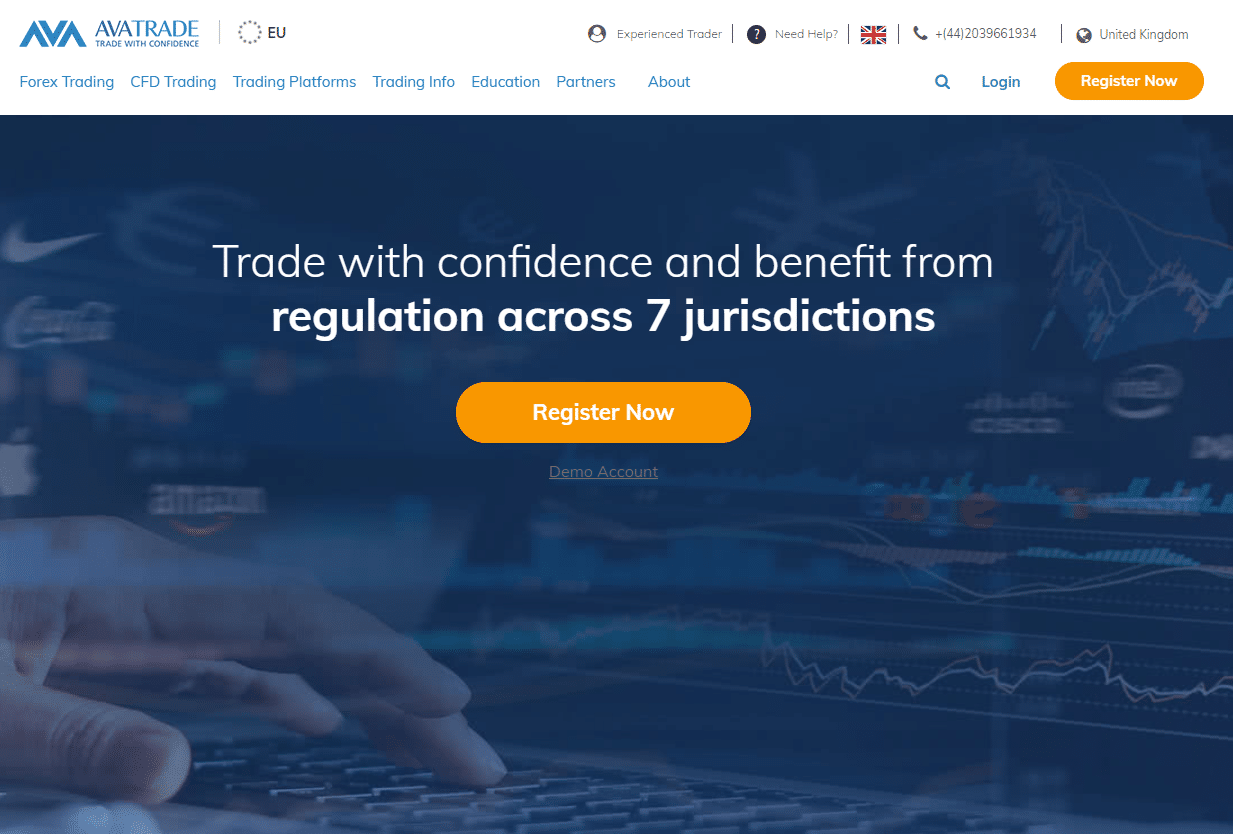 AvaTrade is an all-in-one, well-established broker that provides access to multiple assets, including forex, stocks, cryptocurrency, indices, and many more. The broker provides access to numerous trading platforms, allowing you to select the one that matches your experience and investment strategy, including the well-known MetaTrader platform. 
Security & Privacy
The broker is regulated with different authorities in six jurisdictions across five continents. One of the main security features is keeping segregated accounts for clients and business funds, just like other brokers discussed above. Regulatory compliance provides you with peace of mind knowing that the broker fully complies with existing legislation in different regions, including the EU, South Africa, Japan, and Australia. 
Fees & Features
AvaTrade boasts a wide range of features suitable for all investors and traders. The broker provides access to multiple trading platforms, including MetaTrader, and social trading platforms like DupliTrade and ZuluTrade. Also, it comes with an economic calendar, so you are always up to date with the most important events impacting the financial markets. 
You need at least $100 to open an account, and the platform also provides Islamic accounts upon request. There is no commission associated with stock trading, but there is a fixed spread starting from 0.9 pips (for forex), depending on your chosen assets. There is also a steep inactivity fee, but the broker does not charge any withdrawal or deposit fees. 
AvaTrade Fees
| | |
| --- | --- |
| Fee Type | Fee Amount |
| Deposit Fee | $0 |
| Withdrawal Fee | $0 |
| Commission Fee | $0 |
| Inactivity Fee | $50 after the first three months of inactivity, and $100 after one year of inactivity. |
Pros
Multiple trading platforms available, including MetaTrader

Copy-trading available via social trading platforms, like ZuluTrade

Free educational material

Wide range of trading tools
Cons
67% of retail investor accounts lose money when trading CFDs with this provider.
3. Webull – Great Platform to Invest in Square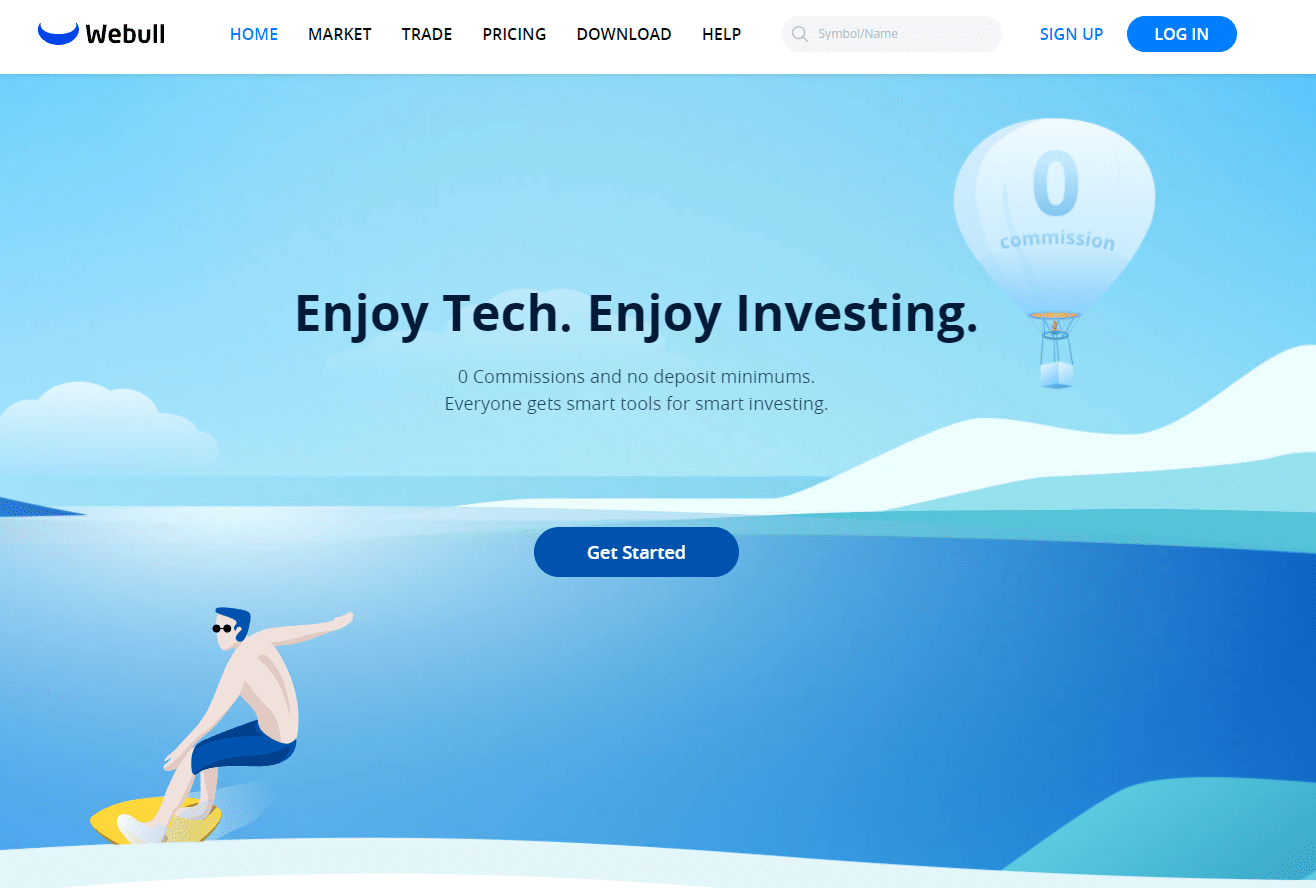 Webull is a Chinese platform that has been backed by Xiaomi, Shunwei capital, and other such private investors in China. It was registered as an LLC by Wang Anquan, a former employee of the Alibaba Group. The company has had a sparkling rate of success and has succeeded tremendously over the years. Its growth has been comparatively expedited in contrast to its competitors. It launched its trading platform in the form of a mobile application in 2018. In 2020, the company received SEC approval to launch a service of financial advice that would rely minimally on human interaction and be solely dependent on mathematical algorithms and market trends. The service was called a "Robo Advisor", and is eloquent by the name, it utilized a defined set of mathematical rules to aid the investors with portfolio management. 
Within 2 months of the launch of the said service, the platform had around 11 million registered users. A few months down the lane, they had 750,000 daily active users. Before the end of 2020, the platform began supporting cryptocurrency transactions, and owing to the expedited nature of the industry, the company made a remarkable name for itself in the financial service industry. 
Webull Fees
| | |
| --- | --- |
| Fee Type | Fee Amount |
| Commission Fee | 0% |
| Deposit Fee | $0 |
| Withdrawal Fee | $0 |
| Inactivity Fee | $0 |
Pros
Low costs
Intuitive trading platform with advanced tools
Allows cryptocurrency trading
No minimum deposit
24/7 customer support
Allows trading from one account
Cons
Educational resources are limited
Doesn't support mutual funds trading
A transfer fee of 75%
67% of retail investor accounts lose money when trading CFDs with this provider.
Invest in Square – Broker Price Comparison
Picking a broker can be quite challenging when they all have their fair share of noteworthy features. But, to help you get a better idea of which among them is a good choice for you, here's a broker price comparison:
Broker
Commission
Deposit Fee
Withdrawal Fee
Inactivity Fee

eToro

0%

$0

$5

$10 monthly (after 12 months inactivity)

Avatrade
0%
 

$0

$0

$50 after 3 months/$100 after one year

Webull

0%

$0

$0

$0
What are the Different Ways to Invest in Square?
Stocks
Investing in Stocks is analogous to buying a certain fraction of the company. For instance, a company has about 200 shares or stocks in the market, and you buy 100 shares, which is equivalent to you having a 50% ownership in the company. 
However, in reality, the total circulating supply is in millions. By investing in a company's stocks, you get to share their profits and losses. It is generally ideal for a long-term investor. 
CFDs
CFDs or Contract for Differences is an investment strategy where the investor does not necessarily invest in a company. With CFDs, one assesses if the price of the company's shares will go up or down, and the profit is made if one gets the correct position. 
CFDs are generally riskier because CFD trades have a propensity of being liquidated if a certain price is reached in the direction opposite to your position.
Exchange-Traded Funds (ETFs)
ETFs stand for Exchange Traded Funds. It is a security that tracks a commodity, sector, index etc, but can be purchased on an exchange, similar to stocks. This is unlike mutual funds which do not trade on exchanges. In ETFs, one does not gain ownership of the company, or get voting rights, however, one can receive dividend payments, given that they are passed on by the funds. 
Is Square a Good investment?
Square company is a project of Twitter's Jack Dorsey and Jim McKelvey. The entrepreneurs started this venture in 2009 with the aim of developing a system that allows online payments and establishes a framework of transferring money virtually; in essence, a P2P system for currencies. The company has shown various remarkable and promising traits that make an investor intrigued and pull up their wallet. Today, Square operates in various countries including the United States, United Kingdom, and Japan, listing highly respectable members in its board of directors, such as former U.S Secretary of Treasury President Lawrence Summers. 
Ever since its inception, the company has been a portent of innovation. Square went public in 2009 with its IPO (Initial Public Offering) of $9 a share. The company's stock experienced all-time highs in April 2018 after an announcement in November 2017 that alluded on the platform to be trading bitcoin. 
Today, in October 2021, the share trades at $238.81, where it has also traded at $265 a share, with a market capitalization of $100 billion, which means an increase of 33.33 times in a span of 6 years. 
Apart from the conventional services of transactions, the company also provides other facilities to ensure their customer service and satisfaction, such as Square Payroll, Square Register etc. They claim their charges are lower compared to conventional credit cards and/or other payment services. 
Why Invest in Square?
The growth of any company is dependent highly upon its infrastructure, ecosystem, and its services. Square offers a wide range of top-tier services, not only to individuals or consumers but also to companies and organizations. 
It has become a one-stop shop for businesses, ventures, enterprises, and consumers. The company has recently added a few functions to their business ecosystems, such as cash management, marketing, payroll, and BNPL (Buy now, pay later) which allows borrowers the option of interest-free loans. 
Here is a basic trick of determining which stock to invest in: investing in stock is like investing in a company, and always investing in a company that can prove its mettle by venturing into higher and futuristic avenues.
History and Price Evaluation
This chart from macrotrends shows the general trend of the SQ, Inc. stock price since its launching. And as you can tell, the price has had higher highs and higher lows, which defines an up-trend. Recently, during the week of 11 October to 15 October, the price rose from $232.33 to $249.00. 
How to Invest in Square with eToro
Step 1: Open an Account 
The first thing you will need is to register with a broker. We recommend eToro owing to their phenomenally customer-centric servicing.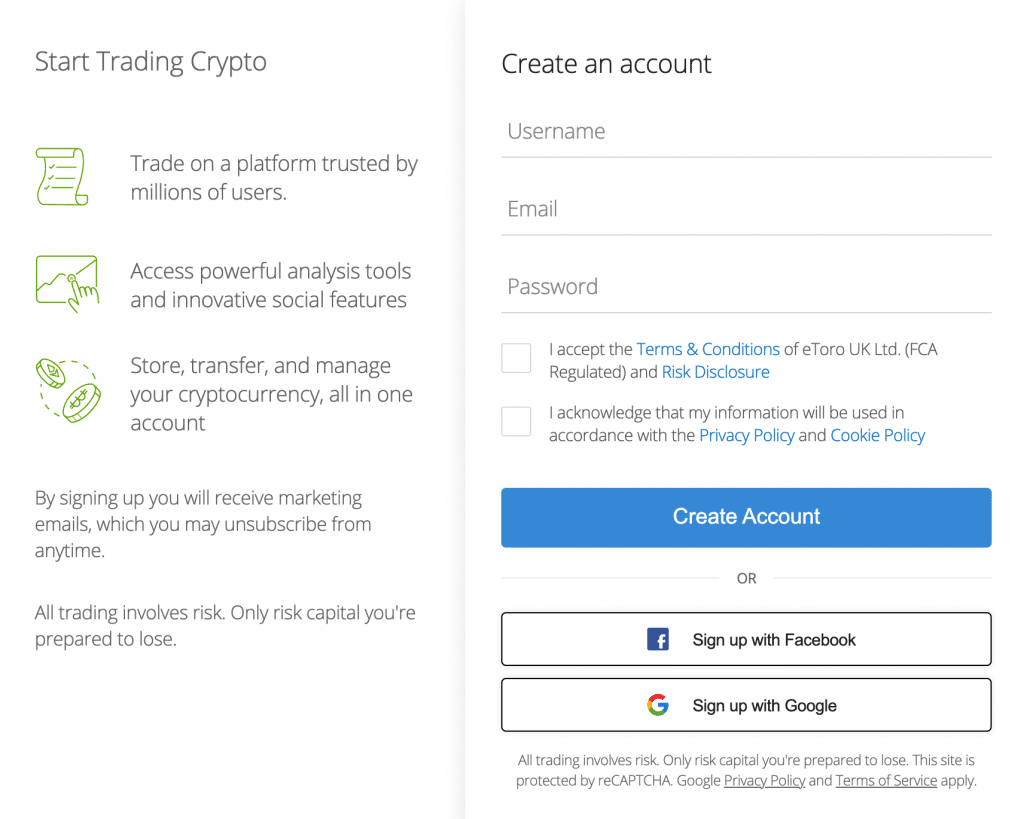 Step 2: Identity verification
Before you begin trading, you will have to verify your identity. This is owing to the fact that eToro conforms with the data protection laws and money laundering prevention rules. All you will need are: 
A photo ID. (A government-issued identification card, like passport, or driver's license)

Proof of Address. (Ban Statement, utility bill)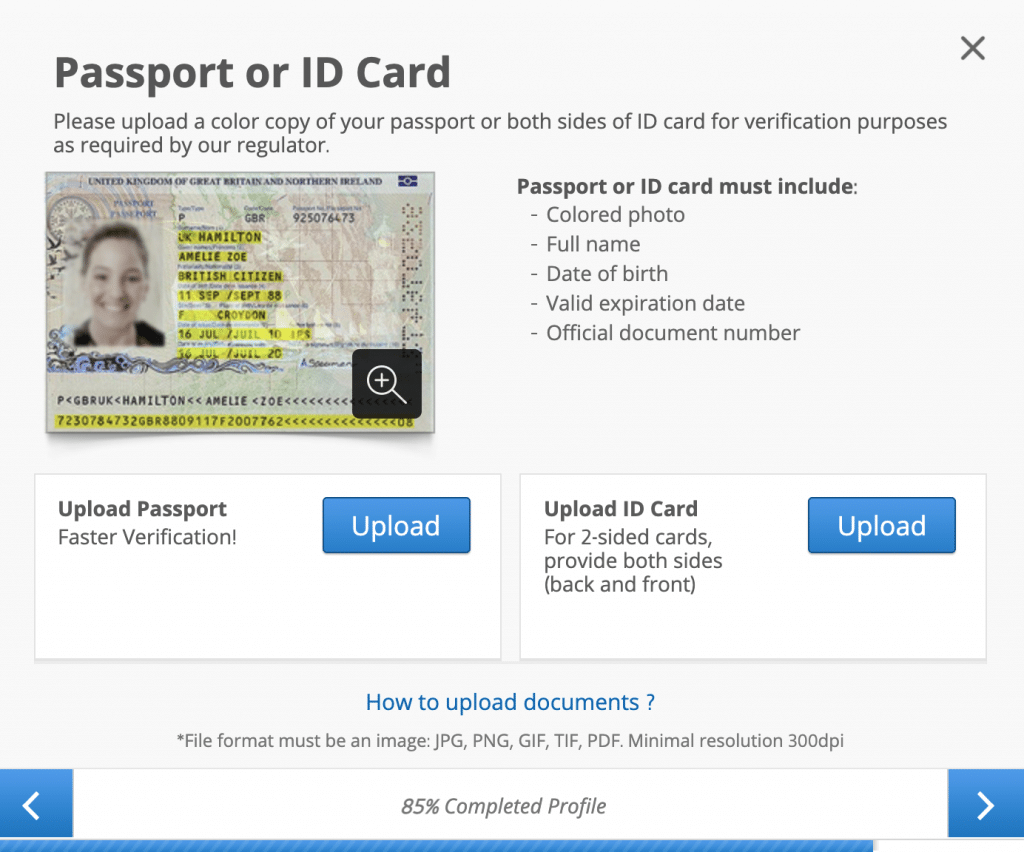 Step 3: Fund your account 
Now all that is required before you invest is to put some money in the exchange. You can transfer the amount using your debit/credit card, or using digital payment services like PayPal, Venmo, Skrill etc. 
Step 4: Invest in Square
Now, with your account setup, all you need is to invest in Square. Enter the amount you want to invest with, and click Buy.
Just this simply, you are now a Square investor!  
Conclusion
All in all, Square is a very beneficial investment that has a historical record of providing lucrative returns on investment. Jack Dorsey has a history of innovating our digital space with Twitter, and with Square, the trend only seems to continue. 
Given the diverse nature of services which the company currently provides and the path that they have set on, they are aiming to close the gap between the customers and businesses within the finance industry. It is owing to their nature of innovation and fast-paced progress that they had caught the public eye soon after they went public, and boarded the train that set them on the path of growth. 
When it comes to investment, always invest in a company that puts their money where their mouth is. The company that bridges that gap in our society and tries to ameliorate the lives of their customers, is the company that is bound to have a plethora of loyal customers. 
The aforesaid is equally true when choosing a platform to fund and manage your portfolio. Choosing a trading platform that provides research tools, and diversification in options is always the choice that no investor ever has to regret. 
Best Broker to Invest in Square – eToro
FAQs
Are these the only platforms that I can use to invest in Square?
How do I figure out if I should invest in Square stocks or CFDs?
What is the future of Square as a company?