How To Invest in REITS – Best REITS To Invest In 2021
Real estate investment trusts (REITs) are companies that operate, own, or develop real estate projects to generate income. REITs are associated with almost every type of property you can think of, including offices, warehouses, apartment complexes, shopping malls, medical centres, hotels, farmland, data centres and cell towers. Most REITs only focus on a single type of property, but some also diversify their property portfolios. Investors can buy shares of REITs in exactly the same way as the traditional stocks. However, there are some complexities associated with REITs that new investors should know before buying.
In this guide, we'll explain how to invest in REITS and provide you with all the information required to make the best investment decision.
#1 Broker to Invest in REITs – eToro
How to Invest in REITs – Step by Step Guide 2021
If you do not know how to invest in REITs, don't worry, we've got you covered. Just follow the steps in our guide and you'll be set within minutes.
Step 1: Open an account on eToro – Investments in REITs can only be made through a broker. eToro is our recommended broker. To register, go to eToro.com and click on the "Join Now" icon and provide details in the required fields.
Step 2: Identity verification – You have to verify your identity to satisfy the regulatory compliance on the eToro platform. All you have to do is provide proof of address (utility bill or bank statement) and a photo ID (passport or driving licence).
Step 3: Fund your account – You'll have to fund your account after the verification. Just press the "Deposit Funds" button and enter the amount you intend to invest and click "Deposit."
Step 4: Invest in Reits – And you are all set to invest! Type the name of the REIT you want to invest in the search bar, click on its name, and enter the amount you want to invest, and click "Buy."
Where to Invest in REITs – Choose a Broker
Taking into account all the available choices, settling on a broker can be a difficult problem. But, to make it easy for you, we have done our research! We are listing below our detailed reviews of the best brokers you can use to invest in REITs.
1. eToro – Best Overall Way to Invest in REITs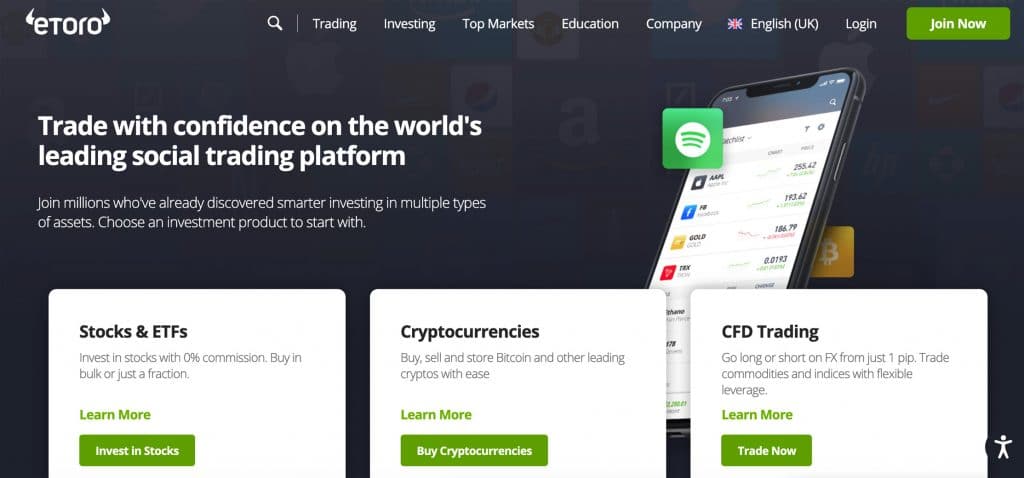 eToro is our top-rated choice on this list. eToro was launched in 2007 and now, with over 17 million active users in 100 countries, it has become the most popular investment broker for not only beginners but also experienced investors. eToro has achieved such success by combining advanced features with user accessibility needs.
Security & Privacy
eToro is safe as top-tier financial regulators regulate it around the world, including FCA, ASIC and CySEC. Being well regulated is an important aspect, it ensures that not only investors have their money in safe hands, but also their data is protected. By mandatory SSL encryption, they protect your data from any attempts from hackers trying to take advantage. On eToro's platform users also have the option to enable 2FA as an extra security measure and we recommend you enable it from the beginning to minimize the chances of your account ever getting compromised.
Fees & Features
eToro platform, despite having easy to use modern interface, does not lack of advanced functionality that experienced traders love. eToro's extra attention to social or copy trading sets it apart from all the other brokers. Using its internal social media platform, users can not only learn the nuances of trading but can also copy successful strategies of experienced investors and have secondary income streams with little effort. Users looking for a range of investing options would also be satisfied with the eToro platform, as it offers various markets like forex, equities and cryptocurrency under the same platform. Another distinctive feature of eToro is its emphasis on being commission-free, which means there are absolutely no commission deductions.
eToro Fees
| | |
| --- | --- |
| Fee Type | Fee Amount |
| Commission Fee | 0% |
| Deposit Fee | $0 |
| Withdrawal Fee | $5 |
| Inactivity Fee | $10 (Monthly) |
Pros
Social Trading
No Commissions
Well Regulated
User-friendly
A lot of deposit options
Safer login (2FA)
Demo account
Cons
Live chat support only available to eToro club users
67% of retail investor accounts lose money when trading CFDs with this provider.
2. AvaTrade – Accessible Way to Invest in REITs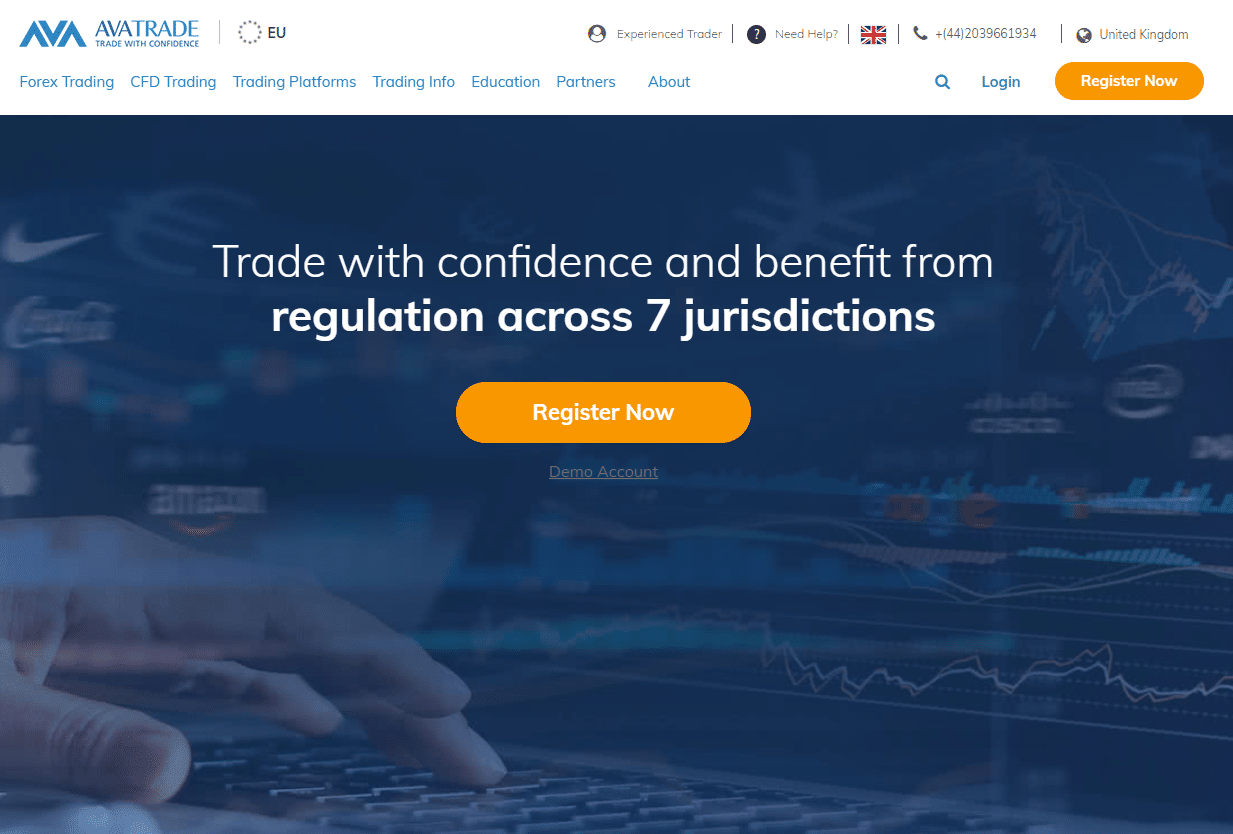 AvaTrade is the oldest broker on our list. It was founded in 2006 and has been since successfully competing at the top level. Being one of the largest and highly respected platforms, AvaTrade serves users from various regions around the world and allows trading accounts in many currencies. Despite offering a wide range of investment opportunities, AvaTrade is mostly known as a forex and CFDs broker.
Security & Privacy
As per the American Institute of Certified Public accountants, AvaTrade complies with Web Trust. It uses 256-bit SSL encryption throughout its platform along with McAfee Secure and True-Site seal of identity assurance to safeguard the data, money and identity of its users. Additionally, being an old operator, it is very well regulated by most of the top financial regulators in the world. Therefore, you can trade on this platform safely with the confidence that the broker is reliable.
Fees & Features
AvaTrade offers specialized learning material for new users in its "Trade for Beginners" section. For advanced users, it offers AvaTradeGO and Meta Trader 4 support for automated trading and compatibility with AI trading. AvaTrade has also established a dedicated site called "The Sharp Trader," containing all the information a new investor might need. To Muslim investors, AvaTrade offers swap-free accounts that function under Islamic Sharia Financial Rules of trading with no interest. Also, professional traders may operate MAM accounts, with more leverage and investment options, which also allows them to manage trades of their clients. However, we find spreads offered by AvaTrade are less competitive as compared to eToro. Inactivity fees are also the highest for AvaTrade in our list.
AvaTrade Fees
Fee Type
Fee Amount

 

Commission Fee

0%

Deposit Fee

$0

Withdrawal Fee

$0

Inactivity Fee

$50 after 3 months & $100 after 12 months
Pros
Different trading platforms
Supports 14 languages
Very well regulated
Great tools for research
Cons
High inactivity fees
Slow withdrawal (Over 3 days)
No 2FA login
No price alerts
Your Capital is at Risk.
3. Capital.com – Invest in REITs Easily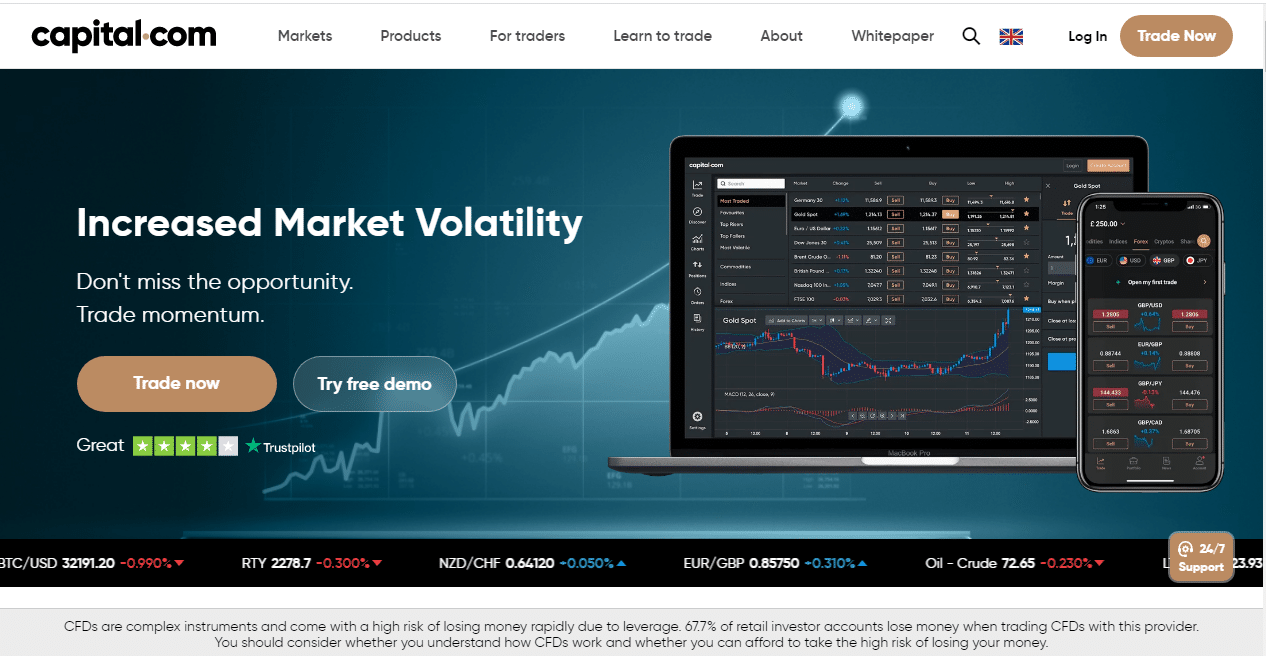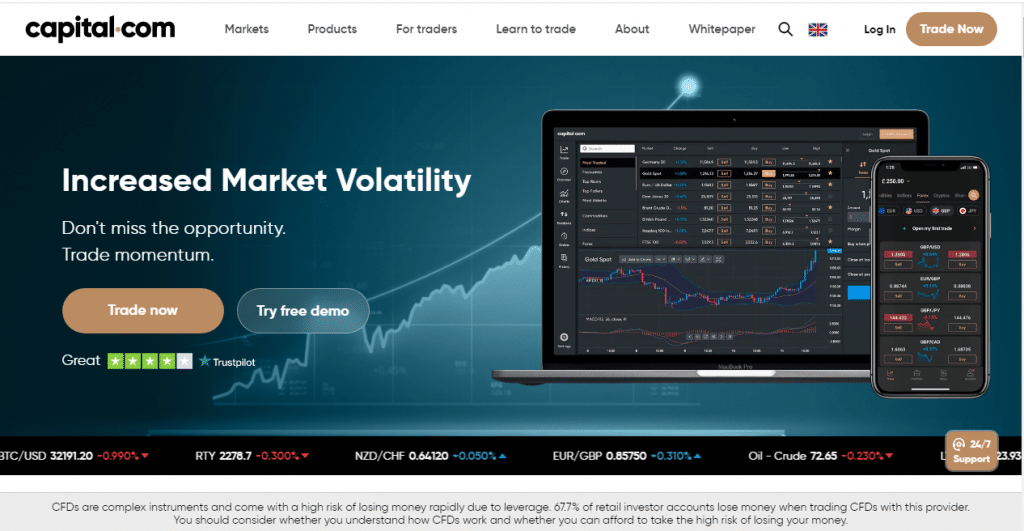 Among the other platforms on our list, Capital.com is relatively a new entrant in the brokerage market. It was founded in 2016 but has caused positive disruption in the investment world by accepting users from 183 countries. The main focus of Capital.com is their extensive trading guide material to help and educate new investors instead of taking advantage of them. Additionally, the broker has nearly a million active users with $88 billion worth of trades executed successfully.
Security & Privacy
With increased regulation, the platforms need ever more sensitive personal information to comply. However, one advantage of being a new entrant for Capital.com is that it offers the best data protection framework in the market, so you can be sure that your data won't be sold to third parties or go missing. Along with GDPR data protection rules, Capital.com is also in full compliance with PCI security standards. Just like eToro, Capital.com also complies with FCA and CySEC regulations.
Fees & Features
The feature that sets Capital.com apart from its competition is its help material for new investors. The platform offers so extensive learning material that perhaps one would not need to look anywhere else to learn. New traders can also try out the practice account to minimize their initial trading inertia and losses. For experienced traders, Capital.com offers Meta Trader 4 (MT4) like charting options and technical indicators. However, we find that eToro's social platform can be more beneficial to people than Capital.com's learning guides.
Capital.com Fees
| | |
| --- | --- |
| Fee Type | Amount |
| Commission | 0% |
| Withdrawal Fee | $0 |
| Deposit Fee | $0 |
| Inactivity Fee | $0 |
Pros
Extensive learning material
Free demo account (no expiration)
Highly Regulated
Risk management tools
Cons
High initial deposit
Web platform offers no price alerts
Real stocks and CFD only
Smaller currencies are not available
 76.72% of retail investor accounts lose money when trading spread bets and/or CFDs with this provider.
Invest in REITs: Broker Price Comparison
Still can't seem to decide on the best broker? Well then, here is a very effective table to help you decide. Besides, we would recommend you to go with eToro. You won't be disappointed!
| | | | | |
| --- | --- | --- | --- | --- |
| Broker | Commission | Deposit Fee | Withdrawal Fee | Inactivity Fee |
| eToro | 0% | $0 | $0 | $10 monthly (after 12 months inactivity) |
| Capital.com | 0% | $0 | $0 | $0 |
| AvaTrade | 0% | $0 | $0 | $50 after 3 months, $100 after 12 months |
What are the Different Ways to Invest in REITs?
The investment in REITs provides consistent dividend-based income, and that is why they are considered total return investments. Compared to traditional investing in stocks, REITs are relatively new investment choices. If you want to invest in REITs, then you must know the paths that could be travelled on to reach the desired destination. For beginner investors, it could be a hard task to grasp the technical differences of different investment options. Oftentimes, even after spending a lot of time learning about all the financial complexities, new investors often find it jarring that their chosen investment method is not supported by their broker. We understand these problems, and that's why we have selected the most appropriate three ways to invest in REITs and have tried to explain them simply.
Stocks
If the REIT you want to invest in is listed on a public stock exchange, then you can buy its shares just the same way as you would purchase any other stock. Stocks – also known as shares – are considered long-term investments and provide a simple and very effective way to invest in REITs. When you invest in the share of a particular REIT, you are buying a small part of that REIT and hence becoming a minority owner of the REIT. If you buy enough stocks, you can be eligible for dividends. Dividends are a way by which companies share their profits with their shareholders – after each quarter or a complete business year. Moreover, if you buy enough stocks of a REIT to meet the requirement of attaining voting rights, you can help decide the future of the company by voting on important decisions in shareholders' vote-based decisions. REITs are an extremely good choice for dividend-based passive income generation.
CFDs (Contract for Difference)
As the name suggests, Contracts for Difference (known as CDFs) are contracts between the broker and the investor where instead of buying the stock, you speculate on the price of the share whether it will rise or fall. If you get the direction of the stock right, you earn a profit. CDFs for REIT investments are considered investment instruments with high underlying risk. There are significantly high chances of trade going against you because of various externalities and you also don't get any extra benefits like voting rights. Having said all this, people do make money by investing in REITs CDFs – sometimes even more than the stocks. One should always keep the potential risks of this approach in mind.
ETFs (Exchange-Traded Fund)
Exchange-traded funds are mostly referred to as ETFs and they are the last way of investing in REITs on our list. The ETFs are the funds created by the fund manager or the brokerage that comprises their investment portfolio. You don't own the company's stock directly when you invest in an ETF, but rather a portion of what the fund owns. By investing in ETFs, you are entitled to dividends, but don't get any voting rights. REIT ETFs provide a low-risk affordable strategy for a stable source of income and capital appreciation for a fixed-income portfolio.
Best Ways to Invest in REITs
Having learned about all the three best options for investing in REITs, it's time to understand which strategy could benefit you the most. The most crucial aspect to remember here is the time length that you plan to keep your investment going. Appropriate REIT investment depends upon your tolerance for risk, goals and overall investment outlook. If you don't know what company is a REIT, search "The REIT Directory" in your browser and you will get the list.
Invest in REITs Stocks
Even though REITs trade in public markets exactly as conventional stocks do but there is one important difference. Instead of raising capital from an appreciation of stock value, a REIT aims to make a persistent stream of income for investors through dividends. Moreover, the profits of a REIT do not have to be subjected to taxes at the corporate level, which means investors get extra cash. REITs use "Generally Accepted Accounting Principles (GAAP)" to define net income as a primary measure to assess earnings and dividend-paying potential. The secondary indicator for a REIT's operational performance is "Funds from operations (FFO)," a measure that assesses how much cash is generated by the operation. It is worth noting here that real estate usually appreciates with time and this should also factor into your calculation before selecting a REIT to invest in its stock. Earning growth of a REIT stock is usually produced by lower costs, higher revenues (increased rents), and new business ventures (property development and acquisition).
Invest in REITs CFDs
If you are not into long-term investment and instead rather like short-term scenarios, then investing in a REIT CFD might be what you need. A REIT-based CFD investment is enticing as it allows investors to achieve rapid growth without high capital expenditures. During periods when the economy is not doing good or you know that a particular REIT is going to struggle in near future, you can take a short position using a CFD which means that you make a profit if the value of the REIT stock decreases. One thing you should remember is that CDFs are not for risk-averse investors, so if you don't like high risk, then go with the other two ways of investing in our list.
Invest in REITs ETF
The Public trading REIT ETFs offer less risk and more safety than the REIT stocks. The REIT ETFs are funds that consist of multiple REITs shares offered by a brokerage or fund manager. For instance, if you buy a share in a REIT fund offered by eToro, you'll be investing your money in over two dozen REIT stocks comprising various sub-sectors such as tower, residential, commercial and others. REITs ETFs have the least risk compared to the other two above-mentioned options. So, if you have limited investing experience, we recommend you benefit from this safer and lower-risk investment offer while increasing your returns.
Are REITs a Good Investment?
Now that we've looked at different ways to invest in REITs, and we think by now you understand all the ways to invest in REITs and how they differ from traditional stocks; it is time to consider the most important question: are REITs good investment? The short answer is that it's up to your needs and wants. As mentioned earlier, REITs mostly focus on producing consistent dividends. Therefore, if you are looking for high returns such as in a range of 30% – 40% then it's better for you to look to other innovative sectors. Besides, the investment in REITs provides a very low interrelationship with other sectors' stocks.
Better Long-Term Performance
From a historical perspective, REITs have performed exceptionally well, in the long run, relative to traditional stocks. Some REITs have generated consistent dividend cash streams for investors for decades-long stretch. For instance, REITs in the last 40 years were able to generate 11.4% annual compound total average return as per FTSE Nareit composite index, which is almost the same as S&P 500's returns for the same period.
Diversification and Transparency
As compared to real estate investments, REITs are very transparent in their operations. Real state operators can make rash and risky decisions, causing distress to everyone involved. REITs, on the other hand, are monitored by auditors, independent directors and financial analysts. REITs are also under regulation by all the major global regulators, like SEC, FCA and ESMA. Additionally, REITs offer an excellent opportunity to investors to diversify their portfolios outside stock and bond markets. Diversification reduces the overall risk factors for investors without any impact on returns.
Attractive Income and Liquidity
Strong consistent dividend income is another reason to invest in REITs. This pattern has a proven track record of more than 50 years and it is expected to continue in the future as well. REITs are required by IRS regulations to distribute 90% of their income subjected to tax – most REITs distribute more than 90% – and that is why investors get attractive dividend payments. On the other hand, investment in the actual real state is illiquid, meaning that you cannot convert it to cash readily if you wanted to. But investment in a REIT is highly liquid, you can log in to your broker account online anytime and withdraw the amount you need.
Investing in REITs – What are the Risks?
Risk factors associated with a REIT stock depend on the type of real state the REIT owns. For instance, a hotel REIT would perform badly in an economic downturn, as people would cut their leisure eating habits. Similarly, during a pandemic (like the current one), a health care REIT would perform very well. Then some risks similarly affect every REIT. For example, high interest rates are not good for any REIT because of the business model they operate on. The higher interest rates not only increase the cost of borrowing for REITs but can also destabilize the values of properties.
Market Risk
REITs are traded on major public stock exchanges and therefore are subjected to price fluctuations in the markets. This means that if you sell your shares at a lower price than what you bought for, you can lose money. Natural disasters, interest rates and recessions are the most notable market-associated risks of REIT's investment. On the occurrence of any one of the causes mentioned, the market will react accordingly and affect your investment.
Leverage and Tax Risks
Leverage risk emerges when a REIT decides to further invest the borrowed money. Leverage use can cause unforeseen losses and expenses, worsening the performance of investments made, which in turn will impact you as well. Also, dividends received from a REIT investment are required to be declared as ordinary income and hence they will be subjected to the top tax rate during the calculations. This is a very crucial aspect of REITs investing and investors should be well aware of these implications.
How to Invest in REITs with eToro
After learning everything that is required, getting started and taking the first step can feel daunting, fee terms and structures could make it hard for new users to decide on the best broker. This is why we have created this detailed guide so you can get started on our recommended REITs investment broker, eToro.
Step 1: Open an account with eToro
Before you start your journey of investing in REITs, you'll need to join a reputable brokerage. eToro is our top investment platform because of its excellent correlation of simple fee structures, security and top-tier advanced trading platform tools. Type eToro.com in your browser and press the 'Join now" icon and provide the required information to register.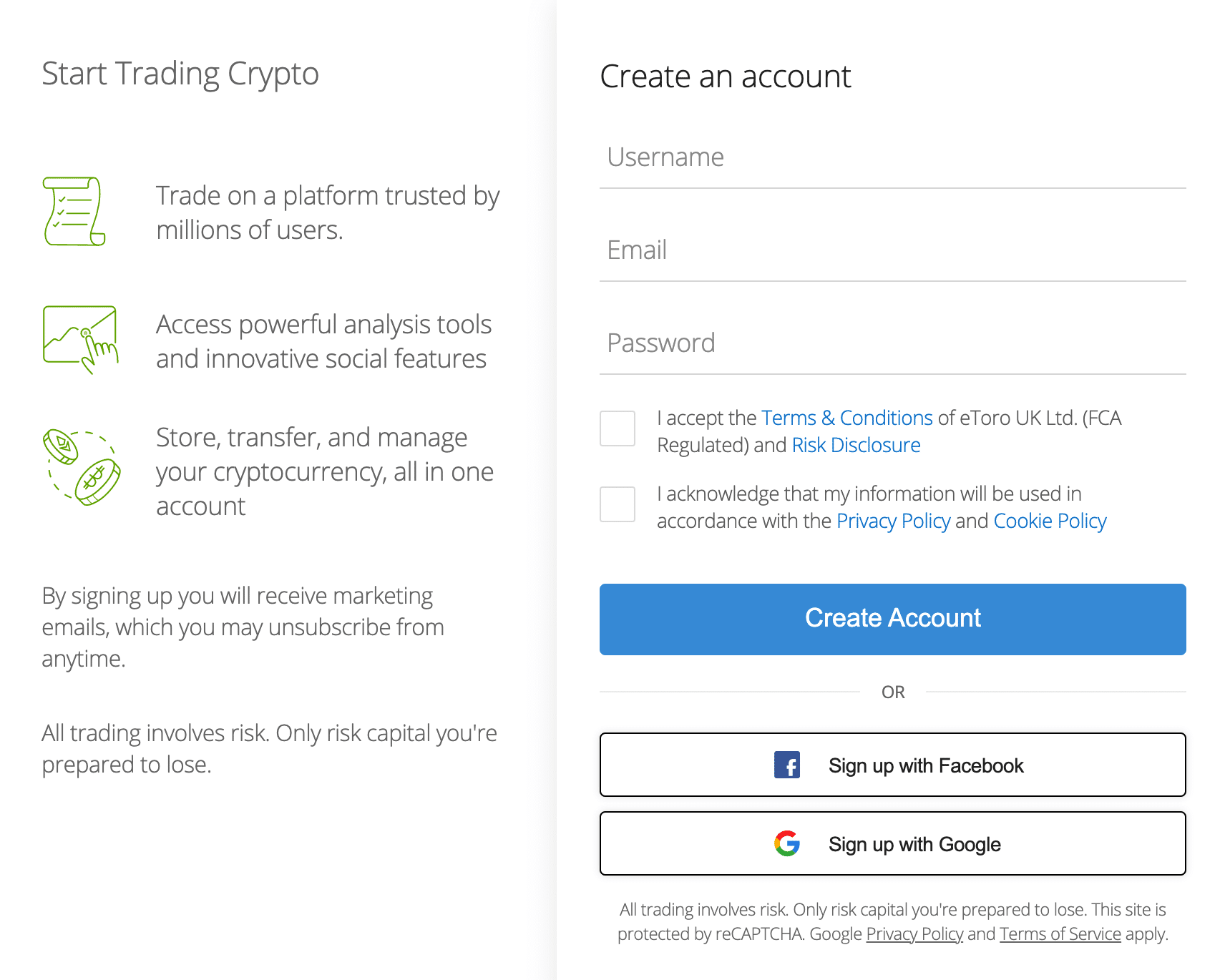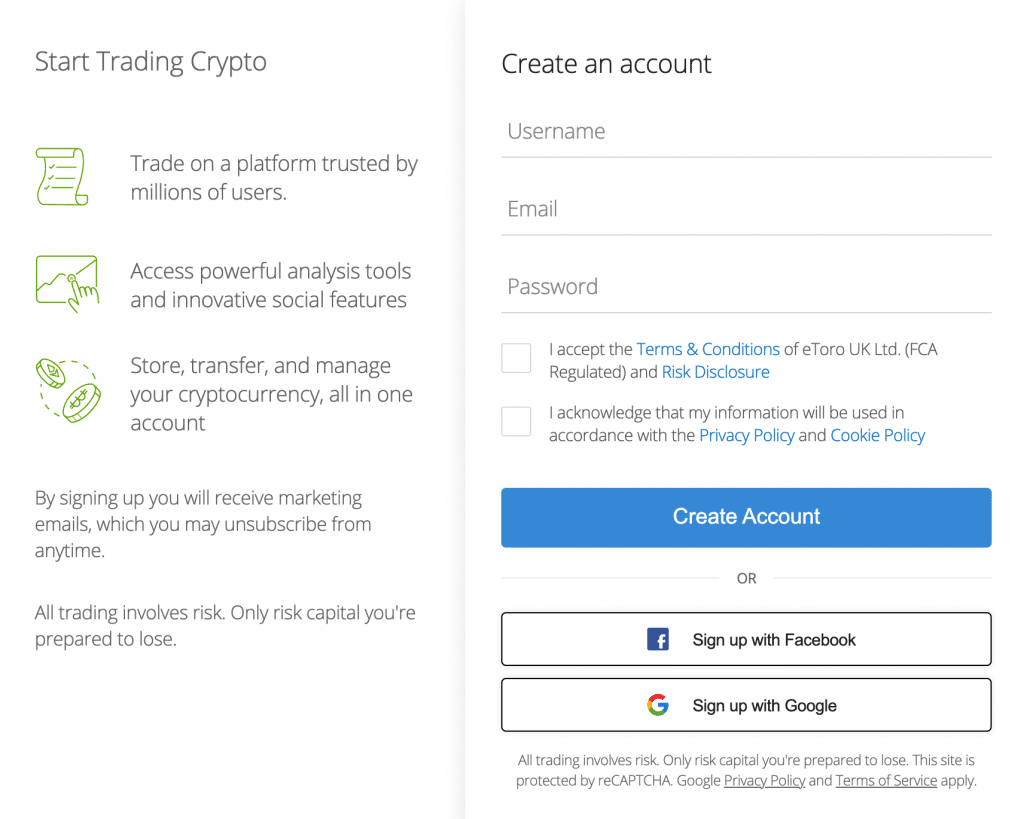 Step 2: Verify your account
After completing registration, the next step is to verify your identity. You can't start trading without identity verification. The reason for this is that eToro is extremely well regulated and, to comply with stringent rules regarding clean investing and data protection, they need to verify your identity. It's not difficult at all. You just have to provide a photo ID (national ID card or passport) and proof of residence (utility bill or bank statement).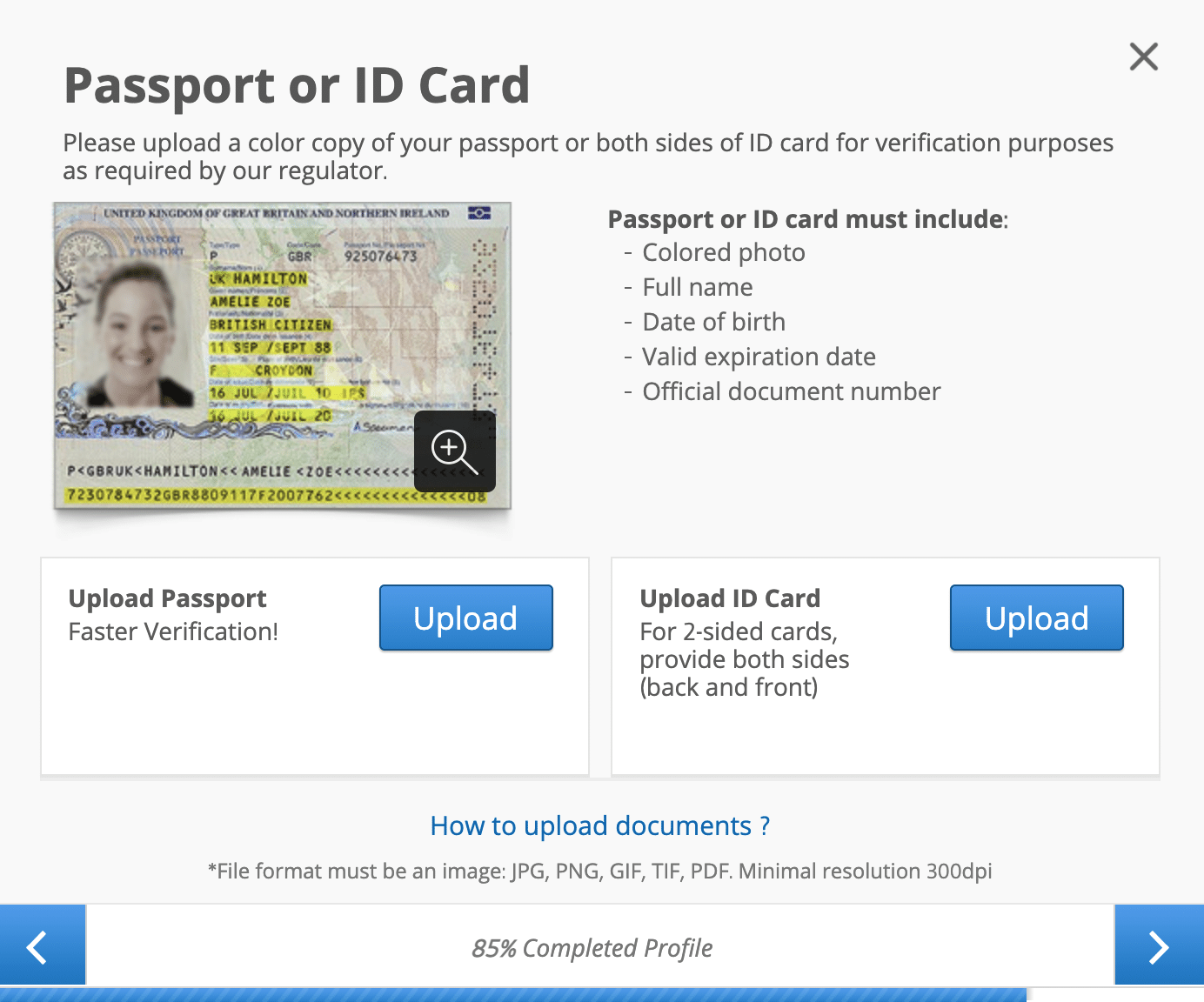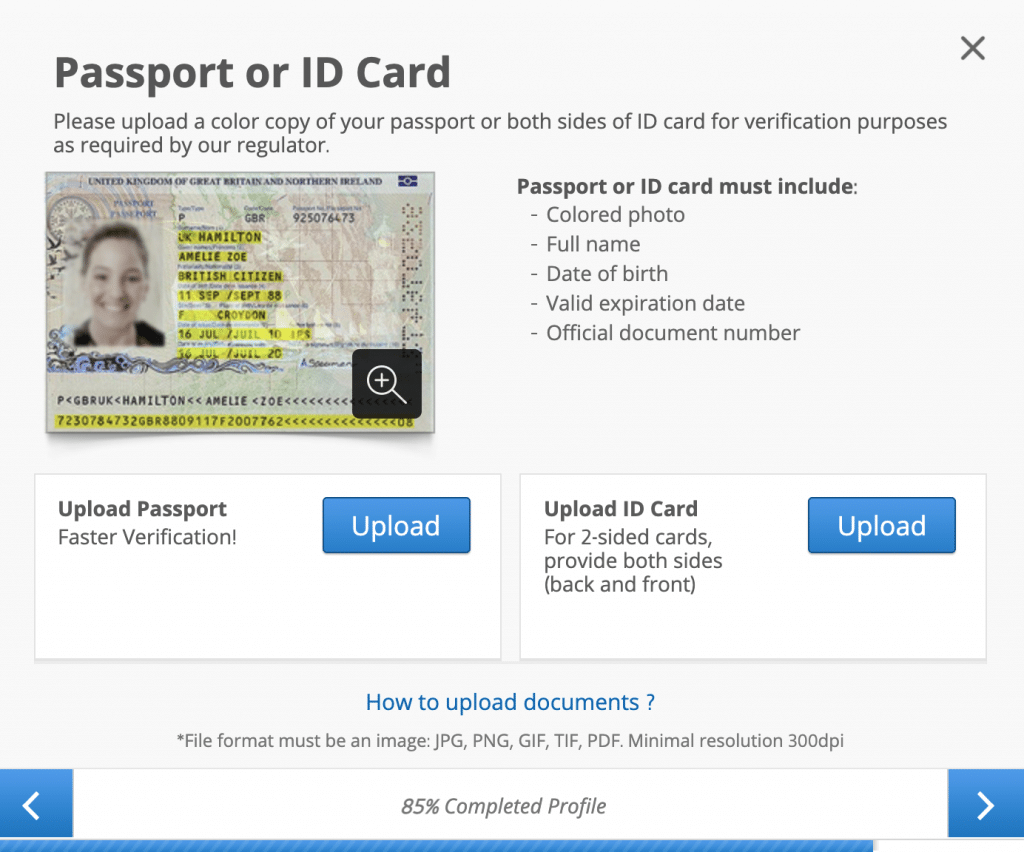 Step 3: Fund your account
After verification, you'll have to get funds into your eToro account. It's very simple. Just click on "Deposit funds" and transfer the amount using the method most convenient for you. eToro allows a wide range of payments methods such as bank transfers, debit/credit cards and online platforms like PayPal, Wise and more.
Step 4: Invest in REITS
After funding your account, you can invest in REITs. That's it! Type the name of the REIT you want to invest in into the search bar on eToro, press the "Trade" icon, enter the amount you intend to invest, and click "buy." Congrats, you are now a REIT investor!
Conclusion
For any investor, especially for beginners, the biggest mistake would be to buy stocks they don't know about. REITs can be a difficult investment if you don't understand all the important fundamentals involved. That is why we have tried to give all the required information in this comprehensive guide. We have talked about what REITs are and how to invest in them. We have explained the upsides of investing in REITs and the underlying risks involved in the investments. Lastly, after our thorough research and comparative analysis of all the major brokers, we have made it easy for you to choose the best broker – eToro. Thank you for sticking with us till the very end of this guide. If you are still not sure about investing in REITs, then worry not. We have plenty more investment-related guides for you.
Best Platform to Invest in REITS – eToro
FAQs
Where can I Invest in REITs?
What's the Future of REITs?
Should I Invest in Individual Stocks or a CFD?