How To Invest in GameStop – Investing in GameStop for Beginners 2021
If you're interested in video games, you'll likely have heard about the gaming giant GameStop.
GameStop Corp is a video game, electronics, and gaming merchandise retailer located in Texas, USA. Founded in 1984 as a software retailer, GameStop quickly began to focus on video game sales. Today, it is the biggest video game retailer in the world. It continues to grow and has had quite the year at the stock market as well.
In this guide, we will give a rundown on some of the pros and cons of investing in GameStop today as well as walk you through getting started. If you are struggling to figure out how to invest in GameStop, we have prepared this handy guide to get you started right away.
#1 Broker to Invest in Gamestop – eToro
How to Invest in Gamestop – Step by Step Guide 2021
Step 1: Complete the Registration with eToro – We recommend eToro to register. Simply click on 'join now' and get started.
Step 2: Verify Yourself – Provide a photo ID and proof of address. These will include your passport/driving license and a bank statement or utility bill.
Step 3: Fund Your Account – You will need some starting amount in your account to invest in a stock. This is the next step after verification. To do so, click on "deposit funds", enter an amount, and click on "deposit". You are done!
Step 4: Invest in GameStop – Head to eToro.com. Simply type "GameStop" in the search bar, press "Trade" and enter the amount you would like to invest. Upon entering the amount, press 'buy', and you are done.
Where to Invest in GameStop – Choose a Broker
Today, there are a plethora of options available when it comes to choosing a broker online. It can get a bit hard to narrow down the best options and choose one. Though with the rise of online trading platforms all offering great features, it becomes important to research and compare them if you wish to arrive at an informed decision. Therefore, we have done the research for you. Go through in-depth reviews of the best platforms below and make your pick to invest in GameStop today.
1. eToro — Best Overall Option to Invest in Gamestop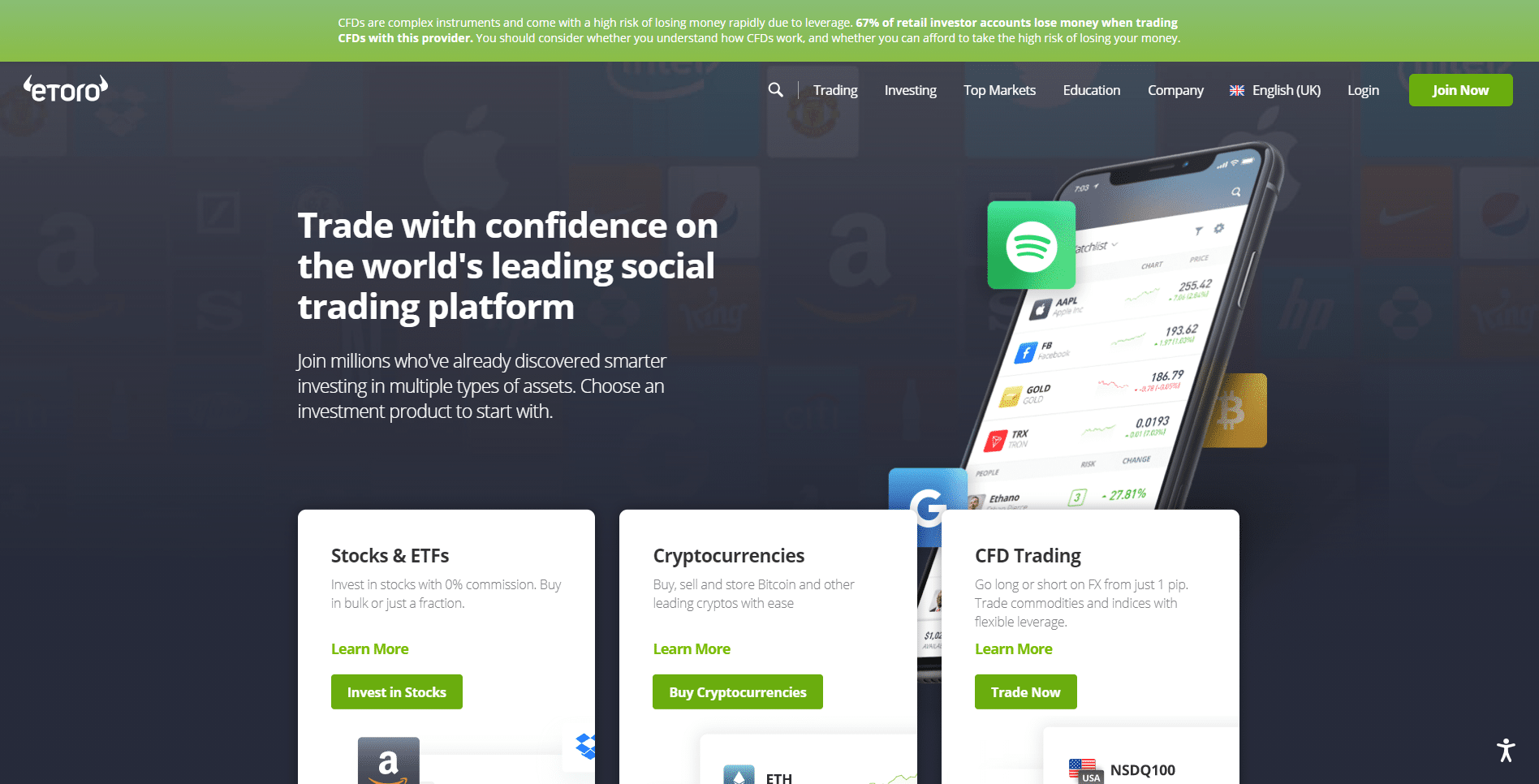 Continuing to grow ever since its inception in 2007, eToro is the best platform on our list. It boasts of having over 17 million users and growing and has emerged as the go-to option for trading among both beginners and experienced traders. It offers a host of innovative features all contained in simple, easy-to-understand packages.
Security and Privacy
It is understandable to have concerns over security when pursuing an online platform that deals with your money. We strongly recommend doing whatever needs to be done to be sure about the security of the platform you operate on before making any transactions. eToro is regulated by FCA & CySEC meaning both your data and money are well protected. eToro makes sure to encrypt any sensitive data provided by you to protect it from hackers. Additionally, you can enable 2FA, the last line of defence in case your account gets hacked.
Fees and Features
Don't be fooled by the simple user interface of eToro as it packs an abundance of all-around great features behind it. For beginners, there's an incredible feature that lets them copy the patterns of experienced traders, called "CopyTrading". It helps you create a source of continuous, steady income without knowing much about trading. It also helps you get better. Experienced traders have a variety of markets to explore other than stocks, such as cryptocurrency and forex.
eToro Fees
| | |
| --- | --- |
| Fee Type | Fee Amount |
| Commission Fee | 0% |
| Deposit Fee | $0 |
| Withdrawal Fee | $5 |
| Inactivity Fee | $10 (Monthly) |
Pros
The platform is regulated
It is commission-free
The feature of CopyTrading to help beginners
Simple, easy-to-understand interface
Offers SSL encryption
2FA features to protect your sensitive information in case of hacking
Cons
Does not have MetaTrader support
67% of retail investor accounts lose money when trading CFDs with this provider.
2. AvaTrade – Accessible Platform to Invest in GameStop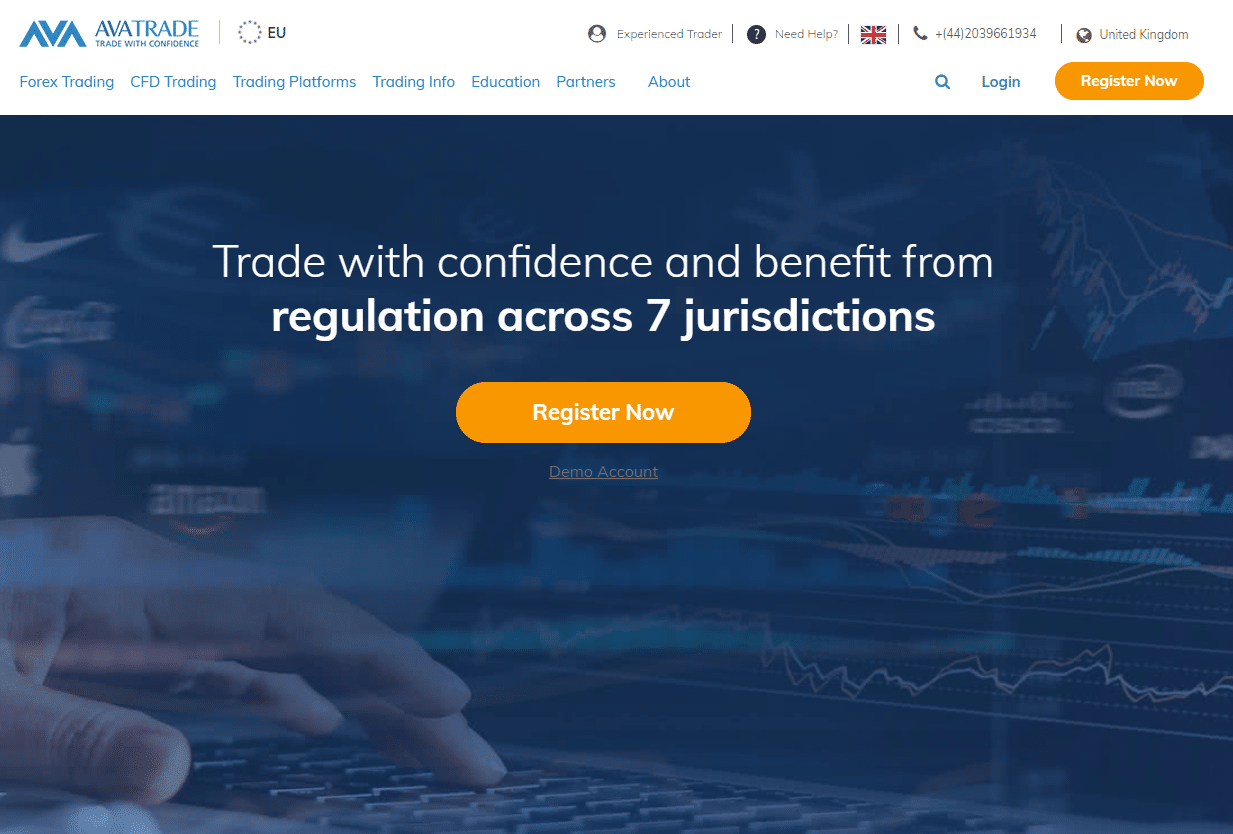 A true veteran of the market, AvaTrade has been around since 2006. It is easily the oldest platform on our list. One can say it has managed to stay in the competition for so long by keeping up with the trends and adapted moving forward. Not only does it provide a secure and simple platform to use, but it also covers a wide variety of markets. If you wish to expand in other than GameStop stock, AvaTrade has you covered.
Security and Privacy
AvaTrade has always relied on the best practices to ensure top-notch security and they continue to improve on them with time. The platform is protected with McAfee secure integration that obscures any sensitive information such as card details or identification verification documents. It also uses 256-bit SSL encryption to avoid hackers intercepting any of your personal data.
Fees and Features
Other than the rather steep inactivity fee, AvaTrade's commission-free fee structure makes sure that you don't fall prey to any hidden fees. Their customer support is top-notch as well. You can call them or contact them by email any time of the day to receive instant service. This helps beginners to venture comfortably into the trade market.
Experienced traders get the option to use a professional trading account once they meet certain requirements, receiving access to a variety of financial instruments. An innovative option AvaTrade has come up with is the Islamic account, an account completely in alliance with the Islamic rules, giving more people access to trading.
AvaTrade Fees
Fee Type
Fee Amount

 

Commission Fee

0%

Deposit Fee

$0

Withdrawal Fee

$0

Inactivity Fee

$50 after 3 months & $100 after 12 months
Pros
Professional trading account for experienced users
Completely regulated platform
Commission-free fee structure
Islamic account to make trading available to more people
Excellent 24/7 support system for grievance handling
Cons
Rather high inactivity fees
Not available in some countries
Your Capital is at Risk.
3. Capital.com – Invest in GameStop CFDs Easily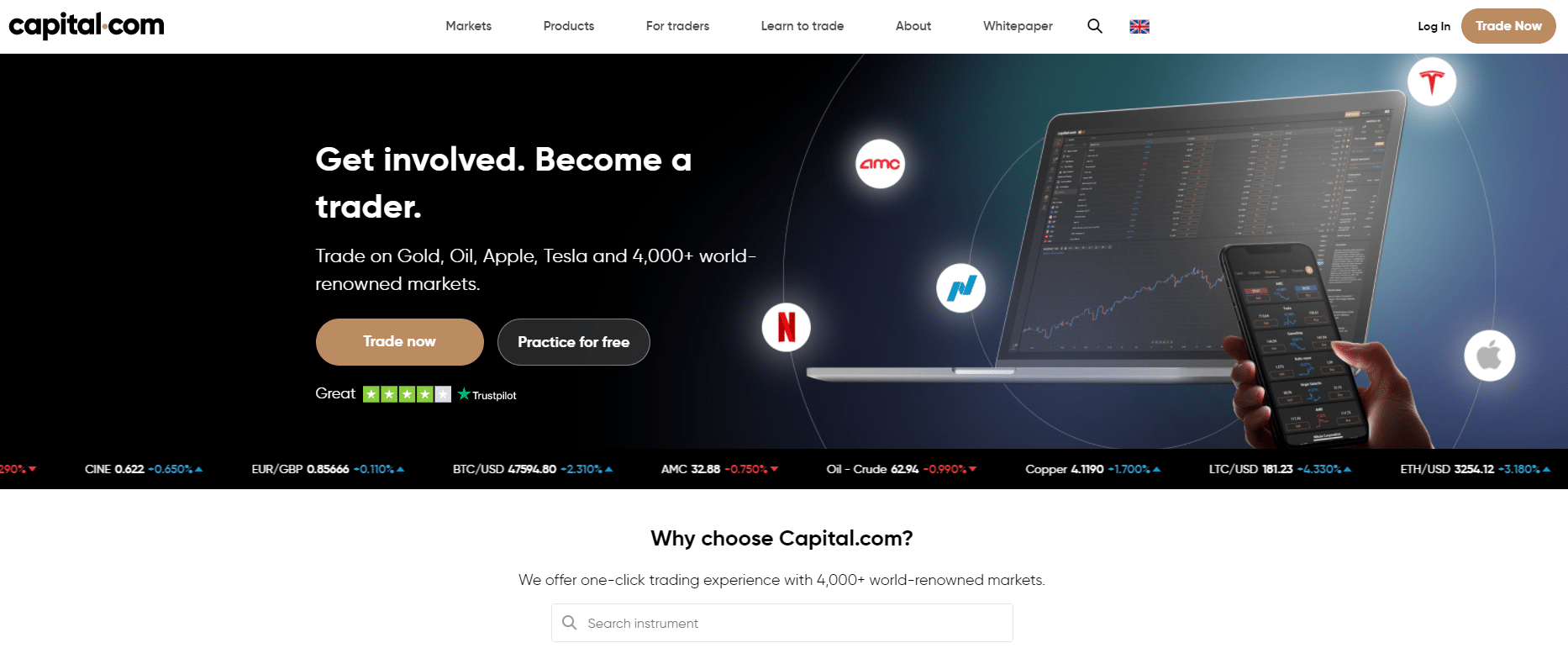 With access to over 4,000 markets worldwide, Capital.com has emerged as a giant in the world of trade investments. What truly sets them apart is their ability to help new traders and make them as good as seasoned traders with time. They offer numerous guides, tutorials, and instructions to educate beginners and help them navigate the trade market. Educated and experienced traders in turn invest more.
Security and Privacy
Similar to eToro, Capital.com is also governed by FCA and CySEC, meaning top-notch protection of your data. The platform goes over and above to protect its users' sensitive information, putting only the best practices to use. They follow the PCI data security standards, which ensure that the information about the users would not be sold to the highest bidder or go 'missing'.
Fees and Features
Capital.com is an excellent platform for beginners and people new to trading. Not only will you get guides and valuable information on every kind of market, but you also get to practice trading with a 'practice account'. This demo account essentially lets you try out your moves before you go live with real money. Experienced traders, on the other hand, get features such as TradingView integration, with which you use advanced charting tools to plot market movements in advance.
Capital.com Fees
| | |
| --- | --- |
| Fee Type | Amount |
| Commission | 0% |
| Withdrawal Fee | £0 |
| Deposit Fee | £0 |
| Inactivity Fee | £0 |
Pros
The feature of Practice Account for newcomers
TradingView integration feature for experienced users
Informative guides to learn about the market
Cons
Trading options limited to CFDs and stocks only
Relatively new in comparison to competitors
 76.72% of retail investor accounts lose money when trading spread bets and/or CFDs with this provider.
Invest In GameStop – Broker Price Comparison
To sum everything from above up, here is a comparison of the prices of all available platforms. This will help you get a clear idea of where to invest in.
Broker
Commission
Deposit Fee
Withdrawal Fee
Inactivity Fee

eToro

0%

$0

$0

$10 monthly (after 12 months inactivity)

Capital.com

0%

$0

$0

$0

AvaTrade

0%

$0

$0

$50 after 3 months, $

100 after 12 months
What Are The Different Ways To Invest In GameStop?
As a new investor, it can be difficult to gauge the different options available to you and more importantly, understanding the differences between them all. You're often left trying to understand financial jargon and when you do arrive at a decision, you need to see if your broker supports your method. To get you over the technical barrier stopping you from investing, we've broken down the three main ways you can invest in GameStop.
Stocks
Stocks are perhaps the most common way to invest in any company's shares. They are easy to understand, hence, making them a great option for first-time investors, and they offer long-term benefits. Put simply, when you buy a share in GameStop, you buy a part of its ownership, legally becoming eligible to receive dividends periodically. A dividend is a part of a profit distributed amongst shareholders. You also get voting rights proportional to your share in GameStop in shareholder meetings.
CFDs (Contract for Difference)
A CFD is an option to invest in a company without buying any shares and thus, any ownership as well. What you do is speculate whether the price of shares will increase or not, earning profits when you get the direction right. Since you don't have ownership, you don't get voting rights or dividends. But what this method lacks there, it more than makes up for it by allowing you to make quick and big profits.
ETFs (Exchange-Traded Fund)
ETFs are another way to invest in a company without buying actual shares. An ETF is a fund created by a brokerage or a fund manager that allows you to invest in a bunch of different companies without buying their shares. Here, you buy a portion of the fund that buys those shares. This way, you still get dividend if it is passed on, but you don't get any voting rights.
Best Ways to Invest in GameStop
Now that you understand the basics of the most common ways to invest in GameStop available to you, it's time to pick the method best suited to you. This decision should depend on three things: your investment needs, your investment strategy, and how long do you plan to invest for.
Invest In GameStop Stocks
Choose this option if you believe in GameStop's longevity as a company. It is a simple, hands-free approach that pretty much guarantees you steady rewards. A company's share price depends on its performance so you'll continue to receive if it does well but you do risk losing it its shares fall.
Invest In GameStop CFDs
If you're looking to make a quick buck without and long-term commitments, CFD is the way to go. You can do it for a day or two and be done with it if you want. You don't have ownership of anything when investing via this method, ensuring higher liquidity. It is risky, but, higher the risk, the greater the reward.
Invest In GameStop ETFs
ETF is the best of both worlds, comprising the benefits of stocks and CFDs in one. With ETF, you don't invest in stocks per se, but the funds that buy the stock. Moreover, it is the stock of a combination of companies. So, if one suffers, the other should cover for the loss. Do make sure to check the percentage of the GameStop stock in the EFT you choose.
Is GameStop a Good Investment?
As the world's largest video game retailer, many would consider GameStop a safe bet. It may have suffered losses in 2020, but its 2021 has been phenomenal, thanks to the incident in January 2021 where its shares soared 1,700 percent. It continues to do well as of now.
The Gaming Industry Is Expanding
The gaming industry continues to expand as games for all devices and consoles come out in rapid succession. More and more films are being made on video games as well, such as Uncharted, Mario, etc. With GameStop being the leader of the pack when it comes to the distribution of games, it is bound to stay ahead of the curve and ride the wave of the new age of video games.
The January incident
When GameStop's share prices rose 25-fold in January, it caught the attention of every trade pundit out there. It had caught lightning in a bottle as it was just the push the company may have needed. While it is unrealistic to expect that it can hold that momentary peak forever, GameStop has continued to do well for itself since then.
Investing In GameStop – What Are the Risks?
While GameStop is a steady investment option, it is not without its risk. It has suffered losses as early as 2020 and the boost in January did swing the prices wildly. Even though it has steadied itself greatly after the growth boost, it is still left to be seen how GameStop really rides the wave and for how long.
GameStop's Business Model
GameStop's entire business model hinges on the physical selling and buying of video games and gaming merchandise. It has expanded its business to allow people to sell and buy via itself as well. But it still struggles against the splurge of online business. Now, people sell and buy video games online. GameStop is yet to make an impact in the online spaces the way it has in the real world.
GameStop Financials
The company has been suffering losses for quite some time now. Even the turnaround in January wasn't enough to bring it back to its feet, though it has been an unbelievable boost. GameStop also cut its expenses hoping to boost sales, but the negative cash flow is just too high at the moment ($74 million). It will be a while before GameStop is at the top of its game like it used to be.
How To Invest in GameStop with eToro
Investing in a company for the first time can be an intimidating experience. There is a sea of options in front of you and you don't know which platform is secured and regulated or not. It may appear as though you feel never find the broker that is right for you. Fret not, we've comprised this handy guide to help you invest in GameStop on our recommended platform, eToro.
Step 1: Open an Account With eToro
To invest in GameStop, you need to register yourself on a platform that enables you to invest in a company. Choose a platform that ensures security, ease of use, and isn't too expensive. We have compared some of the best platforms available above, and we recommend eToro. To get on eToro, all you need to do is type 'eToro.com' in your browser and then 'join now'. Fill in the necessary details in the form that pops up next.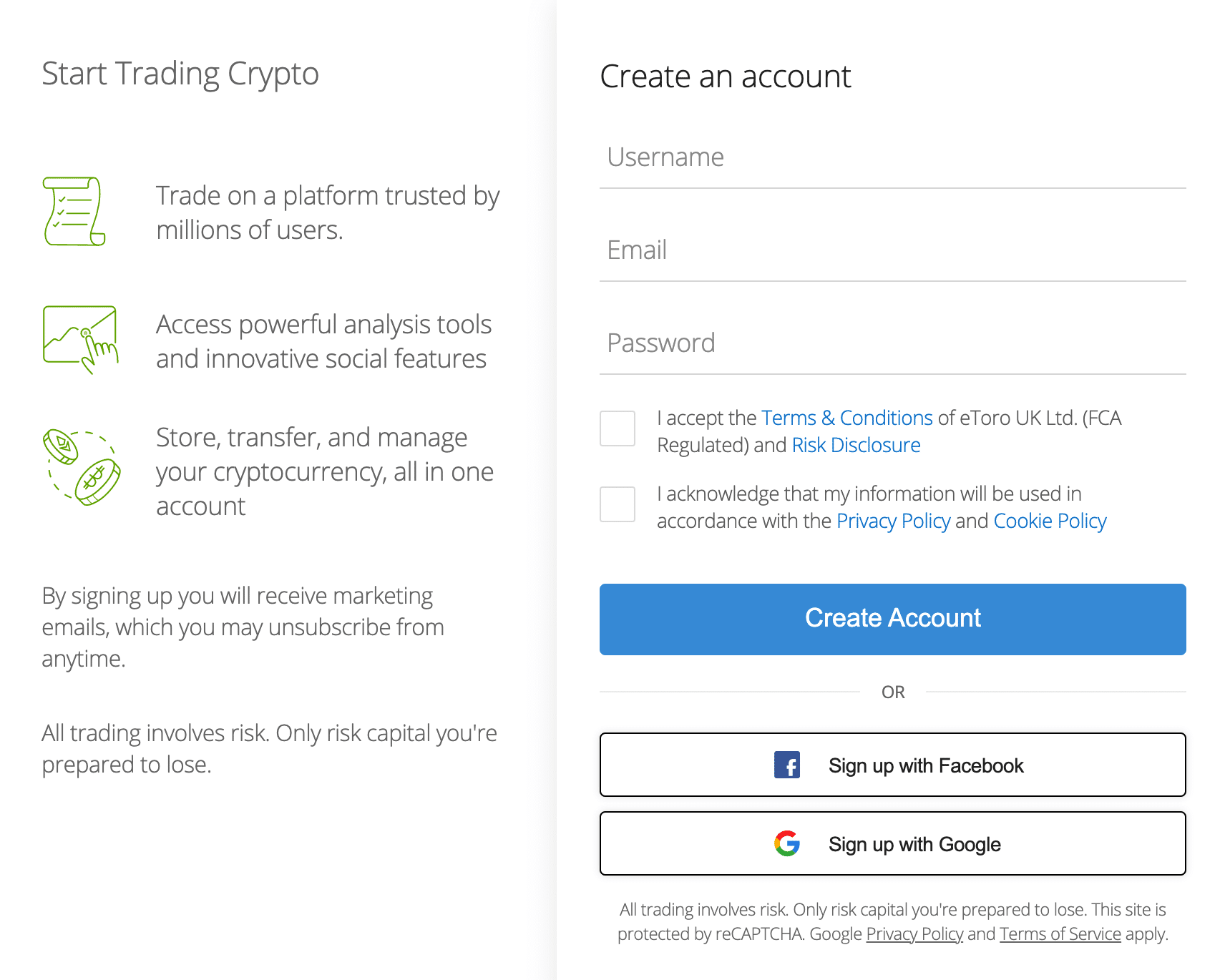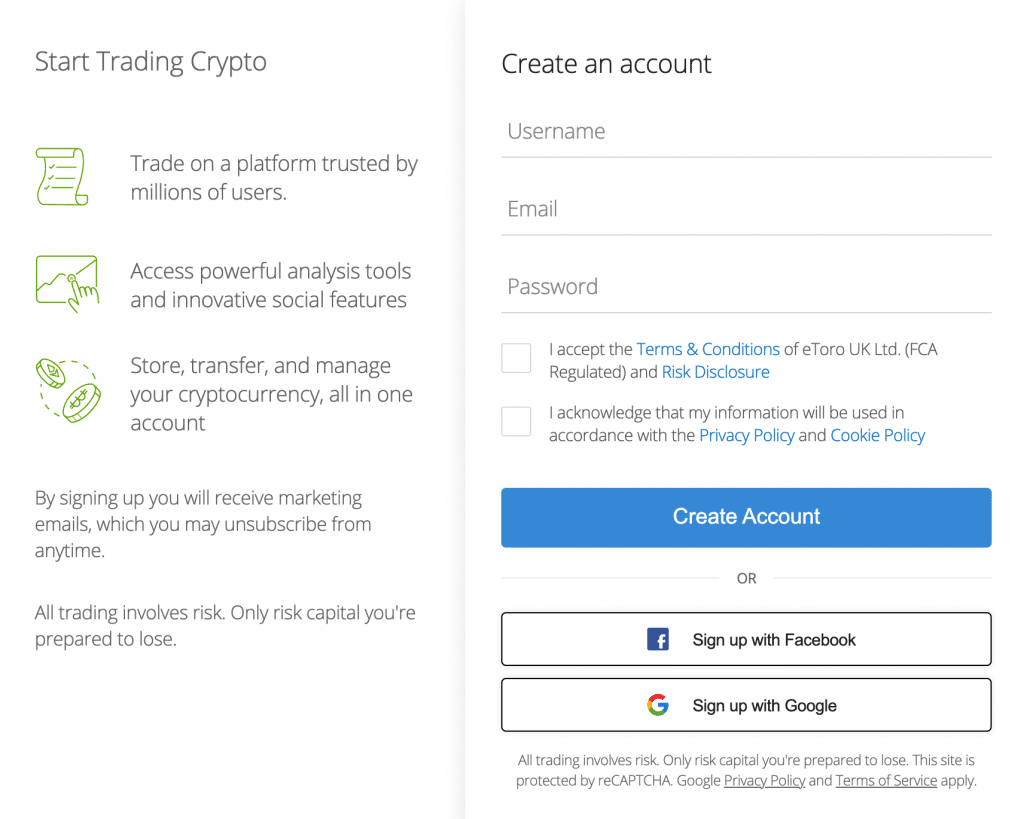 Step 2: Verify Your Account
eToro is a regulated platform, meaning you will need to verify your identity first in order to trade on the platform. This is for the safety of all the users on the platform. You need to provide two things here: photo ID and address proof. Your passport or driving license will count as a photo ID and the utility bill and bank statement will work as address proof.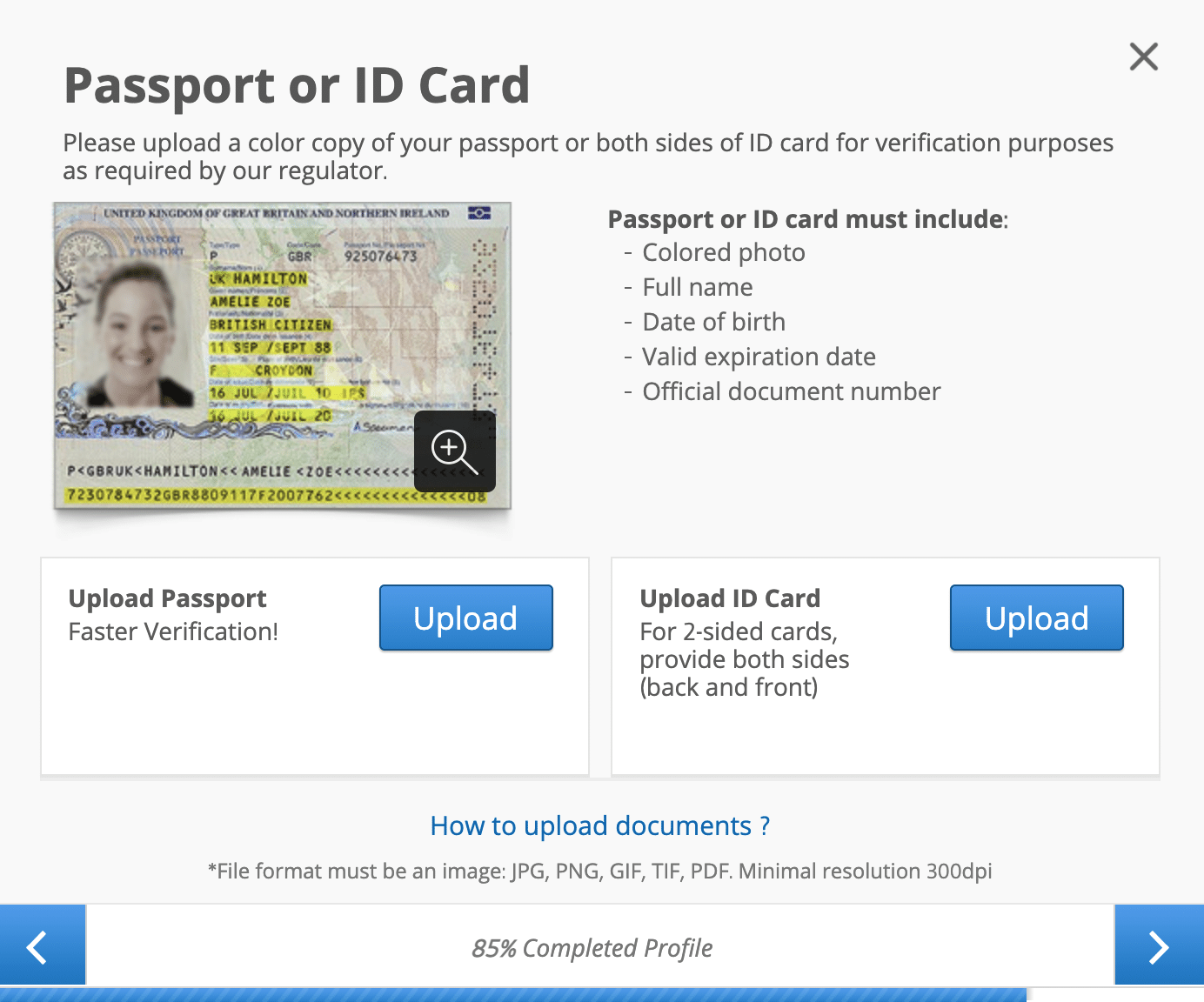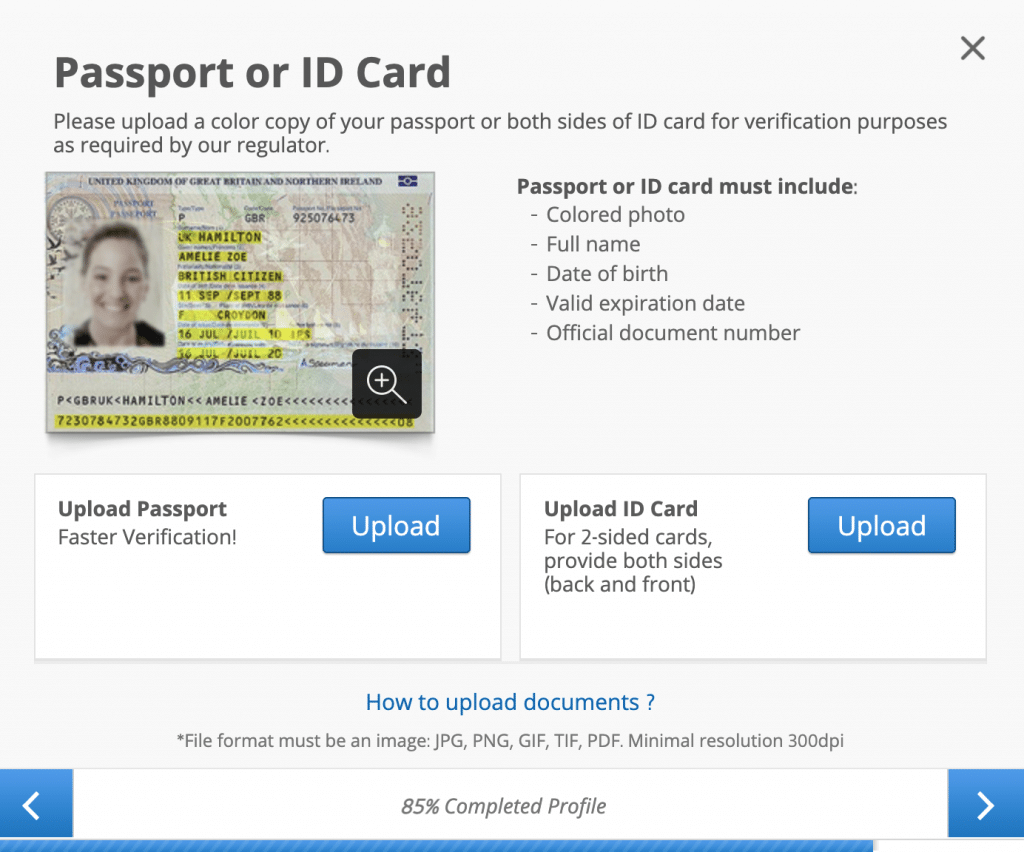 Step 3: Fund Your Account
Once you have verified yourself, you need to put money in the account for you to spend. Simply click on 'deposit funds', enter an amount, say 100$, and click 'deposit'. It's as easy as it can be on eToro. You can use a variety of methods to deposit money in your account, such as credit cards, debit cards, e-wallets such as PayPal and Skrill, and bank transfers.
Step 4: Invest in GameStop!
The last step is to simply invest in GameStop. Type 'GameStop' in the search bar, press 'trade', enter the amount you want to invest, say $50, and click on 'buy'. There you go, you are a GameStop investor now.
Conclusion
As we reach the end of this guide, we hope all your major questions are answered when it comes to investing in gaming powerhouse GameStop. We discussed the best brokers to help you invest, the pros and cons of investing, and a detailed walkthrough of how to get started. If you're still undecided on which platform to use, we recommend eToro upon comparing pricing, features, and security. If you're still unsure about GameStop itself, we recommend going through some of our other articles to help gain a better understanding. Thank you for reading.
#1 Broker to Invest in Gamestop – eToro
FAQs
Where can I invest in GameStop?
What's the future of GameStop?
Should I Invest in individual stocks or a CFD?