Invest $50k – Best Ways To Invest $50,000 In The US
If you live in the US and have managed to neatly tuck away $50k – you may want to consider leveraging some incredible investment opportunities in the financial markets. Sure, you could open a savings account and earn interest on it, which by the way is 0.6% (national average). So yeah, not exactly a good way to generate wealth, especially considering how hard you must have worked to save this much money. What you need is a diversified investment portfolio you can use to generate passive income to maximize your earnings.
In this comprehensive guide, we're going to highlight the best way to invest $50k in the US – from crypto and ETFs to gold and index funds.
#1 Broker to Invest in $50k – eToro
How to Invest $50,000 in the US – Choose a Broker
To start investing and trading in the financial markets, the first thing you will need to do is open an account with a US broker. Here are some of the best platforms for new traders and investors that offer a wide array of assets. Plus, all these platforms have a user-friendly interface and navigation, and best of all, they come with a zero learning curve.
eToro – the best platform to invest $50k in the US.
Capital.com – with more than 4,000 commission-free markets, Capital.com offers excellent services at a low cost.
TD Ameritrade – trade with $0 commissions and access a dearth of educational programming.
We're going to cover each trading platform in detail a little later in the article.
Best Ways to Invest $50k in the US – An Overview
Although there are a myriad of investment instruments you can choose to invest in, we have narrowed down the search to 5 instruments that have incredible potential.
Digital currencies
Stocks and securities
Commodities – Gold (ETF)
Copy-trading
Index funds
We'll explore each option in detail to help you make a well-informed decision.
The Best Way to Invest $50,000 in the US
If you simply want to find out how to invest $50k into many assets, this 4-step guide introduces you to everything you need to know without further ado. 
Step 1: Open an eToro Account – The first thing you need to go to eToro's website. C

lick the "Join Now" button. Enter the details required on the registration form.

Step 2: Verify Your Identity

– Verify your identity by

uploading your photographic ID and proof of address/utility bill.

Step 3: Fund Your Account

– After KYC is complete,

deposit funds via your preferred method, including PayPal, debit card, wire transfer, and online banking. The minimum deposit is only $50.
Step 4: Find the Instrument – eToro allows trade throughout stocks, forex, indices, commodities, ETFs, cryptocurrencies and far more. Simply click the "Trade Markets" option to access the market.

Step 5: Invest $50k

–

Once your account is funded, type in the search bar and select the stock/crypto you want. Click on "trade" and add the amount of money you want to invest.
Invest $50,000 in the US- A Step-by-step Guide
Step 1: Find the Right Platform – A Comprehensive Broker Review
There's no question about it, if you're looking to successfully invest your $50k in US financial markets, nothing's more important than selecting the best broker. The trading platform/broker you choose must be regulated by the SEC, offer minimum commission fees, and provide a dearth of financial markets and assets to invest in. But what's even more vital is that the platform should be easy to use as you're just a beginner at this point.
In light of all these factors, mentioned below is a list of 3 of the best, pre-vetted trading/broker platforms that offer a myriad of trading markets and assets where you can invest your $50k easily.
1. eToro – The Best Trading Platform to Invest Your $50K in the US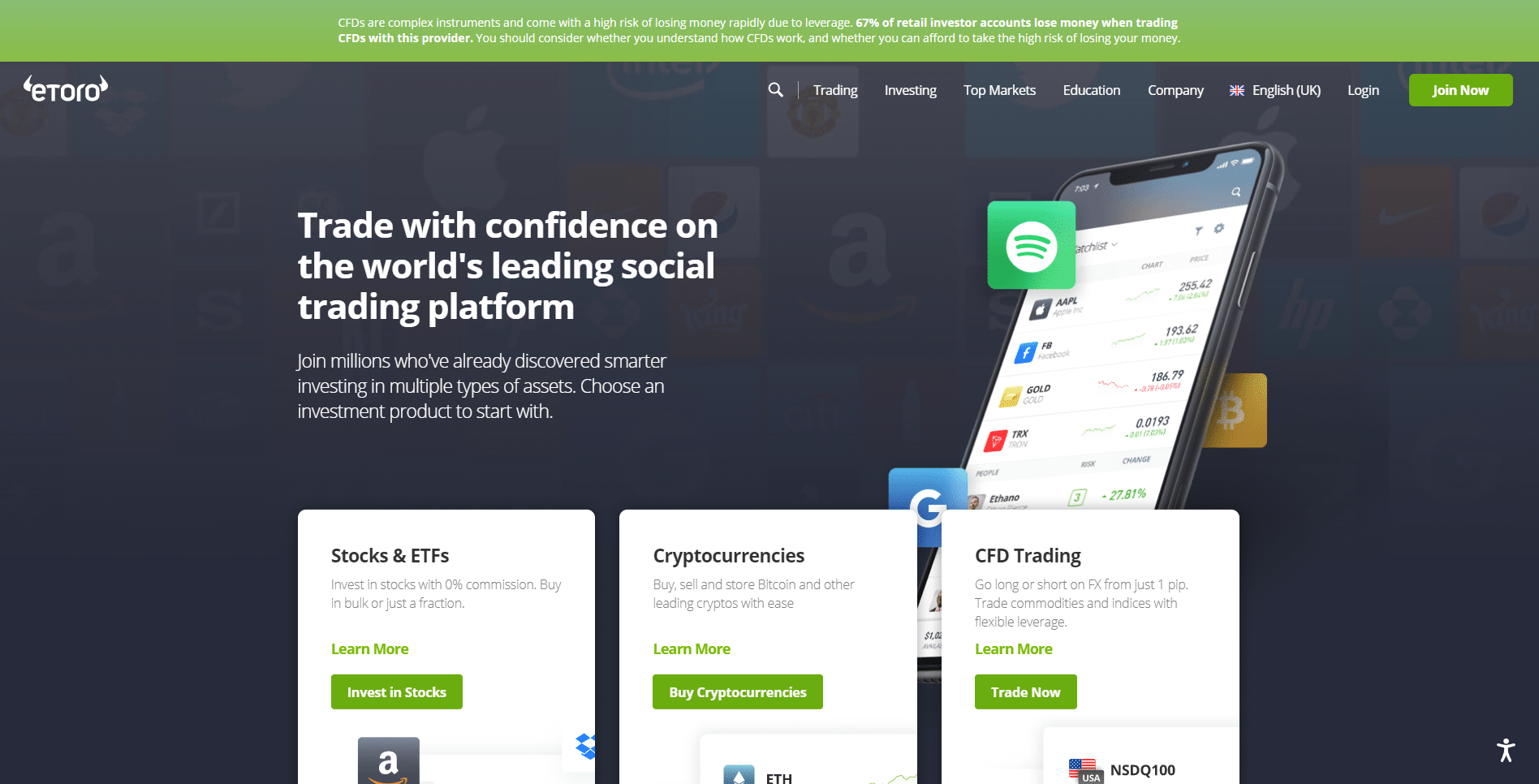 In our analysis of the best trading platforms in the US and all-around, eToro USA LLC was found to be the best broker site, especially when it comes to learning how to invest $50k in different financial markets. And there are a couple of excellent reasons why eToro is the best. The platform has more than 20 million daily users – and was specially designed to cater to novice traders looking to safely increase their wealth. The platform is extremely user-friendly with a zero learning curve. So even individuals who've never even traded once in their lives will easily adapt to eToro's dashboard and interface. You'd be surprised to know that that it just takes 5 minutes to open an account, deposit your $50k, and purchase or trade new stock or any other asset on eToro. Start to finish, only 5 minutes!
eToro offers over 30 mainstream digital assets such as XRP, Dogecoin, Ethereum, Bitcoin, Litecoin, etc. Apart from that, you can also invest in the forex market as well as precious metals and commodities such as gold and indices. One of the best things about the platform is that you can start trading ETFs and stocks without paying any commission on closed deals. You can also trade multiple assets using a spread-only strategy (a highly competitive style of trading). Moreover, eToro doesn't charge a commission fee if you invest in the US financial markets.
If you want to start trading at eToro and want to quickly invest your $50k, the platform accepts credit card and debit card deposits. You can even use PayPal to transfer your deposit instantly. Plus, eToro also allows banks transfers and you can also use an e-wallet. The platform is SEC-regulated, which means your investments will be safe.
eToro Fees
| | |
| --- | --- |
| Fee Type | Fee Amount |
| Commission Fee | 0% |
| Deposit Fee | $0 |
| Withdrawal Fee | $5 |
| Inactivity Fee | $10 (Monthly) |
Pros
Start investing with 0% commissions
You can invest $50 in high-value stocks and own a fraction of the company
Multiple payment gateways accepted
SEC-regulated
More than 20 million users
Ideal for novice traders
Copy-trading features
Cons
Basic platform for veteran traders
Doesn't support MT4 or MT5
67% of retail investor accounts lose money when trading CFDs with this provider
2. Capital.com – Great Platform to Invest $50,000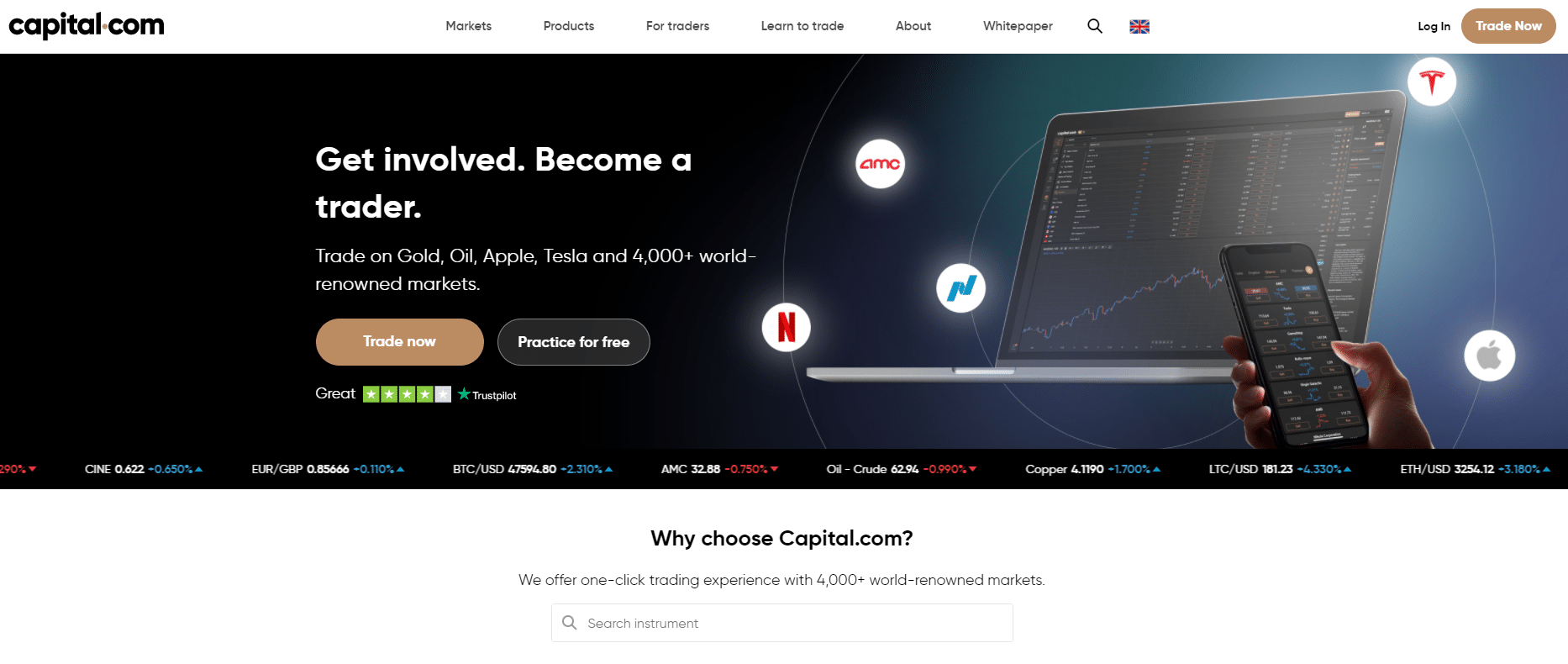 This is another reliable and feature-packed trading platform but doesn't focus too much on conventional investment. Capital.com offers more than 4,000 commission-free financial markets through different trading instruments such as CFDs and spread-betting. Simply put, you can trade numerous instruments and assets like foreign currencies and stocks without having to own any of the assets. This can prove to be advantageous if you're looking to invest $50k. It's also likely that your capital gains may be tax-exempt if you earn anything from spread-betting.
Overall, Capital.com is a solid trading platform renowned for its streamlined trading interface and features. And what's even more interesting is the platform's educational content. You will have access to a ton of trading and investment guides, strategies, and even a native smartphone app that you can use to go through mini-trading courses. Plus, you'll also have access to critical market insights and key updates on various market trends and industry developments. You can start trading on Capital.com by depositing $28 through a bank transfer or a credit/debit card. And like eToro, Capital.com is also regulated by the SEC.
Capital.com Fees
| | |
| --- | --- |
| Fee Type | Amount |
| Commission | 0% |
| Withdrawal Fee | $0 |
| Deposit Fee | $0 |
| Inactivity Fee | $0 |
Pros
Quality spread-betting and CFD trading platform
SEC-regulated
Minimum amount to invest $28
0% commission on trades
Great spread and zero fees on withdrawals or deposits
Over 4,000 financial markets
Easy to use for novice traders
Cons
Too basic for veteran and expert traders
You have to deposit $350 on bank transfers
 76.72% of retail investor accounts lose money when trading spread bets and/or CFDs with this provider.
3. TD Ameritrade – Invest $50,000 with zero-commission
TD Ameritrade charges $0 commission on trades and has a variety of top-level educational content and programming aimed at helping both novice and emerging investors and traders. The trading platform also has a user-friendly smartphone app and offers a dearth of streamlined brokerage features that cater to just about everything amateur traders require. TD Ameritrade also offers day trading features in a plethora of assets and instruments as well. Novice investors will also find the platform full of helpful guides and educational material that can help them enhance their trading styles and efficiently use the platform.
The platform is also amongst the biggest online brokerage websites in the US. And as such, it offers a multitude of features aimed at different levels and expertise of investors and traders. The standard TD Ameritrade app is easy to use for both passive and aggressive investors. The platform also has a special "ThinkorSwim" feature specially designed for day traders, which provides precision-based screening capabilities, price charts, charting tools, and advanced evaluations and analytics.
Moreover, TD Ameritrade also offers a dock tool, which is basically a tailor-made interface. Users can customize the dashboard and can easily navigate the entire site on the left panel on their screen. You can also select from 13 different modules. The modules mainly include streaming lists to watch, account balances, news and event, market trends, bookmarks, Twitter, Yahoo Finance, RSS feeds, etc.
TD Ameritrade Fees
| | |
| --- | --- |
| Fee Type | Fee Amount |
| Commission Fee | 0% |
| Deposit Fee | $0 |
| Withdrawal Fee | $0 |
| Inactivity Fee | $0 |
Pros
Topnotch educational content for new investors
Smooth web platform and smartphone app
A myriad of trading and investment assets and instruments for different traders
Cons
No fractional shares offerings
Increased fund and account fees
Can't invest leftover cash in the financial markets
67% of retail investor accounts lose money when trading CFDs with this provider.
Step 2: Investing Your $50K – Select the Best Investment Instruments
So now that you know all about the best trading platforms in the US, you can make a much more informed and safe decision as to how you want to invest your $50k. The next step to growing your wealth is to select lucrative assets to invest in. As mentioned earlier, there are a plethora of markets that you can invest in in the US. So, it's important that you make a smart decision. Keep in mind that no matter what you invest in, there will always be a margin of risks involved – so ensure you commit to thorough research before investing.
To help you make the best trading decisions, we've outlined some of the best assets and instruments you can invest your $50K in the US.
Investing $50K in Index Funds – The Most Effective Way to Diversify Your Asset Portfolio in the US
There's no doubt that for beginners, understanding where to invest can be an overwhelming task. Moreover, you'll be constantly thinking about not losing your hard-earned money. This is why it's vital to first have a good idea about how financial markets function before investing your $50K. In light of this, the most effective way to invest your money is going to be trading index funds. In short, index funds allow traders the opportunity to diversify their assets by investing in multiple assets in a safe and passive manner. Investing in index funds on eToro will take you no more than 5 minutes. Plus, you won't have to pay any commissions to enter or withdraw from the market. As a matter of fact, eToro offers a multitude of well-known index funds apart from the S&P 500. And the best part is, you can start by investing $50 in a particular stock or asset in an emerging market.
Pros of Investing in Index Funds
The most effective way to invest your $50K
Opportunity to invest in a myriad of well-performing stocks via a single trade
No need to be an expert trader
Great liquidity – you can withdraw cash from the market anytime
Reduced trading fees
Earn increased capital gains and receive dividends
Cons of Investing in Index Funds
Opting for copy trading, you will not be consulted on what investments are made with your money
eToro charges yearly maintenance fees
Stocks and Shares – Invest $50K in a Plethora of US Stocks
Next we have conventional shares and stocks, a pretty solid way of investing your $50K. In a nutshell, you'll be investing in different companies, buying their shares and stocks; becoming a fractional owner of the companies. However, it's important to invest in performing and goal-oriented companies. Investing in growth-centric companies will gradually increase the value of the stocks you've purchased over an extended period of time. Although many traders invest in stock market for short term gains, the safest way of investing in stocks and shares is going for the long term strategy.
Why? Well, that's because stock markets will always be subject to volatility due to changes in market trends, highs, and lows. So, when trading via a platform like eToro, you'll have access to thousands of different financial markets in the US and a variety of companies to choose from. If you're looking to invest in the US financial market, it's best to narrow down a list of well-performing companies from the NYSE US 100 index. This index is basically a list of the top 100 companies, publicly listed in the US.
Pros of Investing in Stocks and Shares
A multitude of stocks and shares to invest in
Simple and quick portfolio diversification
You'll be in full control of your trades
Fractional trading enables users to invest smaller amounts of money
Invest in stocks that make dividend payouts
Ideal trading strategy for the long term
Cons of Investing in Stocks and Shares
You'll have to choose your own stocks and shares
Stock markets can be highly volatile
You'll have to be patient to see high returns
Investing in Crypto – Investing $50K in Digital Assets
While the crypto market is just over 10 years old, digital assets have come a long way and are a part of the mainstream investment and trading stratosphere. Moreover, you'd be surprised to know that that the overall market value of worldwide cryptocurrency markets have risen to more than $2 trillion. However, it's a fact that one of the most popular cryptos in the market is Bitcoin. Bitcoin has seen some astonishing market valuations since its inception – it was valued at 1 cent in 2009 and today, the crypto asset stands at $64,000.
But no need not worry, there now 12,000 different types of cryptocurrencies that you can invest in – and better yet, you can buy them sitting at home tapping your smartphone. But it's vital to understand that while digital assets have been a high-performing asset class in the past couple of years, they do come with high market volatility. So while you may see prices for different digital currencies increasing by 40% one day, it is likely that it would go down by 20% the next day. So, if you're considering investing in digital currencies, you have to mentally be prepared for extreme volatility and price shifts. For example, in March 2020, Bitcoin saw a value depreciation of $5,000 from $10,000 in just a few days.
Pros of Investing in Cryptocurrency
Highest performing investment instrument in the past 10 years
Crypto are a rising star in trading – you still have a chance to make profits
Over 12,000 different digital assets available
Some digital currencies saw 10,000% increase in gains this year
24/7 market operation – sell and withdraw cash anytime you want
Cons of Investing in Cryptocurrency
Very high market volatility
Can be tough to choose a good crypto to invest in
Next to no regulation
Step 3: How Should You Invest Your $50K Today – A Comprehensive Look
So far, we've talked about the most optimal ways you can invest your $50K and the types of trading platforms to choose. Now let's take a dive into how you can start the process to invest your money on eToro – an SEC-regulated online trading platform that has more than 20 million users.  Below is a step-by-step process of how to get started.
Create an Account
To trade on eToro, first, you'll need to create an account. It's simple, open eToro's website, click 'open account' and you'll be asked to provide some personal but relevant information such as your name, address, contact number, date of birth, and email. As per SEC regulations, you may also be asked to prove your identity. Doing this is easy, just upload a copy of your valid driver's license or passport. You can start without providing your ID however, in order to deposit for more than $2,250 or to make a withdrawal, you'll have to verify your identification.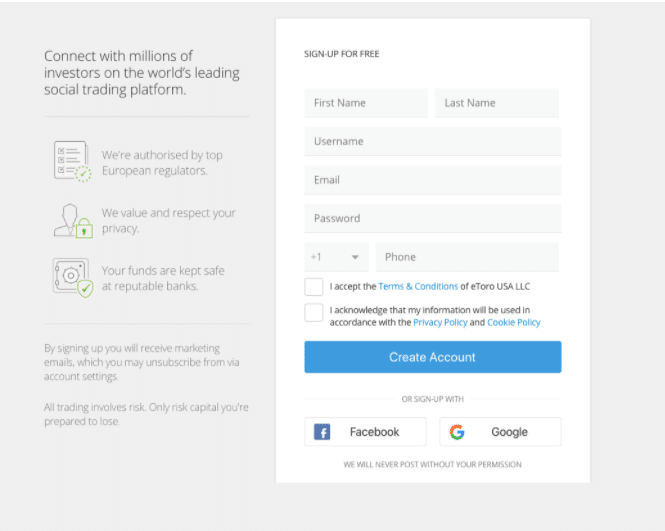 Deposit Funds
The next step is to deposit funds. You can't trade without depositing a minimum amount. If you're considering depositing $50K, that shouldn't be an issue as you can start trading by depositing $200. You can take it slow at first. Then when you find suitable investment instruments, you can gradually increase your deposits. Moreover, eToro supports multiple payment gateways such as PayPal, bank transfer, credit and debit card payments.
Looking for Trading Instruments/Assets
All right, now you're all set to start making investments on the trading platform. If you've made a game plan on how you want to invest your $50K – the best way to go about it is to first look at the various assets/instruments available on eToro. For example, if you're looking to invest in stocks, click the "Trade Market" button on the dashboard and you'll be able to access NYSE stock options. Similarly, there are other options you can explore such as commodities and indices.
Finishing Your Investment
After you've decided where to invest your $50K, click on the "Trade" button on the dashboard to conclude the investment. After you click the button, you'll be prompted to add a minimum funds deposit in an order box, just type the amount you want to invest.
As you're investing in USD, you won't have to worry about currency conversions or exchange rates. eToro only functions on US dollars. If you're considering dipping your toes in the crypto market, eToro permits a minimum investment of $25 and $50 on other assets such as commodities, stocks, and index funds.
How to Invest $50k – Conclusion
We've talked about all the important factors you need to understand when investing $50K in the US financial markets. From suggesting the best assets to invest in, to choosing the best trading platforms; you can now confidently start your trading journey and increase your wealth.
eToro – Best Broker to Invest $50k
FAQs
What is the most optimum way of investing my $50K?
Are there any optimal stocks I can invest my $50K in?
Can I invest my $50K without any risks?
Where should I invest my $50K?
What is the best trading platform to invest $50K?